When Becky forwarded me an email announcing that Duke would be hosting its own version of Iron Chef this fall, I was too excited for words.  I've never really participated in any events at Duke, and this was clearly going to be my shining moment.  The competition announcement stated that competitors would need to work in teams of two, and that they would have one hour to create and serve two dishes, one sweet and one savory, that incorporated the "secret" ingredient of the year: pumpkin.  I immediately ran through all of the people that I would want to work with and pretty quickly concluded that Justin was my first choice sous-chef.  When I asked him he agreed but questioned my choice, reminding me that he doesn't really cook.  Yes, I explained, I know, but you have discerning taste when it comes to food, you've eaten at a lot of excellent restaurants, and you're passionate about perfection. (I don't think I stated these things this eloquently in real life, but it's what I meant.  Really.  And as a side-note Margie was my second choice because she was an extremely reliable onion chopper throughout our Prague rooming experience and she's really good at doing what I tell her to.)  So it was settled:  Justin and I were going to enter.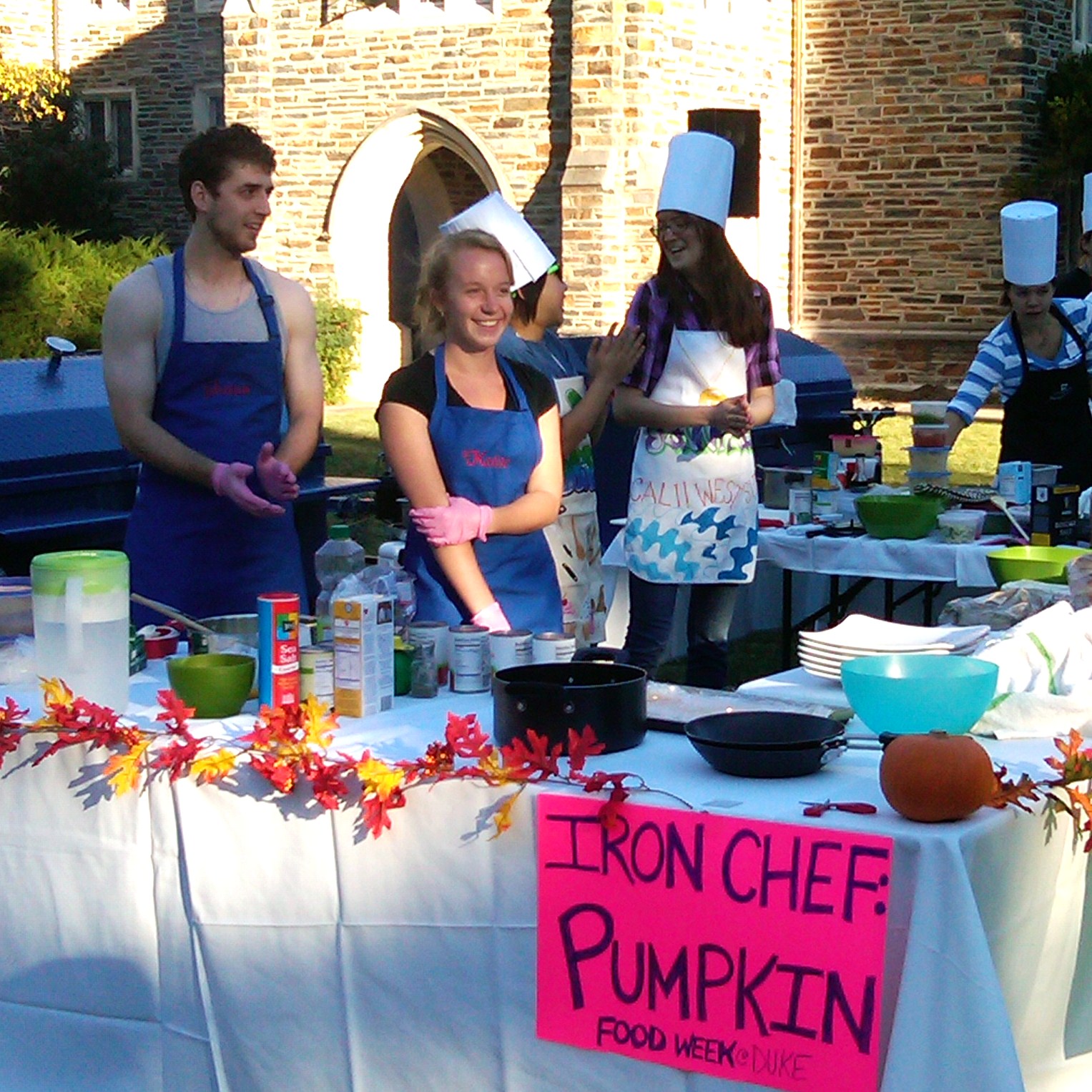 Although the competition wasn't until October 29th, we were required to submit our recipes for consideration by October 6th, giving us only one weekend from when we decided to compete until the deadline.  Despite having 2 midterms and 4 problem sets due the next week, I dedicated that Sunday to playing with pumpkin.  As we only had one hour to complete two dishes, and no access to an oven, roasting our own pumpkin was out of the question.  With a little help from Trevor, Justin's sister-in-law, and The Flavor Bible (which, serendipitously enough, we both happened to own, so we could discuss flavor combinations at length over the phone), we decided that our starring flavor combination was going to be that of pumpkin and ginger.  I already knew what I wanted to do for the dessert – a version of these Pumpkin Cheesecake Pots with gingersnaps and ginger-infused whipped cream – but was less sure about the savory dish.  A soup felt too boring, a classic sage-pumpkin-gorgonzola take too, well, classic.  Then Justin came through with the idea of a curry, but not in the traditional way.  Rather, he wanted a pumpkin ravioli in a curry sauce, but not too Indian of a curry sauce.  More like a Thai curry sauce.  I was sold.  I knew I picked him for a reason.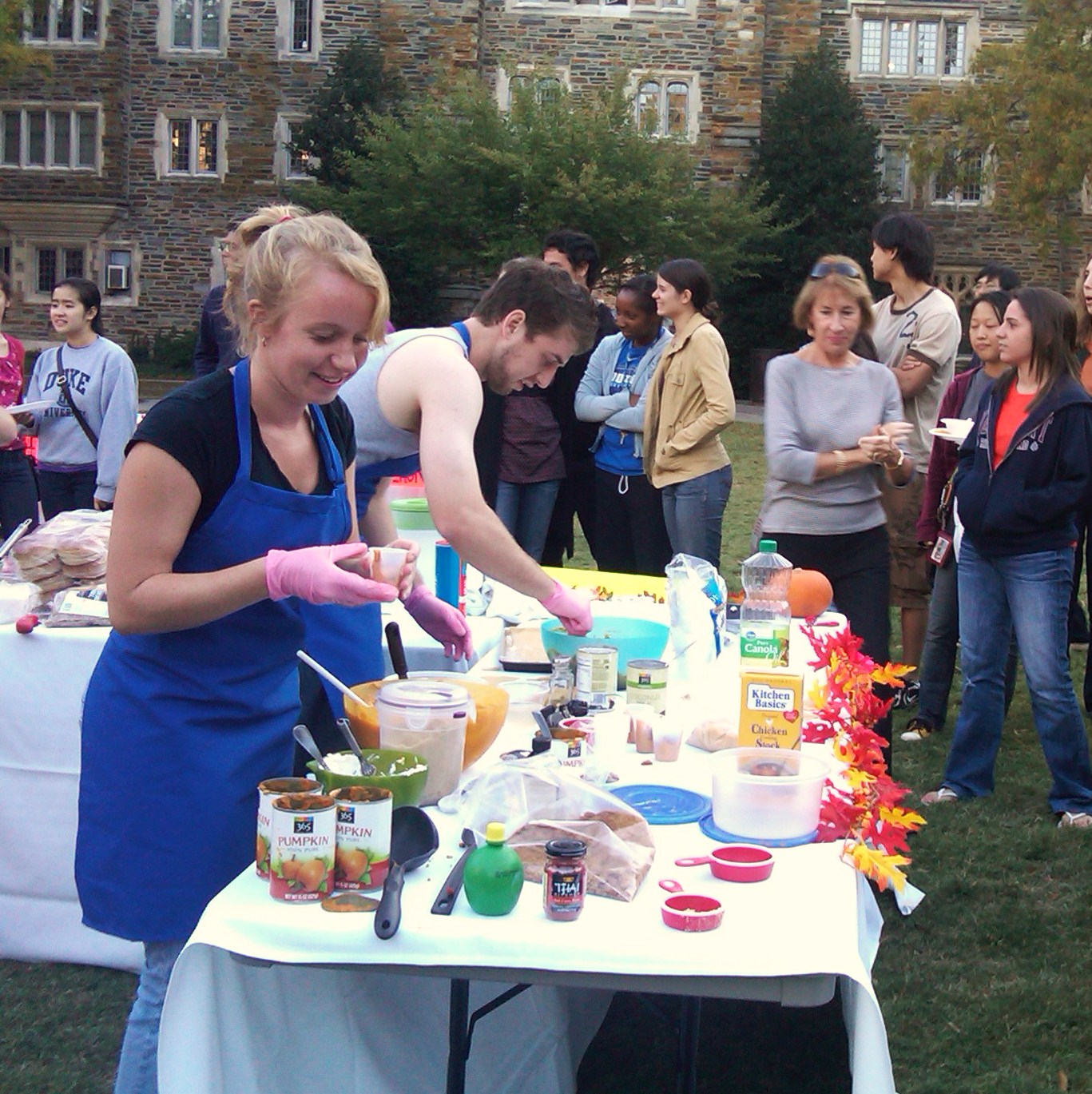 So we hit up Kroger, where we were almost defeated when they told us they didn't carry pumpkin, only to have a nice lady chase us down the aisle waving cans of pumpkin at us a few minutes later.  Thank you, Kroger lady, you saved my shining moment.  We headed back to my kitchen, and made some cheesecake pots, and some curry sauce, and some ravioli filling, and realized that neither of us really likes pumpkin.  Oh well.  We tweaked here and there, cleaned up, snapped a couple pics, submitted the recipes, and called it a day.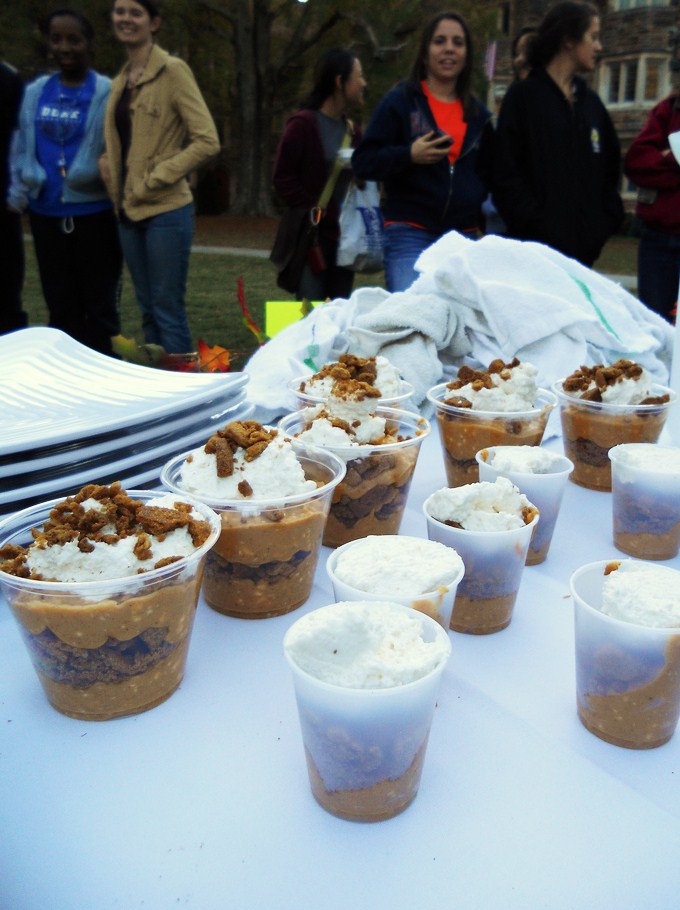 A week and a half later we got an email saying that we were one of four teams accepted by the professional chef judges to compete – thrilling!  Our out-of-box-flavor-bible thinking had paid off.  Even more exciting – I now had a legitimate excuse to buy the pasta machine that's been in my Amazon cart for 5 months.  I see many, many ravioli in this blog's future.
The competition was a blast.  It was probably the fastest an hour of cooking ever went by in my life.  Tons of people came out to cheer, and we even had President Broadhead doing a fist pump in support of our team, the New Jersey Fist Pump-Kins.  No, I'm not from New Jersey.  Yeah, we kinda rule.  At first we were nervous about how our food was going to turn out – things weren't coming out quite as well as they had when we practiced them.  But then we started getting positive feedback from the crowd, and people who were interviewed kept choosing our parfait as their favorite so far.  It was kind of really super exciting to have that many people trying and excited about our food.  We managed to get everything out on time and looking decent, and then we sat back, covered in pumpkin, and waited while the judges ate.  When it came time for the announcer to ask the judges what their favorite savory dish was, we were thrilled that 2 out of the 3 judges chose our ravioli, and all 3 chose our parfait as their favorite side/dessert dish!  Despite the positive feedback, we ended up taking 2nd place.  One of the judges came by afterward and said that if taste alone had been the judging criteria, our food would have won hands down, but that it didn't do as well in the healthiness category.  A fair point – both our dishes were lacking in fresh produce compared to the other contestants'.  It was so nice to have people react so positively to our food though, and the crowd and atmosphere made the whole experience a blast.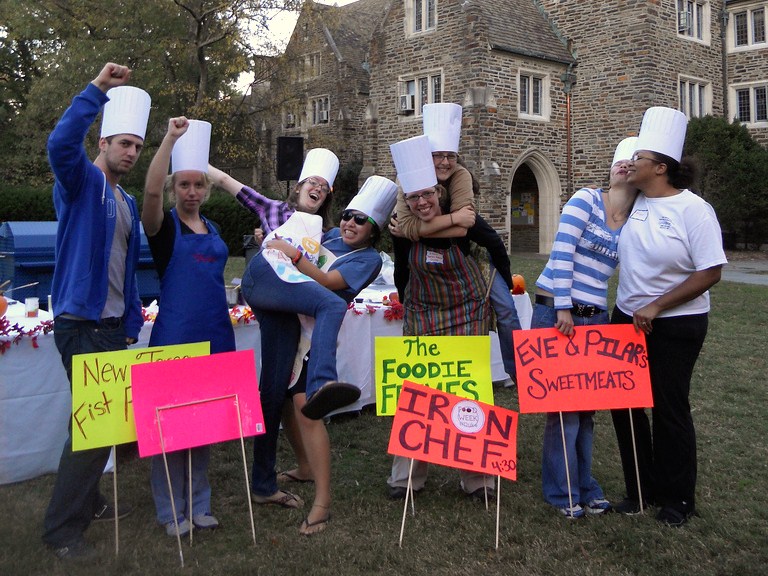 Thank you SO much to everyone who came out and cheered for us, and to Duke Culinary Society for running such a great competition.  Also, thank you Justin for competing with me – you were definitely not a sous chef.  And thank you to Tim for coming up with a sweet name/theme for us even though you're lame and didn't come watch.  Finally, thanks to Carissa, Megan, and Alice for the photos.  Recipes for both our dishes are below, if you're interested in checking them out!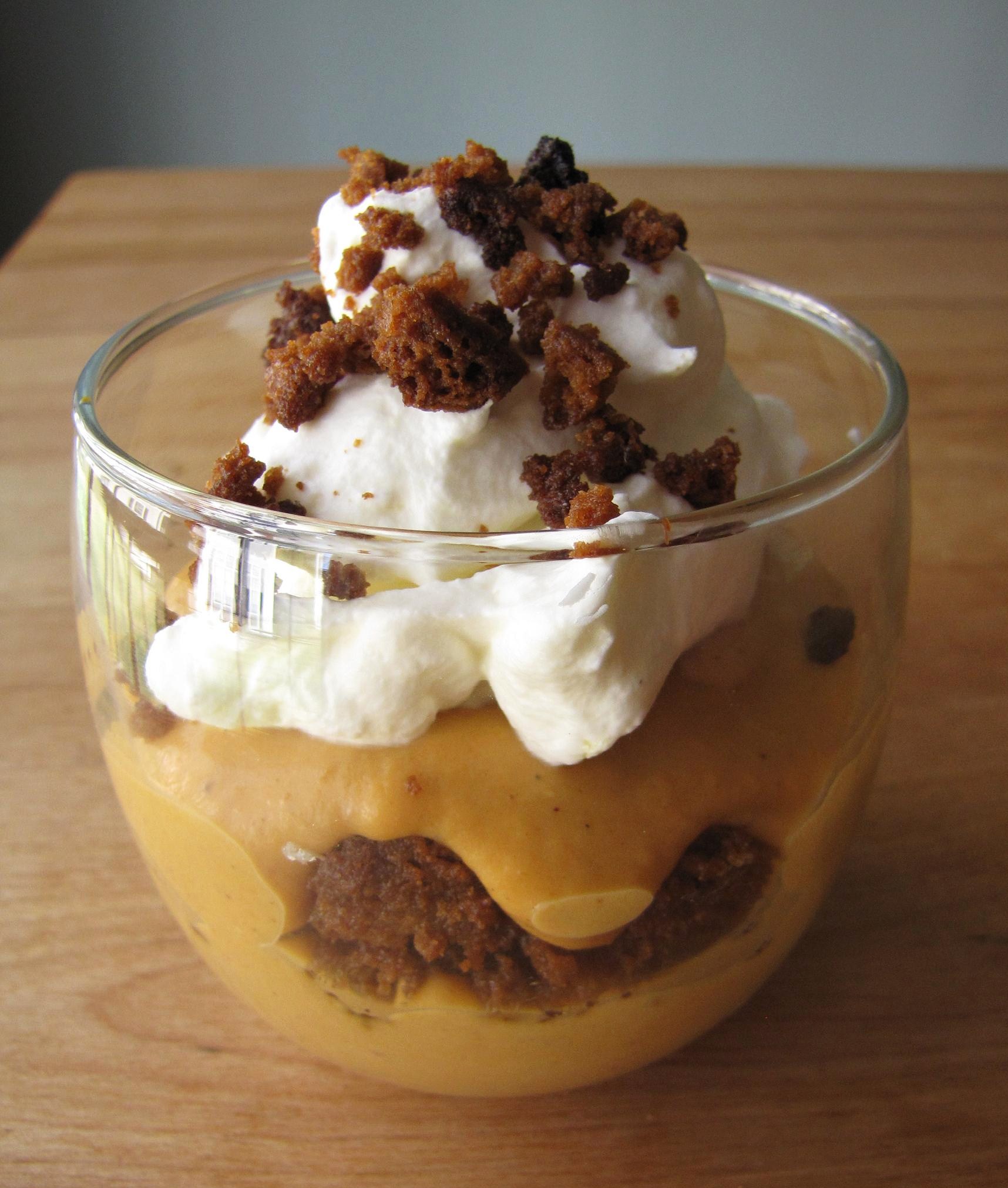 Ginger-Pumpkin Cheesecake Parfaits
1  14 oz. can 100% pumpkin puree
8oz neufchatel cheese
1/3 c. sugar
1/2 c. brown sugar
1/2 tsp cinnamon
1/4 tsp allspice
1/4 tsp ground cloves
1/4 tsp ground cardamom
1 tsp. vanilla extract
1/2 lb. gingersnap cookies
2 TBS salted butter, melted
1/2 pint heavy cream
1 inch piece fresh ginger
1/8 tsp cream of tartar
3 TBS sugar
In a blender or large food processor, combine pumpkin, neufchatel, sugars, spices, and vanilla.  Pulse until smooth.
In a large plastic bag, crush gingersnap cookies into crumbs with a rolling pin.  Mix with melted butter.  Toast for 2-3 minutes over medium heat in a large saucepan.  Set aside.
Peel ginger.  Crush into a paste in a mortar and pestle, or pulse until smooth with a food processor.
In a large bowl, beat cold heavy cream with cream of tartar until stiff.  Whisk in sugar and ginger paste to taste.
Assemble parfaits by layering in the following order: pumpkin custard, gingersnap crumbs, pumpkin custard, whipped cream, ginger snap crumbs.  Serve cold.
Spiced-Pumpkin Ravioli in a Thai Curry Sauce
For the sauce:
2 tsp canola oil
1 inches fresh ginger, peeled
6 cloves garlic, minced
1 can coconut milk
1 1/2 TBS Thai red curry paste (Thai Kitchen brand)
1 TBS lime juice
1 c. chicken broth
kosher salt to taste
For the pasta dough:
2 c. flour
3 large eggs
1 tsp salt
2 TBS extra virgin olive oil + extra for brushing
For the ravioli filling:
1 (14 oz.) can 100% pumpkin puree
1/4 c. light brown sugar
1/3 c. finely ground unsalted cashews
salt and black pepper, to taste
1/4 tsp. cardamom
Ravioli Filling:
Mix all ingredients together, season to taste.
Ravioli dough:
Mix together flour and salt.  Mound flour on a large, clean surface.  Form a large well in the middle of the mound.  Add eggs and olive oil to well, and beat gently to break yolks.  Using a fork, pull flour from edge of mound into center of well.  Do your best not to break the well, but it's kind of inevitable.  Continue to gently incorporate the flour into the eggs/oil until it begins to come together.  At this point it is easiest to knead the dough by hand.  Knead for at least 5 minutes, until the dough is uniform and beginning to develop some elasticity.  Wrap the dough in plastic wrap brushed with olive oil and let it relax for 30 minutes.
Roll the relaxed dough out into a square about 1/2 inch thick.  Cut this into rectangular sheets and feed through pasta machine as instructions direct.  If you are not going to form the ravioli immediately, cover pasta sheets with plastic wrap to keep them from drying out.
Fill a small bowl with water.  Take a sheet of pasta and place a tsp of pumpkin filling in the center of one side.  Brush the edges around the filling with water (I use my finger usually).  Fold the edge over (lengthwise) and press the edges together to seal.  Cut through the sealed edge on one end so that the rest of the pasta sheet length is free from the newly formed ravioli.  Continue to work your way down the pasta sheet.
Bring a large pot of salted water to a boil.  Cook the ravioli in batches, for about 2-3 minutes each.  If your boil is gentle, you will know your ravioli are done when they float to the top.  In a rapid boil they tend to float instantly.  Two minutes is generally a safe amount of time to cook them.  Remove with a slotted spoon and set aside, or in the sauce they will be served in.
Sauce:
Crush peeled ginger into a paste in mortar and pestle or blender.  Heat canola oil in a large saucepan over medium heat.  Add garlic and ginger paste, sautee for 1-2 minutes, until fragrant and ginger begins to soften.  Add curry paste, sautee for an additional minute.
Add coconut milk, chicken broth, and lime juice.  Simmer gently to reduce to desired consistency.  Season to taste with salt.
Add cooked ravioli.  Simmer gently to heat through.  Serve hot, sprinkled with large crystal sea salt and cashew pieces.
0