I've imposed a ten day baking ban on myself.  And the next three things I post on this blog will be healthy, energy-inducing, balanced meals.
That's a promise.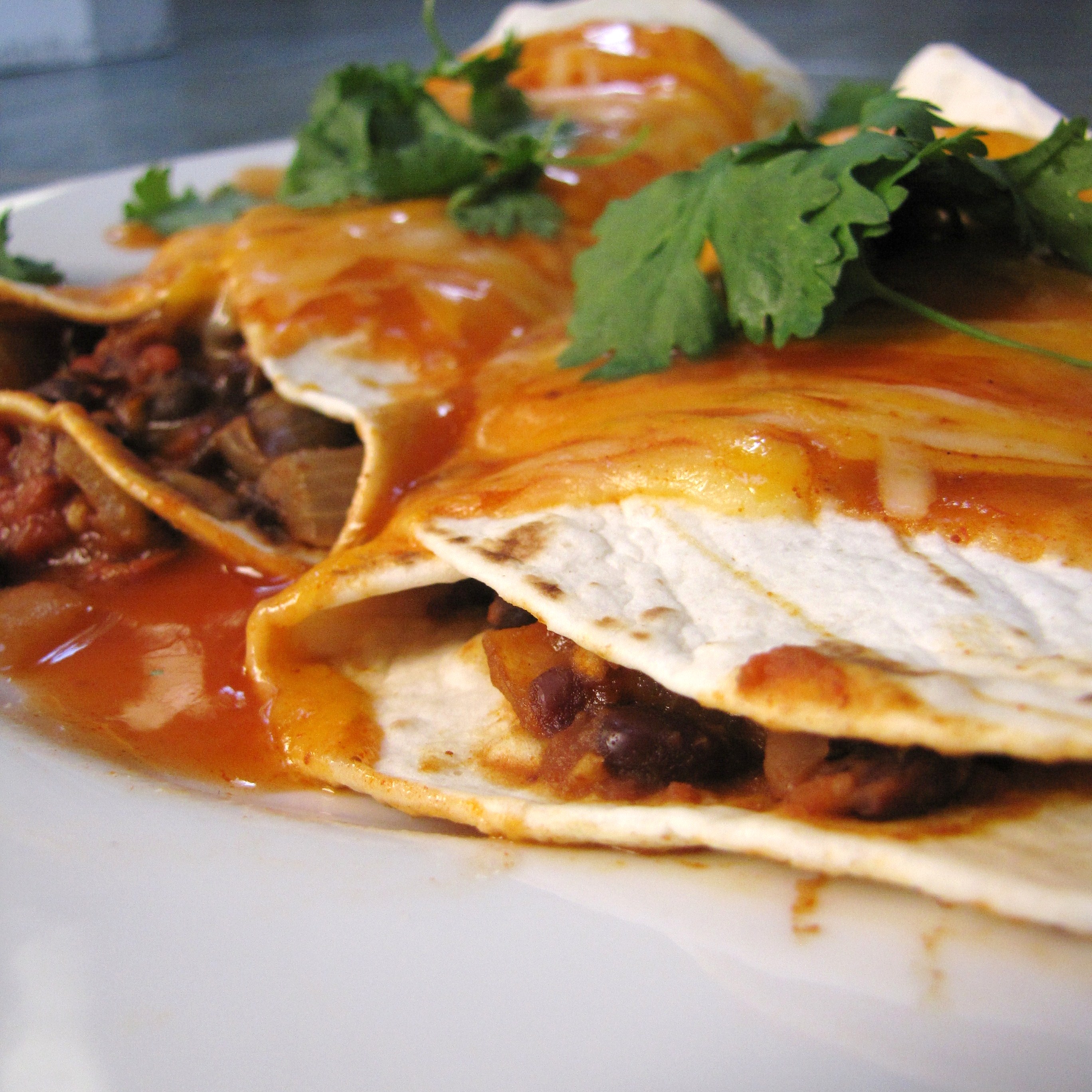 These drastic measures are a direct result of the evils of facebook.  Because maybe Trevor and I were indulging in a little trip down memory lane via backwards facebook stalking.  And maybe around 6 months ago a disturbing presence began to make itself known.  And maybe that presence was the gradual rounding of my face.  And arms.  And legs.  But mostly face.  And you know, this really isn't that surprising (see danishes, brownies, tapioca), or truly that alarming (yet), but it still needs to be remedied.  Gotta nip it in the bud before I get too old to do anything about it.  Actually I'm just depressed by the fact that when I get to Maine (tomorrow!) my skinny little brothers and marathon running mom and five soccer games a week dad are all going to be able to run a 5k faster than me.  We're competitive.  (Once, I took my best friend Steph along to a family picnic, after which my entire family started competing in races – running, cartwheeling, hopping on one foot.  She was completely baffled.)
So, the three sticks of butter recipes are going to have to be put on hold for a while, and we are going to focus on minimal butter consumption, healthy activities.  Like running.  Let's talk about running.  Let's talk about how much the first two runs suck when you decide it's time to get in shape after a 2 month hiatus (I know, two whole months, but it's just been too hot here to focus on exercise.  And there's been more exciting stuff to do.  See drinking in the pool.)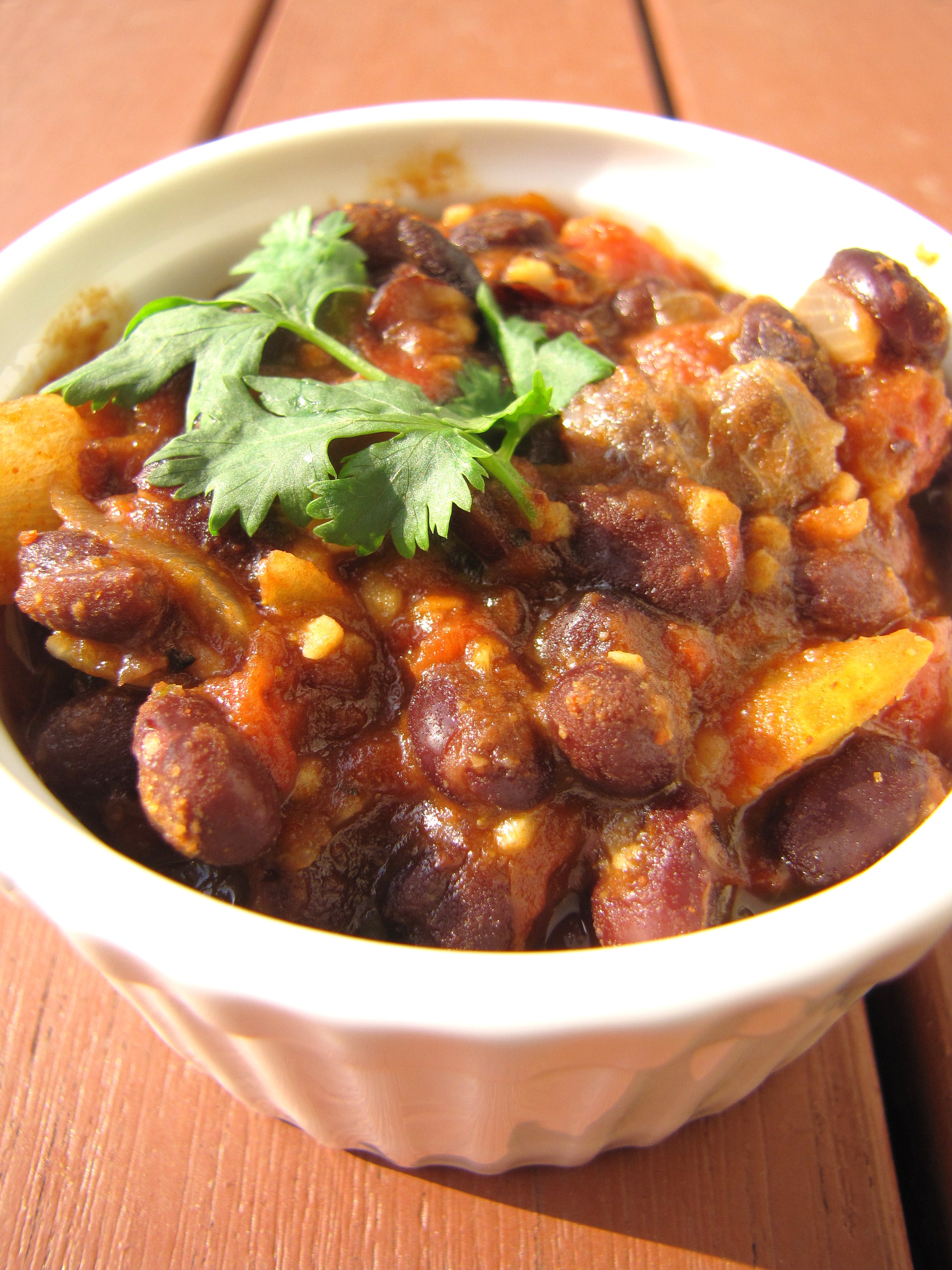 Well, there it is – deciding to start running again sucks.  Especially when it's still 90 degrees out at 8pm.  But there are some things that you can think about to make it bearable, like all the reasons you're running.  Like, for example, I'm running so that my family won't laugh at me.  Or, I'm running so that I won't die before I'm supposed to.  I'm running because I can't afford to buy new shorts, again.  I'm running because I like to feel strong.  I'm running because I want to want to run again.  I'm running because I know how good it can feel.  I'm running so I won't feel guilty eating chocolate.  (Who am I kidding, I think I can count the times I've felt guilty about eating anything at all on one hand.)  I'm running because I promised to buy myself a slinky dress if I get skinny again.  I'm running because someone once told me "once a runner, always a runner" and I believe it.
So there, that was my little motivating moment for myself.  And maybe for you, too.  Because really what inspired all those thoughts was this thought, that I huffed and puffed to Trevor on the first run in a while: "How much would it suck if you'd never done this before and you didn't know how good it could get? That running could be something beyond pain?  That it could be empowering, enjoyable?"  (Well, maybe I only said the first of those sentences out loud.)  And I kinda wanted someone out there struggling with all the initial suck to know that it's totally worth it.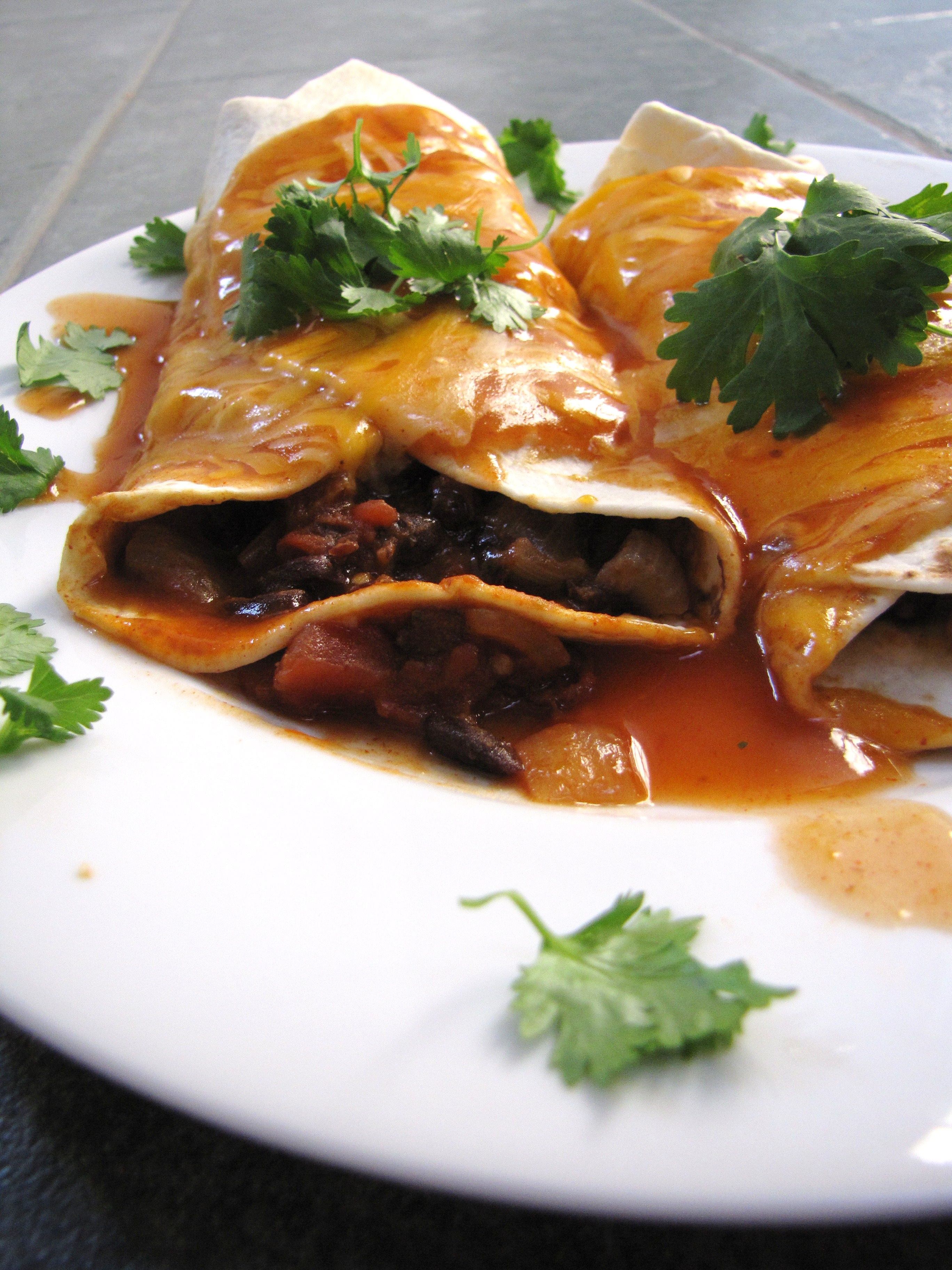 Now that that's out there, let's move on to the grub.  In my mind, this is the perfect black bean recipe – saucy, spicy, and a little bit sweet.  I know a lot of people aren't huge bean fans, but I could eat these for days.  They fit all of my criteria – cheap, healthy, and delicious.  This particular recipe is the creation of Rebecca from Foodie with Family, which she has graciously allowed me to share.  The bean recipe itself is very healthy, coming in at 265 calories, 10 grams of fiber, and 10 grams of protein per serving.  (See bottom for rough nutritional and cost analysis.)  I've turned them into enchiladas which are less healthy but more satisfying when you want a full meal, and that still have all the nutritional benefits of the beans, tomatoes, and herbs.  These beans are also killer over couscous if you're looking for a happy medium recipe – a full, balanced meal, without the not-exactly-diet-friendly tortillas and cheese.
So that kicks off our healthy streak.  Try these, let me know what you think, and get excited for the next healthy recipe – it's the perfect late summer meal and one of the best recipes I've tried all year.  Happy healthiness.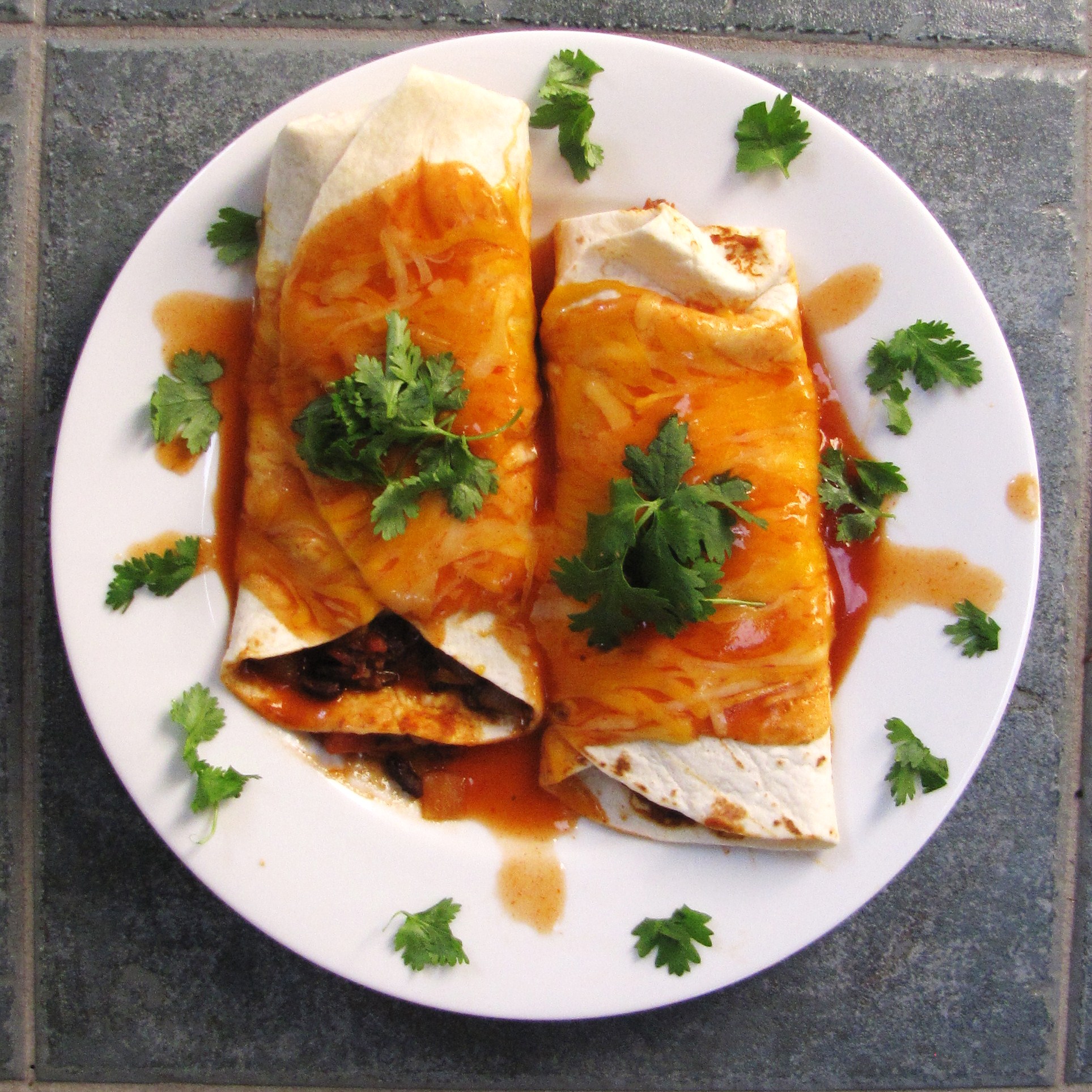 Saucy Black Bean Enchiladas
(Serves 3)
Bean recipe adapted slightly from Foodie with Family
1 medium onion, diced
2 TBS olive oil
2 TBS minced garlic
1 can black beans, drained and rinsed
1/2 small can petite diced tomatoes
1/3 c. orange juice
1/8 – 1/4 tsp. red pepper flakes
1 TBS ground cumin
2 tsp chili powder
2 tsp oregano
kosher salt to taste
4-6 flour tortillas
2/3 c. shredded cheddar or monterey jack cheese
1 can enchilada sauce, or half of this recipe
fresh, chopped cilantro, to garnish
In a large saucepan, heat olive oil over medium heat.  Add onion and sautee until translucent.  Add garlic, red pepper flakes, cumin, chili powder and oregano, and sautee for 1 minute.
Add beans, tomatoes, and orange juice to onion and spice mixture.  Cook over medium heat, stirring occasionally, until beans are bubbly and thickened, about 8-10 minutes.  Remove from heat.
If making enchiladas, preheat oven to 400 °F.  Line casserole dish with tortillas, overlapping slightly.  Scoop some of bean mixture into tortillas one at a time, rolling the tortilla up and flipping over so that seal is on the bottom of the pan.  Pour enchilada sauce over, and sprinkle with cheese.  Bake for 15 minutes, or until cheese is melted and gooey.  Garnish with fresh cilantro.
.
.
Nutritional and Cost Analysis (Nutrtition estimated using SparkPeople's recipe calculator):
Nutrition: Beans only – 265 calories per serving (3 servings per recipe), 10.2g fat, 10.5 g fiber, 10.7 g protein.  Enchiladas – 645 calories per serving, 24.3 g fat, 13.8 g fiber, 23.4 g protein
Cost: Beans only – $3.59 per pot, $1.20 per serving.  Enchiladas – $4.99 for pan, $1.66 per serving.
0