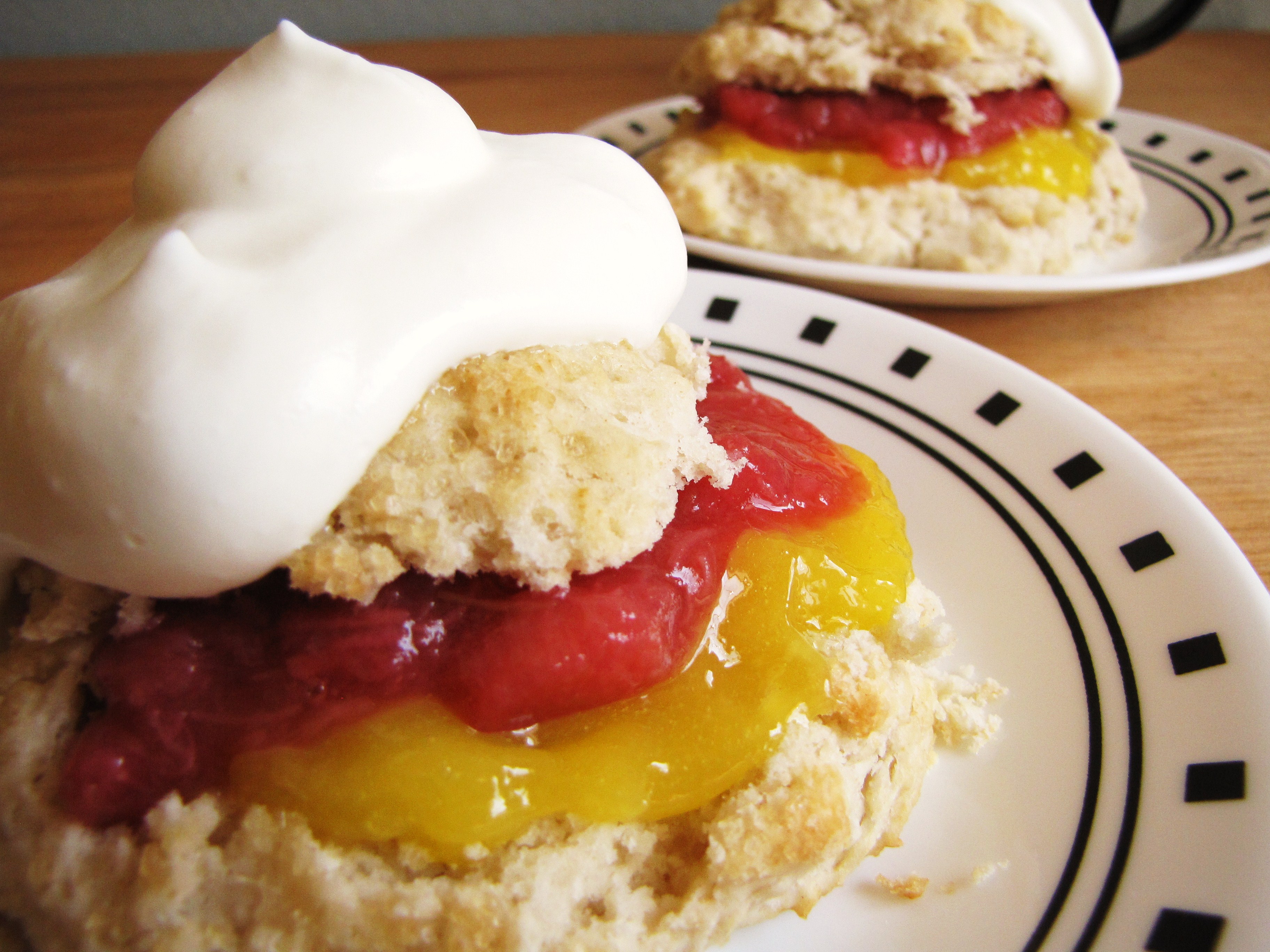 I recently joined a baking challenge group called Have the Cake, and yep, every month they choose a cake that the members have to make and blog about.  I was really attracted to the group because it has a small-ish number of members which makes it feel more welcoming than groups like the Daring Bakers – an incredible group with a daunting number of members.  They also seem to choose very open-ended challenges, such as flan and buttermilk cake – it leaves so much room to play!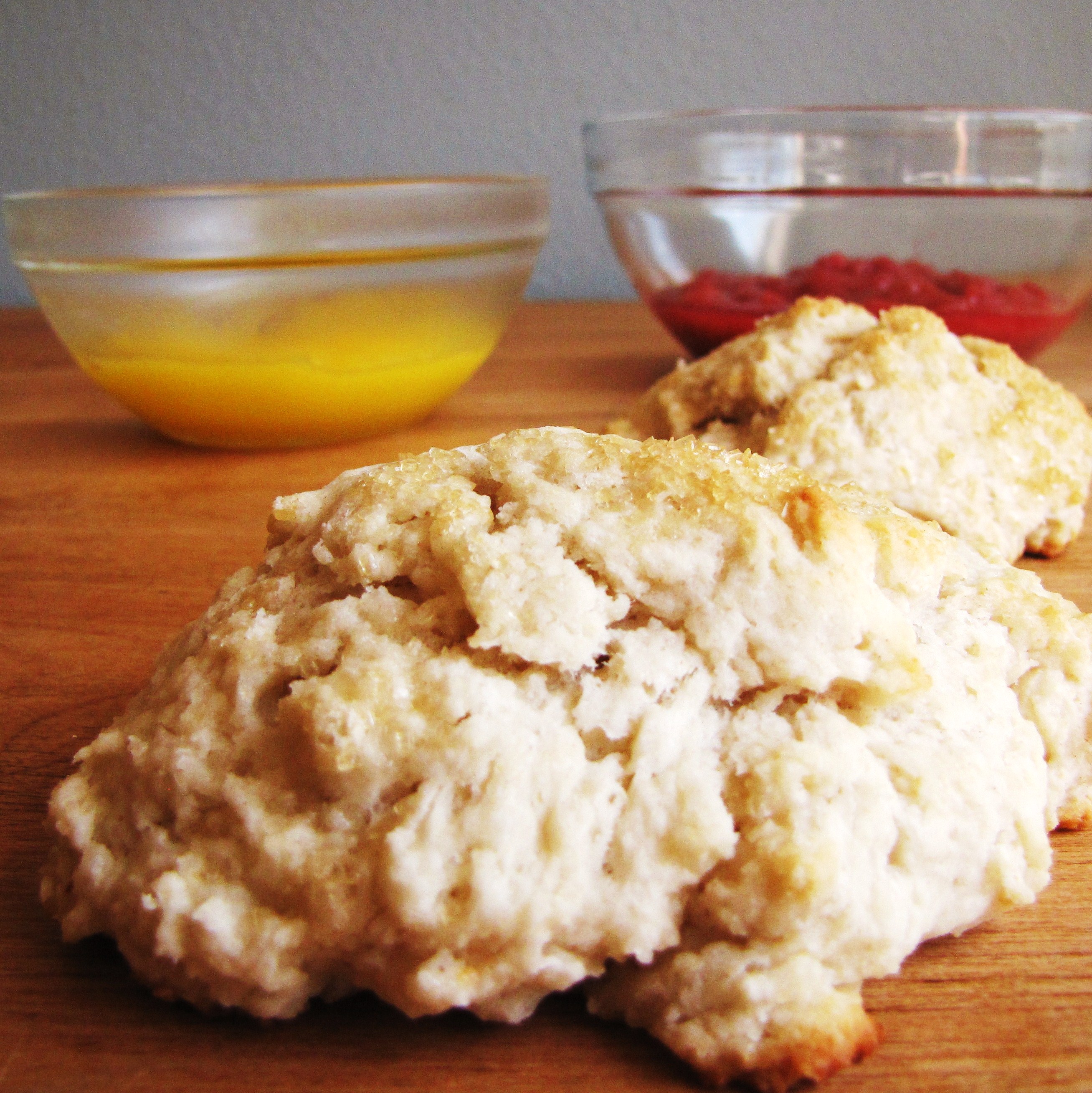 This month was my first participating in Have the Cake, and I was psyched to see that the challenge was strawberry shortcake, a birthday favorite of mine for many years.  Now, strawberry shortcake pretty much embodies perfection as it is, so I was hesitant to mess around with it.  The point of strawberry shortcake is that it's a refreshing, simple balance of three flavors and textures that retain their integrity even as they blend.  It's not a dessert that you really want to fancify or complicate.  That being said, however, it's a challenge group – I wanted to get creative and find a new way to present an old favorite.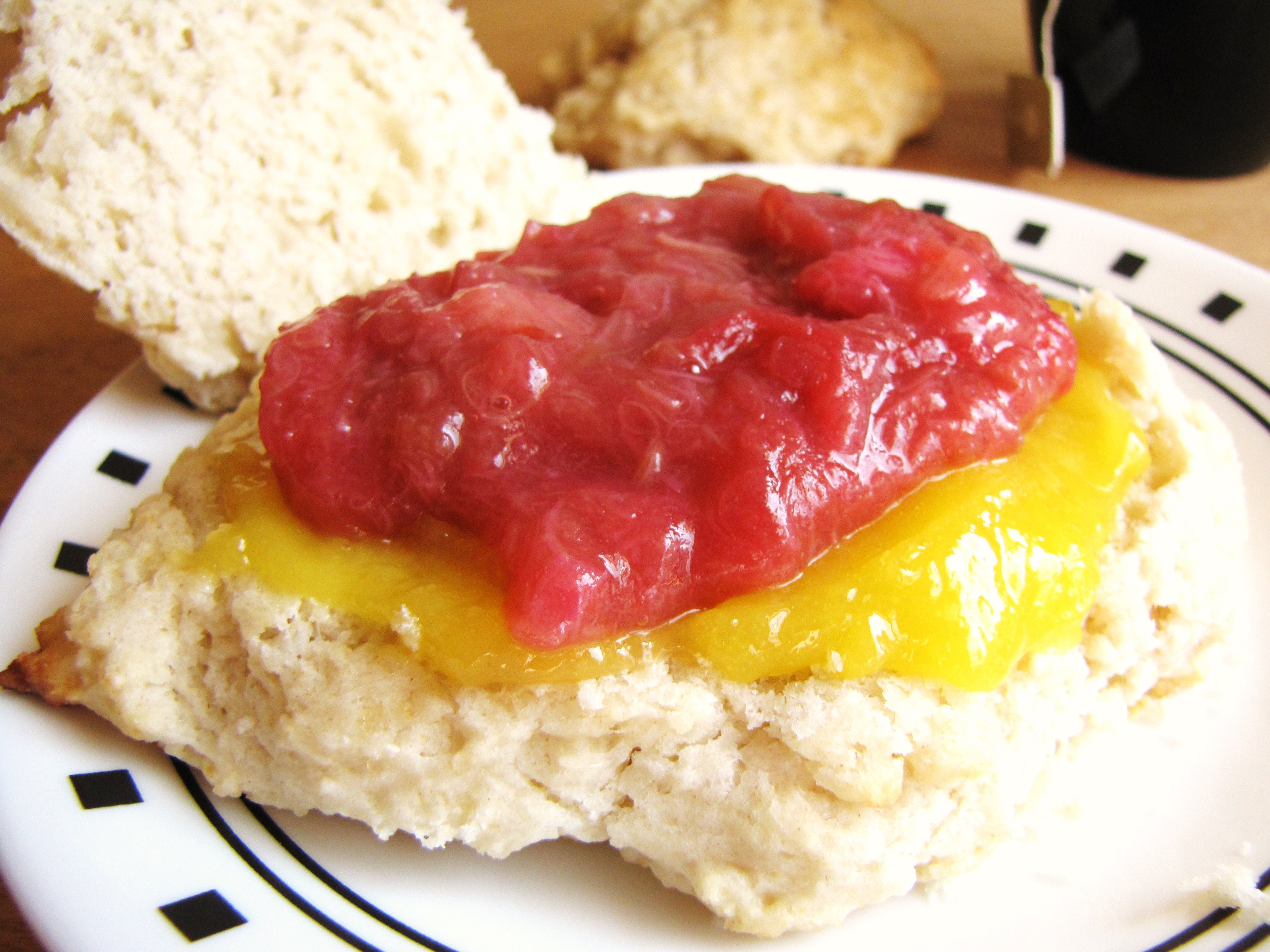 So I spent some time browsing the giant cookbook that is the internet for a recipe that would retain the simplicity of strawberry shortcake while also enhancing it.  I found several incredibly appealing recipes – the second place recipe was hazelnut shortcakes with blackberries and cassis cream.  But that seemed like too much of a departure from the original, so I passed on it, although don't be surprised if it shows up on here soon – I'm a huge sucker for cassis.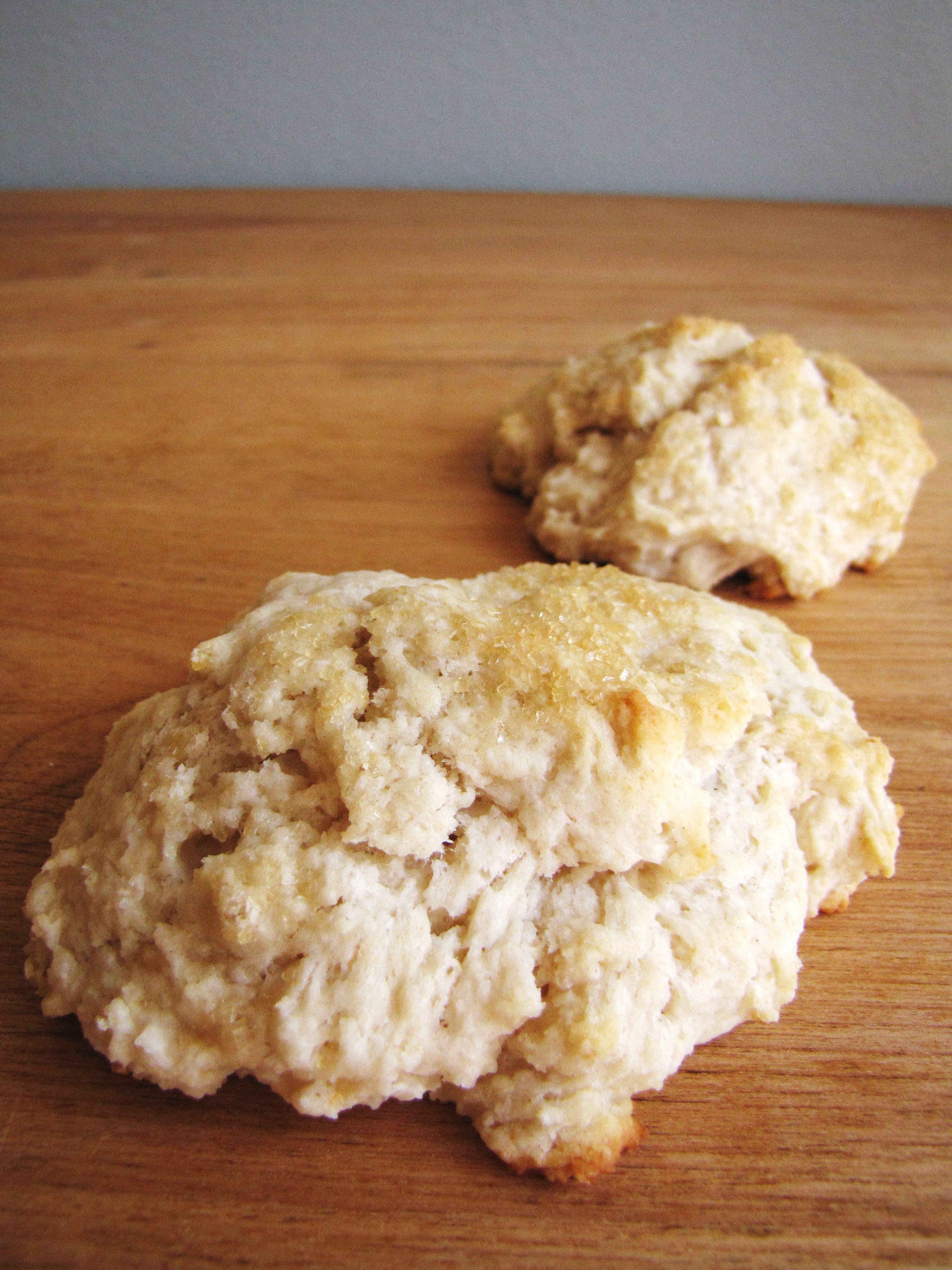 I ended up sticking with a classic shortcake and a classic whipped cream, and only played with the filling.  Before I tell you what it was though, let me just tell you this: it was really, really good.  Like, I actually whimpered a little bit when I ate it.  And I'm not trying to brag.  I just want you to be able to whimper with gastronomic pleasure too.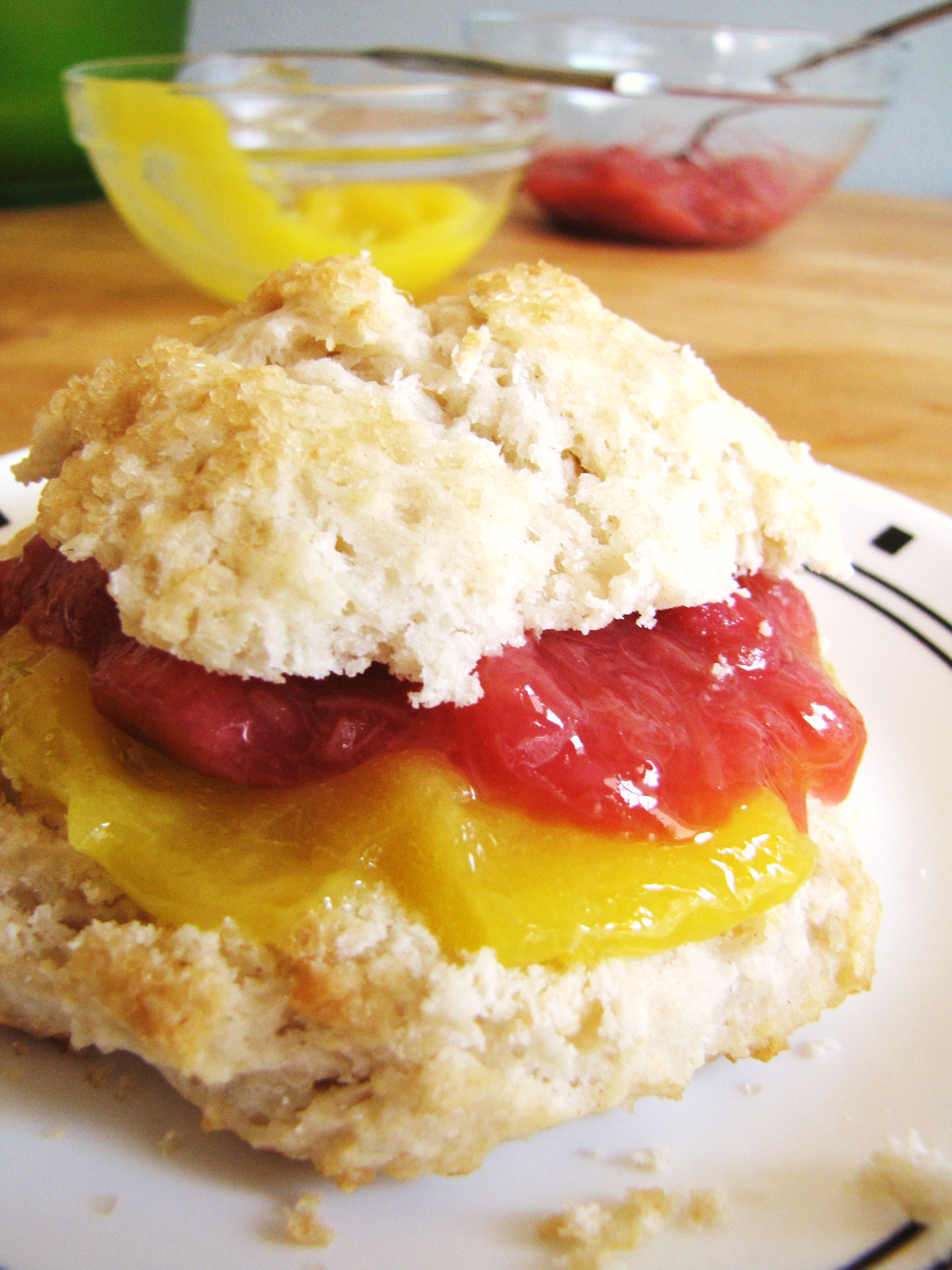 The filling was rhubarb.  Rhubarb compote and lemon curd.  A bite including fluffy shortcake, tart rhubarb and lemon, and smooth, velvety cream was pretty much bliss.  The biscuit-curd-cream combo would make it an exceptionally good teatime treat, although I also plan on eating it for breakfast tomorrow as well as for dessert for as many nights as it lasts.  Basically, I would serve it to anyone, any day, at any time.  And I would expect them to love me a measurable amount more than they did 5 minutes before I served it to them.
So a great first Have the Cake experience!  I'm already stoked about next month.  And before I go, some thanks are due: thank you to Joanne over at Eats Well with Others, which is one of my absolute favorite blogs to read, for hosting this month's challenge, and thanks as well to Rainy Day Gal for the inspiration for this dessert!
Rhubarb and Lemon Curd Shortcakes
Serves 6
For the shortcakes: (Recipe adapted slightly from Alton Brown)
2 c. flour
4 tsp baking powder
3/4 tsp salt
1/3 c. sugar
2 TBS butter, chilled
2 TBS shortening
1 c. half and half or buttermilk
Melted butter to brush shortcakes
Preheat oven to 400°F.  In a large bowl, whisk together flour, baking powder, salt, and sugar.  Cut in butter and shortening in small pieces.  Mix with a pastry cutter or fork, pressing butter into flour to make a crumbly mixture.  Mix in half and half or buttermilk until fully incorporated.  Drop dough onto greased or parchment-paper lined baking sheet with a large spoon.  Brush with melted butter and sprinkle with turbinado sugar.  Bake for 15-18 minutes, until golden brown on top.
For the lemon curd:
5 egg yolks
1 c. sugar
juice and zest of 3-4 medium lemons
2-4 TBS butter (optional)
Fill a medium sized pan halfway with water and bring to a low boil.  In a smaller, metal pot or bowl, whisk together egg yolks, sugar, and juice and zest of lemons.  Place egg-lemon mixture over boiling water and cook, whisking constantly, for 8-10 minutes, or until a thick curd has formed.  Remove from heat and whisk in butter a tablespoon at a time.  To store, press plastic wrap against the surface and refrigerate.
[Note:  All curd recipes call for the addition of butter at the end.  However, I completely forgot to add it this time, and didn't notice a difference.  In fact, I liked the texture of the curd somewhat better without the butter!  So it's completely up to personal preference whether or not to include it.]
For the rhubarb compote:
4 stalks (about 1 lb.) rhubarb, washed and trimmed
1/3. cup sugar
1/4 c. citrus juice  or water (I used Simply Limeade)
Chop rhubarb into 1/2 inch pieces.  Mix with sugar and citrus juice or water in a medium pan.  Cook over medium heat for 10-15 minutes, stirring occasionally, until rhubarb has broken down and a compote has formed.
To serve shortcakes, slice open and spread a layer of lemon curd topped with a layer of rhubarb compote on the bottom shortcake.  Replace shortcake top and slather with homemade whipped cream.
0