Color has returned to the world!  And with it comes the promise of never-ending sunshine, bare feet in wet grass, pitchers of ice-cold lemonade, road trips with the windows down, drippy ice cream cones, gauzy sundresses, fresh cherries in a bowl on the counter, and all the other beautiful gifts of summer.  Since the above list contains some of my favorite things in the world, I have decided that a small celebration involving me, my kitchen, and lemons is in order.
I spent Monday night browsing Tartelette and La Tartine Gourmande fantasizing about what sort of beautifully and elegant spring dessert I wanted to make the next weekend and drooling over their beautiful pictures of their summers at childhood homes in Southern France.  One day I will have been born in Southern France and spend my summers at my ancestral home making tarts from the fresh currants in my garden and sipping cassis at my ancient stone table while looking out over the fields of lavender from underneath an olive tree… until then I will read and re-read Peter Mayle's A Year in Provence and watch Russell Crowe do what, rightfully, I should be doing in A Good Year.   (Actually I highly recommend both the novel and the film – they are literary/cinemographic floo powder to France.)  I toyed with the idea of an elegant version of strawberry shortcake, because strawberries are on sale everywhere right now, or perhaps a trifle-like dish with strawberry and raspberry mouses between layers of almond flavored angel food cake, or maybe a blackberry and mascarpone tart…  And then Tuesday morning, it hit me – all I'd ever wanted was lemon cupcakes with a tart lemon frosting and little bits of candied lemon peel.  Love at first thought.  Maybe this was my brain's way of saving me from disappointment – whipping cream by hand – as I would have needed to for almost any light and fluffy dessert I was craving – is something I just do not have the patience for.  I tried it, once, in Prague, and after 20 minutes of whisking I had three quarters of a cup of droopy whipped cream and a very sore forearm.  I folded some chocolate into it and it was still delicious, but believe me, I did not share that mousse-like creation with anyone.  ("Who will help me eat this chocolate mousse?" said the Little Red Hen…)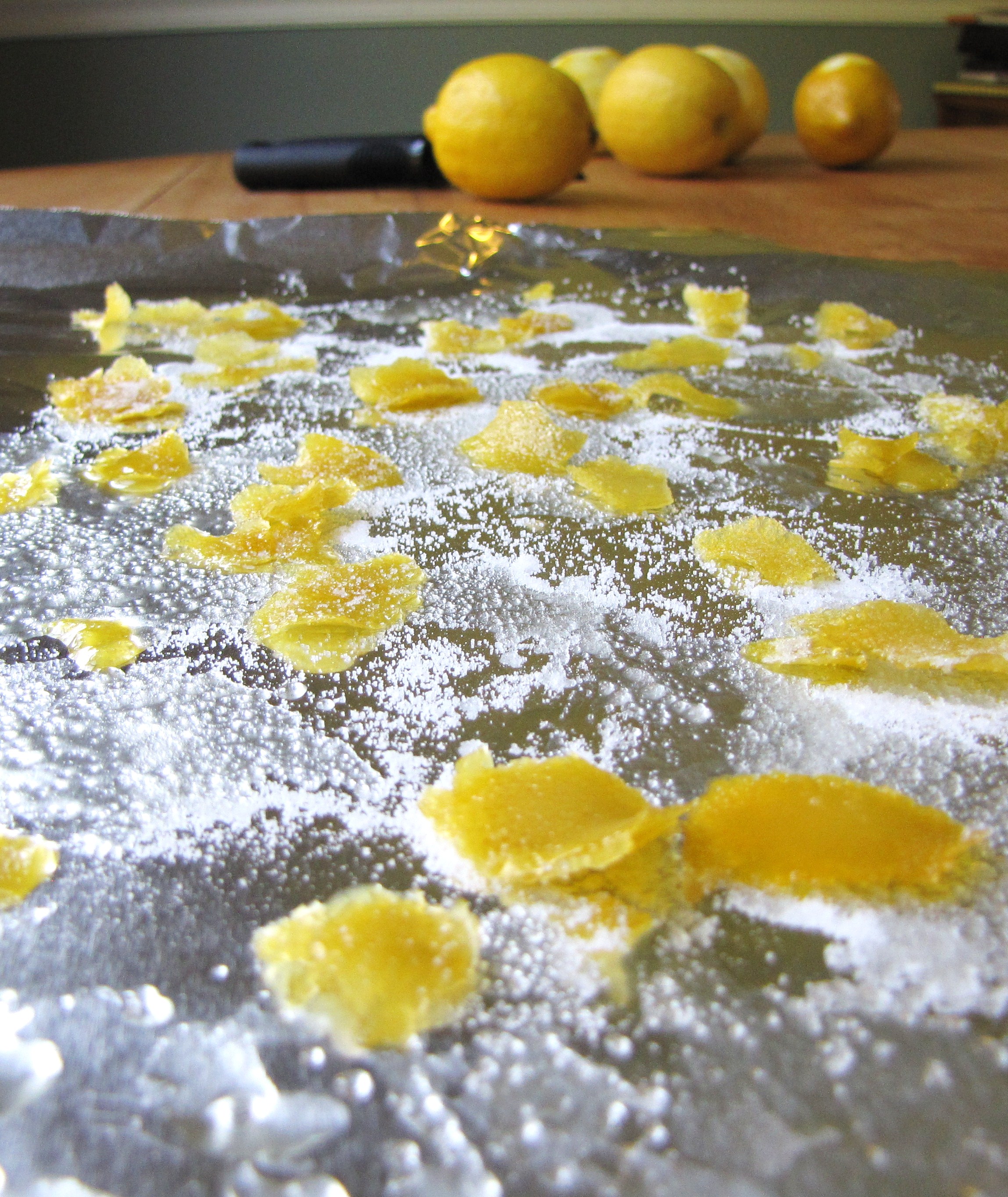 So lemon cupcakes!  The decision was made.  Spring would be celebrated with little tart mouthfuls of lemony goodness.  And now the search for a recipe was on.  Did I want fluffy cupcakes or pound cake-esque cupcakes?  A buttercream or something lighter?  A lemon curd filling, or no?  Did you know there were so many things to think about when making cupcakes?  Yeah, me neither.  I decided fairly quickly that I wanted to try the cream cheese frosting, just because I always feel slightly sick when eating a buttercream that I made myself – if I don't actually see the three sticks of butter go into the mixer, I'm fine, but if I put them there myself there's no escaping them.  And cream cheese is slightly better than butter, right?  Right?  I'm going with it.  And in sort of the same vein of thinking, I decided on the angel food cake version, mostly because I'd really like my shorts to continue to fit (start fitting again?) and because fluffy light lemon cupcakes just sound divine.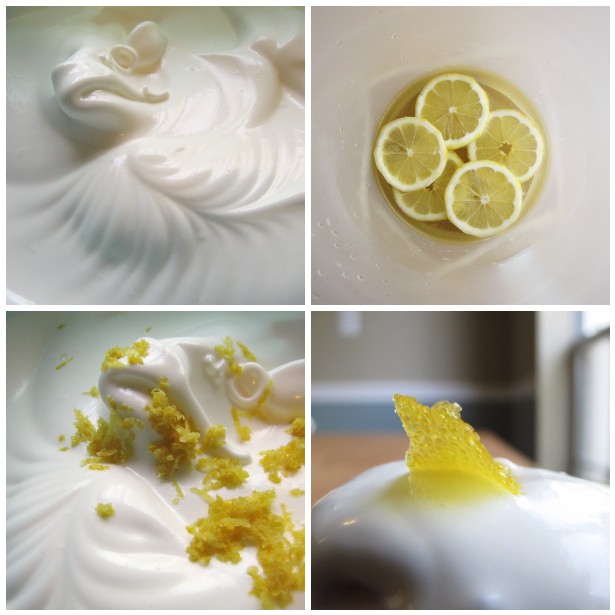 I have to admit one thing though.  I bought a hand mixer.  Yes, after that little "whipped desserts are too hard I'm making cupcakes!" tangent, I just bought one anyway.  It was $9.99.  The price was right.  I could whip anything now.  But I'm still making cupcakes.  Albeit with the mixer.  Whatever!
A few notes: the frosting came out exactly exactly how I wanted it, with the perfect balance of lemony tang and sweetness, but it was pretty runny.  I wasn't willing to sacrifice flavor for consistency, so I let my cupcakes be a bit drippy, but I'd recommend sticking the frosting in the fridge for around an hour before using it.  Also, there was enough frosting to frost about 30 cupcakes (I only made 12)… so be aware of that I suppose.  Not that there's any harm in leftover frosting.  The cake recipe was good – the consistency was just right – but there was hardly any lemon flavor in the cupcakes, even though I added extra lemon juice and zest.  Next time I might try adding the juice of an entire lemon, but I'm not sure what it would do to the batter consistency.
All that being said … cupcakes!
Lemon Angel Food Cupcakes
For the candied lemon peel:
1 lemon
1/3 c. sugar
1/3 c. water
granulated sugar
Thoroughly wash the lemon.  Using a vegetable peeler, carefully peel strips of the lemon zest off of the lemon.  Avoid getting any of the white part (the pith) with your peel strips as it has a very bitter flavor and may ruin the final product.
In a small saucepan, make the simple syrup: bring the water and sugar to a gentle simmer.  Add the lemon peel and simmer, stirring constantly, until peel is shiny and translucent, about 5 minutes.  Remove the peel from the syrup and place on wax paper.  Let cool slightly, then roll in granulated sugar.
Great demo here.
For the cupcakes: (adapted very slightly from Baking Bites.)
(Makes 12 cupcakes)
5 large egg whites
3/4 c. sugar, divided
1/2 c. cake flour
pinch cream of tartar
pinch of salt
1 tsp vanilla
zest of 1 lemon
juice of 1/2 lemon (about 3 tsp)
Preheat oven to 350°F.  Line muffin tin with 12 baking cups.
Separate eggs while cold, placing egg whites, completely yolk free, in large mixing bowl.  Allow to come to room temperature.
Meanwhile, sift together 1/4 c. sugar and 1/2 c. cake flour.
Beat room temperature egg whites on high until they become foamy.  Add cream of tartar and salt and continue to beat on high.  While beating, gradually add remaining half cup of sugar to the whites.  Beat until soft peaks form.
Mix vanilla, lemon zest, and lemon juice into whites.
In 2 or 3 batches, gently fold flour/sugar mixture into whites, mixing just to combine.
Spoon batter into cups.  Cups should be full.  Bake cupcakes for 16-18 minutes.  When they are done, tops will be golden brown and cupcakes will be slightly springy to the touch.
For the frosting:
1 8 oz. package of cream cheese, room temperature
1 1/3 c. powdered sugar
juice of 1 lemon
Beat cream cheese on medium until soft.  Gradually add powdered sugar and lemon juice while continuing to beat.  Frosting will be creamy and slightly runny when done.  (For stiffer frosting, increase amount of powdered sugar.)  Refrigerate before using.
*Final notes:  To make the peel, cupcakes, and frosting, you need two lemons – the zest of 1 for the peel, the zest of the other for the cupcakes, the juice of one for the frosting, and the juice of the other for the cupcakes.  Lemons without their peel will not last as long in the fridge, so if you make extra peel, be sure to use the lemons within a few days.
0