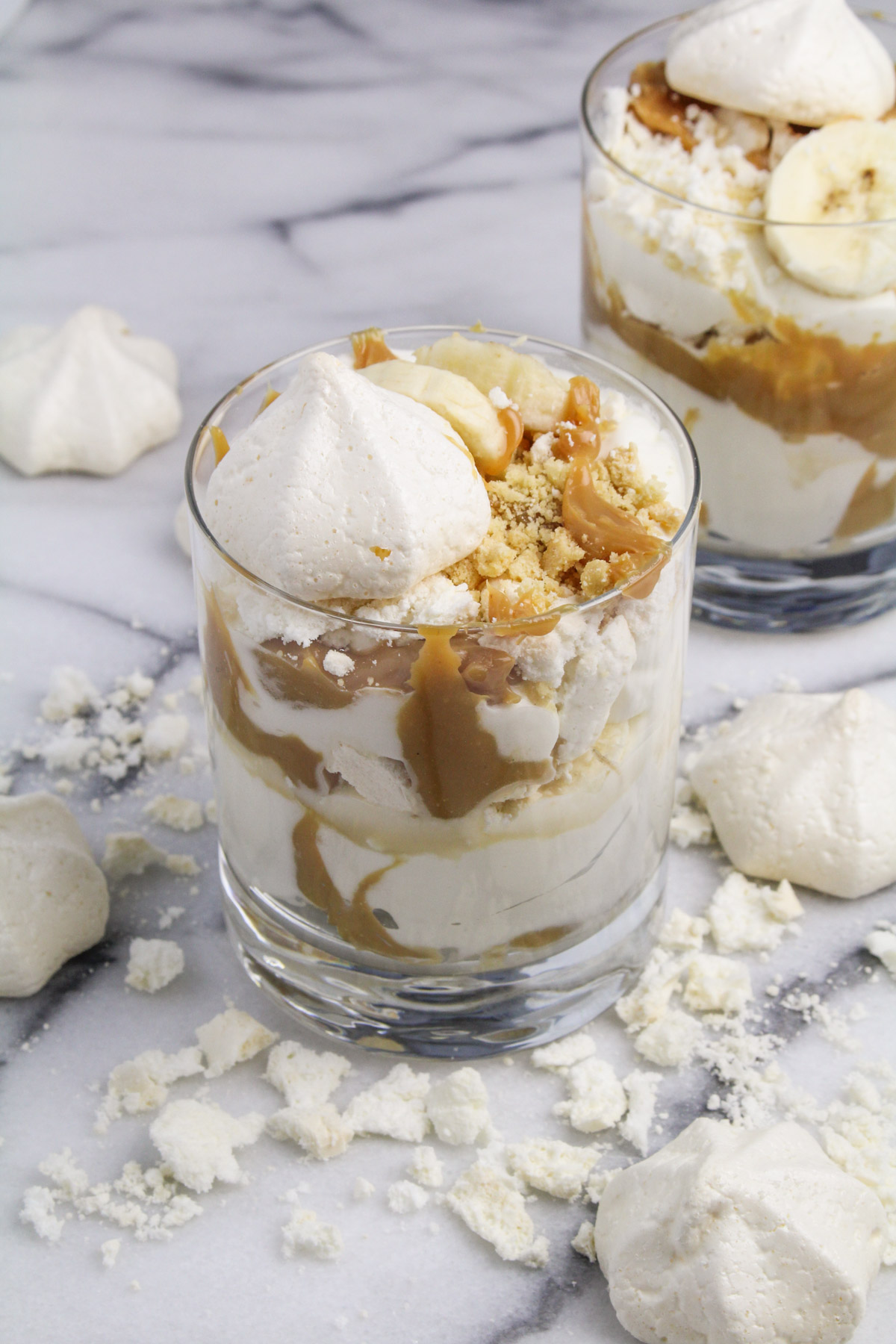 I didn't intend to post two dessert recipes in a row. Normally, I try to keep things balanced and fairly nutritious around here (especially now that I'm in full-blown wedding planning mode and realllly starting to think about how that strapless dress is going to look). But, sometimes my recipe inspiration is for things like homemade spinach wraps… and sometimes it's for Banoffee Eton Mess.
If "Banoffee Eton Mess" is meaningless to you, let me explain. This dessert mashes up two classic British desserts – banoffee pie and eton mess. We've been intermittently watching The Great British Bake-Off and it has substantially increased my desire to bake all sorts of British things. And to call them "bakes," of course. I have also begun to fantasize about living in that magical baking tent filled with pleasant people and cakes, surround by green fields and flowers.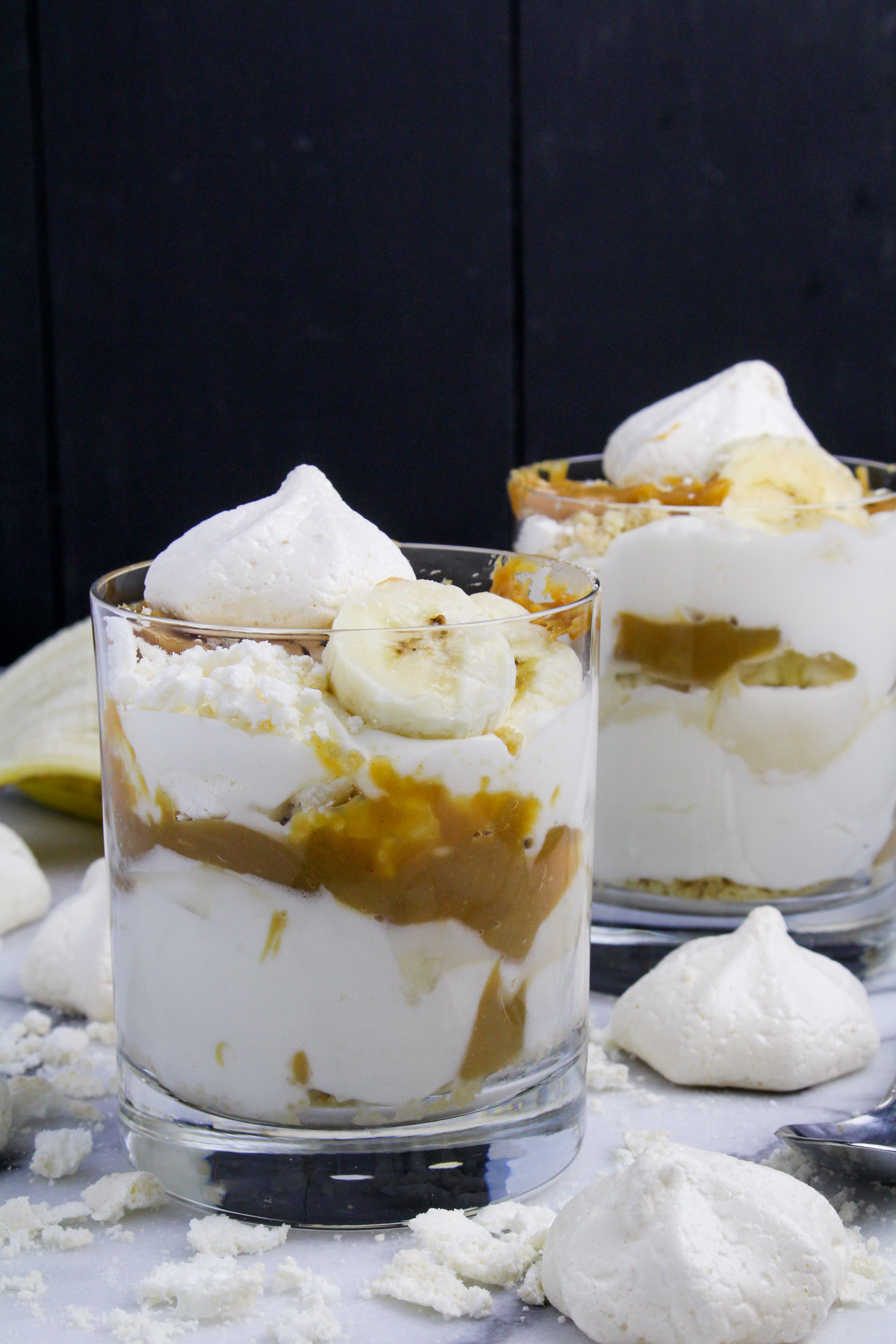 I digress. Banoffee Pie is a sticky sweet dessert that consists of dulce de leche, bananas, whipped cream, and a shortbread crust. It's kind of childish and simple and a very fun thing to say out loud. Banoffee. I think the name may be the primary reason that Trevor requested it as his birthday dessert, given that he doesn't like bananas. Not to worry, I didn't leave it that simple anyways. First, I turned the "offee" into peanut butter dulce de leche. Yum. Next, I made these as layered parfaits, adding a layer of crumbled meringue to the party. Which meant I could also call it Eton Mess – a mixture of broken-up meringues, whipped cream, and fruit. Tah dah! Peanut Butter Banoffee Eton Mess.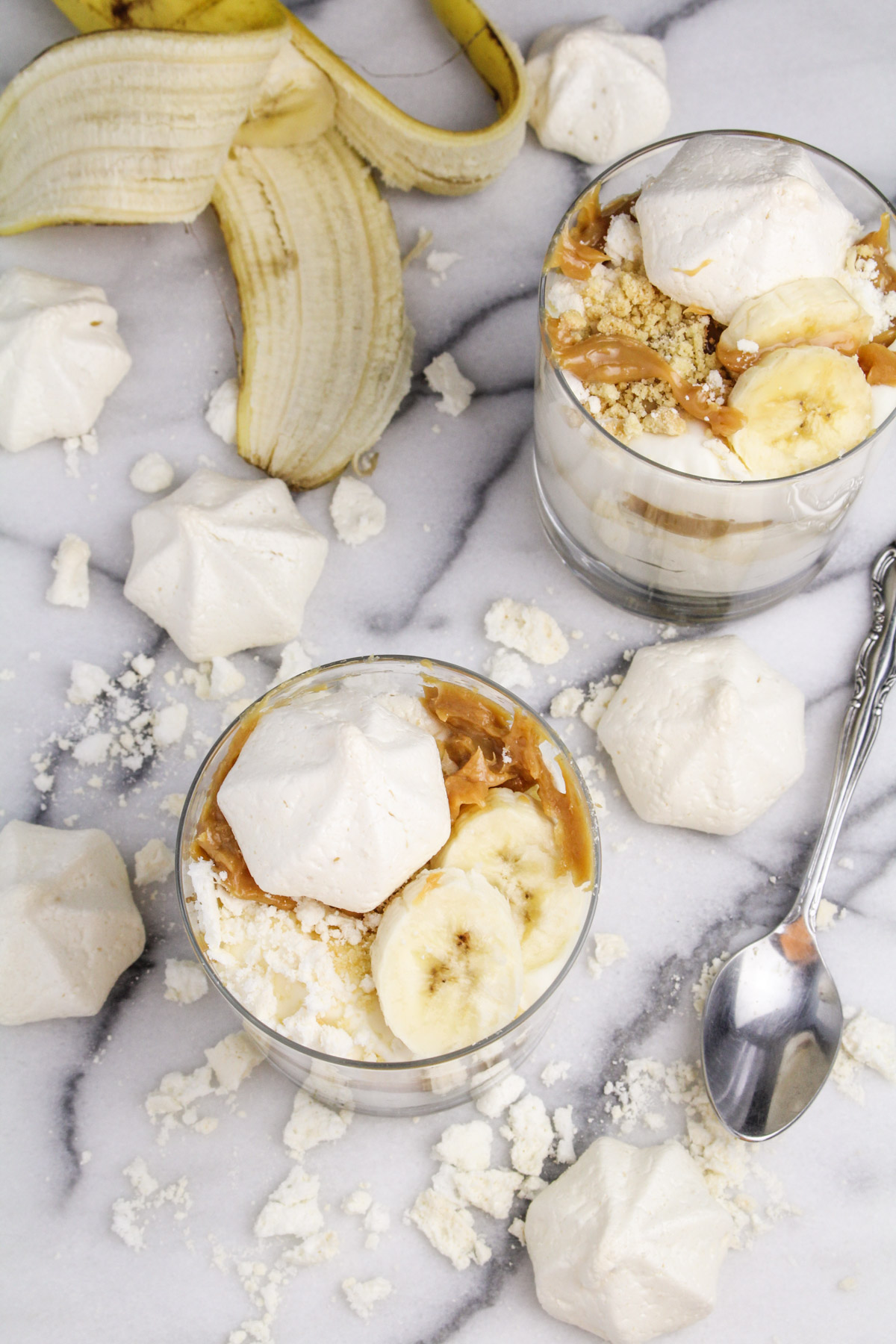 The beauty of this dessert is that you can make it all homemade or store-bought, depending on how ambitious or lazy you are feeling. Unsurprisingly, I made everything except the shortbread myself. I suppose I also did not grow the bananas. But if you're in a hurry, everything – whipped cream, meringues, dulce de leche – can be bought at the store and simply assembled. But if you are making your components, a note on the meringues: meringues are both incredibly simple and a little bit tricky. I always seem to both under-whip and under-bake them. So a note to you – as well as to future Katie – whip your egg whites until they are really stiff! And really shiny! Then bake them for at least an hour and leave that oven door closed.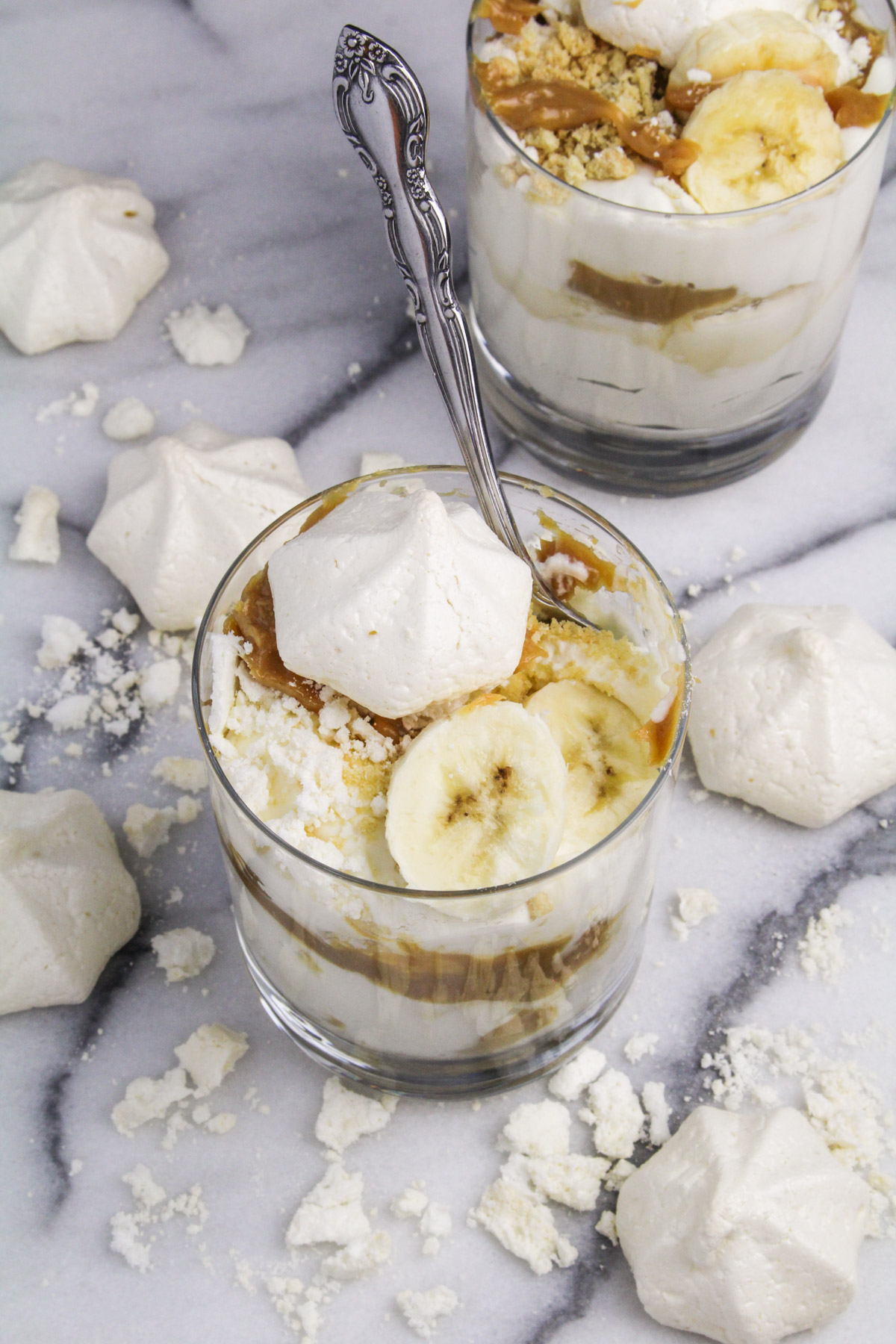 If you're not into bananas or meringue or cream or British things, then I have one favor to ask. If you do nothing else, please make a jar of peanut butter dulce de leche and eat a spoonful every night when you get home from work. This will not be good for your wedding photos but it will be good for your soul. Dulce de Leche for the Soon-to-be-Bride's Soul, or something like that. And with that, enjoy your weekend, friends!
Like what you just read? Subscribe to Katie at the Kitchen Door in the box on the right, on Feedly or Bloglovin', or follow along on Facebook, Twitter, Pinterest, and Instagram. Thanks for reading!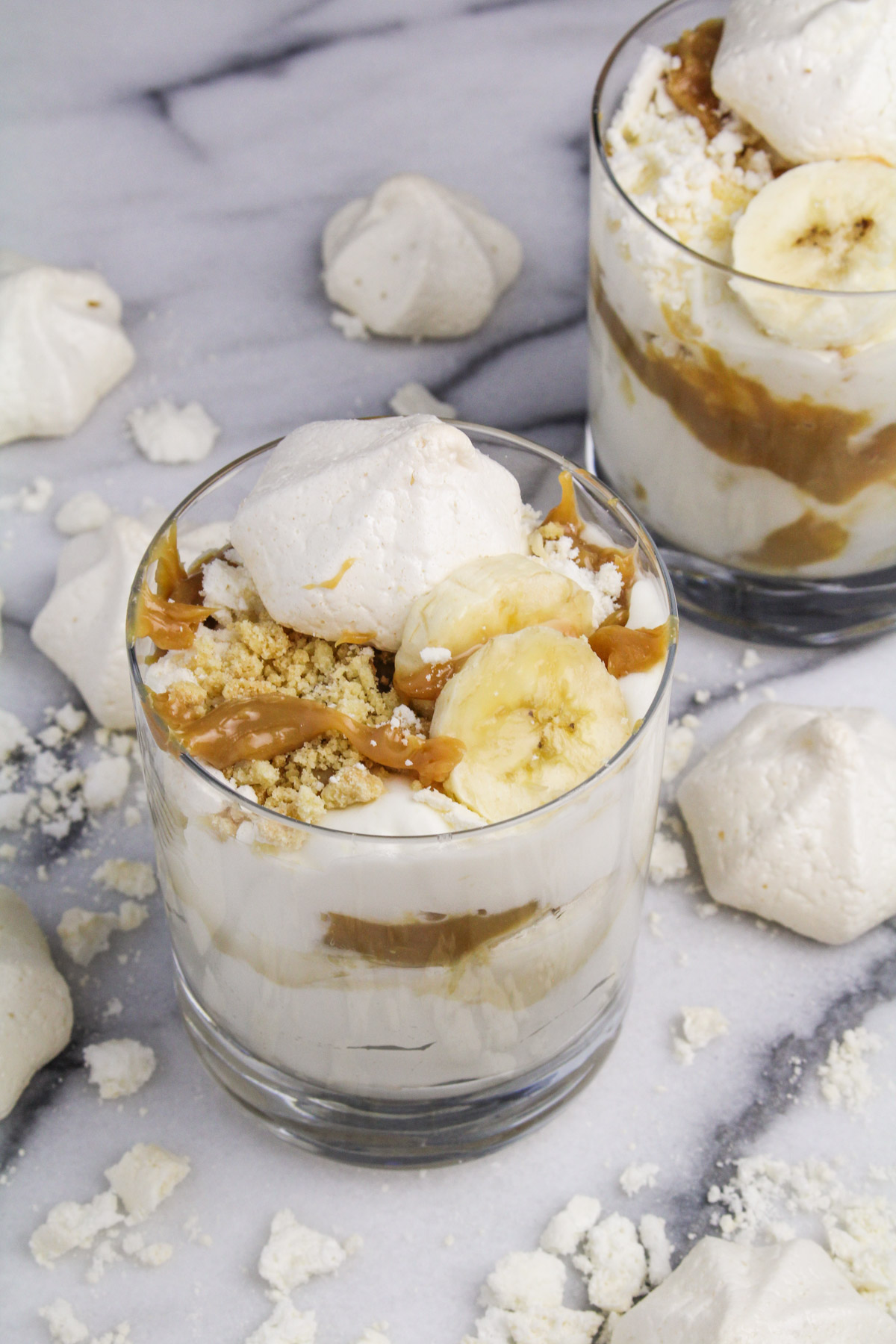 Print
Peanut Butter Banoffee Eton Mess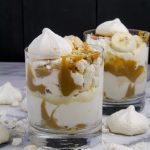 A mash-up of two classic British desserts – Eton Mess and Banoffee Pie – made a little bit American with the addition of peanut butter. Layers of sticky-sweet peanut butter dulche de leche, shortbread cookies, whipped cream, banana, and meringue make a delicious dessert.
Instructions
Heat the dulce de leche in a microwave for 30 seconds in a microwave-safe bowl, just to warm it up. Repeat with the peanut butter. Both the peanut butter and dulce de leche should be warm enough that they mix easily – if not, heat for a little longer. Stir together until evenly combined.
Take out 6 glasses – stemless wine glasses work well. Place a layer of crumbled shortbread cookie in the bottom of each one. Top with a large spoonful of whipped cream and a layer of sliced bananas. Drizzle a tablespoon of peanut butter dulce de leche on top. Gently crush a few of the meringues and sprinkle the crumbled bits over the top. Top with more cream, more dulce de leche, and another layer of crumbled shortbread. Finish with a final layer of cream, a few pieces of sliced banana, one whole meringue, and more dulce de leche. This is more of an art than a science, so layer the way you want to!
6