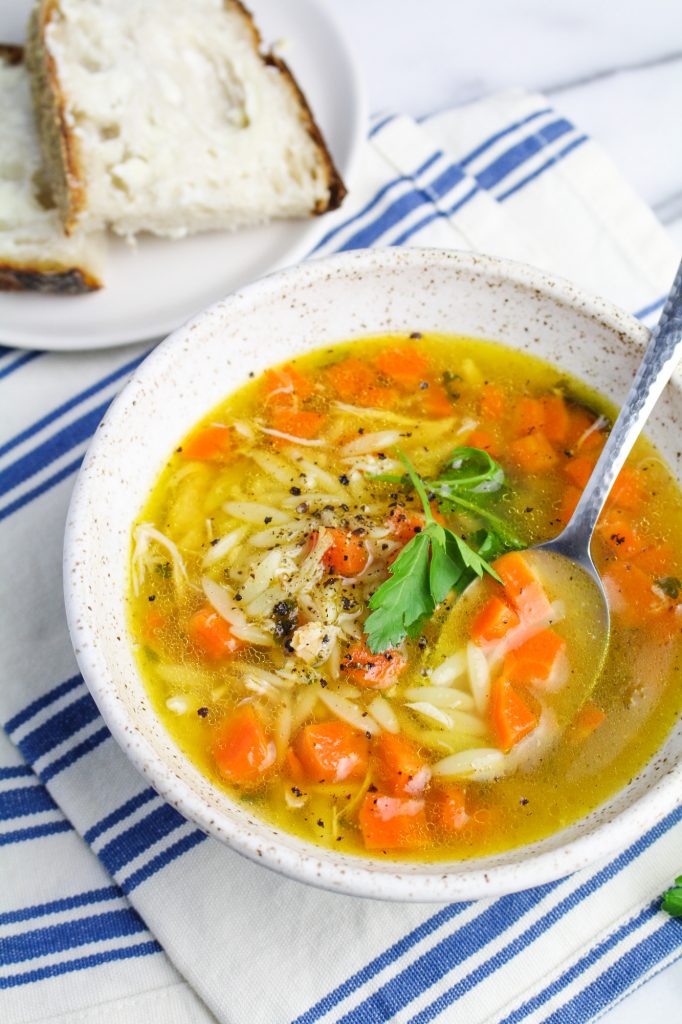 I've been making homemade chicken stock pretty much since I started cooking. In college, it was just an economical way to stretch a $5 rotiserrie chicken. The problem is, I never graduated from my original technique: take all of the meat off a rotisserie chicken and reserve for another use; toss chicken carcass into giant pot with a halved onion, a carrot or two, and a stalk of celery; fill giant pot with water; simmer for hours; strain and freeze. The result of that method is certainly broth, it's just not that good. Cloudy, thinly flavored, and a little gray – it's fine for adding to a stew or sauce but certainly not something I would sip on it's own.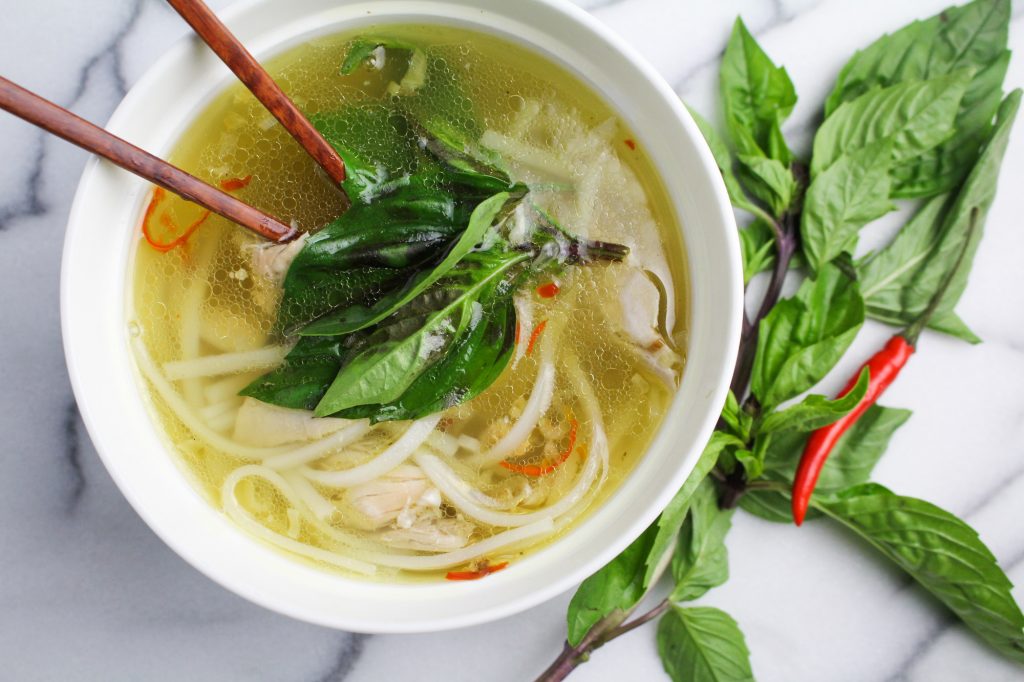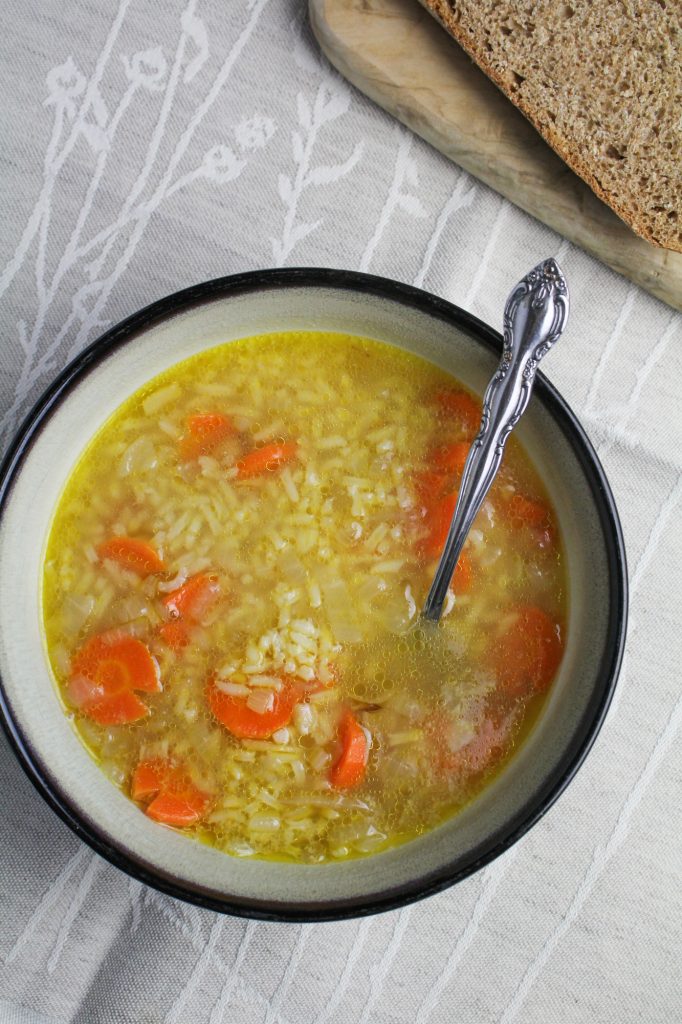 It wasn't until I spent six weeks in Asia last winter that I discovered that good stocks and broths aren't only the backbone of a soup or a sauce, but culinary achievements in and of themselves. Of course, I knew this before going to Asia – I consume enough food literature to know that a good broth should stand on its own, needing no other embellishment to be enjoyed. But I didn't really internalize how good a broth could be until I'd experienced the dumpling soups in Hong Kong, which consisted of broth, dumplings, maybe a few noodles, and that was it. No veggies floating around in these soups, or creams to thicken them, or salty slices of kielbasa. Then we moved on to Japan and consumed ramen for basically every other meal. There, broth took on another dimension of deliciousness – although for ramen it's not so much about clarity and purity as it is about richness and salt.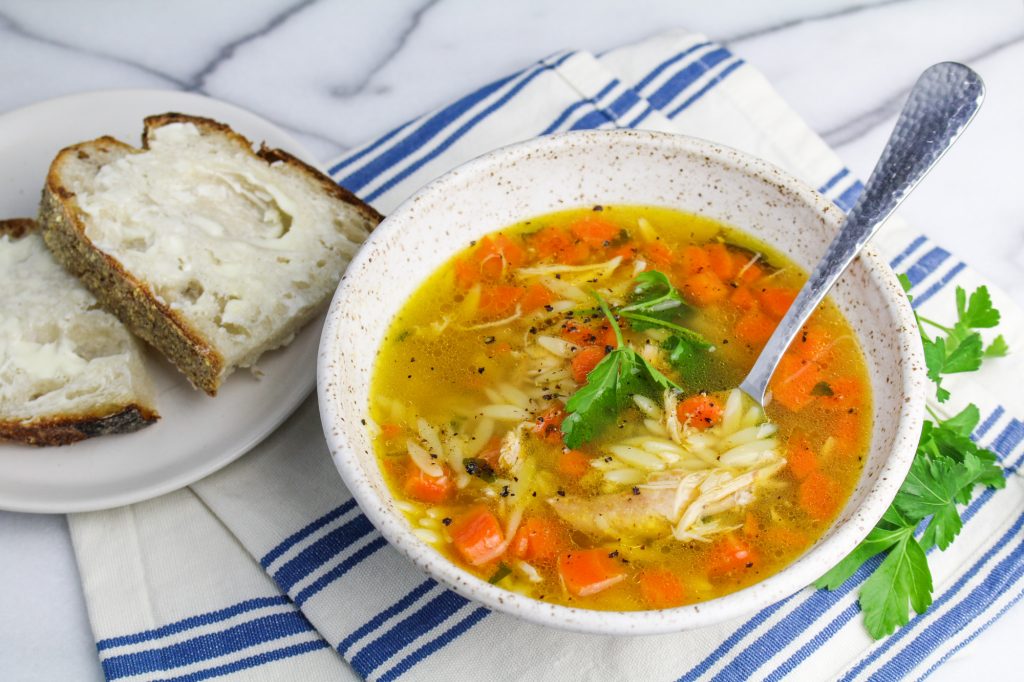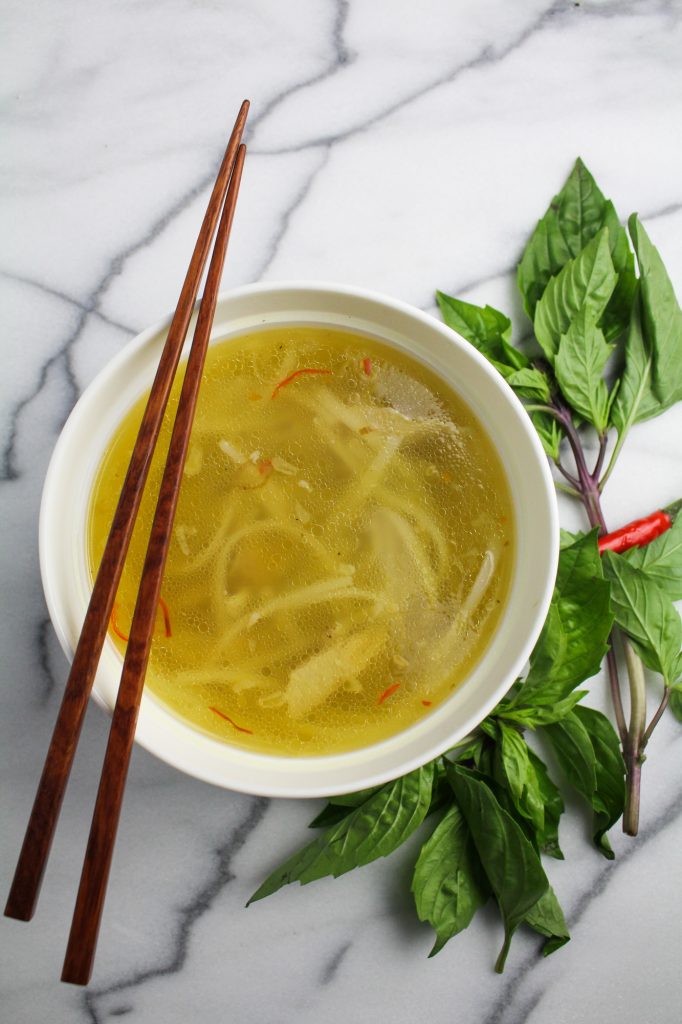 Since coming home, over a year ago now, I have been pouring my heart and soul into making a perfect homemade chicken stock. I know precisely what I want to achieve: a stock that's golden, clear, richly flavored, with just enough fat to lightly coat your mouth after a spoonful. I've been doing lots of research, and experimenting, and taking detailed notes on each batch.
After a recent batch, which I always seem to be putting away boiling hot at 10pm on Sunday night, Trevor looked and me and said "I can't believe you make stock every weekend."
"Not every weekend," I corrected him. "But often," he said. "It's not like you tried it once and said 'yep, I've made stock.' You're more like a Russian grandmother: 'on Sundays I make stock, to feed the family and use up the chickens'"
That's pretty much the long and the short of it.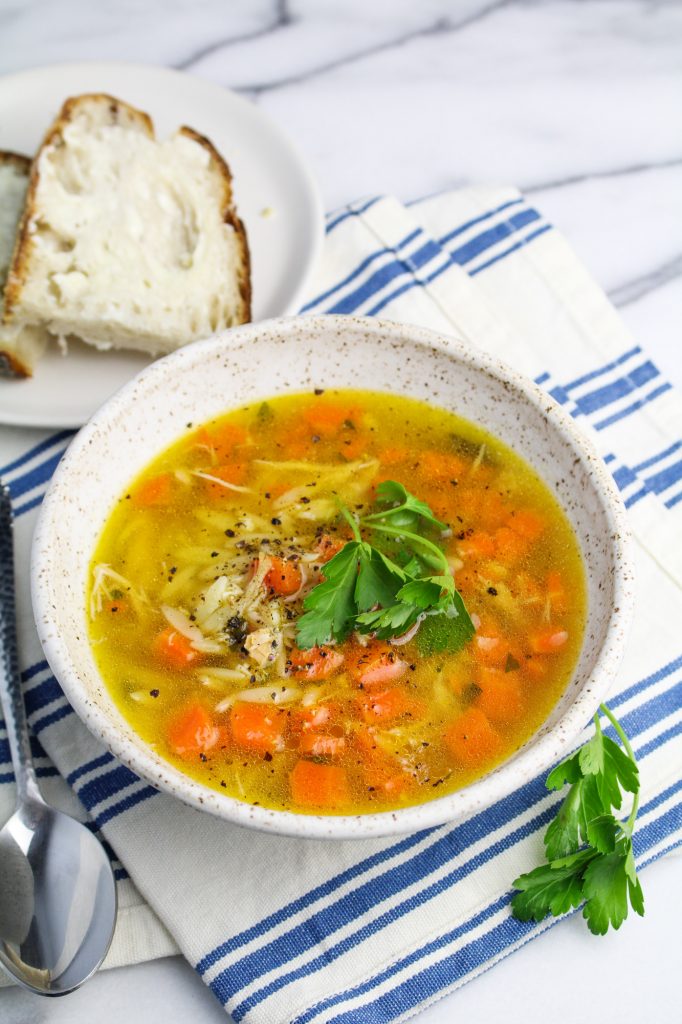 Despite Trevor's teasing, I persevered, and after a year of testing, I think I have it down. I've learned a lot of lessons on the way, helped by the notes and trials of more experienced chefs. Serious Eats taught me to cut my vegetables into small pieces instead of throwing them into the pot in chunks. Vietnamese Home Cooking taught me to blanch and rinse the chicken before starting the stock itself and to keep it at a low simmer to prevent cloudiness. I learned through trial and error that a 50/50 mixture of chicken backs and drumsticks or legs makes for the best balance of flavor, body, and affordability.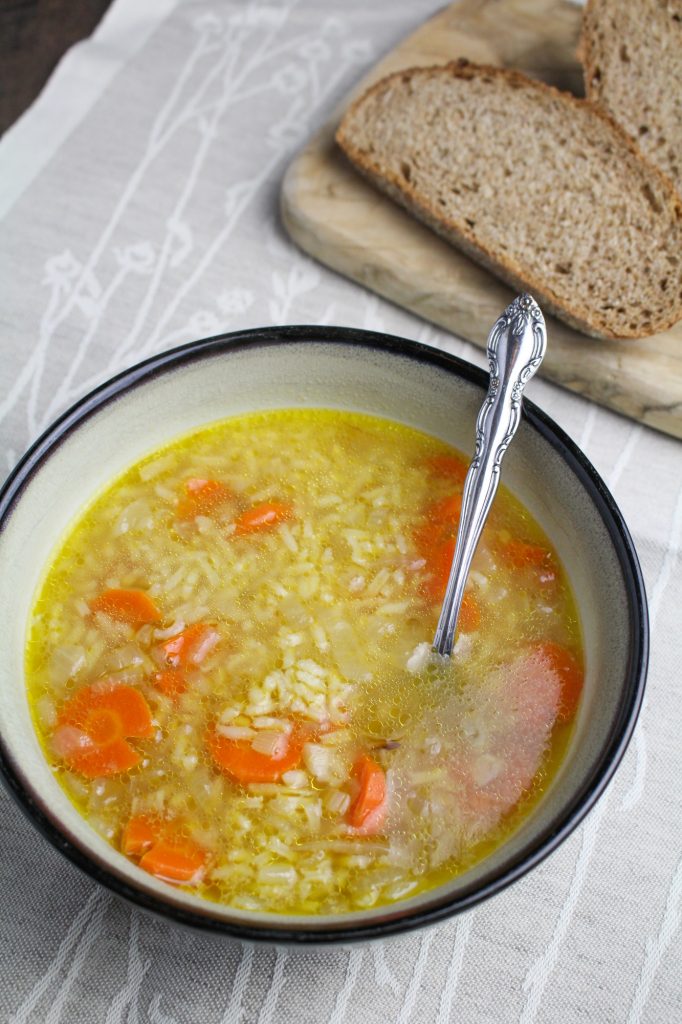 As far as aromatics, in my opinion, it's the more the merrier. I always use 5 core vegetables: onion, carrot, celery, garlic, and one hot chile pepper. Beyond that, I've experimented with rosemary, parsley stems, shiitake mushroom stems, ginger, lemongrass and leeks. I find that the flavor only gets richer and more interesting the more I add. I always salt the broth at the beginning, which some experts say is a no-no, but I think it makes a big difference in the final flavor. And I use about 1 1/2 pounds of chicken for every quart of stock I want.
How I ever got any flavor out of a skimpy, already roasted, 1 pound chicken carcass without any meat beats me, especially since I was drowning it in a giant stockpot of water. I suppose I'm just glad that now I know better! Do you have any tips for making great homemade chicken stock? Although I've come a long way, I'd love to hear them. I'll keep the recipe below updated as I find new tricks, but a year's worth of testing went into it so far, so I can vouch that it's a very solid recipe.
Like what you just read? Subscribe to Katie at the Kitchen Door in the box on the right, on Feedly or Bloglovin', or follow along on Facebook, Twitter, Pinterest, and Instagram. Thanks for reading!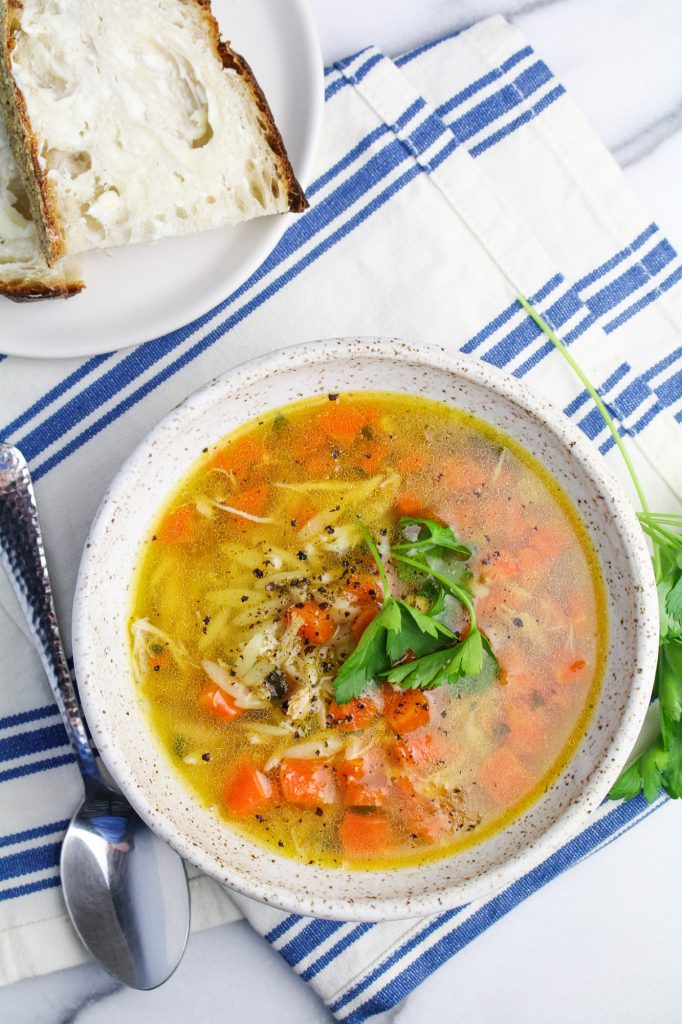 Perfect Homemade Chicken Stock
Makes 3 quarts of stock.
2 lb. chicken backs or carcasses
2 lb. chicken drumsticks or legs
5 quarts of water
2 onions, skins on, chopped into 1 inch pieces
3 carrots, chopped into 1 inch pieces
3 stalks of celery, rinsed well, chopped into 1 inch pieces
1 dried hot chile
6 cloves of garlic, cut in half
1 bunch of parsley stems
Optional additions: handful of clean shiitake mushroom stems, 1 inch peeled and sliced fresh ginger, 2 sprigs rosemary, 2 tsp whole black peppercorns
1 TBS sea salt
Place the chicken parts in a large stockpot. Add cold water to the pot just to cover the chicken. Bring to a boil over medium-high heat and boil for 2-3 minutes – white foam should float to the top of the pot. Remove from the heat and drain the water out. Rinse the chicken with cold water two to three times, draining after each rinse. The goal is to get as much of the blood and foam out of the pot and off the chicken as you can.
After blanching and cleaning the chicken, add the 5 quarts of cold water to the pot with the chicken. Add the chopped onion, carrot, celery, hot chile, garlic, parsley stems, and sea salt to the pot. Bring to a simmer over medium-low heat. Keep the stock at a low simmer until it is golden and color and the liquid has reduce by about half. This should take 3-4 hours. If the stock reduces too quickly without turning golden, add another 2 cups of cold water. Keeping the stock at a low simmer instead of a boil will help prevent the stock from getting cloudy.
When you think the stock is done, taste it to see if you are happy with the flavor and body. If it is done, let the stock cool for about 20 minutes, before straining it through a fine-mesh strainer into a large bowl, mason jars, or other storage containers. I like to ladle the stock out of the pot through the strainer as it gives me more control. If you disturb the vegetables too much while ladling or straining the stock, it may become cloudy.
Refrigerate or freeze the stock and use as needed for soups and sauces. Use the refrigerated stock within 3 to 4 days.
2