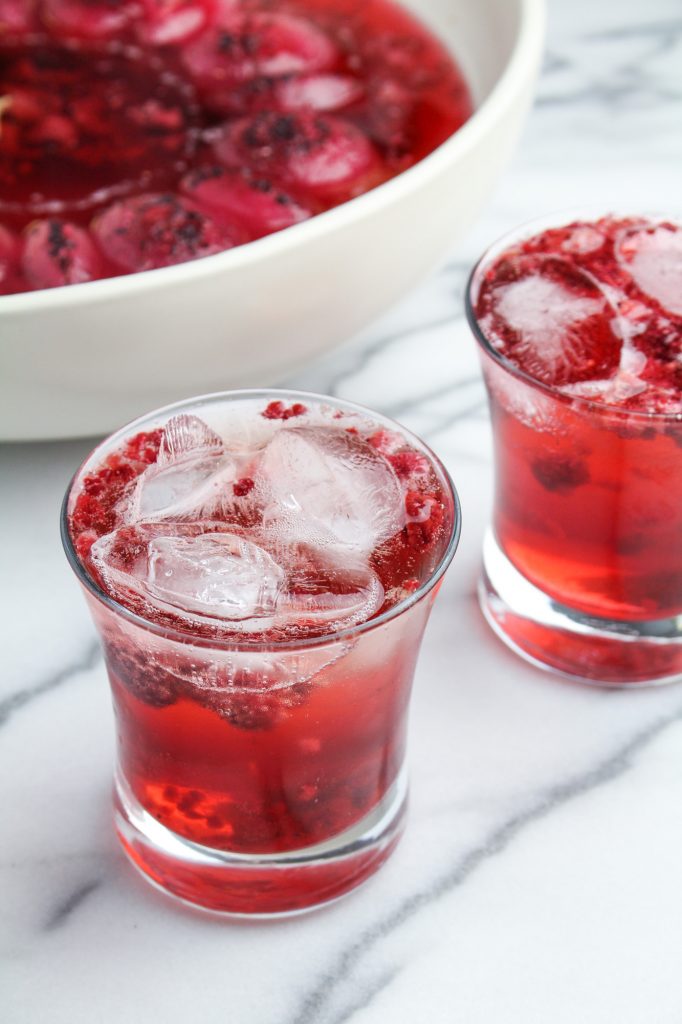 Last year, Trevor and I spent Valentine's Day in the executive lounge of the Hong Kong Airport Marriott. It was actually quite nice – we were at the tail end of our 6 weeks in Asia, waiting for our connection back to the US, having just come back from an incredible vacation in Japan. We were really exhausted, and for two entire days we didn't leave the hotel. We never travel like that – we are always on the go, exploring, trying new things. But we were tired, and it was raining, and we'd already spent 5 weeks in Hong Kong. So we just stayed inside the massive hotel, taking long showers, watching TV, and working from the top floor lounge. There was unlimited free wine and snacks. If every Valentine's were like that, I'd be perfectly happy.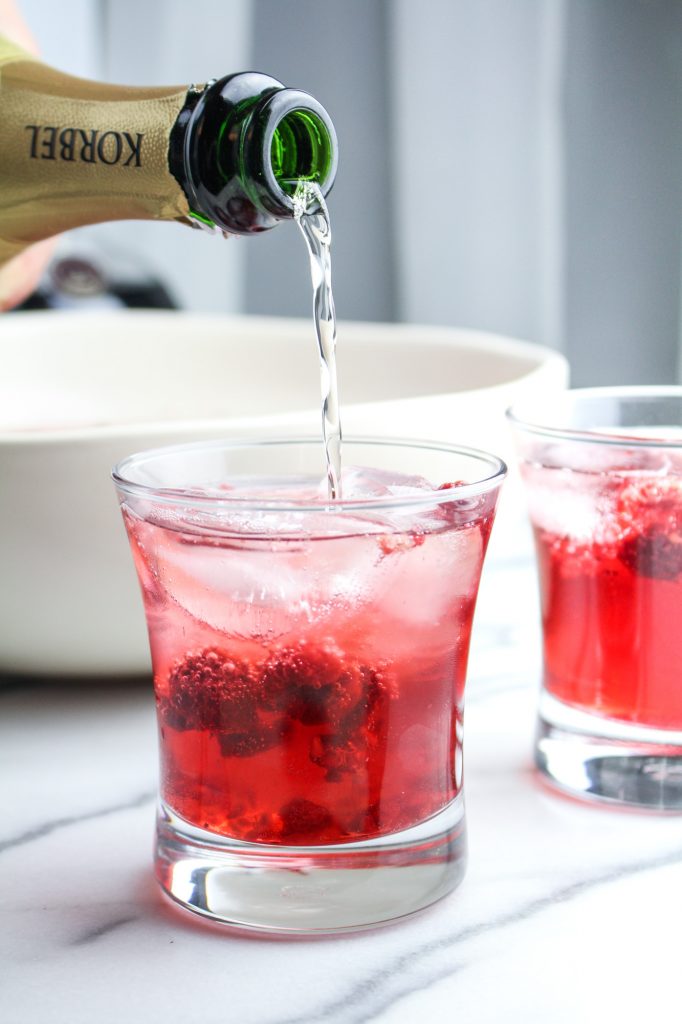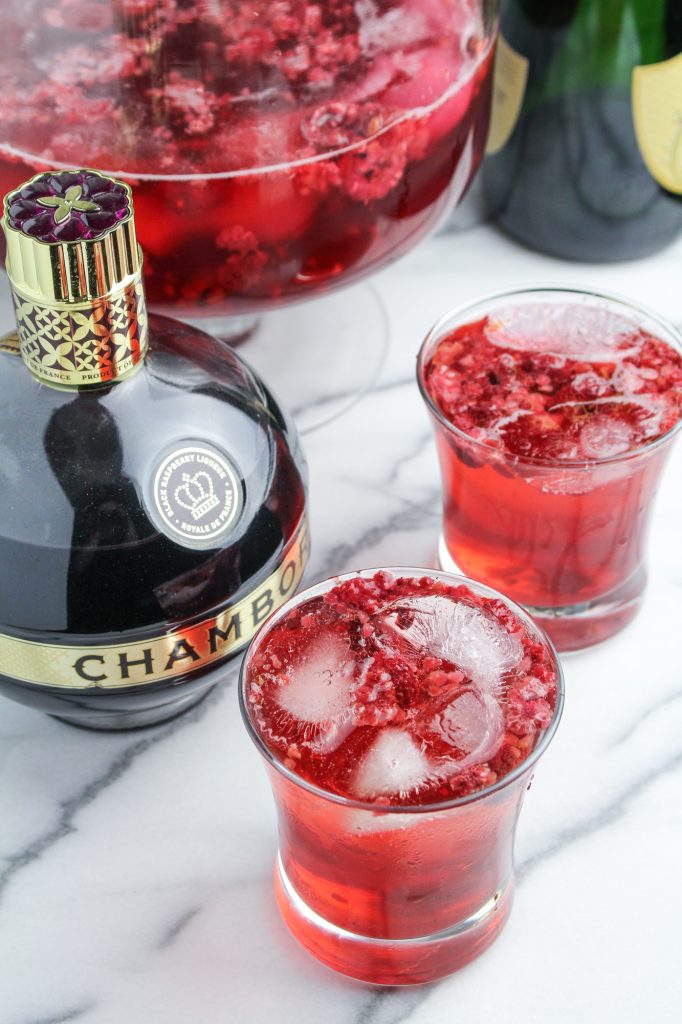 This year, Trevor will be working at the restaurant and I'll probably be home catching up on the 5 weeks of miscellaneous chores and errands I didn't do while we were in Portugal. When Trevor gets home we'll probably sneak in an episode of Arrested Development and maybe I'll pop open a bottle of champagne. Actually, I think I'll definitely pop open a bottle of champagne. And I'll bake something chocolatey. It may be subdued, but we'll make it just as romantic as a big dinner out. In my book, a few hours together is all you really need to appreciate someone you love.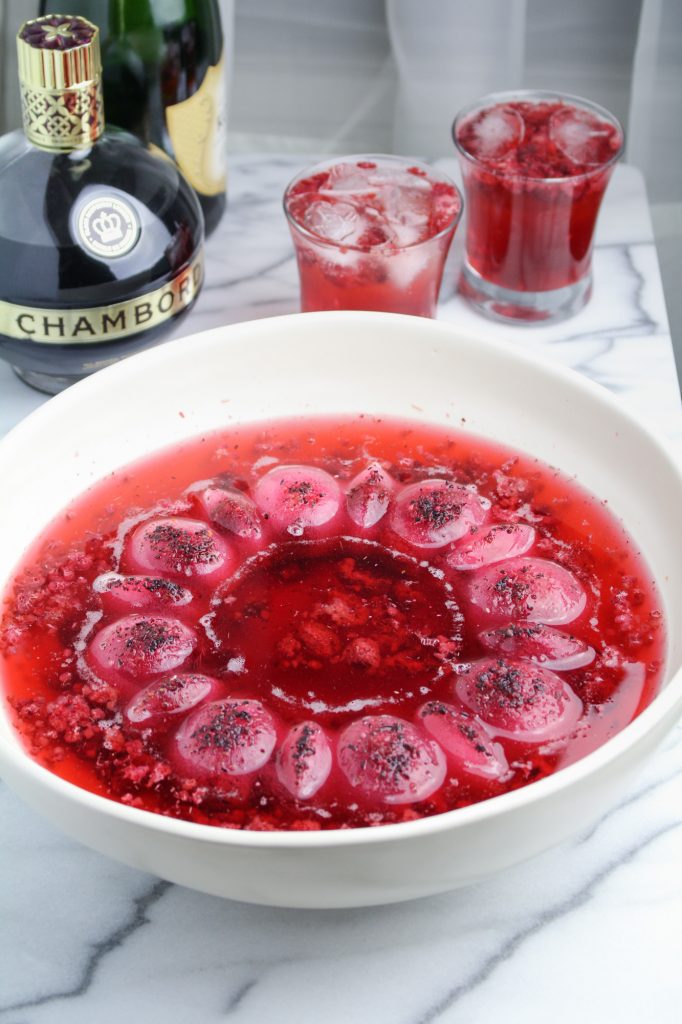 However, if your plans are a bit more exciting than mine, I have something festive for you: Chambord-Hibiscus Champagne Punch. This is what I would be making if I were throwing a little dinner party or girls' night for Valentine's Day. I seem to have a bit of a thing for pink, sparkling drinks. I've got Raspberry Sherbet Champagne Floats and Rhubarb Prosecco Spritzers and now I've gone and made a whole punch full of Chambord and hibiscus-infused-vodka and champagne. It's quite easy to put together, and a little dangerous – the way a good punch should be.
I partnered with Drizly to bring you this recipe – they dropped off the Chambord and champagne within an hour, and we were ready to go. Drizly works with a number of fantastic cocktail bloggers: you can find more recipes on their Tastemakers page.
Disclosure: As a Top Shelf blogger, Drizly provided me with the alcohol for this post free of charge, but I was not otherwise compensated. As usual, all opinions are my own!
Like what you just read? Subscribe to Katie at the Kitchen Door in the box on the right, on Feedly or Bloglovin', or follow along on Facebook, Twitter, Pinterest, and Instagram. Thanks for reading!
More pink and sparkling drinks…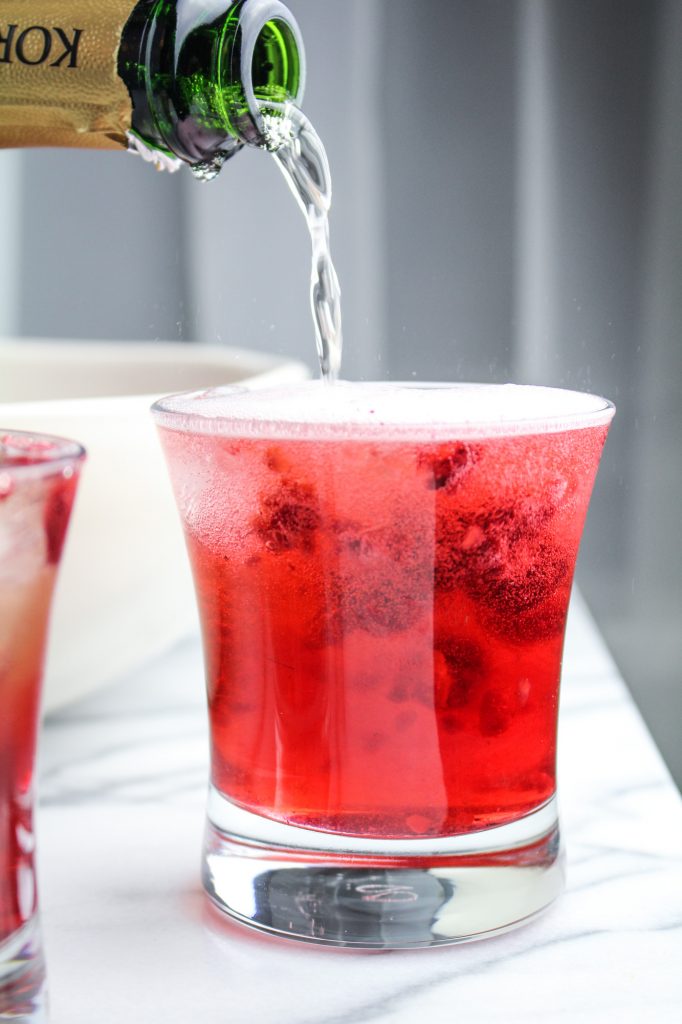 Chambord-Hibiscus Champagne Punch
A Katie at the Kitchen Door original recipe. Serves 4-6.
1 cup frozen raspberries
1/2 cup water
1/4 cup sugar
1/2 cup hibiscus-infused vodka, chilled (recipe below)
1/2 cup Chambord
1 1/2 cups champagne, chilled
fresh raspberries, for garnish
Place the raspberries, water, and sugar in a small saucepan. Bring to a gentle simmer over medium heat. Simmer until the sugar has dissolved and the raspberries have become very soft and started to disintegrate. Remove from the heat, let cool to room temperature, then pour into a glass jar and refrigerate until chilled.
Mix the chilled raspberry syrup, hibiscus-infused vodka, and chambord together in a punch bowl. Add ice. Just before serving, add the champagne to the punch, then ladle the punch into glasses. Top each glass of with a little bit more champagne and a few fresh raspberries. Serve immediately.
Hibiscus-Infused Vodka
Makes 2 cups.
2 cups vodka
2 bags of hibiscus tea, such as Tazo Passion
Cut open the tea bags and empty the contents into a sterilized pint jar. Pour the vodka over the tea and stir a few times with a clean spoon to mix. Cover the jar with a lid or plastic wrap and let infuse at room temperature for 6-8 hours. When it is done infusing, strain the vodka through a fine-mesh strainer into a clean jar. Use in recipes as directed.
0