The weekend before last, Trevor and I got sick. I might be kind of a wimp when it comes to being sick, but I was sicker than I have any memory of ever being before, although Trevor says he was sicker in Ecuador. We think it was some sort of norovirus we picked up, probably compounded by the fact that we're in Portugal and we don't have as much resistance to the viruses here. (I could be making that up though; feel free to correct me if you know about these sorts of things). I was totally miserable but at the same time a little fascinated: since I was wearing my fitness tracker, I could tell that I had been "active" for 75 minutes even though I was lying in bed, asleep. That visualization of how hard your body has to work to fight illness was really interesting for me.
It was a good reminder that health is one of the most important things in life. The Herophilus quote in my passion planner is fitting: "When health is absent, wisdom cannot reveal itself, art cannot manifest, strength cannot fight, wealth becomes useless, and intelligence cannot be applied."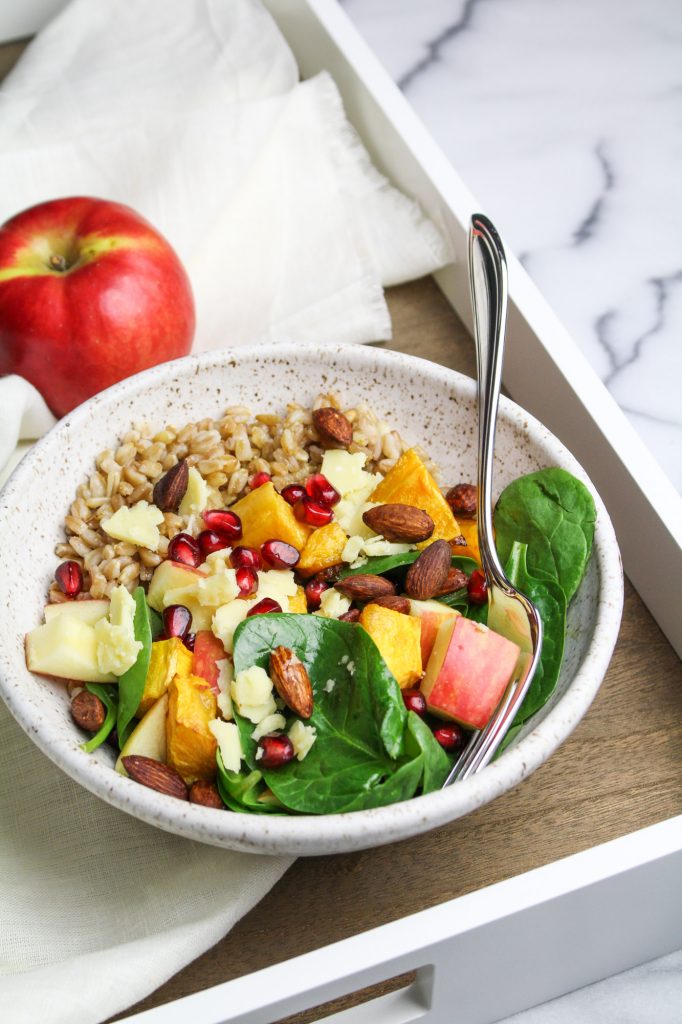 Health is one of my major focuses for this year. Not just weight loss, or exercise, although those are important pieces. Health. Being well. As a day-to-day reminder, I've set a little mantra: eat smarter, move more. Simple, to the point. If I tell myself this when evaluating options – what to have for lunch, whether I need that chocolate after lunch, if I should walk home or take the bus – it serves as a gentle reminder of my goals. It's not a rule, or a restriction. It's just a little push towards better choices.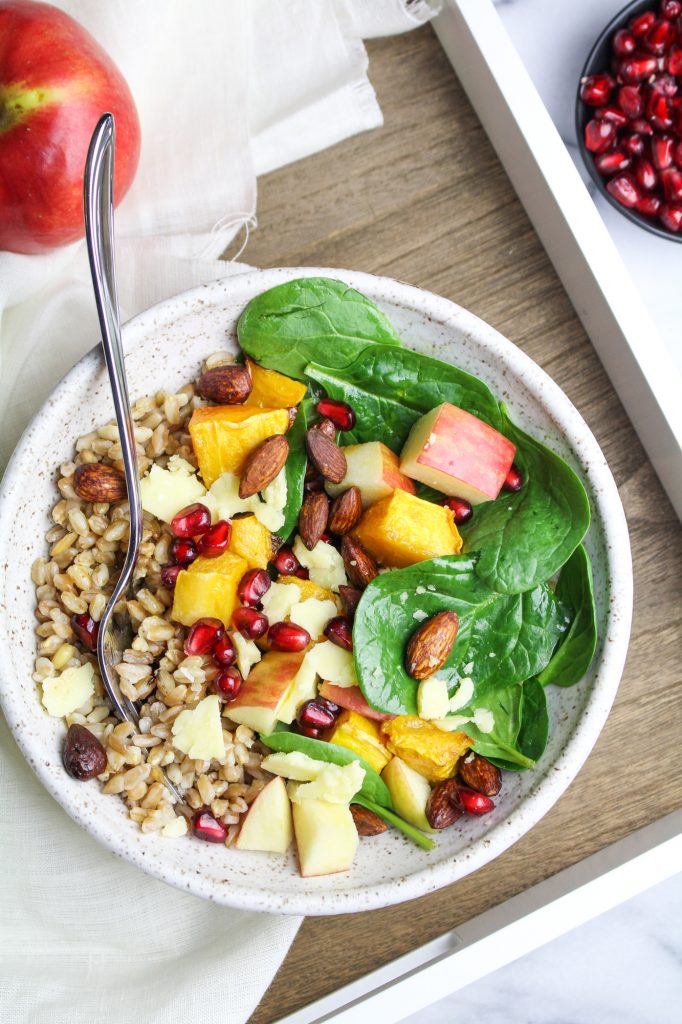 The food we put into our bodies plays such a huge role in our overall health. I feel worlds better when I keep my meals light and bright – the trick is coming up with meals that make me crave eating this way. Generally, I find that lunch is the easiest time to get a lot of vegetables in, and when I'm home, I frequent b.good, a Boston-based chain. I think they started out as a burger place, but they also offer great grain bowls and salads. I love their butternut squash and apple salad (and when I'm really hungry, I add a burger to the top – all the flavor and none of the guilt of the bun, french fries, and cheese).
This salad was easy to recreate at home, and so good that I ate it 3 times in one week. In the spirit of #EatSmarterMoveMore, I forwent the burger and replaced it with farro to make the salad filling enough for dinner. In addition to the farro, the salad has roasted butternut squash, diced apple, tamari almonds, cheddar cheese, pomegranate, and spinach. All kinds of good flavors going on. I can't take any credit for the combination, but I can vouch for its deliciousness. Also, I'd love to see how you're choosing to #EatSmarterMoveMore, so follow along (and contribute!) to the hashtag on Instagram. I'll be using it all year to track my healthiest recipes and active adventures.
Like what you just read? Subscribe to Katie at the Kitchen Door in the box on the right, on Feedly or Bloglovin', or follow along on Facebook, Pinterest, or Instagram. Thanks for reading!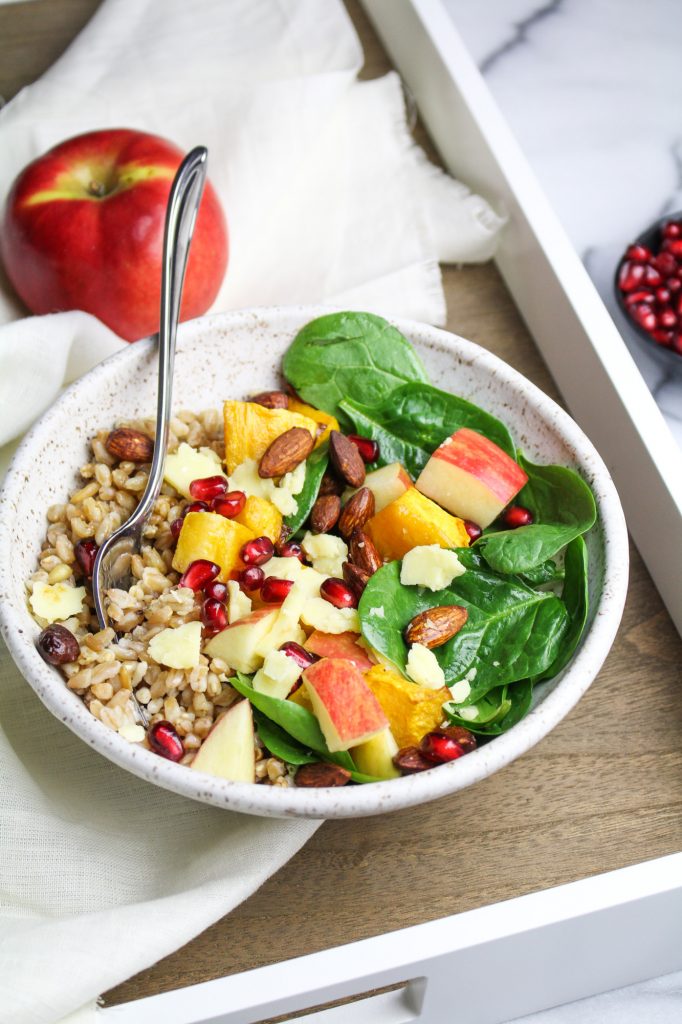 Butternut Squash and Apple Buddha Bowl
Inspired by b.good. Serves 2.
2 cups peeled butternut squash cubes (1/2 inch pieces)
2 TBS olive oil
1/2 tsp sea salt
1 1/2 cups cooked farro, warm (reheated if  not prepared fresh)
3 cups baby spinach
2 small apples, cut into bite-sized cubes
2 oz. cheddar cheese, cut or shaved into thin pieces
1/2 cup fresh pomegranate seeds
1/3 cup tamari almonds
Your favorite tangy salad dressing, or a simple mix of lemon juice and olive oil
Preheat the oven to 400°F. Toss the butternut squash cubes with olive oil and sea salt and spread in a single layer on a baking sheet. Roast until tender when pricked with a fork, about 30-40 minutes, stirring once halfway through. Remove from the oven and set aside.
Divide the farro and spinach between the bowls, mixing together gently to combine. Top each bowl with some of the butternut squash, apple cubes, shaved cheddar, pomegranate seeds, and tamari almonds. Drizzle with your favorite dressing. Salad is best when the farro and butternut squash are warm.
0