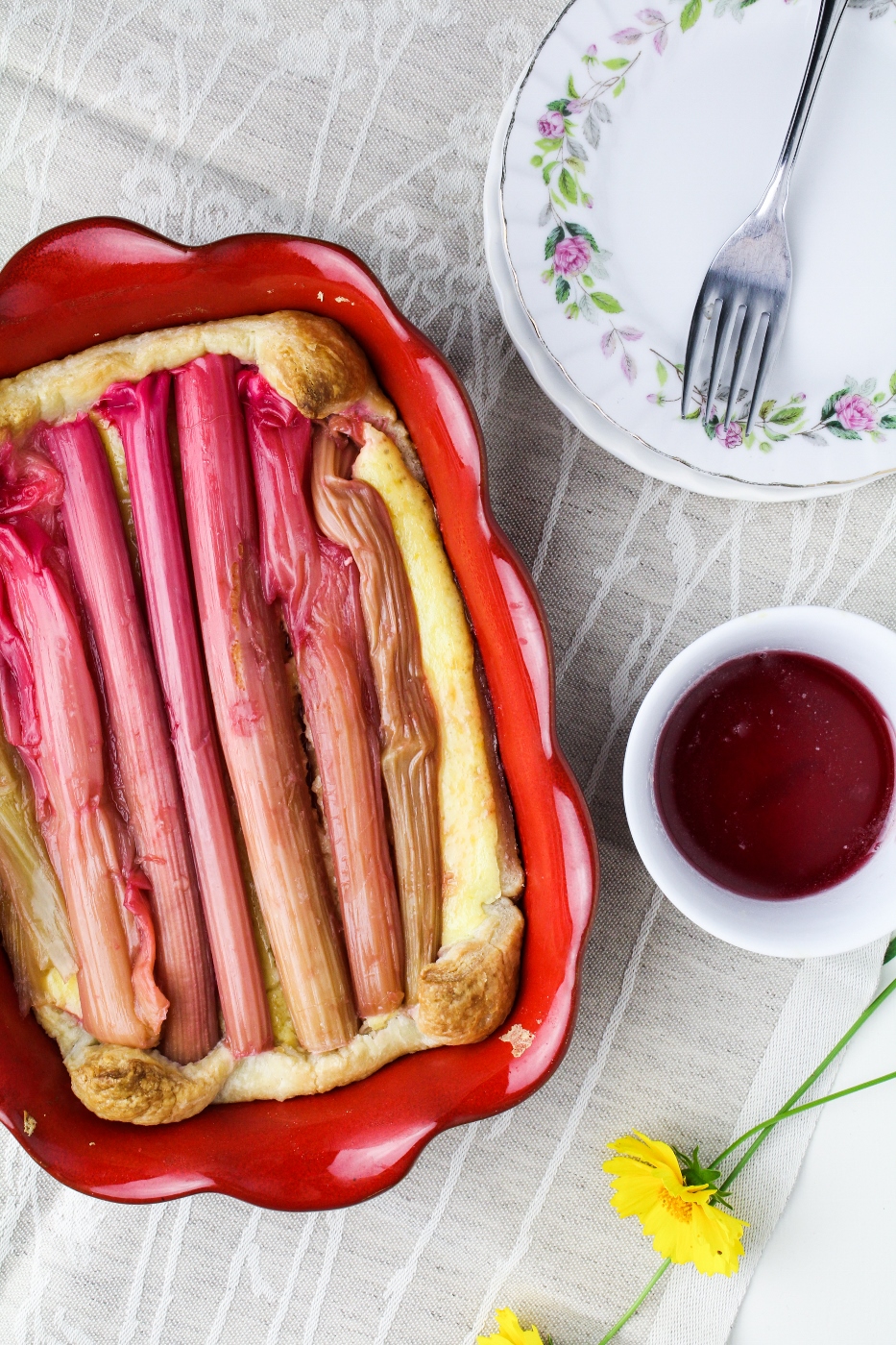 Every time I move I make some sort of clean out the pantry dish. Trevor reminded me of the first one the other day when I was starting to clean out the fridge. I'm almost embarrassed to show you –  not only does it look awful, if I'm remembering correctly, it also tasted awful. But hey it's on the Internet so it's fair game. I was just a little baby blogger then, wasn't I?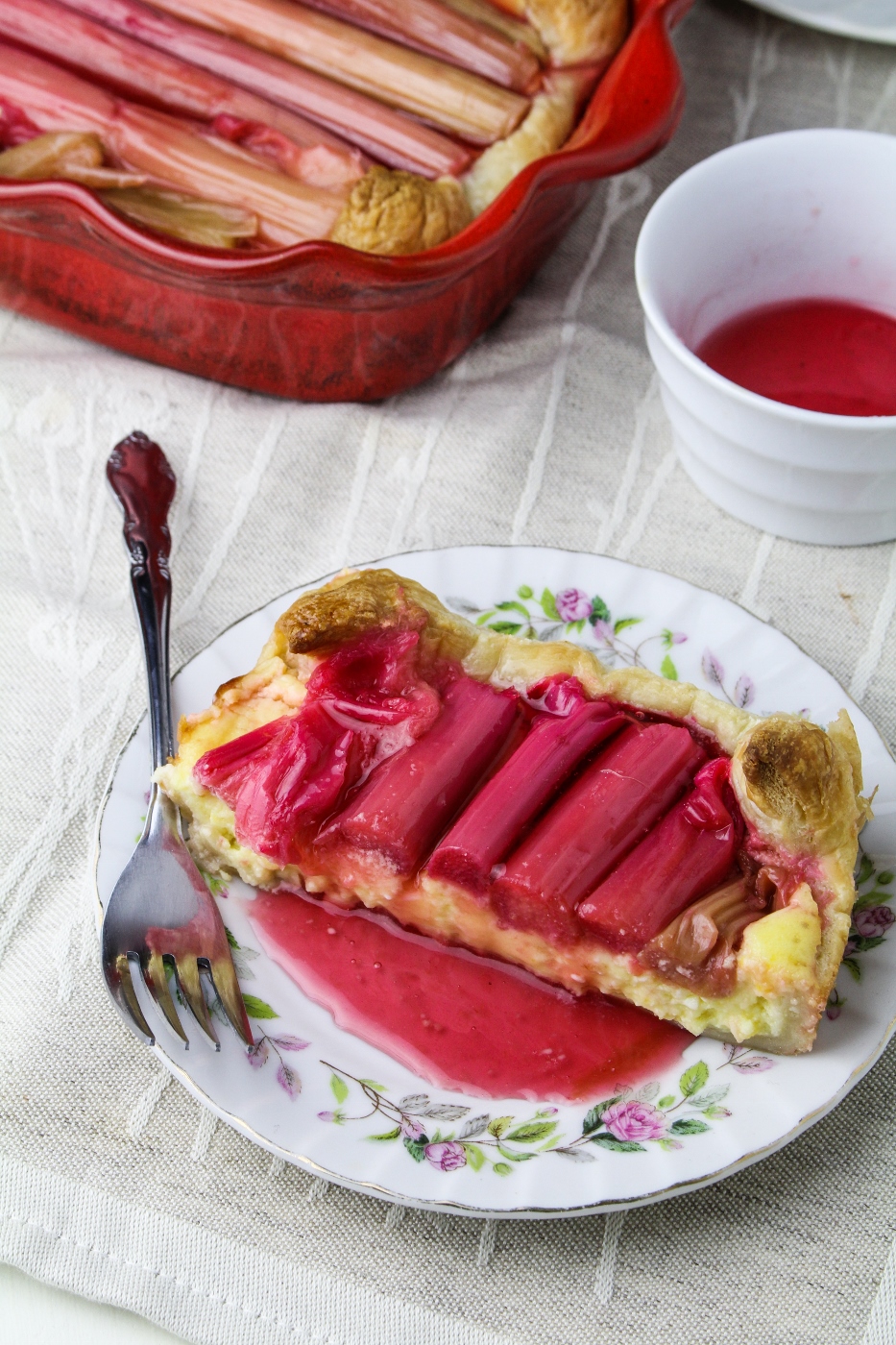 The second time was not so bad: Cranberry Cornmeal Cake (warning, that post comes with a lot of emotions about graduating from Duke) and a less-thrilling but still decent Corn Broth Quinotto. Coincidentally, I have a lot of cranberries, cornmeal, and quinoa in my pantry now, too – aparently I always hoard cranberries in the freezer in October and it turns out I almost never use them after November. The third time I moved was when we moved to this apartment – only two years ago – during a summer that was almost as hectic as this one, with me away in Russia at least once a month. I made this Baked Blackberry Oatmeal to help me stay sane and somewhat energized during the move (still a favorite recipe) and also these Corn, Goat Cheese, and Jalapeno Tartines (which I can't imagine particularly helped me clean out the fridge, but maybe I was just planning on leaving all my extra food for my roommates).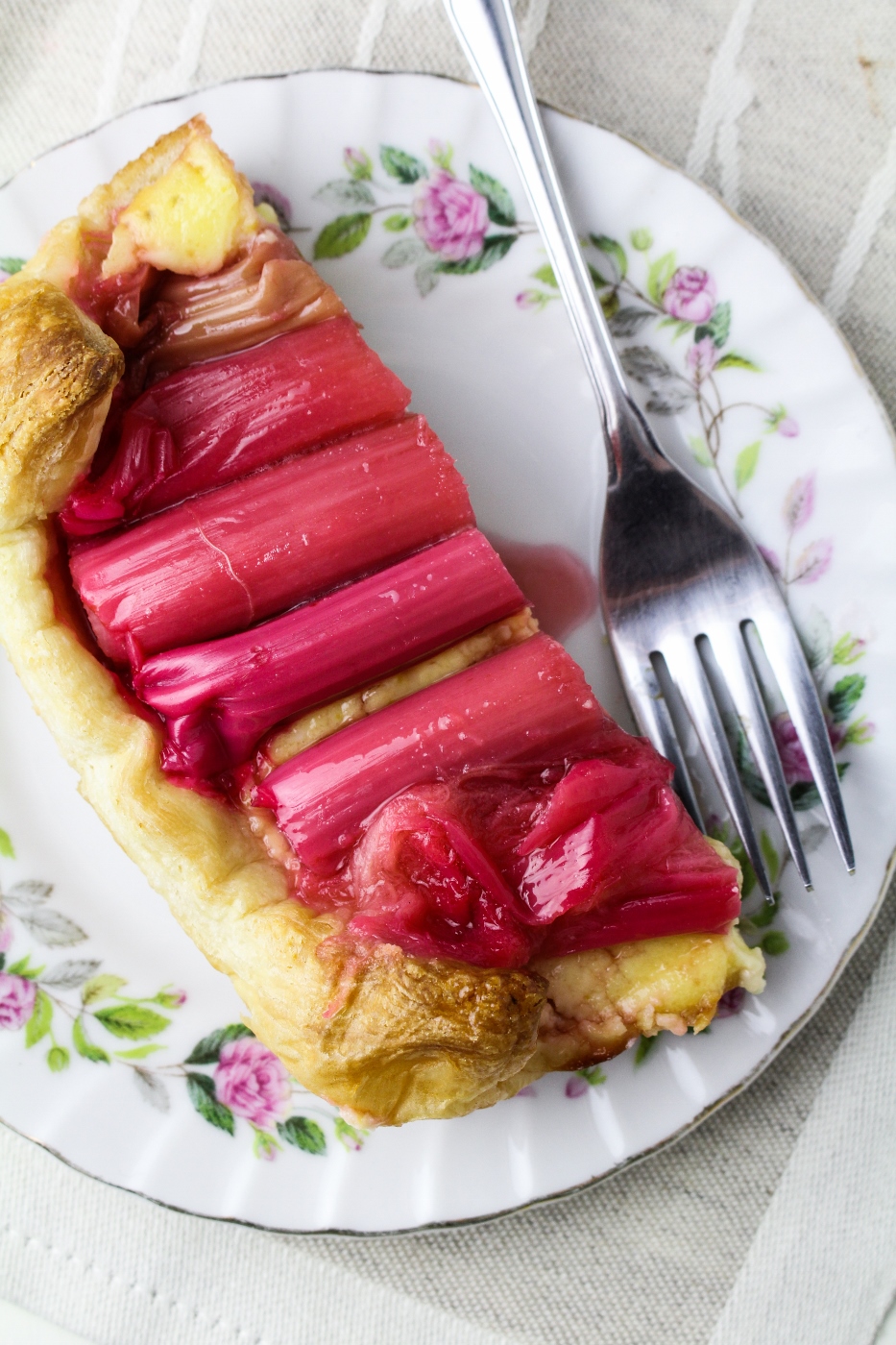 I'd like to think that both my cooking and photography skills have improved since then but I'll let you be the judge. This time around, some of the fridge languishers were rhubarb, cream cheese, half a package of frozen puff pastry, and a few splashes of rosé. A tart seemed the obvious way to use up the puff pastry, and from there I worked backwards to end up with a cheesecake filling topped with rosé-poached rhubarb stalks. I left the rhubarb stalks whole and poached them just to the point of tenderness for presentation's sake, but the flavors will be just as good if you let the rhubarb soften a little bit more. The tart was delicious, but between the puff pastry and the cheesecake filling it's very rich – a small slice is perfect after a long day of packing and moving but it's definitely a little indulgent!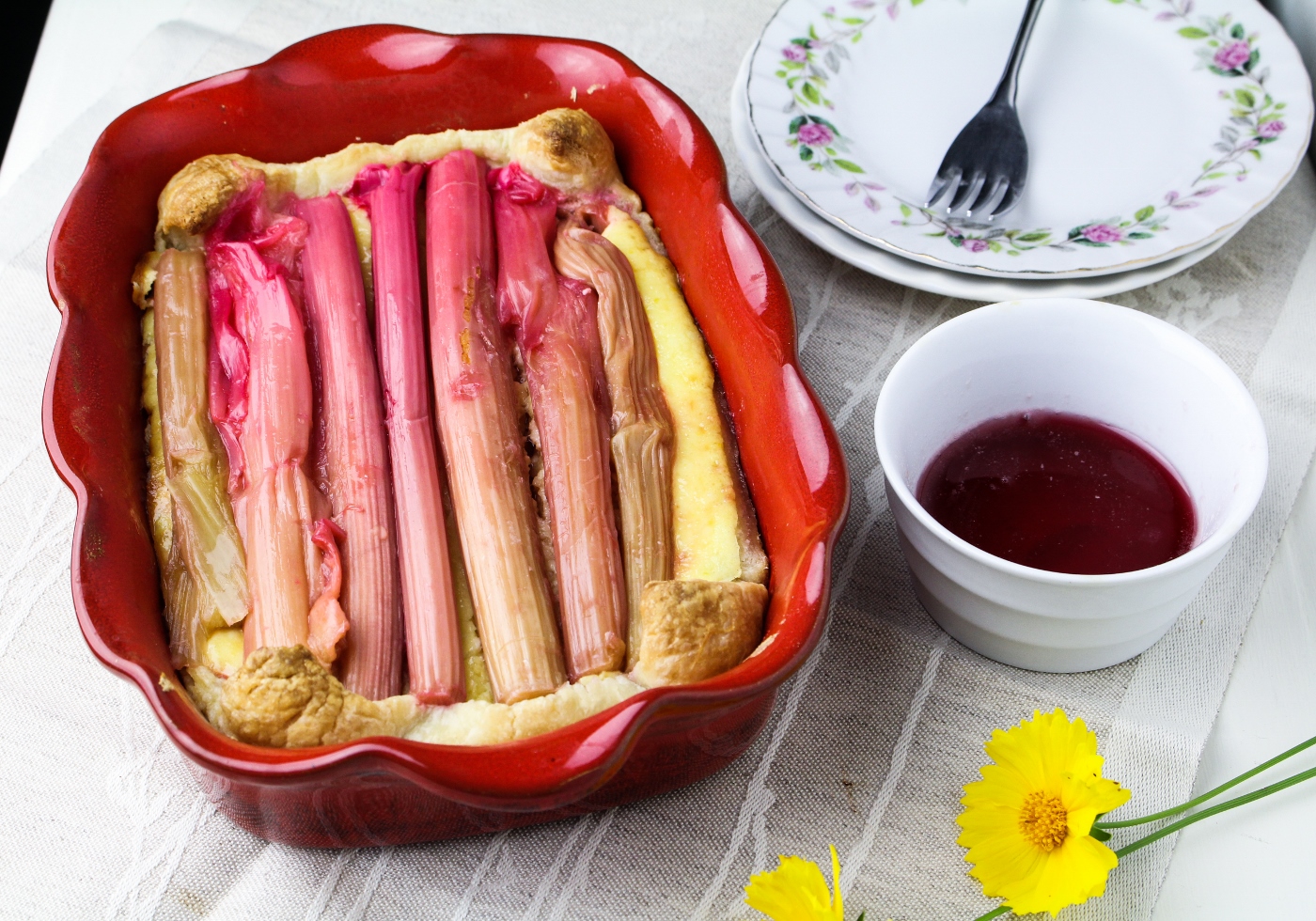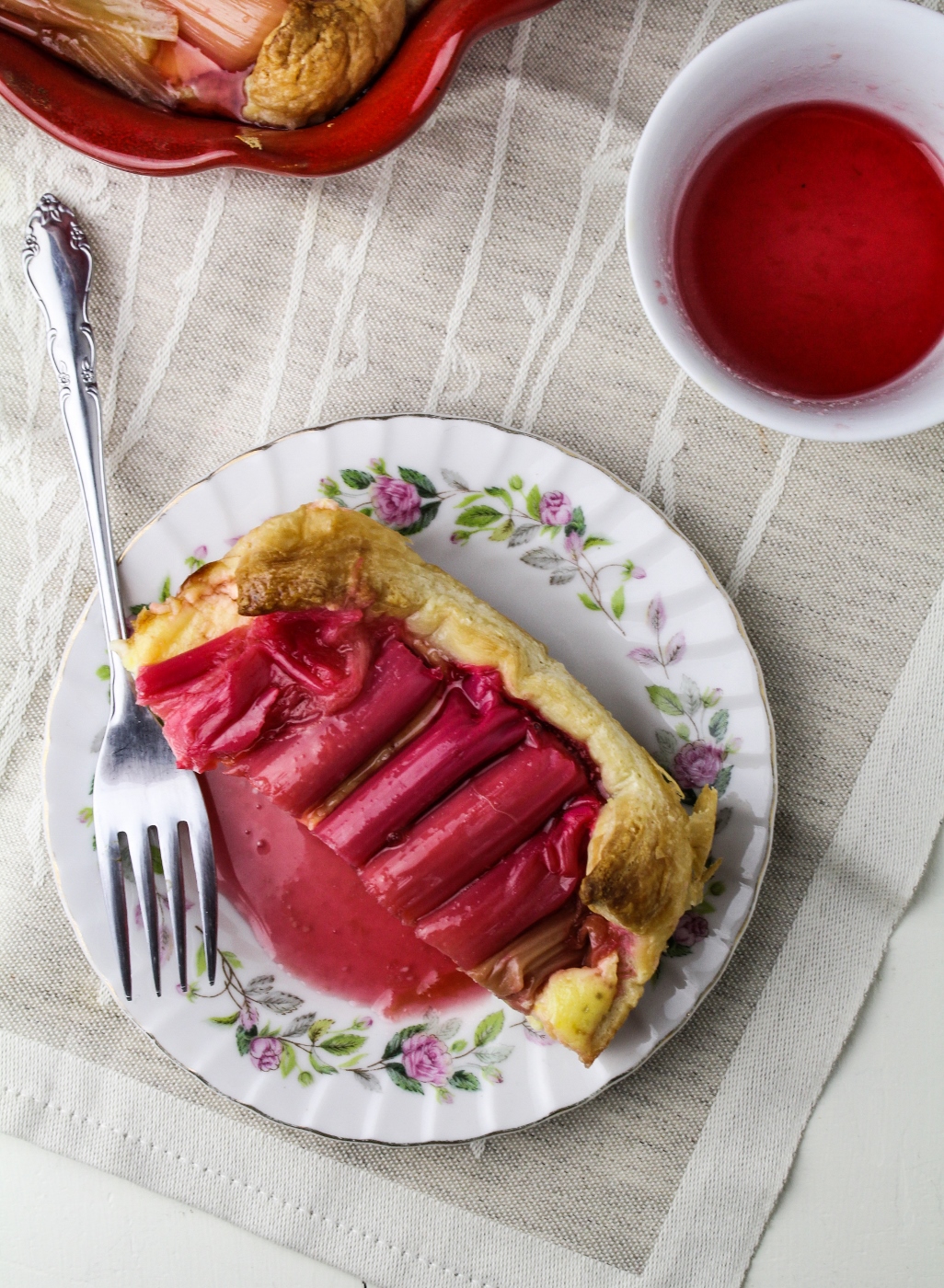 I hope this is the last time we move for a long while. It's funny, reading my post from the last time I moved; there's a lot more sadness about what I was leaving behind. This time, I'm mostly just looking forward to turning our new house into our home. Perhaps I'm not sad because I'm not leaving any people, but I have to admit that I've never really loved the apartment that we're in now. At least not the way I loved my house in Somerville – although I only lived there for 2 years, it felt like home from the first night on, maybe even more so than my childhood house. Our new house needs a lot of work and love before it will be even close to as nice as my Somerville house, but I hope that it starts to feel like home soon.
Like what you just read? Subscribe to Katie at the Kitchen Door in the box on the right, on Feedly or Bloglovin', or follow along on Facebook, Twitter, Pinterest, Instagram, or Google+. Thanks for reading!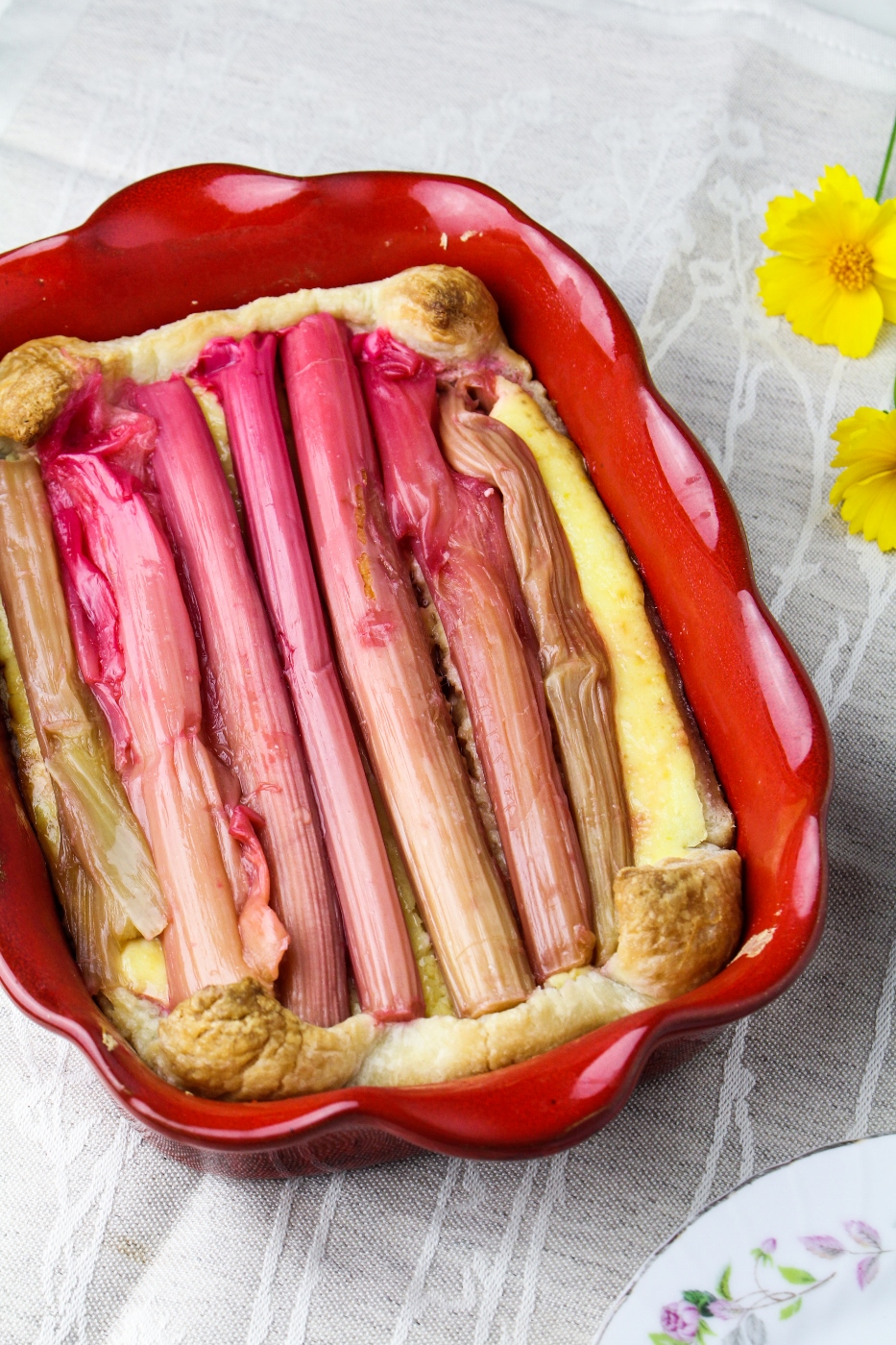 Rosé-Poached Rhubarb Cheesecake Tart
1 c. rosé wine
1 c. water
1 c. sugar, divided
1 lb rhubarb, trimmed to the length of your baking dish
8 oz. cream cheese, softened to room temperature
1 whole egg
2 egg yolks
1 tsp vanilla
7 oz. / 1 sheet of frozen puff pastry, defrosted according to package directions
Preheat the oven to 400°F. Butter a small rectangular baking dish with 4-6 cups of capacity and set aside
Add the wine, water, and 1/2 cup of sugar to a wide-bottomed saucepan. Bring to a simmer over medium-low heat, then add the rhubarb to the pan. Simmer the rhubarb until just tender, about 3-5 minutes depending on the thickness of the rhubarb. Check the tenderness of the rhubarb frequently by squeezing gently with tongs, removing each stalk of rhubarb as soon as it begins to give way to pressure from the tongs. Place the rhubarb on a plate and set aside. Continue simmering the syrup until it has reduced to 3/4 of a cup and is very thick, then remove from heat and let cool to room temperature
To prepare the filling, beat the softened cream cheese until smooth. Beat in the remaining 1/2 cup of sugar, the egg, egg yolks, and vanilla until a smooth batter is formed.
Unfold the pastry sheet and line the prepared baking dish with it, stretching the pastry out as necessary to cover the bottom of the dish. Poke the pastry all over the bottom with the tines of a fork. Pour the cheesecake filling into the pastry and bake until the filling is almost set and the puff pastry has begun to brown, about 20 minutes. Remove from the oven and carefully press the rhubarb stalks on top of the cheesecake filling, then continue to bake until the filling is fully set, another 5-10 minutes. Remove from the oven and cool completely.
Serve the tart chilled with the reduced rosé-rhubarb syrup.
0