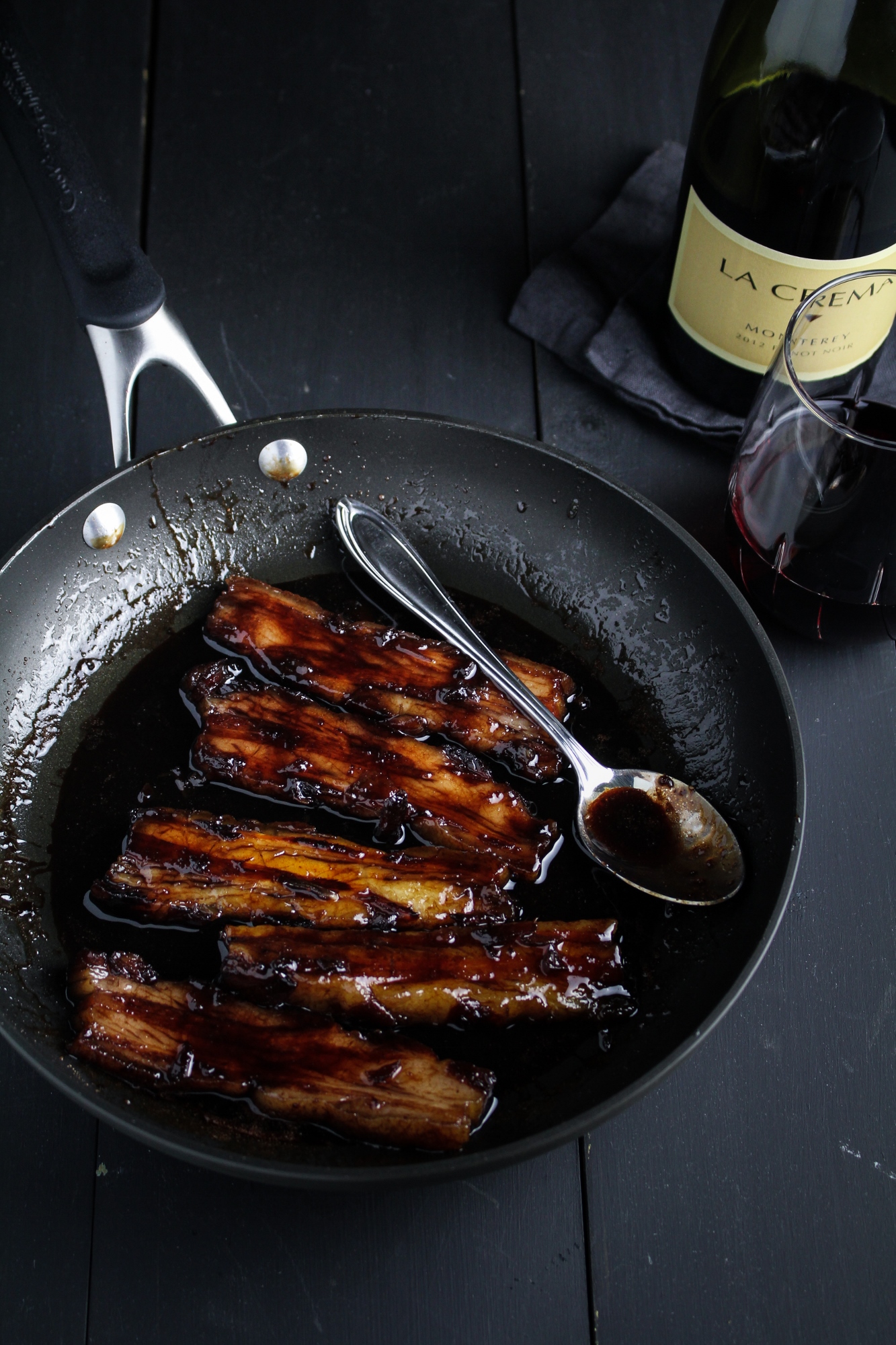 It's time for more pork and Pinot! If you remember, this summer I'm teaming up with La Crema wine to bring you a series of recipes pairing pork with their Pinot Noir. The first pairing was this Italian-inspired stuffed pork tenderloin – filled with mozzarella, prosciutto, and sage pesto. This time, we're making a deliciously fatty, savory pork belly – the cut of meat used to make bacon. Pork belly is incredibly tasty (in small doses, only, please) and a bit of a food darling in a lot of major restaurants right now, especially given its importance in Asian and Latin cuisines. It takes a bit of time both to source and to cook at home, but the end result is completely worth it.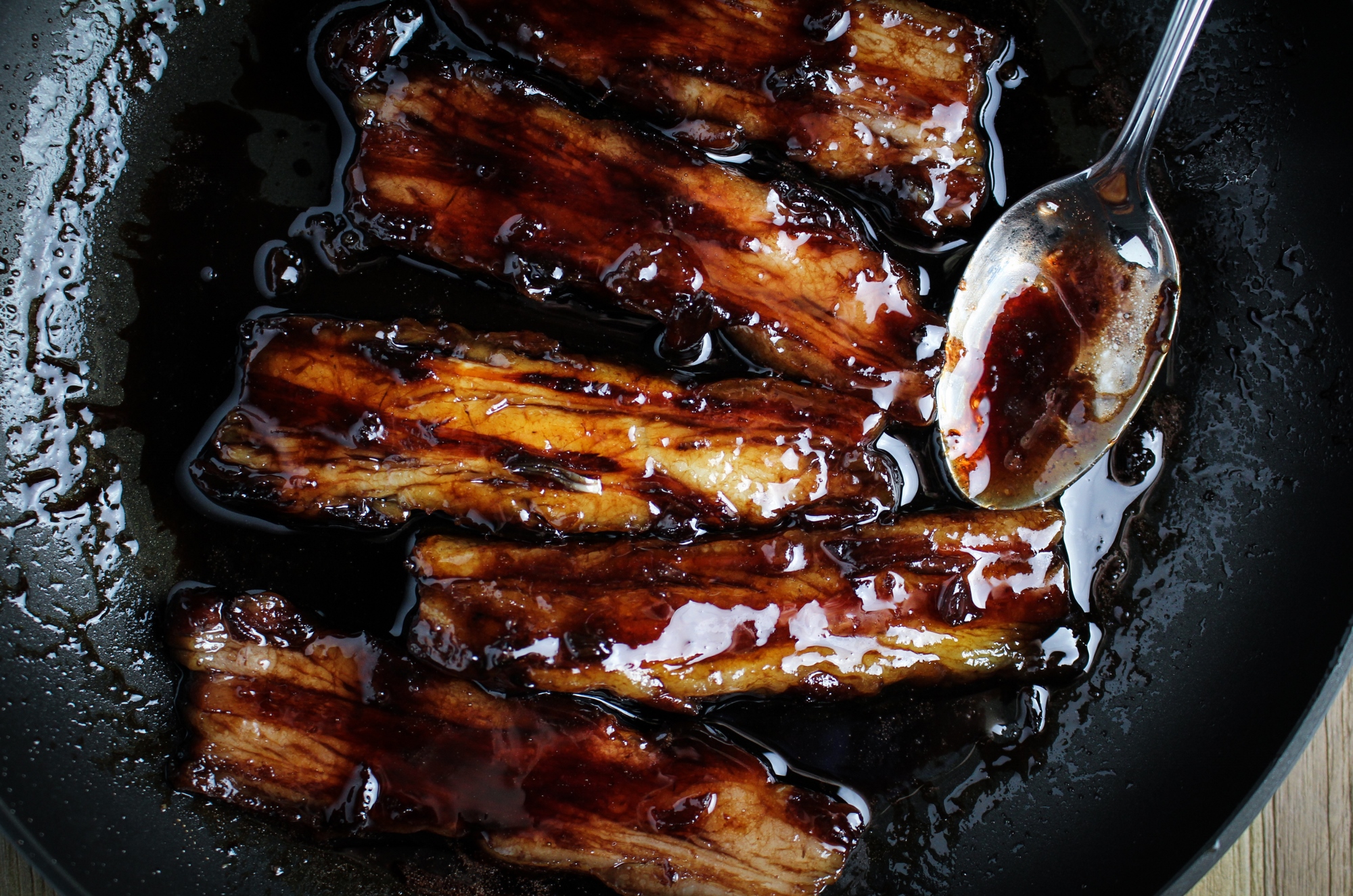 Sourcing pork belly can be a bit of a challenge, depending on where you live. I'm lucky to live in a part of the country where I can get almost anything within a half mile's walk. Pig trotters? Around the corner. 'Nduja? At the wine store across the street. Fresh morels? At the closest Wholefoods, if you're willing to pay an arm and a leg for them. Dried chiles, palm sugar, and pretty much any spice you've ever heard of? All available at Christina's. So for me, finding fresh, uncured pork belly was a matter of walking 45 steps around the corner to Savenor's and handing over $12 for a gorgeous, 2 lb. slab of heritage pig. But I know it's not that easy for everyone. Your local butcher or Wholefoods is a good place to start – if they don't carry pork belly regularly, they may be able to special order some for you. You can also order it online and have it shipped to you, but it's a bit pricier.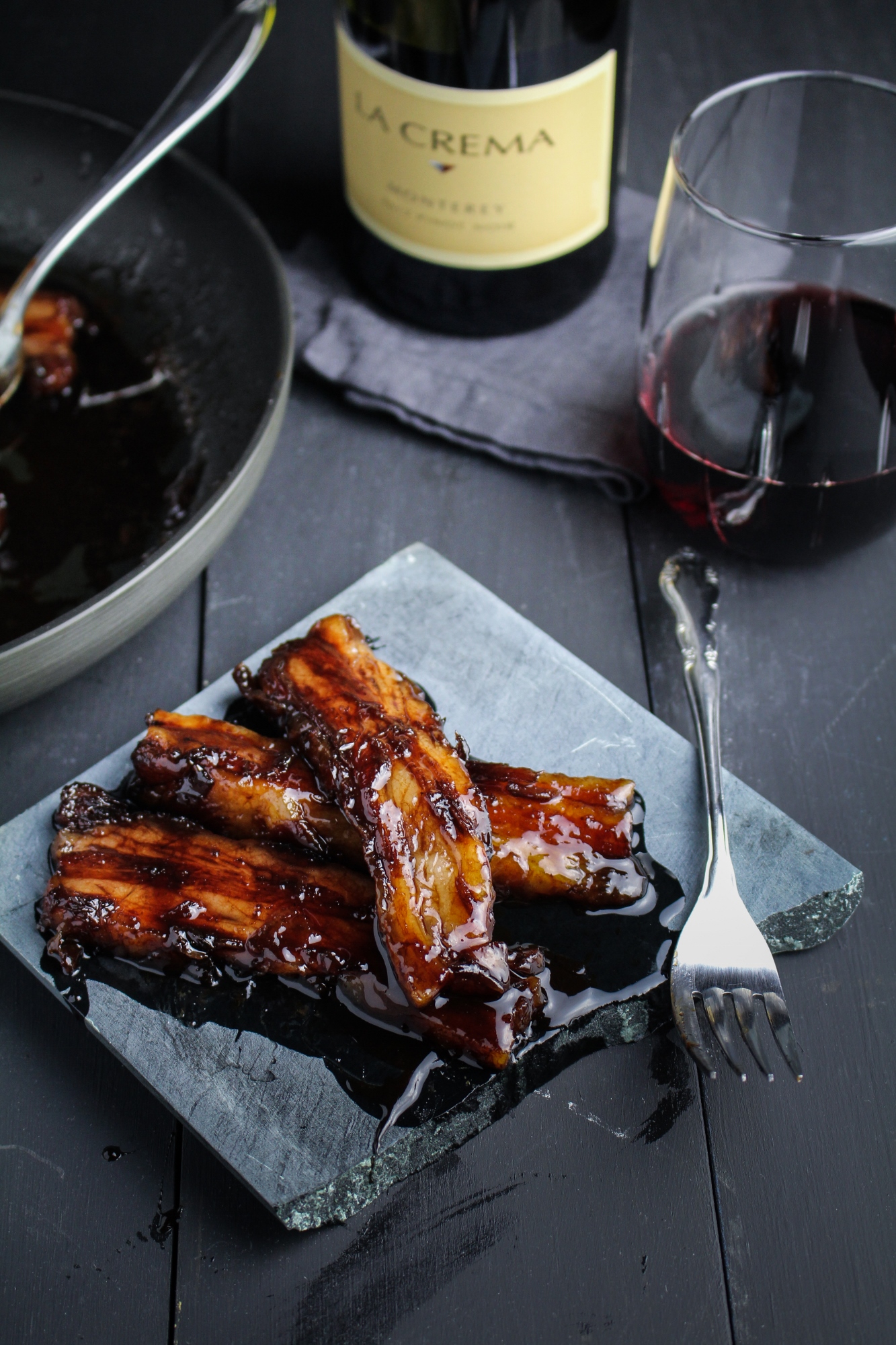 There are a lot of different ways to prepare pork belly, taking anywhere from 30 minutes to 5 days. There are also a lot of different ways it can turn out: roasted whole until it's falling apart, sandwich-sized slabs with shatteringly crispy skin, small caramelized pieces with a candy-like coating… or as bacon, of course. I decided to take the longer route this time – although not the 5 day version, I'll admit. To prepare the belly, I put together a rub of brown sugar, paprika, cayenne, and salt and let it marinate in the fridge overnight. Then, in the morning, I threw it in the oven for a few hours until the meat was completely tender and a lot of the fat had rendered out. After roasting, the belly sits in the fridge until firm again, and then gets used in the recipe of your choice. Although it requires advance planning for the chilling and roasting times, this method is not particularly labor intensive – I probably spent longer removing the skin from the belly than I did with all the other steps.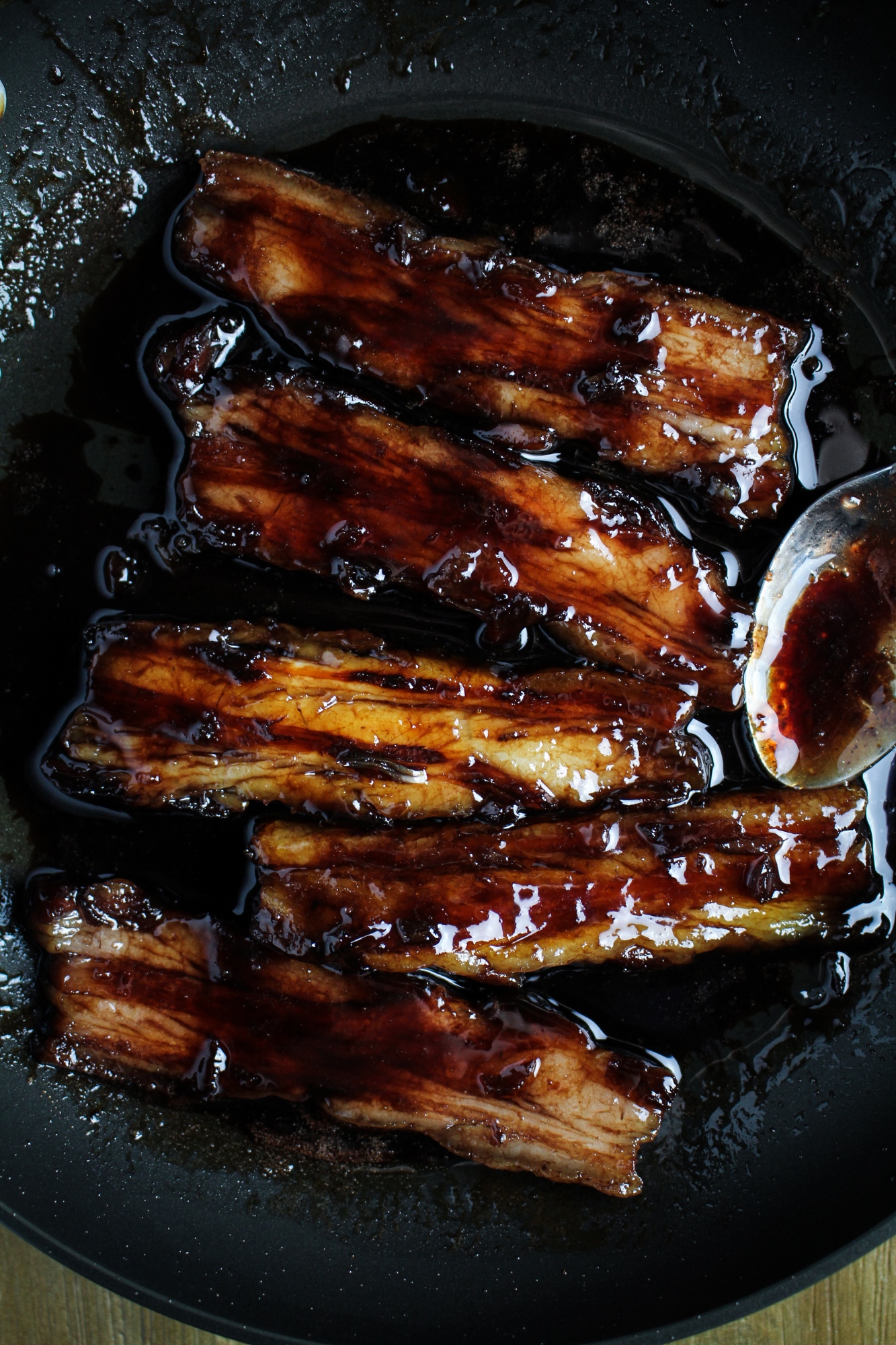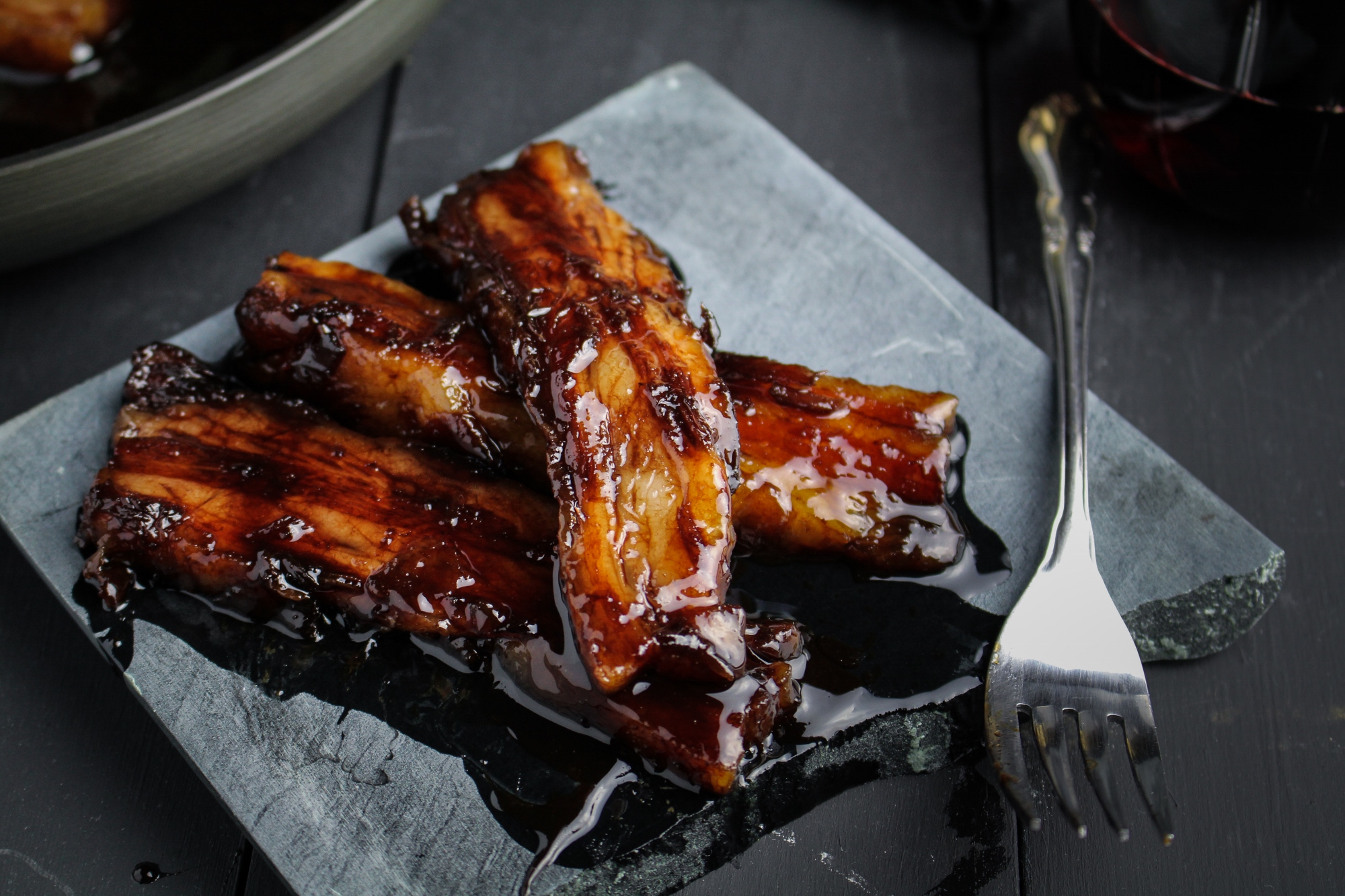 Post chilling, I divided my belly into two big pieces. Half was eventually destined for Banh Mi sandwiches, but for now, let's talk about what I did with the other half – Red Wine Caramelized Pork Belly slices. I've had candied pork belly at bars before – the fatty, salty, sweet slices are highly craveable with just about anything you might want to drink. Since I was making these to pair with Pinot Noir, I decided to play up the pairing and candy the pork belly in a red wine caramel sauce. I served the sticky, delicious slices alone, as a simple and indulgent appetizer with a glass of La Crema Monterey Pinot Noir. All the flavors of the Pinot Noir are echoed in the pork belly, and amplified by the rich, umami flavors of the belly itself.
For full instructions and the recipe for Red Wine Caramelized Pork Belly, head over to the La Crema Blog!
This is a sponsored conversation written by me on behalf of La Crema. The opinions and text are all mine.
Like what you just read? Subscribe to Katie at the Kitchen Door on Feedly or Bloglovin', or follow along on Facebook, Twitter, Pinterest, Instagram, or Google+. Thanks for reading!
2