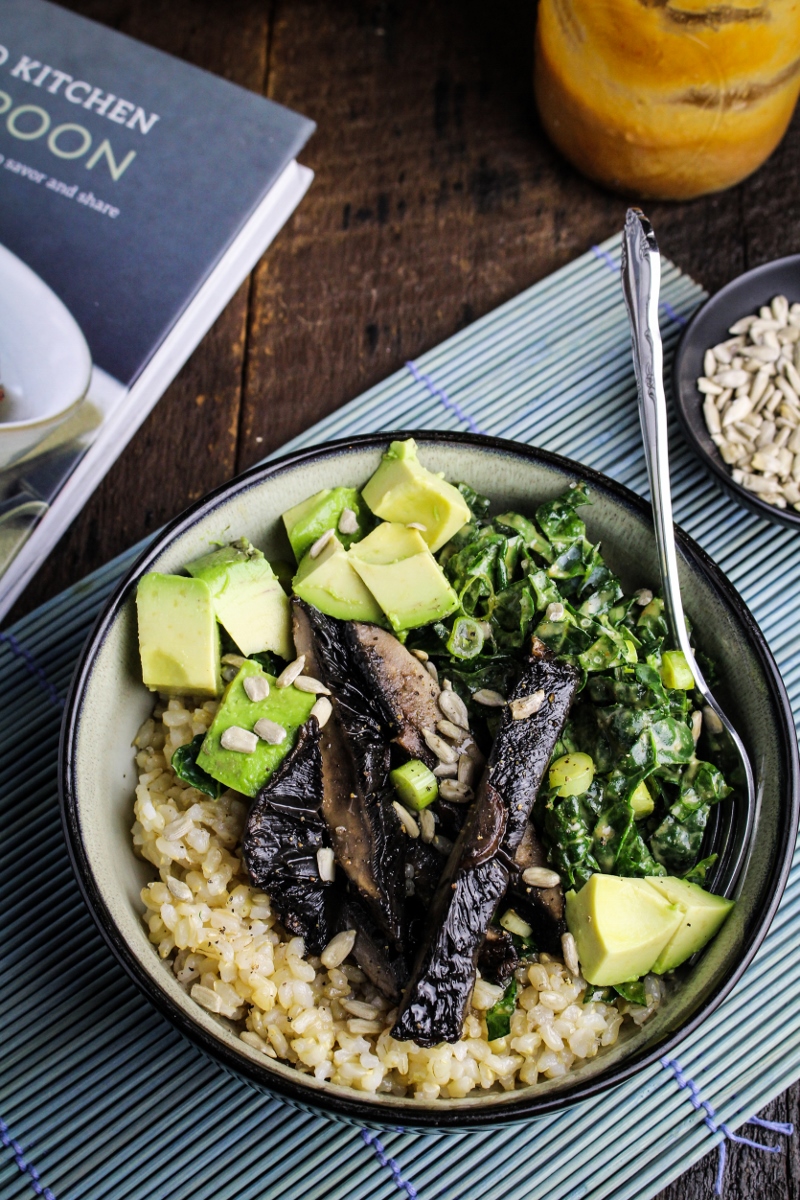 The Book: Although I somehow missed Sprouted Kitchen's eponymous first book (so many cookbooks, so little time!), after the rave reviews I saw for it all over my favorite blogs, I wasn't about to make the same mistake with their newest book, Sprouted Kitchen Bowl + Spoon. If you're not familiar with Sara and Hugh's lovely blog, please take a few minutes to go check it out – it's full of warmth, love, and healthy, wholesome meals. In their newest book, which is a seamless continuation of their blog, they take the somewhat trendy idea of "bounty bowls" (see also "earth bowl," "broth bowl," etc… even Panera now sells "broth bowls" of quinoa, lentils, and kale, although to be honest, I'm not sure how a broth bowl is different from soup) and explore it to the fullest. They've managed to turn everything from breakfast (cabbage, fennel, and apple slaw with smoked salmon) to dessert (key lime eton mess) into a "bowl" meal. Perhaps the best description of what qualifies as a "bowl" is that it should be a hearty but healthy mixture of grains, beans, vegetables, fruits, eggs, lean meats, and flavorful sauces, served together in a big bowl but with each element maintaining it's own flavors and integrity. The recipes that Sara and Hugh have included are not particularly innovative or particularly classic – what they are is well-loved, tried and true meals that a family that loves to cook and eat has come to rely on. I love that the recipes are healthy without being restrictive – they won't deny you eggs, a little cheese, or a few spoonfuls of maple syrup. They are also simple – nothing in this book should overwhelm you, even if you're a tentative cook. Everything is simple to prepare, simple to serve, and simple to eat, the sort of food you'd happily whip up and pack for a picnic, but with smart, bright flavors throughout.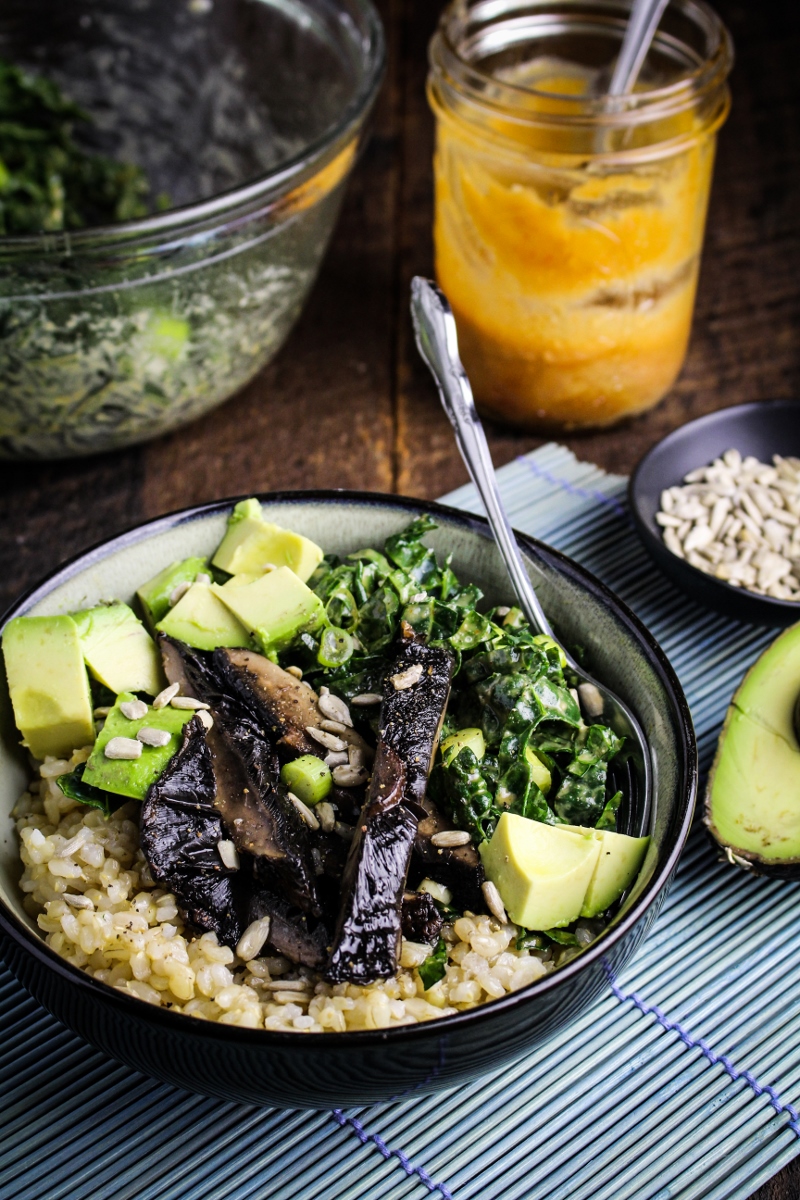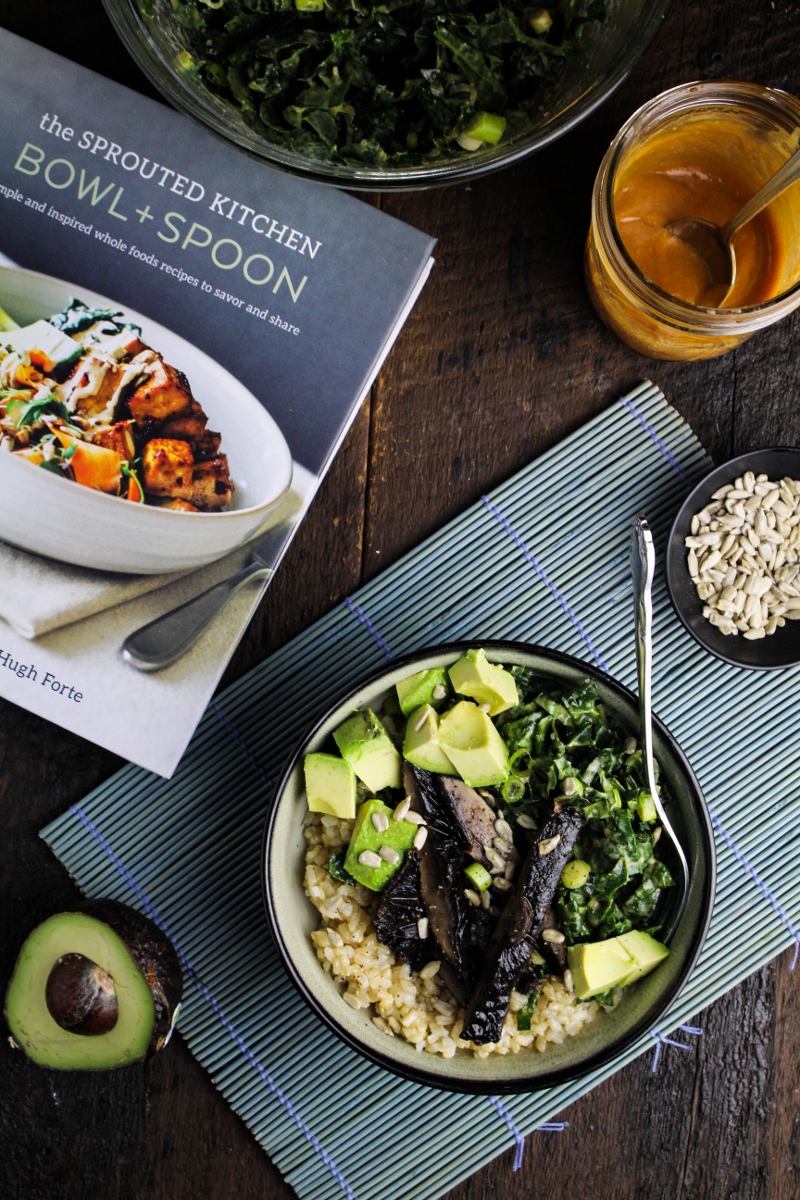 The Food: In my last post, I lamented my recent (poor) eating habits, driven largely by my nutty travel schedule (I have another week-long trip starting tomorrow, and I'm planning to be a lot more diligent about what goes into my body this time!). Coming home to a copy of Bowl + Spoon waiting for me in the mail was exactly what I needed – it's full of inspiration for healthy, nourishing, and simple meals to fuel you through a busy day. The first recipe I turned to was the Tahini Kale Slaw and Roasted Tamari Portobello Bowl, because it was exactly to my tastes without even a small tweak (although I did skip the carrots as Trevor is allergic). The base of the bowl is a hearty scoop of brown rice, which is then topped with a raw kale slaw dressed in a sweet and savory tahini and citrus sauce. The crowning elements are sesame and soy roasted portobello mushrooms, and perfectly ripe avocado. The beauty of this recipe, besides that it's filling, healthy, and super simple to prepare, is that each element has a distinct flavor – they don't run together and end up tasting like a stirfry. I made this two nights in a row, and my body and tastebuds were both grateful.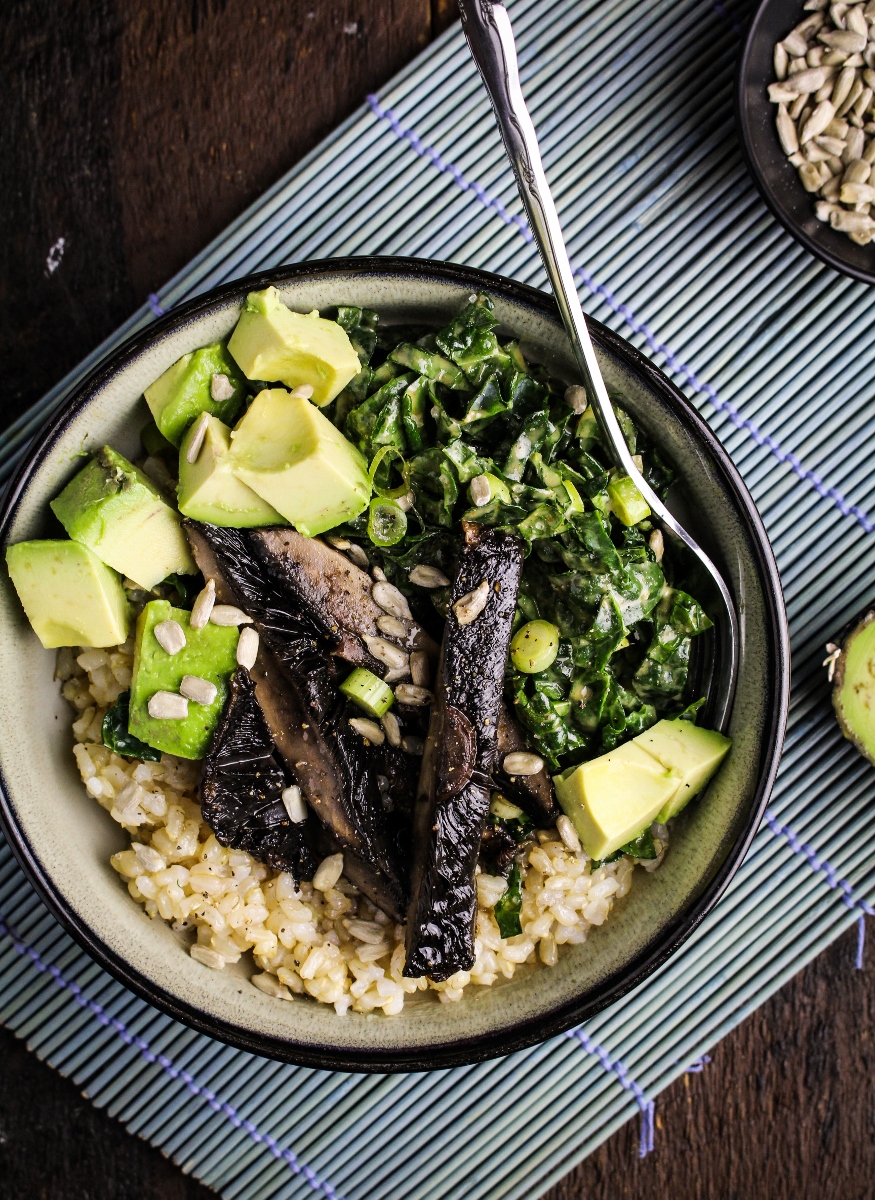 Recipe Shortlist: Burrata with Figs and Crostini; Golden Quinoa and Butternut Breakfast Bowl; Caribbean Bowl with Jerk-Seasoned White Fish and Tropical Fruit Salsa; Lentil and Rice Bowls with Summer Vegetable Kebabs; Curried Sweet Potato Soup with Crispy Lentils; Lentil and Mushroom Stuffed Peppers over Goat Cheese Butternut Mash; Coconut Sorbet with Strawberry-Rhubarb Sauce; Key Lime Eton Mess
Like what you just read? Subscribe to Katie at the Kitchen Door in the box on the right, on Feedly or Bloglovin', or follow along on Facebook, Twitter, Pinterest, Instagram, or Google+. Thanks for reading!
Disclaimer: I received a review copy of Sprouted Kitchen Bowl + Spoon from Ten Speed Press, but I was not otherwise compensated and all thought and opinions are my own.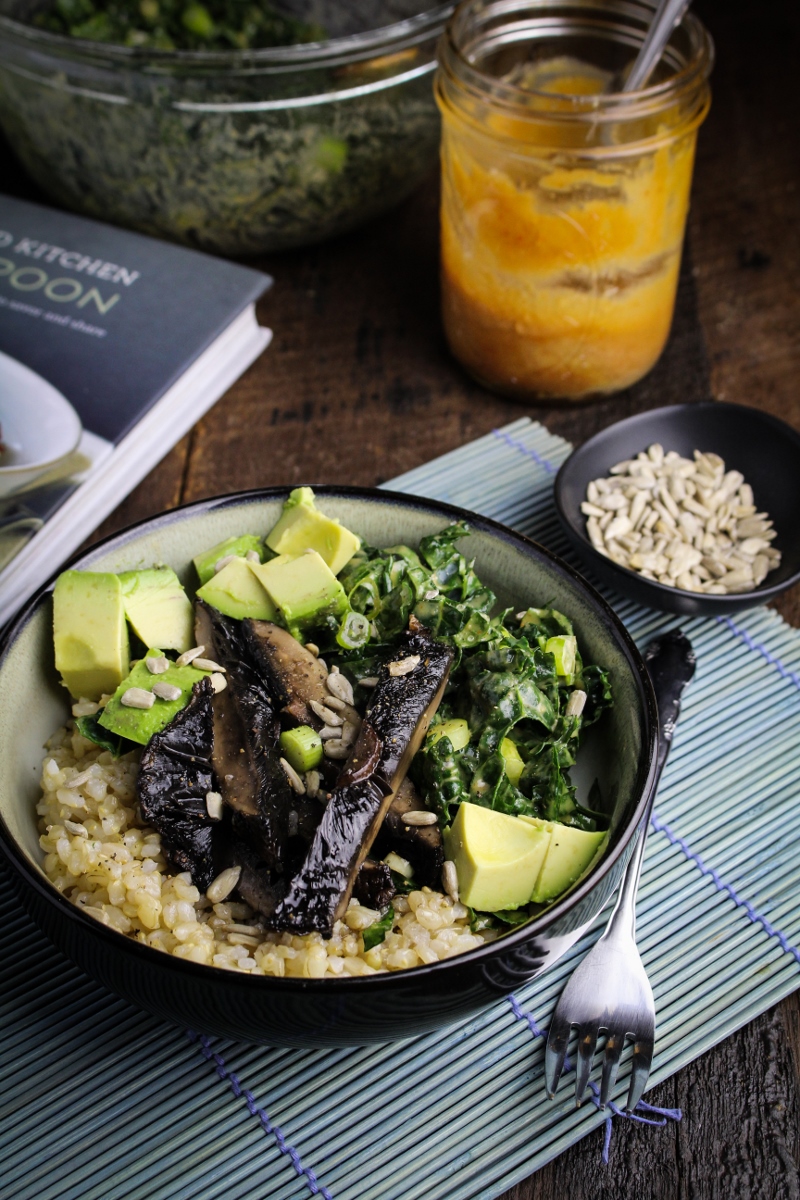 Tahini Kale Slaw and Roasted Tamari Portobello Bowl
Recipe from Sprouted Kitchen Bowl + Spoon. Serves 2.
For the Tahini Citrus Miso Dressing:
1/2 c. tahini
2 TBS white or yellow miso
2 TBS honey
1 TBS toasted sesame oil
2 tsp Sriracha or hot sauce
1 TBS rice wine vinegar
1/3 c. orange juice, preferably freshly squeezed
Sea salt and freshly ground black pepper
Lemon juice, to taste
In a mixing bowl or mason jar, whisk together the tahini, miso, honey, sesame oil, Sriracha, vinegar, and orange juice until smooth and evenly combined. Thin with water or lemon juice, 1 TBS at a time, if needed. Season to taste with salt, pepper, and lemon juice. The dressing will keep, covered, in the fridge for two weeks.
For the Tahini Kale Slaw and Roasted Tamari Portobello Bowl:
2 large portobello mushrooms, stems removed
2 TBS toasted sesame oil
Sea salt and black pepper to taste
1 TBS tamari or soy sauce
1 bunch lacinato (tuscan) kale, central stems removed
1 carrot, peeled and grated
3 scallions, white and green parts, chopped
1/2 c. sunflower sprouts or microgreens
1 c. cooked brown rice
1 large avocado, peeled, pitted and cubed
1/3 c. roasted and salted sunflower seeds
Preheat the oven to 375°F. Line a small roasting pan with tinfoil and place the portobello mushrooms in it. Rub both sides with the sesame oil and with sea salt and black pepper. Place them gill side up on the roasting pan and drizzle with the soy sauce. Roast until soft and collapsing, about 15-18 minutes. Remove from the pan and thinly slice.
While the mushrooms are roasting, prepare the kale slaw. Finely chop the kale into slivers, then toss with the carrot and scallions. Dress with the tahini citrus dressing to taste, rubbing the dressing into the kale to help tenderize it. Add the sprouts to the salad just before serving.
To assemble the bowls, divide the brown rice between two bowls. Top with a generous portion of the kale slow, 1 of the sliced portobellos, and half the cubed avocado. Sprinkle with sunflower seeds and serve.