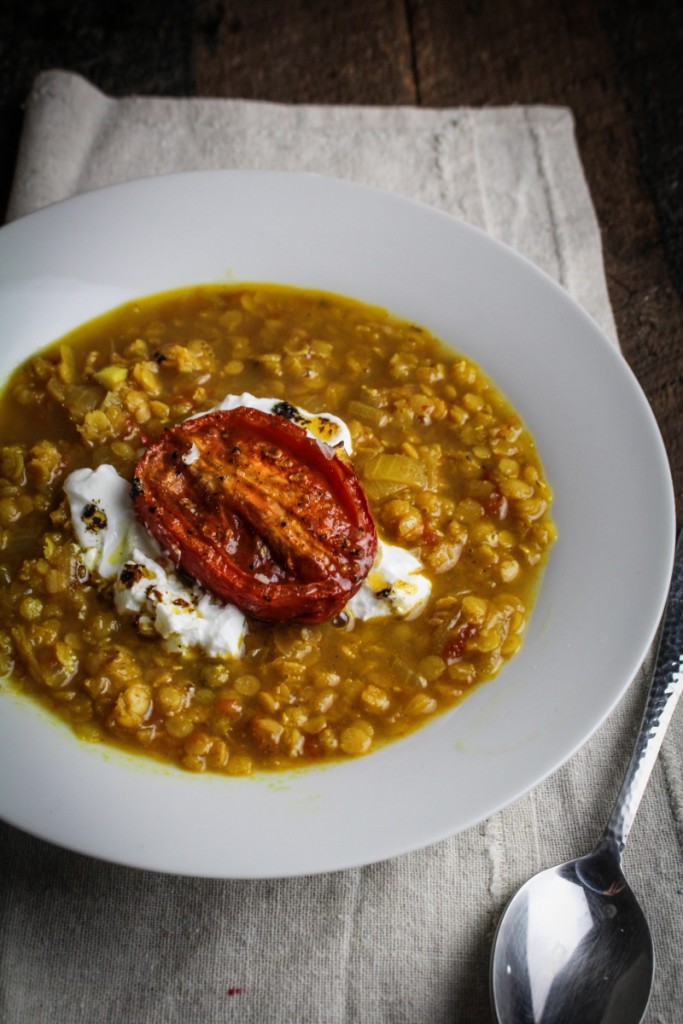 As promised, I'm balancing indulgence with healthfulness this month – since my last recipe was for a sausage-stuffed grilled cheese sandwich, this one will be much more restrained. It's a simple lentil soup, bulked up by oven-roasted tomatoes and given warmth and depth with harissa, cumin, ginger, and saffron. A swirl of cool Greek yogurt balances out the subtle spiciness. It's a very good recipe for these very cold days – satisfying and nourishing at the same time.
This recipe comes from one of my favorite healthy cookbooks, A Change of Appetite, by Diana Henry. It was only released last summer, but it's already become one of 4 or 5 books that I turn to when I need inspiration for whole eating. It's also the only cookbook I purchased as a gift for someone this year, which I think says a lot. Anyways, if you're looking for sources of inspiration for healthy cooking, I'd highly recommend it – and if you're curious but not sold, read more about it in my full review from a few months ago.
Like what you just read? Subscribe to Katie at the Kitchen Door in the box on the right or on Feedly or Bloglovin', or follow along on Facebook, Twitter, Pinterest, Instagram, or Google+. Thanks for reading!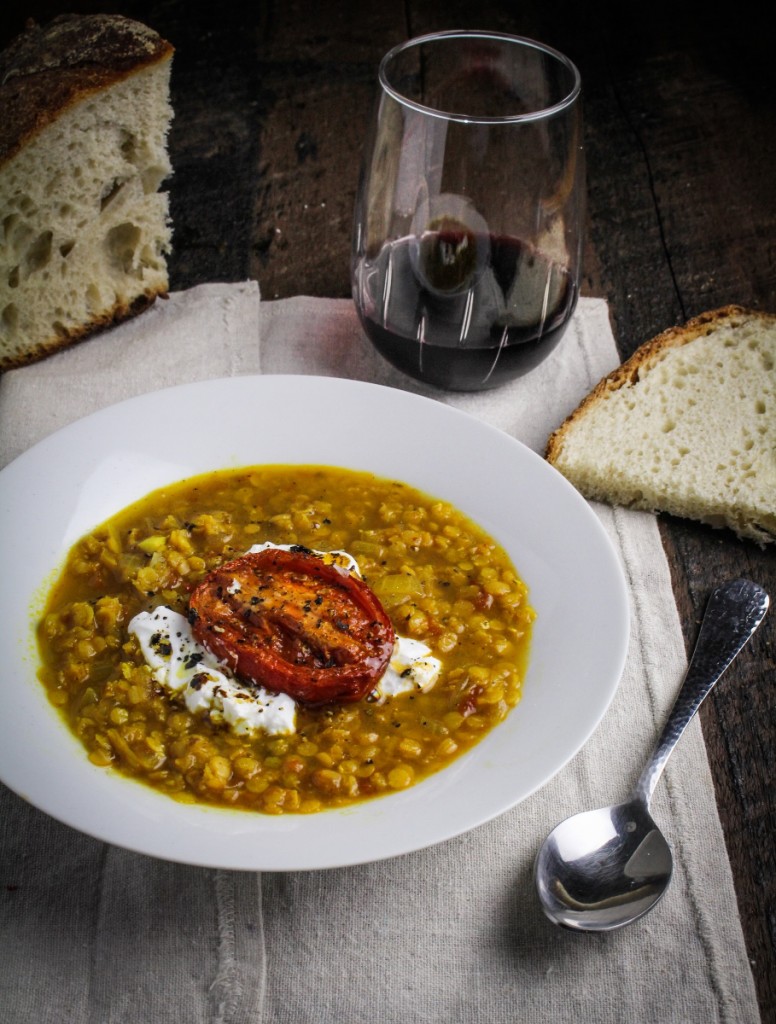 Lentil and Roasted Tomato Soup with Saffron
Recipe adapted slightly from A Change of Appetite. Serves 4-6.
6 plum tomatoes, halved
2 TBS olive oil
1 tsp dried harissa powder
salt and black pepper
2 tsp canola oil
1 large onion, peeled and finely chopped
4 cloves garlic, peeled and minced
1 inch piece ginger root, peeled and minced
1 red thai chile, stem removed, finely diced
2 tsp whole cumin seeds
3/4 tsp ground coriander
1/2 tsp ground turmeric
good pinch of saffron stems
4 c. vegetable or chicken stock
1 c. red lentils
plain Greek yogurt, for serving
Preheat the oven to 375°F. Slice the tomatoes in half lengthwise and place on a rimmed baking sheet. Whisk together the olive oil, harissa, and salt and pepper, and pour over the tomatoes. Use a spatula to flip the tomatoes and coat in the oil, ending with the tomatoes cut side up. Roast the tomatoes for 40-50 minutes, stirring once, until slightly shrunken and charred in places. Set aside the 4-6 nicest looking tomato halves for garnish.
In a large saucepan, heat the canola oil over medium heat. Add the onion and saute until translucent, about 5-7 minutes. Add the garlic, ginger, thai chile, cumin, coriander, turmeric, and saffron and cook until fragrant, about 1-2 minutes. Add the stock, the lentils, and the roasted tomatoes to the pot and bring to a simmer. Simmer for 15-20 minutes, until the lentils have softened into a puree and the tomatoes have mostly dissolved into the soup. Taste and season to taste with salt and pepper. Ladle into bowls and serve with a spoonful of Greek yogurt and one of the reserved tomato halves.
5