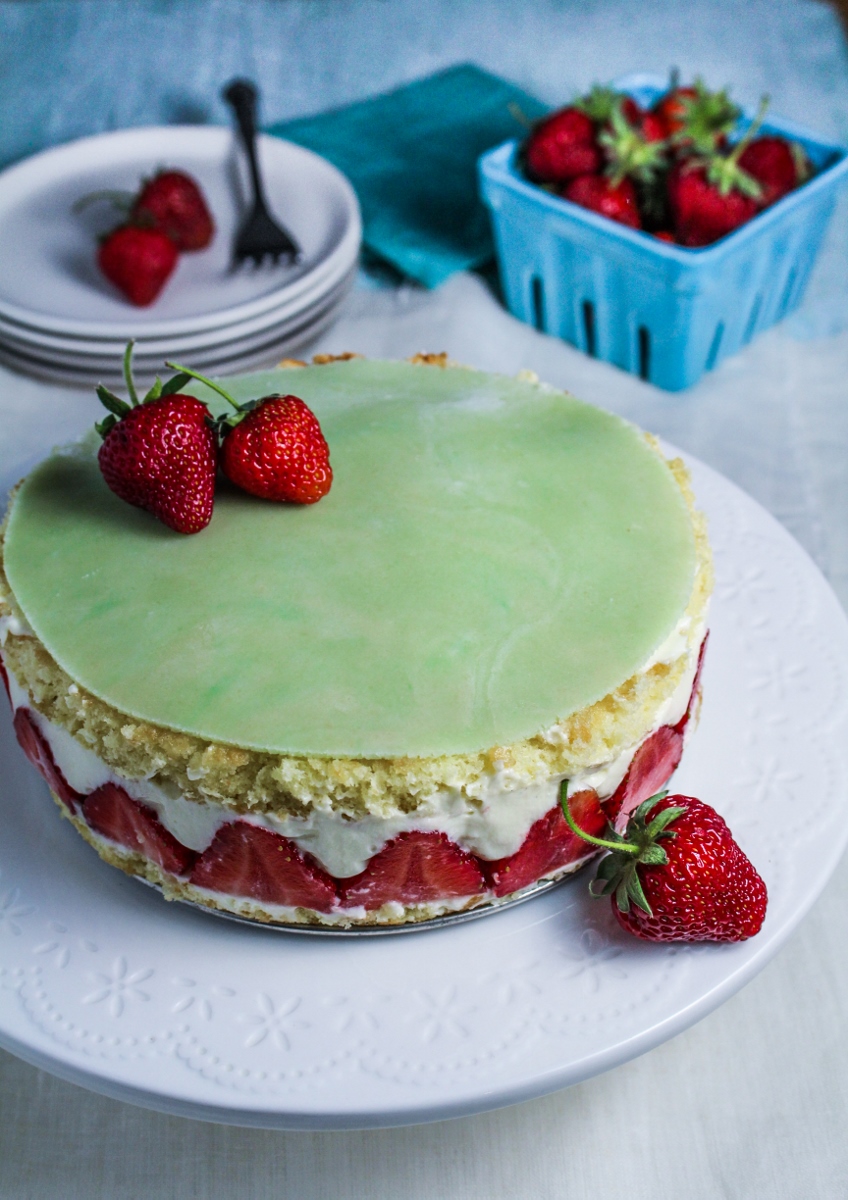 I first had un fraisier 5 years ago, in Paris.  Trevor and I spent a week there in May, at a time when we had just barely realized that this might be more than just flirtation and sneaky late night makeout sessions.  I still can't believe that I actually took that trip – me, who needs months to plan a weekend getaway, won't pay a dollar more than I have to for anything, and approaches almost everything with caution.  As a sophomore in college, I probably spent a third of my life's savings on that trip, going with someone I'd only officially been with for less than a year, although I'd known him for much longer.  And it was very worth it.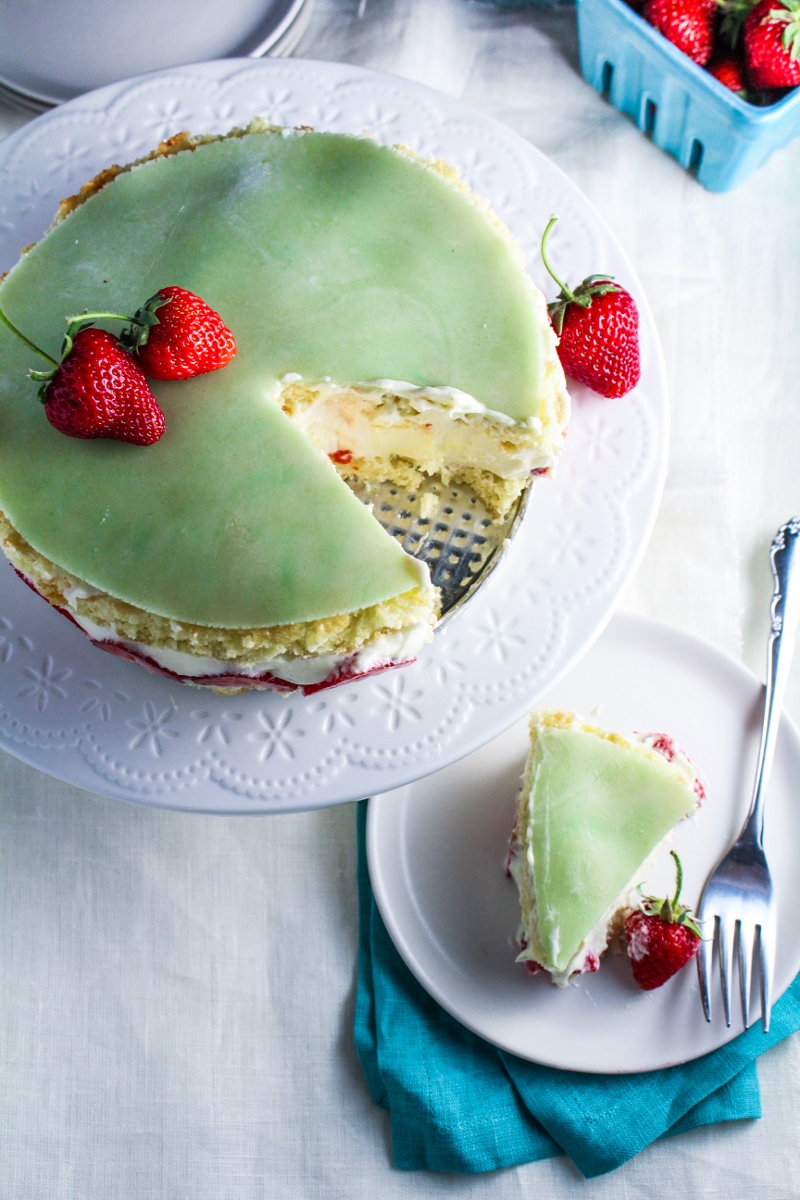 We didn't have a huge budget for eating out, so we did a lot of picnicking and bakery-visiting.  Which, in a way, is a perfect way to experience Paris.  We got to practice our french in the boulangeries and fromageries, sit in the beautiful parks and watch Les Parisiens go about their lives, and enjoy french food at it's most elemental.  We stayed in an apartment along Rue Montorgueil, one of the premier food-shopping streets in the city, so it was quite easy to eat this way, and to eat well.  One afternoon we splurged after seeing a gorgeous display in a little patisserie on our way back to our apartment, and picked up a few treats.  One of them, was a slice of fraisier, a delicate strawberry, pastry cream, and marzipan cake.  Although I don't remember exactly, we most likely ate it with a glass of kir royal, because that's pretty much all we drank that week, after discovering the syrupy goodness of 4€ creme-de-cassis.
I don't think I'll ever forget that slice of cake.  Or associate it with anything other than springtime, happiness, and love. I've been meaning to make it every spring sense, but every time I look at the recipe for a traditional version, I get scared off by how much work it takes. This year, though, I finally did it, and now that I've done it the proper way I can start coming up with ways to make it easier.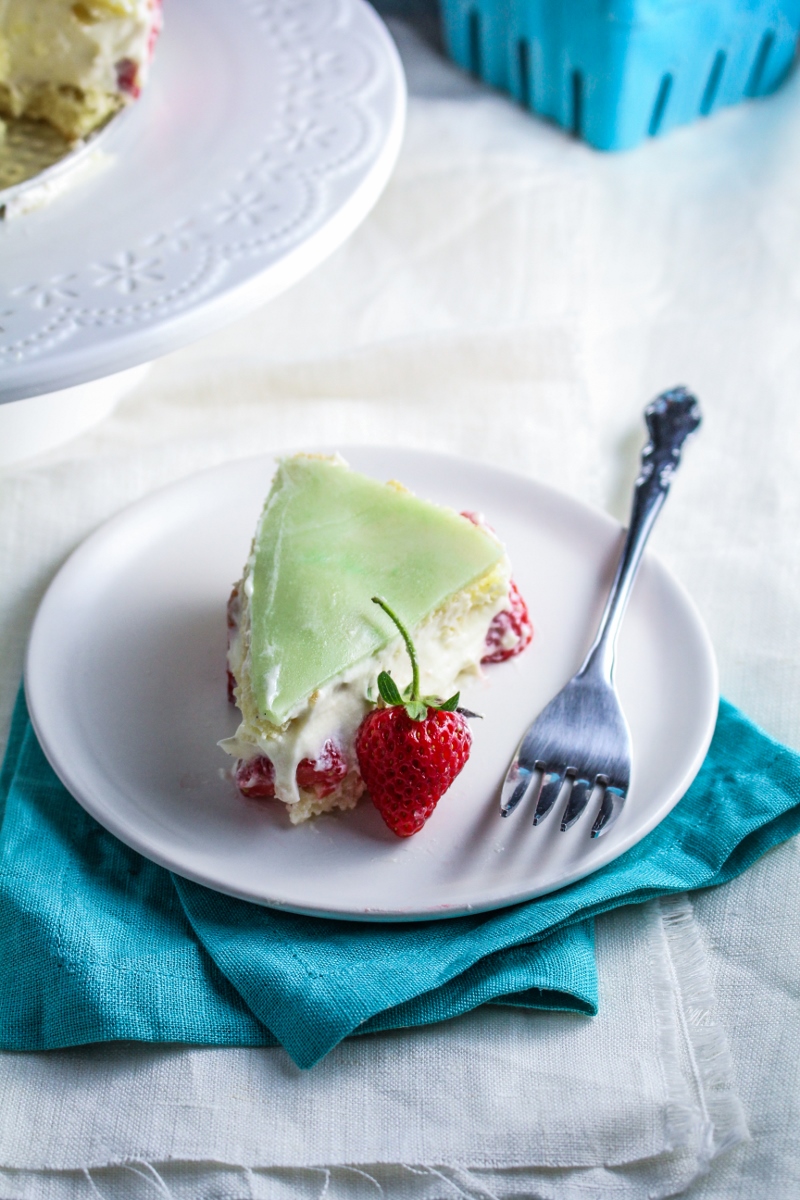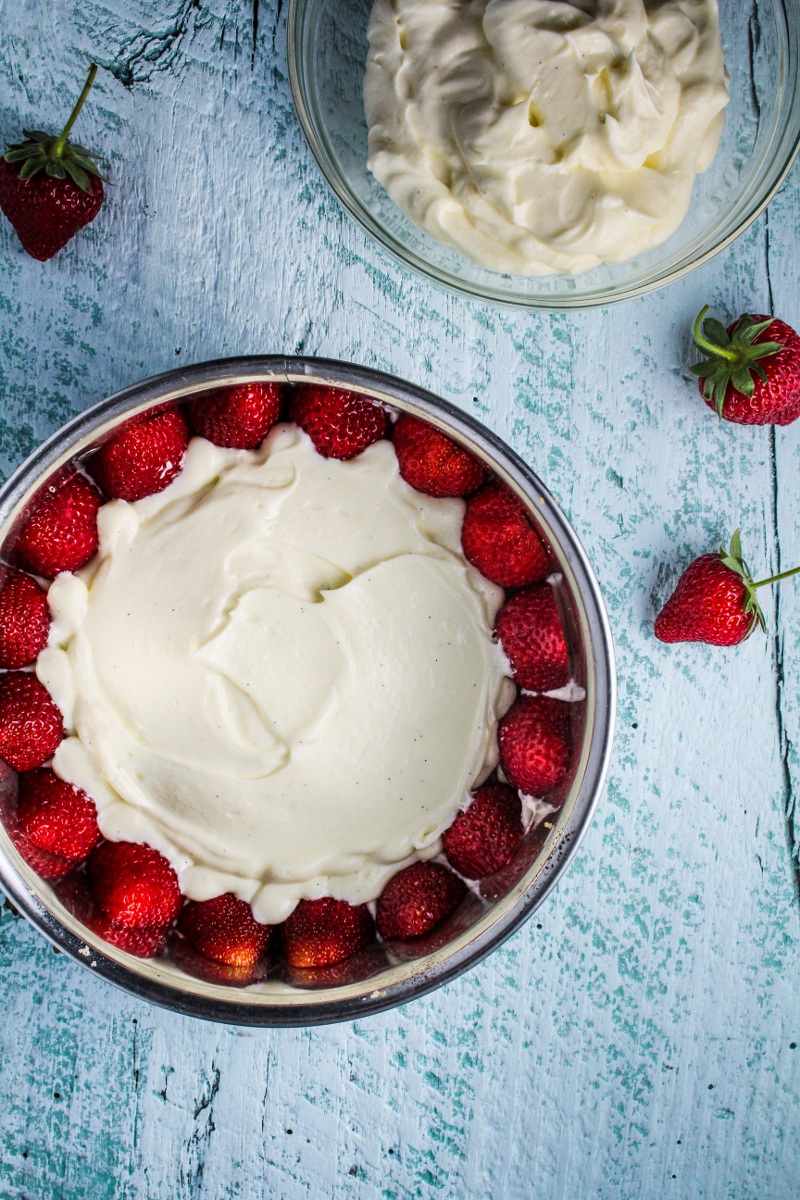 This is not an everyday cake. Not only does it require multiple components – a sponge cake, a pastry cream which is then turned into a mousseline, fresh strawberries and marzipan – and careful assembly, but making the sponge cake itself is a workout. If you make a proper sponge cake, you have to spend a full 20 minutes vigorously whisking your eggs and sugar to make a sort of zabaglione that is the base of the batter.  That said, with a little planning it's totally doable, and so gorgeous for a special occasion. And, if you like to bake, it's extremely rewarding to pull this cake off – I swelled up with pride when I pulled a gorgeously light and golden sheet of sponge from the oven. I am a little disappointed with the slight messiness of the final product (but maybe just because Trevor was making fun of it – feel free to yell at him for me), but I was not at all disappointed with the taste. Although The Fundamental Techniques of Classic Pastry Arts cautioned that if I put my marzipan-coated cake in the fridge with the marzipan, it would be "rendered unusable," I did it anyway and it's much prettier and easier to slice after a few hours in the fridge. I almost re-shot these pictures, but then I just ate the cake instead.
Like what you just read? Subscribe to Katie at the Kitchen Door on Feedly or Bloglovin', or follow along on Facebook, Twitter, Pinterest, Instagram, or Google+. Thanks for reading!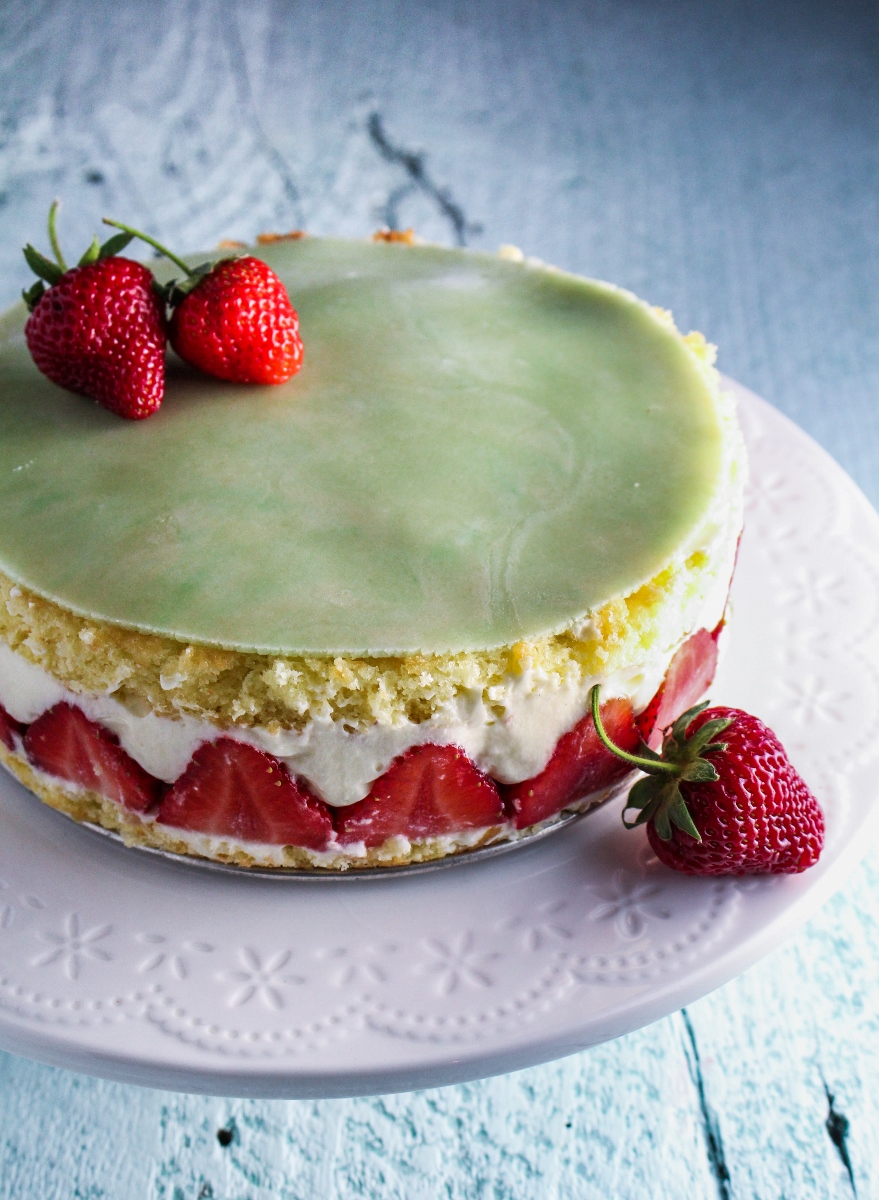 Classic Fraisier
Recipe adapted slightly from The Fundamental Techniques of Classic Pastry Arts. Makes one 8-inch cake.
For the cake:
110g cake flour (3/4 c. + 1 TBS)
1 tsp baking powder
2 oz. whole milk (1/4 c.)
1 oz. unsalted butter, at room temperature (2 TBS)
3 large whole eggs, at room temperature
3 large egg yolks, at room temperature
175g sugar (3/4 c. + 1 TBS)
Preheat the oven to 350°F. Line an 17 x 11 inch baking sheet with parchment paper and set aside.
Sift the flour and baking powder together in a small bowl so that they are evenly combined. Add the milk and the butter to a small saucepan, and heat over low heat just until the butter is melted, about 2 minutes. Remove from heat and set aside.
Set up a double boiler – fill a large saucepan with water and bring to a boil, then immediately turn off the heat. In a heatproof bowl that fits snugly into the saucepan without touching the hot water, briefly whisk together the eggs, egg yolks, and sugar. Place the mixture over the hot water, being sure it is not touching the water. Whisk the eggs and sugar vigorously for 10 minutes, or until the mixture reads 110°F on an instant thermometer and has become pale yellow.
Remove the bowl from the hot water, and continue whisking vigorously or another 10 minutes, until the mixture has tripled in volume and forms a ribbon when lifted from the bowl.
Use a rubber spatula to fold the flour mixture into the whipped egg mixture in three additions, making sure that the dry ingredients do not clump. Fold each addition in while the batter is still slightly streaky from the previous addition. Do not overfold or you will deflate the batter.
Once the flour mixture is incorporated, fold 3/4 c. of the batter into the warm milk mixture so that the milk mixture has a similar consistency to the batter, than fold the milk mixture back into the batter, until juts combined. Pour the batter into the prepared sheet pan, smoothing gently with the spatula. Immediately place in the preheated oven and bake for 10 minutes, until surface of cake springs back when touched and the top is golden brown. Remove cake from oven, let cool on a cooling rack, then invert the pan and carefully peel off the parchment paper. Set cake aside, wrapping tightly and refrigerating if you will not be using it immediately.
For the mousseline:
2 large egg yolks, at room
1 large whole egg
3 TBS cornstarch
1/2 c. + 2 TBS sugar
2 c. whole milk
1/2 vanilla bean, split lengthwise
7 oz. unsalted butter, at room temperature (14 TBS / 1 3/4 sticks)
Whisk together the egg yolks, egg, cornstarch, and sugar in a medium bowl, whisking until well blended.
Place the milk in a saucepan. Scrape the seeds from the vanilla bean into the milk, and add the vanilla pod to the pan. Bring to a simmer over medium heat, then remove from the heat. Temper the eggs – while whisking the eggs vigorously, slowly drizzle 1 cup of the hot milk mixture into the eggs, then, now whisking the milk, pour the tempered egg mixture back into the hot milk. Continue whisking vigorously as you return the pan to medium heat. Cook until the mixture thickens, about 3-5 minutes, stirring and scraping the bottom as you cook. Once thickened, remove from heat and let cool so that it is just above room temperature. Remove the vanilla bean.
Add the slightly warm pastry cream to a mixer, and begin beating on low. Add the room temperature butter 1 TBS at a time, beating as you go, until the mixture is very light and fluffy, like a buttercream. If the butter melts immediately upon contact with the pastry cream, let the pastry cream cool further before continuing. You want the butter to get whipped slightly as it is incorporated into the pastry cream. If mixing by hand, beating a few TBS of butter until fluffy and then incorporating the pastry cream a little bit at a time is helpful. Repeat until all the butter and pastry cream is used up. Use the buttercream as soon as possible after it's prepared.
To assemble:
1 recipe sponge cake (above)
1/4 c. simple syrup (prepared from 1/4 c. water + 1/4 c. sugar, simmered just until sugar dissolves)
1 recipe mousseline (above)
20-30 fresh strawberries of a similar size, hulled
2 oz. pale green Marzipan
Using a 6-inch cake ring or springform pan as a guide, cut two circles out of the sponge cake. Store the rest of the cake in the fridge or freezer for another use.
Place one of the cake circles inside your cake ring of springform pan, and brush the top generously with simple syrup.
Place half of the mousseline in a piping bag, and pipe a thin line around the edge of the cake. Cut the strawberries in half lengthwise, and place them cut side out in a circle around the edge of the cake. Try to use strawberries of a similar size. Pipe mousseline in the middle of the cake such that it comes halfway up the inside of the strawberries. Top this layer of mousseline with more cut strawberries, this time placed cut side down, so that you have a layer of mousseline and strawberries that is an even height.
Use a spatula to spread more mousseline on top of the strawberry layer so that it is covered by about 1/2 an inch, smoothing the top out with the spatula. Place your second cake circle on top of this mousseline layer, and brush with simple syrup. Top with a thin layer of mousseline.
Refrigerate the cake for at least 3 hours. When ready to serve, roll your marzipan out into a thin sheet. Carefully remove your cake ring or springform pan from the cake. Use this as a guide to cut a circle out of the marzipan. Place the marzipan circle on top of the cake, top with a few whole strawberries, and serve.
0