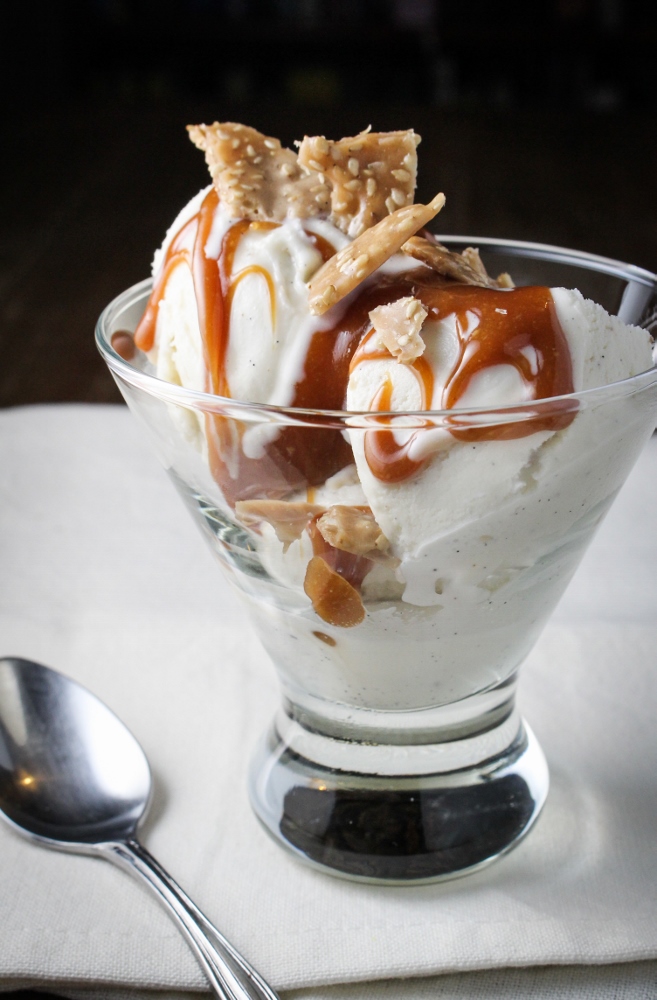 A little while ago, Graeter's reached out to me I'd asked if I was interested in trying out their new ice cream flavors – three new "A Little Less Indulgent" varieties, and four new gelatos. To be perfectly honest, I'd never heard of Graeter's – they're more of a midwestern brand and we have plenty of great creameries in New England – but I said yes anyways, because, well, I really love ice cream. Like, more than most people, I think. I didn't make any commitment to writing about the new flavors, but after my first few bites, I knew I would have to share, because it would have been a crime not to. It's really good stuff. I'm a particular fan of the Salted Caramel Truffle Gelato, which I savored two spoonfuls at a time, straight out of the pint, every night for a good two weeks. It's fabulously soft and creamy and richly flavored, and although I'm not sure I could swallow the $10/pint cost of ordering it online, if I ever see some in a store near me, I'm stocking up immediately.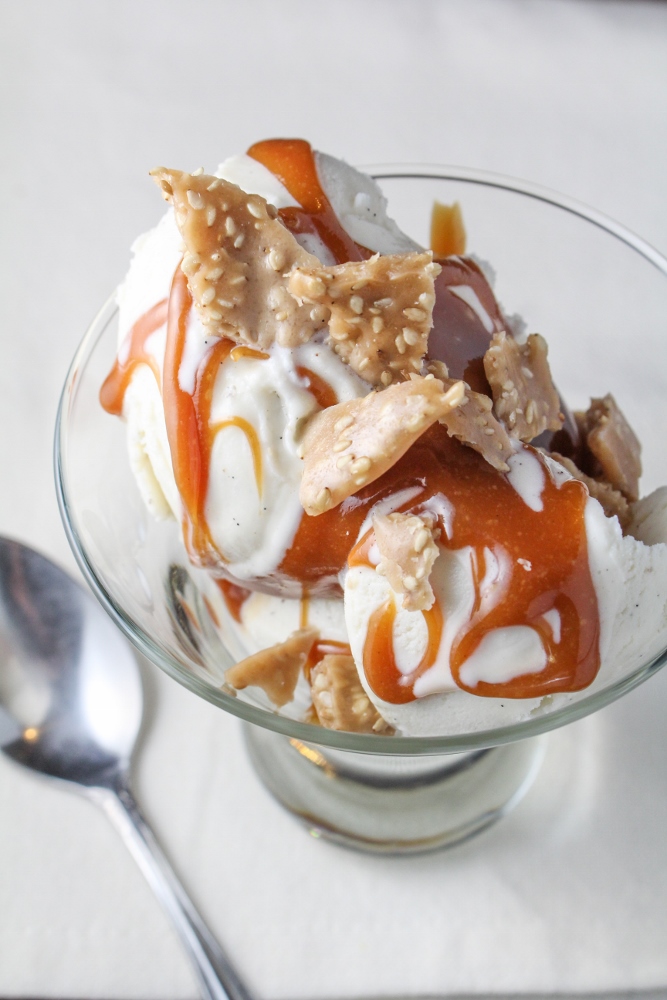 I decided to share this delicious new discovery with you in the form of a sundae. I mean, if the ice cream is "A Little Less Indulgent," that just means you have an excuse to douse it in caramel sauce, right? This sauce is inspired by a dinner we had recently at Oleana, a Middle Eastern mezze restaurant in Cambridge that's nearly impossible to get a reservation at (at least by Boston standards). We had a lot of delicious dishes that night, but the most memorable one for me was the dessert: Turkish-style Profiteroles with Sesame Cashew Caramel and Sesame Halva. It was amazing, and I couldn't get over how addictive the sesame caramel sauce was, so I wanted to try making it at home. It ended up coming out just how I wanted to, so now I might have to make caramel this way all the time. Adding tahini to the caramel makes it that much more unctuous and satisfying, and it cuts the sweetness with its deep savory flavor. But as much as I love the sauce, I think the real star of the show might have been the Salted Sesame Butter Brittle, which I decided to make at the last minute to add crunch, and more sesame flavor. It's a Ming Tsai recipe, and Ming Tsai is pretty much infallible in my eyes – this recipe was no exception. I was a little concerned by how opaque and soft the caramel mixture looked at first, and how long it took to color, but as soon as I bit into the hardened candy I knew I never should have doubted. It's more like sesame toffee, really, and I made myself a little bit sick I ate so much of it. Lesson learned. Maybe. All together – the ice cream, the tahini caramel, the sesame butter brittle – it was a solidly delicious dessert.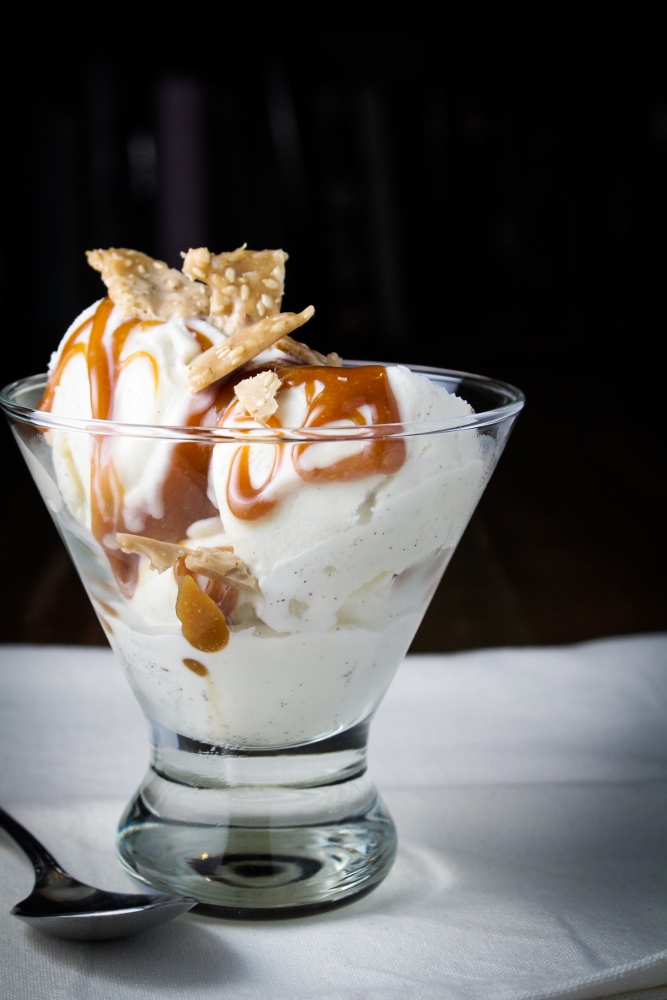 In other news, my blog is going through some growing pains this week – I'm finally biting the bullet and switching over to WordPress.org – so bear with me as I make some changes. Hopefully I'll be able to unveil a flashy new custom design in a few weeks, but until then be warned that it might be a bit messy. And, as I think through how my content might evolve, I would love to hear if there are recipes or post types that you've enjoyed more than others! Shoot me an email or leave a note in the comments and I'll be super grateful.
Like what you just read? Subscribe to Katie at the Kitchen Door on Feedly or Bloglovin', or follow along on Facebook, Twitter, Pinterest, and Instagram. Thanks for reading!
Disclaimer: I received a sample of Graeter's ice cream free of charge, but I was not otherwise compensated and all thought and opinions are my own.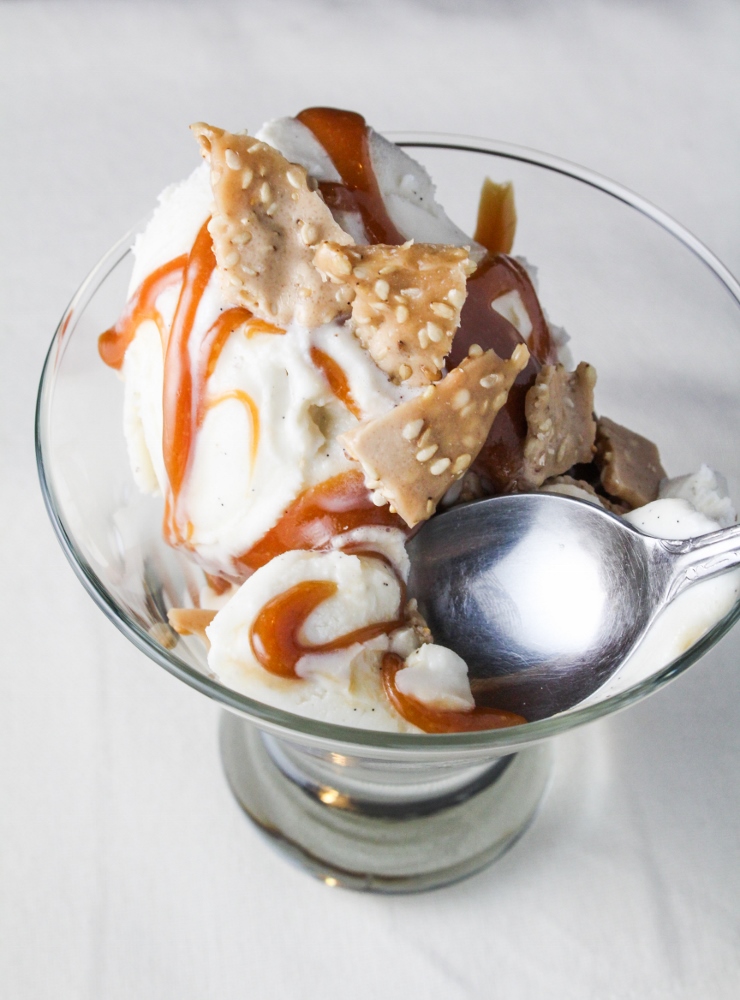 Tahini Caramel and Sesame Brittle Sundae
2 scoops vanilla ice cream
2 TBS crumbled Salted Sesame Butter Brittle (recipe below)
2 TBS Tahini Caramel Sauce (recipe below)
Assemble. Serve.
Salted Sesame Butter Brittle
Recipe from Ming Tsai. Makes 3 cups of brittle pieces.
3/4 c. white sesame seeds
1 stick butter
1 cup sugar
sea salt
Toast the sesame seeds in a dry skillet over medium heat, stirring frequently, until fragrant, about 2 minutes. Remove from skillet and set aside. Line a baking sheet with parchment paper and set aside.
Add the butter and the sugar to a medium, heavy-bottomed saucepan. Melt over medium heat. Stir just to combine once melted, then stop stirring, and cook until golden brown, about 3-5 minutes. Remove from heat and stir in toasted sesame seeds until well mixed, then pour caramel out onto lined baking sheet. Spread the caramel to 1/8 – 1/4 inch thickness using the back of a wooden spoon. Sprinkle a little bit of sea salt over the top of the hot brittle. Let cool completely, then break into pieces. Store in an airtight container at room temperature.
Tahini Caramel Sauce
Inspired by Oleana. Makes 1 cup.
1/2 c. sugar
3/4 c. heavy cream
2 TBS tahini
Pour the sugar into an even layer in a medium, heavy-bottomed saucepan. Heat over medium heat until the sugar begins to melt and turn amber. At this point, gently stir the melted parts into the un-melted sugar a little bit at a time. If the sugar clumps, stop stirring for a minute to let it melt.
As soon as all the sugar is melted and amber brown, carefully add a little bit of the heavy cream, stirring as you do so – the cream will make the caramel bubble up violently. One bubbling subsides, add the rest of the cream in a slow stream, stirring as you do, and stopping if it bubbles up too high. Stir until caramel and cream are fully mixed, then remove from heat. Add tahini and stir until it is melted. Let cool slightly, then serve.
0