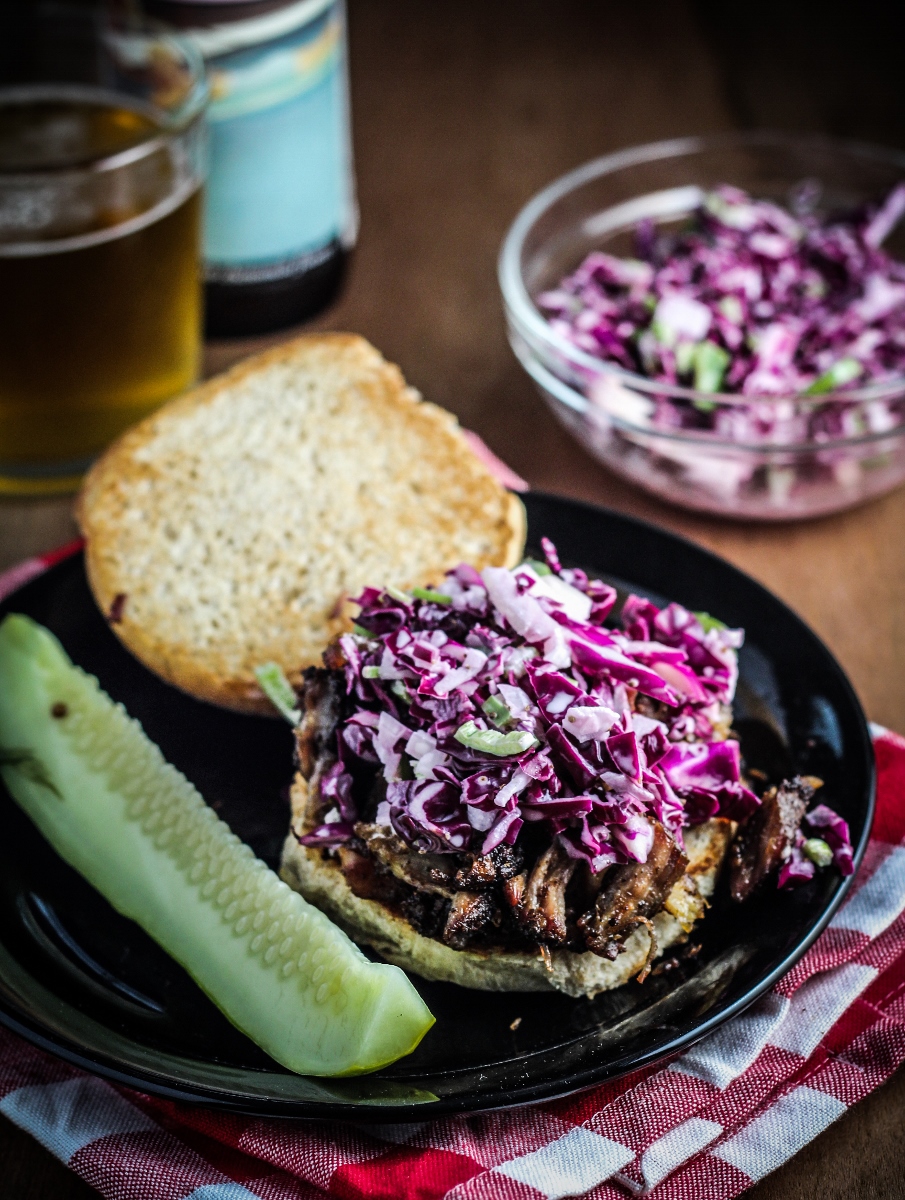 I'm back home! Only for 10 days, but I'm going to pretend it's longer, so that I don't start freaking out about leaving again prematurely. I got back yesterday around noon, and even though I'd been awake for almost 18 hours, I was determined to enjoy the beautiful summer Saturday, so Trevor and I went on a park picnic date, and ate crackers and cheese and did some serious people-watching. The group yoga people hanging out there were especially entertaining – think three people balancing one on top of the other in weird, acrobatic poses, but with yoga hands (and decidedly yoga-centric mentalities, from what we could overhear). Out of curiosity, we tried it out for ourselves this morning on the lawn – we weren't very successful, but it was highly amusing.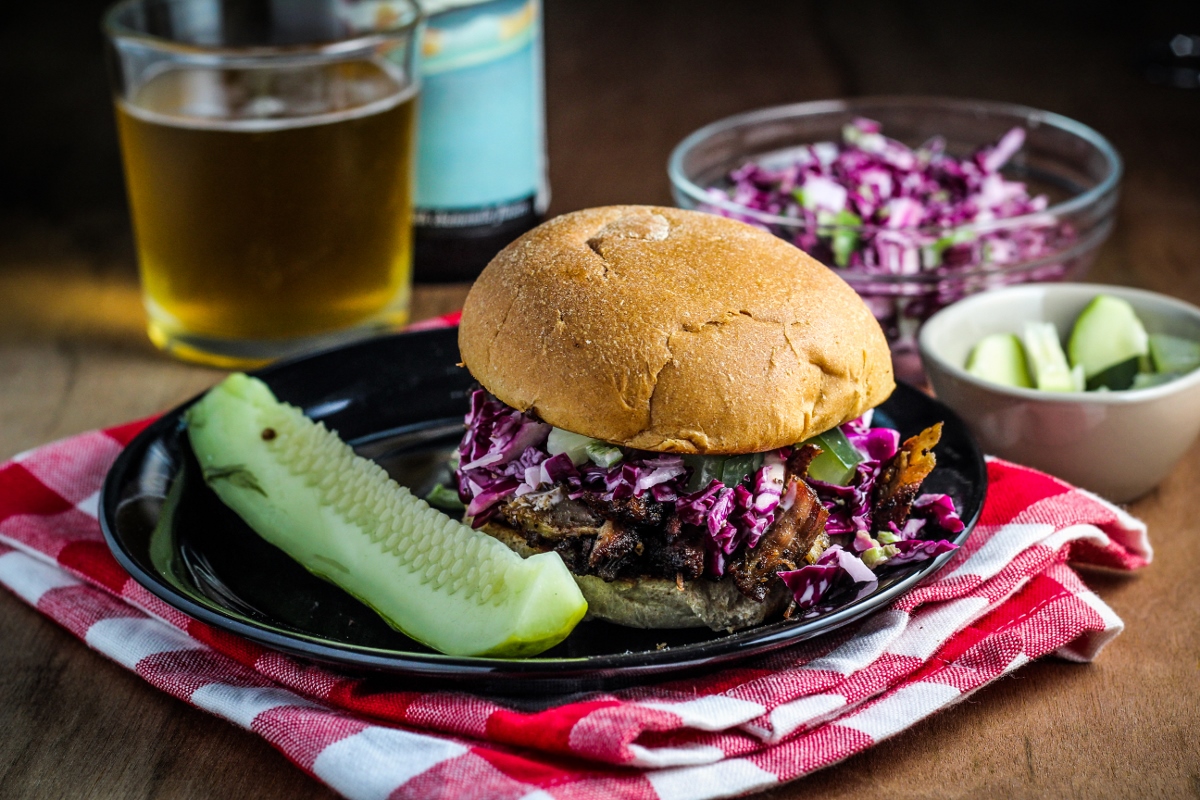 When we came back from the park, I was pretty much a zombie, but I managed to stay awake long enough to eat a big plate of the dry-rub pork ribs Trevor made for dinner. (How could I not have? The whole house smelled amazing.) The meat was pulling off the bone so easily that I immediately knew I would have to make sandwiches with the leftovers. So today, after our weekly trip to the garden, I chopped up some cabbage to make coleslaw and sliced some of our homemade pickles while Trevor toasted hamburger buns and reheated the pork in the pan, just long enough to crisp up the edges. Sandwiches were assembled and promptly devoured. Since this was a two-for-one meal (with the ribs for dinner the night before) and all the components were easy, I knew I had to share it here – it makes a pretty killer lunch. Plus, I'm very into pickles right now, (which is good, since we have about 10 mammoth cucumbers in the fridge with the threat of more being ready next week), so anything I can put them on is an instant favorite. So here's to summer weekends, boyfriends with culinary skills, and delicious sandwiches.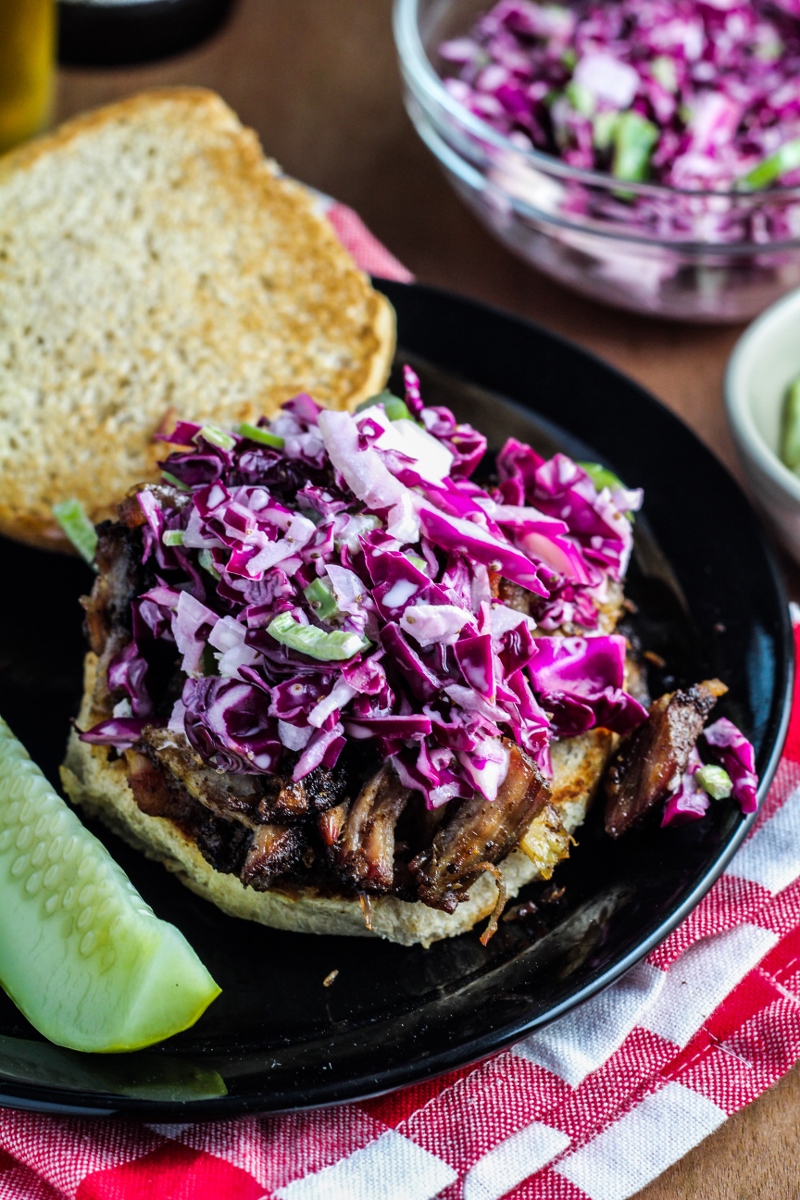 Pulled Pork Sandwiches
Serves 4.
2/3 recipe of oven-roasted dry-rub ribs, recipe below

1 c. purple coleslaw, recipe below
2 chopped spicy dill quick pickles
4 hamburger buns, toasted
Remove the rib meat from the bones with a fork and shred into bite-sized pieces. Reheat over medium-low heat in a frying pan, until warm and the edges are beginning to crisp. Remove from heat.

Divide the pork evenly between the four bottom hamburger buns. Top each serving with 1/4 cup of coleslaw and a few chopped pickles. Place the top bun on the sandwich and serve immediately.
Oven-Roasted Dry-Rub Ribs
Adapted from this Instructables Recipe. Serves 6, or 2 with enough for 4 leftover sandwiches.
1 full rack of country-style pork ribs

1 TBS + 1 tsp chili powder
1 TBS ground cumin
1 1/2 tsp ground coriander
1 1/2 tsp sea salt
1 1/2 tsp brown sugar
1/4 tsp freshly ground black pepper
1/4 tsp mustard
6 whole cloves garlic, peeled
2 jalapenos, sliced lengthwise into quarters and seeds removed
Preheat the oven to 300°F. Prep the ribs by patting them dry and removing the silverskin membrane from the ribs.
Mix all of the dry rub ingredients (chili powder through mustard) together in a small bowl until evenly mixed. Rub half of this mixture on each side of the ribs. Then place the rack bone-side down on a baking sheet.  Add the garlic cloves and the jalapenos to the baking sheet, and roast for one hour. After the first hour, remove the ribs and filp over, and drain the fat from the pan. Then roast them for two more hours, flipping every thirty minutes. After the full three hours of cooking time, remove the ribs from the oven and let rest 10 minutes before serving.
Purple Coleslaw
Makes 3-4 cups coleslaw.
1/3 c. mayonnaise
1 TBS sugar
2 TBS apple cider vinegar
1 tsp salt
1/4 tsp celery seed

1 small head of purple cabbage, shredded or thinly sliced

1 Anaheim pepper, seeds removed, finely diced
1/2 medium onion, finely diced
In a large bowl, whisk together mayonnaise, sugar, vinegar, salt, and celery seed until smooth. Add the shredded cabbage, diced pepper, and diced onion, and toss to coat thoroughly with the dressing. Let sit, covered and in the fridge, for at least one hour before serving.
3