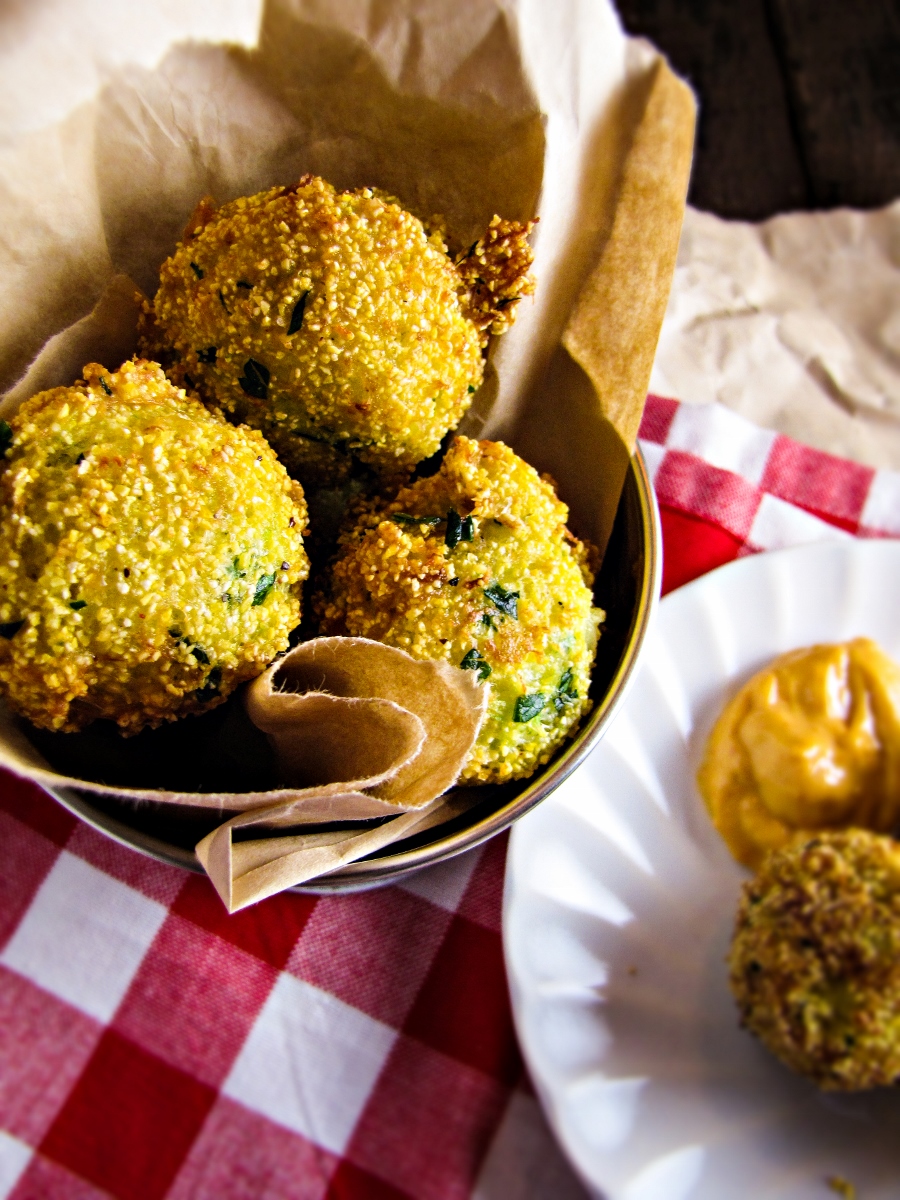 Happy April, everyone! I'm so glad we're done with all that January-February-March-extended winter business. I spent the weekend celebrating the warm weather (and Easter!) with some serious gardening and some playing with my new camera and some scalloped potatoes and ham. It was a much-needed break from being indoors stuck in front of a computer screen.
I've got another recipe from The Chef's Collaborative Cookbook today (check out my full review – and a recipe for Thai Pork Sliders – here). Hushpuppies are a treat that I haven't had in a while, so I was stoked to see a recipe for them in The Chef's Collaborative. I'd never really heard of them before moving to North Carolina, but while I lived there they were a staple side order with my pulled pork sandwiches. The greasy BBQ-joint version of hushpuppies (like the ones from Bullock's that my roommate always drove home to her dad in NJ over vacations) are super satisfying, but my all time favorites were the ones at the upscale Watt's Grocery – farmer's cheese hushpuppies served with basil mayo. Those things were seriously addictive.
This recipe, which utilizes often discarded broccoli stems, as well as a healthy handful of grated cheddar cheese, is not quite as good as the Watt's version, but it's certainly easier to make these than to hop on a plane to Durham every time I want a little taste of the South. I served them with leftover sriracha aioli and relished every hot crunchy bite. I saved a little bit of the batter (this recipe definitely serves a crowd!) and learned Saturday morning that this recipe is maybe even better when it's made into pancakes and topped with a fried egg and roasted red peppers. Just an idea. However you serve them, this recipe is quick, easy, and tasty – well worth the time it takes to mix up the batter!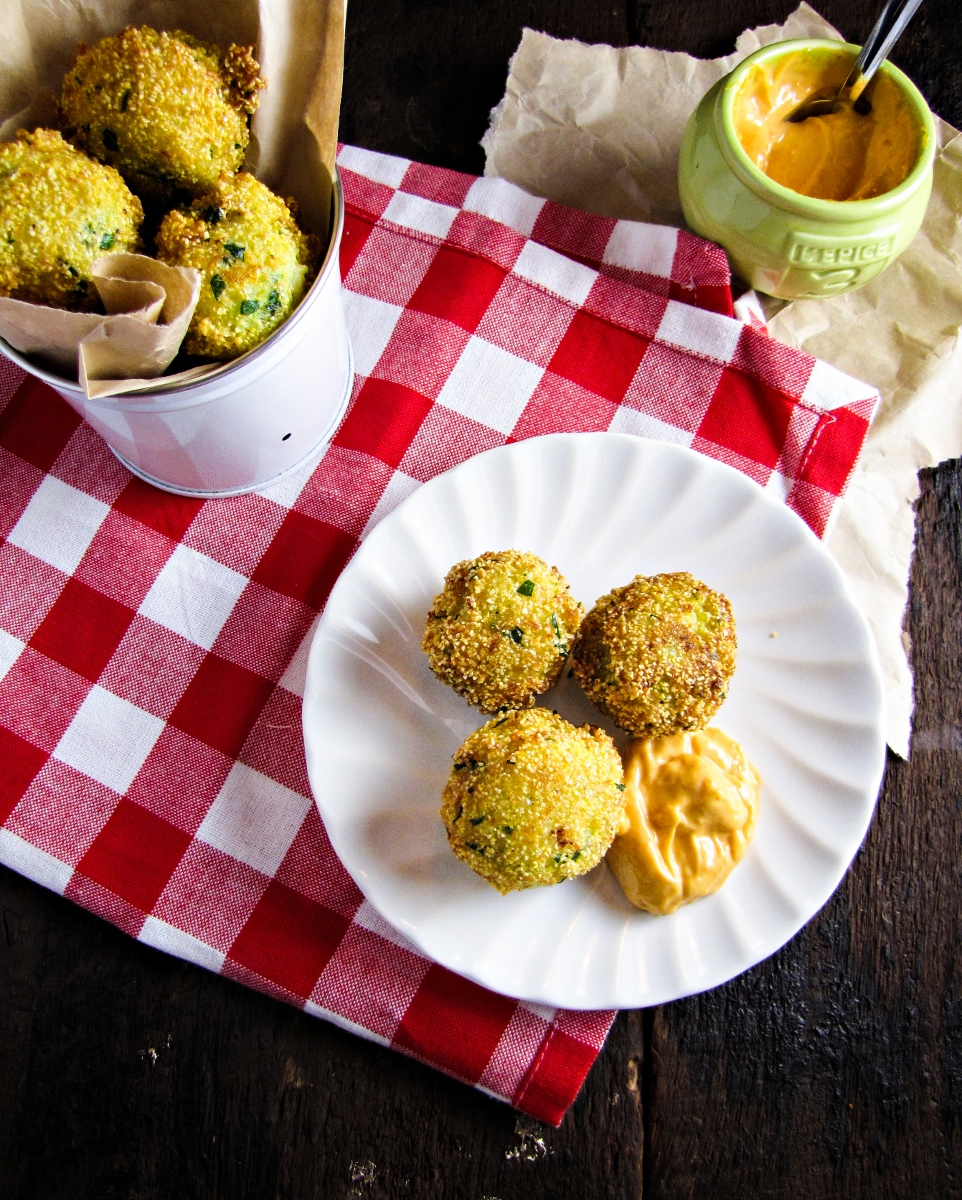 Broccoli-Cheddar Hushpuppies
Recipe from The Chef's Collaborative Cookbook, contributed by John and Julie Stehling of Early Girl Eatery in Asheville, NC. Makes 48 hushpuppies. (To cut in half, use 3 eggs).
3 c. cornmeal

1 1/2 tsp baking powder
1 1/2 tsp salt
1/2 tsp sugar
1/4 tsp baking soda
1/4 tsp cayenne pepper
1/4 tsp freshly ground black pepper
5 large eggs
1/2 c. buttermilk
2 c. grated broccoli stems (from about 5-6 medium heads broccoli)
1 c. grated cheddar cheese
1/2 small yellow onion, peeled and grated (about 1/4 c.)
1/4 c. finely chopped fresh flat-leaf parsley
vegetable oil, for frying
sriracha aioli, for serving
In a large bowl, whisk together the cornmeal, baking powder, salt, sugar, baking soda, cayenne pepper, and black pepper until combined.

In a separate, medium bowl, whisk together the eggs and buttermilk until evenly combined. Stir in the grated broccoli stems, the grated cheddar cheese, the grated onion, and the parsley. 

Stir the wet ingredients into the dry ingredients until evenly mixed.
Heat 3 inches of vegetable oil over medium heat in a high-sided frying pan or saucepan until the oil reaches 325°F. If you don't have a thermometer, test the oil's temperature by adding a bit of batter to the oil – when it sizzles gently on contact, the oil is ready. If it pops too much or burns quickly, the oil is too hot.
Carefully spoon rounded tablespoons of batter into the oil, adding only enough hushpuppies so that they don't touch one another (i.e. don't crowd them). Fry until golden brown, about 2-3 minutes, flipping over once if necessary. Remove with a slotted spoon or Asian noodle strainer, and let drain on a paper-towel lined plate. Serve hot (leftovers are no good, so only fry as many as you can serve/eat in one sitting).
2