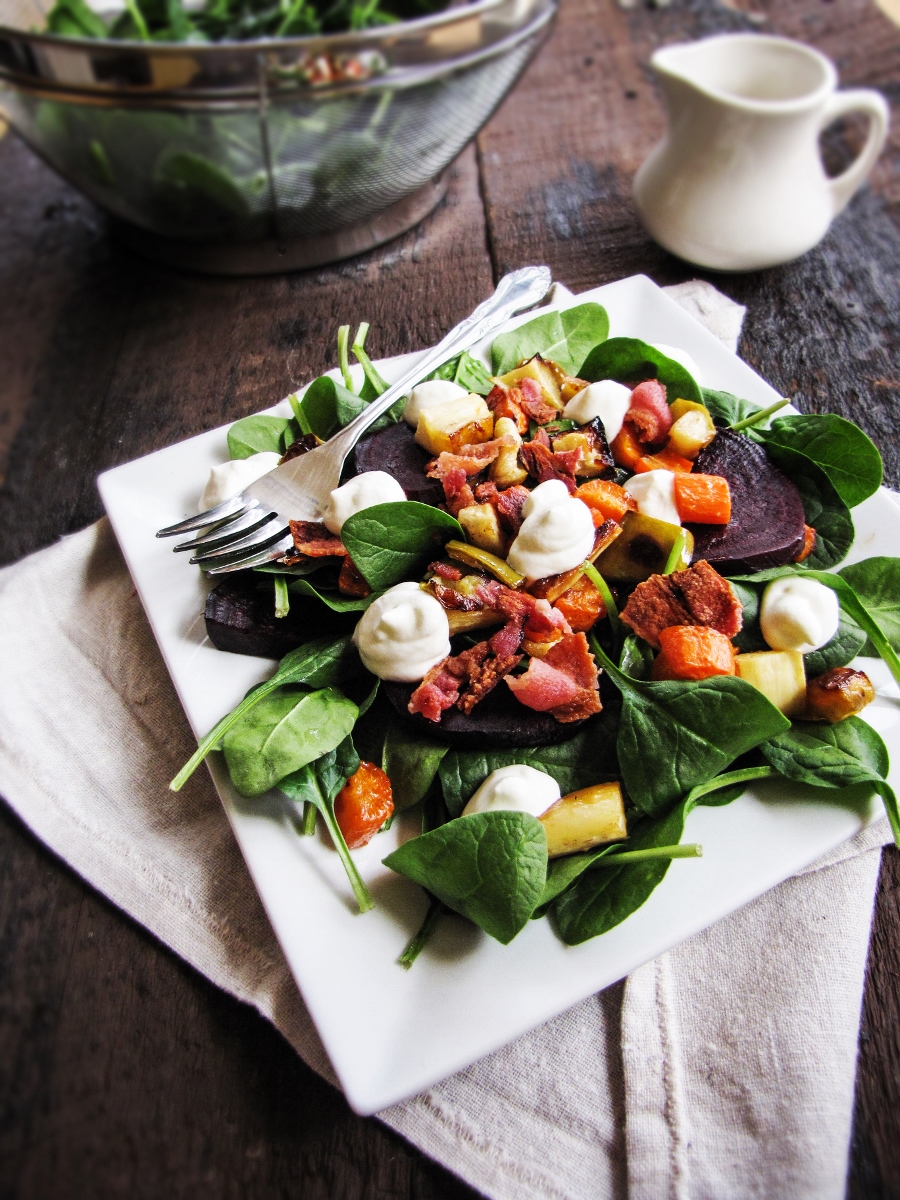 If any of you follow me on Twitter (do it! I promise I'll do my best to say vaguely entertaining things), you may have noticed that I've been tweeting some nonsense about #March15ADay for the past 7 days. Basically, I've challenged myself to workout for at least 15 minutes every day in March. Things that count as workouts are running, lifting, jump rope, ballet, and NTC workouts (which I'm really loving). Things that do not count are walking to the subway and lying on the floor with my arms spread out while telling myself that I'm stretching (I have, in the past, counted this as exercise). Vigorous cooking does not count either.
Tonight marks the end of my first week – I've gone running twice, done a 20 minute jump rope session, and done targeted strength training for my arms, abs, and back. I'm kinda sore. But proud of myself! When it's 10 o'clock at night and I haven't done anything yet, I close my eyes and imagine myself looking fabulous in a linen dress that I don't own yet on a hillside in Italy where I'll be in 49 days (49? Am I prematurely excited?) and it's highly motivating. I'd love it if any of you want to join me for the remainder of the month and tweeted your workouts! It's always helpful to have a group of people to hold you accountable for something like this.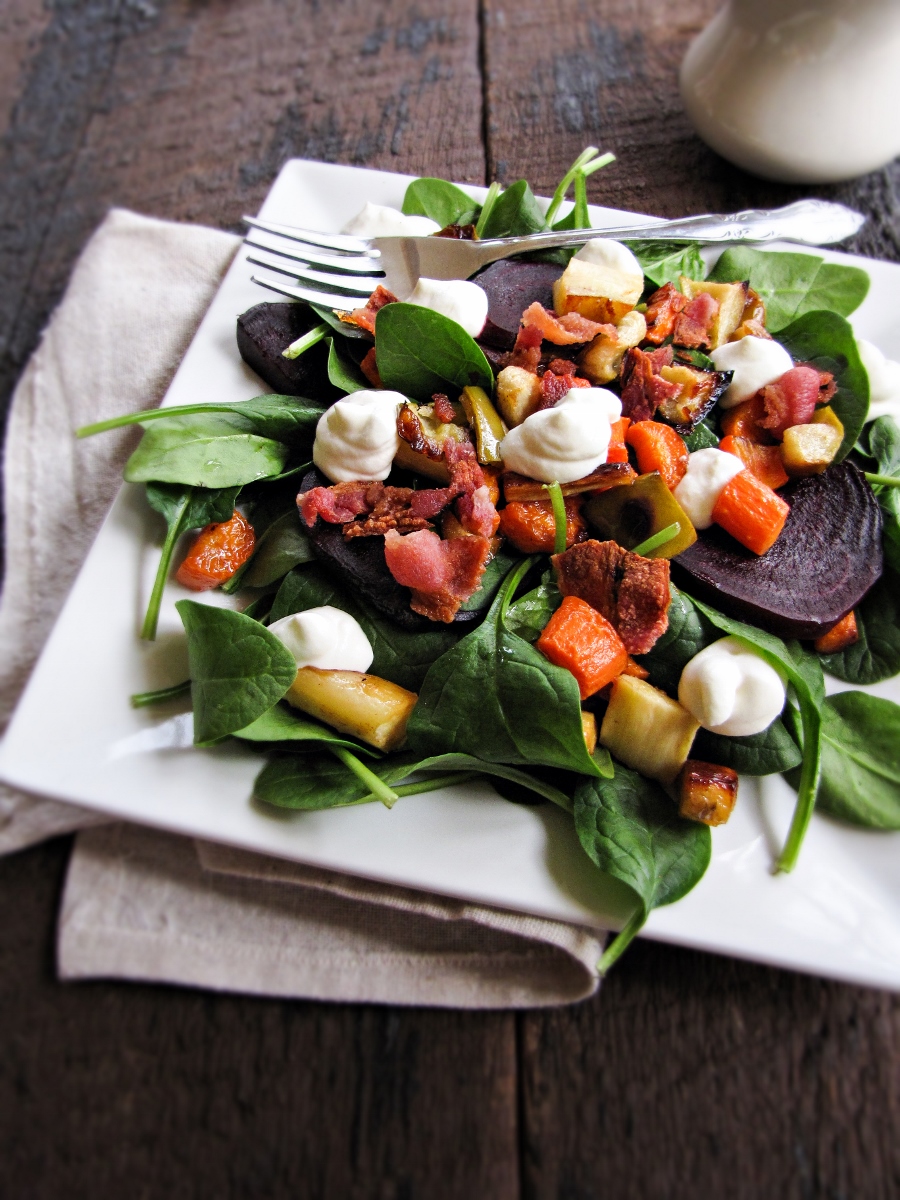 To support my health kick, I'm also trying to eat a lot more green stuff. I've said it before, but I sometimes have a tough time with salads – I want to like my salad, so as I walk down the salad bar I add ingredients I love, and before I know it, I have a container full of bacon, hard-boiled eggs, feta cheese, and chickpeas, with a few pathetic leaves of spinach on top. NOT THE POINT, KATIE. So when I find a salad recipe that's both tasty and healthy, and that I can easily make ahead and bring in to work all week, I'm thrilled. This roast vegetable salad, from the newly released The Little Paris Kitchen (see my full review here!), fits the bill perfectly. Make the goat cheese mousse if you're feeling creative, but if not, regular goat cheese crumbled on top would be just as yummy.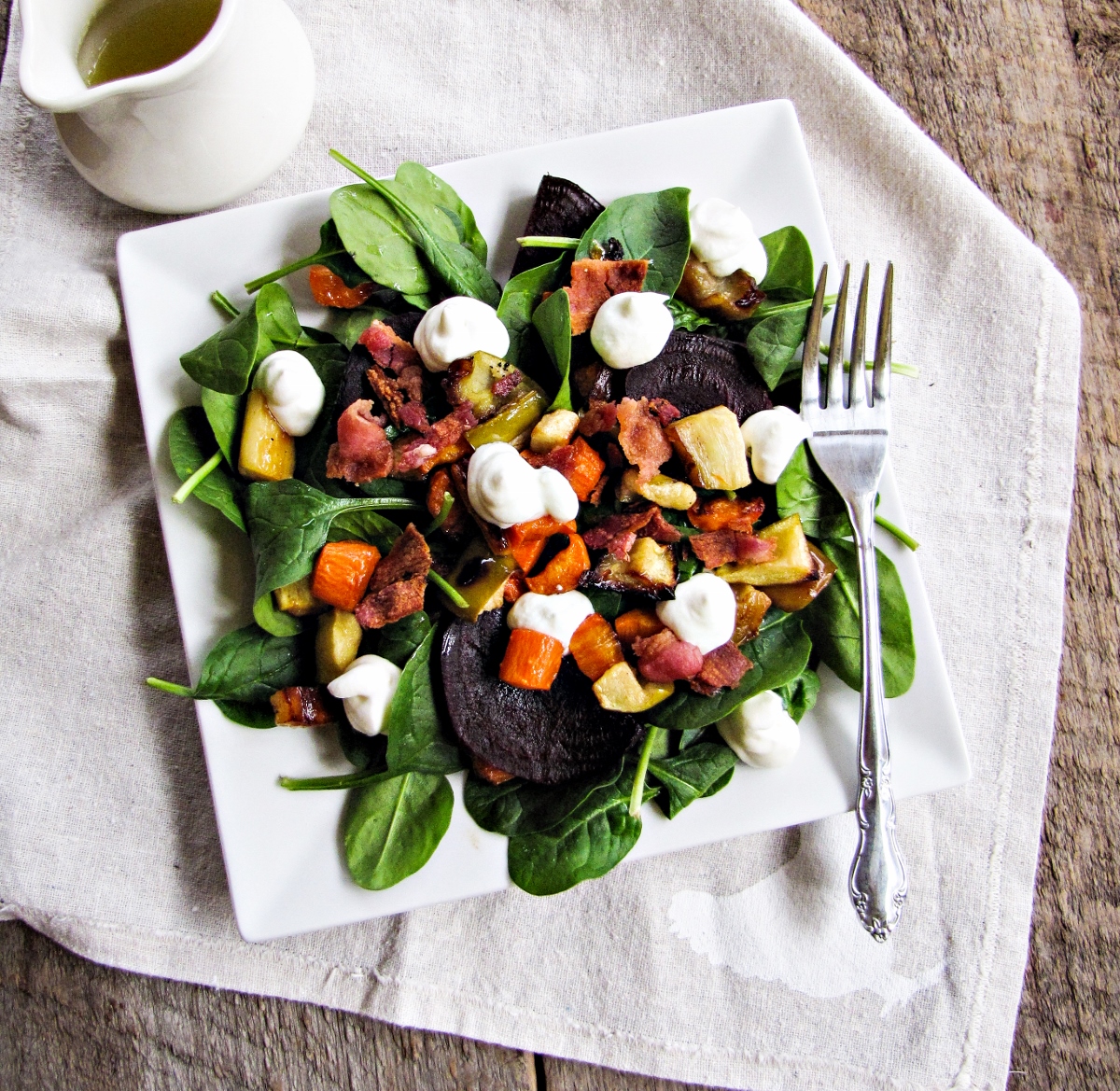 Roast Vegetable Salad with Goat Cheese Mousse
Recipe adapted slightly from The Little Paris Kitchen. Serves 4.
4 carrots, peeled and cut into 1-inch chunks

2 Granny Smith apples, cored and cut into 1 inch chunks
2 parsnips, peeled and cut into 1-inch chunks
1 large beet, trimmed and scrubbed
7 TBS olive or sunflower oil, divided
salt to taste
4 oz. bacon, cut into pieces and cooked until crisp
2 TBS cider vinegar
4 oz. goat cheese
1/4 c. milk
1/4 c. whipping cream
5-6 oz. of salad greens (I used spinach)
Preheat the oven to 400°F. Toss the carrots, apples, and parsnips with 2 TBS of the oil, and sprinkle liberally with salt. Spread out on a large baking tray. Place the beet inside a tinfoil package, drizzle with 1 TBS of the oil and a sprinkle of salt, and seal the tinfoil package. Place on the baking tray with the other vegetables. Roast for 45 minutes, flipping the chopped veggies once to prevent them from burning. Remove the chopped vegetables and set aside, and continue to roast the beet until you can pierce it easily with a fork (the length of time will depend on the size of the beet, it could take an additional 10-30 minutes). Once the beet is cooked, remove from the oven and let cool just until you can handle it comfortably. Then, peel the beet with your hands – the peel should slip easily off. Thinly slice the cooked beet and place with the other veggies. Toss the roasted veggies with the bacon pieces.

Mix together the remaining 4 TBS of olive oil with the cider vinegar to make the dressing. Season to taste with salt. Set aside.
Beat the cheese and the milk together until soft and lump free. In a separate bowl, whip the cream until stiff peaks form. Fold the whipped cream into the cheese a bit at a time, until it is thoroughly combined. Place in a frosting piping bag.
Arrange the salad leaves on four plates. Top with the veggie-bacon mix, and drizzle with the dressing. Use the piping bag to place small blobs of the goat cheese mousse on top of the salad. Serve immediately.