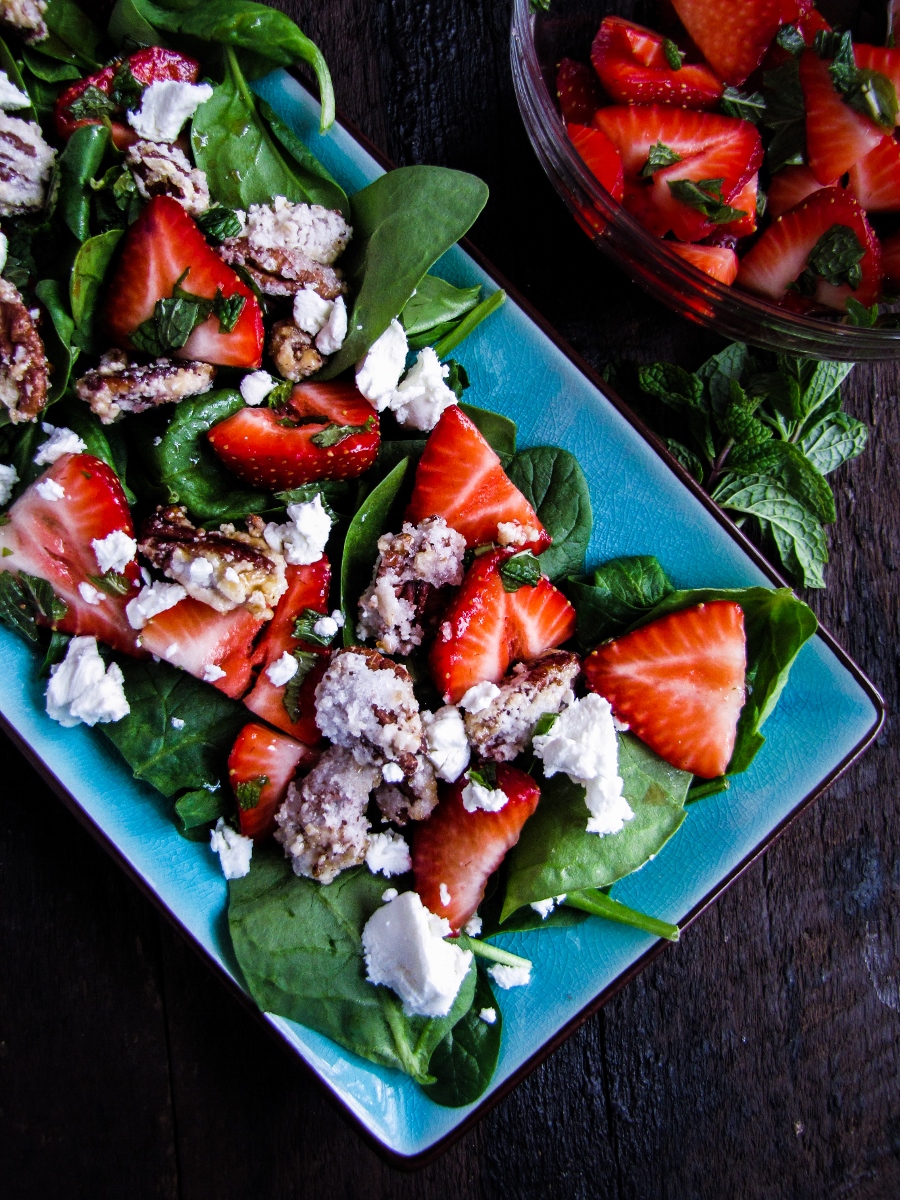 Happy Friday everyone! This week was long, but it's ending on a high note – the release of the spring edition of N.E.E.T. magazine, in which I'm thrilled to have a feature! N.E.E.T. is primarily a fashion magazine, but the back of each issue contains a "N.E.E.T. eats" section (this one starts on page 141). This issue's theme is spring salads, so I've contributed a light and sweet strawberry-balsamic salad, topped with sugary candied pecans and creamy goat cheese. Even though flip flops and lemonade are a long way off, the longer days and melting snow are promising signs that spring is on it's way, and this salad is a great way to jump the gun a little on spring flavors. I encourage you to take some time and flip through the whole issue, as it's a lovely publication, but if you're in a hurry to get to the recipe, you can find it as a stand-alone PDF here.
Update 8/2013: N.E.E.T. magazine is currently on a hiatus and their online content is unavailable. For the time being, I have published the recipe below!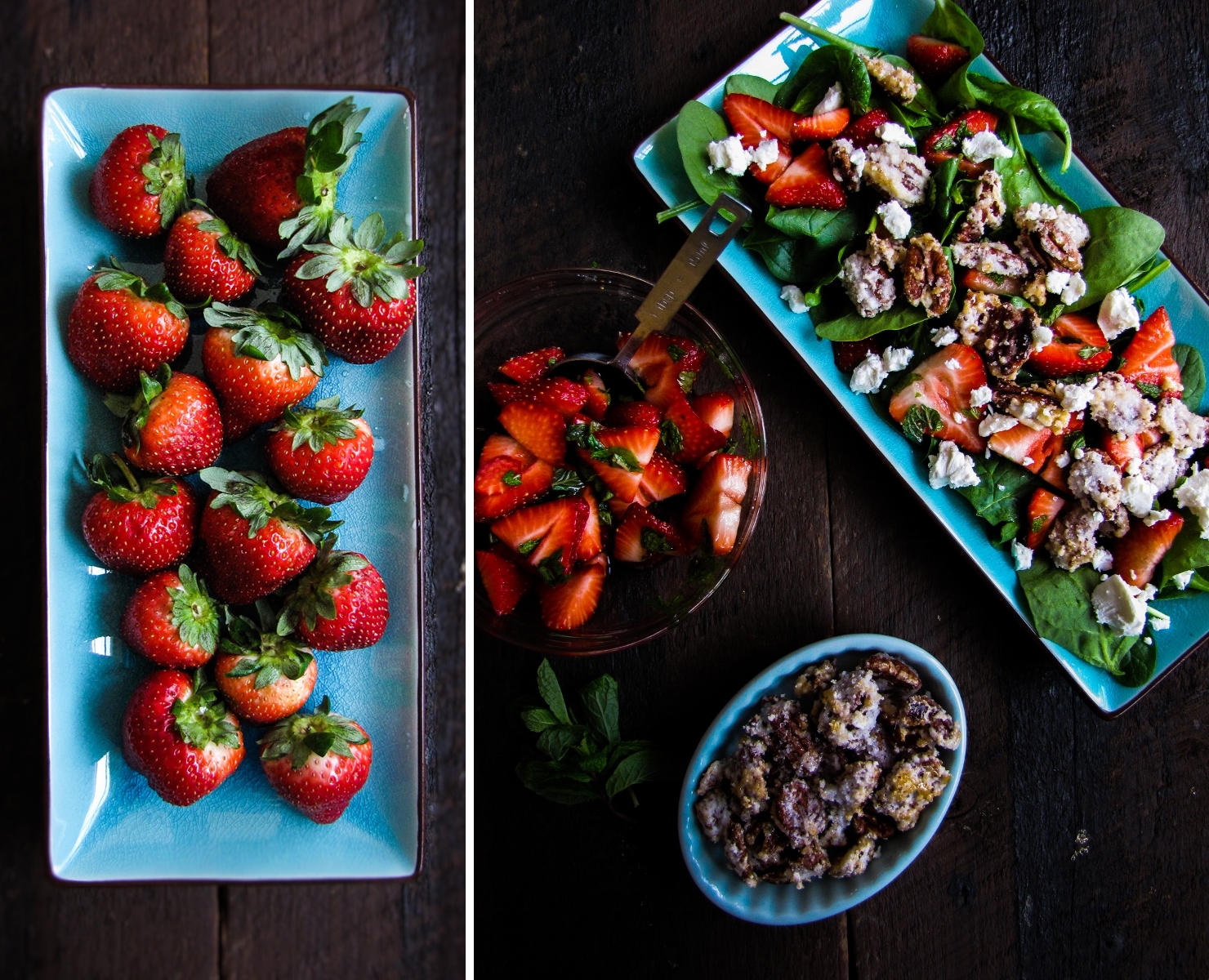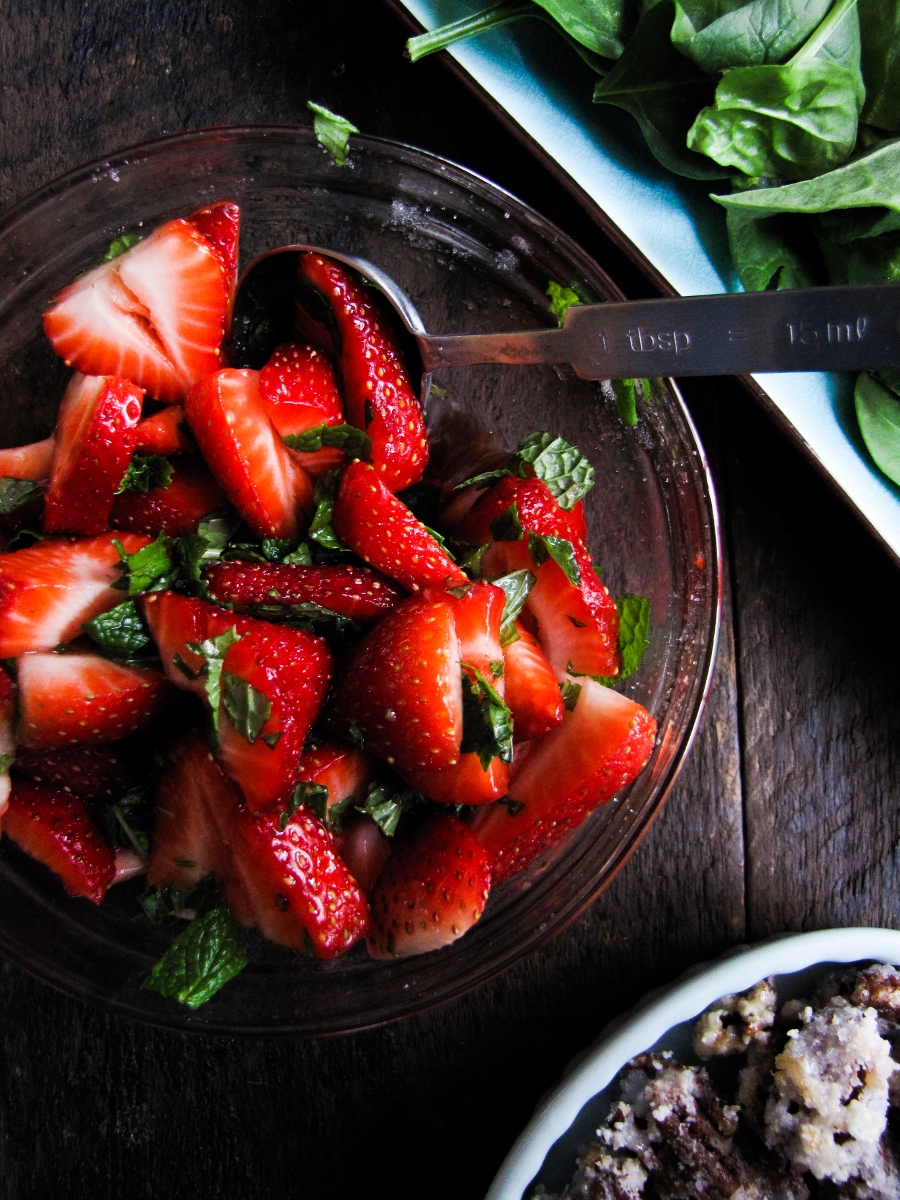 Balsamic Strawberry and Spinach Salad with Goat Cheese and Candied Pecans
Serves 4.
1 lb. strawberries, washed, hulled, and sliced
1/2 c. + 2 TBS sugar, divided
1 1/2 TBS balsamic vinegar
4 sprigs fresh mint, finely minced (about 1 TBS minced)
1 c. pecan halves
5 oz. baby spinach (1 standard clam-shell container)
4 oz. goat cheese, crumbled
In a small bowl, combine the sliced strawberries, 2 TBS of the sugar, the vinegar, and the minced mint and stir gently together. Let sit for 10 minutes while you prepare the candied pecans.
To make the candied pecans: Mix the remaining 1/2 c. sugar with 2 TBS of water in a large frying pan to make a thick paste. Bring to a boil over medium heat, then stir gently a few times. Let cook until just beginning to turn golden, then add pecans. Stir to coat the pecans with sugar. As you stir, the sugar should begin to crystallize on the pecans. Continue to cook, stirring, for about 3-4 minutes to toast the pecans. Remove from heat and let cool. If pecans are stuck together in any places, break apart with a wooden spoon.
To serve the salad, divide the spinach between four plates. Divide the strawberries into four portions and arrange on top of the spinach. Spoon some of the balsamic-strawberry juices over the spinach leaves as well. Sprinkle a few tablespoons of the candied pecans over the top of the strawberries, then dot the top of each salad with 1 oz of goat cheese crumbles.
3