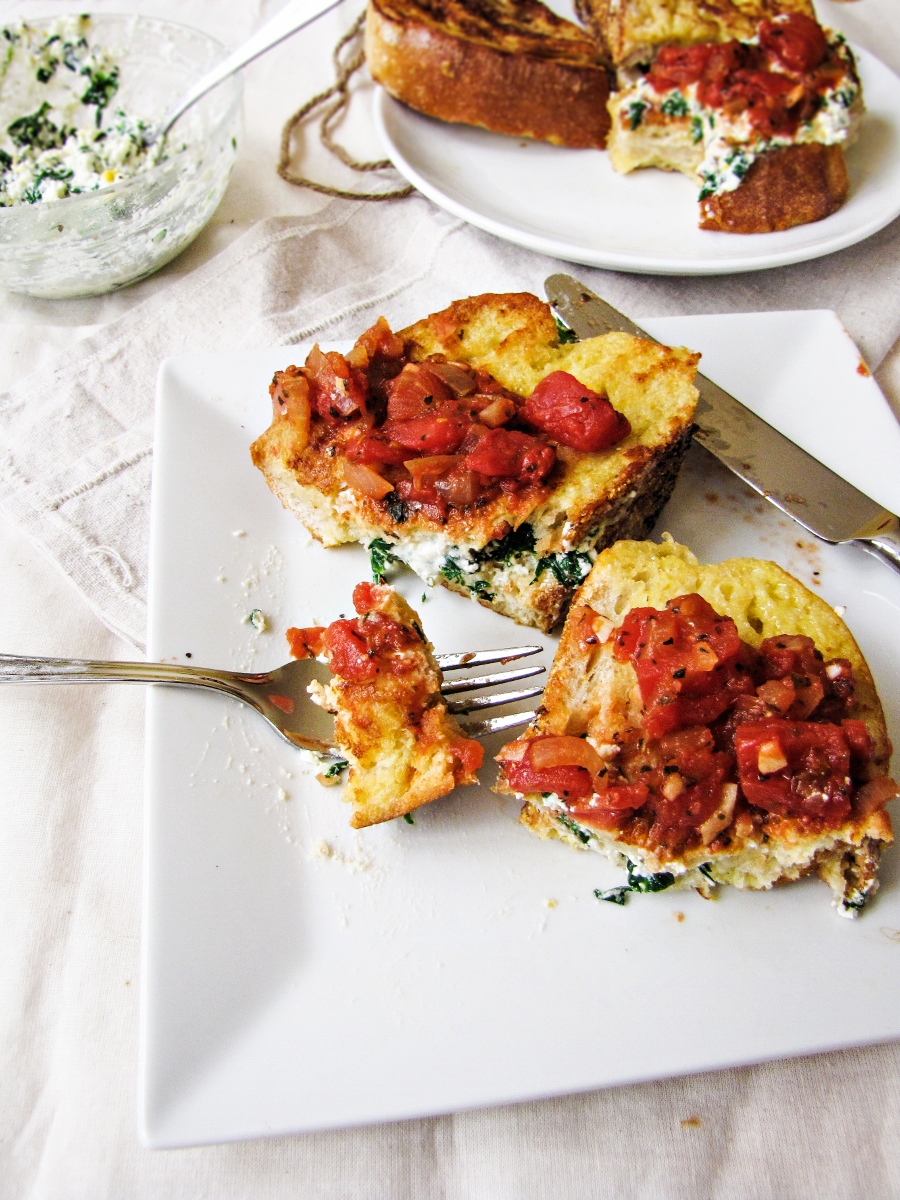 For this week's book club, I've got a copy of Love and Olive Oil's newest cookbook – Breakfast for Dinner. I've been looking forward to this book since Lindsay announced that they were working on it. Her first book, The Cookie Dough Lover's Cookbook, wasn't really my thing – while cookie dough is undoubtedly delicious, it makes me feel a little queasy to think about eating it in large quantities (this is probably the result of actually getting queasy from eating too much cookie dough). Breakfast for dinner, though, is something I can whole-heartedly get behind.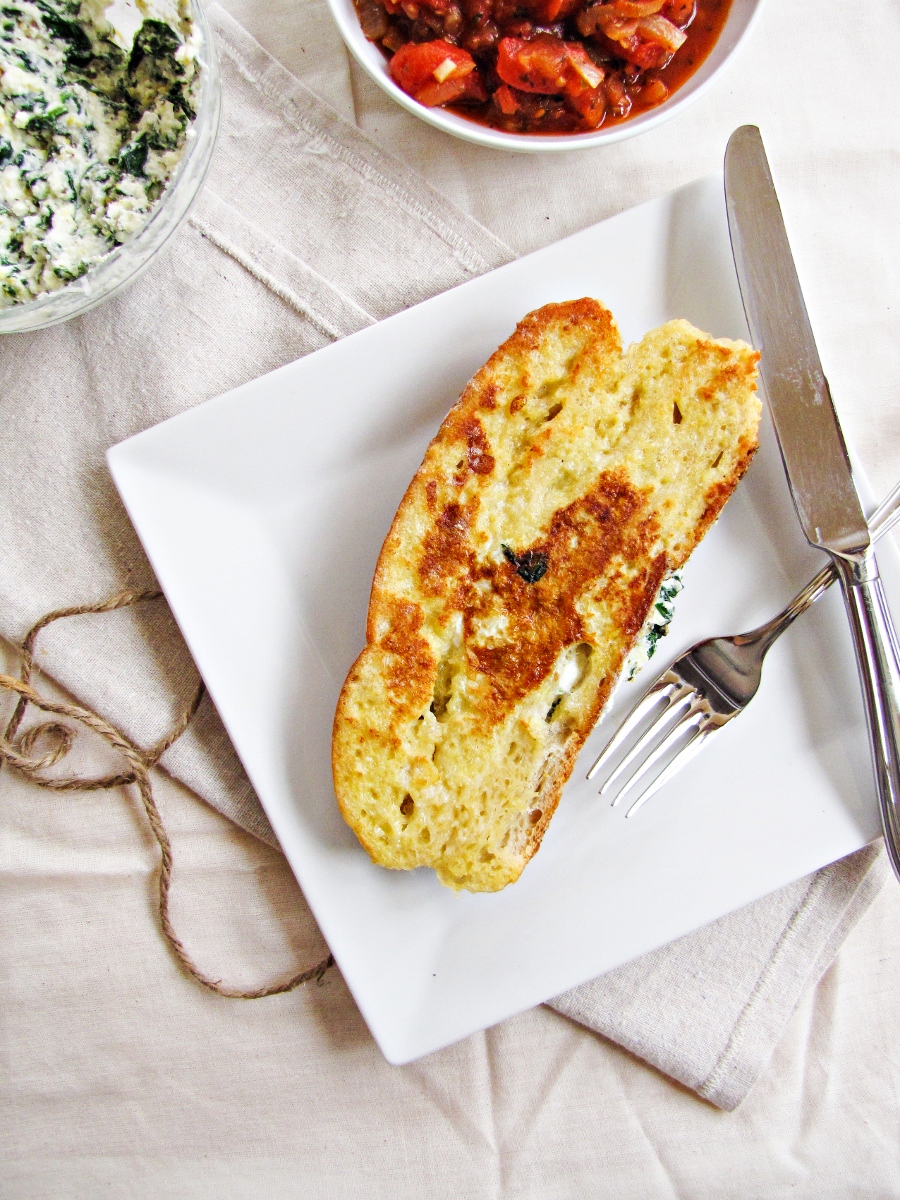 Breakfast for Dinner is a cute, approachable book. While I'll never escape the part of me that, as a little girl, used to like nothing more than to page through encyclopedias, atlases, and 1,000 page collections of literary classics, I've found that I tend to actually use physically small, focused cookbooks much more than the huge glossy tomes I like to collect. At 160 pages, Breakfast for Dinner fits this bill, and is small enough to throw in my purse (yes, I sometimes travel with cookbooks as reading materials). It is also beautifully designed – between the type, the layout, the paper, and the beautiful full page photographs that accompany every single recipe, it's a pleasure to read.
The recipes included in Breakfast for Dinner are divided into three categories – Main Dishes, Sides & Starters, and Drinks & Desserts. Since I was expecting a lot of truly breakfasty recipes scaled up for dinnertime, I was pleasantly surprised to find a much broader interpretation of "breakfast for dinner." In particular, I loved the inclusion of recipes where typical breakfast staples (cornflakes, breakfast sausage) are re-purposed in decidedly dinner-like meals (cornflake-crusted chicken, breakfast-sausage ravioli). The recipes run the gamut from tried-and-true breakfast staples, such as Steak and Eggs Benedict, to more creative dishes, such as Grapefruit Risotto with Seared Scallops. One thing all the recipes have in common is that they are crowd-pleasers – I can't imagine you'll find many people who would turn down Bacon Fried Rice, Burgers topped with Fried Eggs, Hashbrowns, and Apricot Jam, or Mocha Ice Cream Pie with Biscotti Crust. (Except, in retrospect after writing that list, maybe vegetarians. Don't worry, they'll probably go for the Polenta Cakes with Shiitake Mushrooms and the Parmesan Beignets).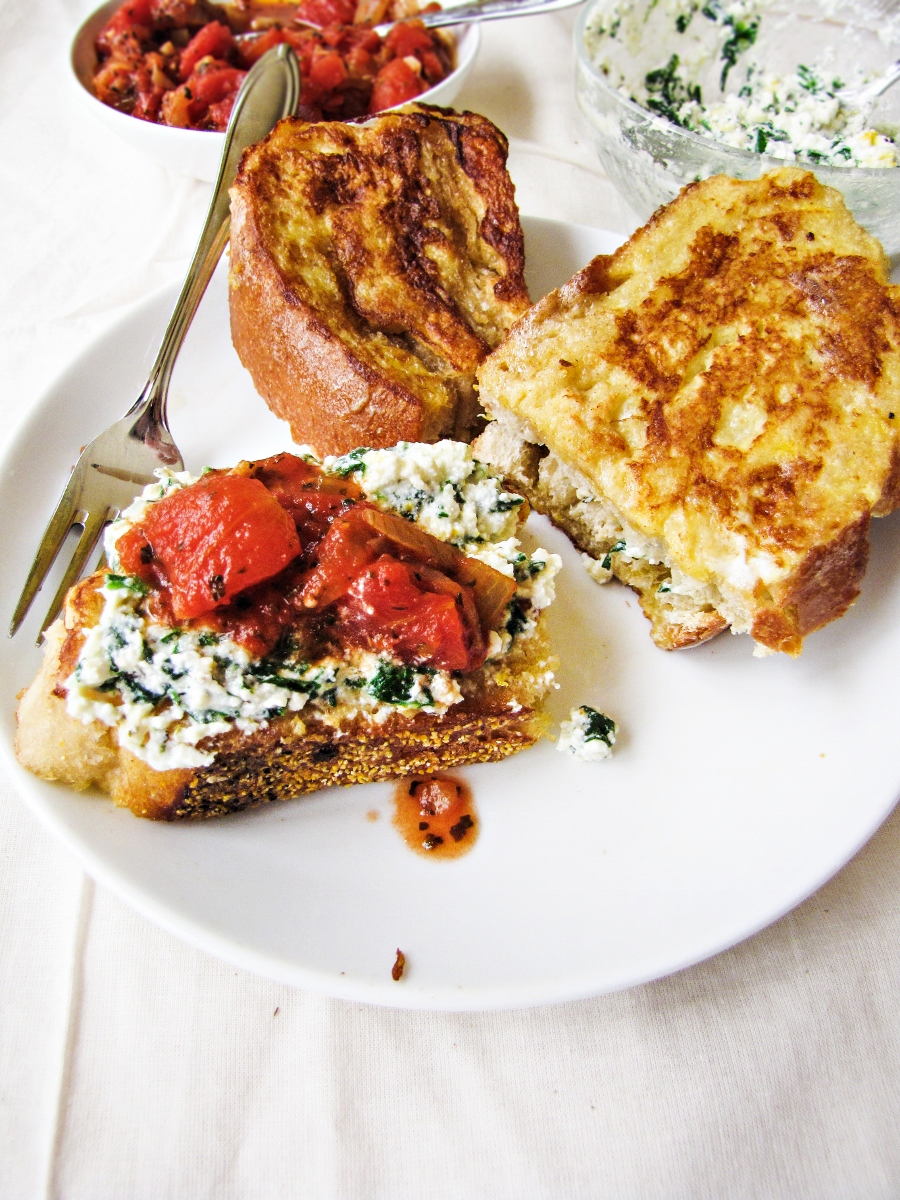 To test out this book, I made two recipes, one sweet, and one savory. On the sweet side, I made Chocolate Brownie Waffles with Blackberry Sauce. Sounds amazing, right? Sadly, I couldn't get the waffles to come out right – the batter seemed very thick, and once it went into the waffle iron, I couldn't get any waffles to stay together. They were super delicate, and at the same time dried out quickly. So, not perfect, although my roommates were happy to devour the waffle crumbs. As I started the savory recipe – Italian-Style Stuffed French Toast – I was a little nervous. Would this one work? Thankfully, it came out great. I could barely stop myself from eating all the lemon-scented spinach and ricotta filling before stuffing the bread, and the marinara sauce was easy to make and well-spiced. It was a little tricky stuffing the toast, but I eventually got the hang of it. I also tried it grilled cheese style, and by just toasting the bread and then spreading it with the ricotta – all three ways worked great. Served with a green salad, this would make a fantastic family dinner recipe, especially if you're tired of spaghetti and lasagna but still craving Italian food.
The bottom line: Breakfast for Dinner is a cute, focused, well-designed cookbook full of crowd-pleasing dinner and dessert recipes that utilize traditional breakfast ingredients, like bacon, eggs, coffee, and maple syrup. Lindsay and Taylor, who are also the duo behind the popular blog Love and Olive Oil, create tasty, easy, and accessible recipes and stunning photographs. I did have a little trouble getting one of the recipes I tested to come out right, but the second recipe was phenomenal. Recommended for beginner cooks looking to expand their repertoire and those looking to mix up their daily dinner routine with some delicious comfort food.
Disclaimer: Quirk Books sent me a copy of Breakfast for Dinner free of charge, but I was not otherwise compensated and all opinions are my own.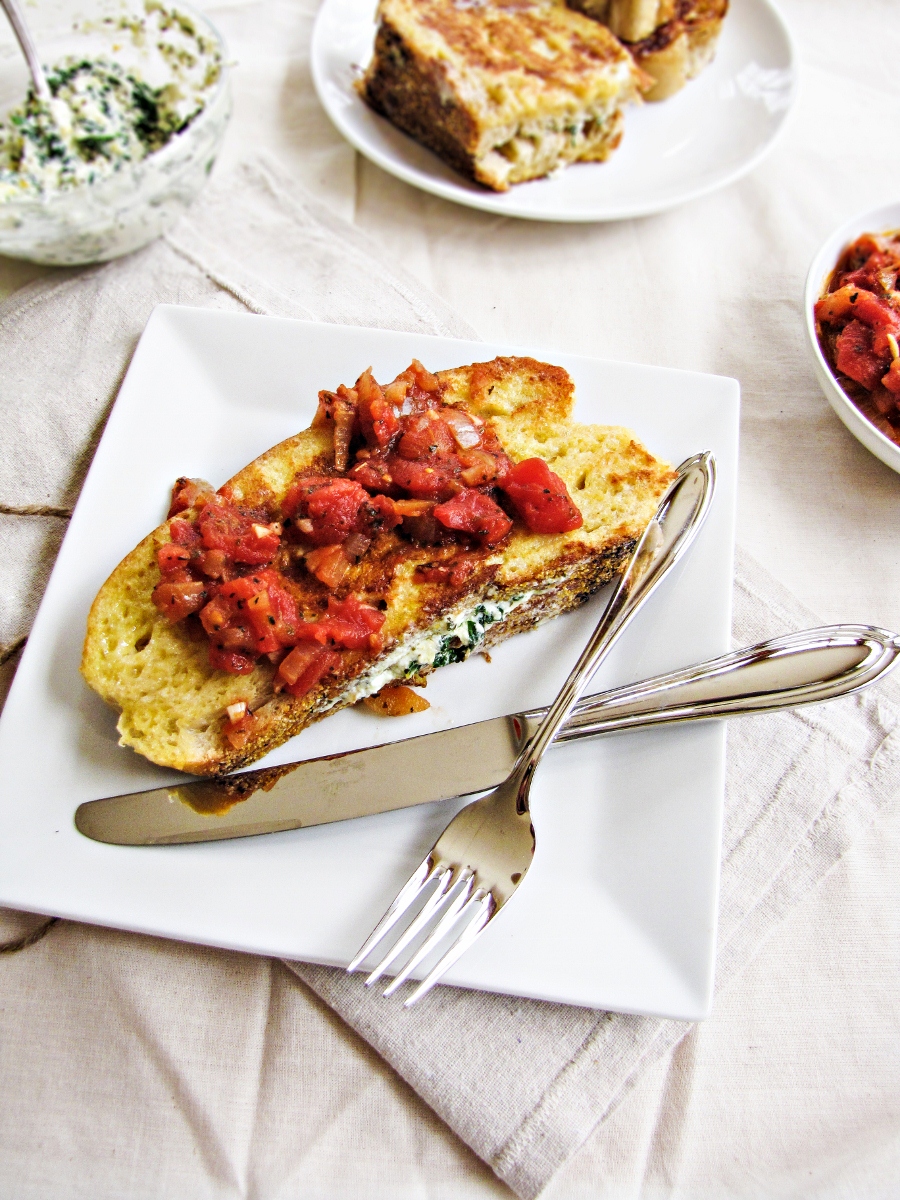 Italian-Style Stuffed French Toast
Recipe from Breakfast for Dinner. Makes 8 slices (serves 4).
4 TBS olive oil, divided

2 garlic cloves, peeled and minced
4 c. fresh baby spinach (about 6-oz.)
1/2 c. whole-milk ricotta cheese
1/4 c. grated parmesan cheese
zest of 1 lemon
1 tsp dried basil
1 tsp dried oregano
salt and pepper, to taste
1 loaf soft french bread, cut into 8 slices 1-1/2 inches thick
3 egg
1/2 c. whole milk
1/2 tsp garlic powder
2 c. marinara sauce (store-bought, or see recipe below)
Heat 2 TBS of the olive oil in a frying pan over medium heat. Add the minced garlic, and saute for 30 seconds, then add the spinach, and saute, stirring, until it has all wilted, about 2 minutes. Remove from heat and let cool, then coarsely chop.

In a medium bowl, stir together the chopped spinach, ricotta, parmesan, lemon zest, basil, and oregano until evenly mixed. Season to taste with salt and pepper.
In a small baking dish, whisk together eggs, milk, garlic powder, and 1/4 tsp salt. Use a serrated knife to cut a slit into each piece of bread, and then use the knife to stuff 2 TBS of filling into each slit. Heat the remaining 2 TBS olive oil in the frying pan. One at a time, dip each slice of bread into the egg mixture for 30 seconds on each side. Add to the frying pan, but don't overcrowd the slices. Cook for 3 minutes on each side. (Alternatively, if you're having a tough time stuffing the bread, you can make these grilled cheese style, or simply dip and toast the bread, then spread with ricotta afterwards.) Serve with warm marinara sauce.
Easy Marinara
Recipe from Breakfast for Dinner. Makes 2 cups.
2 TBS olive oil

1/2 medium yellow onion, peeled and diced
2 garlic cloves, peeled and minced
1 15-oz can of diced tomatoes
1 tsp dried basil
1/4 tsp dried oregano
salt and pepper, to taste
Heat oil in a medium saucepan over medium heat. Add onion, and saute for 3 minutes, or until onion has softened, stirring occasionally. Add garlic and cook for 1 minute longer. Add tomatoes, 1/4 c. of water, basil, and oregano. Let simmer for 20 minutes, or until sauce has thickened slightly, stirring occasionally. Season to taste with salt and pepper before serving.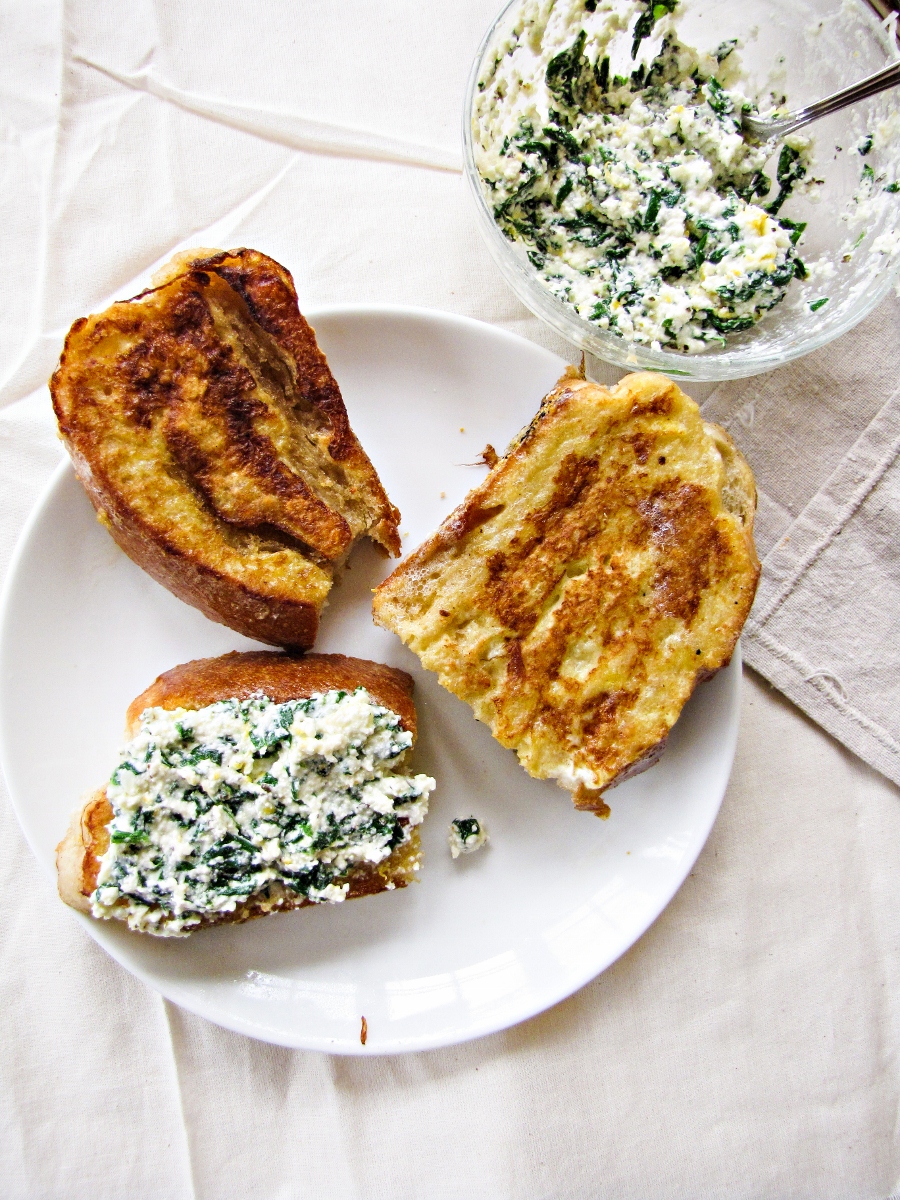 0