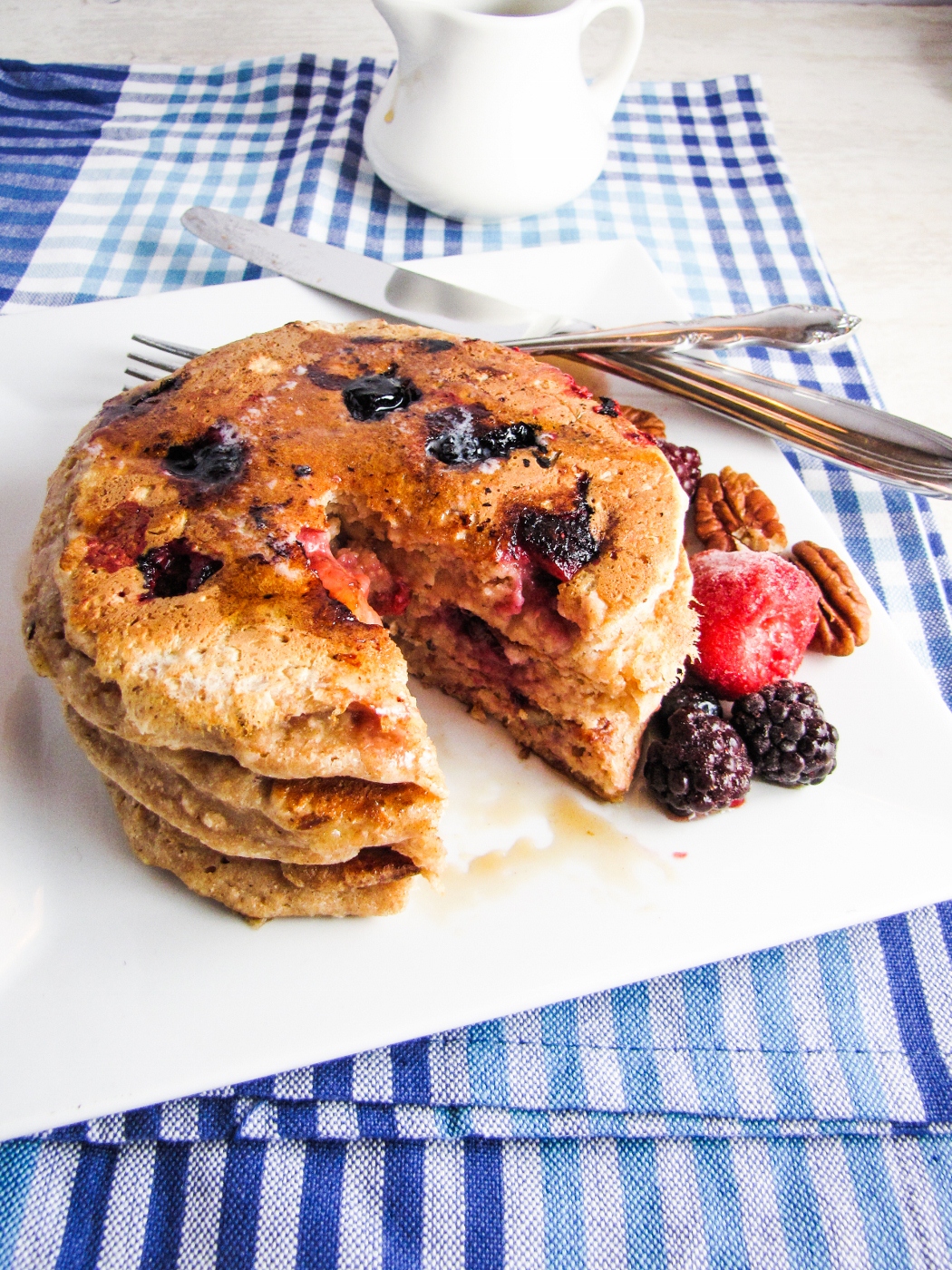 For the last cleanse brunch meal, I decided it was OK to push the boundaries of my rules and let pancakes onto the menu. In part, I think it makes sense to ease your way back into normal eating habits by creating healthy versions of your favorite foods. If you can eat the foods you crave without all the negative health effects, it's that much more likely that the benefits of "cleansing" will stick! These pancakes, adapted from SELF Magazine, not only have no sugar and use whole-wheat flour, they also have berries, bananas, and crushed pecans to up their healthfulness.
I was surprised by these pancakes – I was expecting them to be decent, but not particularly good. I just haven't had that much luck with whole wheat baking in the past, and I also have really high standards for pancakes, having grown up in a house where mixes were sneered upon and a fresh batch of dad's blueberry-buttermilk pancakes was a weekend staple. However, these healthy little guys ticked off all my pancake check-boxes – they were tender, moist, flavorful, and thick. The fact that I could eat two with a generous drizzle of maple syrup and not feel guilty about it was just an added bonus. I will definitely be making these again!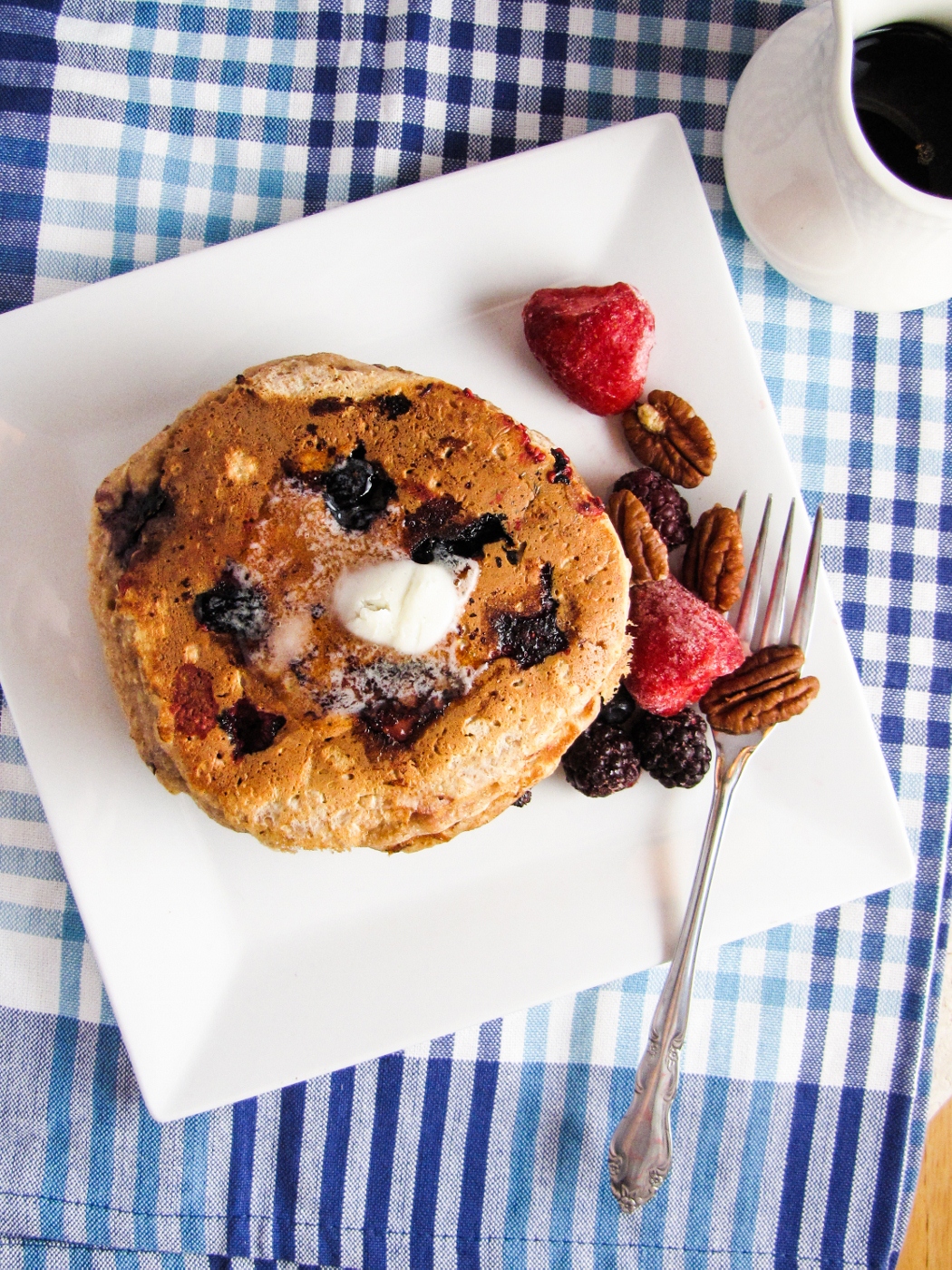 Whole Wheat Fruit and Nut Pancakes
Adapted from SELF Magazine. Makes 8 pancakes / Serves 4.
1 c. whole wheat flour
1/2 c. rolled oats
1/4 c. crushed or roughly chopped pecans
2 tsp baking powder
1/2 tsp cinnamon
1/4 tsp salt
1 ripe banana
1 egg
1 1/2 c. buttermilk
1 tsp almond extract
1 c. frozen or fresh mixed berries
cooking spray or a small pat of butter
In a medium bowl, mix together the flour, oats, pecans, baking powder, cinnamon, and salt to combine. In another medium bowl, mash the banana into a paste, then beat in the egg, buttermilk, and almond extract to combine. Add the wet mixture to the flour mixture, and stir until evenly mixed.
Spray a large skillet with cooking spray and heat over medium-low heat, or melt butter in skillet over medium-low heat. Make pancakes using 1/3 c. batter each. Top each pancake with a few berries. Cook for 3-4 minutes, or until the batter is bubbling on the top of the pancake and the bottom is golden brown, then flip and cook for 3-4 minutes on the other side. Repeat until batter is gone. Serve warm with extra berries and maple syrup. Place any extra cooked pancakes in plastic bags and refrigerate to store.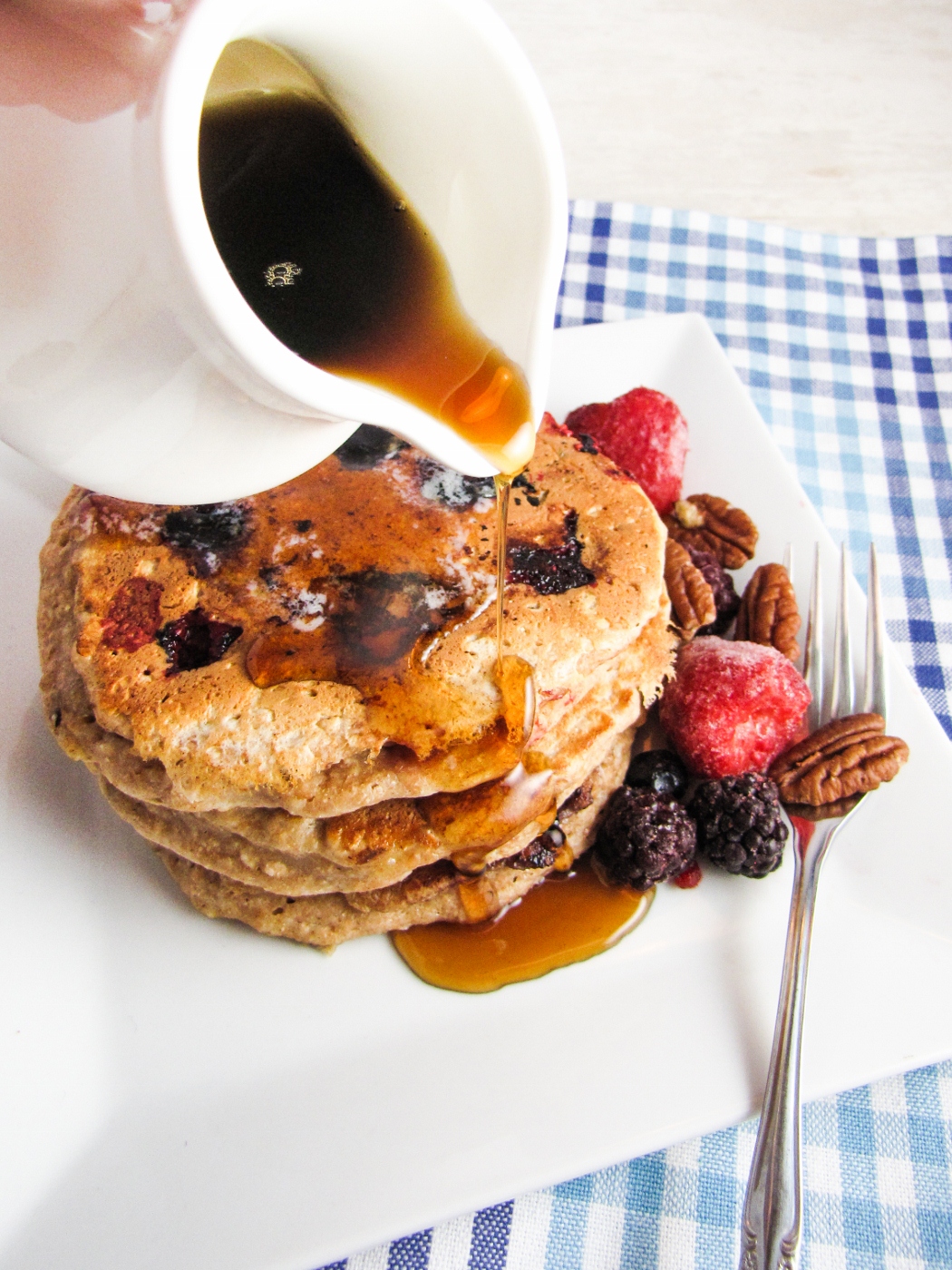 3