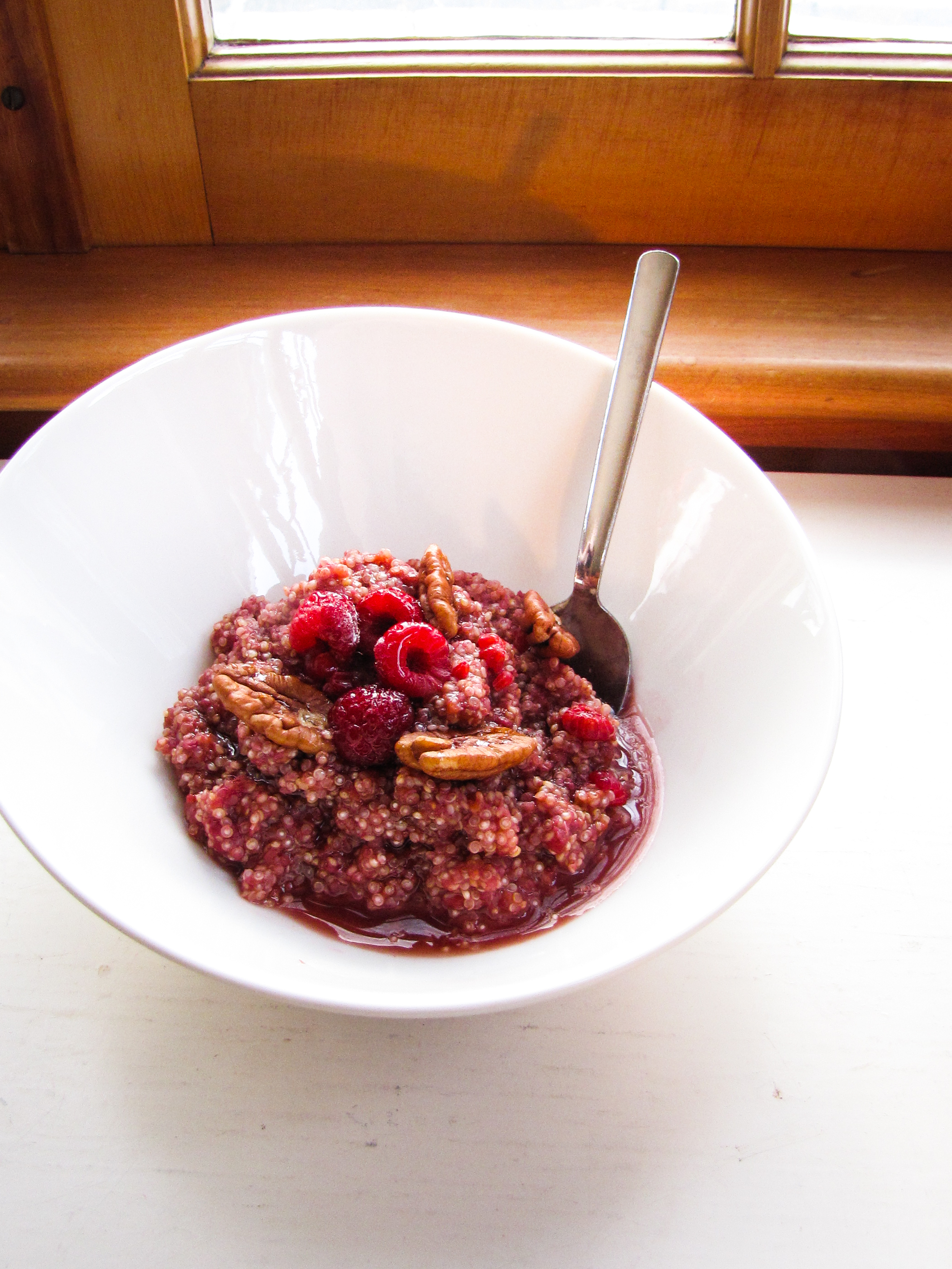 OK, last pre-cleanse post! Just wanted to get these two breakfast recipes up here so they're included for the big round-up tomorrow. The first recipe is a favorite of mine, and a frequent breakfast staple, inspired by Heidi a few years back. I use frozen raspberries and stir most of them in at the beginning, so that the whole thing turns pink and has a lovely raspberry flavor. Then I add a few whole ones back in at the end, for that tangy bite. The second recipe is for a roasted broccoli and mushroom scramble – not really a recipe you need, but posted here for convenience of anyone following the cleanse. Both of these recipes are the sort that are infinitely variable, and you can change according to your taste – this is just the way I like them!
I'll be back tomorrow.
Raspberry-Maple Breakfast Quinoa
Serves 2
1/2 c. quinoa, rinsed
1 c. skim milk
1 1/3 c. raspberries
1/4 tsp cinnamon
1/4 c. pecans
2 TBS maple syrup
Add the quinoa, milk, and 1 cup of the raspberries to a small saucepan, and bring to a simmer over medium-low heat. Let simmer, uncovered, and stirring frequently, until quinoa's "tails" have unfurled, about 15 minutes. Keep a close eye on it, as simmering milk frequently froths up and can make a big mess. Once quinoa is done, stir in cinnamon, pecans, maple syrup, and remaining whole raspberries. Enjoy warm, refrigerate any leftovers.
Roast Broccoli and Mushroom Scramble
Serves 1
1/2 TBS olive oil
5 large button mushrooms, sliced
sea salt
1 egg
2 egg whites
1 c. roasted broccoli (roasted with olive oil for 20 minutes at 375°F)
Heat olive oil over medium heat in a saute pan. Add mushrooms and cook until browned, stirring occasionally, about 10 minutes. Sprinkle with salt. Beat together egg and egg white, then pour over mushrooms. Add roasted broccoli and cook scramble, stirring with a spatula, until eggs have reached desired doneness.
0