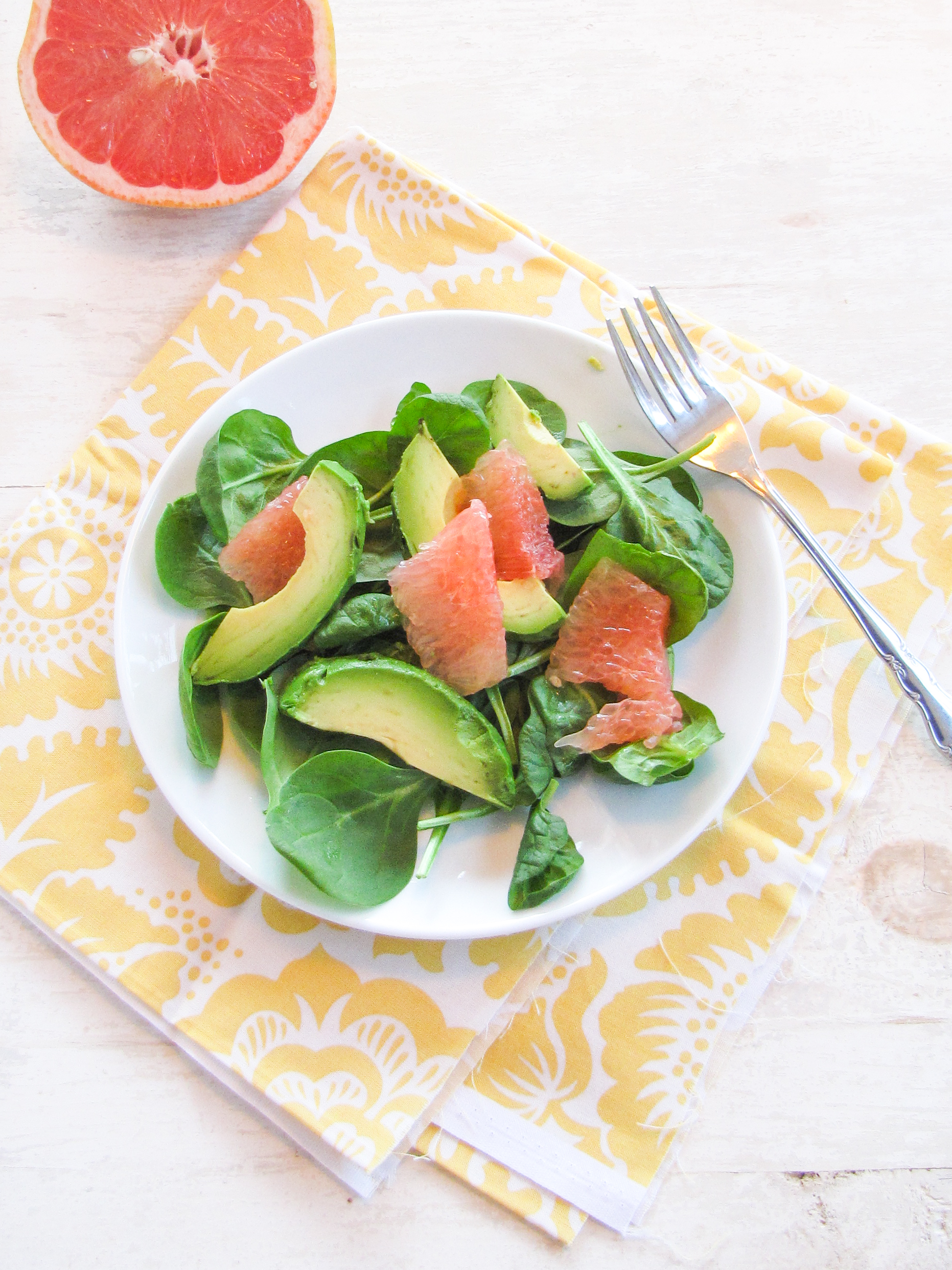 Just here to quickly share the recipe for this salad, which is one of the first recipes in this year's winter cleanse. I started the cleanse today, and so far haven't cheated! (Except I had one single sour peach ring, because I haven't seen them in ages, and I love them. I don't feel bad about it.) I'll be posting the full menu for week one of the cleanse on Sunday, along with some additional healthy breakfast recipes tomorrow or Saturday. Until then, you can take a peek at last year's cleanse (week one, week two), or just enjoy this healthy salad, which manages to be both filling and refreshing at the same time.
Hope everyone's resolutions are off to a good start!
Grapefruit and Avocado Salad with Ginger-Cassis Dressing
Adapted from Bon Appetit. Serves 1.
1/2 ripe avocado, peeled and sliced
1/2 large grapefruit
2 large handfuls spinach or arugula
2 TBS ginger-cassis dressing (see below)
Cut peel off grapefruit and cut supremes away from inner membranes. Layer grapefruit segments and avocado slices over the greens and drizzle with the dressing.
Ginger-Cassis Dressing
Recipe from Bon Appetit. Makes ~2/3 c.
2 TBS finely chopped shallot
2 TBS finely minced fresh ginger
3 TBS high-quality olive oil
3 TBS creme de cassis (black-currant liqueur)
4 tsp sherry vinegar or white wine vinegar
salt and pepper, to taste
Combine all ingredients in a small tupperware with a lid and shake vigorously to blend. Season with salt and pepper to taste. Store extra dressing in the fridge and shake before serving.
0