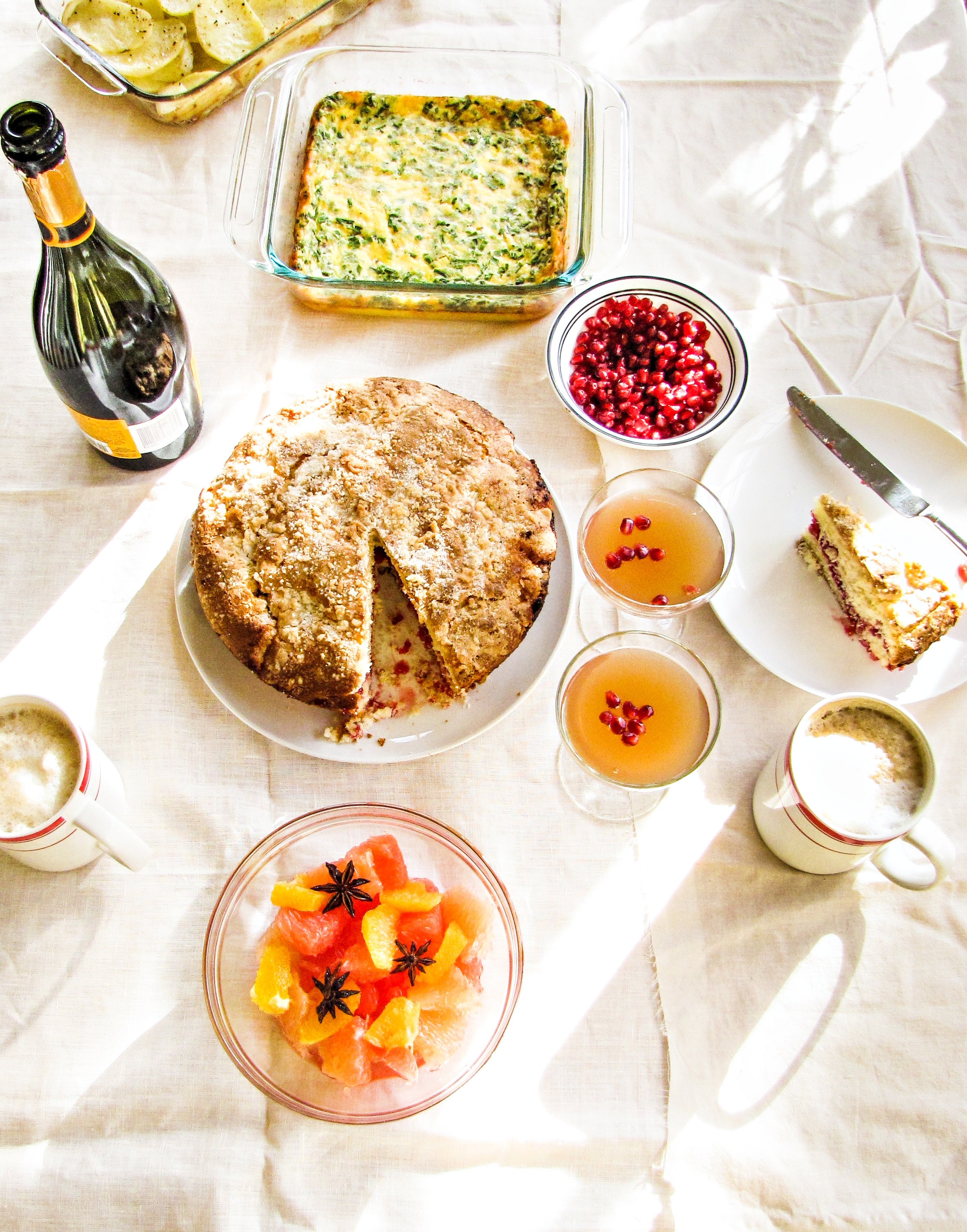 The week before Thanksgiving I was chatting with my friend Veronika about food traditions.  She was headed to her boyfriend's family's for Thanksgiving and was nervous about missing her favorite dishes – a fear I 100% understand. We quickly segued into talking about Christmas, a much more important food holiday for her (she's Bulgarian – remember her? – so Thanksgiving kind of takes a back seat), and we traded stories about what we eat before, during, and after Christmas. And amidst all the talk of Swedish meatballs and phyllo-wrapped cheese pies and fondue, I thought of this brunch, which my mom has made every Christmas morning for the past four years, and knew I had to share it with you.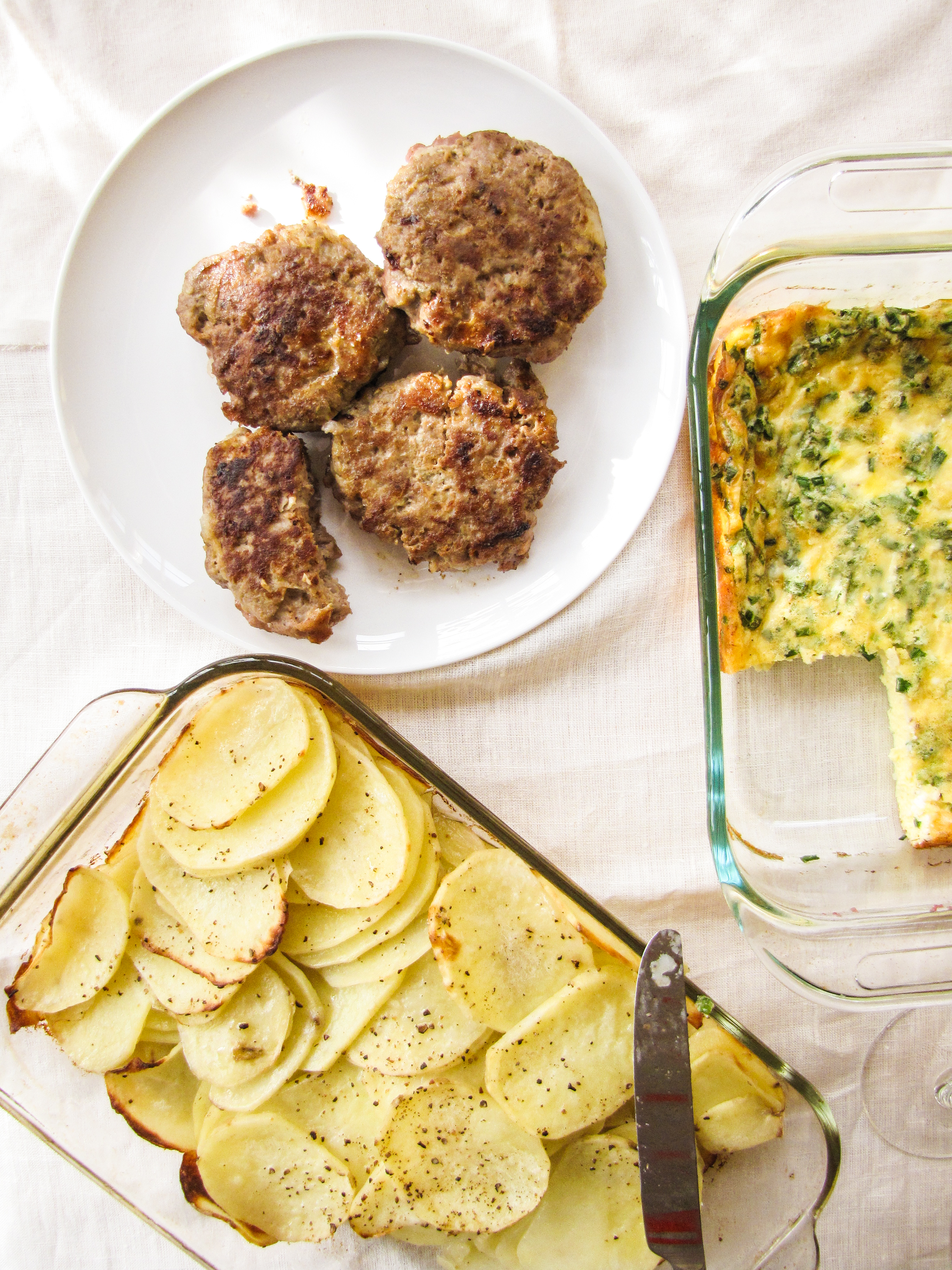 I know at this point (only two more sleeps 'till Christmas!) that it's highly unlikely that any of you will run out to the grocery store to get the ingredients to make this for Christmas morning. And that's OK. I just wanted to take a morning to indulge in the scents and flavors of Christmas and to slowly enjoy it with Trevor, since we'll be waking up separately on the 25th. Truth be told, all of these dishes would be good at any brunch, not just once a year. Plus, it's remarkably simple to put together, given the result (utter deliciousness).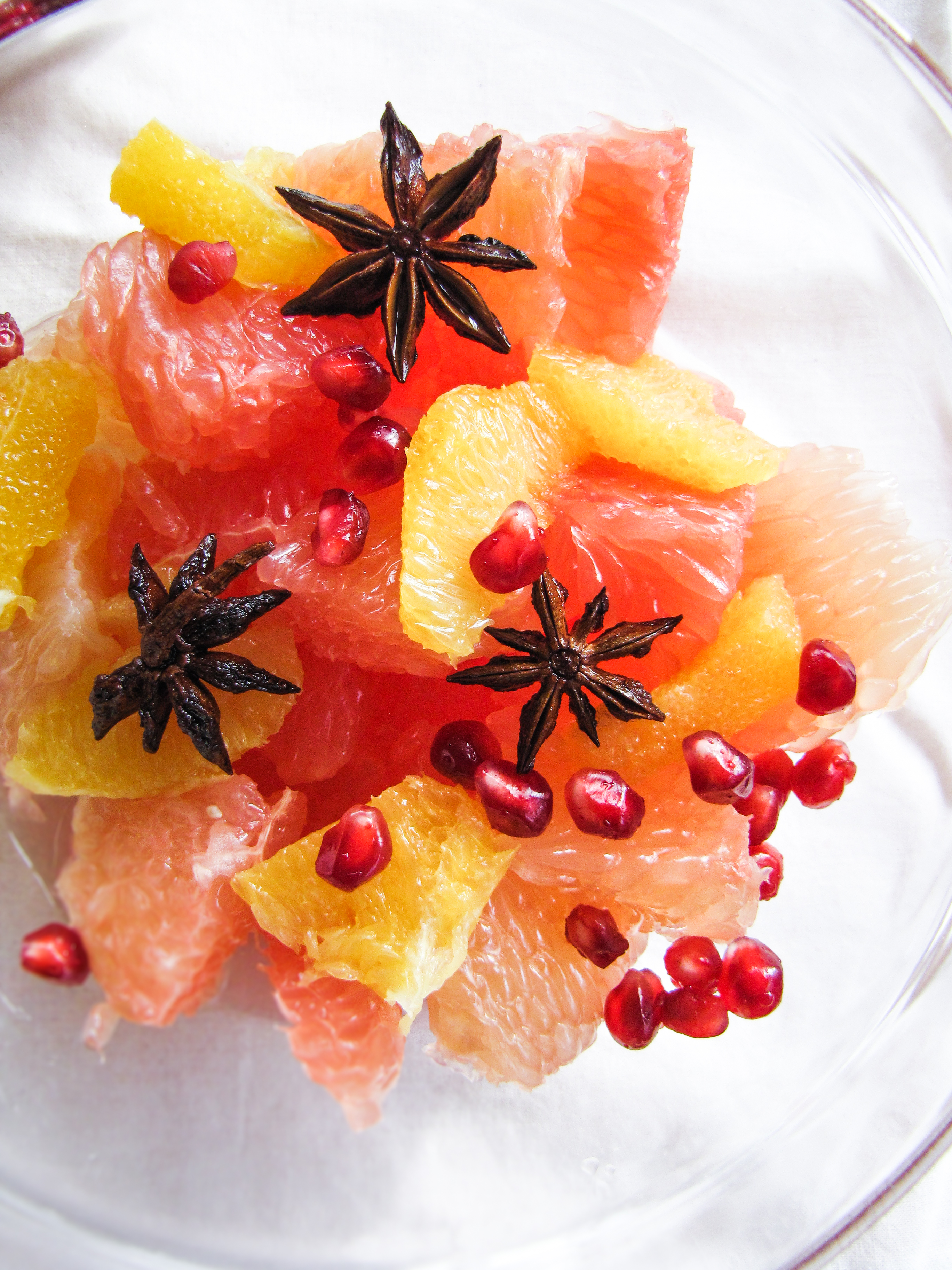 The original menu from Gourmet, which serves eight, has nine dishes: Pomegranate Mimosas, Cafe au Lait, Citrus Salad with Star Anise Syrup, Baked Egg Custard with Gruyere and Chives, Crisp Oven-Browned Potatoes, Turkey Sausage Patties, Maple and Black-Pepper Bacon, Honey Almond Granola, and Cranberry Vanilla Coffeecake. The first year we made everything, but now we skip the bacon and the granola, because they seem a bit extraneous amongst all the other goodies. The potatoes, also, are really nothing special – they need a little more flavor, or cheese, or crispness or something – but I've included them here since we do usually serve some sort of potato. Just feel free to doctor the recipe up with fresh herbs or a little cheese or to turn them into your favorite gratin.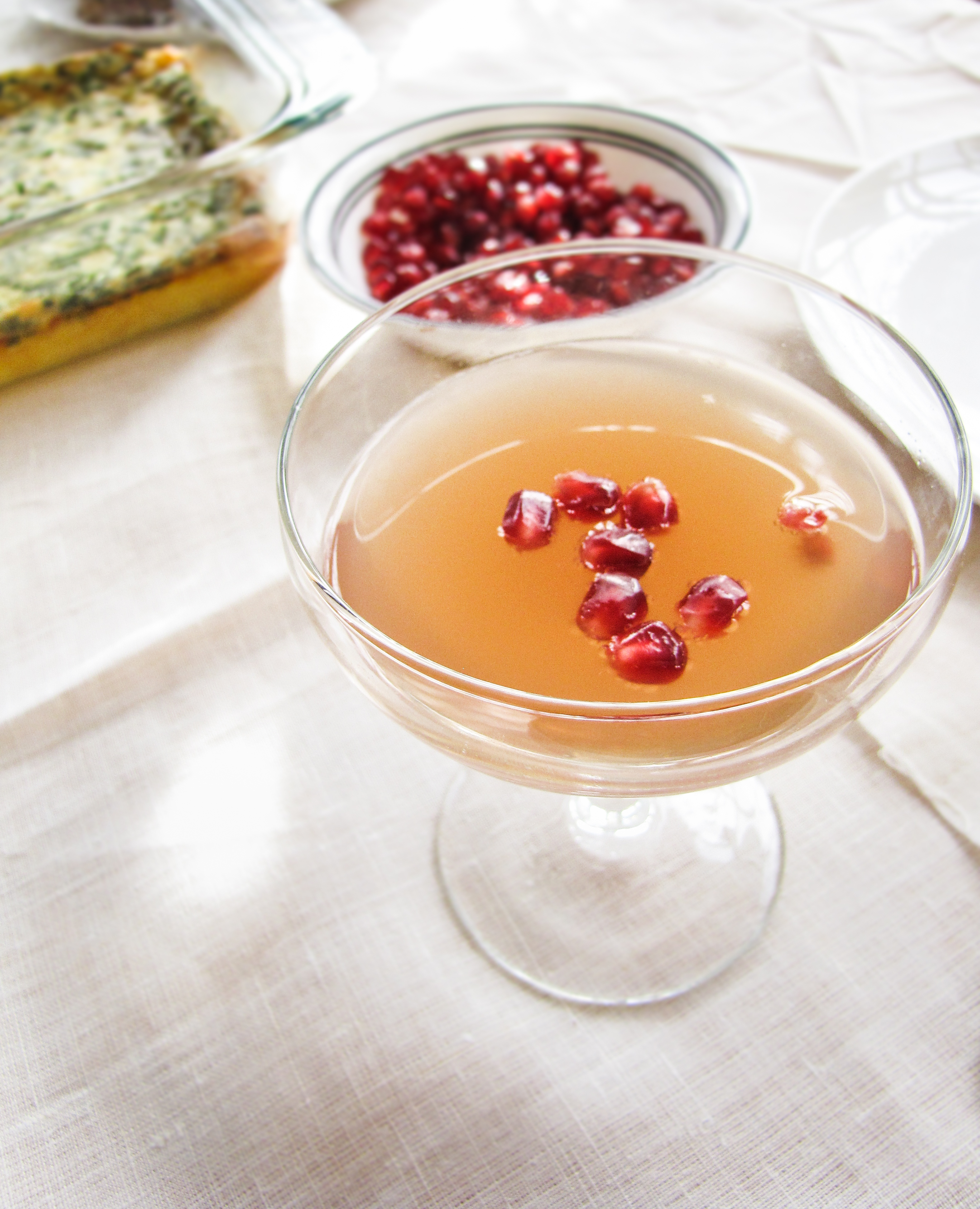 That means that the recipes that really define this meal for me are the mimosas (doubly appropriate today since I'm celebrating the fact that I got a big promotion this week!!), the citrus and star anise salad (which I've actually written about before), the eggs, the sausage, and the cake. All of these recipes are tried and true – and everything is easy. The eggs are just a matter of grating some cheese, chopping some chives, and blending eggs and milk, yet they're puffy and flavorful and perfect. The sausages have nutmeg, cinnamon, cayenne, and cloves to make them really taste of Christmas. And the cake has a tender vanilla-scented crumb with a beautiful stripe of cranberry running through the middle. All festive, all perfect.
So, like I said, maybe this menu isn't for this year, but consider it for New Year's, or for some chilly morning in February when you want your house to feel cozier, or even bookmark it for next Christmas. But trust me that each of these recipes is worth making, on it's own or all together. And that's all from me until after the big day! Have a merry, merry Christmas.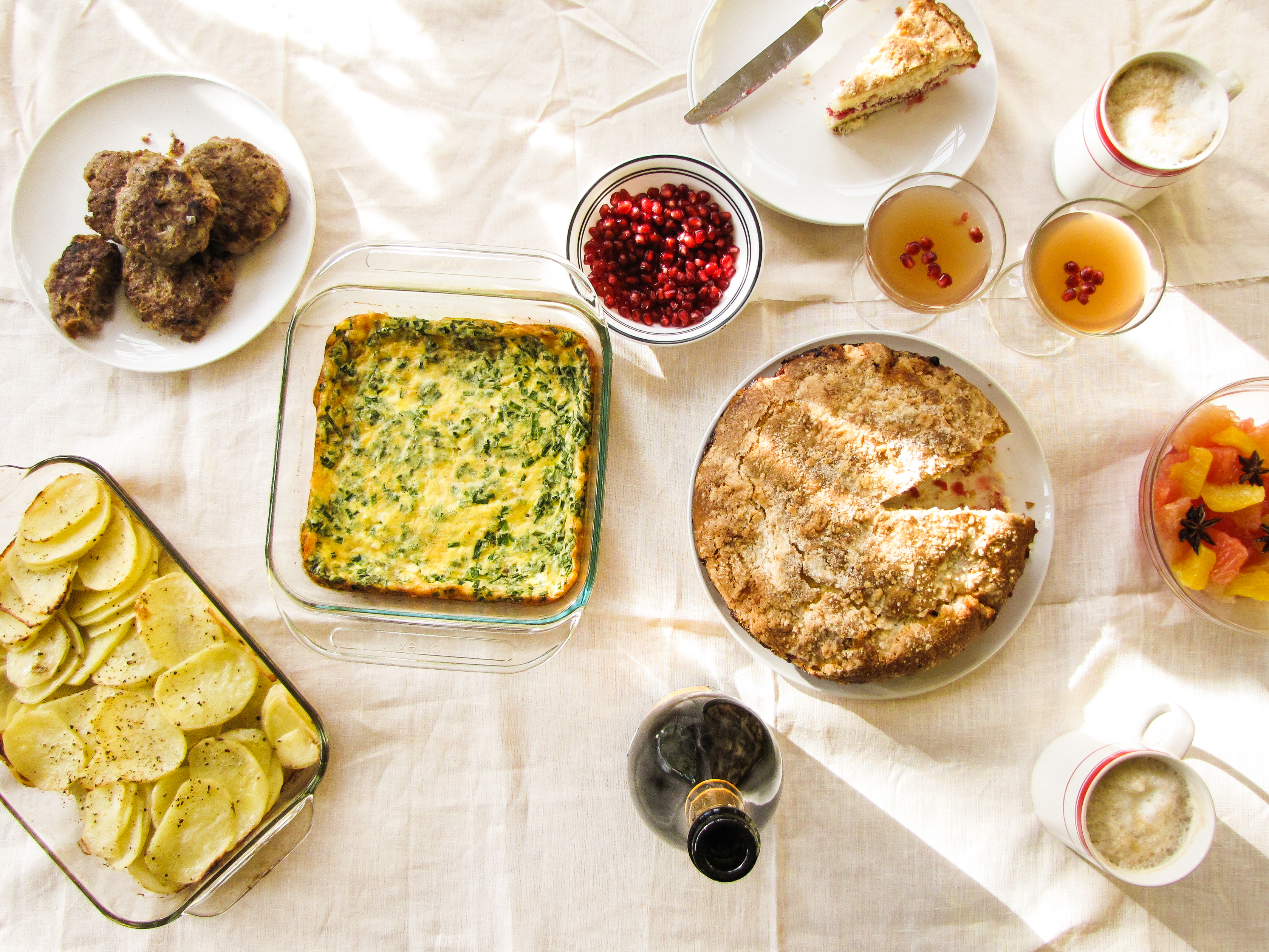 "Merry Morning" Christmas Day Brunch from Gourmet
This entire menu has been adapted very slightly from Gourmet Magazine's 2008 December issue. Menu serves 8. If you're making the whole menu and want to do some prep before-hand, here are my tips: The night before, peel and segment the oranges and grapefruits and reserve in a bowl in the refrigerator. Peel and thinly slice the potatoes, place in a large plastic bag, and reserve in the refrigerator. Make the turkey sausage mixture and refrigerate overnight. Last, make the coffeecake and, once cool, wrap in plastic wrap and leave on the counter overnight. If you do all these things ahead of time, in the morning you will simply have to mix the drinks, drizzle the citrus with a quick simple-syrup, pop the eggs and the potatoes in the oven, and fry the sausage. Done this way, you'll only need about an hour to finish preparing the meal on Christmas morning.
 Pomegranate Mimosas
2 c. chilled pomegranate juice
1 c. chilled fresh orange juice
1/2 c. orange-flavored liqueur, such as Cointreau
1 bottle well-chilled Cava or Champagne
pomegranate arils for garnish (optional)
Stir all liquids together in a large pitcher. Pour into champagne flutes and sprinkle a few pomegranate arils on top, if desired.
Cafe au Lait
8 cups hot milk
4 c. very hot brewed espresso
sugar, to taste
Heat milk to steaming in microwave or over low heat on stove. Use an aero-latte foamer to froth milk in two batches. Divide espresso between 8 mugs and top off with foamed milk. Stir in sugar to each person's taste. (P.S. We love using the stove-top Bialetti to make espresso at home).
Citrus Salad with Star Anise Syrup
1/3 c. sugar
1/3 c. water
3 whole star anise
5 grapefruits
4 oranges, a mix of navel oranges and blood oranges
Cut the peel, including the white pith, off the grapefruits and oranges. Cut the segments free from the clear membranes and place in a bowl. This is tedious but worth the effort! In a small saucepan, mix the sugar, water, and star anise. Bring to a simmer and simmer for 5 minutes, then remove from heat and let steep for 30 minutes. Pour star anise syrup over fruit, and refrigerate until ready to serve.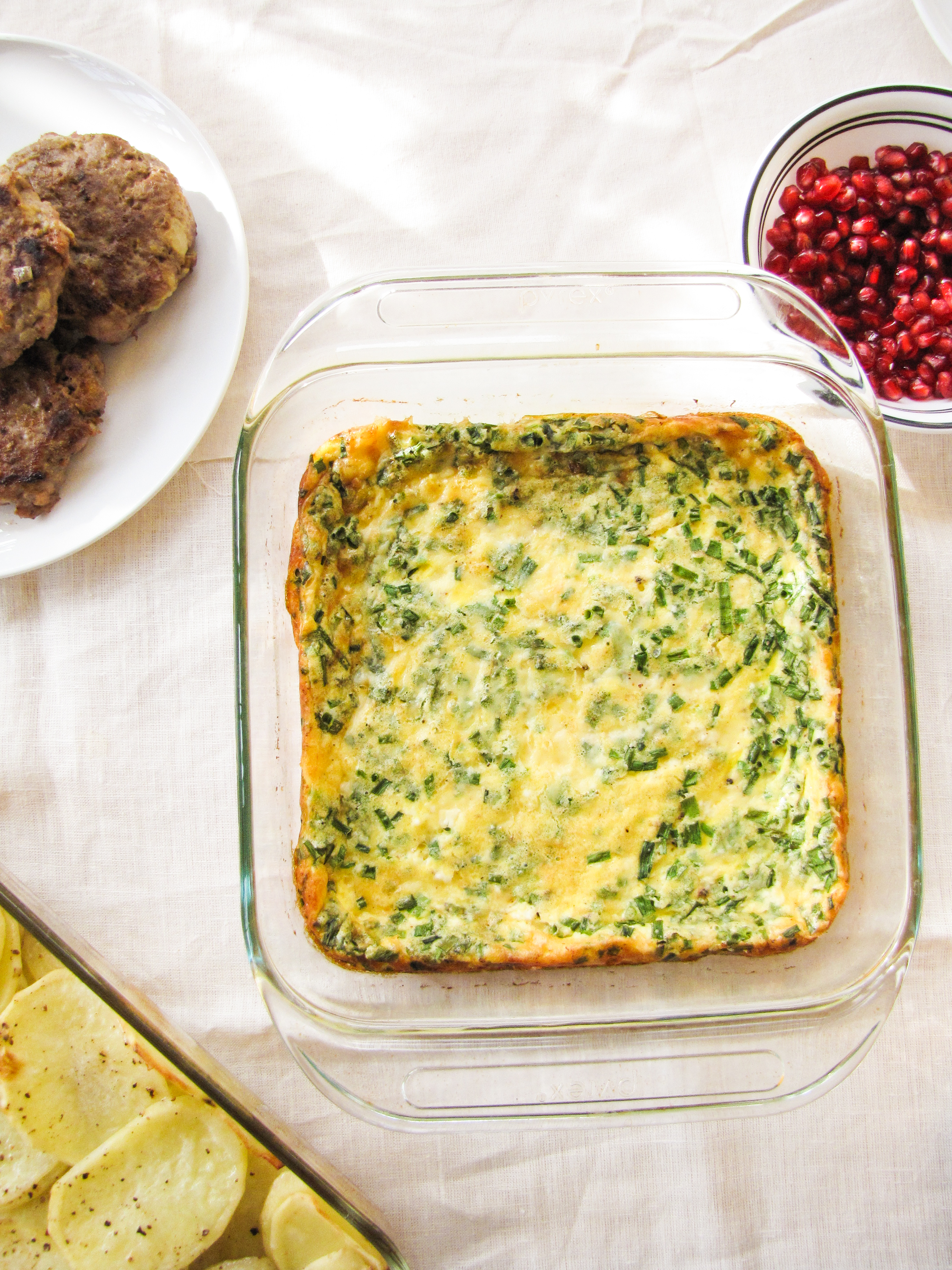 Baked Egg Custard with Gruyere and Chives
2 c. coarsely grated Gruyere cheese (about 6 oz.)
1/2 c. chopped chives
10 large eggs
1 1/2 c. whole milk
4 oz. cream cheese, softened
1/4 tsp grated nutmeg
1/4 tsp salt
1/2 tsp pepper
Preheat the oven to 350°F and butter a 2-quart baking dish. Sprinkle gruyere and chives evenly over bottom of dish. Place eggs, milk, cream cheese, nutmeg, salt, and pepper in a blender and blend until smooth, then pour over the cheese and chives. Bake until the eggs are puffed and golden, 35 to 40 minutes
Crisp Oven-Browned Potatoes
3 lb large Yukon Gold potatoes
1/2 stick salted butter, melted
3 TBS olive oil
1/2 tsp salt
1/2 tsp pepper
Preheat the oven to 350°F. Peel potatoes and slice as thinly as possible. Add to a 4 quart baking dish and toss with melted butter, olive oil, salt, and pepper. Cover baking dish tightly with foil and bake 20 minutes. Remove foil, turn heat up to 450°F, and bake for another 20-25 minutes, until the top is browned and crisp.
Turkey Sausage Patties
1 small onion, very finely chopped
5 TBS olive oil, divided
1/2 c. coarse, freshly ground bread crumbs
3 TBS milk
2 lb ground dark-meat turkey
1/4 tsp ground nutmeg
1/4 tsp ground cinnamon
1/4 tsp cayenne powder
1/8 tsp ground cloves
2 tsp salt
1 tsp pepper
2 egg yolks
Heat 1 TBS of the olive oil in a frying pan over medium heat. Saute onion until golden brown, 6-8 minutes, stirring occasionally. While onions are cooking, soak bread crumbs in milk and let sit for 5 minutes. Add cooked onions, turkey, nutmeg, cinnamon, cayenne, cloves, salt, pepper, and egg yolks to bread crumbs. Form turkey into small, relatively flat patties. Heat 1 TBS of remaining olive oil in a frying pan over medium heat. Cook patties in batches until browned and cooked all the way through, about 4 minutes per side. Drain on paper towels. Cover with tinfoil to keep warm until serving.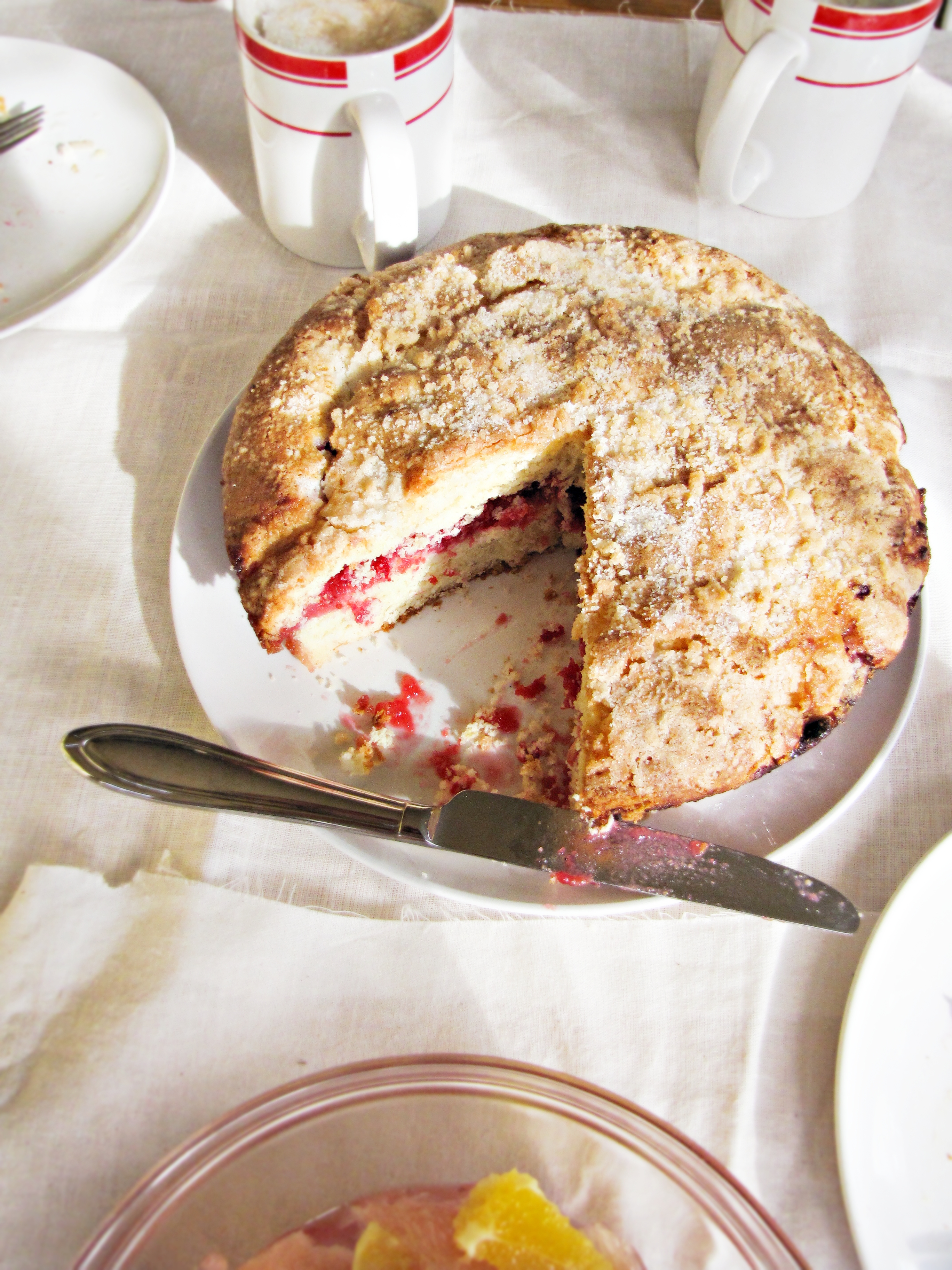 Cranberry Vanilla Coffeecake
1/2 vanilla bean, split lengthwise
1 3/4 c. sugar
2 c. fresh cranberries (6 oz.), rinsed
2 c. plus 1 TBS flour, divided
2 tsp baking powder
1 stick plus 1 TBS unsalted butter, softened, divided
2 large eggs
1/2 c. whole milk
Preheat oven to 375°F. Butter a 9-by-2 inch pan and line the bottom with a round of parchment paper. Add sugar to a food processor. Scrape seeds from vanilla bean into food processor and pulse a few times to blend. Remove the sugar to a bowl. Add 1/2 c. of the vanilla sugar and all the cranberries back to the food processor and pulse a few times until cranberries are coarsely chopped but not pureed. Set aside.
Stir together 1 c. of the flour and the baking powder. Take 1 c. of the remaining vanilla sugar and beat together with 1 stick of the softened butter until pale and fluffy. Add the eggs 1 at a time, beating well after each addition. Add half of the flour mixture to the batter and stir to incorporate. Stir in the milk until incorporated, then add the remaining flour and stir to incorporate. Spread half of the batter into the prepared pan. Spread the cranberry mixture on top of the batter, not quite reaching to the edges. Spread the remaining batter over the top of the cranberry mixture. Use a fork to press together remaining 1 TBS flour, 1 TBS butter, and 1/4 c. sugar to form a crumble topping. Sprinkle evenly over the top of the cake. Bake for 45 minutes, until a toothpick inserted into center comes out clean and the edges have begun to pull away from the sides of the pan. Cool in pan for 30 minutes, then remove and cool completely, crumb side up.
4