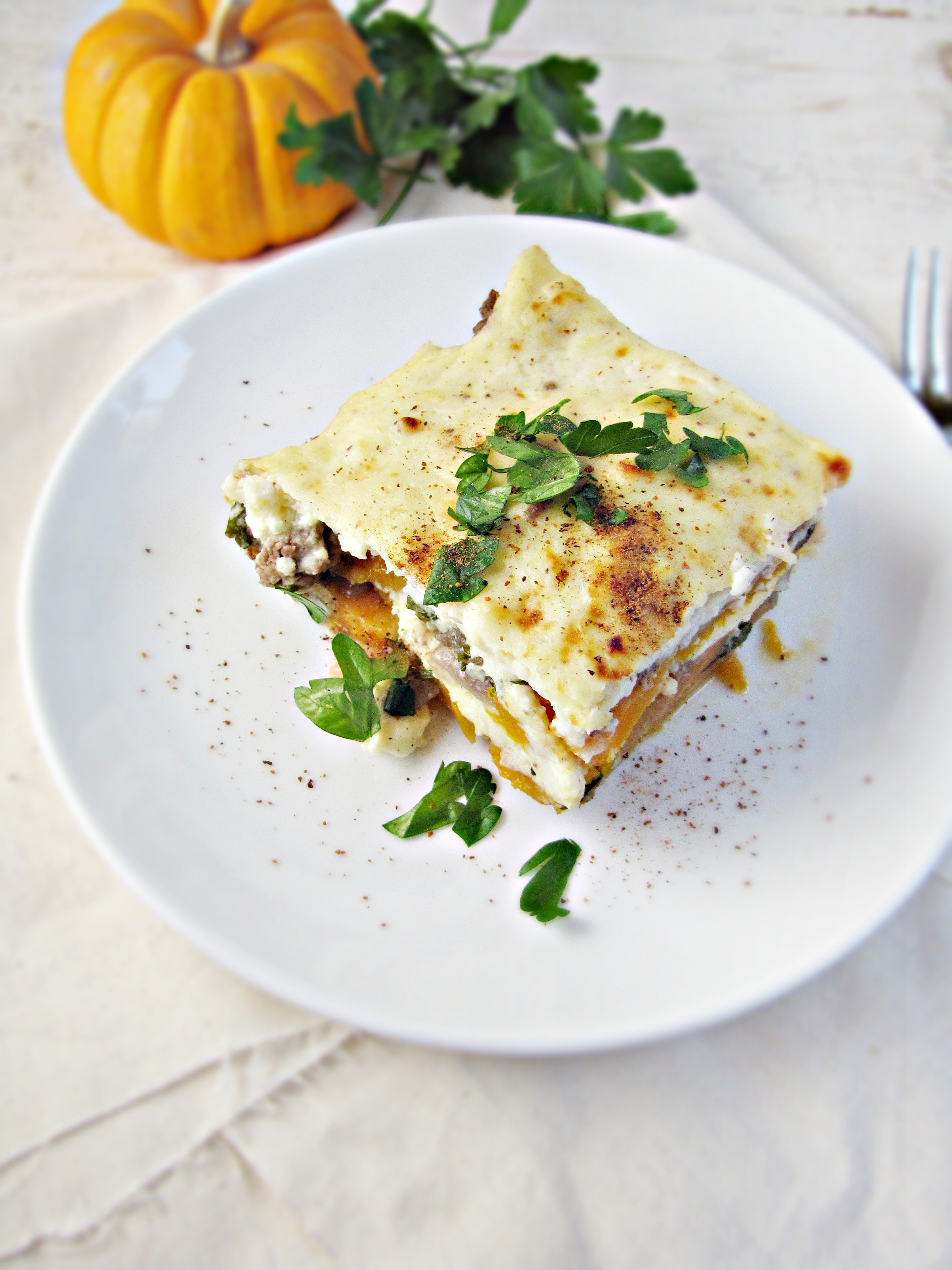 Does it feel like pumpkin has been all the rage a little bit more than usual this fall?  It does to me – I've even seen complaints about the internet overdose of pumpkin: "Find a new darling ingredient!" and "What about cranberries, guys??"  So, yes, I know some of you are over pumpkin.  And frankly, it's not my favorite ingredient of all time (although who doesn't love the occasional pumpkin muffin?).  But when I saw this recipe for Pumpkin and Sweet Potato Moussaka, I knew I had to try it out anyway.  It's so… different.  In the best sort of way.
The first time I had moussaka I was in Budapest.  While I was studying abroad in Prague, we had a 10 day fall break during which we could travel independently.  Most people in the program took off on a city-hopping tour of Europe, trying to hit as many major cities as possible in the short time.  My roommates and I took the opposite approach, visiting only two cities, both accessible by train – Vienna, and Budapest.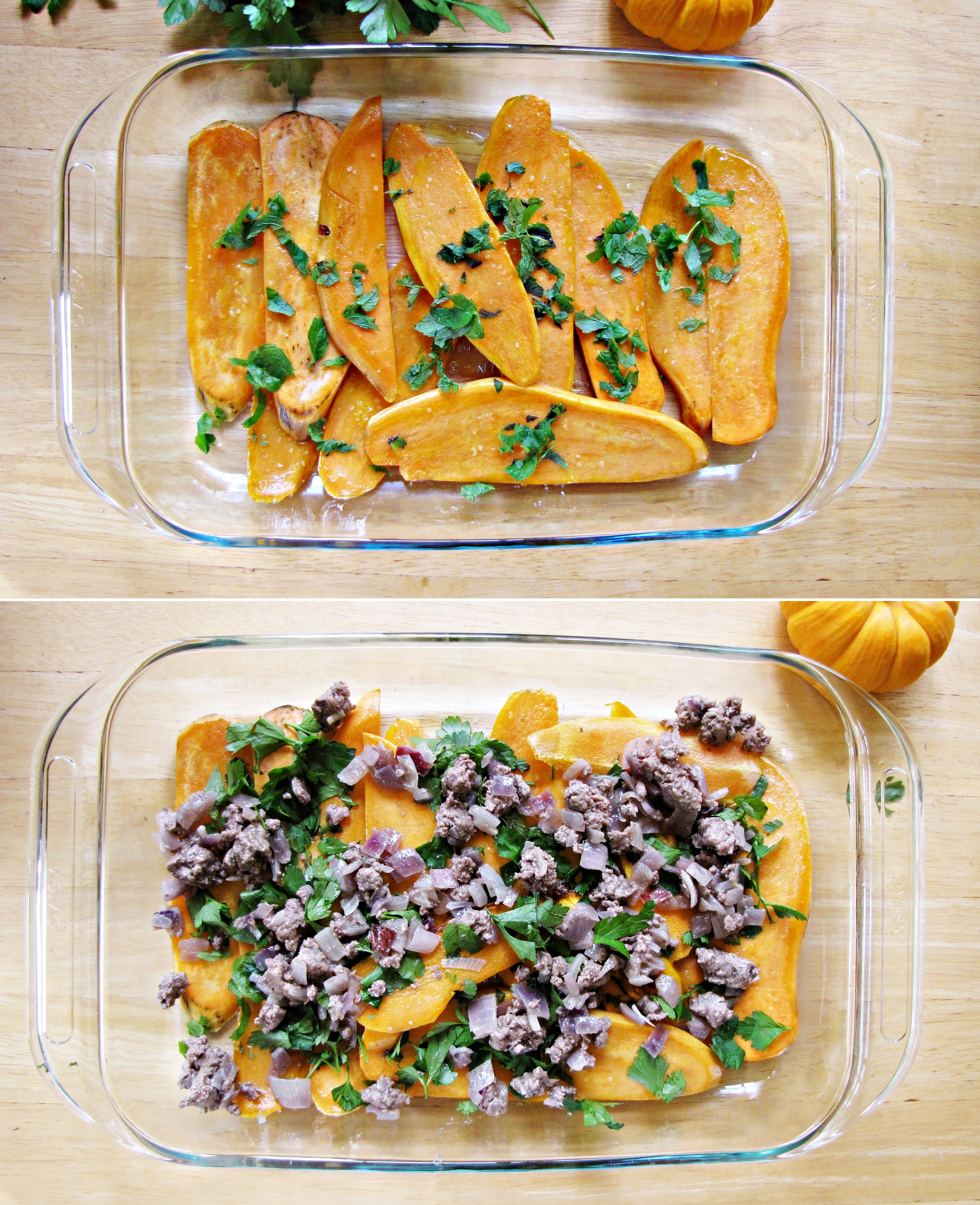 I have never felt more out of place than I did in Budapest.  Don't get me wrong – I loved the city.  Beautiful, old-world, twisty-turny, and a little bit hipster.  But I could not say a single word in the language – not even "thank you."  I've never had that experience before, and I felt completely helpless.  We managed to get by for the most part, but it was embarrassing!  The next time I'm there I'll be prepared.
Anyway, one night we decided to go out to a Greek restaurant near our apartment (we'd already had plenty of chicken paprikash).  It was like being transported – whitewashed walls with bright blue murals, two brightly lit lofts with stone arches, waiters with Greek accents, etc.  It was one of the stranger dining experiences I've ever had – they actually used a dust-buster to vacuum off the table between courses!  But the food was delicious, and moussaka will always remind me of that little place in Budapest, and of the whole lovey trip, for that matter.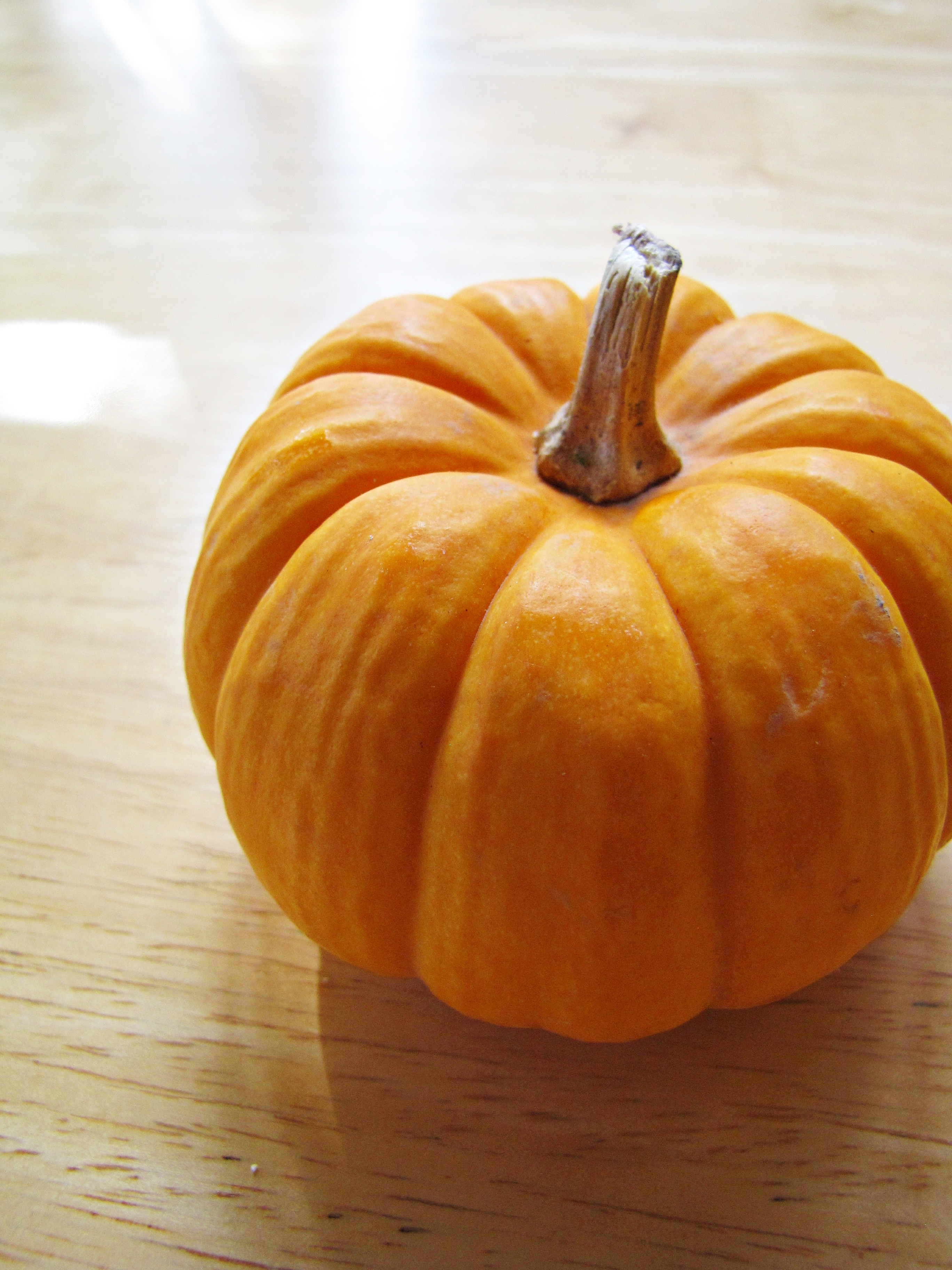 Originally, this post was meant to double as a review of The Country Cooking of Greece.  But as I began writing my grocery list and assembling ingredients, I made too many changes to the original recipe to really make it a fair "review" recipe.  You can't judge a cookbook on a recipe you've changed!  The original recipe was vegetarian, but I couldn't imagine having moussaka without ground beef – the salty, meatiness of it is the perfect counterpoint to the creamy bechamel and the sweetness of the roasted veggies.  Then, the grocery store didn't have any eating pumpkins, so I used sweet potatoes and butternut squash instead of all three orange veggies.  I also had to play with the ratios a bit – I had way too much squash/sweet potato for the amount of bechamel I had made.  By the end, it wasn't really a fair representation of the original recipe – but it was super delicious.  So you'll have to hold out for the cookbook review, but you should try this adapted recipe in the meantime.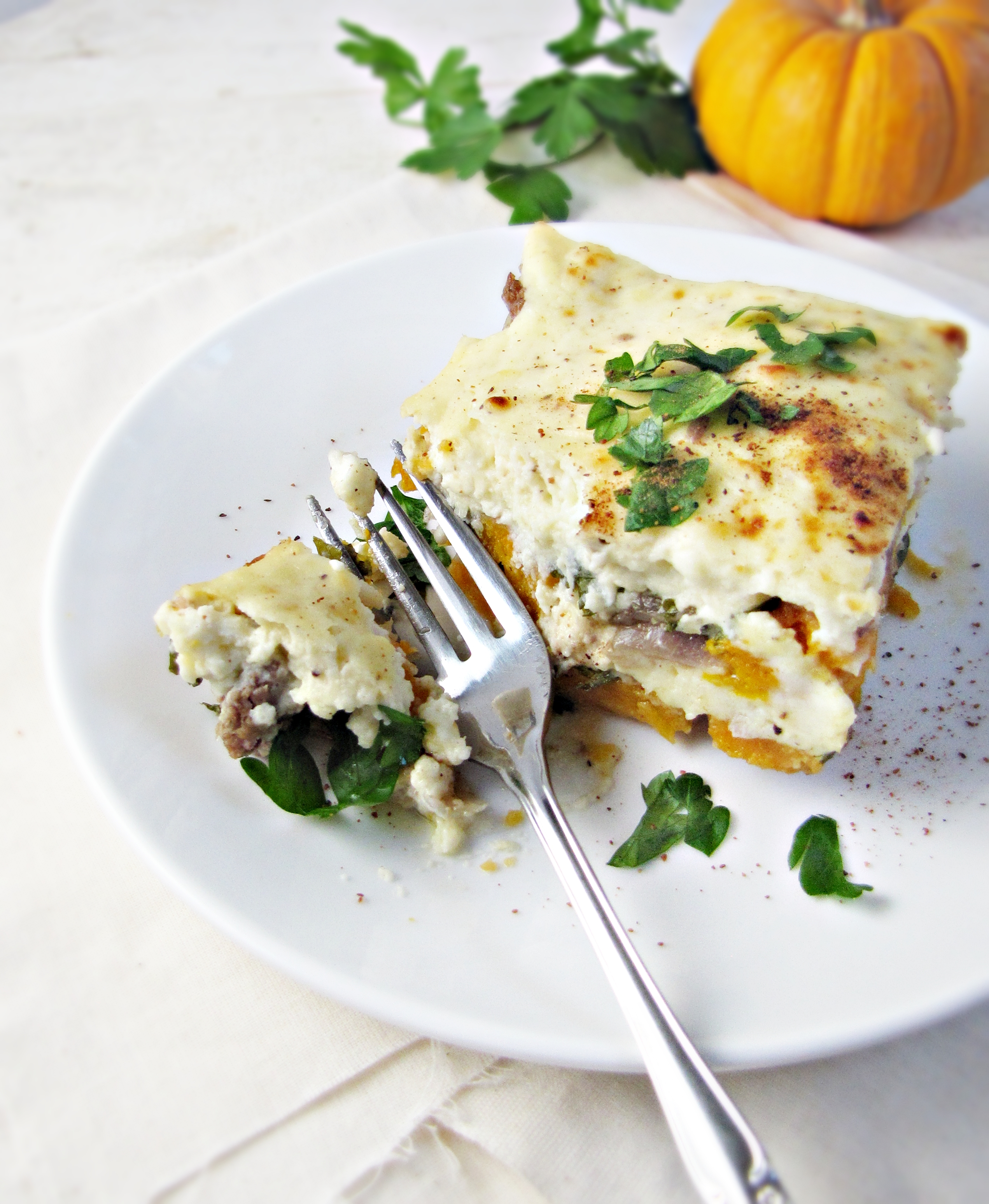 Pumpkin and Sweet Potato Moussaka
Adapted from The Country Cooking of Greece.  Serves 6-8.
For the bechamel:
4 TBS salted butter
1/4 c. flour
4 c. milk, slightly warmed (on the stove or in the microwave)
2 eggs, beaten
1 c. crumbled feta cheese
1/2 c. grated parmesan cheese
pepper to taste
1/2 tsp nutmeg
For the filling:
olive oil
3 large red onions, peeled and diced
1 1/2 lbs ground beef
2 large sweet potatoes (about 2 lbs), peeled and sliced lengthwise into 1/4 inch thick slices
1 medium winter squash or pumpkin (about 2 lbs), peeled and sliced lengthwise into 1/4 inch thick slices
flour, for dusting
1/2 c. chopped fresh mint
1/2 c. chopped fresh parsley
salt and pepper, to taste
Make the bechamel: Melt the butter in a large pot over medium heat.  Add the flour and whisk to combine so there are no lumps.  Cook for 1 minute, until lightly browned.  Slowly pour in warm milk, whisking continuously.  Whisk the mixture non-stop until it thickens, about 10-12 minutes.  (Note, to save a bechamel that's not thickening, melt a little extra butter (2 TBS) in the microwave and mix with an equal amount of flour – add to the bechamel to restart the thickening process).  Once thickened, pour a ladleful of the hot mixture over the beaten eggs, whisking the eggs vigorously, to temper the eggs.  Pour the egg mixture back into the bechamel, whisking the whole time, and remove from the heat.  Stir in the cheeses, and season with pepper and the nutmeg.  Set aside.
Prepare the filling: heat 2 TBS of olive oil in a large frying pan over medium heat and cook diced onions in it for 10 minutes, until soft.  Add ground beef and brown thoroughly.  Remove from heat, and use a slotted spoon to scoop beef and onion mixture into a bowl.  Season with salt and pepper, and set aside.
Heat enough olive oil to rise a 1/4 inch up the side of the pan in a large frying pan.  Use medium heat, and let oil heat fully before beginning frying.  Test the temperature by dipping a piece of squash in the oil – if it sizzles immediately, the oil is ready.  Dredge the squash slices lightly in flour, then fry in the oil until lightly browned on both sides.  Remove to a paper-towel lined sheet pan to drain.  You will need to do this in batches.  Once the squash is done, lightly fry the sweet potato slices (you do not need to flour these) until golden brown.
Preheat the oven to 350°F and assemble the moussaka: In a 9×13 roasting pan, place a single layer of sweet potatoes along the bottom such that they overlap slightly.  Sprinkle with half the mint and half the parsley, then top with half of the beef and onion mixture and half of the bechamel.  Cover these layers with a layer of the squash, then sprinkle remaining mint and parsley on top, as well as remaining beef and onion mixture.  Spread the rest of the bechamel on top, spreading out to the edges of the pan if possible.
Bake for 40-50 minutes, until bechamel is puffed and golden.  If the top is not browning, broil it on low for 2-3 minutes and then remove.  Let rest for 10 minutes before slicing.  Serve warm.
2