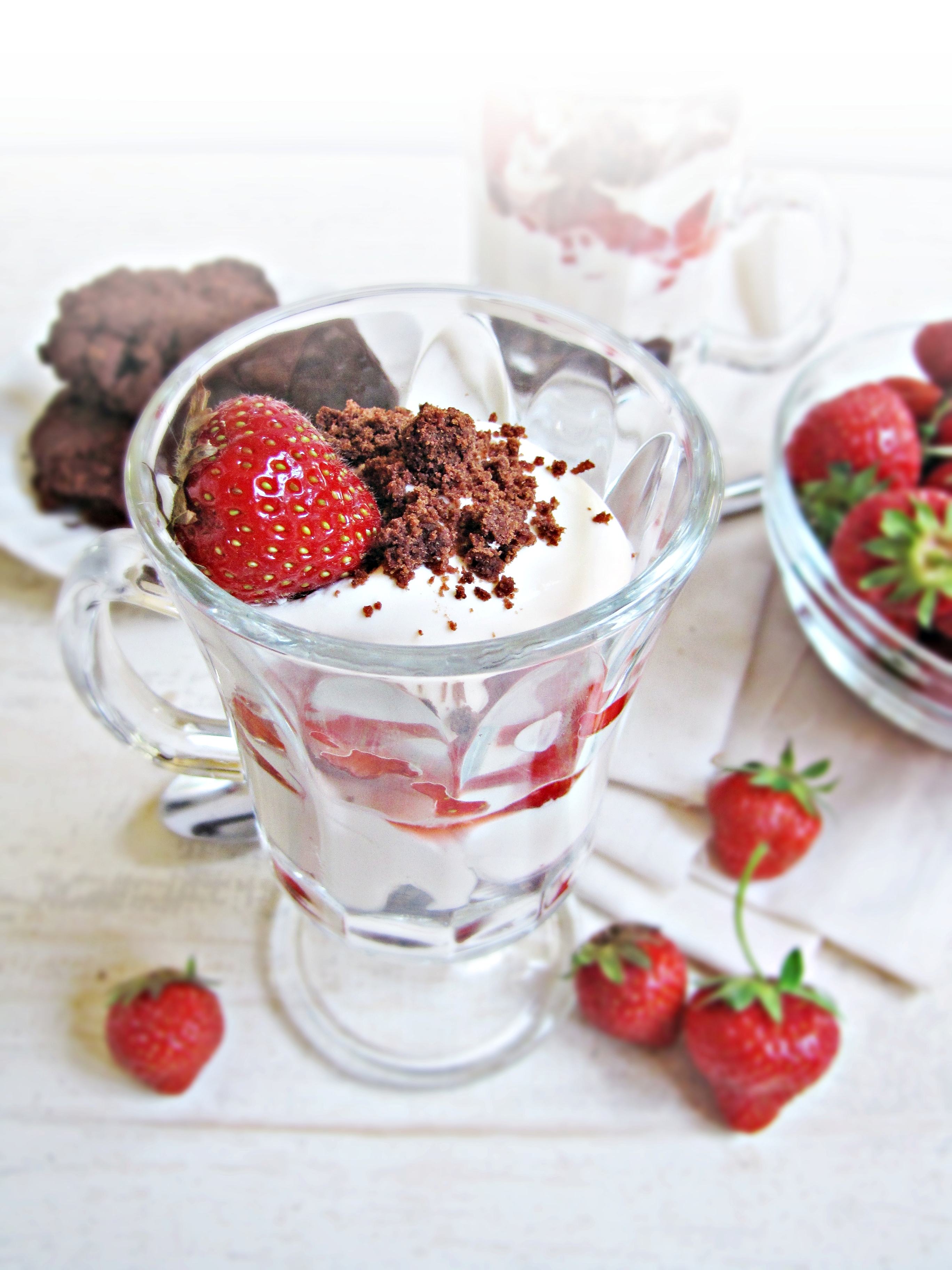 I went a little strawberry crazy last week.  It's just that I saw so many people writing about strawberries, taking pictures of strawberries, making strawberry jam, etc., that I couldn't resist.  So I bought a quart of tiny, bright red local strawberries at WholeFoods on Thursday night.  Then, on Friday, one of my coworkers just dragged me to the farmer's market at Copley for lunch, and when a cute farmer yelled out "we just picked these this morning, you know you want some!" well, how could I say no?  Another quart in the bag. And these strawberries are not the big hearty California ones that will last for weeks in your fridge; these strawberries beg to be eaten, with little embellishment, right away.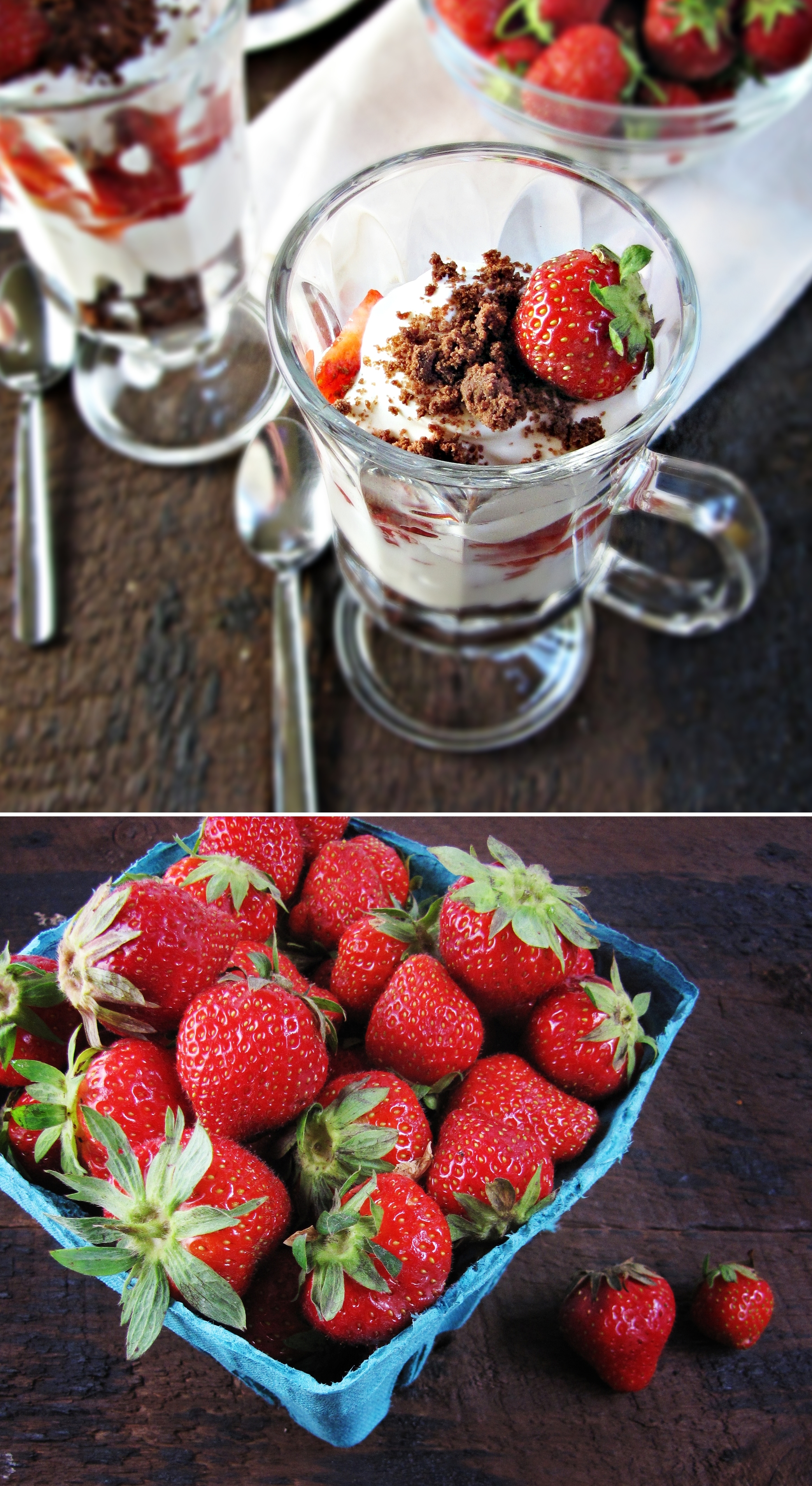 Sometimes when I'm surrounded by beautiful produce I forget that I'm only one person, and that it's hard for one person to eat 2 quarts of strawberries in 4 days.  So I had to find uses for these berries other than eating them out of hand.  I made a few things, including a batch of my favorite strawberry and sage muffins, and by tonight, after popping this strawberry-rhubarb pie in the oven to share with my dad (it's his favorite pie, and it was just father's day…), I only have a handful of berries leftover – just enough for a lovely breakfast tomorrow morning of strawberries, fresh cherries, Greek yogurt, and granola.  Of all these treats, however, the star were these strawberry and whipped mascarpone parfaits with chocolate shortbread.  These things are delicious.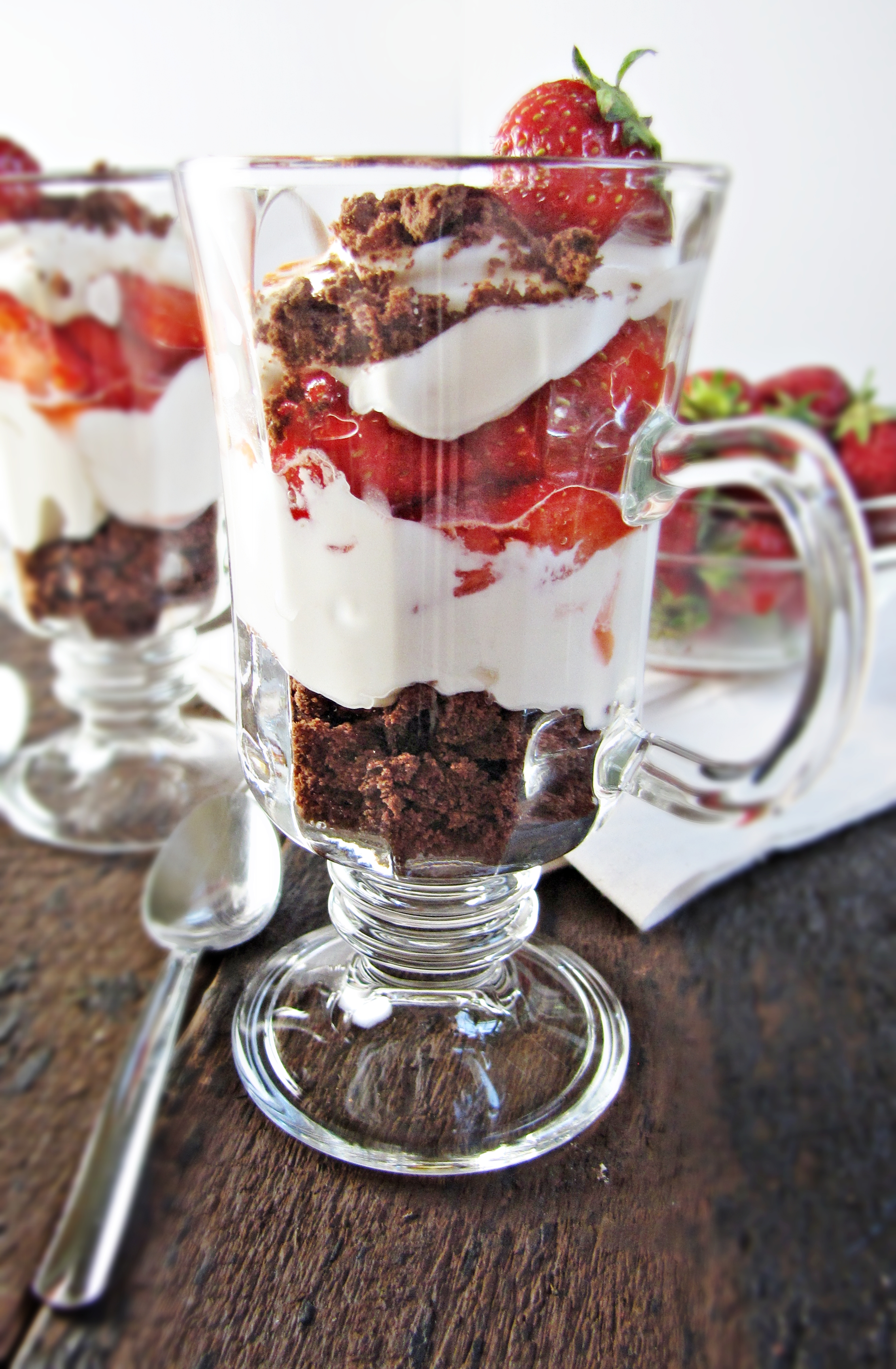 I spent a good chunk of Saturday cooking and baking, which was really nice, given that I haven't had much time to spend in the kitchen lately.  Trevor was at tryouts all day, so I decided to make us a nice risotto dinner for when he got back, with something strawberry-based for dessert.  I had been toying around with the idea of finally making a fraisier, but all the individual components – sponge cake, pastry cream, marzipan – started to seem daunting as the day crept on.  Then the idea of doing something resembling a dirt cake, but with strawberries, of course, popped into my mind, and wouldn't leave.  I had all the ingredients I needed on hand to make a quick batch of chocolate shortbread (which is so buttery and chocolaty and crumbly it's amazing), and I was already using mascarpone in the risotto, so I whipped it with heavy cream, sugar, and vanilla to give it a little more silkiness, and we were good to go.  I love pretty much anything that is layered with cream, but I have to admit that this recipe was partly inspired by all of my recent lunchtime trips to Via Matta, where they serve every single dessert with whipped mascarpone and it's totally heavenly.  In particular, I was thinking of their "Mascarporeos" – a tray of do-it-yourself "oreos" with rich chocolate cookies and whipped mascarpone.  Anyway, the combination of the buttery shortbread, sweet cream, and fresh strawberries was incredible – sophisticated and comforting at the same time, fresh, and not too sweet.  I may or may not have eaten one for breakfast the next morning while doing this shoot.  Food blogger problems.
I did so much brainstorming about other things to make with strawberries that I might have to double up on berries again next weekend.  It's a short season, after all – I might as well make the most of it!  Plus, I really do want to make a fraisier, and also this sour cream and strawberry ice cream, and why not some jam while I'm at it.  So I guess you can probably expect to see some more strawberries around here, and pretty soon, too.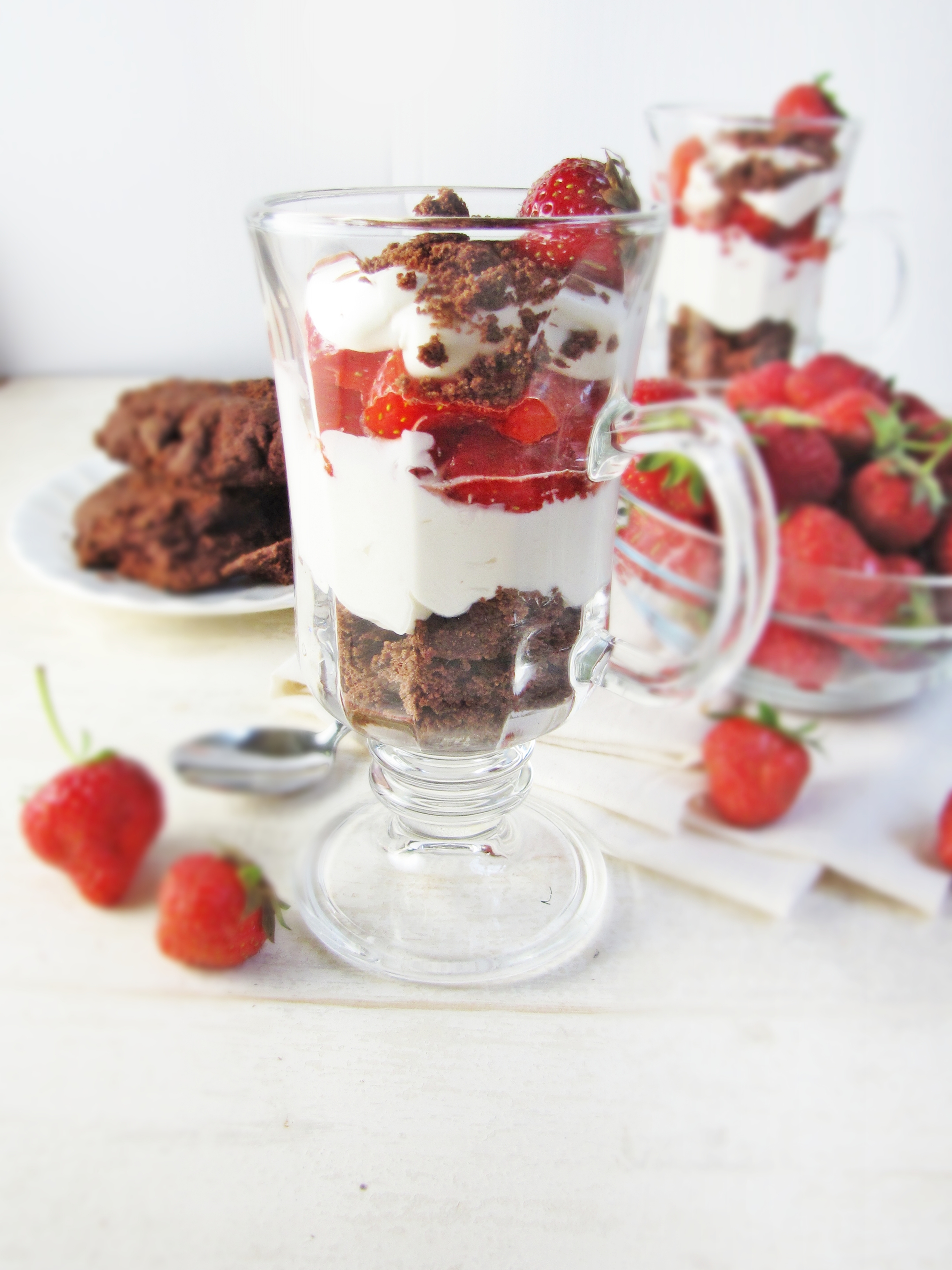 Strawberry, Chocolate, and Whipped Mascarpone Parfaits
A Katie at the Kitchen Door original.  Serves 4.
1 pint fresh strawberries, hulled and cut into small (1/2 inch) pieces
1/2 c. mascarpone cheese, chilled
1/2 c. heavy cream, chilled
1 tsp vanilla extract
1 TBS sugar
1/2 recipe dark chocolate shortbread (see below)
Crumble shortbread cookies into pieces, with some tiny crumbs and some larger, bite-sized chunks.  You can do this easily by hand or by using a rolling pin to roll over a plastic bag filled with crumbs.
In a medium bowl, whisk mascarpone and heavy cream until thick and evenly combined.  Add vanilla and sugar and whip until it holds soft peaks.
Divide 1/2 of cookie crumbs between 4 glasses.  Top each chocolate layer with a large dollop of whipped mascarpone, and a handful of strawberry pieces.  Follow with another dollop of mascarpone, then top with more strawberries and remaining chocolate crumbs.  Serve cold.
Dark Chocolate Shortbread
Recipe adapted from Epicurious.  Makes 2 cookies 6 inches in diameter (about 10-12 servings).
1 stick salted butter, softened
1/4 c. sugar
1/2 tsp vanilla
3/4 c. + 2 TBS flour
2 TBS cornstarch
1/4 c. cocoa powder
1 TBS heavy cream (optional)
Blend butter, sugar and vanilla together in a medium bowl until well combined.  Sift flour, cocoa and cornstarch on top of butter mixture, fluff dry ingredients together gently with a fork (it's OK if they start to mix with the butter below), then proceed to mix into the butter and sugar, just until evenly combined.
Pat dough together into 2 discs about 1 inch thick and 6 inches in diameter.  If dough is too crumbly to do this, add the heavy cream and mix in to moisten the dough.  Place the dough discs on a baking sheet and refrigerate for half an hour, uncovered.
Preheat the oven to 375°F while the dough chills.  After half an hour in the fridge, prick the dough all over with a fork (to let steam escape).  Bake for 15 minutes, then let cool on cookie sheet for 10 minutes (if you try to move before it has cooled enough, it will immediately fall apart).
2