I didn't do a whole lot of cooking last week.  Do you have weeks like that?  Where the whole shebang – planning out your meals, grocery shopping, cooking, cleaning up – just feels like a little bit too much effort for the return?  I assume everyone but the most energetic people does, at least every once in a while.  It didn't help that our kitchen sink wasn't draining properly – washing dishes in a sink full of murky standing water is even less appealing than washing dishes regularly is.  Luckily for me, my life is still flexible enough that if I don't feel like cooking for a week, I don't have to.  And cheap eats in Boston aren't hard to find, so I enjoyed a week of takeout, dinners with friends, scrambled eggs, fruit smoothies, and leftovers from the freezer.  It was nice.
What I have been doing for the past week is reading cookbooks – lots of cookbooks.  It seems I went on a bit of a library spree (OK, I do that every time I go to the library), and I now have 8 cookbooks on my "read soon!" shelf.  Some of the titles I picked up on a whim (River Cottage Every Day, Good Meat: The Complete Guide to Sourcing and Cooking Sustainable Meat), and others I've been waiting to get my hands on for a while (In the Kitchen with a Good Appetite, Falling Cloudberries). And now, with the kitchen sink fixed and the type of inspiration that only comes from taking a real break, I'm back in the kitchen.  What better way to dive back into cooking than to test out some of the borrowed cookbooks?  (And decide if they're worth permanently adding to my collection).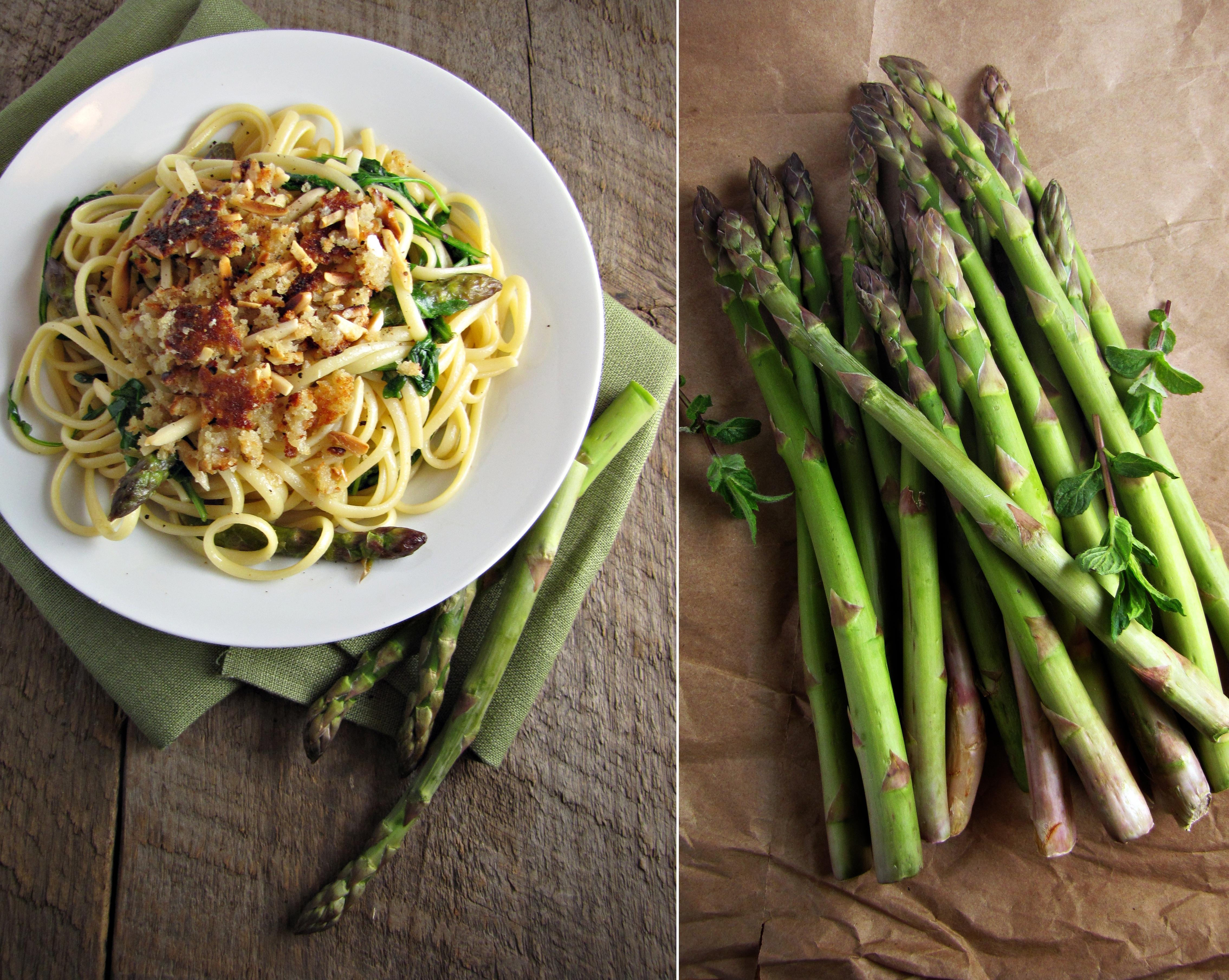 So far, the book I'm loving the most is Girl in the Kitchen, by Stephanie Izard, winner of Top Chef and chef at Chicago's Girl and the Goat restaurant.  Something about the book is very inviting – it's got big, colorful pictures, great graphic design, and fun side blurbs like drink pairings and ingredient spotlights.  This book just has energy.  And the recipes?  They're fun too.  None of Stephanie's recipes are tired or overdone; in fact, most of them are entirely new-to-me flavor combinations, like asparagus, goat cheese, and rhubarb salad, or chestnut confit with roasted potatoes, bacon, and kumquats.  Her food also sticks to seasonal pairings, and her techniques and ingredients aren't on the cutting edge of gastronomy.  It's just good, honest food, but slightly elevated.  This book makes me want to cook – now.
The first recipe I tried was this asparagus linguine with almond butter crisp, and oh man was it good.  The crisp, which is made from roasted garlic, butter, toasted almonds, bread crumbs, parmesan, and a dash of red pepper, is like crack – it's not good for you and you just can't stop.  Good thing there's a bit of nutrition in the rest of the dish – it's by no means diet food, but the large quantities of arugula and asparagus bulk up its health factor a little.  I played around with the proportions of this recipe based on what I had on hand and what I like – e.g. doubling the roasted garlic, slightly reducing the arugula (typical, huh?), etc.  I also didn't think it needed any added salt as called for in the crisp or the sauce, given that the soy sauce, preserved lemon, and parmesan all provide a salty punch.  It's a stellar combination of ingredients though.  I'm looking forward to trying more recipes from this book, like this pear, parsnip, and pistachio soup that's on the menu for later this week… and to eating these leftovers for lunch tomorrow!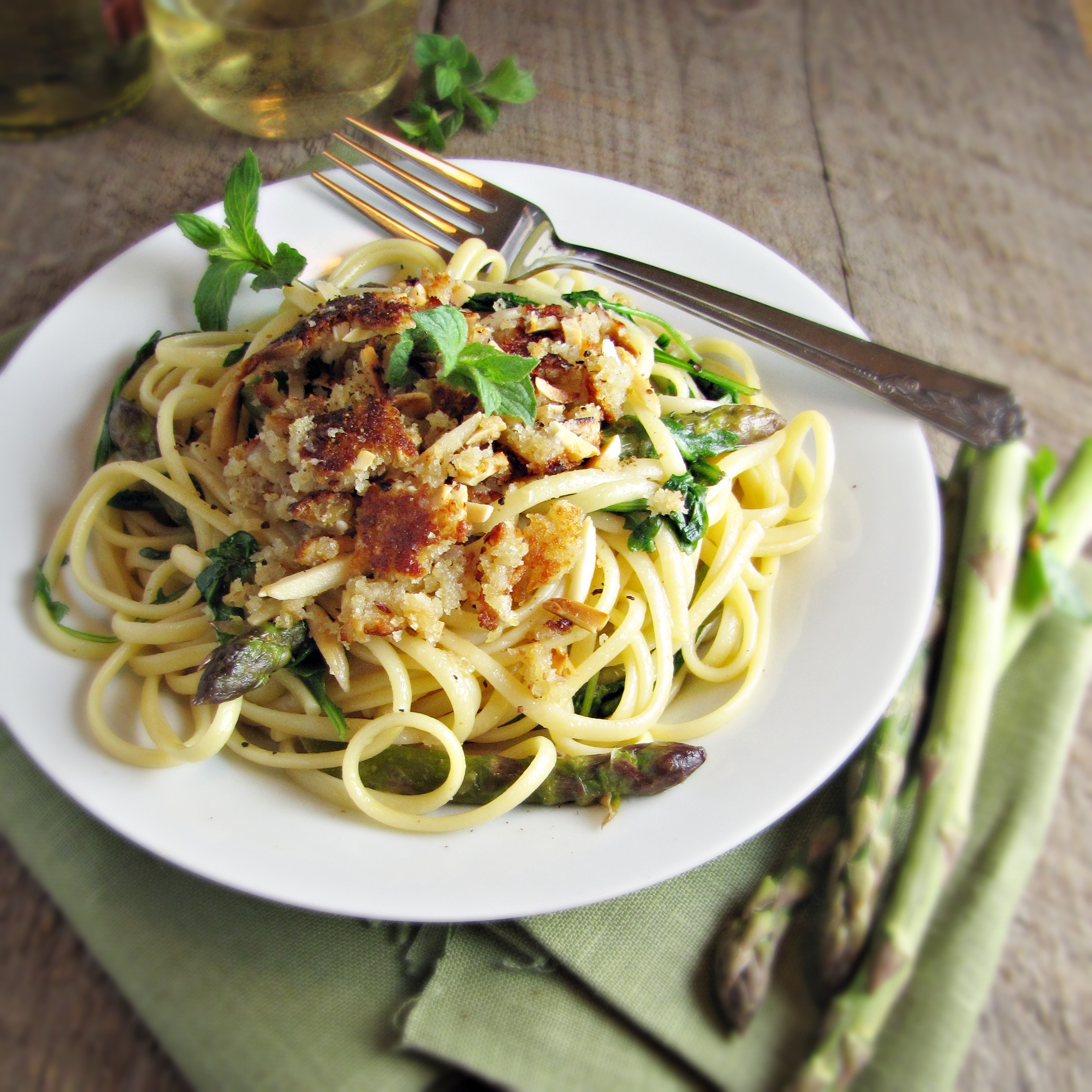 Asparagus Linguine with Almond Butter Crisp
Recipe adapted from  Girl in the Kitchen.  Serves 4.
2 heads garlic
3 TBS butter, at room temperature
1/4 c. panko bread crumbs
1/4 c. grated parmesan cheese
1/4 tsp red pepper flakes
3/4 c. slivered almonds, toasted
3/4 lb. linguine
1 TBS olive oil
1 lb asparagus, sliced diagonally into 1-inch pieces
1/2 c. chicken broth
2 TBS soy sauce
5 oz. (1 standard grocery store container) baby arugula
2 TBS preserved lemon, sliced thinly
8 sprigs fresh mint
Roast the garlic – cut off the top of the garlic heads, and place heads, skins and all, in a tinfoil pouch with a bit of olive oil and sea salt.  Roast in the oven for 40 minutes at 400ºF.  Let cool, then squeeze the cloves out of the skins and into a bowl.  (I did this step the morning before, so the dinner-making process would take less time).
Mash the roasted garlic with the butter, parmesan, panko, and red pepper flakes, until crumbly.  Stir in toasted almonds, and place mixture in fridge until just before toasting.
Bring a large pot of salted water to a boil.  Add linguine, and cook according to package directions.
At the same time you add the linguine to the water, heat the olive oil in a large frying pan over medium heat.  Add the asparagus pieces, and sautee for 3-4 minutes, or until bright green.  At this point, add the chicken broth, soy sauce, and 1/3 c. of the pasta water (just dip a cup measure into the pot while it's cooking and add it to the sauce).  Turn the heat up to medium high, and let cook until sauce is reduced by 1/2, about 3 minutes.  Add the preserved lemon and arugula and turn off heat, stirring to wilt the arugula.  If you're lucky, your pasta will have finished while the sauce is reducing, and you can just add the sauce to the drained pasta.  If not, wait for the pasta to finish cooking, drain, then add the asparagus and arugula sauce to the pasta pot.
Return the frying pan (now empty of sauce) to the stove, over medium heat.  Add the chilled almond-butter mixture to the pan in a single layer, and fry, stirring occasionally, for about 5 minutes, or until golden brown.  Turn off heat.  Plate the pasta, and top each portion with some of the almond crisp and 2 sprigs of mint.  (Alternatively, you can add the mint to the sauce with the arugula).
2