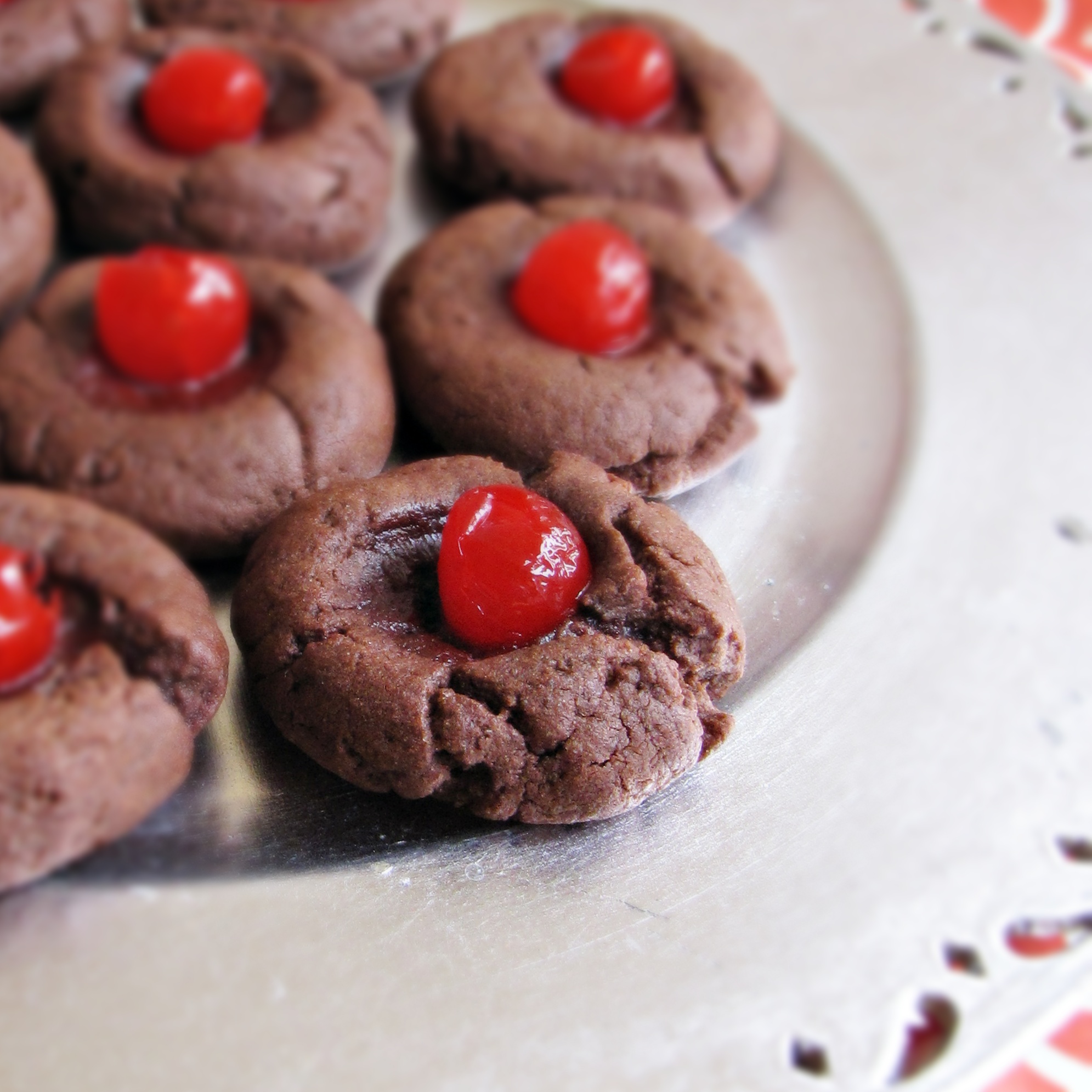 Everyone has different first-of-the-month traditions.  A lot of people make sure the first thing they say is "rabbit, rabbit," to bring good luck all month. A harmless, fun tradition, right?  Well in my family, on the first of the month, we physically abuse each other.  I.e. we wake up, sprint into each other's rooms, yell "pinch and a punch, first day of the month" while brutally delivering the requisite pinch and the punch, then run out of the room to get everyone else.  The ultimate goal is to get everyone before anyone gets you, which can be challenging in a family of 5. Family agreement used to state that you had to wait until someone was awake before you got them, but now that my brother is in college mode and sleeps till noon when he's home, the rules have changed such that jumping on someone while they're asleep is fair game.  Needless to say, Ryan hates this game.  It's not something you can escape by leaving home either – this morning, my Dad called at 7:10.  Now, I'm always awake at 7:10, but I usually haven't spoken to anyone yet, nor am I in the mood too.  Additionally, getting phone calls at strange hours always puts me on the alert -something must be wrong if you want to talk that early in the morning and I know you're not trying to make breakfast plans with me.  So I answer, slightly nervous, only to hear the whole gang on speaker phone, virtually pinching and punching me and delighting in their victory.  I actually just grunted and hung up (which made me feel a lot like my brother).  Later in the day, I received several emails from aunts across the country, all claiming their own victory.  Ah, family :-).  I've never actually met anyone else who does "pinch and a punch," but a quick wikipedia search reveals that it is an old British tradition, so we can't be the only crazy ones still doing it.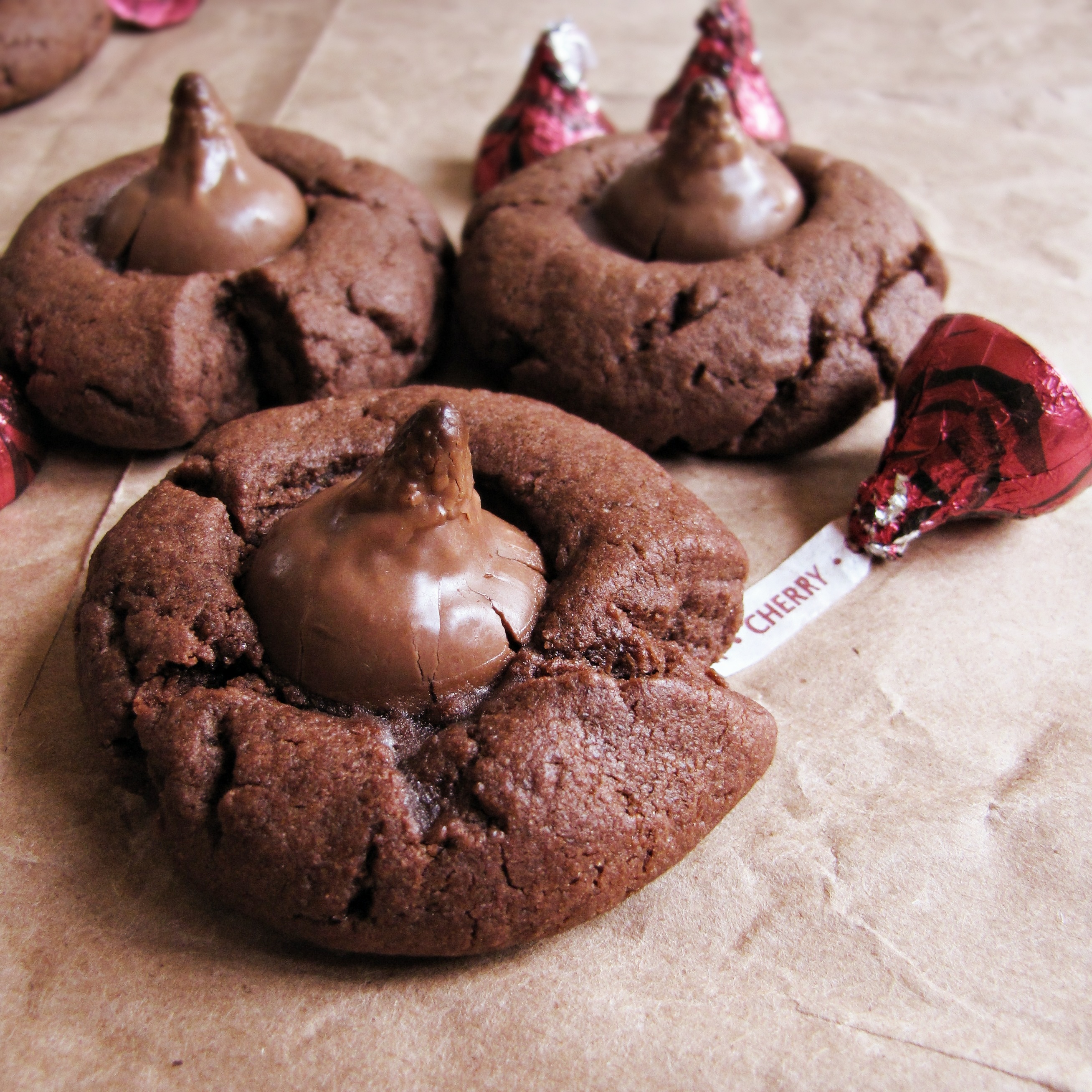 So, now that it's December, there are going to be two types of food on everyone's mind: 1) decadent, delicious holiday treats to celebrate the season, and 2) crash-diet-type meals to make up for all the over-indulging.  I wish I could say I was going to break the mold and don't feel the need to either lose weight or indulge in excessive baking around the holidays, but I can't.  I'm just like everyone else – simultaneously writing my Christmas cookie list and planning how to lose 15 pounds.  This is blog is going to reflect that over the next month.  And let's be serious – who wants to start with healthy?  Healthy is for when you feel guilty about unhealthy.  We're starting with cookies.  These chocolate-covered-cherry cookies from lolfoodie are probably the best cookies I've made all year.  Possibly ever.  My parents thought they were good.  My roommate declared them incredible (he just walked in and said they might have been "the single best cookies he's ever had in his life."  Wow.)  I loved them.  We finished the first batch in 48 hours, and as I type, Trevor is making another batch for me to bring in to work tomorrow.  (OK, secret's out.  Trevor does my blog baking occasionally.  But usually it's me.  Honest.)  They're definitely going on the annual Christmas cookie list.  The only possible improvement?  Soaking the cherries in brandy for a few days first.  Try it.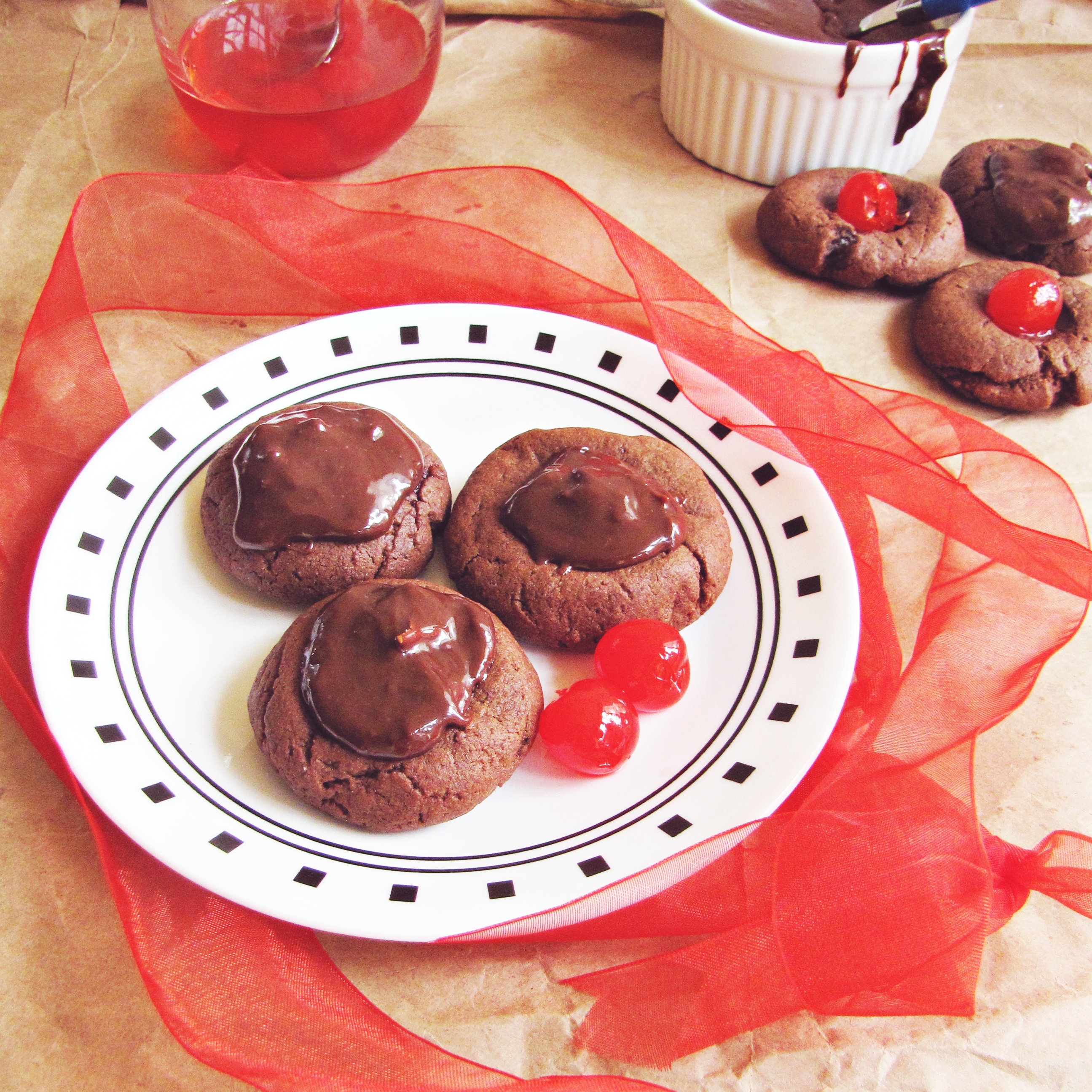 Chocolate-Covered-Cherry Cookies
Recipe from Lolfoodie.  Makes 18 cookies.
1 stick butter, well softened (partially melted)
2/3 c. white sugar
1/3 c. brown sugar
1 egg
1 tsp vanilla
1/4 tsp salt
1 1/2 c. flour
1/2 c. unsweetened cocoa powder
1/4 tsp baking soda
1/4 tsp baking powder
1 (10-0z) jar maraschino cherries
1/3 c. sweetened condensed milk
1 TBS juice from maraschino cherries
2/3 c. chocolate chips
Preheat oven to 350°F.  In a large bowl, cream together softened butter and sugars, beating vigorously until light and fluffy, about 2 minutes.  Add the salt, egg, and vanilla, and beat well to incorporate.
In a small bowl, whisk together flour, cocoa, baking soda, and baking powder until evenly combined – be sure to break up any clumps of cocoa powder to the best of your ability.  Add the dry ingredients to the wet ingredients and mix together.  The mixture will be very dry at first, with an almost sandy texture.  Keep mixing it – the dough will come together into a very thick, moist mixture that stays together easily when formed into balls.
Pinch off 1 inch balls from the dough and roll into balls, then flatten slightly and place on a baking sheet.  Use your finger to make a small indent in the center of each cookie, then place a maraschino cherry in the indentation.  Bake the cookies for 12 minutes – they should be just beginning to crack around the edges, then remove and let cool completely on a rack.
In a small saucepan, heat the condensed milk, cherry juice, and chocolate chips over very low heat, stirring continuously, until the chocolate has melted and formed a smooth frosting with the condensed milk.  If you are worried about seizing the chocolate, this step can be done in a double boiler.  Remove from heat and let cool slightly before placing a 1/2 TBS of frosting over the tops of each cookie, hiding the cherry underneath.
0