It's that time again!  Vote for me in the Marx Food fregola challenge here!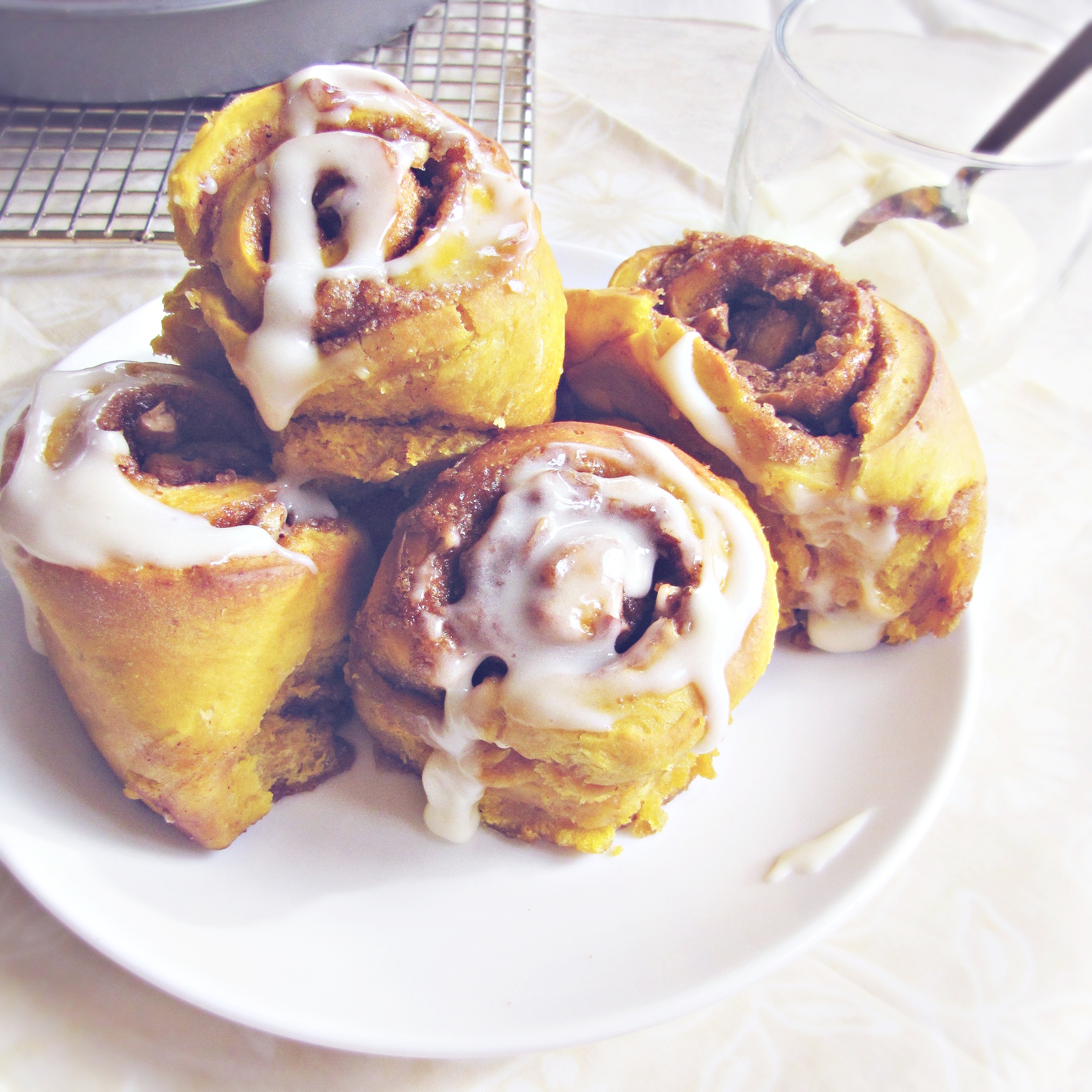 Just because Thanksgiving has passed, Halloween is a distant memory, and I've already started posting about Christmas does not mean the season for canned pumpkin has ended.  But does it mean that it's too late to share pictures of this year's pumpkin carving?  Probably, but I'm ignoring that, because our pumpkin (and I'm using the word "our" loosely, as it was carved 100% by Trevor – how talented is he?) is too awesome not to share.  3D dragon?  Hell yeah.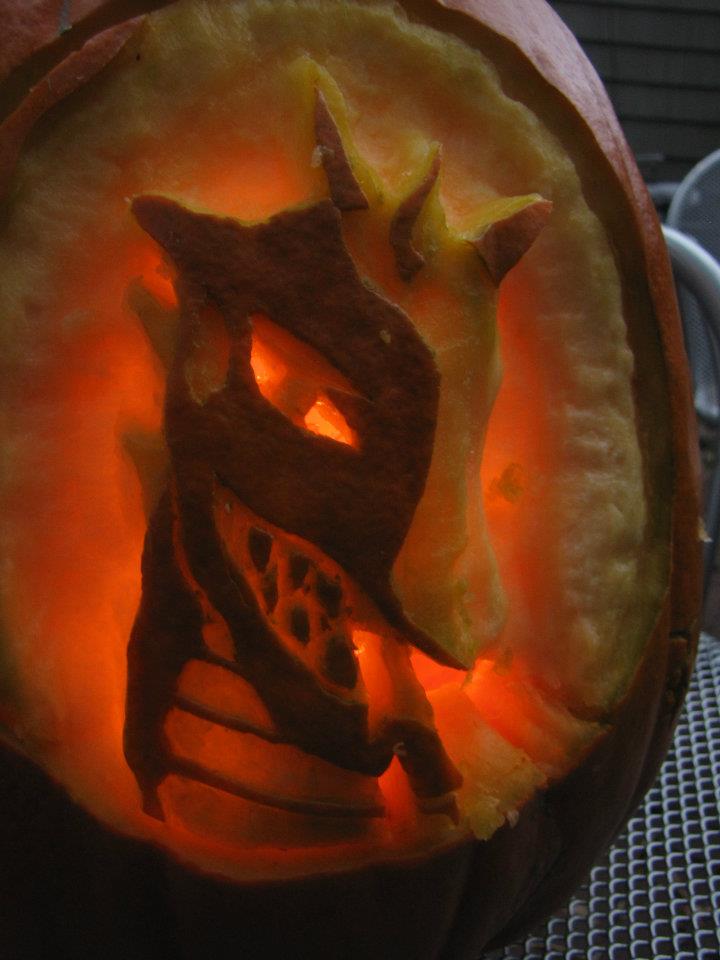 Now that that bit of semi-irrelevant bragging is taken care of, let's talk about some ways to use the 17 cans of pumpkin you (and by you I mean I) hoarded in your cabinet when you thought that there was going to be a pumpkin shortage.  Seriously, at the end of September, things were looking dire – I hadn't seen a single can of pumpkin in any of the (four) grocery stores that I frequent.  So when I saw four measly cans at Pemberton Farms, I bought three (leaving one for someone else in my pumpkin-less situation out of empathy).  That same morning, Trevor brought over a supply of cans from his house.  Pumpkin shortage avoided.  Since then, I've used 1 and a half cans of pumpkin.  Turns out a little pumpkin goes a long way when you're just one person.  I made these pumpkin scones, which didn't have a great scone texture or a great pumpkin flavor, pumpkin oatmeal cookies, which were OK but mine came out too soft for my liking, this pumpkin ale bread, which was super fantastic, and I'm planning on trying this smoothie this week, but the recipe I'm choosing to share with you is much more decadent: pumpkin-cinnamon-pecan breakfast rolls with cream cheese frosting.  Um, yum.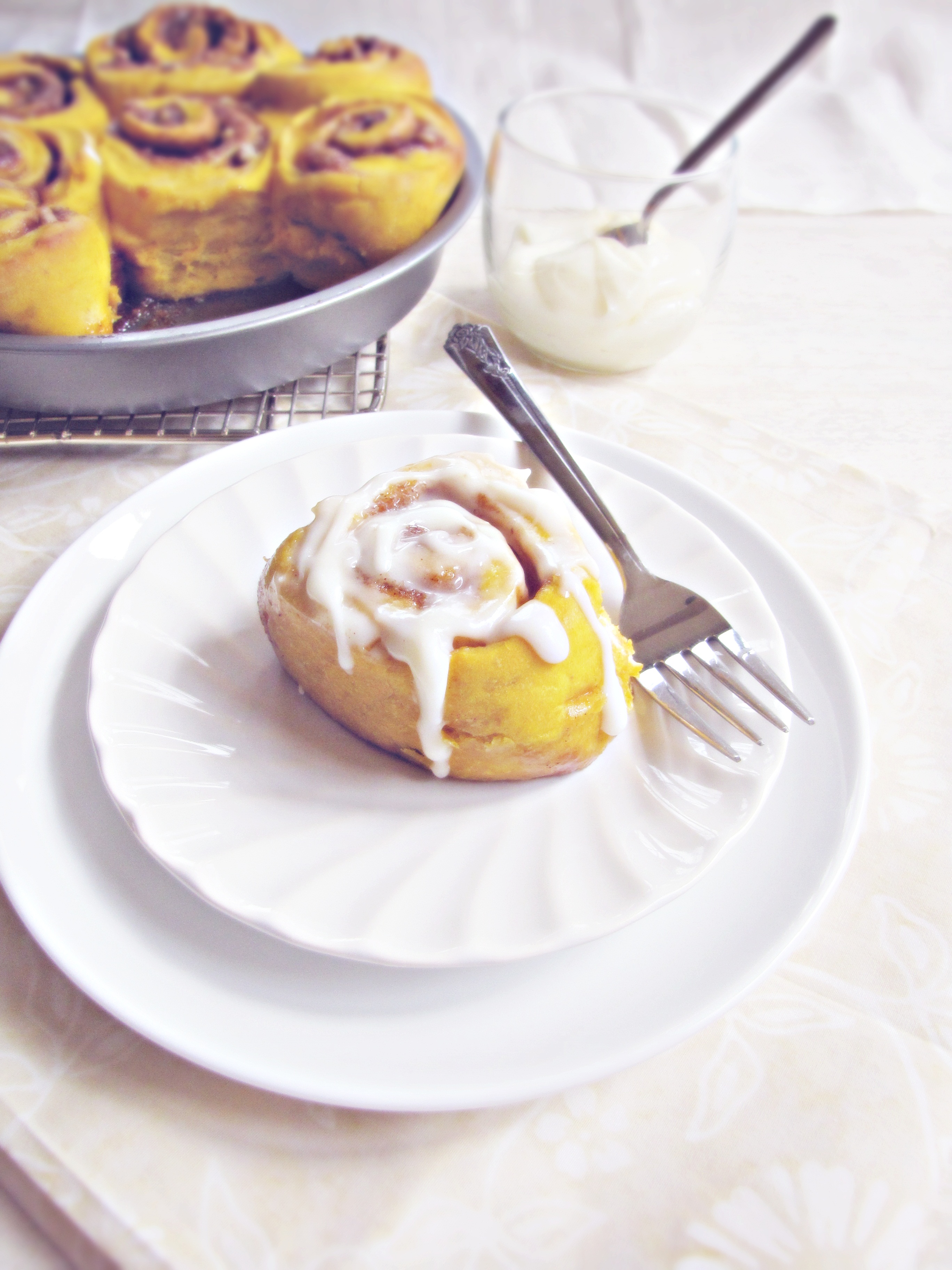 These rolls are the perfect treat for a lazy weekend morning.  You can prep the dough and the frosting the night before, let them rest in the fridge overnight, and then in the morning all you've got to do is roll out the buns, slather with cinnamon-sugar butter, and pop them in the oven.  Twenty minutes later, as the house fills up with the smells of pumpkin and cinnamon and people start coming downstairs to sniff around, you officially become the worlds' best mother/girlfriend/wife/daughter/male-versions-of-these-terms.  They taste like a really good, really soft cinnamon roll, but with the added punch of pumpkin, ginger, and nutmeg.  The toasted pecans in the filling and the lemon-cream-cheese frosting take them over the top.  I can almost guarantee you that a steaming pan of these and a hot pot of coffee could make any sunny December morning complete.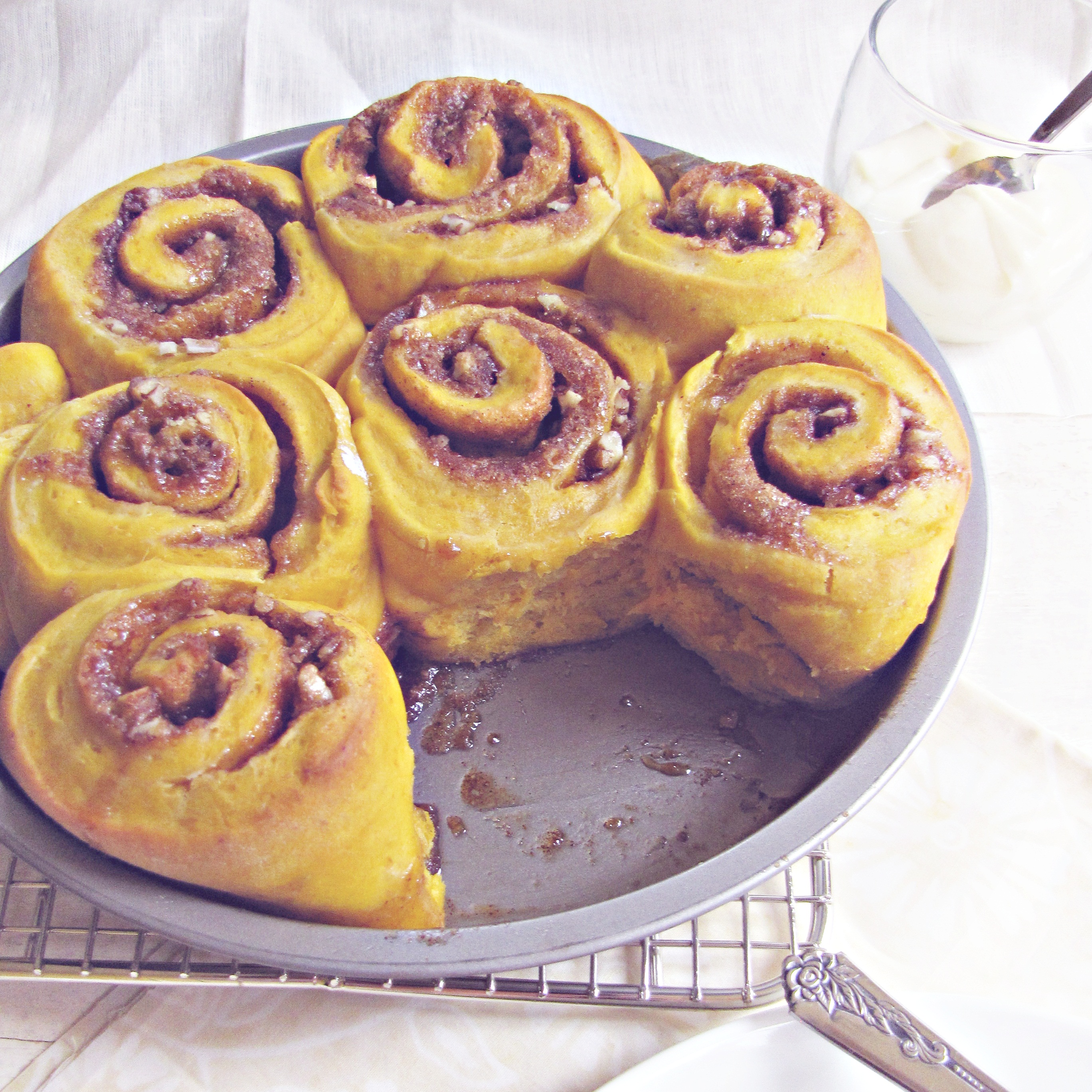 Overnight Cinnamon-Pumpkin Rolls
Roll recipe adapted from TheKitchn.  Frosting recipe from Good Life Eats.  Makes 8 large rolls.
For the dough:
2 TBS warm water
1/2 TBS instant yeast
1/2 c. milk
1/2 stick (1/4 c.) butter
1/4 c. sugar
1/2 (15 oz.) can pumpkin puree
1/2 tsp salt
2 1/2 c. AP flour
For the filling:
6 TBS butter
3/4 c. brown sugar
1 1/2 tsp cinnamon
1/4 tsp ginger
1/4 tsp nutmeg
1 c. pecans, chopped finely and toasted
For the frosting:
2 oz. cream cheese, softened
1/2 stick butter, softened
1 c. powdered sugar
1-2 tsp lemon juice
Proof the yeast: In a small bowl, add the yeast to 1/8 c. warm (not hot) water and let sit for 10 minutes.  Meanwhile, heat the milk and the 1/2 stick butter over low heat until the butter is melted.  Mix in the sugar until fully dissolved, then let cool slightly so that it is warm to the touch, but not hot.  Stir the proofed yeast and the canned pumpkin into the milk mixture until evenly mixed, then add the salt and all the flour at once.  Stir to incorporate fully – dough should come together into a slightly sticky but workable mass.  Add another 1/4 c. of flour if dough is too sticky to work with.  Cover dough with a towel and let rise for 1-2 hours (until doubled in volume) in a warm place.  Punch down and place in fridge overnight.  (You can make the rolls directly from this point without the overnight refrigeration as well, but the extra resting time will result in a better flavor.)
Remove the dough from the refrigerator and roll out into a large rectangle of dough 1/2 inch thick, about 14 inches by 8 inches in size.  Melt the 1/2 stick of butter for the filling in the microwave, then mix in the brown sugar and spices, and spread on top of the dough, leaving an inch at the top (the long way – you're going to roll it into a long tube and need a space to pinch the dough together).  Sprinkle toasted, chopped pecans on top.  Roll the dough into a long (14 inch tube) and pinch the ends together.  Use a sharp knife to slice the tube horizontally into 8 rolls.  Place these rolls in a buttered 9 inch cake pan with about 1/2 inch of room between them.  Cover and let rise for 40 minutes.
Preheat the oven to 375°F and bake risen rolls for 20-25 minutes, until golden brown on edges and no longer doughy in center.  While they bake, prepare the frosting: mix together cream cheese and butter until smooth.  Add powdered sugar and lemon juice and beat until they form a thin frosting.  Test for flavor and consistency, and adjust with more sugar or more lemon juice as needed.  Let rolls cool slightly then drizzle with cream cheese frosting.  Serve warm.
0