It's that time again!  Vote for me in the Marx Food fregola challenge here!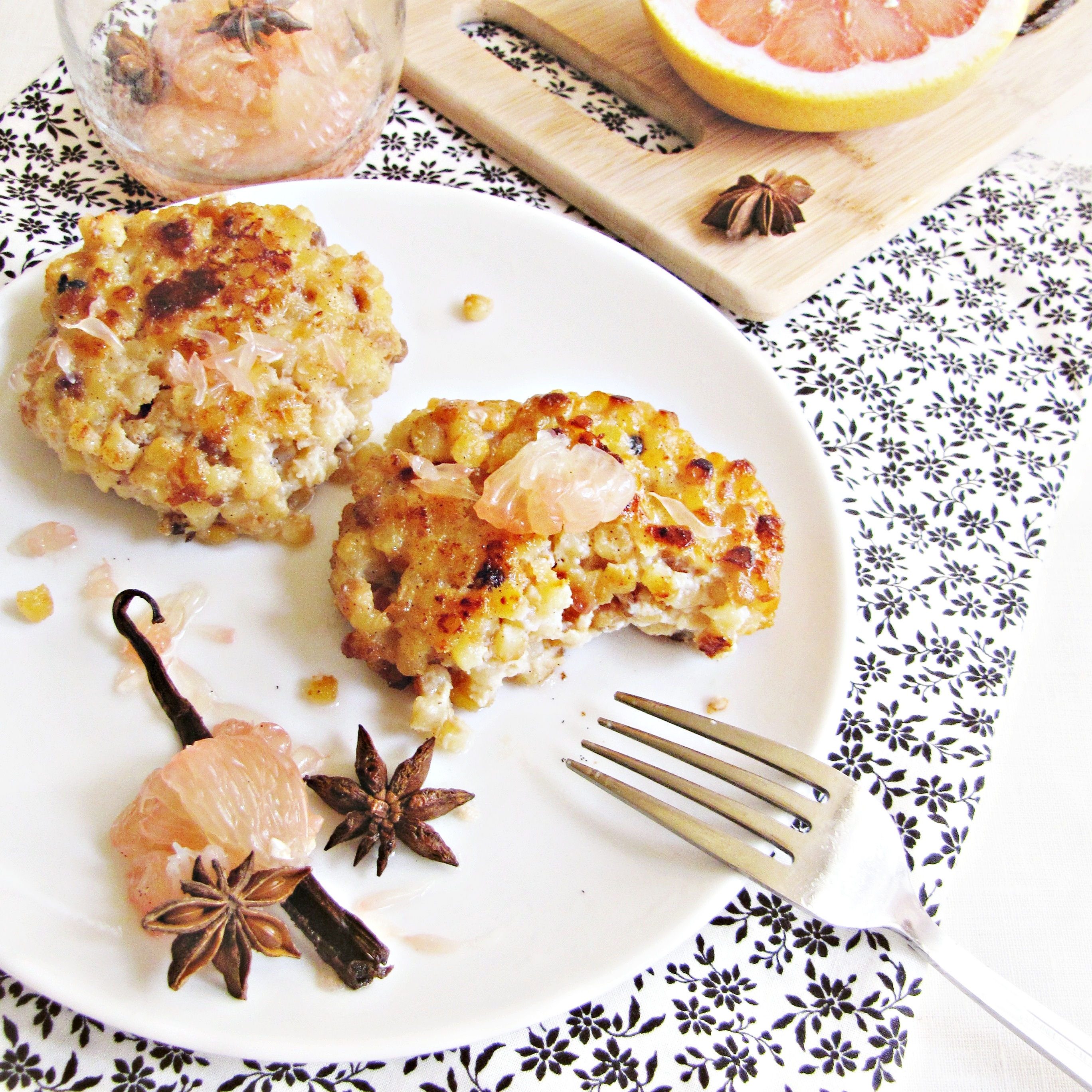 In the past two years I've participated in several recipe development challenges hosted by Marx Foods, an online company that sells specialty meats (think alligator, kangaroo, and frog), truffle products, mushrooms, unique pantry goods, and lots of other culinary goodies.  The first challenge I participated in was the four-part "Ridiculously Delicious" challenge they hosted last winter, for which I made dill and feta stuffed cucumber cups, spicy cherry-chocolate souffles, and a trio of wasabi-centric recipes using fresh wasabi.  Then, this summer, I participated in the dried chile challenge, and made a smoky-sweet adobo and corn frittata, which I very much enjoyed.  And now it's time for another challenge!  This time around the challenge is to make a sweet recipe using fregola – an ingredient I'd never even heard of until this month.  I have yet to win one of these challenges, but maybe this will be my lucky recipe.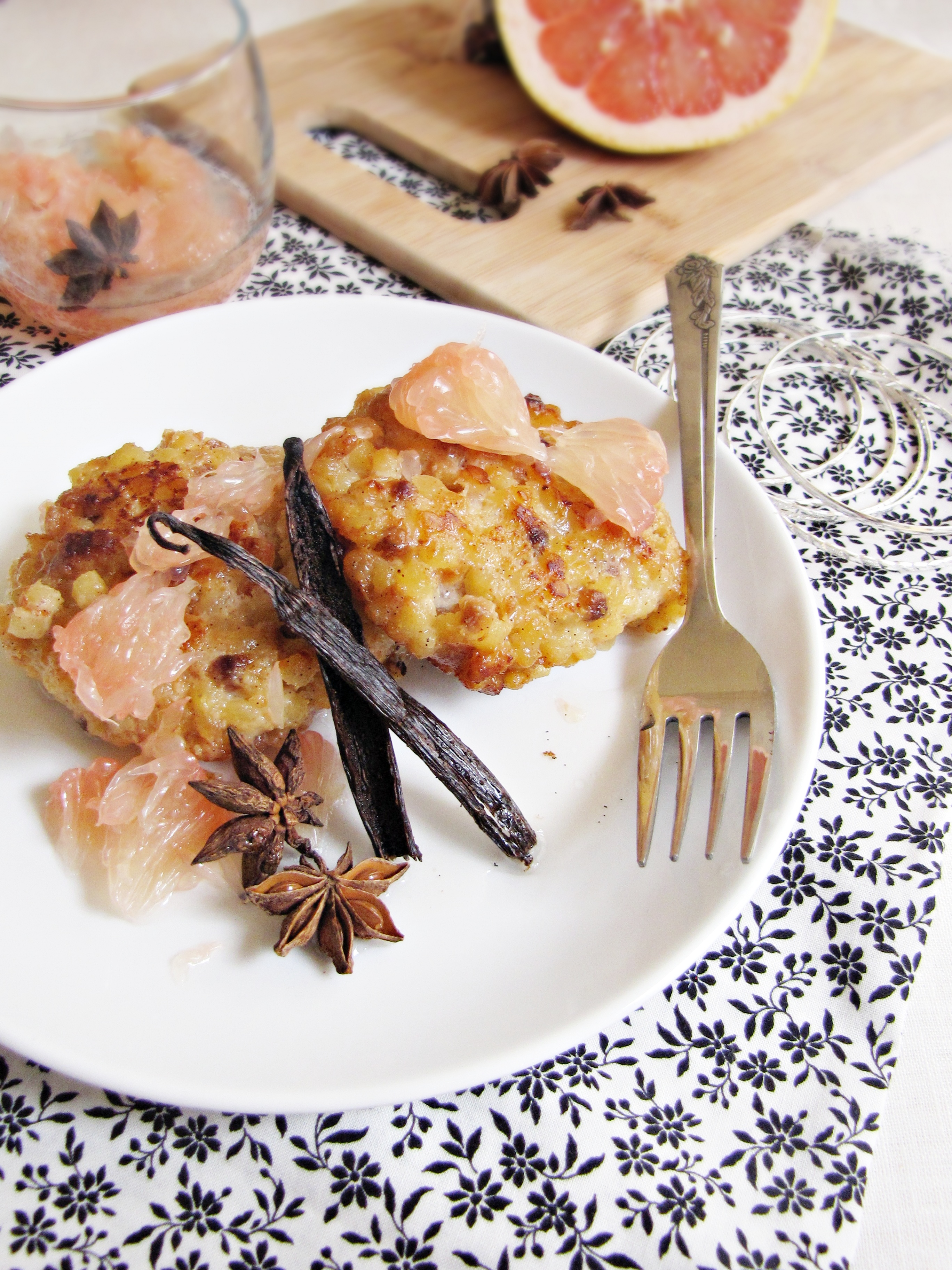 Fregola is a toasted Italian pasta, similar in size and shape to Israeli couscous.  I could eat couscous all day every day, so I was super excited to try another version of it.  To be honest, I didn't like the fregola as much as I like regular old couscous – it's very chewy and has an almost tapioca-like consistency – but it was still an interesting new addition to my kitchen.  Along with the sample of fregola, Marx sent a handful of other goods to inspire a sweet fregola creation – whole vanilla beans, star anise, and saffron.  The contestants were required to use at least one of the extra ingredients along with the fregola.  Almost immediately upon signing up for this contest I knew that I wanted to create a fregola fritter, something that played on arancini – the delicious cheesy fried risotto balls made with leftover risotto which I seem to be eating a lot of lately.  So I made a fregola pudding using milk, cinnamon, nutmeg, honey, and vanilla, and then, after a brief rest in the fridge, fried it up into fritters.  To cut the grease and add another level of flavor, I made a batch of Gourmet's grapefruit and star anise salad.  My mom and I make this salad every year on Christmas morning, and it's my favorite part of Christmas breakfast without fail.  Even when there's vanilla bean coffee cake, maple-turkey sausage patties, and pomegranate mimosas – that should tell you something about how delicious it is.  It was the perfect complement to the slightly sweet, chewy fritters, and the syrup soaked right into them.  I'll be enjoying the leftovers for breakfast for the next few days (and not even feeling that bad about it – thank you, grapefruit).  I think this is the original recipe that I'm most proud of – I guess there's something to be said for keeping it simple.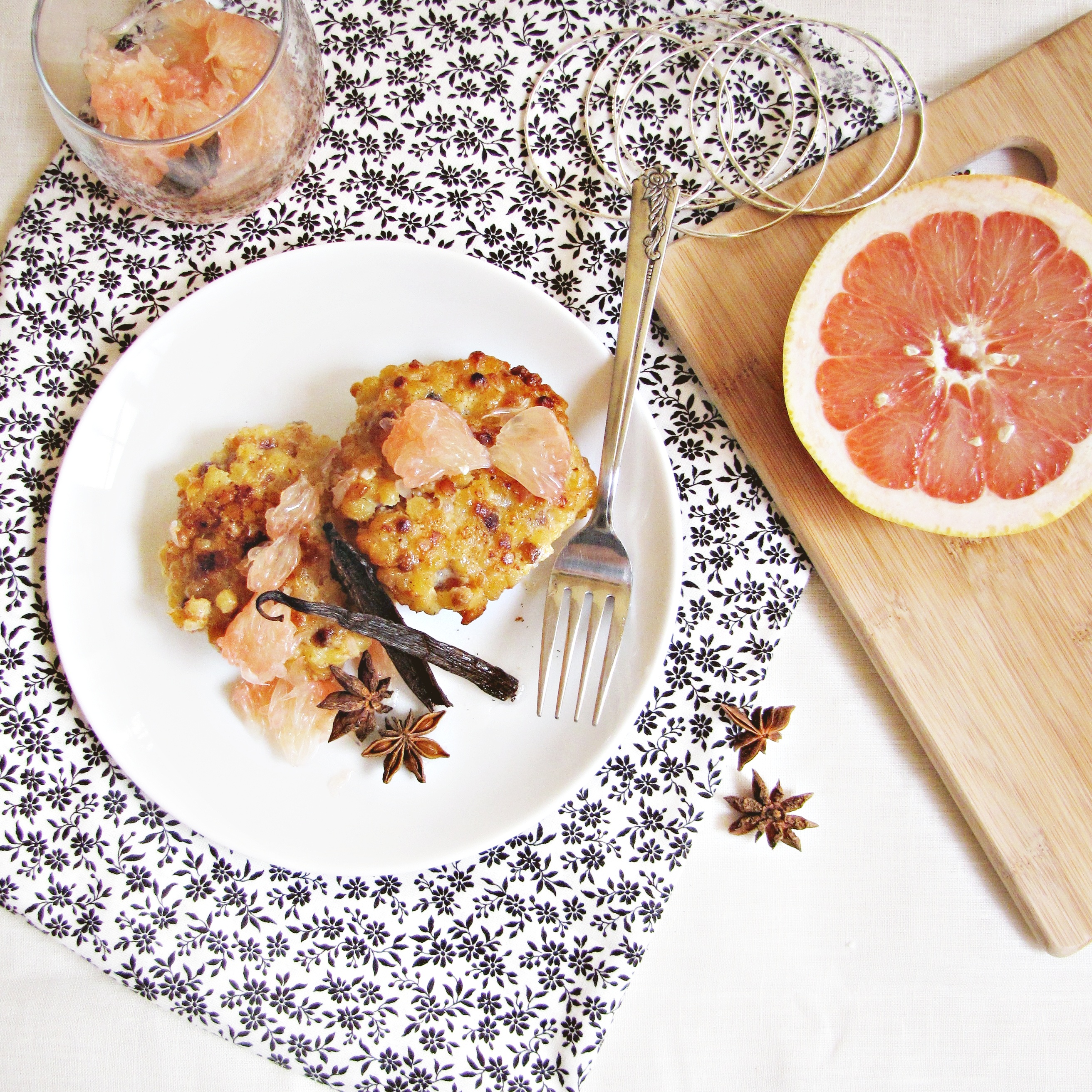 Sweet Fregola Fritters with Star-Anise and Grapefruit Compote
Grapefruit compote recipe from Gourmet.  Makes 5 large fritters.
1 c. fregola
3 c. milk
1/2 tsp cinnamon
1/8 tsp nutmeg
1/4 c. honey
1 vanilla bean
canola oil for frying
2 grapefruits
1/4 c. water
1/4 c. sugar
3 whole star anise
In a large saucepan mix together fregola, milk, cinnamon, nutmeg, and honey.  Scrape out seeds from vanilla bean and add to the mixture along with the pod.  Bring to a gentle simmer and cook, stirring frequently (be sure to scrape any milk skin off the bottom to prevent from burning) for 20-30 minutes, until pasta has just a bit of chewiness left and milk has boiled down to create a thick fregola pudding.  Remove the vanilla bean pod and refrigerate mixture for 1 hour, or until cool.
In a small saucepan, dissolve sugar in water, and add the star anise.  Bring to a gentle boil and cook for 5 minutes to create a thin syrup.  Peel the grapefruits and remove their segments, placing in a medium bowl.  Squeeze any excess grapefruit juice into bowl as well.  Add the star anise syrup to the grapefruit mixture and set aside.
Heat a 1/2 inch of canola oil in a large saucepan over medium-low heat.  When oil is hot, form the fregola pudding into 5 patties about 3 inches in diameter and 1 inch thick, and gently fry for 5 minutes on each side, until golden brown.  Fregola mixture should stay firmly together when formed into patties by hand.  Drain fritters on a paper towel and serve warm, with the grapefruit compote served on the side.
0