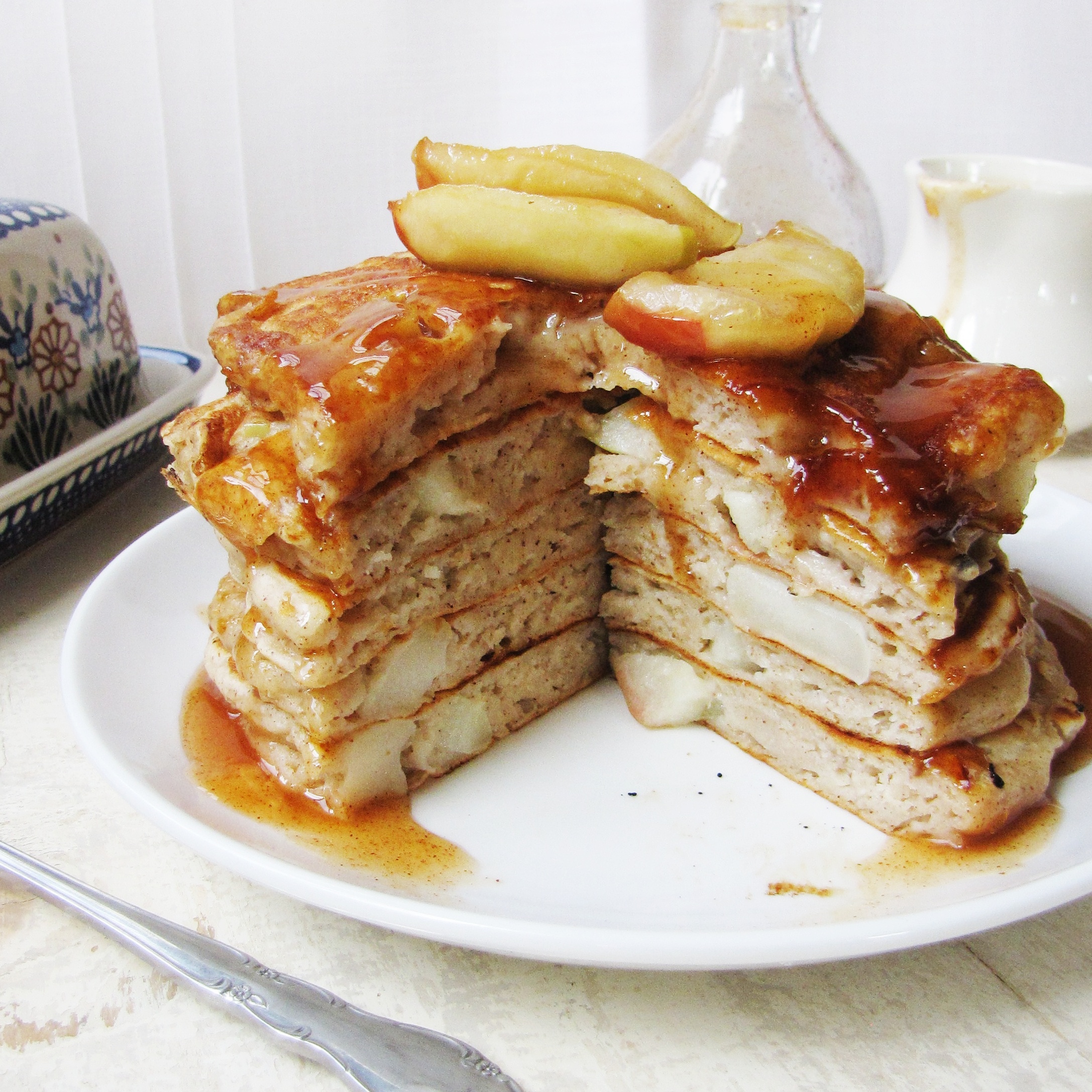 Because I spent most of last weekend at the office, I took Tuesday as a comp day to try and make up for the beautiful fall weather we had on Saturday and Sunday.  As soon as I had decided that, yes, I really was going to take my first day off of work, my mind immediately started buzzing with all the things I wanted to do to make the most of it.  Sometimes, this can be a bit of a mental trap for me, as I get so bogged down in the planning and the anticipation that I forget to enjoy the actual doing.  This time, though, it worked out great – I knew exactly what I wanted to do when I fell asleep Monday night, the weather was supposed to be beautiful, I hadn't tried to pack too much into one day, and so Tuesday morning, I just got up and did it.  And it was great.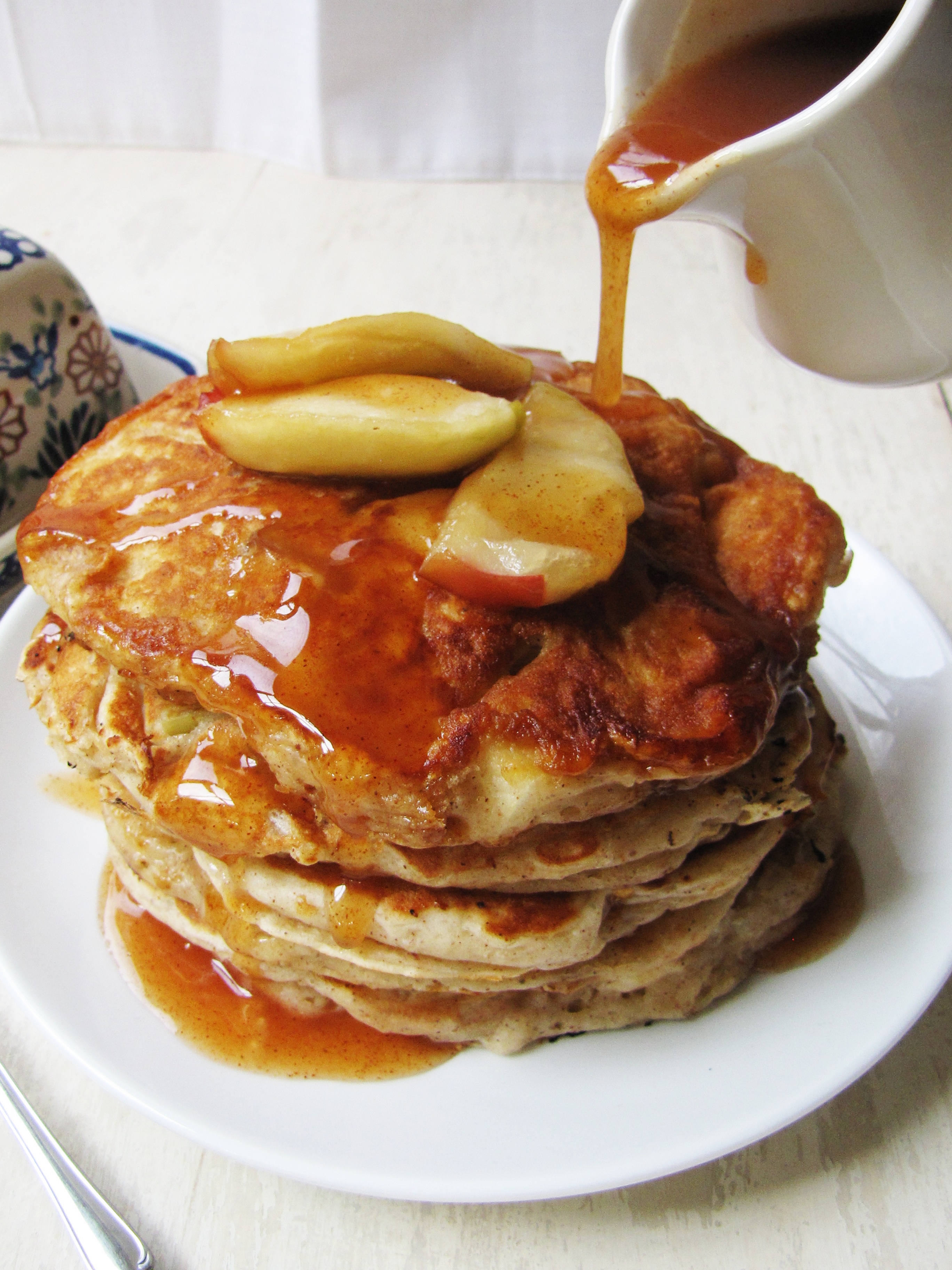 I knew that to be as awesome as I wanted it to be, my day off would have to involve several things: one, being outside as much as possible; two, delicious food, preferably homemade; three, Trevor, because how good can a day be without a little flirtation; and four, my family, because I really do think that a significant portion of my best memories are just of sitting around the kitchen table with my family, drinking red wine, eating hearty meals, and laughing hysterically.  The solution to all these requirements ended up coming in a single form: apples.  Apple pancakes in the morning, apple picking with Trevor in the afternoon, and apple crisp with my family at night.  Given how many apples I ate yesterday, the doctor should be away for quite some time.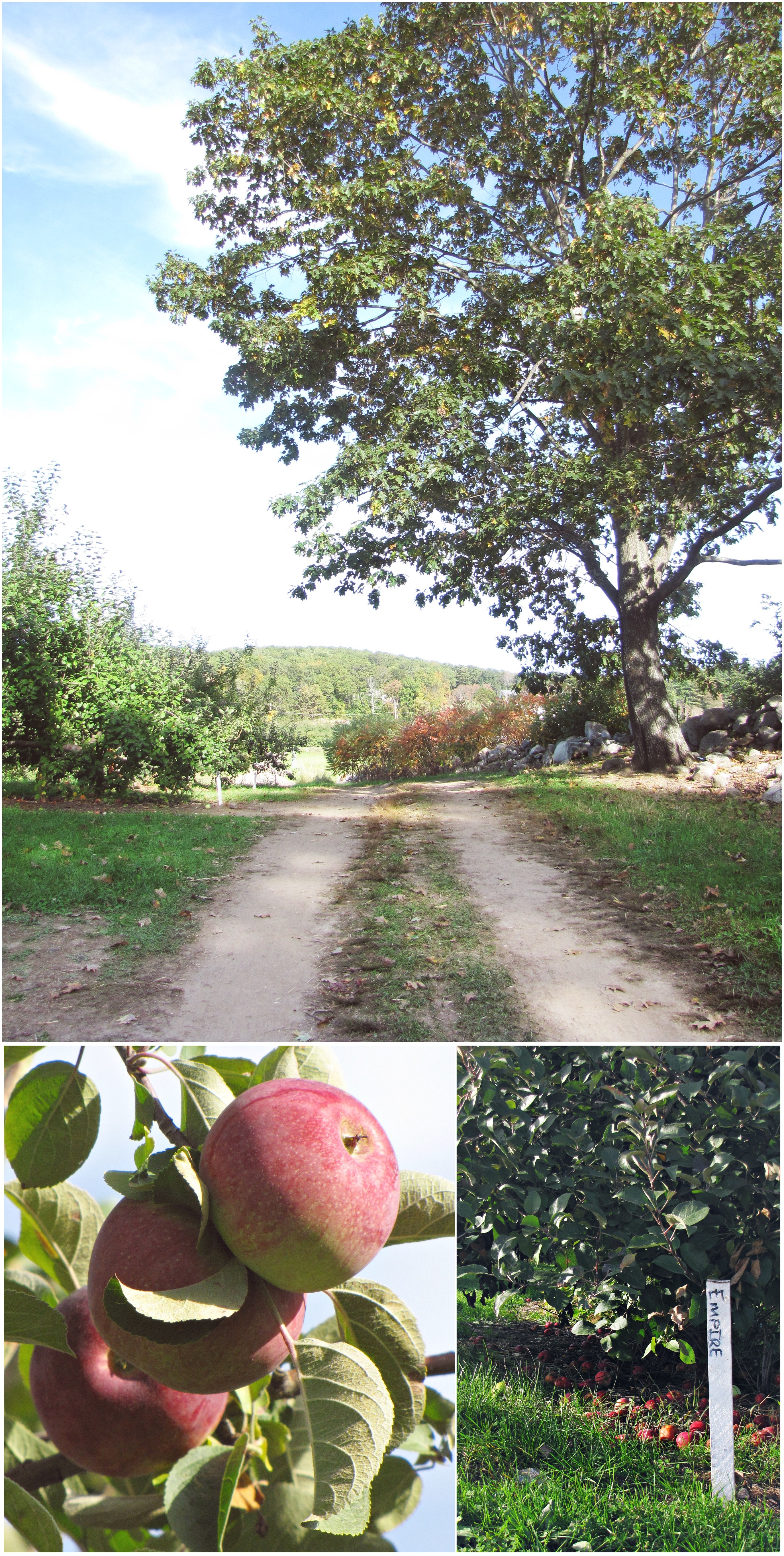 Apple picking is one of my favorite fall activities.  It's outside, it's a quintessential New England thing, it's wholesome, and it involves food.  I grew up going to Smolak Farms, and driving around the corner of the orchard and looking down the hill at the lake and the pumpkin patch and the farmhouse fills me with this great surge of childish excitement.  Trevor and I spent two hours picking almost every kind of apple they had – we must have eaten at least 6 just while walking around.  We decided that apples are truly best just off the tree because they're at the perfect temperature – refrigerated apples are so cold they hurt your teeth, apples left in your backpack all day are kind of warm and mealy, but just off the tree they have just the right amount of cool crispness.  God, they were so good.  When our bag was packed so full that I may have had to sneak an extra apple into my purse (it would have just rotted on the ground otherwise!) and we had chased some wild turkeys and climbed a few trees, it was time for the real reason for our visit – eating cider donuts.  Because cider donuts are possibly my favorite food groups.  And I still have one left over for breakfast tomorrow.  Win.  After that we headed back to my house for spaghetti with pepper sauce, salad, red wine, and hot apple crisp.  The day was as perfect and fulfilling as I'd wanted it to be, and I fell asleep happy and refreshed.  And very full.
Now let's get back to breakfast.  I'm really picky about my pancakes – I hardly ever like them at diners, I refuse to eat them if they're made from a mix, and I think fake maple syrup is inedible.  It's probably because I grew up with my dad making awesome pancakes fairly frequently – he has a recipe, and he has it down, and now I'm just used to the best.  I like my pancakes thick and a little bit tangy – buttermilk is a must – usually with some blueberries or other fruit in them.  I've tried a lot of different recipes, and so far only one has been up to my standards.  It uses buttermilk and a smidge of sour cream, and the result is super flavorful, super moist pancakes.  I adapted it here with some fall-ish spices and chunks of fresh apples, then served them with boiled apple cider syrup and apple slices cooked in caramel.  They.  Were.  Heavenly.  Exactly what I wanted, and then some.  If moist, tangy pancakes and apples and deliciousness are your thing, try these the next time you want to have an awesome day, or celebrate fall, or go to work late, or all of the above.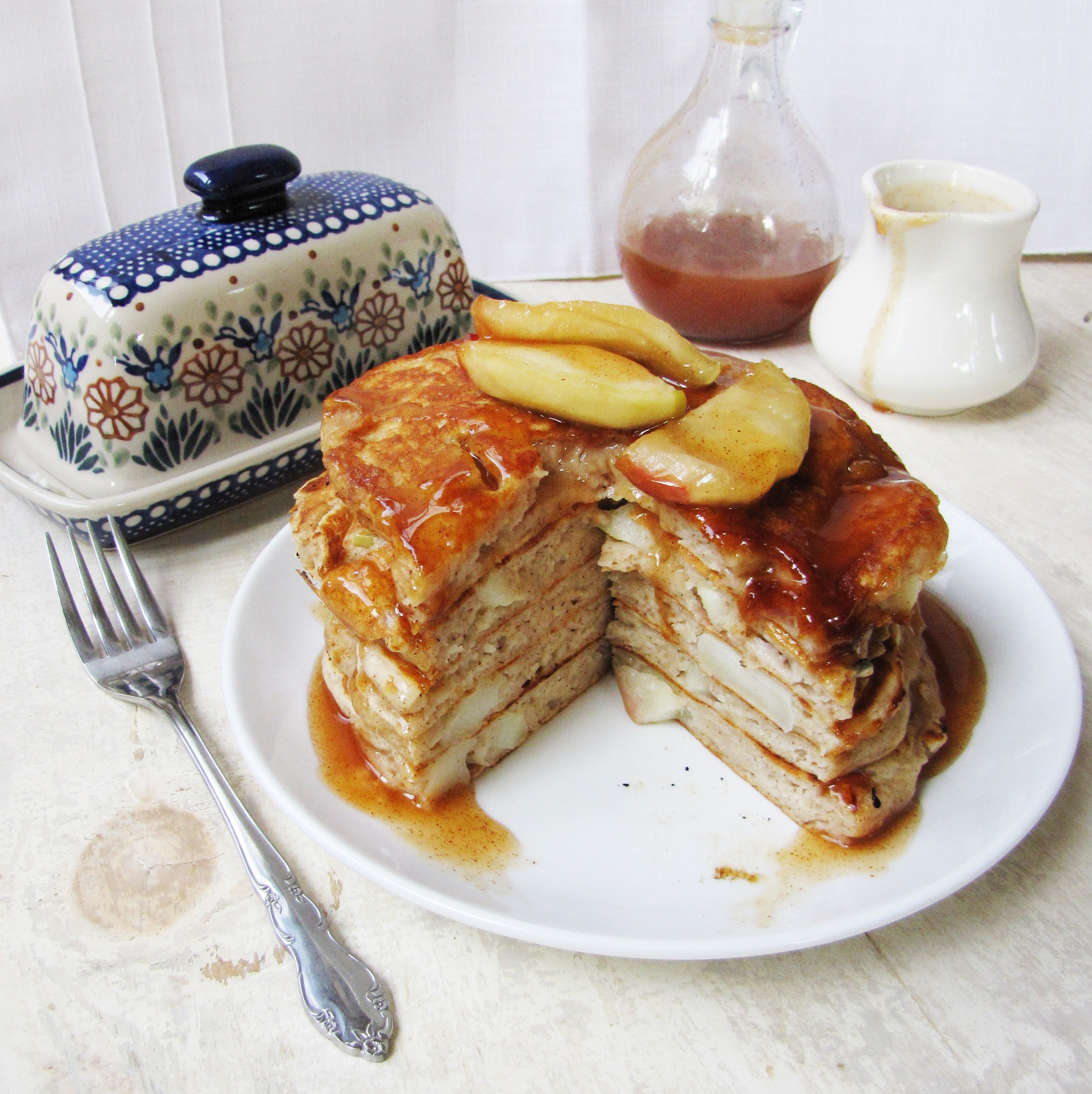 Apple Buttermilk Pancakes with Cider Syrup
Pancakes adapted from Brown-Eyed Baker.  Makes 6-8 pancakes.
2 c. flour
2 TBS sugar
1 tsp baking powder
1/2 tsp baking soda
1/2 tsp salt
1 tsp cinnamon
1/2 tsp nutmeg
1/4 tsp allspice
2 c. buttermilk
1/4 c. sour cream
2 eggs
4 TBS butter, melted and slightly cooled
2 apples, peeled and cut into 1/2 in. chunks
1/2 c. sugar
1 tsp cornstarch
1 tsp cinnamon
1 c. apple cider
Mix flour, sugar, baking powder, baking soda, salt, and spices together until thoroughly combined.  In a separate bowl, gently beat eggs, then add buttermilk, sour cream, and melted butter, and mix until just combined.  Do not overmix.  Add wet ingredients to dry, and mix gently until batter is evenly moist, but still slightly lumpy.  Do not beat or overmix, as that will toughen your pancakes.  Add apple chunks, stir to distribute throughout batter, then let batter sit, undisturbed, for 10-20 minutes.
Heat a frying pan or on a griddle over medium-low heat.  Wait 3-5 minutes for pan to heat up – pan is ready when a drop of water flicked at the pan sizzles and evaporates within 2 seconds of being dropped on the pan.  Add 1/2 c. pancake batter to pan/griddle, and let cook for ~3 minutes – pancakes are usually ready to flip when the top side begins to have tiny air bubbles that burst.  Carefully flip, and cook until golden brown on both sides.  Repeat with remaining pancakes.  Serve hot, with syrup!
Cider syrup:  mix cornstarch with a small amount of the cider until it is fully dissolved, then mix all remaining ingredients in a saucepan.  Heat over medium heat, stirring frequently, until syrup has thickened to the desired consistency.  If you like a thick syrup, use 2 tsp cornstarch.  Store leftover syrup in fridge.