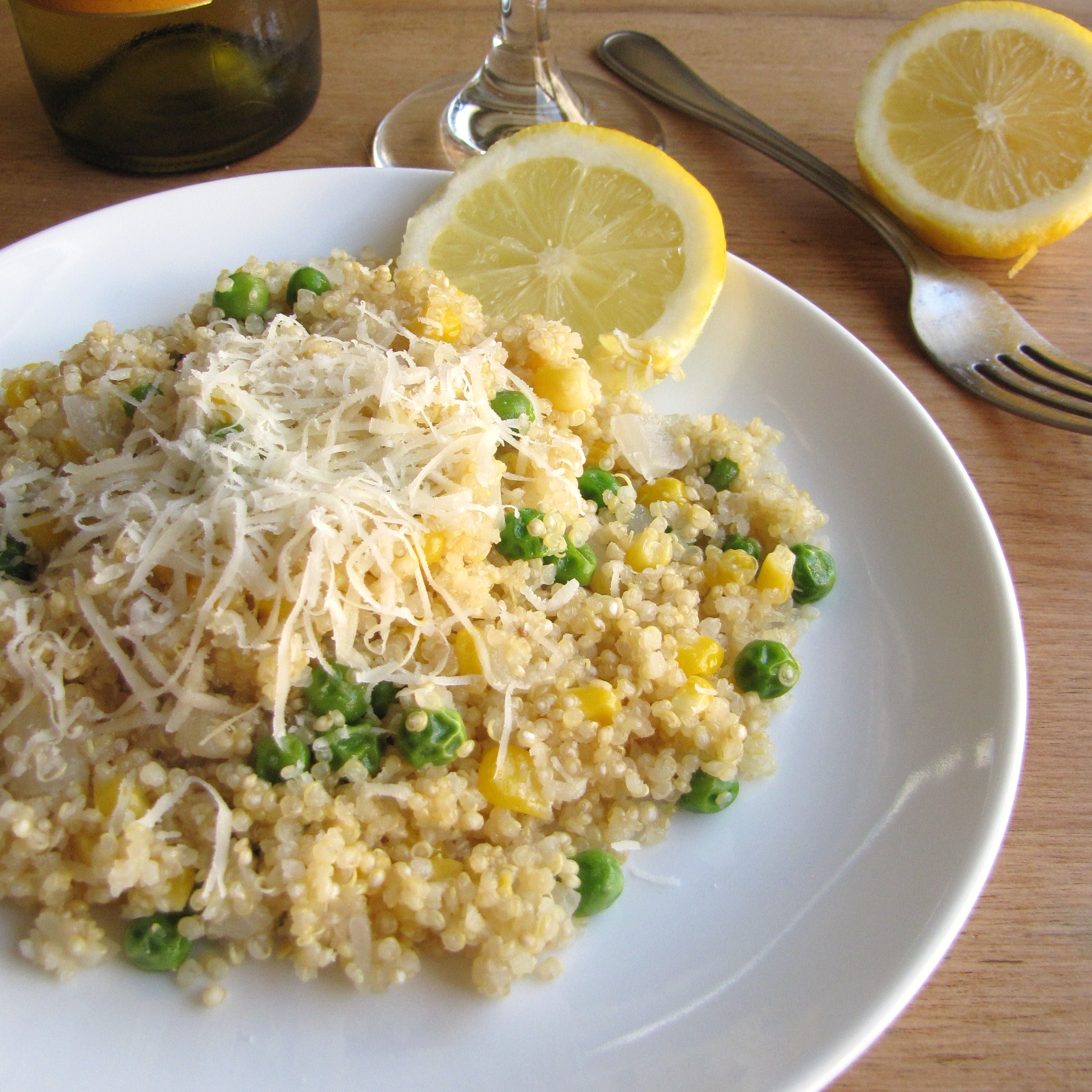 So yesterday I took my last college final.  And I'm not really sure I'm ready to go into all the weirdness and emotion and excitement and out-of-character behavior that seems to be going hand in hand with all this … endness.  All this time I couldn't wait to get out into the real world and now I desperately want to stay.  Emotions are running rampant.  We'll talk more when things calm down.
Even though I'm not ready for the goodbyes, and the moving, and the "what nows," I am ready to start cleaning out the freezer.  And the pantry.  And the other pantry.  Seriously, between the lamb, chicken, meatballs, beef, veggies, broths, and pizza dough in the freezer, apples, oranges, rhubarb, cabbages, and potatoes in the fridge, and pounds of beans, tomatoes, canned olives, dried fruits, flours, and grains in the pantry, I could probably survive for at least 8 months.  Actually.  I'm not sure how I've managed to accumulate such a large amount of extra food in the 16 months that I've lived here [that's not true, I know exactly how it happened], but I am sure that it's going to be tough to find anyone who wants my half-used bottles of vinegar and bags of beans after I graduate.  So, until I move out in 15 days, no more groceries, except essential dairy products and fresh produce.  (N.B. Chocolate falls firmly into the dairy category).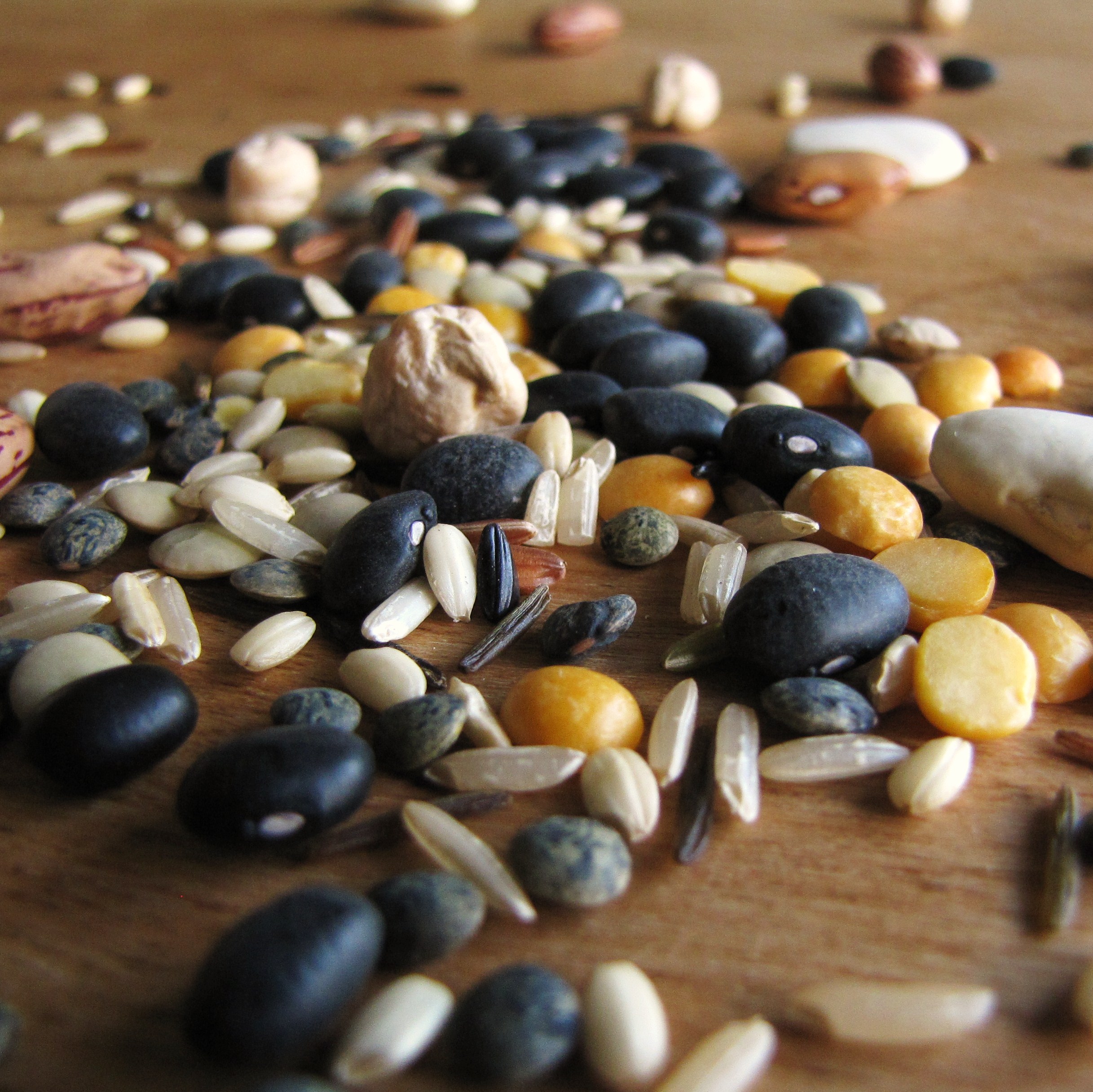 Using up the odds and ends that I have might stretch my culinary creativity a bit, but hopefully it will result in at least a few good meals.  Luckily, about half of the brainpower I've been using all semester on school and learning and stuff has been returned to me and is available for kitchen inventiveness.  As for the remainder of my brain, one quarter has been absorbed by emotional instability and I'm pretty sure the last quarter is on vacation.  Either that or it's permanently gone.  Anyway.  To start out, I made a corn broth quinoa risotto, which kicked some frozen veggies, a cup of quinoa, and those corn cobs I tossed in my freezer last summer thinking I would be dying for fresh corn broth at some point this winter.  Whatever, Katie.  So maybe it's a bit of a stretch to call it a risotto, but it worked fairly well, I ate the leftovers (always a sign of a good recipe), and it didn't require any ingredients not already hanging around.  The corn broth itself is really interesting (in a good way), and I could see it working as the base for a lot of different recipes.  It has a strong corn essence, but not in the sweet way I expected – it's more of a starchy, nutty corniness.  Topped with some fresh parmesan and a sprinkle of lemon juice, this is a quick and light weeknight dinner.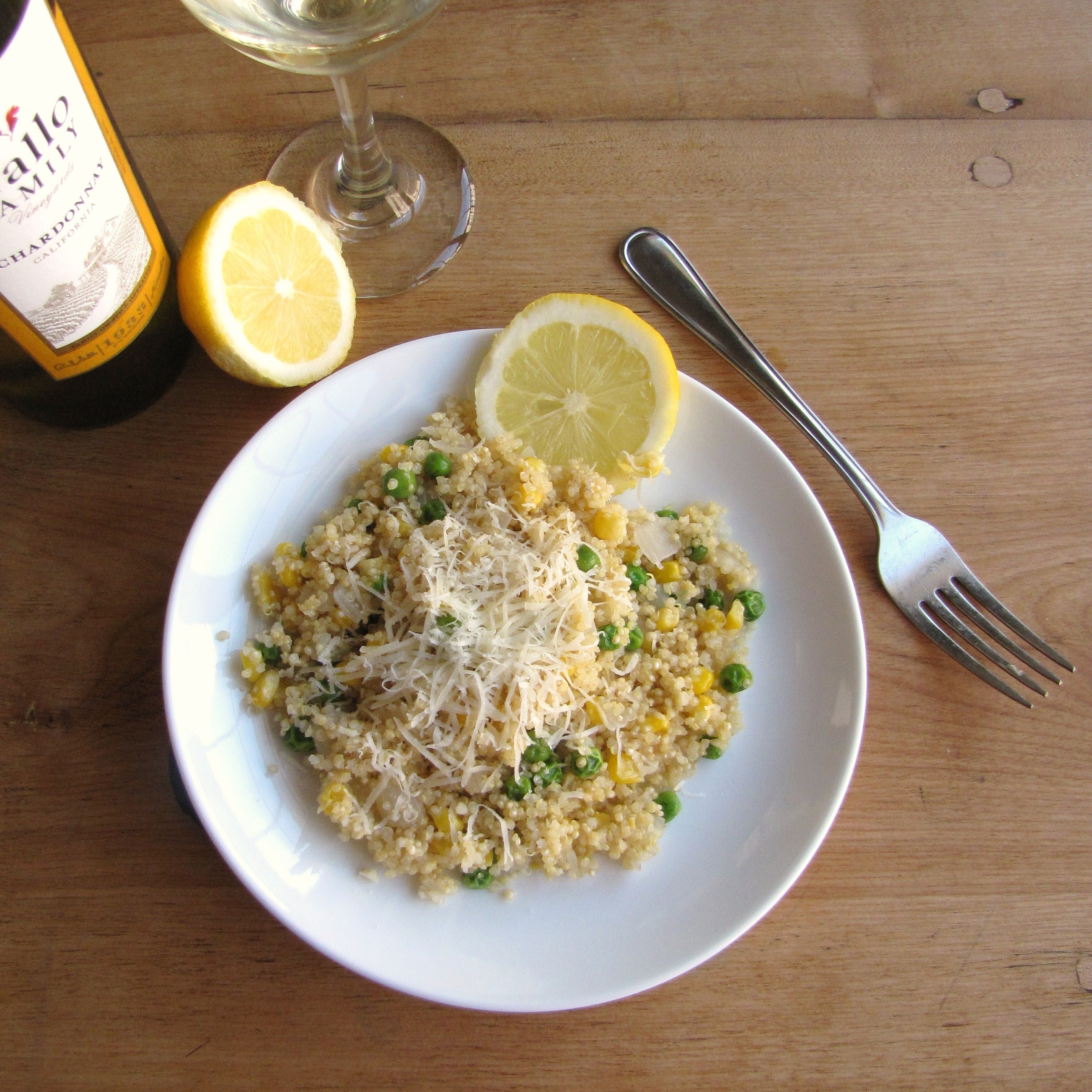 Corn Broth Quinoa Risotto
Serves 2-3.  Original recipe.
2/3 c. quinoa
1 c. corn broth (recipe below) or vegetable broth
2/3 c. dry white wine
1 TBS butter
1/2 onion, diced
5 cloves garlic, minced
2/3 c. frozen corn and peas
1/2 c. packed grated parmesan cheese, plus more for topping
1/2 lemon, for dressing
salt and pepper to taste
In a large dutch oven, melt butter over medium heat.  Sautee onion in butter for 3-4 minutes, then add minced garlic and cook for a minute longer.  Add quinoa to pan and toast, stirring frequently, for another 3-4 minutes.  Add corn broth, bring mixture to a simmer, and allow to cook for 8 minutes, until most of the broth is absorbed.  Add wine and continue to cook quinoa, stirring frequently, until all of the liquid is absorbed and the quinoa is tender (the "tails" will unfurl when the quinoa is done).
Add the frozen vegetables and cook until heated through, about 2 minutes.  Remove from heat and stir in parmesan cheese until fully melted.  Serve warm with extra parmesan or feta, a squeeze of lemon juice, and a sprinkling of salt and pepper.
Corn Broth
Makes about 4 cups
6 ears of corn, kernels removed and used elsewhere
8 c. water
several sprigs of fresh herbs – I used rosemary
salt and pepper to taste
In a large stockpot, place corn cobs and water and bring to a boil.  Water should fully cover cobs – add more than 8 c. if necessary.  Add herbs and reduce heat to bring stock to a simmer.  Cook for about an hour, checking and stirring frequently, until the stock has a translucent yellow color and a corny flavor.  Remove from heat and strain into a clean container.  If desired, cook stock down further to intensify flavor.  Once flavor is as desired, season with salt and pepper.  Store in an airtight container in the fridge for 4-5 days, or the freezer indefinitely.
0