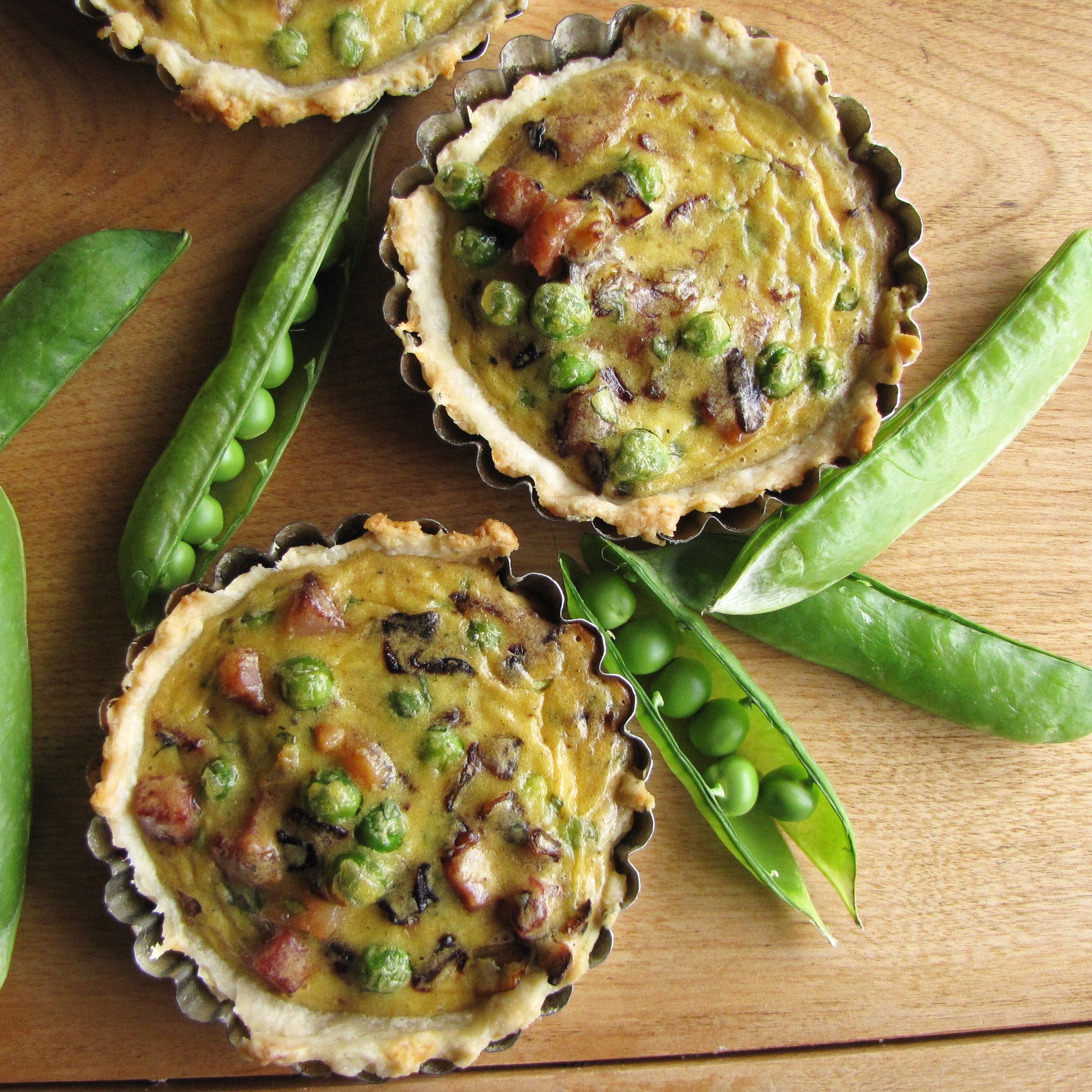 I know, I know, we're closer to graduation than to spring break (ha! can you believe that?!), but I wanted to talk about the final component of my alternative spring break "food and farming" trip – the farming.  To be honest, I signed up for this trip mostly for the food part, and a little bit because I thought it would be nice to spend a few days out in the sun, doing a little honest work.  However, the farming component of this trip left me more inspired than all the scrumptious food and inspiring chefs combined.  Maybe because it's a newer concept for me than cooking.  Maybe because I'll never be able to kick that nurturing urge that extends even to tiny green things growing in a shoebox on my windowsill.  Or maybe because I have this hazy, completely idealized, rosy image of myself waking up early to collect eggs and milk the cow, working in the dirt all day, and sleeping the way you only can after a hard day's work.  Whatever the reason, this trip got me excited.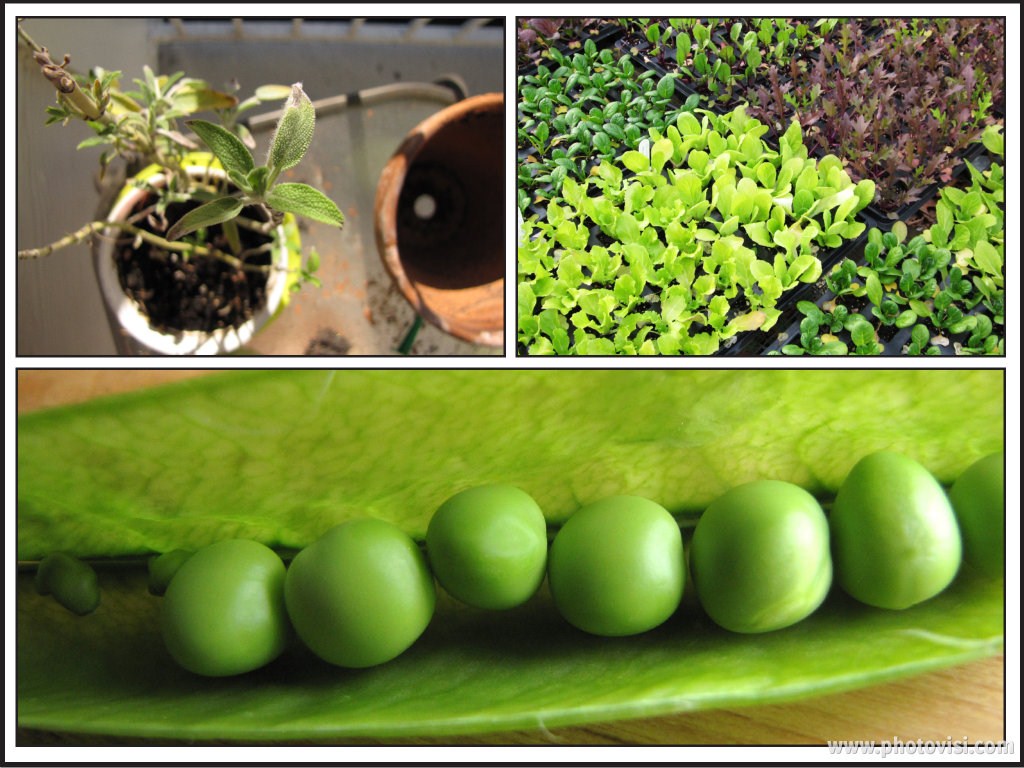 Over the course of the four day trip we visited three farms and Durham's community garden, SEEDS.  On Monday we spent the morning at Prodigal Farm, a goat farm run by Kathryn and Dave, ex-New Yorkers who recently decided to follow their dreams back down South.  Kathryn's story resonated particularly well with me – a Duke graduate and practicing lawyer for 15 years, she gave that world up to live in rural North Carolina with Dave and their goats.  Now she spends her time caring for the goats (who live in an old school bus!), whipping up fresh goat cheese cheesecakes, and restoring the old farm they bought.  Oh, and taking on the Plum Island center for biological warfare research when they wanted to start a mainland operation and chasing them out of Durham, NBD.  While at Prodigal Farm, we ASB-ers played with the goats, who were surprisingly friendly and didn't try to eat any of my belongings – I guess that's only the unloved goats at petting zoos – and then spent an hour helping Dave to clear trees.  It's amazing how much land you can clear in an hour with 20 college kids trying to earn their lunch – I kept thinking about how much my dad would love it.  Then Dave and Kathryn treated us to an incredible lunch of fresh goat cheese, jerusalem artichokes just pulled from the ground, okra pudding and … roasted goat leg.  Which was incredibly tender, delicious, and not at all what I expected.  Yes, it was a little bit odd at first to eat goat while simultaneously watching goats frolic, but after getting over the initial uncomfortableness, it was the coolest experience, being able to actually see the source of each food we were eating.  Inspiration, part one.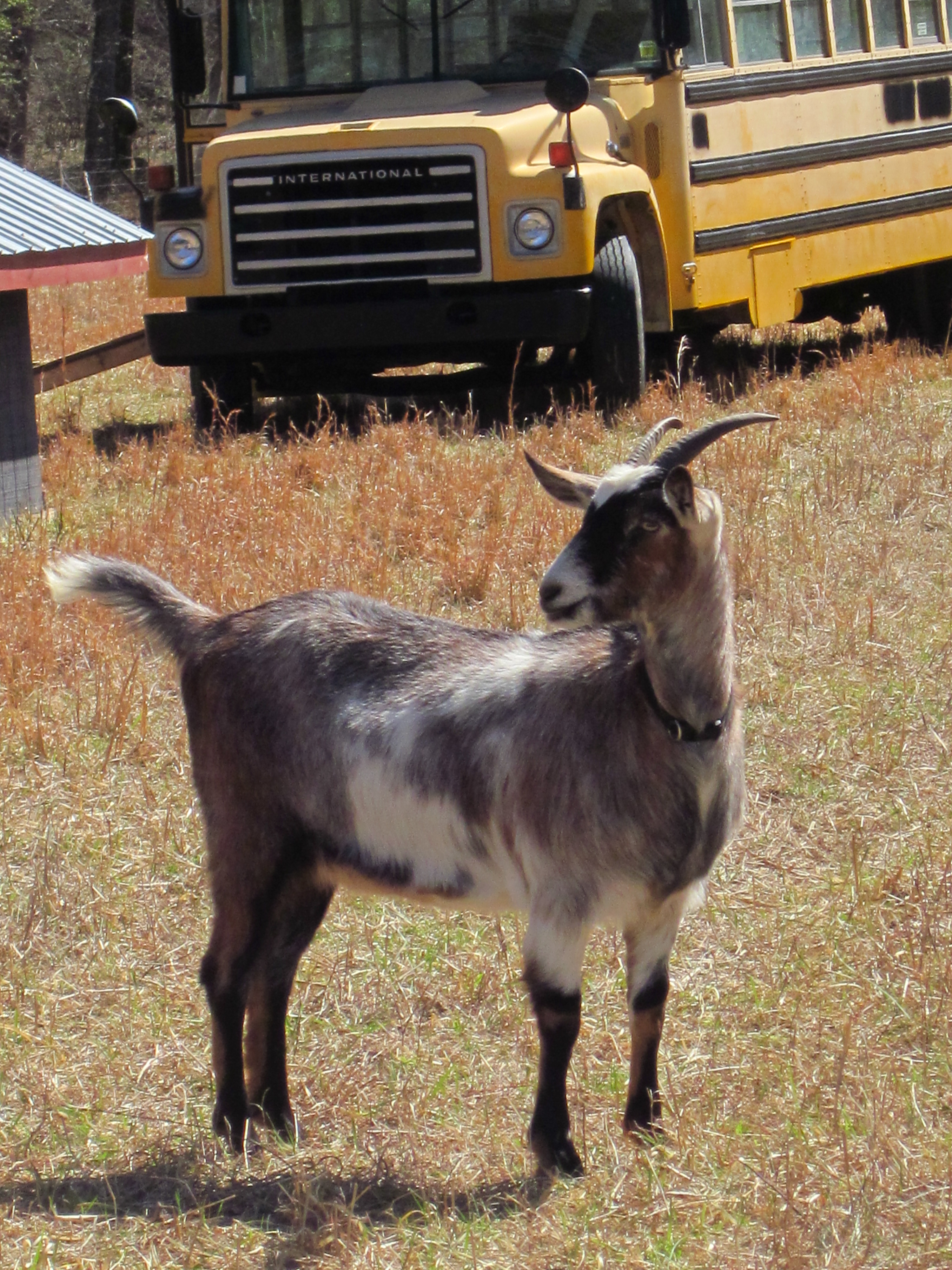 Later that afternoon we headed to Four Leaf Farms, where Tim and Helga run the neatest, most organized little operation I've ever seen.  On the very small plot of land surrounding their house, they grow enough produce to supply Watt's Grocery, themselves, and several farmer's markets, raise chickens, grow mushrooms in the woods, and even have a kiwi tree. (Who knew that kiwis grew in North Carolina?!)  I was amazed with how well they used the little bit of space that they had – I'm not sure I've ever been in such a supremely well organized place in my life – and standing in the greenhouse I was a little bit in awe of the rows and rows of green thriving in the middle of March.  More than anything, I think being at Tim and Helga's gave us all the sense of "Hey, I could do this…"  I don't think anyone's dropped out of school to start a farm since break yet, but you never know.
Tuesday morning we spent 2 hours at SEEDS, Durham's community garden.  SEEDS is a well-established, well-loved piece of Durham culture, where high-school students can work to grow and sell their own produce, younger children can attend day camp, and anyone who would like to can sign-up for their very own plot in which to grow their own vegetables, herbs, and flowers.  While at SEEDS we got some of our energy out digging out the bermuda grass from a new plot [side note: google has revealed to me that Jamaica grass – an energy drink that I'm pretty sure has marijuana in it – is not the same thing as Bermuda grass] and helping to sort the compost.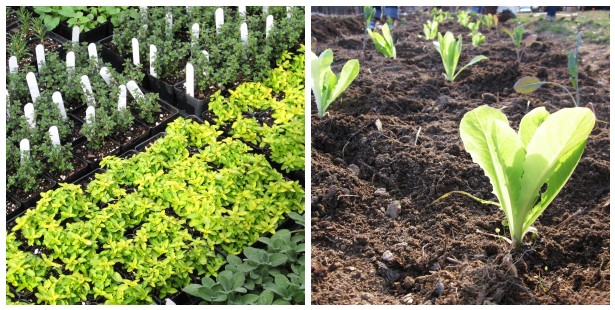 From SEEDS we headed to the newly established Duke Campus Farm, the reason behind this whole trip.  On 12 acres of old tobacco land in the Duke forest, several Duke students are farming a 1-acre pilot plot, new this year.  Duke dining services has agreed to buy all of the produce, and dreams for the farm are big, but there's a lot of work that goes into creating a farm-able area before you get to the harvesting part.  On the two days that we were there, we helped build an 8-foot tall deer fence around the plot, hoed the soil into rows, shoveled manure, and finally, as the sun was setting on the last day of the trip, got to plant the first baby lettuces and kales.  I wish that the farm had gotten started when I was a freshman, as it's something that I'd love to be involved in, but I'm glad that it exists now and I hope that it succeeds.
Since all this farming business ended, I've been a little bit obsessed.  The night after going to Tim and Helga's farm I went to Kroger and got three packs of seeds and a bag of potting soil.  I now have four sage plants, four lettuce plants, and four basil plants that I am absurdly happy about.  Sometimes Megan finds me sitting on the windowsill in the morning, literally just watching the plants, and she has to remind me how weird I am.  I've also been devouring books like "The Dirty Life," and one of my classmates caught me looking up how to grow asparagus in the middle of class, at which point he had to remind me that I am, in fact, a 21 year old college student and not yet a farmer.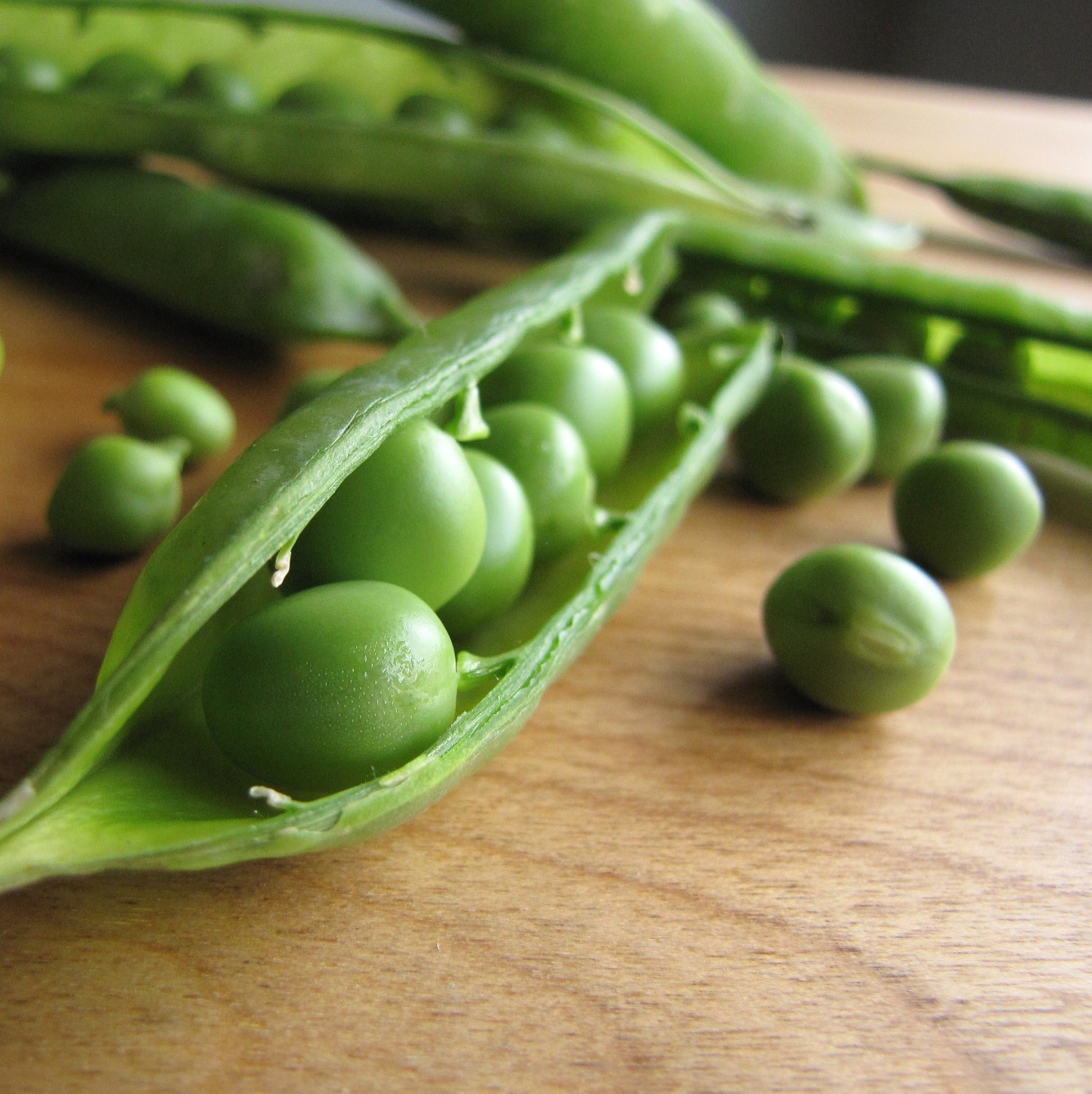 To go along with all this springtime greenery, farm-ness, and inspiration, I baked these pea, pancetta and chevre tartlets, inspired by a recipe I've been eyeing in Sarah Banbery's "Tarts," for over a year now.  The fresh peas are the essence of spring, the goat cheese brought me back to lunch at Prodigal Farm, and the pancetta… well, pancetta just makes everything better.  These were delicious – light and creamy filling with bites of salty pancetta and sweet peas, and a flaky crust flecked with parmesan.  A little indulgent, but one or two makes a perfect Saturday afternoon lunch.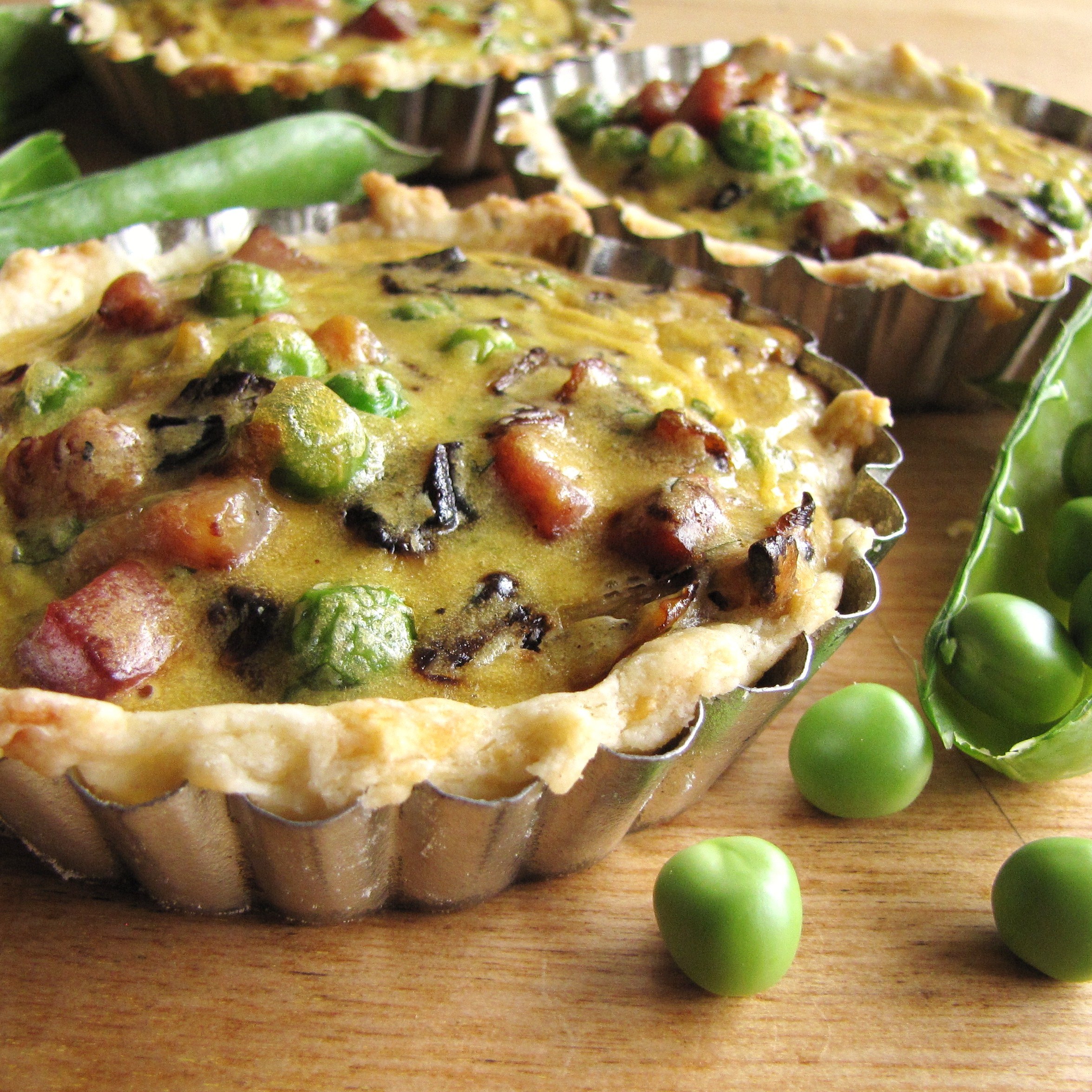 Pea, Pancetta, and Chevre Tartlets
Inspired by Tarts.  Makes 4 tartlets.
For the crust (makes enough for 6-7 tartlets, freeze extras)

3/4 c. flour
1/4 tsp. salt
5 TBS cold butter, cut into small pieces
1/4 c. finely grated parmesan cheese, packed
2-3 TBS very cold water
For the filling
1/2 c. fresh peas, from 1/2 lb. peapods
1 TBS butter
2 shallots, peeled and finely diced
3 oz. pancetta, cubed
2 TBS finely minced fresh basil
3 oz. goat cheese
4 egg yolks
pepper to taste
Grease four 3″ tartlet pans (I used pam and the tarts came out really easily).  Set aside.  In a medium bowl, sift together flour and salt.  Cut in cold butter, using a fork or pastry cutter to mash mixture until a crumbly dough is formed.  Add parmesan cheese, mix to combine.  Add water a tablespoon at a time, stirring between additions, until dough just comes together.  Set bowl in freezer for 5 minutes to firm up.
Divide dough into 6 or 7 equally sized lumps.  Stick the extra two or 3 into the freezer for next time!  Or make double the filling.  On a floured surface, roll out into a circle, and press into tartlet pans. Trim excess dough from edges, crimping as you go.  Put tartlet pans in freezer for 5 minutes.  Preheat the oven to 400°F.
Bring a small pot of salted water to a boil.  Add peas and cook for two minutes, until bright green and just tender, then drain and rinse under cold water.  Set aside.
Remove tartlet pans from freezer, and place on a baking tray.  Cut a circle of parchment paper to fit inside each tartlet pan, and cover with pie beans or rice to keep the crust from bubbling.  Blind bake the crust for 8 minutes.
In a medium frying pan, melt the tablespoon of butter over medium heat.  Add the shallots and cook until translucent, about 5 minutes.  Add the pancetta and cook until brown all over and shallots are caramelized, about 5 minutes more.  Add peas to warm for 30 seconds.  Remove from heat.
In a medium bowl, mix together egg yolks, goat cheese, and minced basil until smooth.  Add pea-pancetta-shallot mixture and season with pepper.  Divide filling evenly among four tarts, and bake for 12 minutes, until set.  Serve warm.