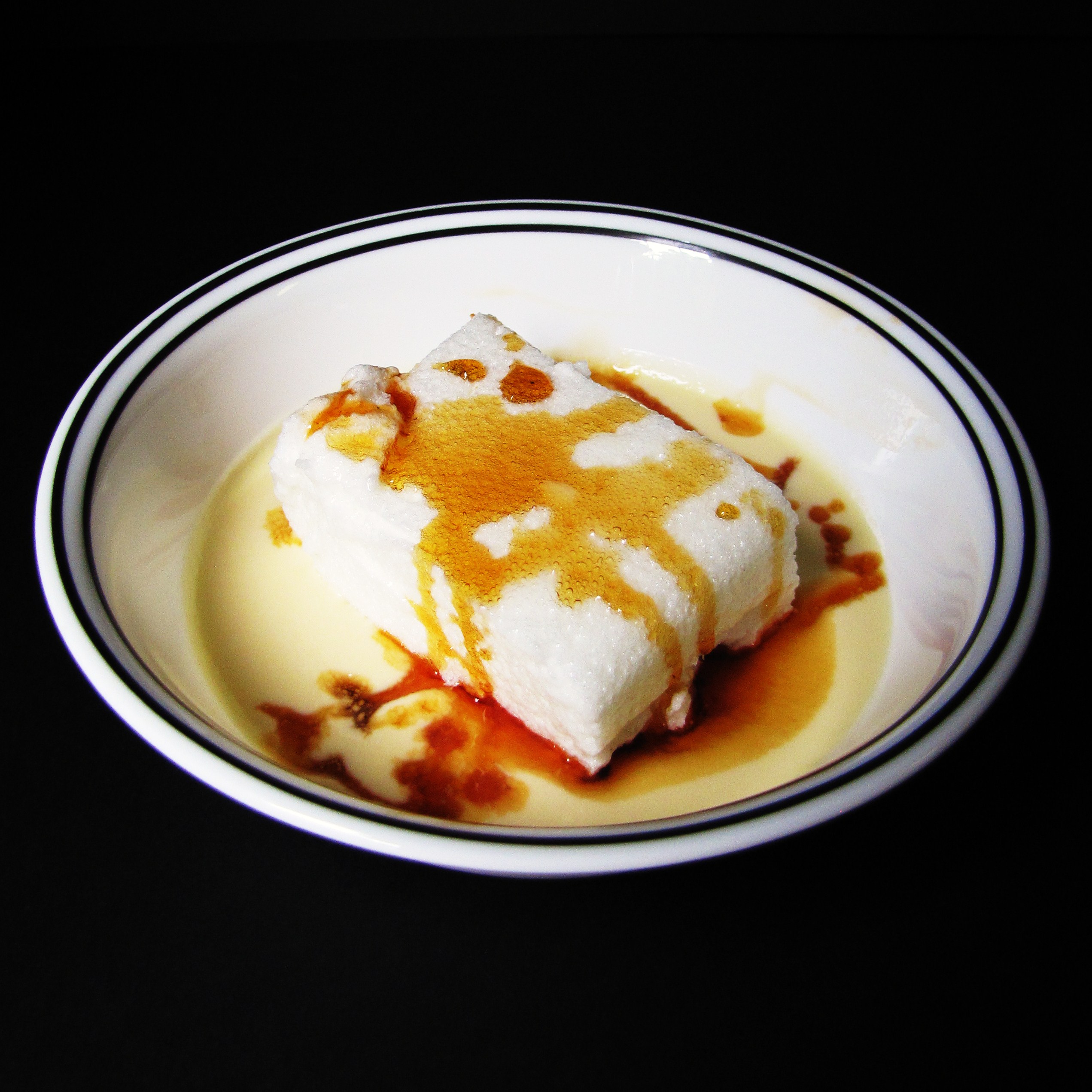 Monday (yes, I know, today is Saturday, it's been a long, long 4 day week), was our anniversary.  Our second anniversary to be exact.  Except it's not very exact really, as we sort of picked it arbitrarily.  What with today's dating ambiguities, does anyone have a real anniversary?  Probably lots of people, but shhh.
For our anniversary we cooked and ate and drank, duh.  That's what we do best.  Dinner was just a simple tomato sauce and linguini, but dessert, dessert was special.  It was so special in fact that we ate it before dinner, then again for breakfast the next morning, and then again for dinner the next night, reaping many, many health benefits along the way.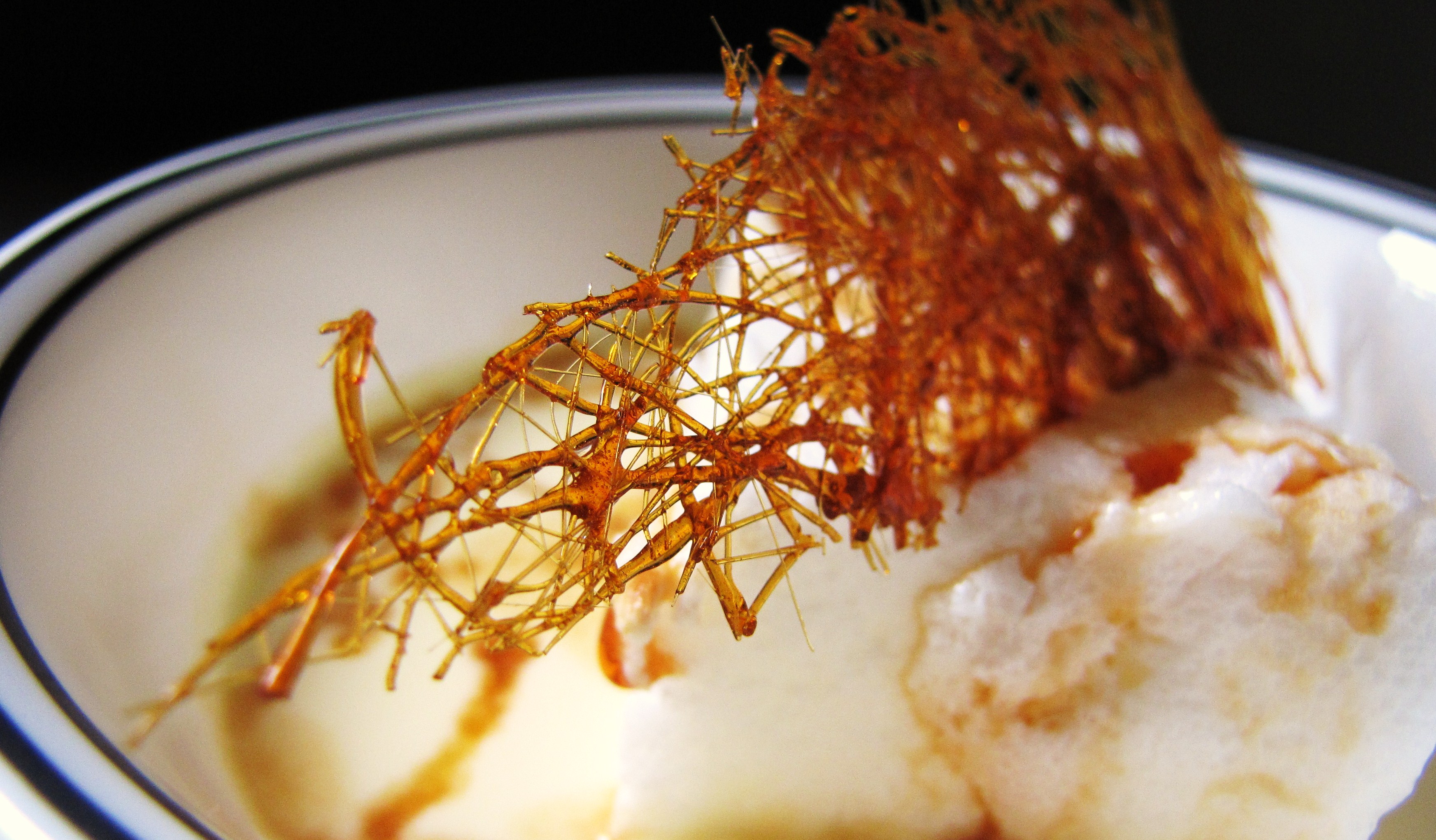 Do you recognize that floaty, creamy, caramel-y vision?  No?  Well, it's île flottante, it's trés parisienne, and it's heaven.
The reason île flottante was the dessert of choice, besides that it's incredibly delicious, is maybe a little bit cutesy and nostalgic, but I decided that that was OK because anniversaries are supposed to be just a little bit cutesy and nostalgic.  See, last May, Trevor and I spent two wonderful weeks in France.  (In hindsight, it was perhaps not the wisest financial choice for two 20 year old college students, but you've gotta do stuff like that when you're young, right?)  And, one night, we ate at a tiny restaurant down the street from our apartment, and we sat outside on the street and basked in the warm night air and drank red wine out of a carafe and our waiter was even very patient and spoke French to us the whole time. (I'm convinced he thought we were cute and naive, and also our French is not that bad…) and it was as romantic as they say it is.  When dessert rolled around, I ordered île flottante, and upon hearing that Trevor did not want anything, our waiter winked at us and said "Ah, avec deux cuillères."  And so we happily sat on the streetside in Paris, eating our floating meringue with two spoons.  D'aw.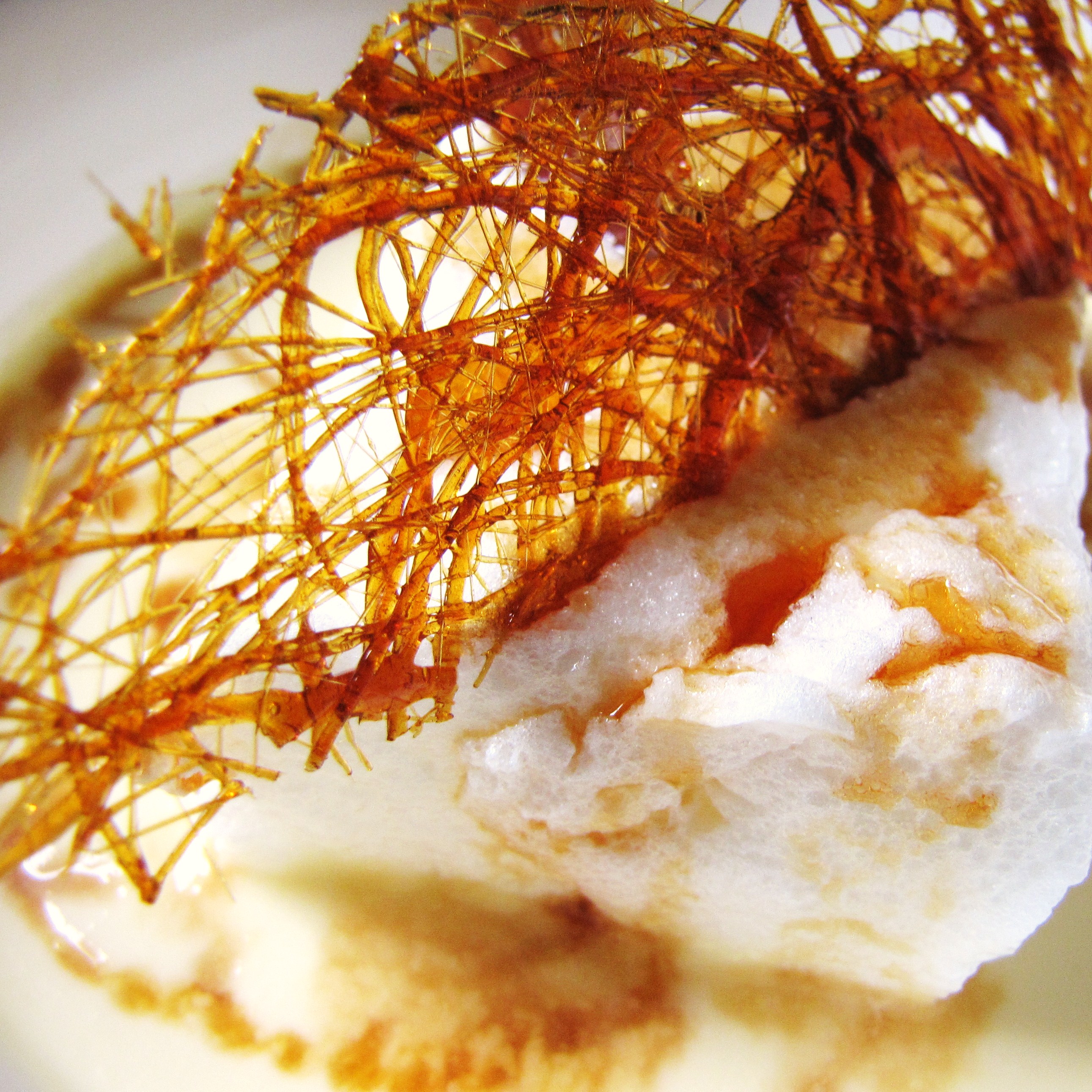 Île flottante has three main components – crème anglaise, meringue, and caramel sauce.  I usually play with my recipes, perhaps a bit too much sometimes, but this recipe, which comes from David Leibovitz's The Sweet Life in Paris, was a teeny bit intimidating, and I really wanted it to be perfect, so I followed it exactly.  And perfect it was.  If you will, let me wax poetic about it, just for a minute: imagine, cold, thick, custardy crème anglaise, with a heady vanilla scent and just a little bit of sweetness.  Now add the best meringue you've ever had, poached, rather than baked, eggy and a bit salty, and so tender that it literally dissolves in your mouth.  Finish with a deeply burnt caramel sauce, thin and the tiniest bit smoky.  So, so good.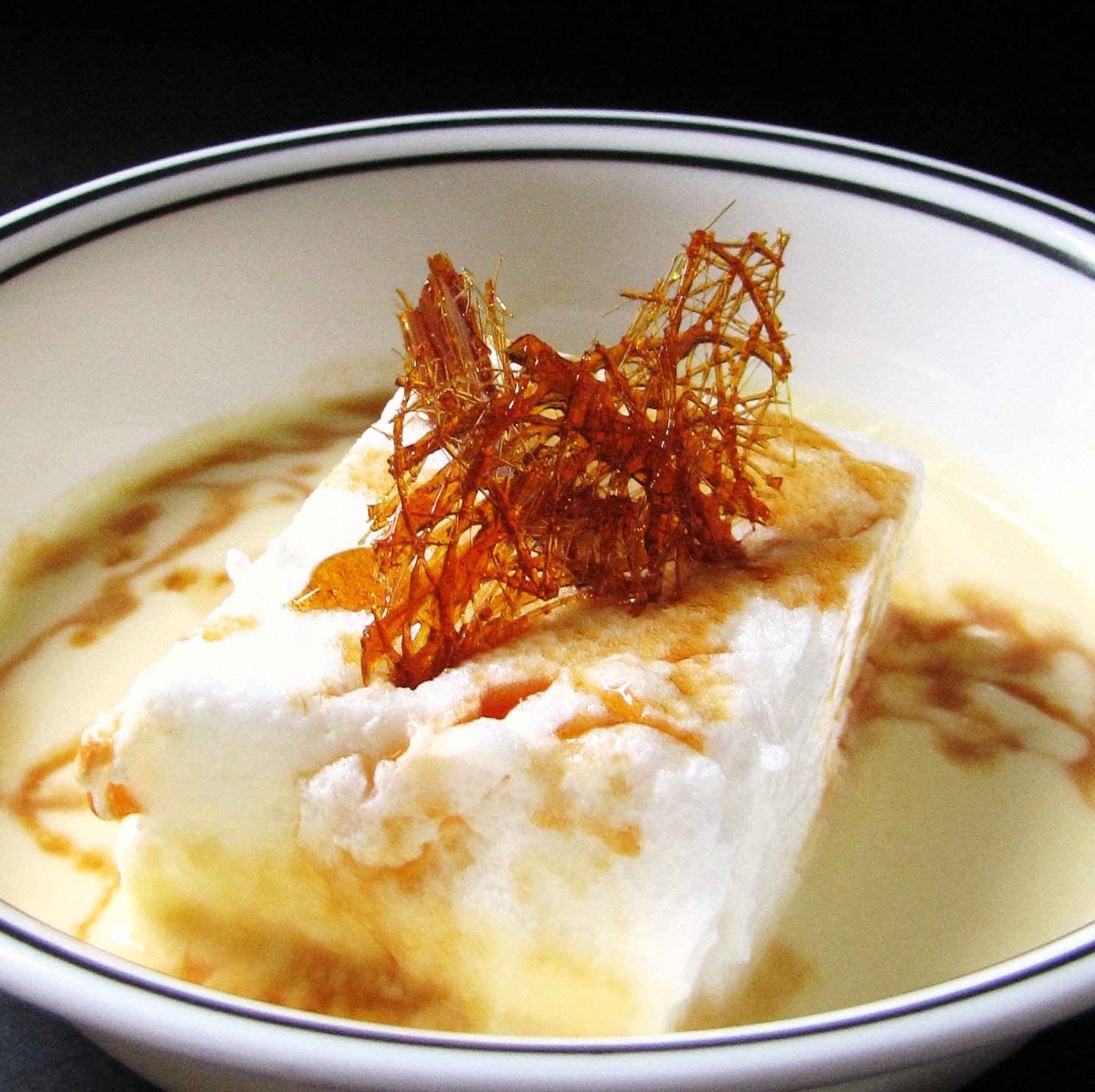 The only artistic license I took with it was actually not my doing, but Trevor's.  See those incredible spun sugar toppings?  Aren't they awesome?  Trevor rules.  Also they added the perfect burnt sugar crunch to the end product.  Just a note – if you decide to use them, which you should, especially if you want to impress someone – add them just before serving, as they begin to dissolve when they come into contact with moisture.
If I haven't convinced you to try this yet, let me add one last comment – it wasn't that hard.  Especially given how beautiful and delicious the final product was.  Plus, you can make all of the components ahead and the presentation won't suffer a bit.  So, really, please, try this.  And also read The Sweet Life in Paris if you like either food or chocolate or France at all.  And now I'll stop bossing you around and let you go on your way.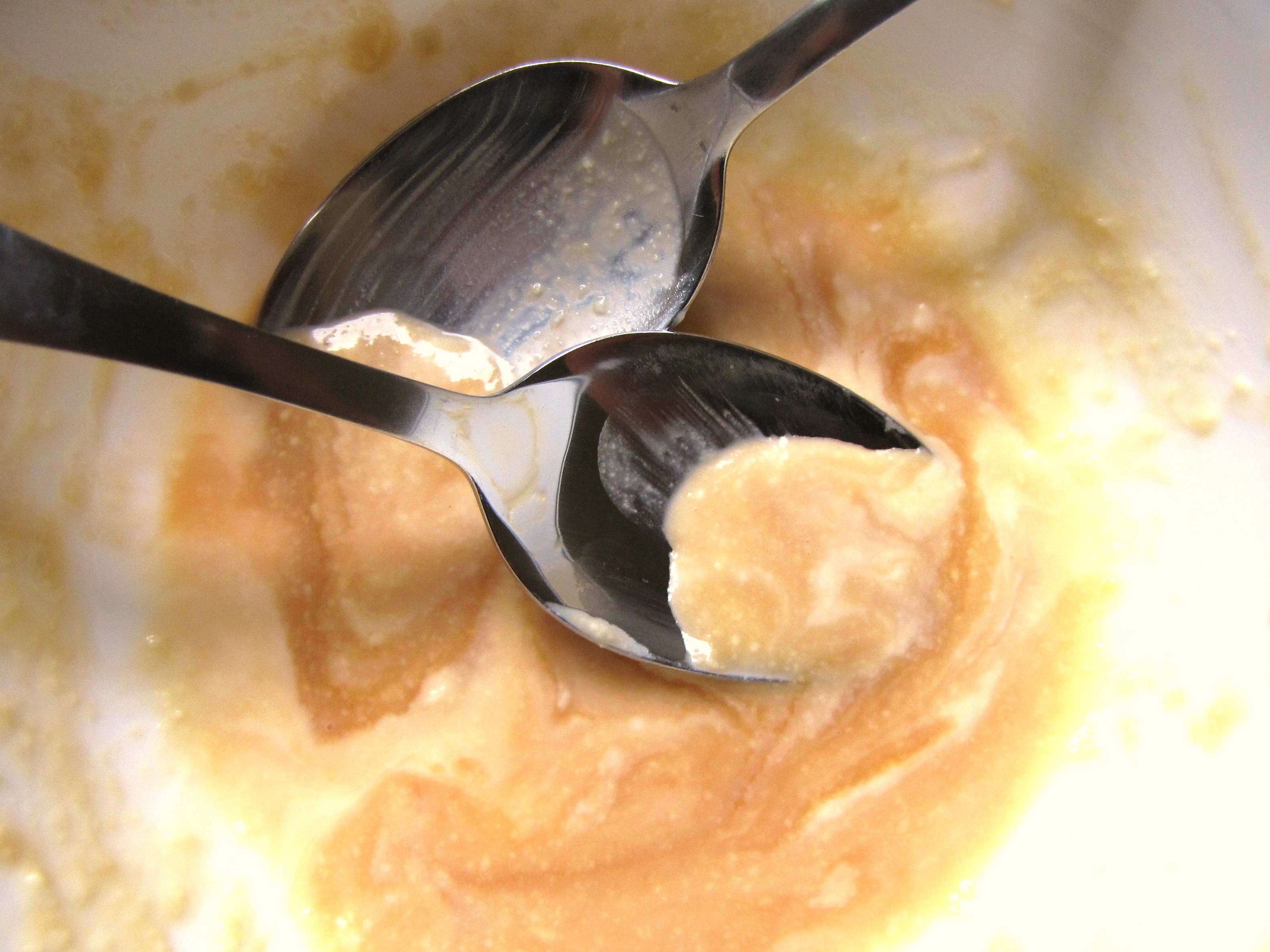 Île Flottante
from David Leibovitz's "The Sweet Life in Paris"
(serves 4)

For the caramel:
Evenly spread sugar in a heavy-bottomed skillet or saucepan.  Cook over medium heat until sugar begins to liquefy.  Begin to stir gently to keep from burning.  Cook until all sugar has melted and turned a deep brown.  When it has begun to smoke slightly, remove from heat and carefully add the water, stirring.  Be warned: the water will make the hot sugar bubble fairly violently.  Return the pan to the heat and stir, breaking up any caramelized chunks, until caramel is smooth.  Cool completely, and refrigerate.  Lasts for a week.
For the crème anglaise:
4 egg yolks
1 1/2 c. whole milk*
1/4 c sugar
1 vanilla bean, split lengthwise*
*Note:  I used 3/4 c. skim milk and 3/4 c. heavy cream because that's what I had.  I also used 1 1/2 TBS of vanilla extract rather than a vanilla bean.  Results were very good.
Prepare an ice bath: place a medium-large metal bowl or pot in a large bowl filled with ice-water.  Place a strainer over the top of the pot.
In a medium bowl, whisk the egg yolks.
Heat the milk, sugar, and vanilla in a saucepan over medium heat until very warm.  Remove just before it begins to simmer.
Gradually pour the hot milk over the egg yolks, stirring constantly to prevent egg from scrambling.  Return egg and milk mixture to pan, and cook over medium heat, stirring constantly and scraping the edges, until custard begins to thicken.
Remove from heat and pour immediately through strainer into chilled bowl/pot.  Let cool completely, and then refrigerate, covered, for up to three days.
For the meringue:
4 egg whites, at room temperature
1/2 tsp salt
6 TBS sugar
pinch cream of tartar, optional
Preheat oven to 325°F.  Very lightly oil a 2-quart loaf pan.  Set loaf pan inside a shallow roasting pan.
Beat egg whites with electric mixer on medium speed until frothy.  Add salt and cream of tartar and continue beating, on high, until the whites start to hold their shape.  Add sugar one tablespoon at a time, beating meringue until it is stiff and shiny.
Spread meringue into prepared loaf pan.  Use a damp spatula to smooth the top and press out any air pockets.
Fill the roasting pan about halfway full with warm water.  Bake for 20-25 minutes [Book says 25, I had great results at 20], or until a toothpick inserted into the center comes out clean.  Cool in pan on wire rack.  When cool, carefully turn out onto a large plate or platter.  Keeps in fridge for a day or two.
To assemble:
Ladle chilled crème anglaise into bowls.  Using a damp knife, carefully slice meringue loaf into rectangles and float on top of crème anglaise.  Drizzle with room temperature caramel sauce.  Top with spun sugar, or toasted almonds.
0