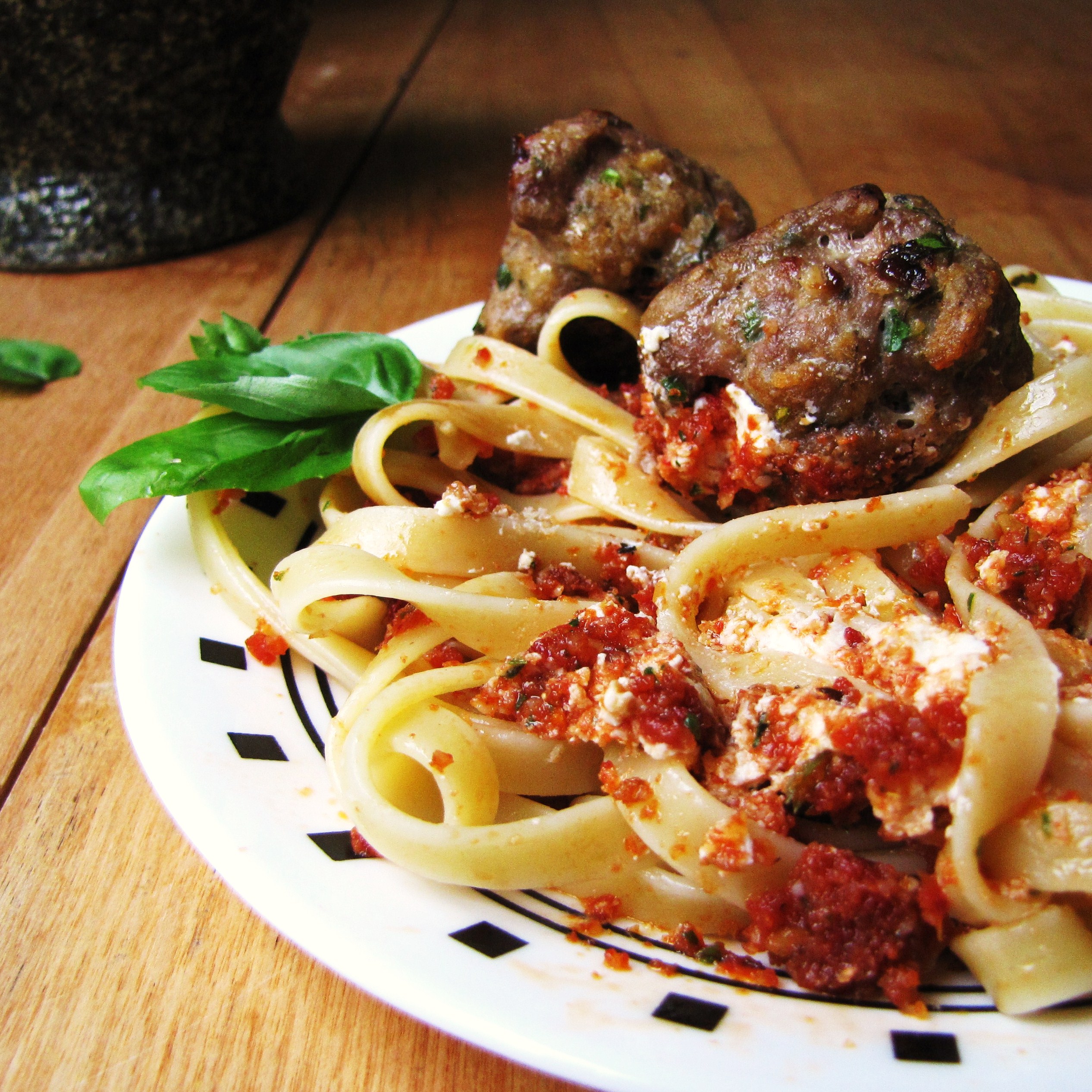 And I almost never feel that way about anything I've made.  Good, often.  Really good, sometimes.  Perfect?  Infrequently.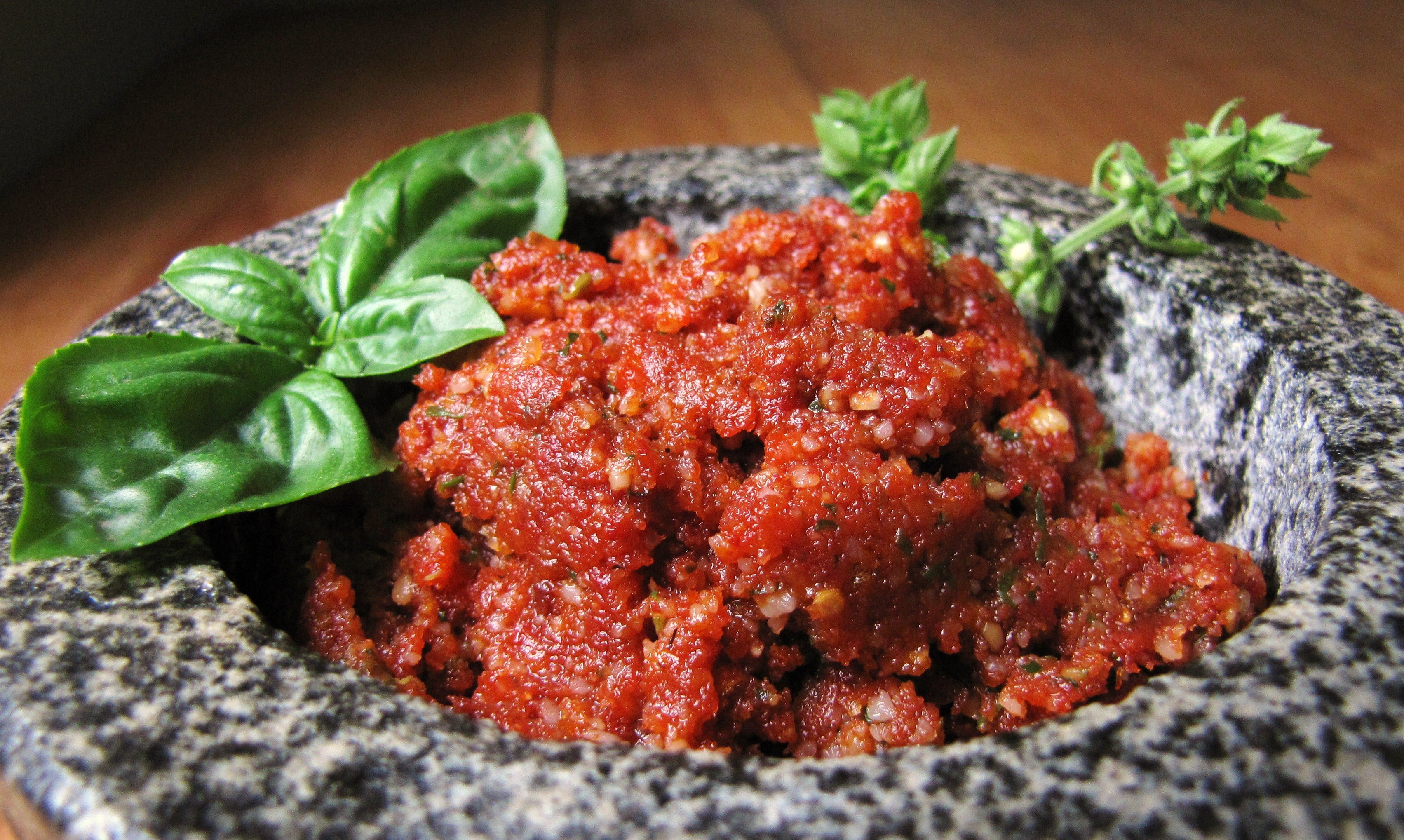 I'm not gonna take much credit for it though* – the ingredients were perfect.  Sun-dried tomatoes, pine nuts, parmesan, basil, goat cheese, and fettucine?  Not my creations.  But I will be happy to use them anytime they decide to grace my kitchen.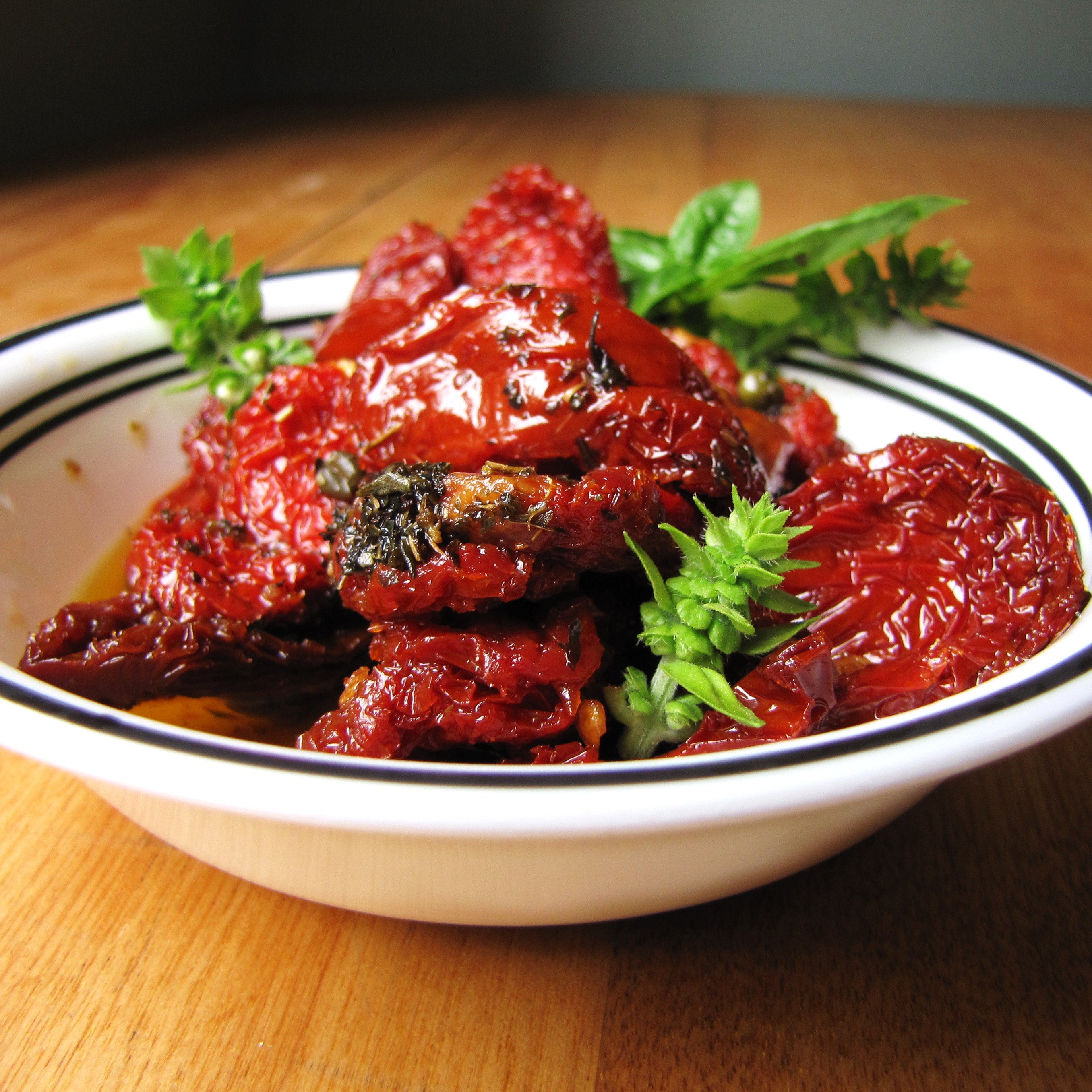 I'm not feeling up for words today, so that's all I've got.  I'm leaving you with these pictures, the recipes, and the suggestion that you try this the next time you're craving something both bright and comforting.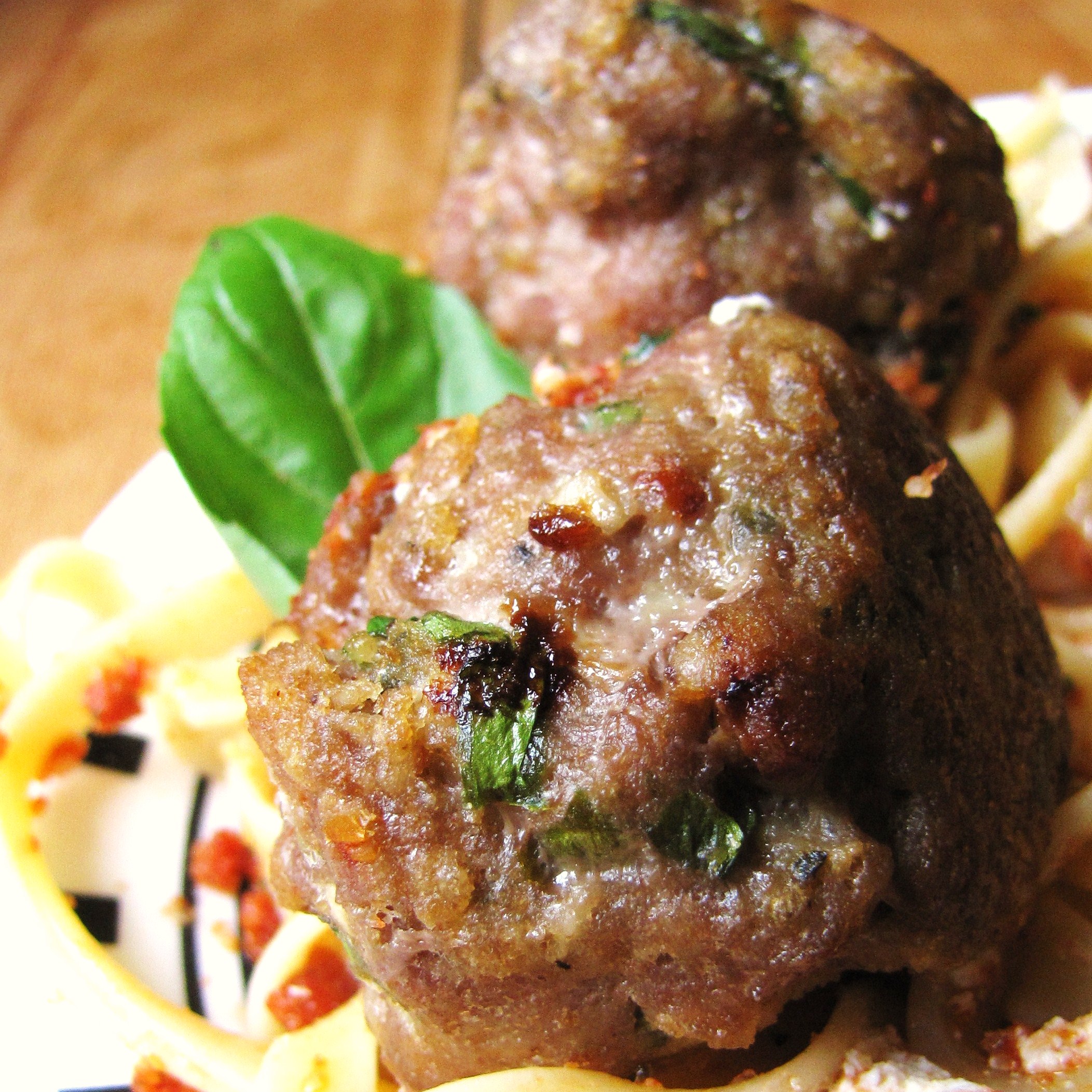 *I take it back – I'm taking credit for the meatball part.  These were my creation and I'm proud.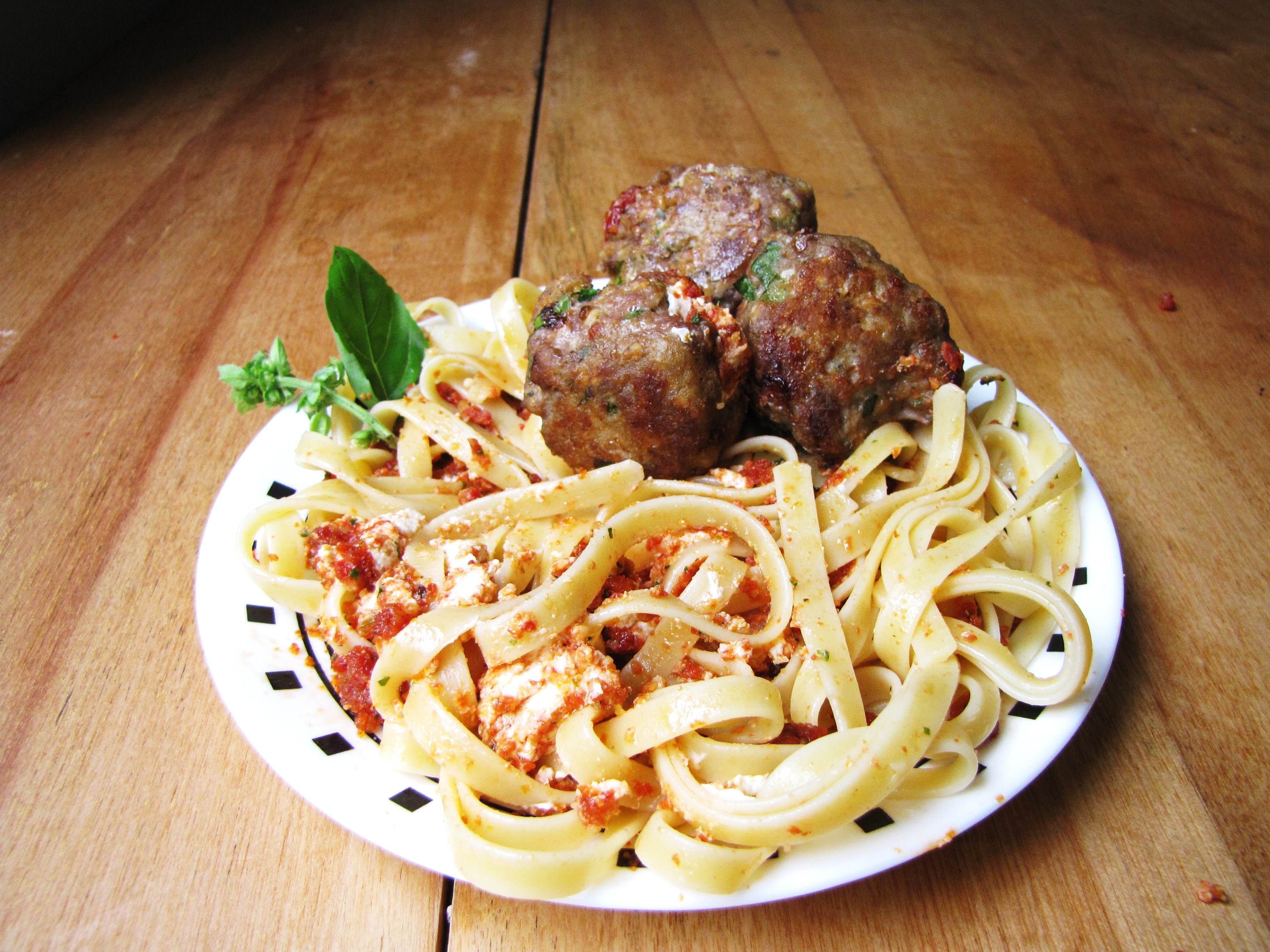 Sun-Dried Tomato Turkey Meatballs with Sun-Dried Tomato and Goat Cheese Pesto Sauce
Sun-dried tomato turkey meatballs: (original/personal recipe, makes 15 large meatballs)
1 1/4 lbs lean ground turkey
1/2 c. bread crumbs
1/3 c. chopped oil-packed sun-dried tomatoes
1/3 c. chopped fresh parsley
1/4 c. grated fresh parmesan
2 cloves garlic, minced
2 tsp dried oregano
1/4 – 1/2 tsp red pepper flakes
1 tsp kosher salt
1 egg, slightly beaten
3 TBS milk
Preheat oven to 375°F.  Grease a baking tray with cooking spray.
In large bowl, mix bread crumbs, sun-dried tomatoes, parsley, parmesan, garlic, oregano, red pepper flakes and salt, until well combined.  Crack egg into bowl and beat lightly in it's own well, then mix with rest of ingredients.  Add milk and mix to incorporate.
Add the ground turkey and combine with bread crumb mixture using your hands.  Don't overwork with your hands.  When combined, form into medium balls and place close together on the baking tray.
Bake for 26 minutes, using tongs to flip/rotate halfway through.
Sun-dried tomato pesto with goat cheese and fettucine: (recipe inspired by Perry's Plate)
1 lb. box of fettucine
1/2 c. oil-packed sun-dried tomatoes
1/4 c. pine nuts
3 oz parmesan, cubed
1 clove garlic, peeled
1/2 c. basil, loosely packed
3 oz. goat cheese
Bring large pot of salted water to boil.  Cook fettucine according to package directions.
In a food processor, combine sun-dried tomatoes, pine nuts, parmesan cheese, and garlic.  Pulse until coarse.  Add basil, as well as 3-4 TBS olive oil reserved from sun-dried tomato jar (or regular olive oil).  Continue to pulse.  Taste, and adjust ingredient ratios until flavor and texture are as desired.
When pasta is done, drain, and immediately add goat cheese and 1/2 sun-dried tomato pesto to pot.  Stir to form thick sauce.  Garnish with fresh basil, and serve with sun-dried tomato turkey meatballs.
1