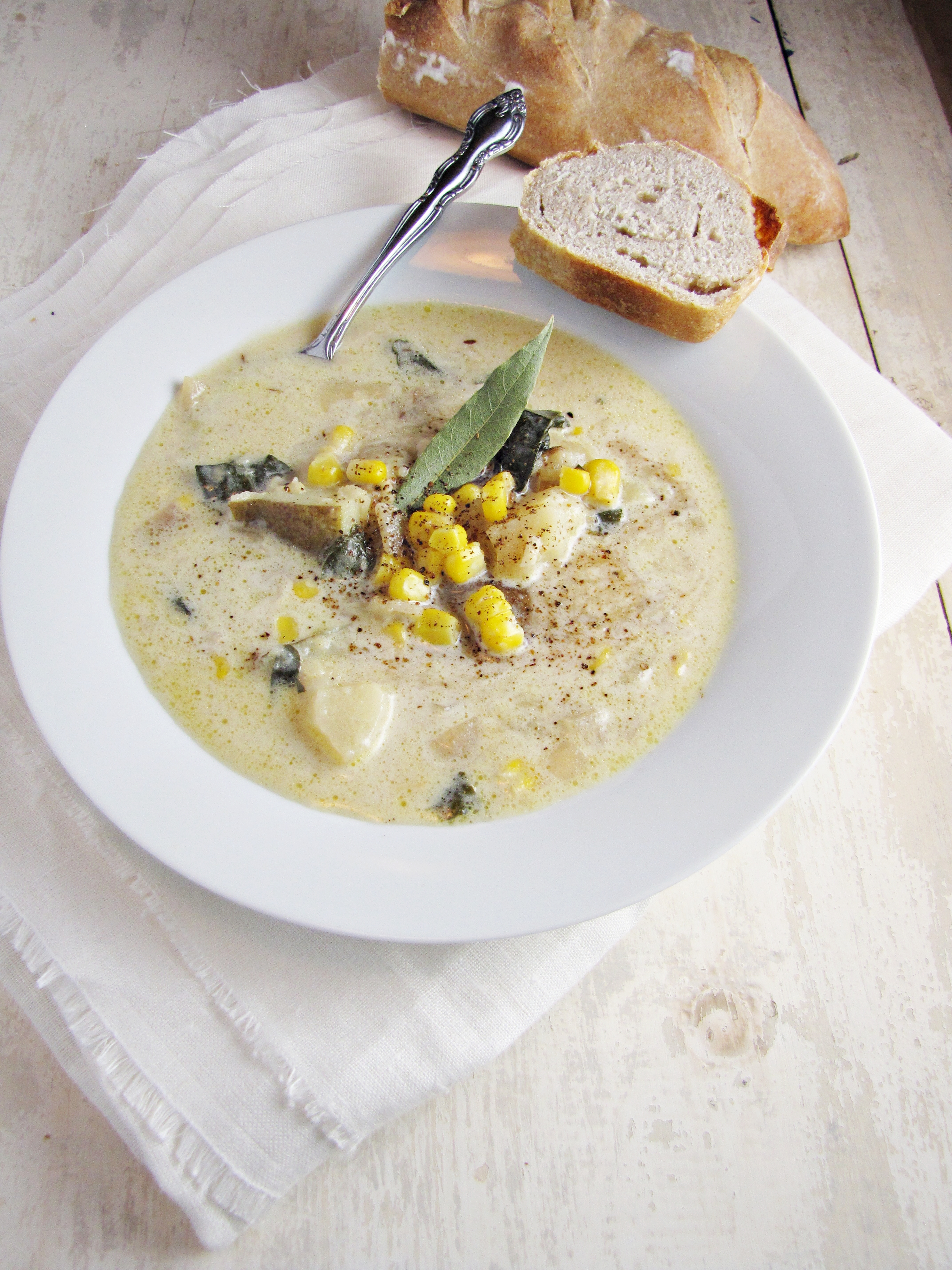 There aren't many recipes that I make regularly.  I could totally love a recipe and only make it once just because there are so many other recipes out there that I want to try.  Even when it comes to the basics – pancakes, muffins, spaghetti sauce – I'm always trying new variations on a theme, because a part of me is always looking for that perfect recipe (although I'm pretty sure I've found my perfect fruit-muffin recipe).  However, there are a few notable exceptions to my tendency to always cook something new, including my mom's kale soup, this simple spaghetti in lemon cream sauce, smitten kitchen's totally pancetta-y spaghetti with chickpeas, Joanne's incredible pork and black-eyed-pea chili, and this chowder. (Notice a theme here?  Not too many salads…)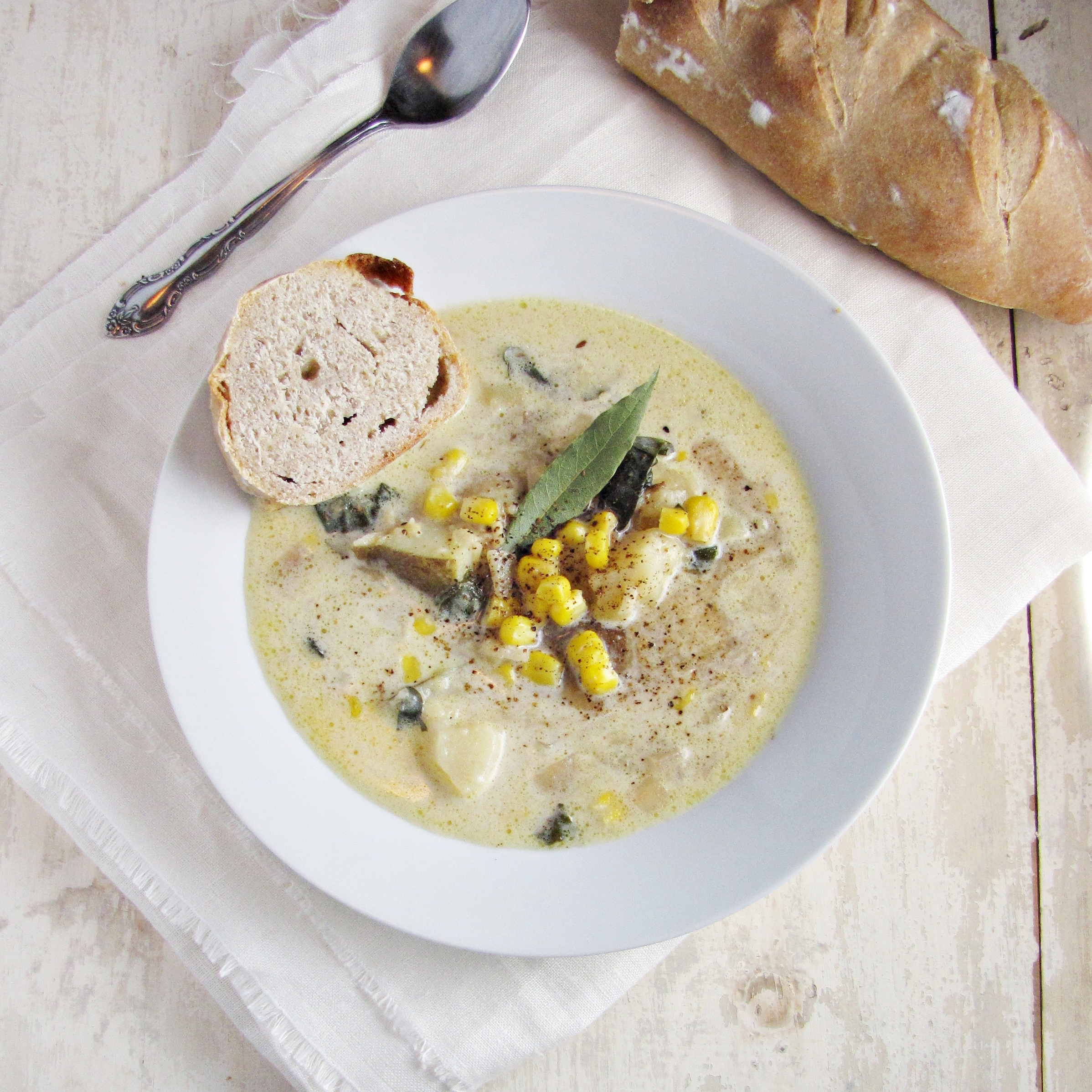 This chowder is one of my all-time childhood favorites.  My mom used to make it regularly during the fall and winter, and I always had at least two bowls and two thick slices of fresh-out-of-the-oven anadama bread and went to bed very, very full.  It was one of the first recipes I requested from her after moving into my own apartment, and while I don't indulge in chowder all winter, I do make it a couple of times a year.  My parents also use to serve this at our annual cross-country dinner, and it was a huge crowd-pleaser.  On Friday nights before races, my team would all gather at someone's house for carbo-loading and camaraderie, and my family was typically the only one to buck the spaghetti and garlic bread trend and serve something different.  We'd pile 18 or so girls around a bunch of tables stuck together the long way, and eat bowl after bowl of soup with fresh bread and laugh and sing our cross-country songs and talk about beating Exeter and who was cute on the boys' team and we'd finish the night up with bowlfuls of my dad's famous apple crisp.  Just the scent of this chowder makes me think of cold, dark nights filled with laughter, be it with my parents and brothers or my teammates, and of going to bed warm and exhausted.
As I was going through my fridge this weekend, trying to figure out a way to use up all the bits and bobs that seem to have accumulated over the past few months, I realized that I had everything I needed to make this chowder (and that it would clear up a significant amount of space in the fridge).  Although it doesn't traditionally call for kale, I had a few leaves hanging around so I decided to throw them in to up the nutritional value of this soup a bit.  I also used a random assortment of cheeses – a bit of monterey jack, some of that weird orange Mexican shredded cheese mix, half a cup of freshly grated pecorino – and a mixture of skim milk and heavy cream, and the soup still turned out just as perfect as always.  The distinctive flavor in this soup comes from the whole cumin seeds that get added at the beginning – if I didn't know what was in it, I might not be able to identify the flavor as cumin, but somehow it works perfectly.  Make this the next time you need a satisfying, warming break, and share it with family or friends to ensure an adequate amount of conversation and laughter accompanies it.  It's that kind of meal.
More like this…
Like what you just read? Subscribe to Katie at the Kitchen Door in the box on the right, on Feedly or Bloglovin', or follow along on Facebook, Twitter, Pinterest, Instagram, or Google+. Thanks for reading!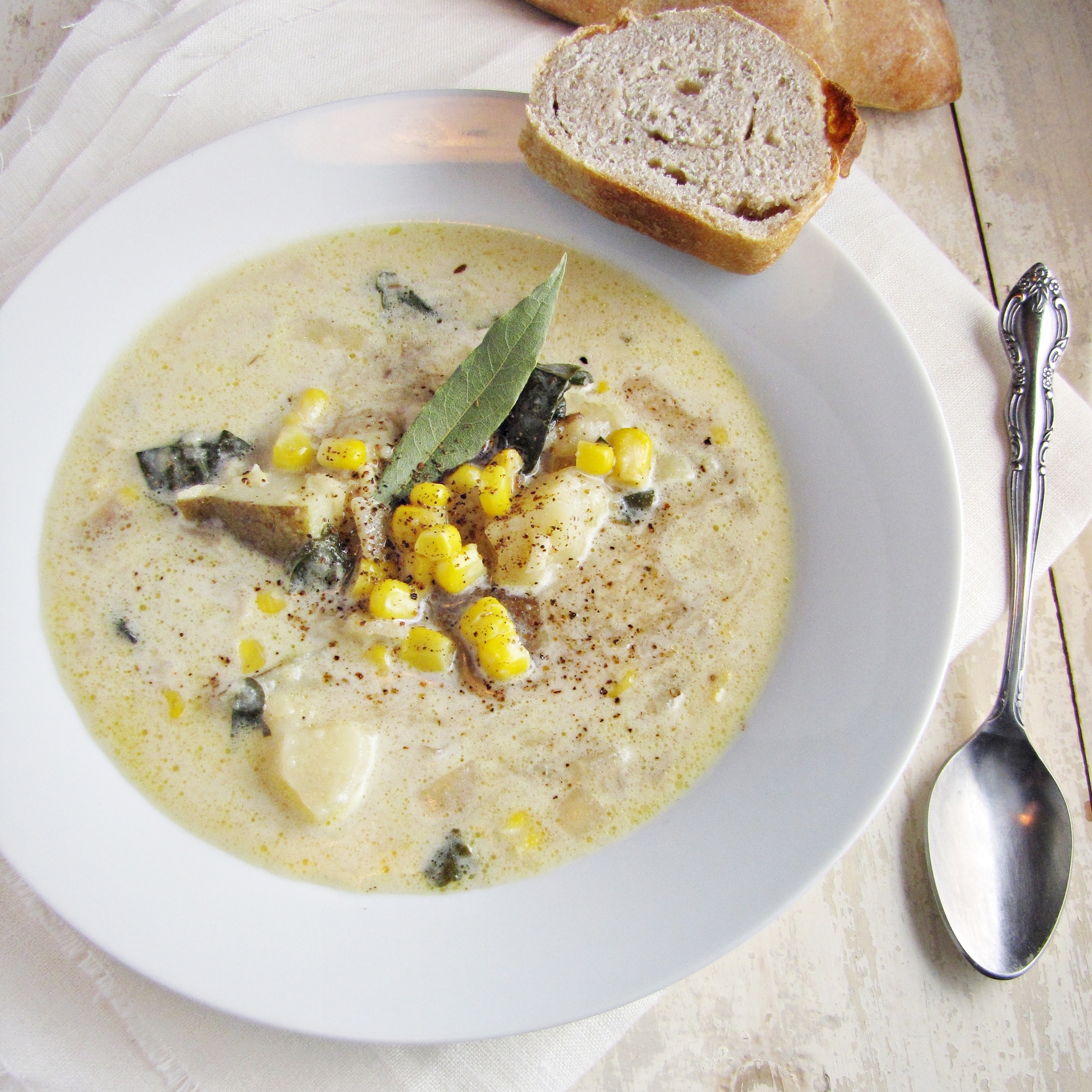 Corn and Potato Chowder
Serves 4-6.  Adapted from Horn of the Moon.
1 onion, diced
1 TBS cumin seed
2 TBS butter
3 large yukon gold potatoes, scrubbed and diced
4 c. chicken stock
2 bay leaves
1 bunch of kale, stems removed and leaves chopped (optional)
2 c. frozen corn
2 c. shredded cheese (a mix of whatever you have on hand is fine – we typically use monterey jack and cheddar)
1 c. milk (use skim milk for a lighter chowder, or a mix of half milk and half cream for a heavier chowder)
1 tsp. flour
freshly ground black pepper
In a large stockpot, saute onion in butter over medium heat until onion turns translucent, about 3-4 minutes.  Add cumin seed and cook, stirring, for another 1-2 minutes, until cumin is fragrant.  Add potatoes, stock, bay leaves and kale if using and bring to a boil.  Reduce to a simmer and simmer, covered, for 20 minutes, or until potatoes are tender when pierced with a fork.

Stir in frozen corn and cook for 3 minutes.  In the meantime, mix milk or cream with flour until mixture is smooth, then add to the soup, stirring constantly.  Remove from the heat and stir in the shredded cheese, stirring until melted.  Ladle into bowls and garnish with freshly cracked black pepper.
12