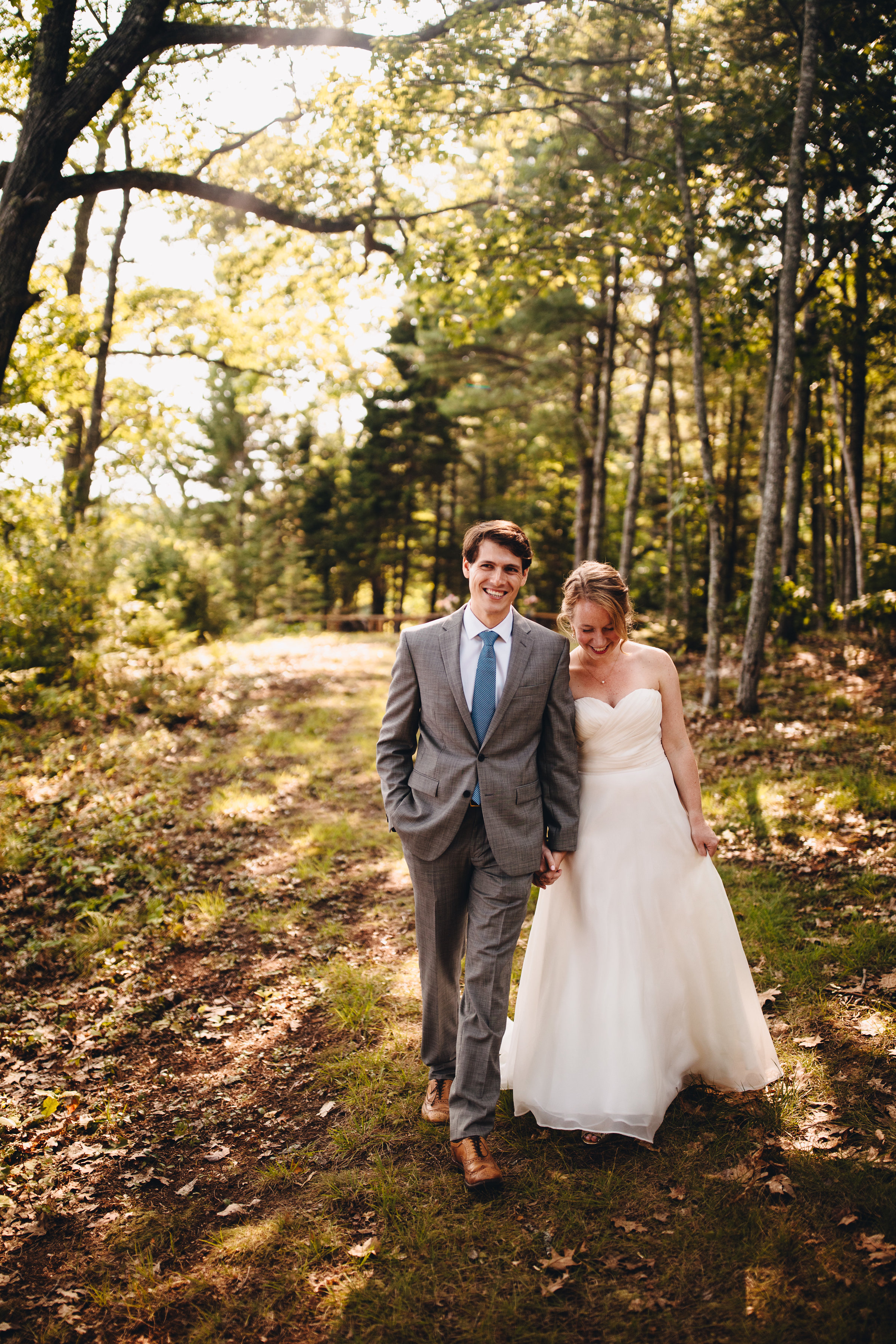 All wedding pictures in this post are by our very talented photographers, The Spragues. These photos cannot be used without their permission.
Almost a year later, I have finally managed to sit down and write about our wedding. It was largely a DIY affair, brought to life by many, many helping hands. We celebrated with a small group of 40 people – just immediate family and close friends – at my parents' house in Maine, where Trevor and I have been going together since high school. Insanely, wonderfully, my parents built a barn on the hill above our house to host our reception. By hand. I know, we are incredibly spoiled. It took many weekends of labor to bring the boat barn to fruition, but in some ways building the barn was the part of the wedding I loved most of all. Working alongside both sets of parents to build a structure to house our friends and family felt purposeful and unifying. And walking up the hill that day to see the barn filled with our handmade oak farm tables, tables covered in copper vases and pink flowers, candles and string lights filling the whole space with warmth… it was so incredibly beautiful. I don't really have a photo that adequately captures the magic of that space, but these come close.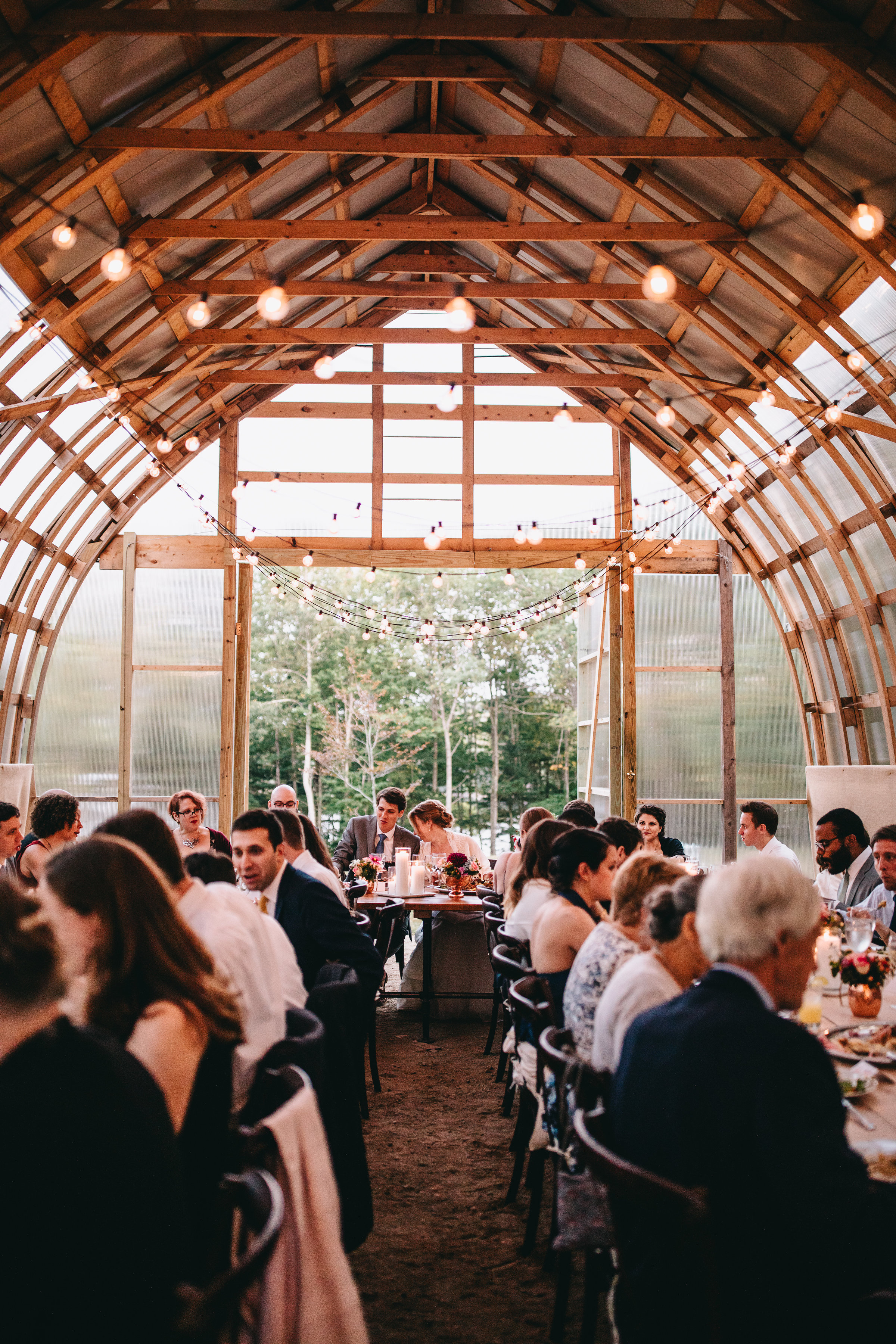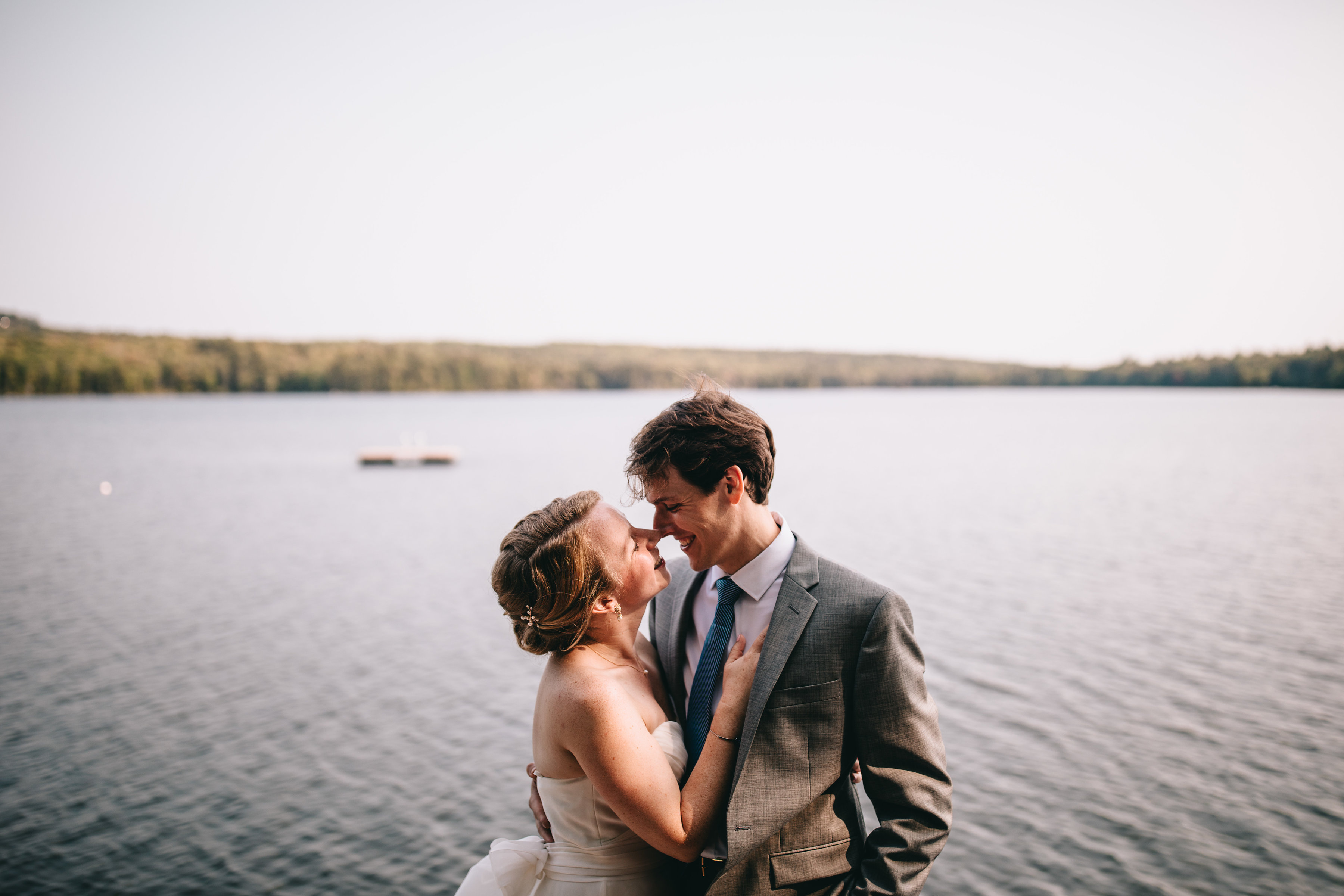 I don't remember the day in that much detail, but what sticks with me the strongest is our ceremony. Standing under the pine trees clinging to Trevor's arm, my brother welcoming our friends, my mother standing at my side, and the teary-eyed faces of so many of the people that I love staring back at me, I felt a truly powerful surge of love and wonder. We spent the weeks leading up to the wedding writing our ceremony, which was difficult, but important: when we stood up there, we knew exactly what we were saying and why. My brother officiated, and standing in the basement in a bit of a panic moments before the ceremony, hearing my friends laugh as he stood up there joking with the crowd was truly what calmed me enough to get myself out the door.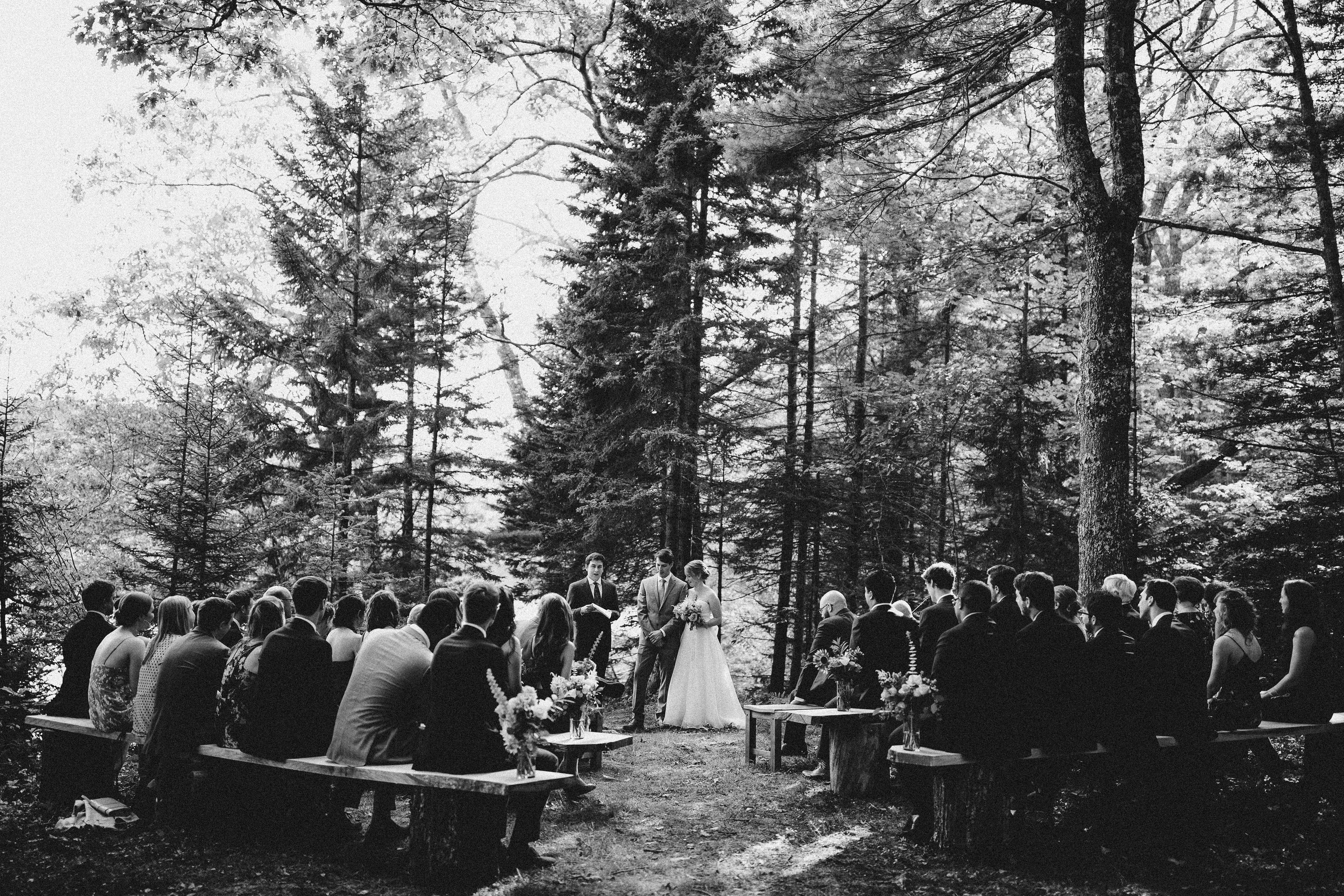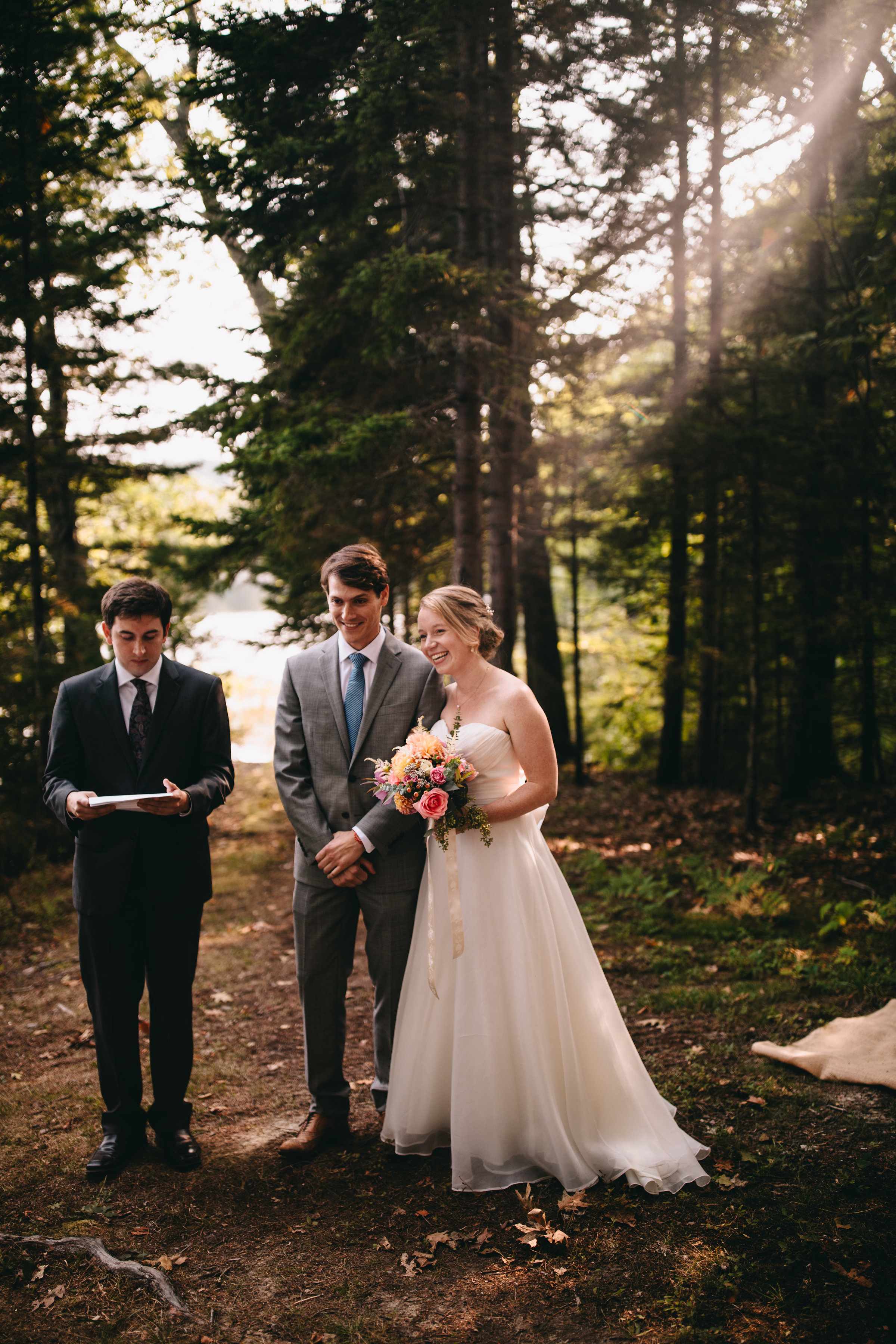 And then, we were off. People stood in clusters on the lawn drinking white wine and playing lawn games, or sat on the dock watching the light change over the lake. As the sun started to set we were seated at the long farm tables and the toasts began, making me cry, for the first time that day. Then we ate, and laughed, and talked, and it felt exactly like the wonderful dinner party we were envisioning.
After dinner, the evening devolved, as we had hoped it would, into tequila shots and dancing barefoot on the lawn, friends sneaking off into the woods and out on the canoe, sitting around the campfire and eating s'mores. This is less a memory and more a blur of mental snapshots. Immediately after the wedding I felt devastated by the fact that I couldn't remember each moment, but a year later, I'll take the happy blur. Happy blur is what we were going for, after all.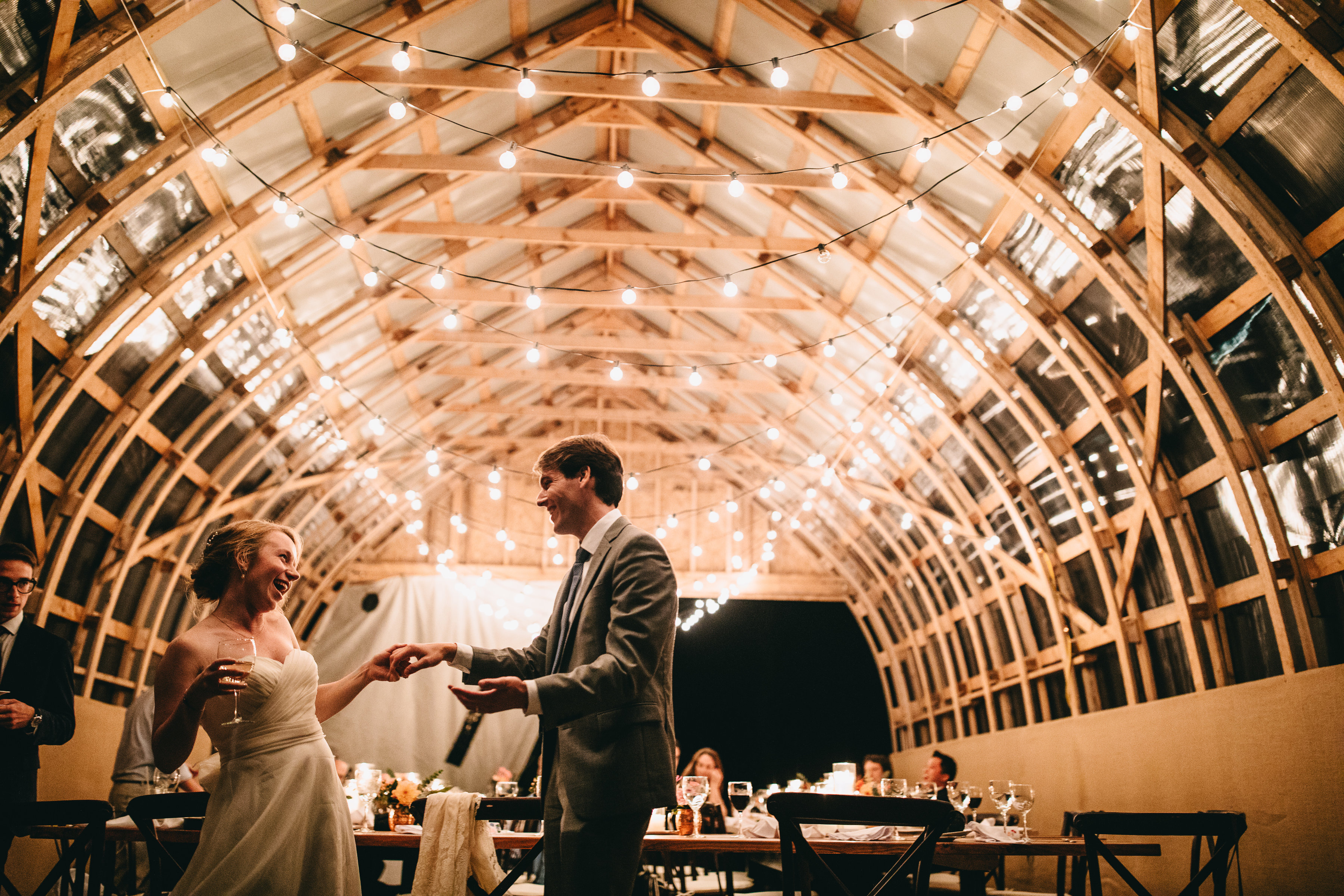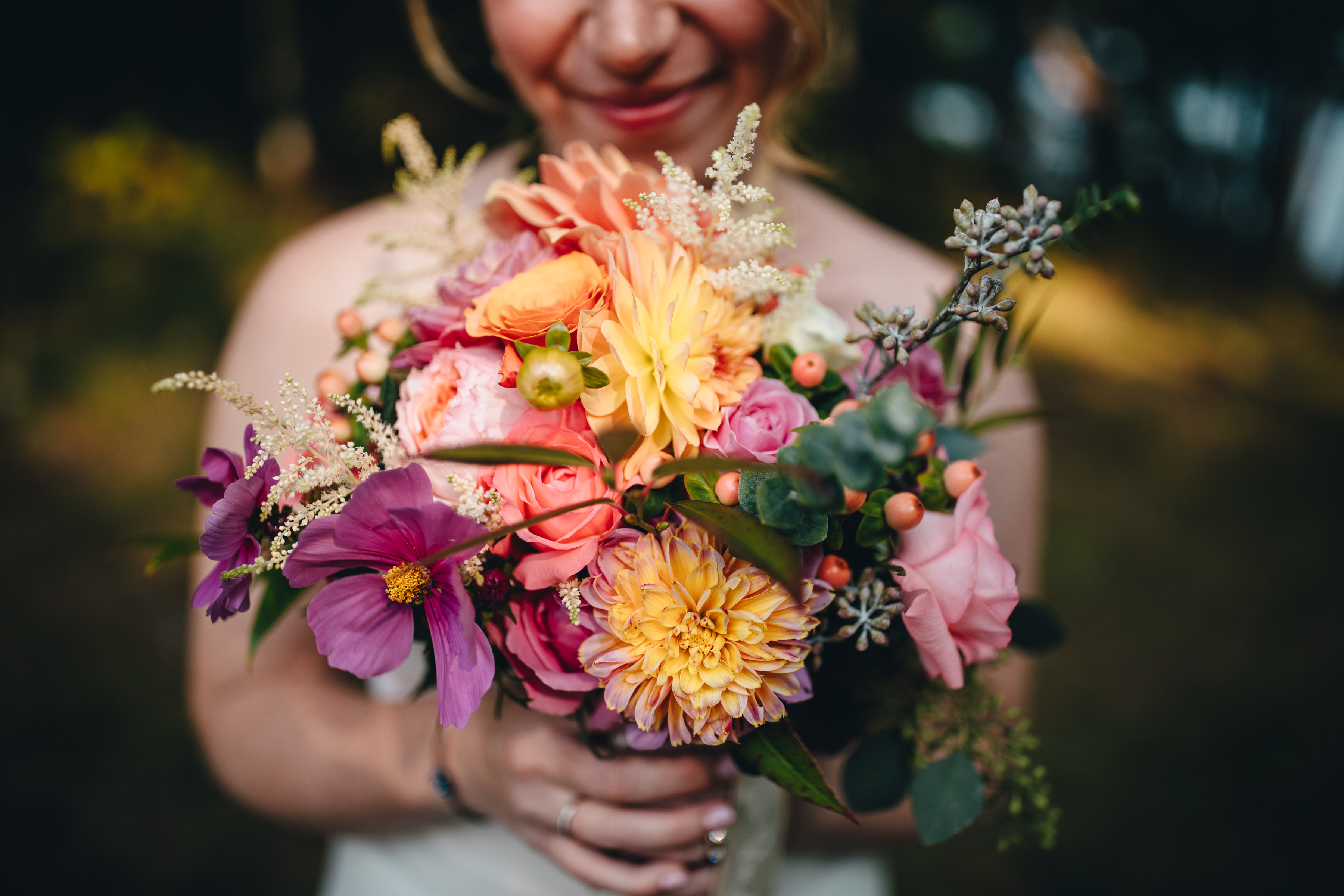 As for the details, for those of you who get into this kind of thing: the ceremony benches were planks of white oak milled from trees on the property. The tables, too, were made by hand and painstakingly finished to showcase the beautiful wood. I did the flowers myself, with the help of my bridesmaids, using homegrown dahlias, garden roses, astilbe, eucalyptus and hypericum. Plus cosmos, Queen Anne's lace, and leucothoe borrowed from a neighbor's garden two days before the wedding when it turned out one of the flower companies I had ordered from was a scam. Those missing flowers were the only near disaster of the whole DIY affair, and the day was promptly saved by my incredible friend Veronika, who bought all the roses at Wholefoods before she left Boston, and several generous neighbors. Cosmos and Queen Anne's lace have a special place in my garden now.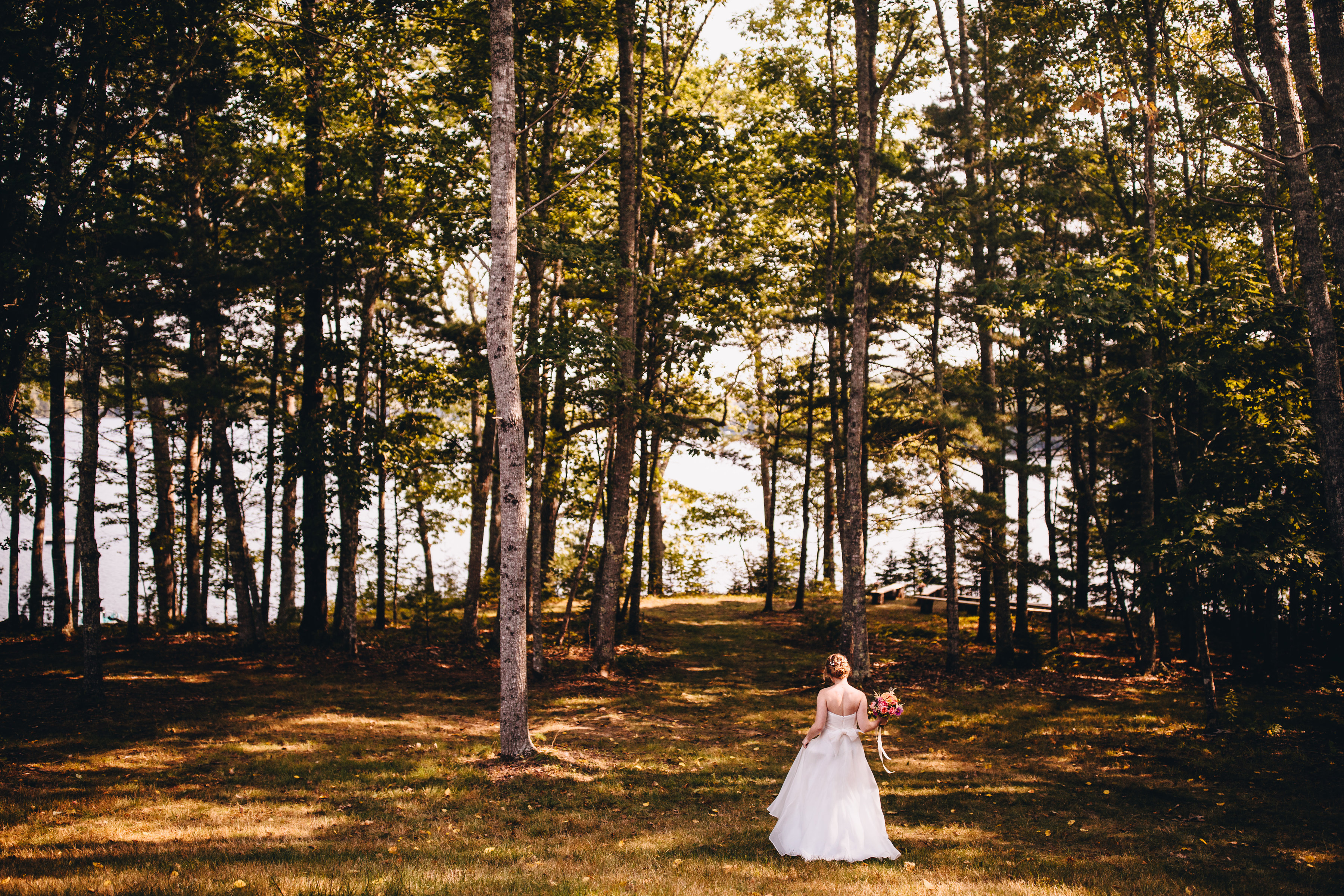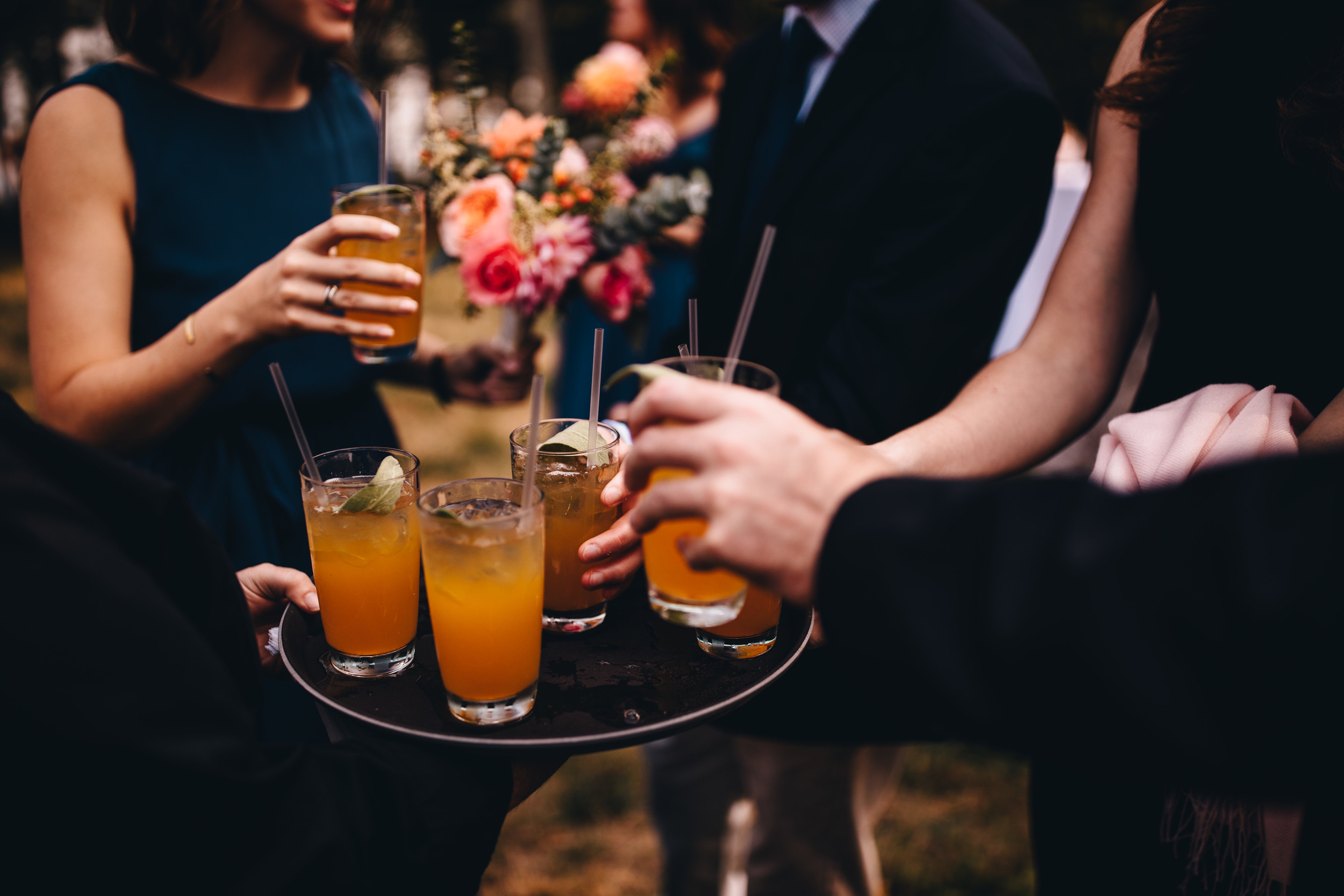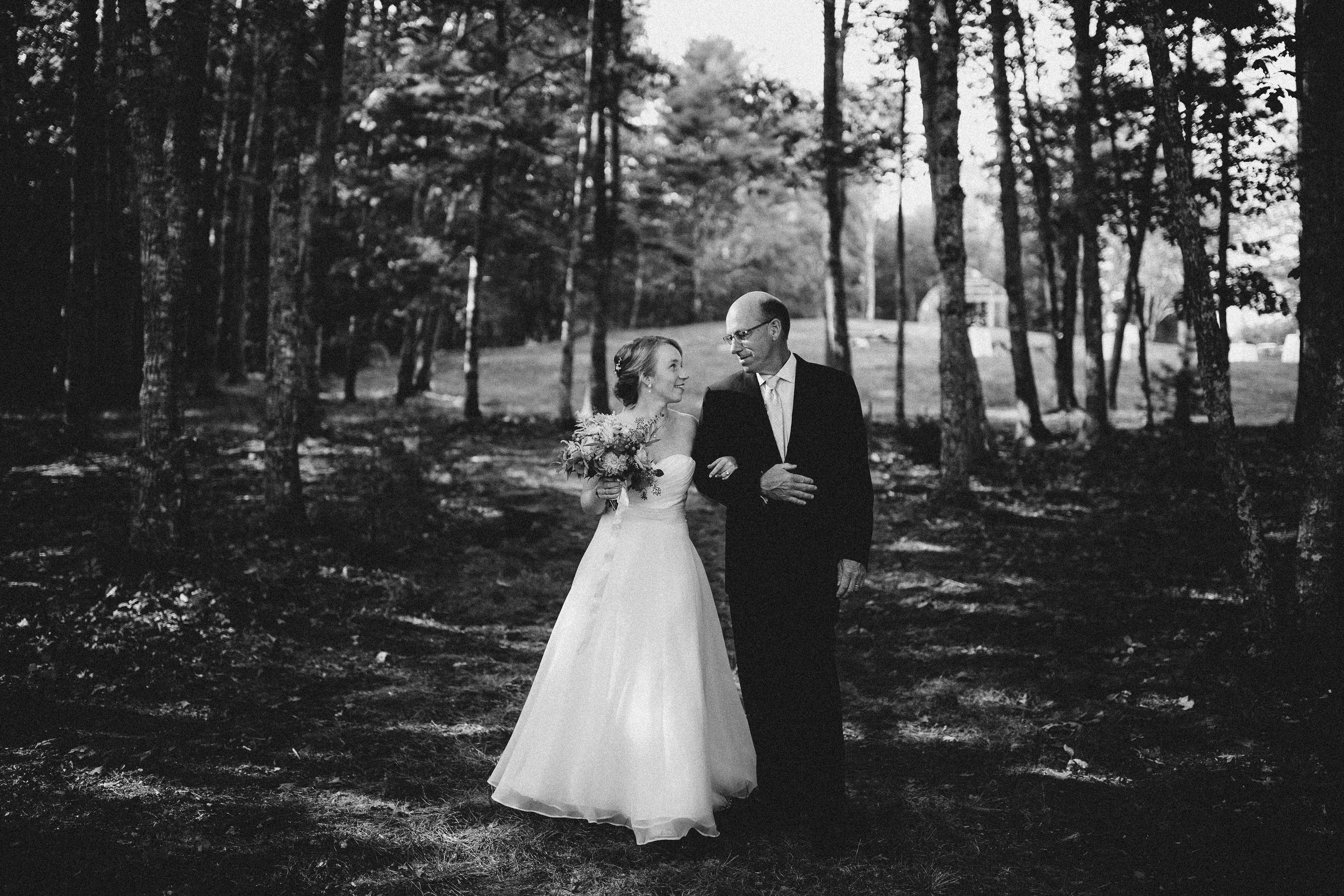 And, since this is a food blog, the menu: for the happy hour, ceviche, buttermilk fried chicken bites in a waffle cone, and sliders (at the bride's insistence!) with blue cheese and candied bacon. Dinner was family style, and heaping platters of espresso-rubbed flank steak, lemon rosemary roasted chicken, sweet corn succotash, and smoked gouda mashed potatoes made their way up and down the length of each table. We skipped the cake and instead went for mini pumpkin cheesecakes, blueberry pies, and banoffee parfaits. Everything was incredible and our caterers, Bar Harbor Catering Company, did a truly fantastic job. Not only was the food delicious but the event planning and coordination that they provided was just really game changing. Last but far from least, The Spragues captured everything perfectly, while somehow managing to seamlessly  join our guests in the party.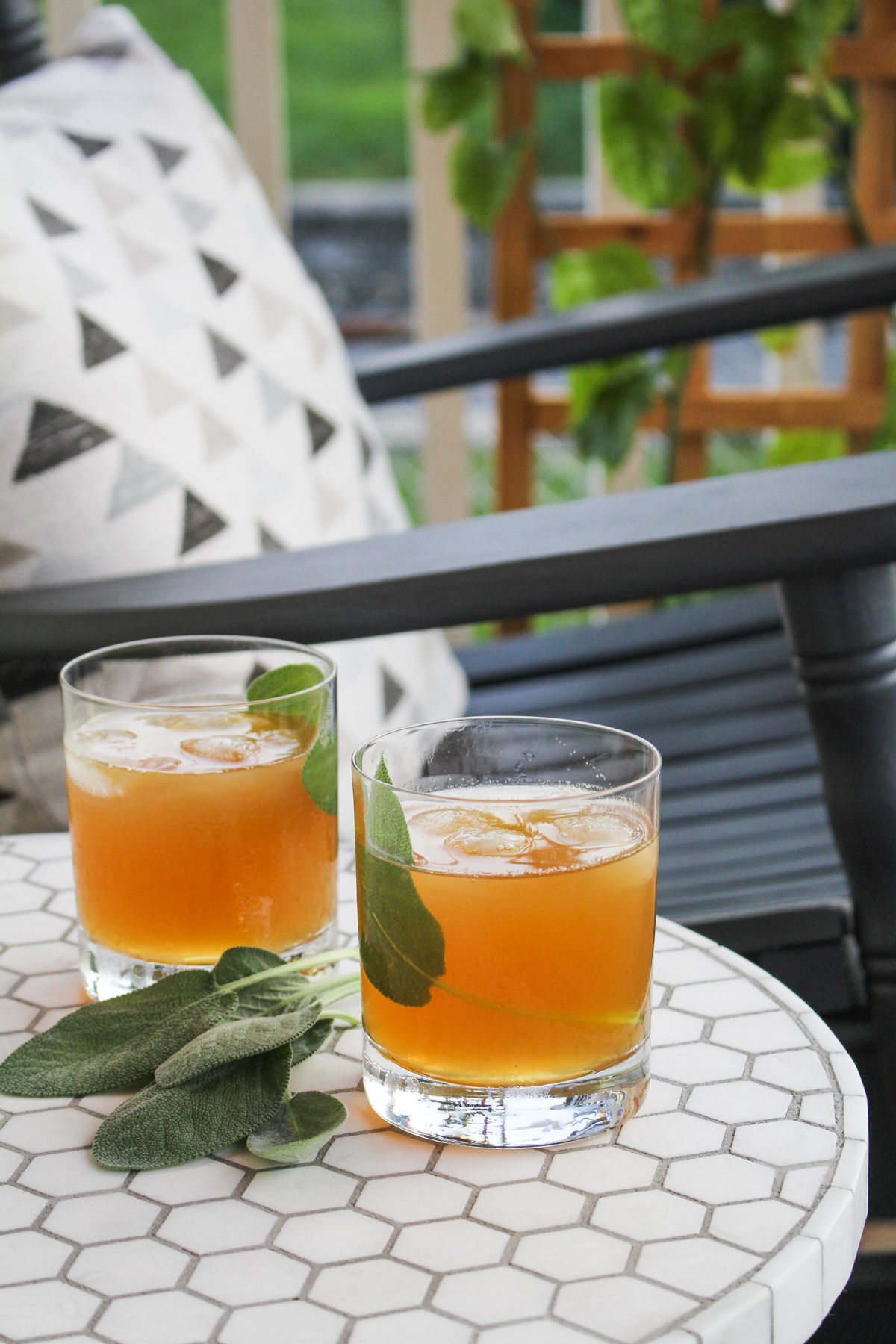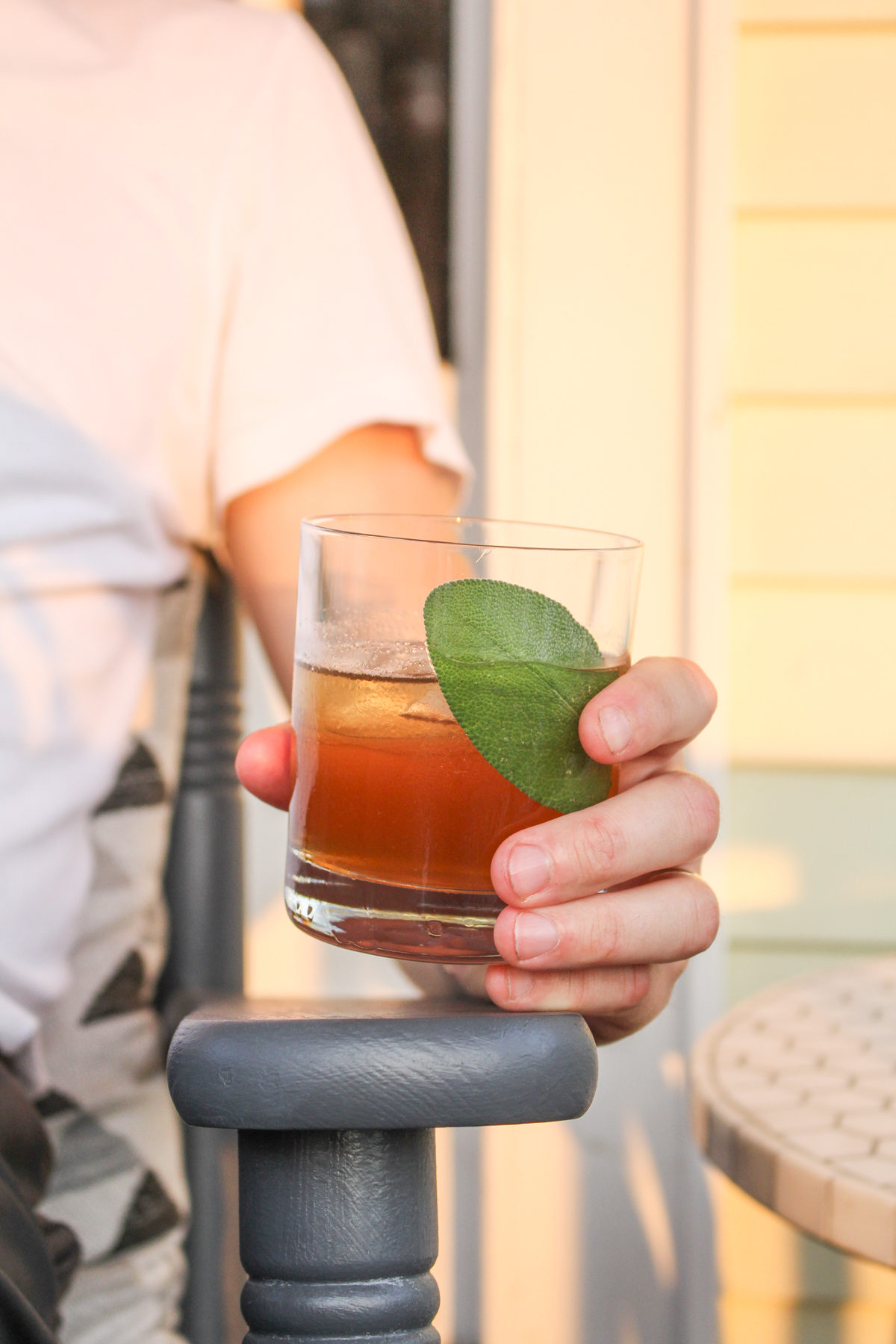 Beyond these pictures and memories, I have one more thing to share with you: our signature cocktail recipe. We wanted something that was autumnal without being overly cozy, to suit that in-between season of mid-September in Maine. We ended up with the Liquid Ditty: bourbon, dry hard cider from Bantam, Calvados, and honey-sage syrup. (An aside, Trevor and I just engaged in a rigorous debate about what to name this cocktail. A search on "Golden Apple" led us down a Wikipedia rabbit hole through Greek mythology to recently discovered dwarf planets. "Apple of Discord" was deemed unfit for a wedding cocktail, and I couldn't convince him that "Apple of Bliss-chord" was hilarious. We considered "The Spitz," named after the Esopus Spitzenburg apple tree in our front yard., but ultimately, we've settled on the "Liquid Ditty." It's a reference to Poe's poem "The Bells," which Trevor strongly associates with our wedding day. Plus, it's catchy. Alternate name suggestions still welcome.) Nearly a year later, I've mixed up another batch to drink on the porch with Trevor. It's just as delicious as I remember it – crisp and appley with just a hint of sage. We'll be drinking these all September.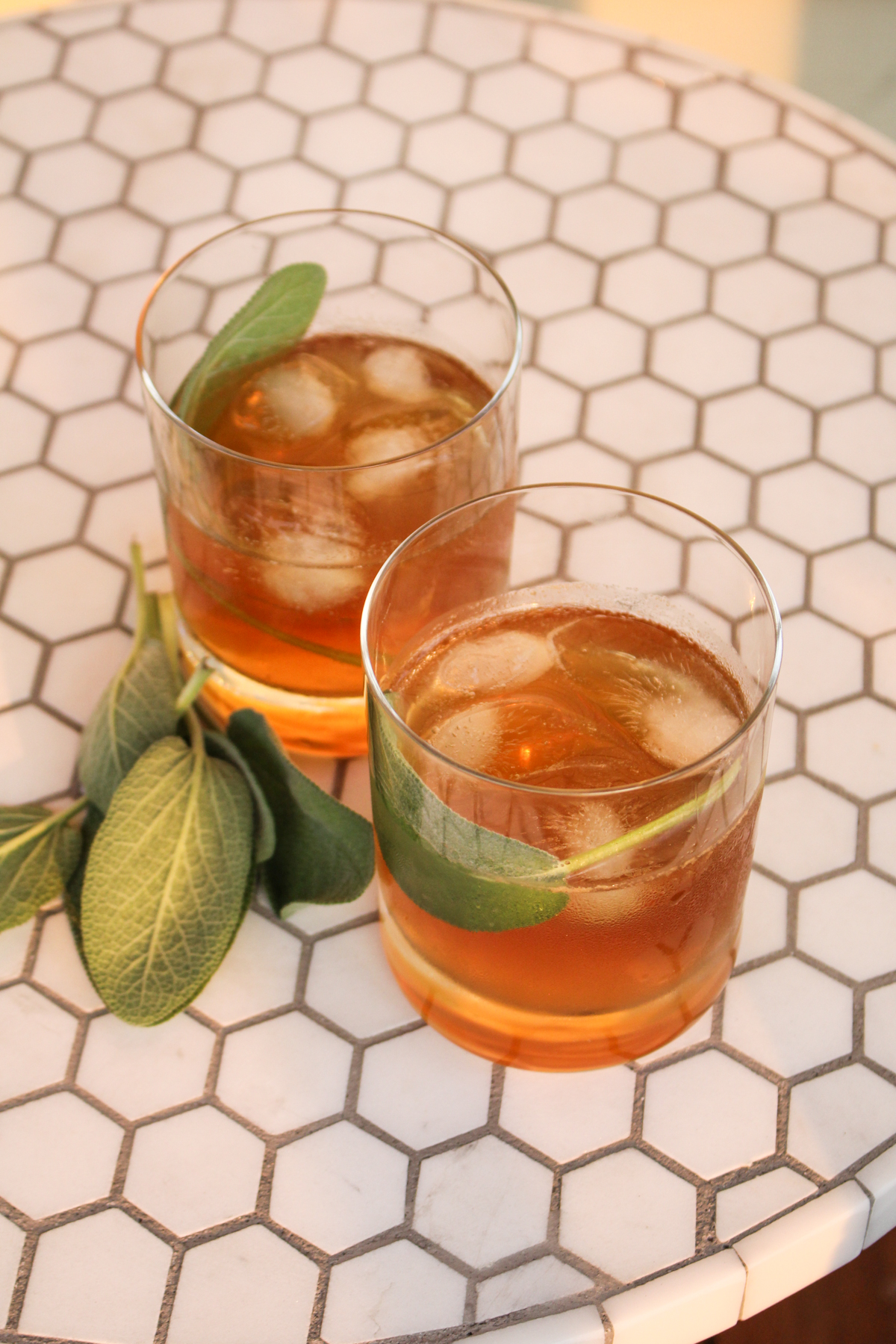 Print
The Liquid Ditty: Bourbon, Calvados, and Cider Cocktail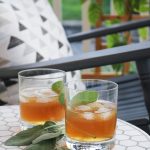 A crisp and refreshing cocktail for the season in between summer and fall. Hard cider, Bourbon, Calvados, and honey-sage syrup come together for a chilled autumnal sipper. We came up with this drink to celebrate our wedding and now it's a September favorite.
A Katie at the Kitchen Door original recipe.
For the honey-sage syrup:
1/2 cup

water

1/2 cup

honey

15

leaves fresh sage, roughly chopped
For each cocktail:
1

part Calvados

2

part Bourbon

1

part honey-sage syrup

1

part chilled hard dry cider, such as Bantam Wunderkind

1

sage leaf, for garnish
ice
Instructions
For the honey-sage syrup:
Bring all ingredients to a simmer. Let simmer for 3-5 minutes, until sage is bright green and syrup is foamy. Remove from heat and let steep for 10 minutes.
For each cocktail:
Stir together Calvados, honey-sage syrup, and Bourbon to combine. Pour over ice in an old-fashioned glass. Top off with cider, garnish with a sage leaf, and serve.
33