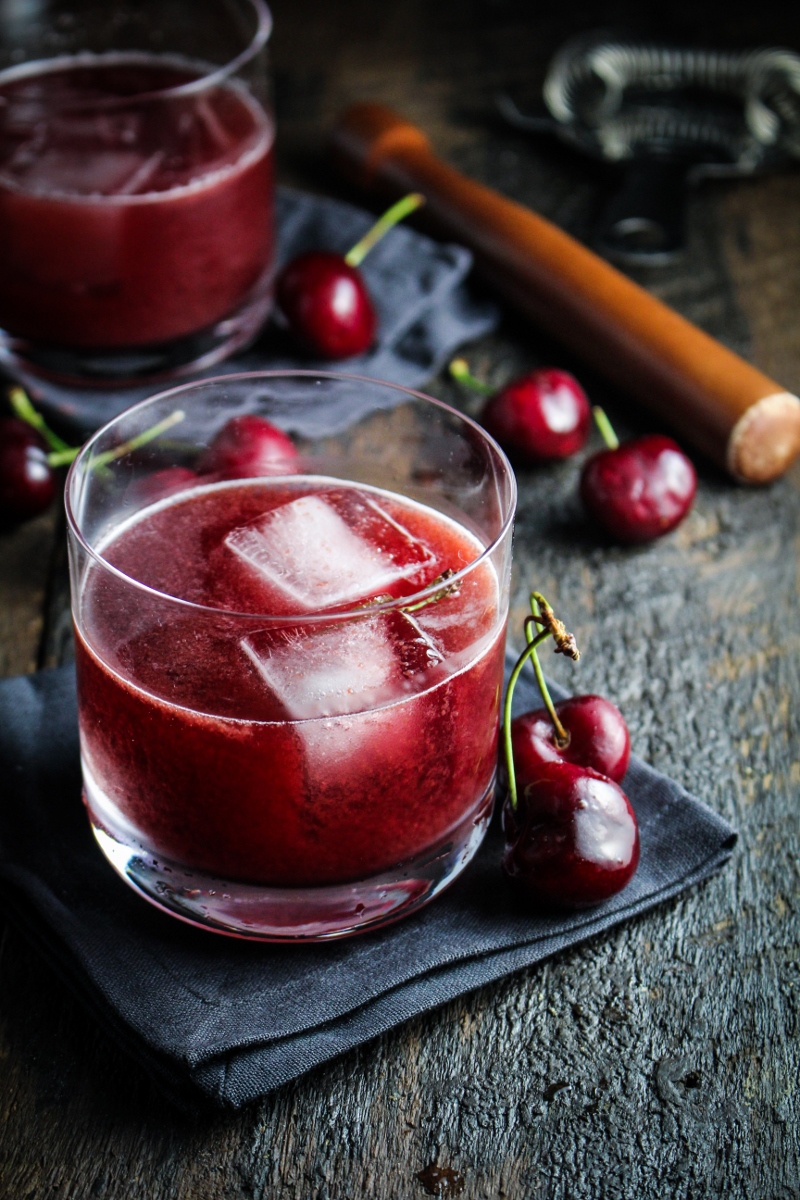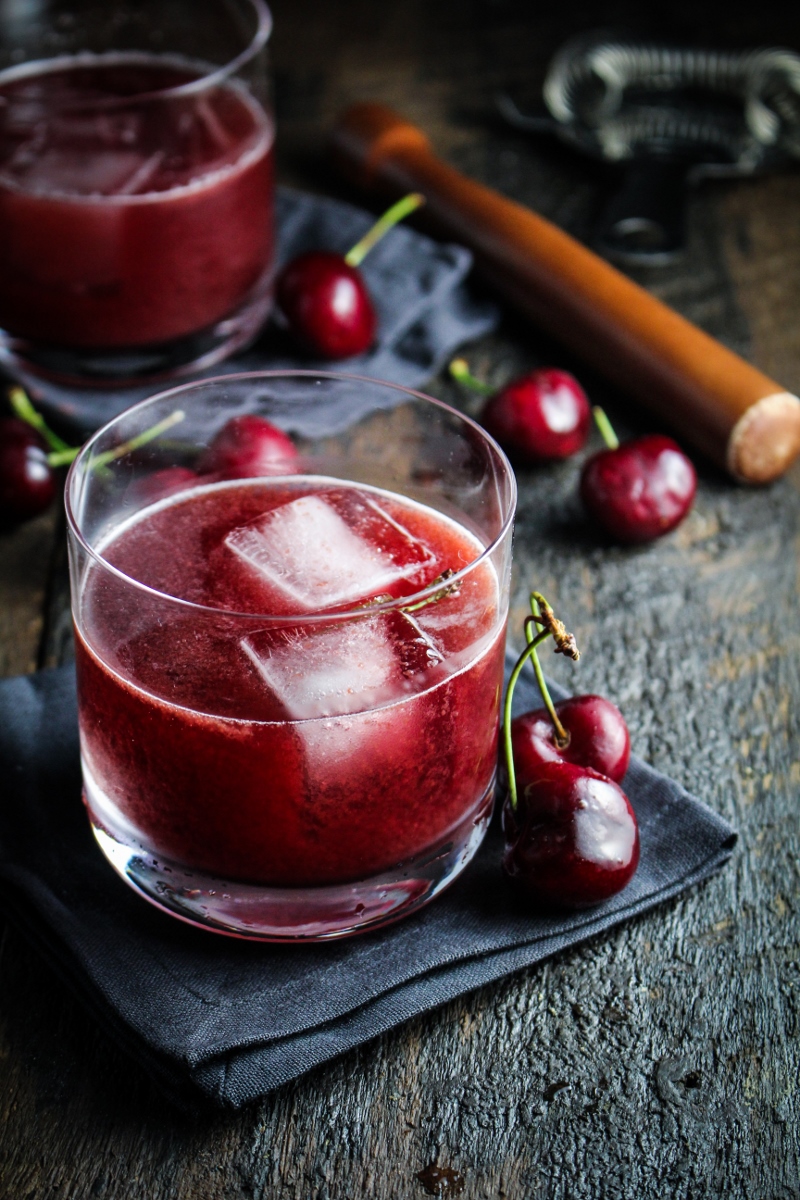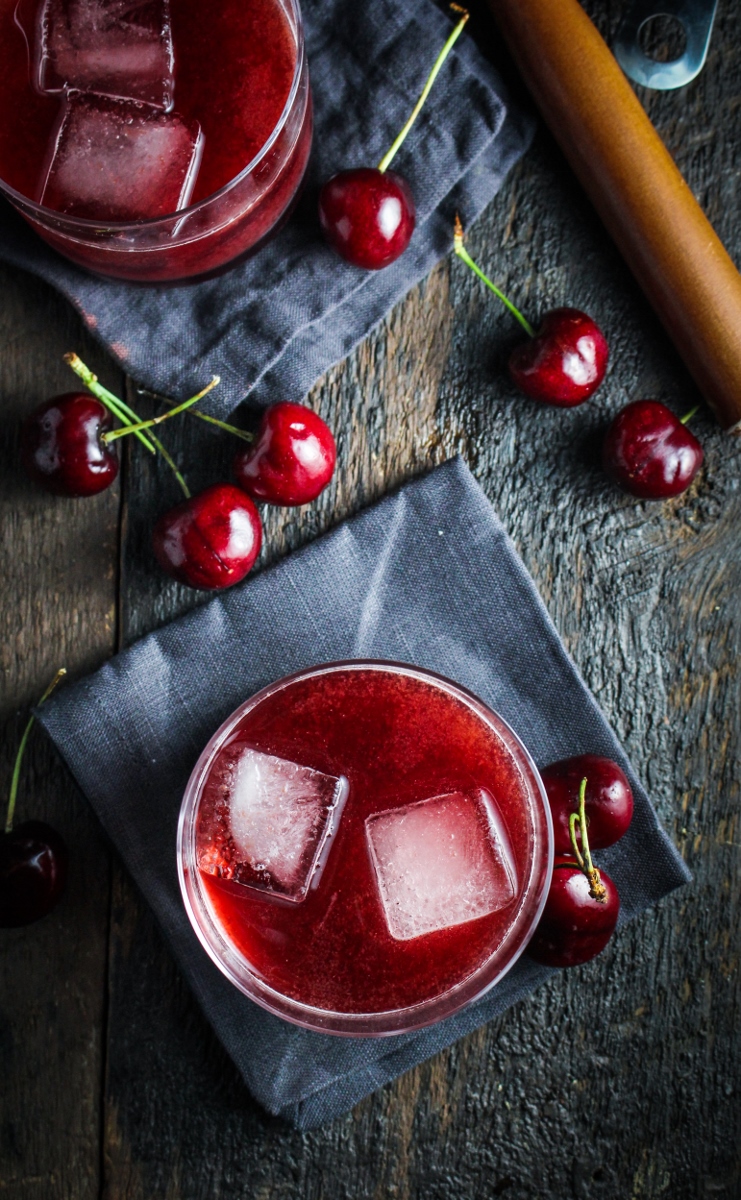 I think maybe I overdid it on cherries this year. For me, cherries are the epitome of the "get 'em while you can" mentality that comes over me every time some new type of produce comes into season. Cherries just seem so fleeting, and they're really at their best eaten fresh, unadultered. They can be expensive, but usually there's a week or two when stores are trying to clear out their supplies before they go bad when you can get better prices. Long story short, a few weeks back, when Wholefoods announced a one-day sale on cherries for $1.99 a pound, I went a little crazy and bought 7 pounds. On top of that, I still had 3 pounds in the fridge from a previous grocery store shopping spree. I can tell you from personal experience, 10 pounds is a lot of cherries, even for the most rabid cherry consumer.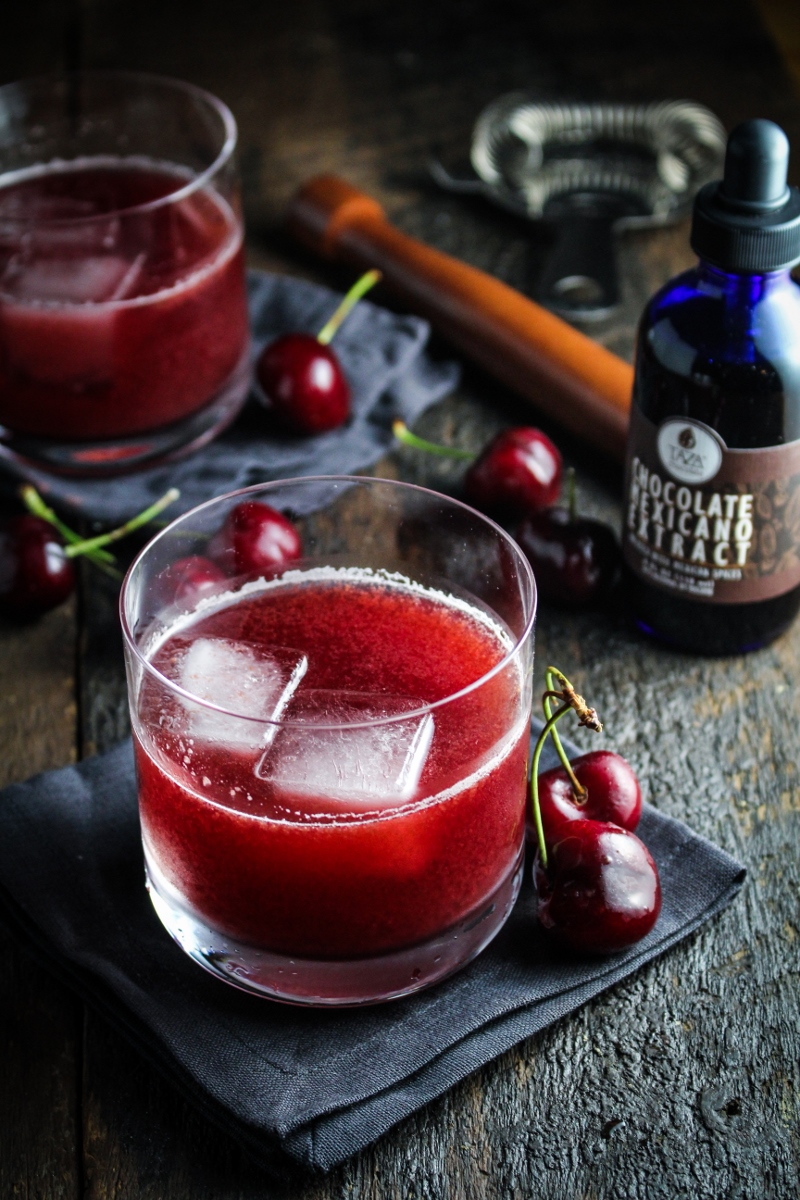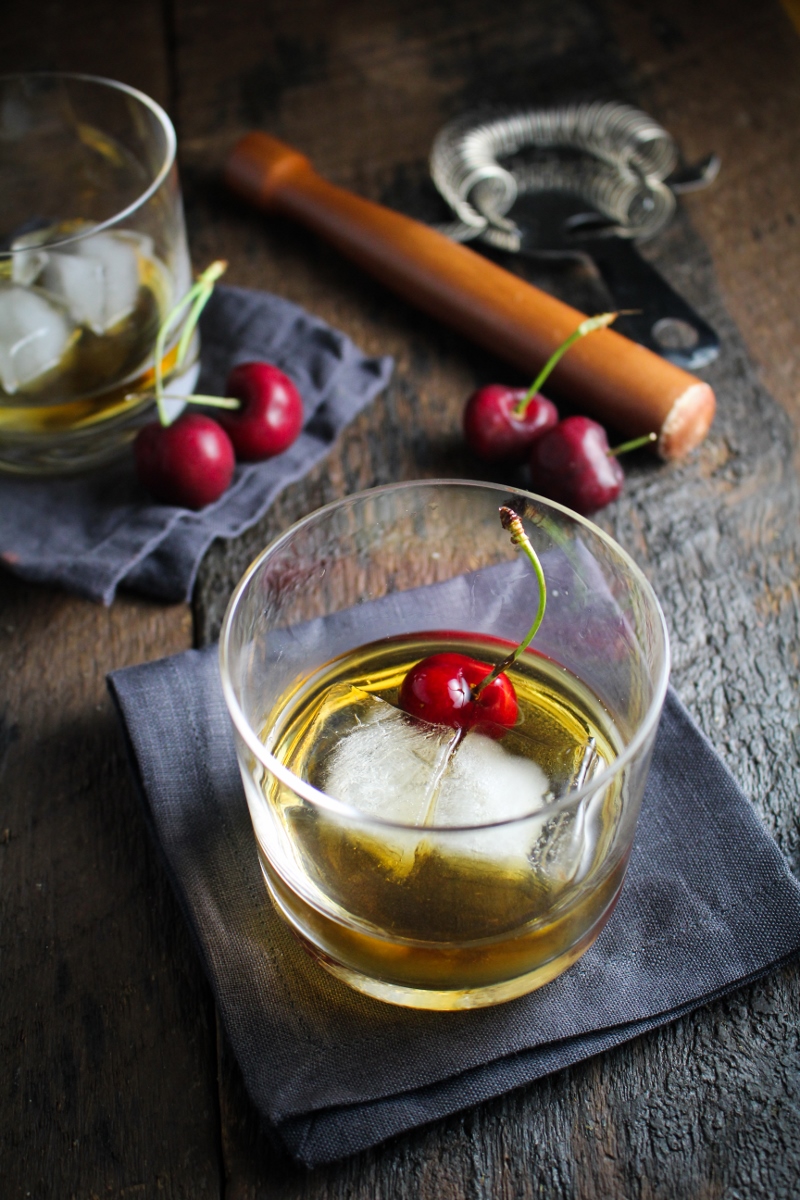 So I got out my cherry pitter and went to work. Plenty of the cherries got put aside for eating fresh and several pounds got simmered in brandy and red wine and packed away in jars for holiday eating. After this, I had about 2 pounds of cherries left, all of them a little sadder and more bruised than their fresh-eating counterparts. I toyed with the idea of making more jam to add to the pile of newly-filled ball jars that has been slowly building on our shelves, but really, the thing I couldn't get out of my mind was fresh cherry soda. So I turned to my copy of True Brews and quickly whipped up a batch of Cherry-Vanilla Soda. If you have cherries to spare, please make this soda – it is so sweet and fizzy and refreshing, and it's a gorgeous clear cherry-red color. Just a little glass feels like a special treat. And it's even more of a special treat if you add a dash of bourbon and chocolate extract, like we did for this cocktail. The mixture of cherries and bourbon and chocolate feels very Southern and indulgent, a drink for sipping slowly on your porch at twilight, when the heat finally begins to fade.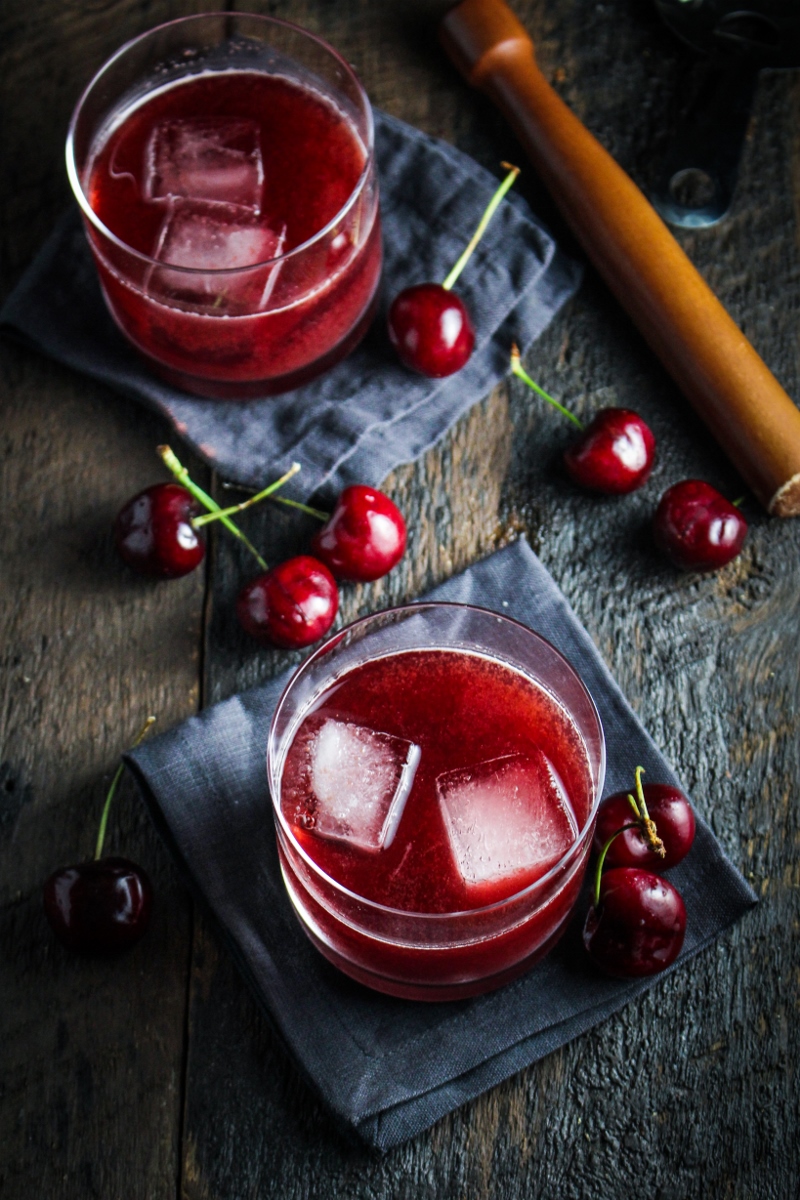 Ingredient note: I'm not sure you can still buy the Taza Mexican chocolate extract we used for flavoring – I looked for a link to direct you all to, but learned that it was only produced from 2010-2013. You can read about it here, but I couldn't find any online vendors selling it. It's more similar to a chocolate baking extract than a chocolate bitters – something like this might work in its place.
Like what you just read? Subscribe to Katie at the Kitchen Door on Feedly or Bloglovin', or follow along on Facebook, Twitter, Pinterest, Instagram, or Google+. Thanks for reading!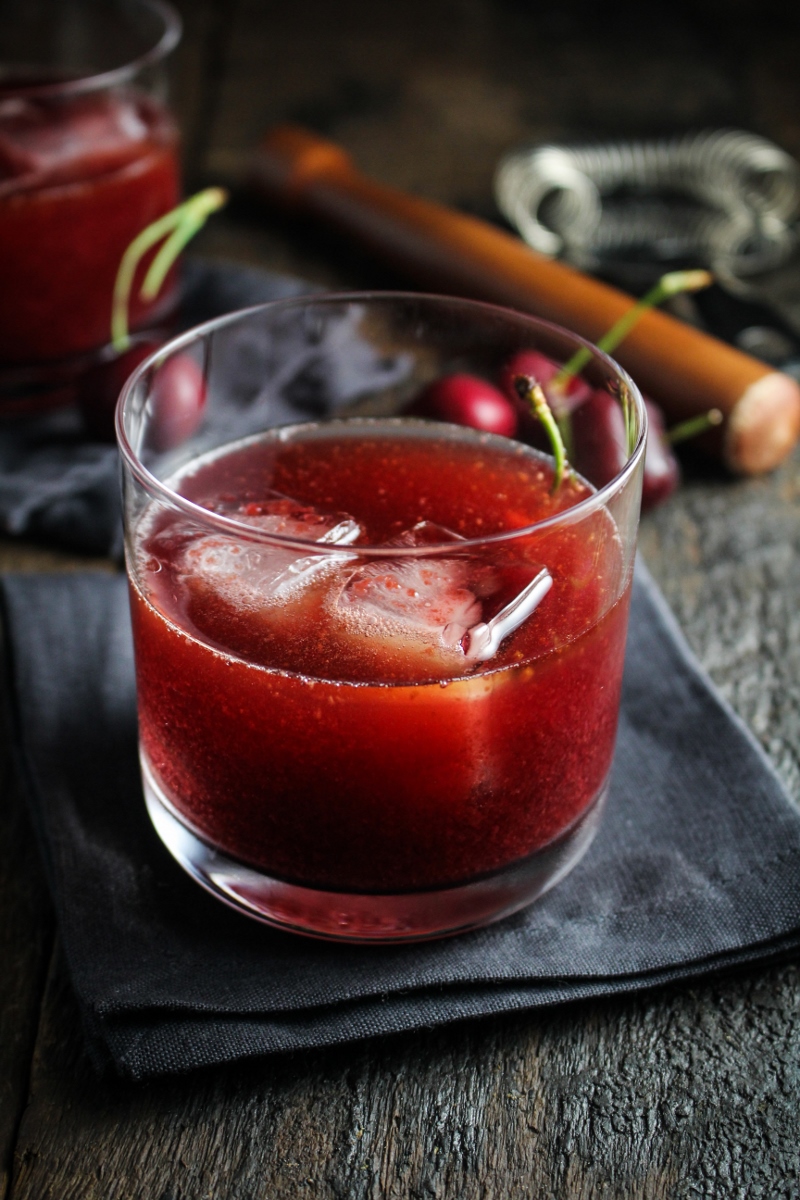 Cherry-Chocolate Bourbon Soda
Serves 1.
3/4 c. homemade cherry-vanilla soda (recipe below) or other cherry soda
15 drops Taza Mexican chocolate extract
1 oz. Bourbon
Add the soda, chocolate extract, and bourbon to a glass with several ice cubes in it. Stir gently, then serve immediately.
Homemade Cherry Vanilla Soda
Recipe adapted from True Brews. Makes 8 cups.
2 lbs. of pitted fresh cherries
4 limes
1/2 tsp vanilla extract
1 c. water, plus more to fill the bottles
9 TBS sugar
1/8 tsp salt
1/8 tsp dry champagne yeast
Place the cherries, lime juice, and vanilla in a large bowl. Bring the cup of water to a boil, then stir in the sugar and salt until dissolved. Pour the mixture over the cherries and let macerate for 10 minutes.
Place the cherries and their liquid in a blender and blend until smooth. Strain the puree through a fine mesh strainer, catching the juice in a bowl. Pour the cherry juice through a funnel into a clean 2-liter soda bottle (do not use glass, as it may break under the pressure of the fermentation process). Add water to the bottle to fill almost to the top, leaving at least 1 inch of headspace between the top of the juice and the cap. Taste and add more lime juice, sugar, or vanilla as desired.
Add the yeast to the bottle. Screw on the cap and shake to distribute the yeast. Let the bottle sit at room temperature out of direct sunlight until the bottle feels rock solid when you press against the sides. This carbonation process usually takes 12 to 48 hours: check the bottle periodically to avoid overcarbonation and a potentially bursted bottle. Once the soda is carbonated, place it in the fridge to slow the carbonation process. Open very slowly over a sink the first time you serve it, to avoid bubble-ups. Serve cold. Refrigerate for up to 2 weeks.
15