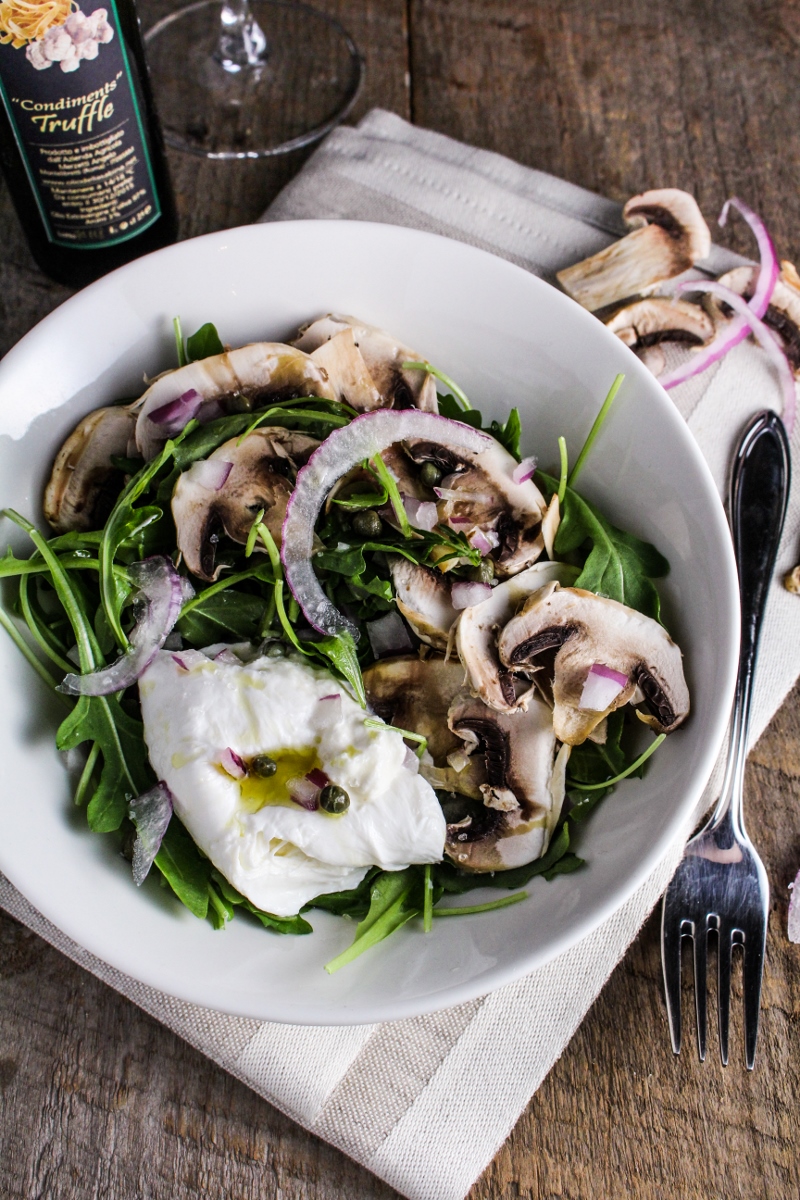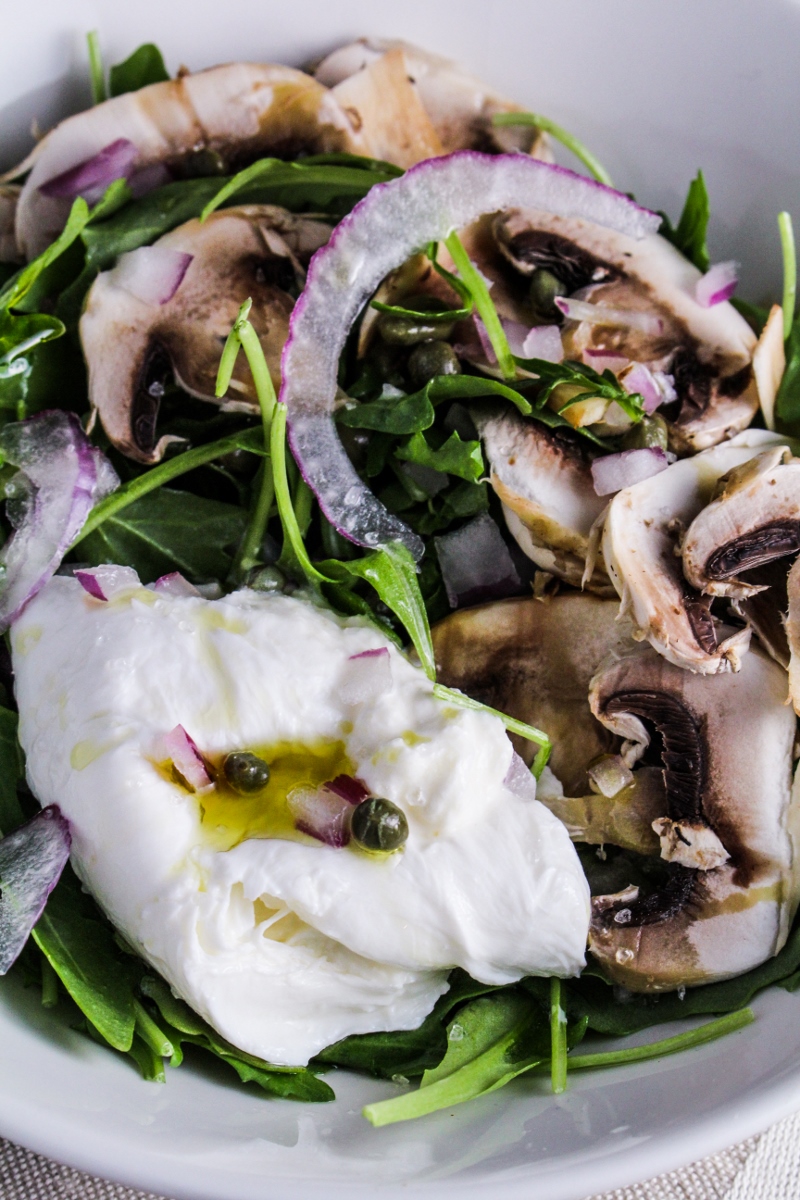 This is my favorite salad, and I have a difficult time imagining the salad that will ever replace it as such. It's something I order every time I go to Via Matta, an upscale Italian restaurant near my office in Boston, and I've gotten many of my coworkers addicted to it as well. I can't believe it's taken me this long to share it with you – I'm sorry to have been depriving you all this time. The only excuse that I can offer up is that I only recently acquired my first bottle of truffle oil – the key ingredient. During my quick business trip to Rome a few weeks ago, I loaded up on Italian food products that are really pricey in the states and only sort of pricey in Italy: Myrtle liquor, candied kumquats, truffle sauce, dried squid ink pasta, and a treasured bottle of truffle oil.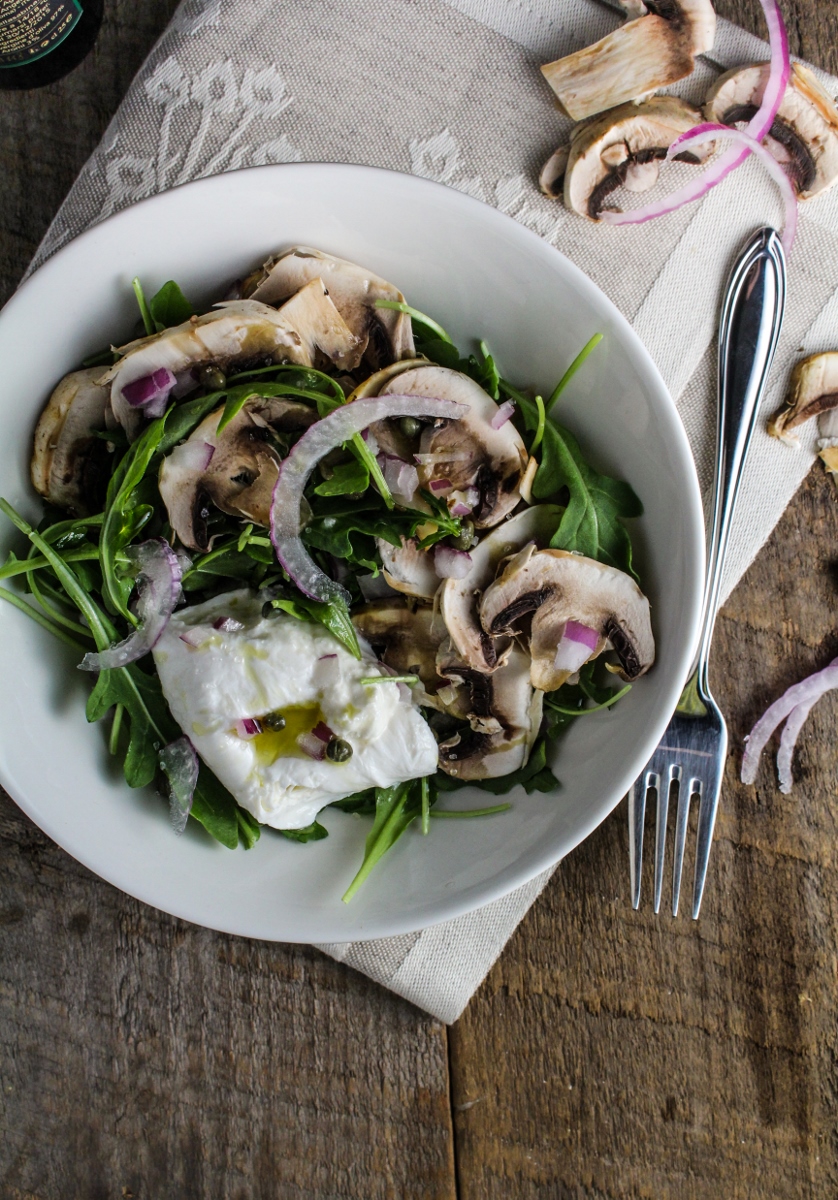 Something about the mix of the ultra-rich burrata, zippy arugula, super thinly shaved mushrooms (that are almost creamy in texture), salty capers, and pungent truffle oil in this salad is absolutely intoxicating. Trevor thinks it's just the fact that anything made with truffle oil and/or burrata (a super luxurious cream-filled fresh mozzarella, for those of you who aren't familiar with it) is delicious, but I maintain that this is a special combination. The raw mushrooms soak up the truffle oil so that it's almost like you're eating a truffle itself when you bite into them, too. I really can't get enough. I should note that a little bit of truffle oil goes a long way – you only have to use one or two teaspoons of oil per salad – so although it is certainly rich for a salad, it's not over-the-top indulgent.
Like what you just read? Subscribe to Katie at the Kitchen Door on Feedly or Bloglovin', or follow along on Facebook, Twitter, Pinterest, Instagram, or Google+. Thanks for reading!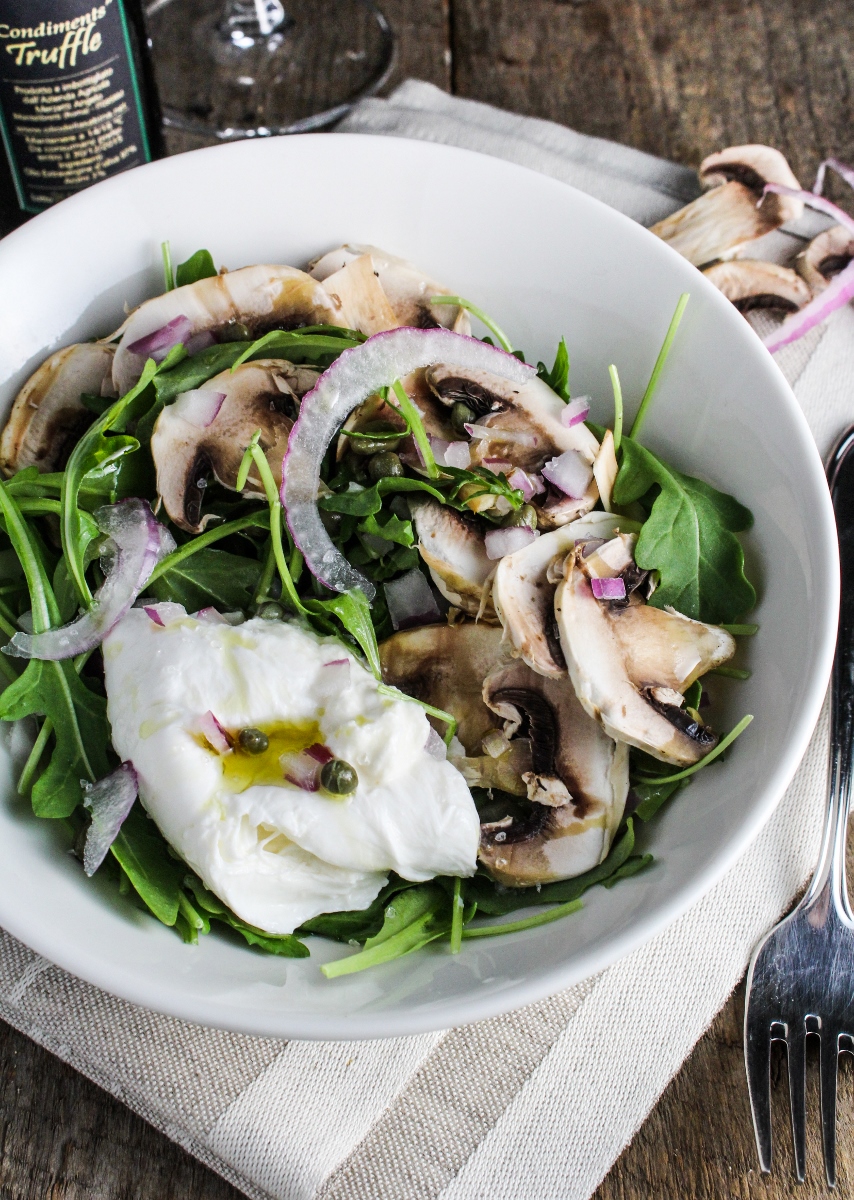 Arugula Salad with Burrata, Shaved Mushrooms, and Truffle Oil
Inspired by Via Matta. Serves 1.
2 or 3 large handfuls of fresh arugula
3 mushrooms, shaved or sliced as thinly as possible
1 TBS very finely chopped red onion
2 tsp capers
2 oz. fresh burrata
2 tsp truffle oil
1/2 tsp coarse sea salt
Toss the arugula, shaved mushrooms, red onion, and capers together in a large bowl. Place the piece of burrata on top of the salad, drizzle with truffle oil, and sprinkle with sea salt. Serve immediately.
1