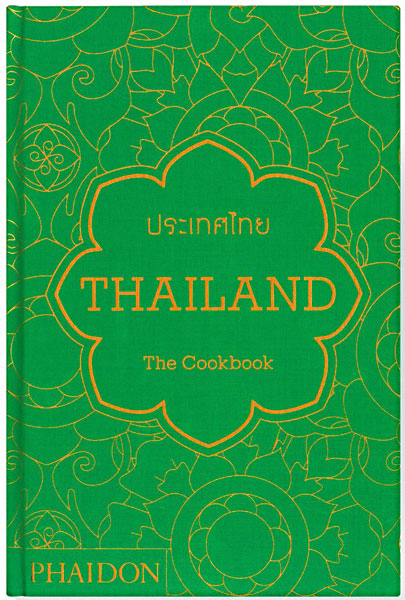 The Book: I want to open this review with a statement that's much stronger than those I usually make in these posts: if you like Thai food (and who doesn't), and you like to cook, you should buy a copy of Thailand: The Cookbook. With 500 traditional recipes, absolutely stunning photography, and the gorgeous design typical of Phaidon books, I already know it will be one of my favorite books this year, even if I mostly use it for daydreaming about the jungles and coasts of Thailand and colorful plates of Pad Thai and Papaya Salad. I wish I could let all of you flip through my copy, because I'm having a difficult time communicating how gorgeous the pictures are. They are certainly given pride of place, taking up full pages and even multi-page sections, and are drenched in rich colors that show up beautifully on the luxe matte paper. It's mostly food photography, and an impressive portion of the 500 dishes are represented, but the landscapes and portraits are jaw-dropping. There's not very much in the way of narrative here, but the recipe section is encyclopedic and decidedly authentic, meaning you will find, in all likelihood, hundreds of new-to-you recipes – I certainly don't have any other cookbooks with recipes for Fried Crickets with Herbs or Spicy Dried Buffalo Skin Salad. Recipes within sections are often variations on a theme and are organized in a very logical progression, for example, moving from Spicy Vegetable and Fish Soup to Spicy-and-Sour Tilapia Soup to Spicy Eel Soup to Spicy Shrimp Soup. Given this, I'd imagine that if you cook enough different recipes from this book, you would develop a sort of intuition for Thai cooking and flavors.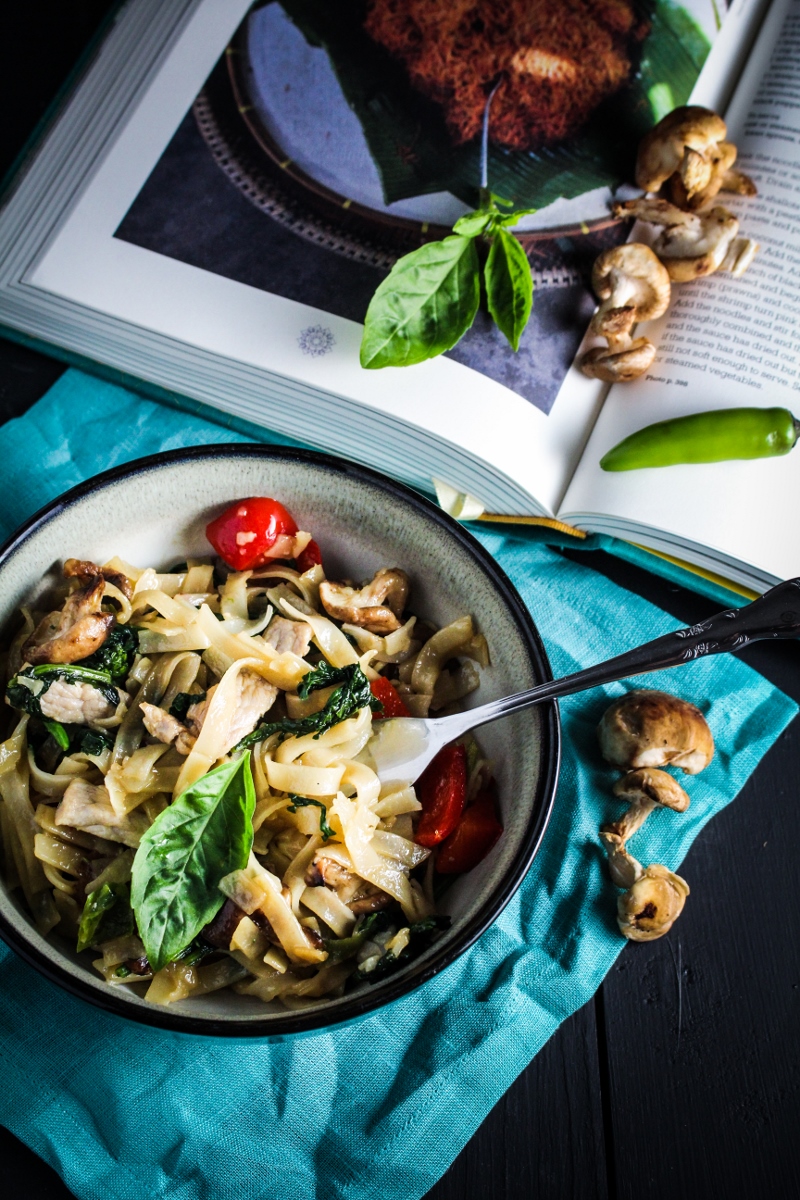 One of the beauties of Thai cooking is how fast it is. Sourcing the ingredients will easily be the most time consuming part of preparing most of these recipes, with many prep and cooking times under 15 minutes total. Many of the recipes are also scaled to serve 2 or 3, which is convenient for a couple like us. There will definitely be recipes that are impossible to make outside of Thailand – I doubt I'll be coming across banana blossoms or giant water bug eggs in my local market – but don't let that scare you away from this book, as there's more that's accessible than inaccessible, especially if you have a good Asian grocery nearby, or even a well-stocked Asian Foods aisle in your Wholefoods/Kroger/Shaw's. In short, for anyone with a love affair with Thailand and its sweet and spicy food, this book is a must buy – personally, I'm so excited to finally have an authentic Thai cooking resource in my collection.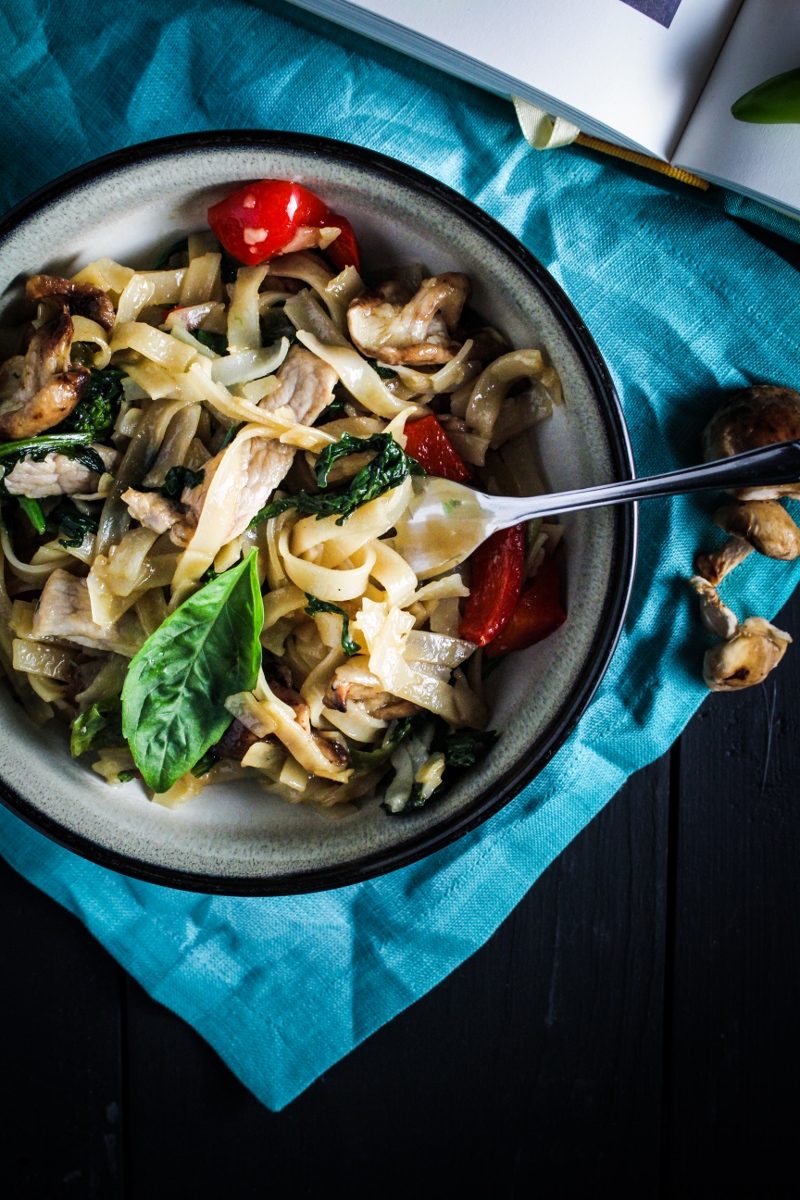 The Food: The first recipe I tried out from Thailand: The Cookbook was Drunken Noodles with Pork, because, well, who doesn't love drunken noodles? I was looking for a recipe for lunch that would be filling but not too heavy, quick to prepare, and for which I could find the ingredients at the small specialty butcher around the corner, as I only had about an hour before we needed to leave the house. Whipping up these noodles was dangerously easy – a handful of chilies and garlic pounded into a paste, a few thin strips of pork tenderloin, a bowl full of Chinese broccoli and mushrooms, and a quick sauce of soy sauce and sugar, stir-fried one at a time over high heat, and in 10 minutes I had a steaming bowl of sweet and spicy noodles, just as good as the ones from the takeout spot down the street. These noodles are definitely going into my "quick and craveable" dinner rotation. I've barely cracked the surface of this book, but after my first foray into authentic Thai cooking, I'm even more excited to delve further into these recipes.
Recipe Shortlist: Thai Pork Fried Rice with Fried Eggs; Chicken Curry Puffs; Thai-Style Hot Pot; Dragon Fruit Frappe; Spicy Strawberry Salad; Chicken and Coconut Soup; Beef Massaman Curry; Green Chicken Curry; Grilled Duck with Tamarind Sauce; Coconut Custard with Fried Shallots; Sesame and Sugar-Coated Peanuts; Jasmine Flower Flan
Like what you just read? Subscribe to Katie at the Kitchen Door on Feedly or Bloglovin', or follow along on Facebook, Twitter, Pinterest, Instagram, or Google+. Thanks for reading!
Disclaimer: I received a review copy of Thailand: The Cookbook from Phaidon, but I was not otherwise compensated and all thought and opinions are my own.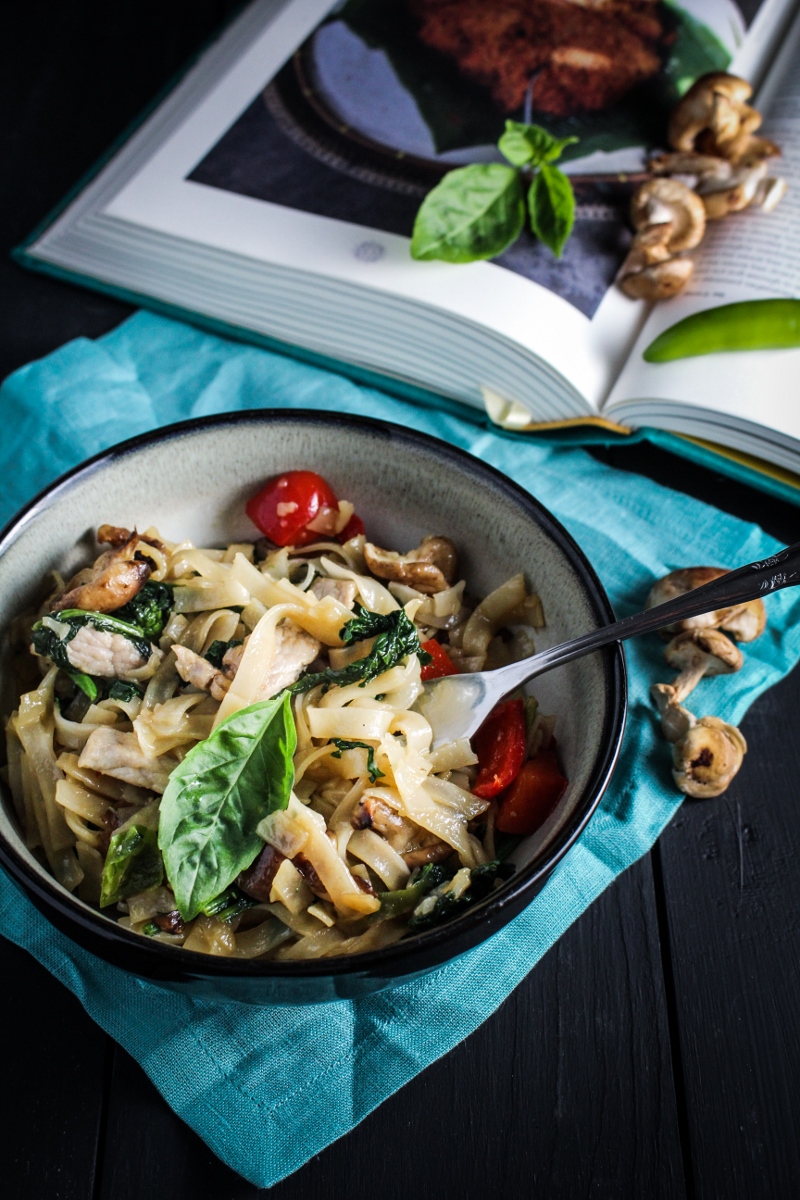 Drunken Noodles with Pork
Recipe from Thailand: The Cookbook. Serves 2.
Note: There were a few items I had to substitute based on what I could find at the store – 2 serranos for the bird's eye chilies, broccoli rabe for the Chinese broccoli, chopped red pepper for the baby corn, and baby shiitakes for the straw mushrooms. I tried to keep the substitutions very close in flavor profile to the original ingredients. I've included both the original ingredients and my substitutions below.
7 oz. flat rice noodles
2 TBS vegetable oil
3-4 cloves garlic, pounded to a paste
5-7 red and green bird's eye chilies, pounded to a paste (OR substitute 2 serranos)
3 1/2 oz. pork tenderloin, sliced into thin strips
5 oz. Chinese broccoli, stems removed, leaves chopped into 1 1/2 inch pieces (OR substitute broccoli rabe)
7 baby corn, halved lengthwise (OR substitute 1/2 c. of chopped red bell pepper)
5 straw mushrooms (OR substitute 1/2 c. baby shiitakes)
2 TBS soy sauce
1 1/2 tsp sugar
1 handful of Thai basil leaves
If the noodles have been kept in the fridge, wrap them in cheesecloth and steam in a steamer for 2-3 minutes until warmed through. Alternatively, heat in a microwave for 1 minute. If noodles are dry, prepare according to package directions. Set aside.
Heat vegetable oil in a wok over medium high heat. Add the pounded garlic and chilies and quickly stir-fry for 30 seconds, until sizzling and fragrant. Add the pork slices and stir fry for 1 minute, or until cooked through. Add the broccoli and baby corn and stir-fry for another 1-2 minutes. Add the prepared noodles, soy sauce and sugar, and stir-fry for 1-2 minutes until the noodles are soft and fully flavored. Remove from heat, stir in the basil, and serve immediately.
0