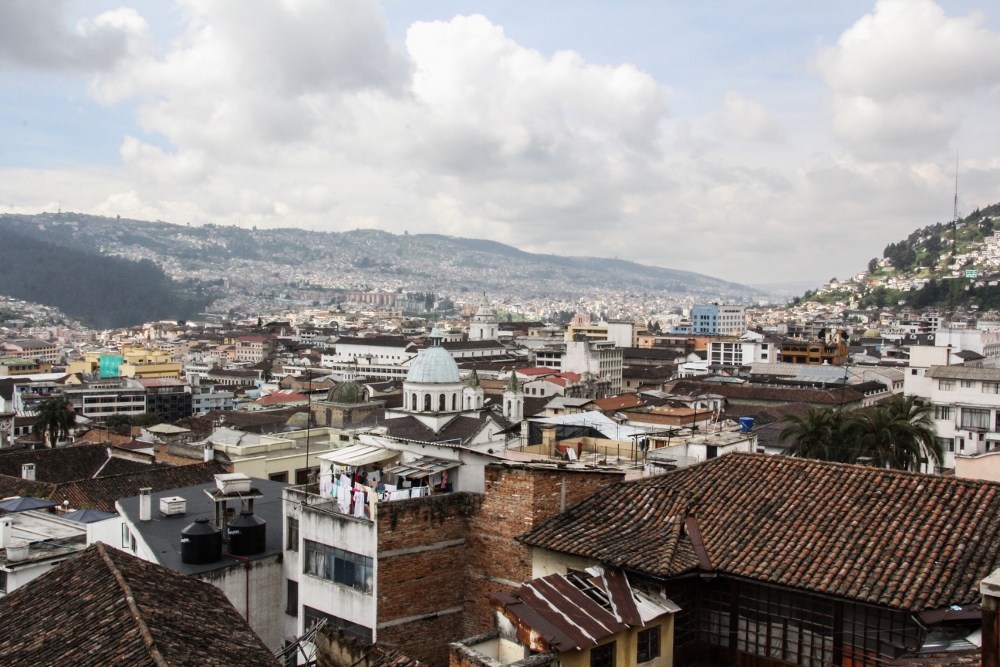 As I've mentioned a few times (or as you may have noticed from my Instagram pictures), we just got back from an awesome ten-day vacation in Ecuador. Trevor and I tagged along on my family's spring break trip, and not doing any of the planning or trip prep myself was a welcome change, and meant that pretty much everything we did was totally new and surprising. We spent time in four different parts of the country: Quito, the Amazon, Baños, and Cotopaxi. I left my computer behind, but I took lots of old-fashioned notes (and pictures!) on everything we did, saw, and ate, so I'm putting together a four-part travelogue, both for my own memory, and in case any of you are considering your own trip to Ecuador. First up, Quito.
Quito Overview
Most flights from North America to Ecuador seem to land in Quito, and many of the most popular travel routes start and end in the country's capital. If you're headed to the beach, you can also fly in through Guayquil, further South, but we were staying mainly in the highlands so Quito was our first stop. The Quito airport is brand new, having opened only a year ago, and it's very clean and modern, but it's a long haul from downtown – our transfer to the hotel took a little over an hour (on the bright side, it only cost $35 for a van). Although we only spent two days there, Quito seems like a city on the up and up. While it's definitely still on the gritty side, there are some beautiful areas and everyone we spoke with was very friendly. Tourists seemed to be few and far between, which is quite different from every other major capital city I've visited, but a little refreshing. Most guidebooks and travel websites that I read had extensive warnings on safety: we didn't have any issues, but I did feel a little uncomfortable (and extremely blonde) walking around some parts of Old Town, which was probably both caused and relieved by the extremely visible armed police presence. I think with normal safety precautions, you're perfectly safe, but it's definitely a city where you should stay alert and do your best to blend in. At 9,000 feet and with plenty of hills, just walking around the city is a workout – bring good walking shoes and take it slow to avoid passing out in the main square like my baby brother (he's fine). While we were there (March), the weather was fairly cool and gray – jeans and a sweater were most appropriate during the day, although when the sun did show it's face it was wonderfully warm.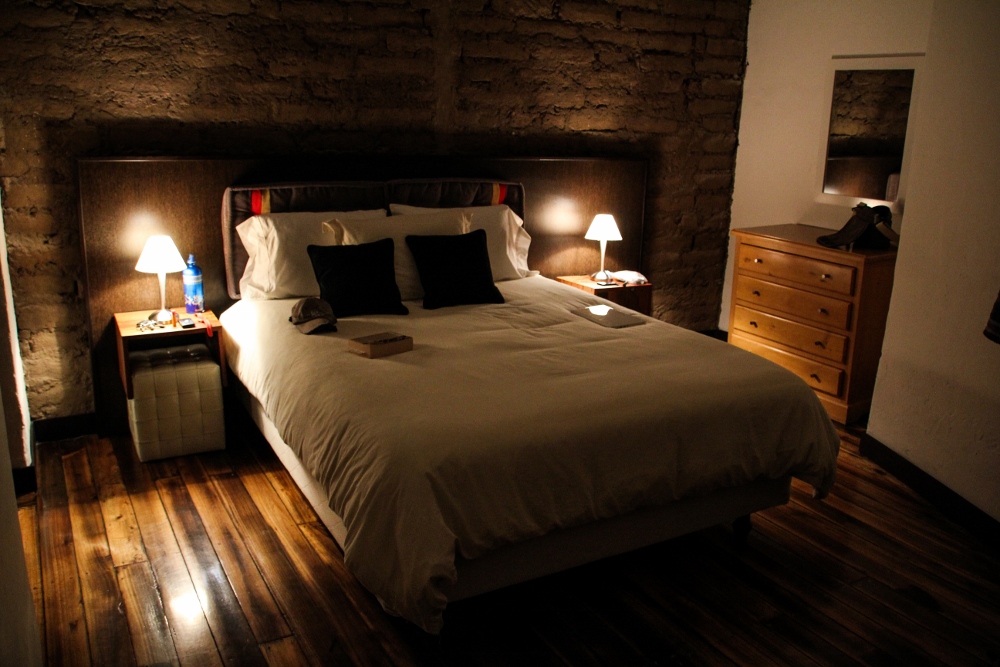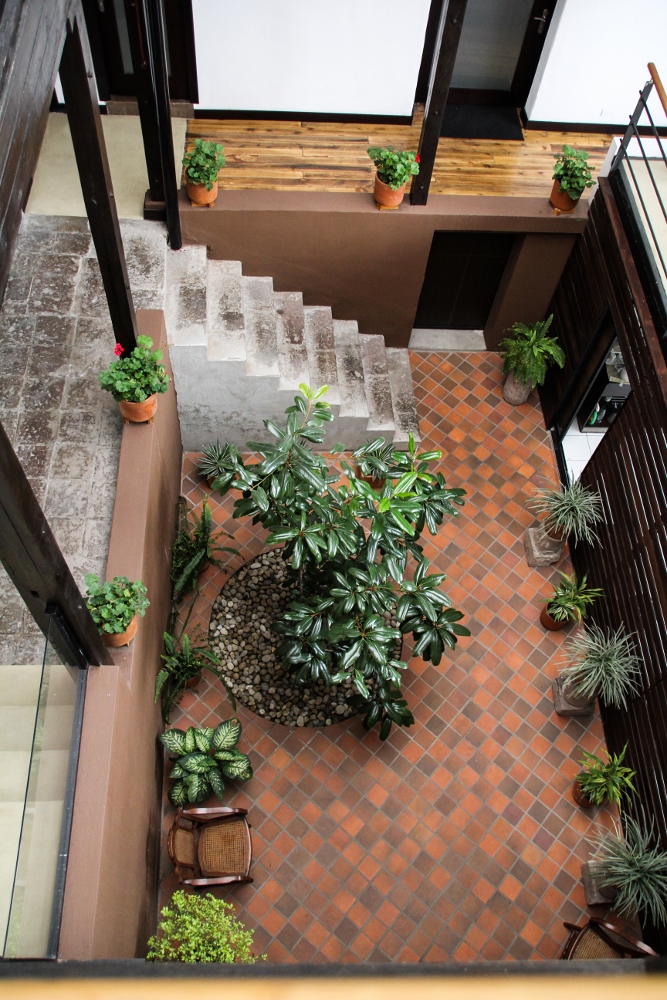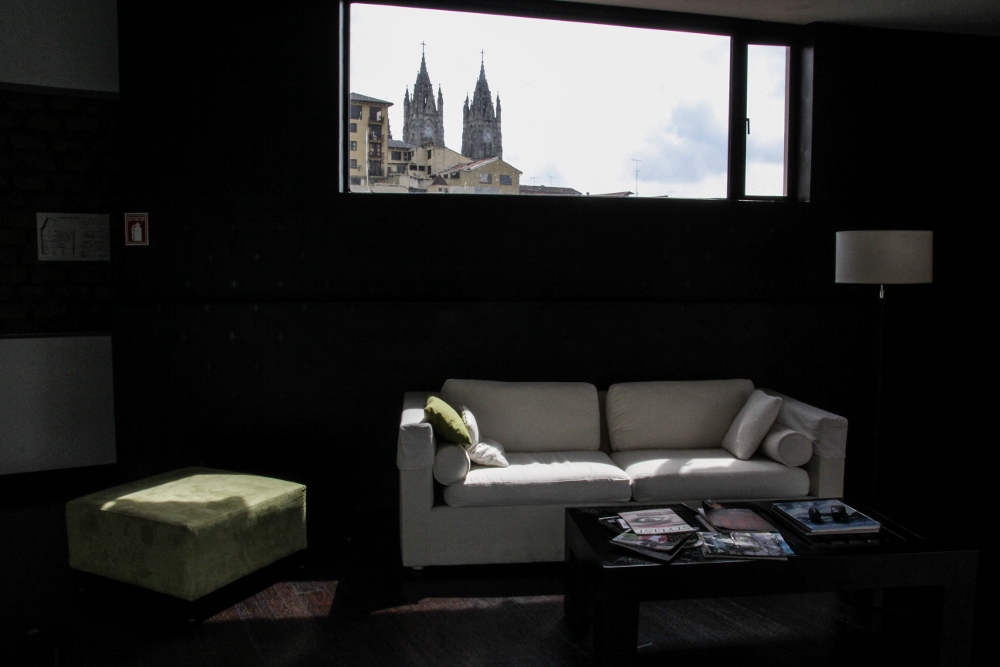 Hotel Casa Gardenia
Kudos to my mom for finding the Hotel Casa Gardenia. Just up the hill from the historic center of Old Town, I think this little hotel was my favorite part about the city. Located in a historic house, it's been completely remodeled by a graphic designer, and the result is a beautiful, modern, and unique boutique hotel. There are only seven rooms, spread out across three floors and connected by a central courtyard. Collectively, my family stayed in four of the seven rooms so we can vouch that they are all comfortable and well-designed. Rooms on the second floor seem to be the best as far as noise levels go – on the first floor the rooms are right by the breakfast area so it's loud in the morning, and on the third floor city noise comes up through the windows – but we all slept well regardless of where we were in the building. There are comfortable common spaces on all three floors with beautiful panoramic views of Quito, and we made good use of them – two nights we had dinner and wine on the couches on the third floor, and during an afternoon rainstorm, Trevor and I snuggled up with a cup of tea on the second floor and watched the clouds move over the city. The hotel is small enough that the common spaces feel like an extension of the rooms, and I loved how welcoming they were. Everyone on the staff was lovely – friendly, accommodating, and helpful. We were especially grateful to be able to use the kitchen's fridge and microwave to store/reheat our leftovers from dinner. Breakfasts were delicious and satisfying, with gorgeous freshly blended juices, made-to-order eggs, and lots of breads, pastries, and fruits. I would go back in a heartbeat.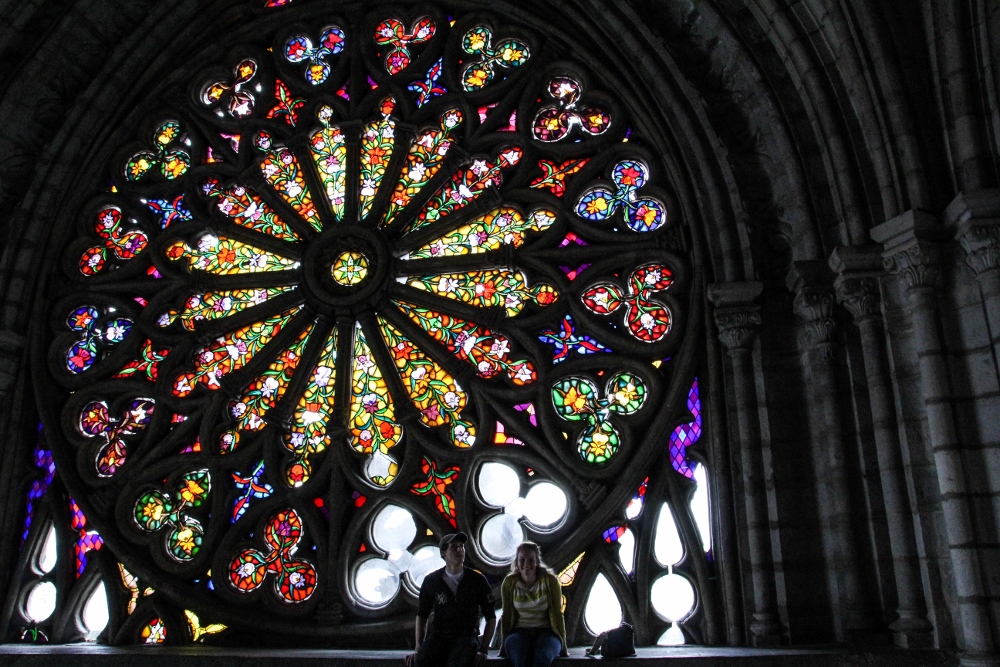 National Basilica
We spent the whole morning of our first day exploring the Basilica del Voto Nacional, a neo-Gothic cathedral that has been under construction for over a century (and is still not quite finished). While I usually have a short attention span for churches, I had so much fun climbing around this one. Entry to the interior costs $1, and this part of the church is a little boring if you've been to many cathedrals, although the stained glass is extremely vibrant and worth a peek. The real highlight was climbing up in the towers, which are found at the side entrance and can be accessed for $2. We spent a few hours climbing up the different belltowers, walking across the ceiling, taking pictures, and stopping in their little gift shop (where I got a great, super-warm hat for $5). There's also a small cafe inside one of the towers, if you need a mocha to recharge after all the stairs. We didn't try it but it had pretty picture windows and looked very cozy. Both parts of the cathedral were uncrowded and really pleasant to visit.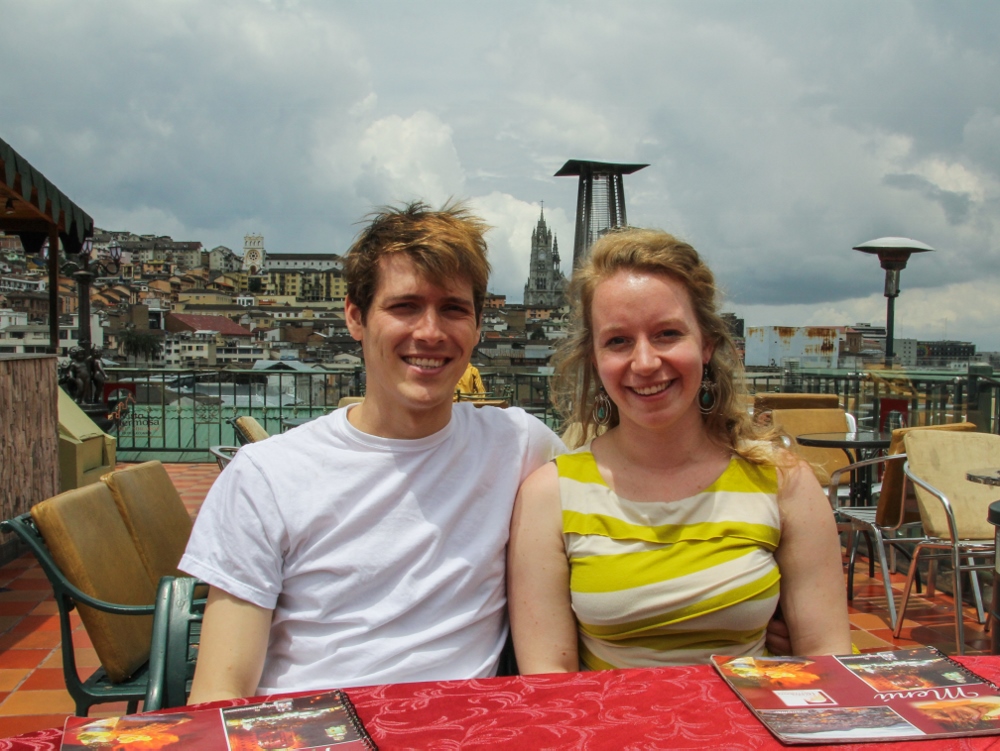 Lunch at Vista Hermosa
During a brief hour of sun on our first day we had lunch on the rooftop deck at Vista Hermosa. The food there is solidly average, and definitely a bit overpriced for the area,  but in my book a visit to the restaurant is still worth it on a sunny day for the gorgeous views (the best way to go might be to just order drinks and nachos). I tried seco de chivo, a local goat stew served with big chunks of potatoes and avocado, which was hearty and satisfying but not particularly inspiring. If I ever get back to Quito I'm going to try and find a more distinctive version.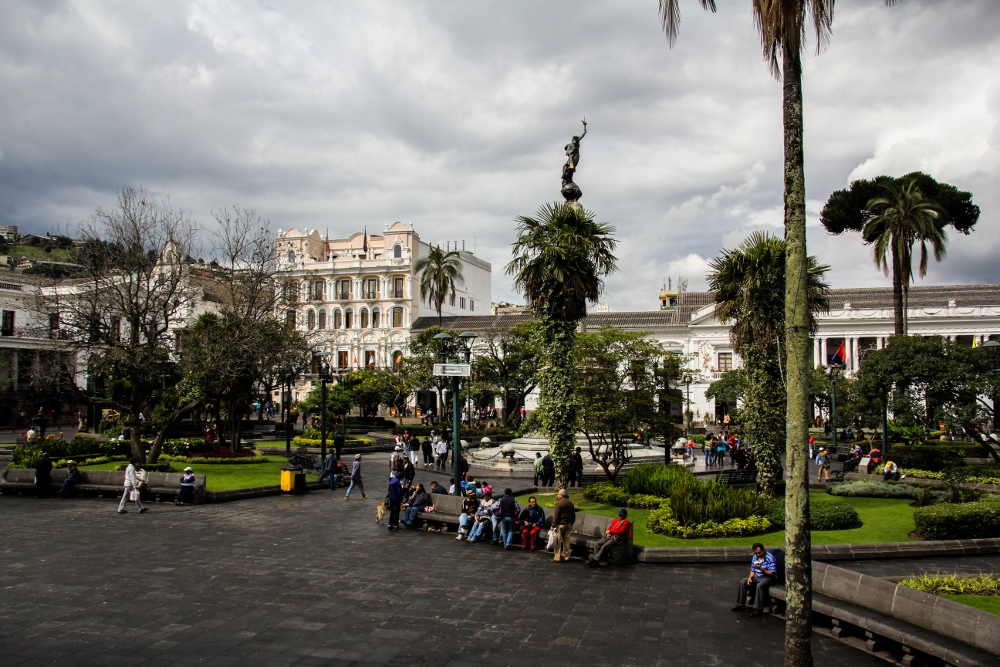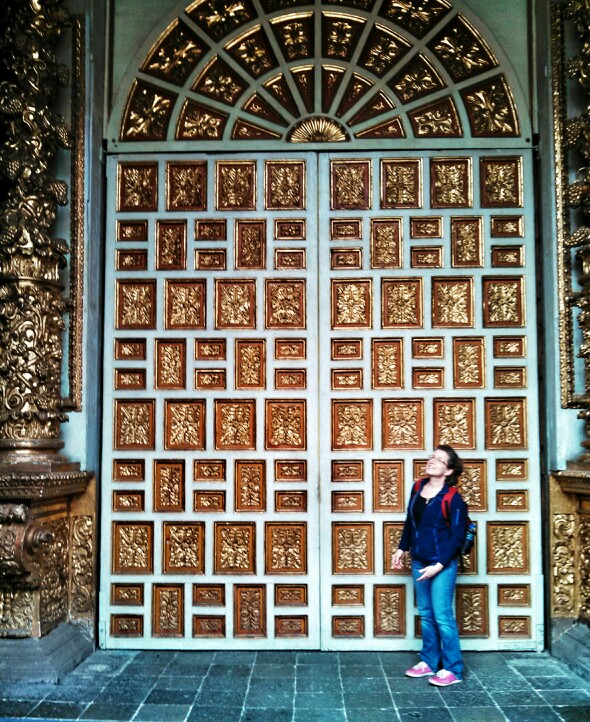 Wandering Old Town – Plaza de la Independencia, La Iglesia de la Compania de Jesus
The historic center of Quito was named a UNESCO World Heritage Site back in 1978, for being the best preserved city center in Latin America. We only went inside one building in this part of town – La Iglesia de la Compania de Jesus – a church with an interior that is covered entirely in gold leaf. It's an impressive sight, but by this point we were all a little warn out from our wanderings that day, so we were in and out. We also wandered through Plaza de la Independencia right down the street, which has beautiful gardens and building facades, but was a little crowded for our taste. I think exploring this part of the city with a guide might be the way to go – I'm sure we would have enjoyed it much more if we were learning something on the way.
Takeout from Pizzeria El Hornero
I've never ordered takeout while traveling abroad before (unless you count room service, I suppose) – it has always seemed both overwhelming and like a waste of an opportunity to continue exploring my destination. That said, traveling can be exhausting, and having hot food delivered to your hotel's door can be so nice after a busy day exploring. Plus, it turns out that local takeout can be just as interesting as venturing out to local restaurants. So although I was a little disappointed the first night when my parents ordered pizza from Pizzeria El Hornero, 10 days later when we were back in Quito I actually requested that we do it again. The pizzas are served with a super spicy salsa that makes the experience of eating them entirely different. I loved the tropical chicken pizza with this bright green sauce – it was one of the more memorable dishes of the trip for me. Plus, it was really nice sitting together in the third floor lounge of the hotel, eating casually and discussing our day in our pajamas. I might be a takeout convert.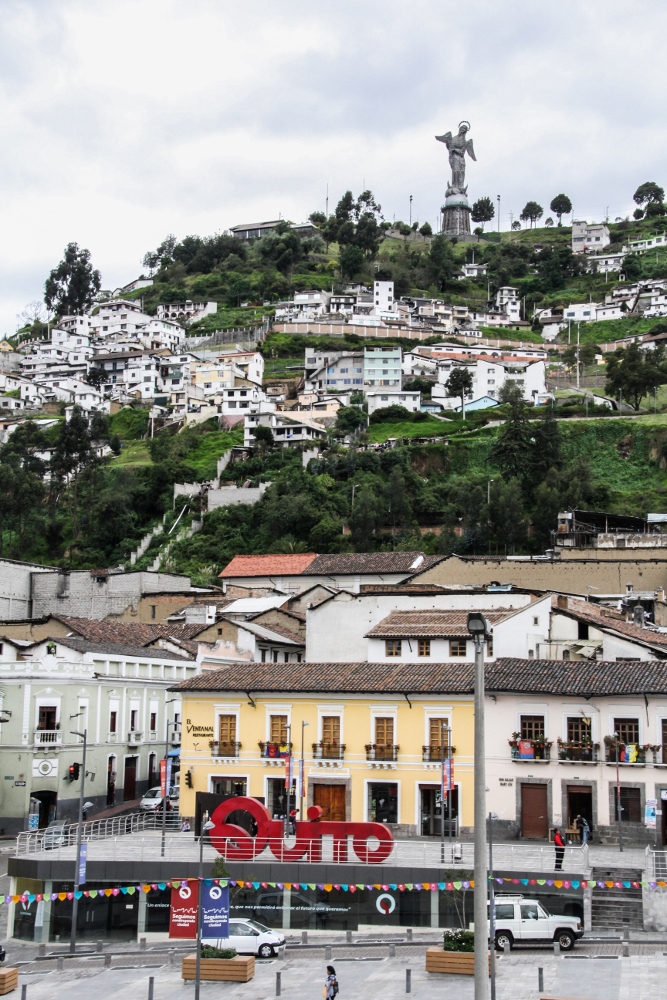 Museo de la Ciudad
After 10 days exploring the jungle, highlands, and volcanos of Ecuador, we had one more day in Quito before our flight home. Everyone was kind of run down and mildly ill at this point, and not up for too much adventure. That last morning, we ventured out to the Museo de la Ciudad, and it was the perfect choice for a low key activity. The museum, which is housed in an old hospital, has a nice mix of art and history exhibits – we all wandered through separately, enjoying the life-size dioramas, artifacts, and paintings which were well arranged, and many of which were interactive. It was really cool to see exhibits of some of the traditional lifestyles after we had seen those lifestyles in person, and we were all pointing out the many objects, plants, and foods that we recognized from our trip. Walking through the courtyards is also pleasantly cool and quiet, a peaceful place right inside the city. Well worth the $3 entrance fee. On our way out, we stopped to check out the great views of the Virgin statue on nearby El Panecillo, and had lunch at the artsy, modern cafe right on the museum steps. Although like most restaurants there's a traditional lunch offering (soup, chicken and rice, and a dessert) that's very affordable, we all jumped at the chance to have sandwiches and coffee – after 10 days of traditional lunches, it was a nice change.
Souvenirs at Mercado Artesanal La Marisca
To fill the last few hours before our flight, Trevor and I decided to go out in search of some local art to bring home. We couldn't find any parts of town which could be reasonably considered an art district, and the types of art being sold in some of the museums were out of our price range, so we wandered up to the Mercado Artesanal on the edge of New Town. It was the only time we crossed over into New Town, and I wish we'd spent more time there – it felt much more like a living city than Old Town, which made me feel a little claustrophobic and skittish at times. The market itself is arranged into covered rows of stalls, most of which are selling jewelry, woven products, chocolate, and trinkets, but there were a few stalls selling prints and paintings. We ended up taking home a big (like 3 feet long) original painting of Illinizas for $60 – our first real art! And despite the anxiety it caused me, I even managed to bring it home as a carry-on damage free. If you're looking for a one-stop shop for souvenirs of all sorts, the Mercado Artesanal is worth a try – it doesn't have the most unique or best priced goods, but it does have a large variety all in one place, and it's fun to wander through.
More from our Ecuador adventures…
Ecuador Travelogue: The Amazon
Ecuador Travelogue: Baños
Ecuador Travelogue: Cotopaxi
1