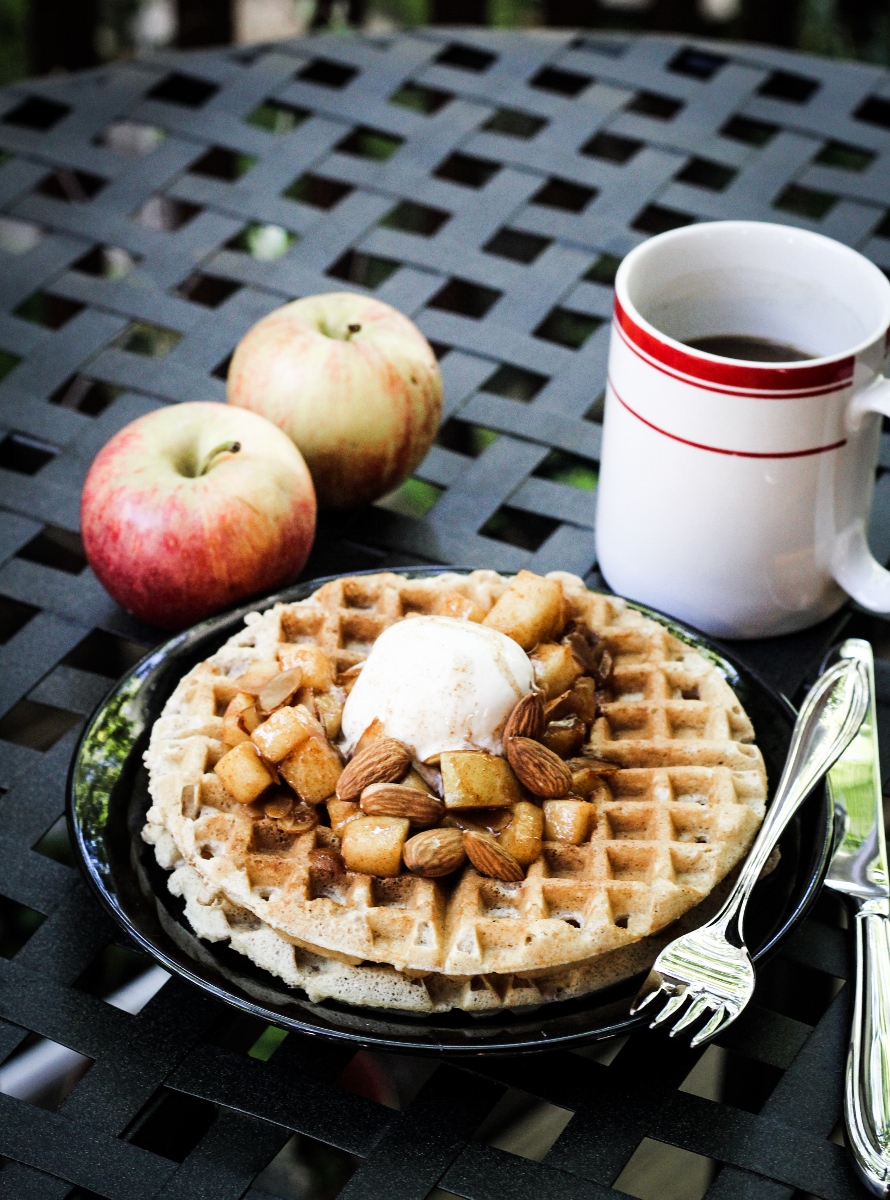 Giveaway is now closed. Congrats to Rachel Wang on winning!
September is "Better Breakfast Month," and although it seems that somehow the month is almost over, I think celebrating breakfast is something worth doing. When the California Almond Board asked if I'd like to help them celebrate, I said yes – I love breakfast, and I think it's important to make time to eat a filling and healthy meal first thing in the morning. So they sent me some almonds and almond butter (and they'll do the same for one of you, see the giveaway details at the end of this post!), and I whipped up some almondy waffles to keep me full and happy.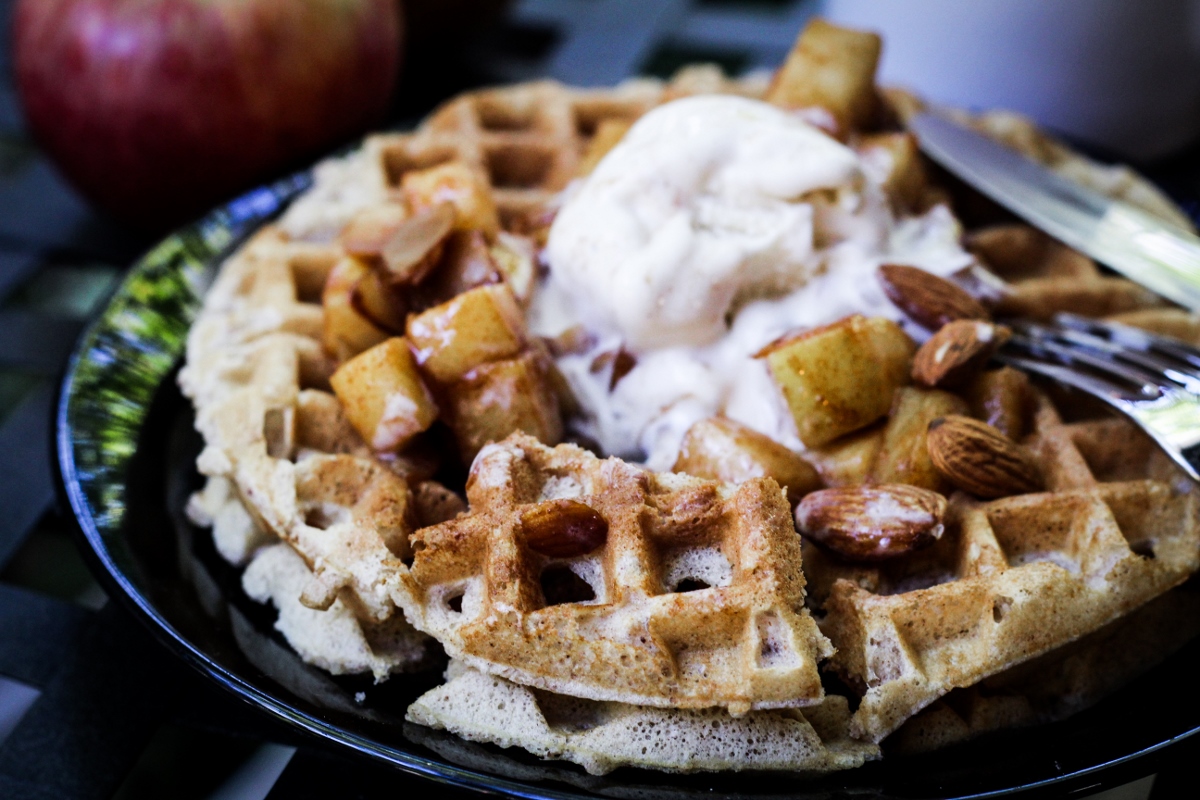 Weekend breakfasts are a time when I can find myself over-indulging. I just love breakfast foods – eggs and bacon, fruit smoothies, waffles, french toast, cheesy grits, bagel sandwiches, stuffed crepes, leftover apple pie (does that count as a breakfast food?) – and sometimes it can be tempting to eat a little bit of everything. I decided to make one of my favorite indulgent breakfasts, waffles and maple syrup, a little bit healthier by replacing half of the flour with ground almonds, and swapping out the maple syrup for some lightly sweetened stewed apples (disregard the ice cream in the photo, that didn't make anyone any healthier… but oh man was it good). The waffles turned out great – airy and slightly almondy with crispy edges. They were a little drier than my usual recipe, but I felt good about the extra protein and fiber I was getting from a meal that is typically an excuse to gorge on empty calories. And the flavor of the cinnamon, almonds, and apples were so autumnal – the perfect thing to eat on your porch on a sunny Saturday morning.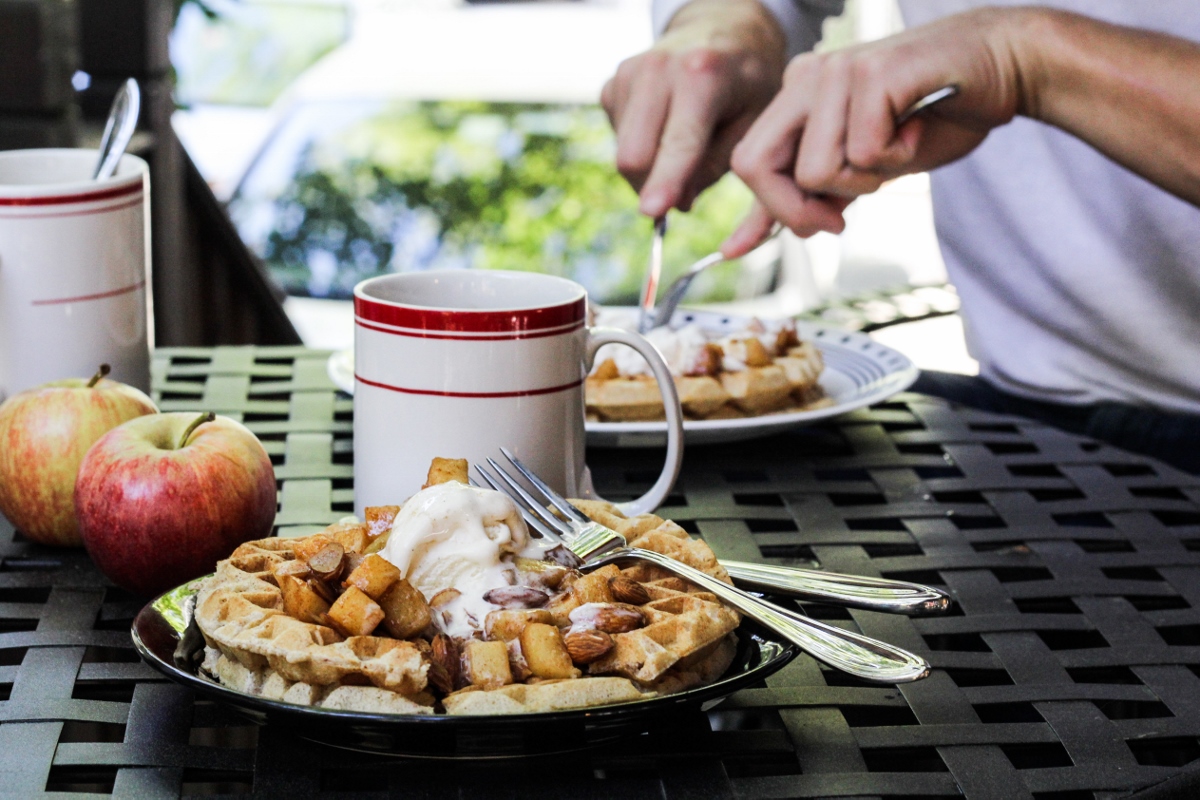 The Almond Board also shared some other ideas for quick and filling breakfasts. Some of them I'd heard before, but some were brand new – and really good – ideas. Some of my favorites?
Satisfy your sweet tooth with a second breakfast "sundae" treat. Swirl a tablespoon of almond butter and a teaspoon of sweetened cocoa into oatmeal; top with fresh fruit and some warm skim milk and you'll have a breakfast that will surely keep you company till lunch.
Weekday french toast: Beat an egg along with a dash of vanilla and a sprinkle of cinnamon. Dip a slice of 100% whole grain toast bread into the egg mixture and cook on the stovetop in a nonstick pan. Top with sliced almonds, warm berries or sliced banana for an easy way to enjoy a hot, well-rounded breakfast.
Raise a glass to a refreshing way to start the day with this unique, really tasty smoothie: in a blender combine 1/2 cup skim milk, 1/2 cup of plain Greek yogurt, 1/2 baked sweet potato, 1/2 banana, 1 tablespoon of almond butter and 3 ice cubes. Blend together and you'll be off to a smooth start with the natural sweetness of the banana and sweet potato, both potassium powerhouses!
Giveaway details: The California Almond Board has offered to send one of you a Better Breakfast Starter Kit, with one pound of whole almonds, one pound of sliced almonds, one jar of almond butter, a reusable insulated travel pouch for breakfasts on-the-go, and one $20 Visa gift card to buy anything else that makes your breakfast better. To enter, leave a comment below letting me know what your favorite way to make your breakfast a little bit healthier is. By entering, you are agreeing to the official rules as listed here:
No purchase necessary
Void where prohibited
One entry per household, and only entries answering the question above will be considered!
The sponsor of this giveaway is the California Almond Board

The estimated retail value of the Better Breakfast Starter Kit is $50
The odds of winning will depend on the number of entries received
This contest is only open to U.S. Citizens over the age of 18
The contest will open today, September 29th at posting time, and will close at 11PM EST on Friday, October 4th, 2013
One winner will be selected randomly and contacted via email (so please leave an accurate email address!). If I do not hear from the winner within 48 hours, the winner forfeits their prize and an alternate winner will be chosen.
I will post the winner here by Friday, October 11th.
Disclaimer: California Almond Board sent me a Better Breakfast Starter Kit to create this recipe, and is the host of this giveaway. I was not otherwise compensated.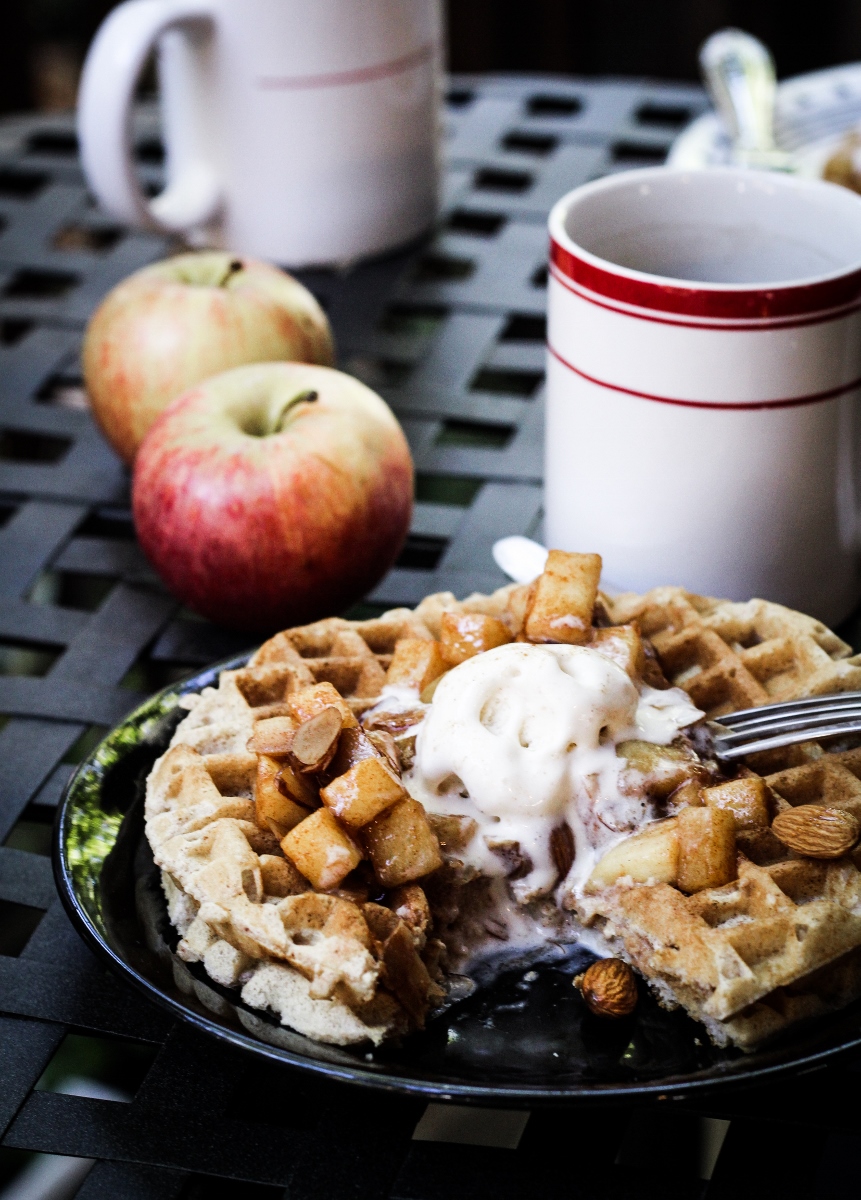 Cinnamon-Almond Waffles
Serves 4.
1 c. sliced almonds
1 c. AP flour
2 tsp baking powder
1 tsp cinnamon
1 TBS sugar
1/2 tsp salt
3 eggs, separated
1 1/2 c. milk
1 tsp almond extract
1/3 c. vegetable oil
pinch cream of tartar
Place the sliced almonds in a food processor or blender. Pulse for 2-3 seconds at a time until the almonds have a consistency finer than cornmeal (if you blend for too long, the almonds will eventually turn into almond butter, which is way pulsing them is better). Sift the almond flour through a fine-mesh sieve into a medium mixing bowl, placing any almond pieces that are too large to go through the sieve back into the food processor to be re-processed. Continue until you have 3/4 cup of almond flour.
Add the AP flour, baking powder, cinnamon, sugar, and salt to the almond flour, and whisk until evenly combined. Set aside.
In a large bowl, whisk together the egg yolks until pale yellow and thick. Add the milk and the almond extract and whisk to combine. Add the dry ingredients to this batter, and stir until fully mixed, then whisk in the vegetable oil.
In a large, clean bowl, beat the egg yolks until they are frothy, then sprinkle with a pinch of cream of tartar and continue to beat until they form stiff, shiny peaks. Gently fold the egg whites into the batter, stirring as few times as possible to incorporate the egg whites without deflating them. Preheat and prepare your waffle iron, then cook the waffles on it according to manufacturer instructions. Serve hot with apple pie topping (recipe below) and ice cream if you're feeling indulgent.
Apple Pie Topping
Makes about 2 cups.
2 large apples, such as Honeycrisp, peeled, cored, and cut into 1/2-inch cubes
1/3 c. sugar
1 TBS cinnamon
2 TBS water
1/3 c. sliced almonds
Add the apple pieces, sugar, cinnamon, and water to a small saucepan, and place over medium heat. Cook, stirring frequently, until the apples have started to soften and the sugar has thickened into a loose caramel. Add the almonds and cook 1 minute longer, then remove from heat and serve over waffles or ice cream.
0