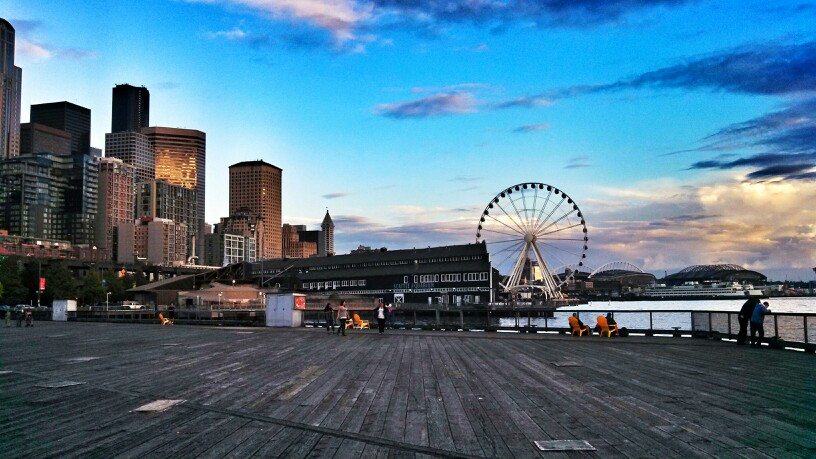 I just got home from a whirlwind four days in Seattle, where I ate and drank my way through the city as part of the sixth IFBC. In addition to attending the conference sessions, I had plenty of time to explore the city, hang out with my little brother, and work off some of those calories in long runs on the waterfront. Although I'm by no means an expert on the city, I wanted to share some notes and tips about the food, wine, and activities that I most enjoyed during my four days there.
Eating and Drinking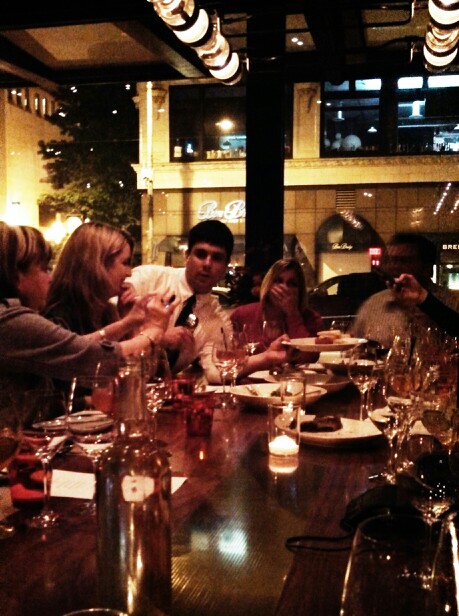 RN74 – As part of the conference, UrbanSpoon arranged a series of small blogger dinners at some of the best restaurants in Seattle. My group was sent just a few blocks from the hotel to RN74, where we were served an amazing 10 course dinner. Highlights included the muhsroom tempura, dungeness crab spaghetti with lemon and poppy seed, 45-day dry-aged beef with duck fat fries, olive oil cake with lemon curd sherbet, and an Au Bon Climat chardonnay that was one of the best wines I've ever tasted.
Lecosho – Wanting to get out of the hotel for a little bit on such a beautiful weekend, I met new blog acquaintances Diana, Garrett, and Rachael (and Diana's husband and adorable 8-month old baby) for lunch at Lecosho on Friday. It was the perfect lunch spot – right downtown, with delicious soups, salads, and sandwiches. I had a grilled ham and cheese with spicy mustard, and fresh cream of mushroom soup. Very reasonably priced, too.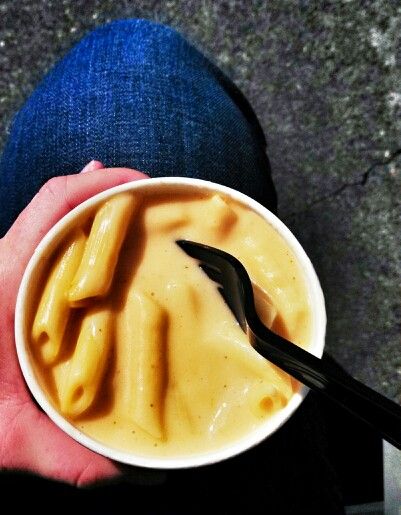 Beecher's – Initially curious about the long line of people waiting outside the small storefront, I did a little bit of research on Beecher's, a handmade cheese store in Pike Place Market, and decided to give this landmark restaurant a try. The super creamy, perfectly cheesy mac'n'cheese is 100% worth the hype. Try it.
Blue C Sushi – I'm not sure it's on their regular menu, but the baked potato sushi roll with caviar was my favorite small bite from the conference food expo on Friday night. Think nori, stuffed with baked potato, a crumble of bacon, sour cream, and a spoonful of caviar on top. So clever – and so good! Good enough that next time I think I'll check out their full menu.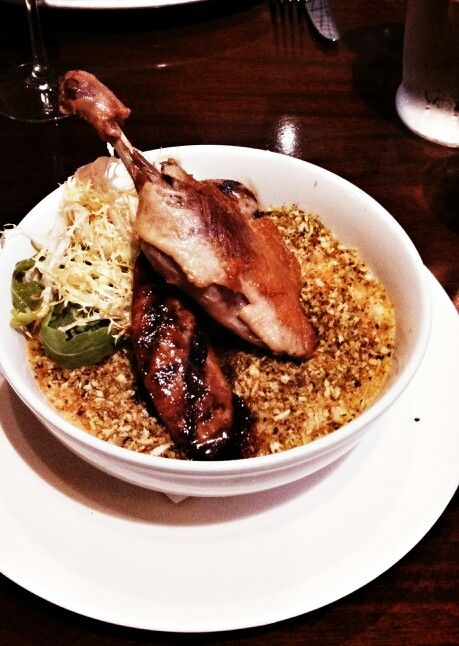 Luc – As we waddled out of the UrbanSpoon dinner at RN74, we were handed gift bags with even more goodies, including gift certificates to another charming restaurant, a french place called Luc. Since she was leaving the next day, my dinner buddy Karli was kind enough to give me her card, so Ryan and I headed there for a farewell dinner Sunday night. Since I was still a bit chilled from our damp hike earlier that afternoon, I ordered the hearty white bean cassoulet with duck confit. Um, yum. Ryan also devoured his moules marinieres, and we finished the meal off with the best chocolate pot de creme I've ever had – it was so silky and just chocolaty enough. A fabulous ending to my visit.
Cupcake Royale – Cupcake Royale was one of the hosts of the Fresh Bloggers party I went to on Thursday night. I didn't eat much there since I was pretty full from the previous event, but I'm so glad I tried a granny smith and salted caramel cupcake before I left, because then I was able to immediately consume three more. These are really good cupcakes. And I'm pretty picky about cupcakes.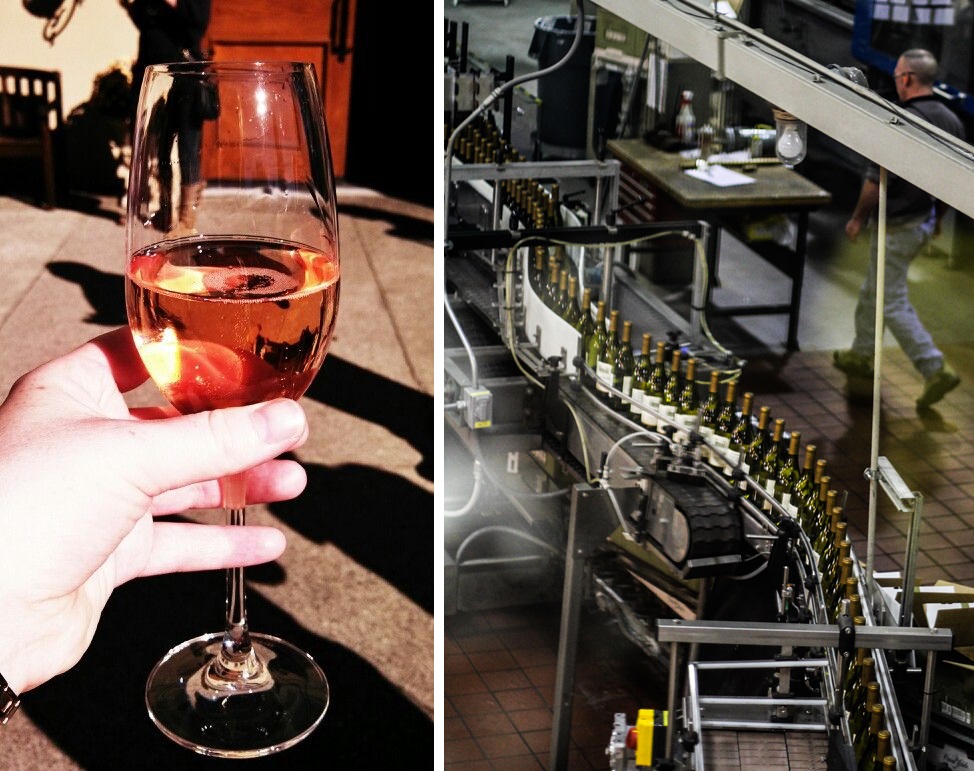 Chateau Ste Michelle – Touring the Chateau Ste Michelle winery in Woodinville was an optional excursion associated with IFBC, and I'm glad I opted in. It was a gorgeous, warm, sunny afternoon when our tour bus pulled up to the winery, which is about 30 minutes away from downtown Seattle, and we were immediately greeted with chilled glasses of a lovely sparkling rosé. A whilrwind tour of the bottling and fermenting facility followed (all the grapes are grown way out in Eastern Washington, so we didn't see any of those), before we were ushered into a dining room where John Sarich led us through a quick wine tasting with several super tasty small bites to accompany it. I loved all the food (especially, surprisingly, the cured salmon), and the Eroica Riesling was a remarkable wine. I'd definitely head back out to Woodinville to taste more wines on my next trip.
Exploring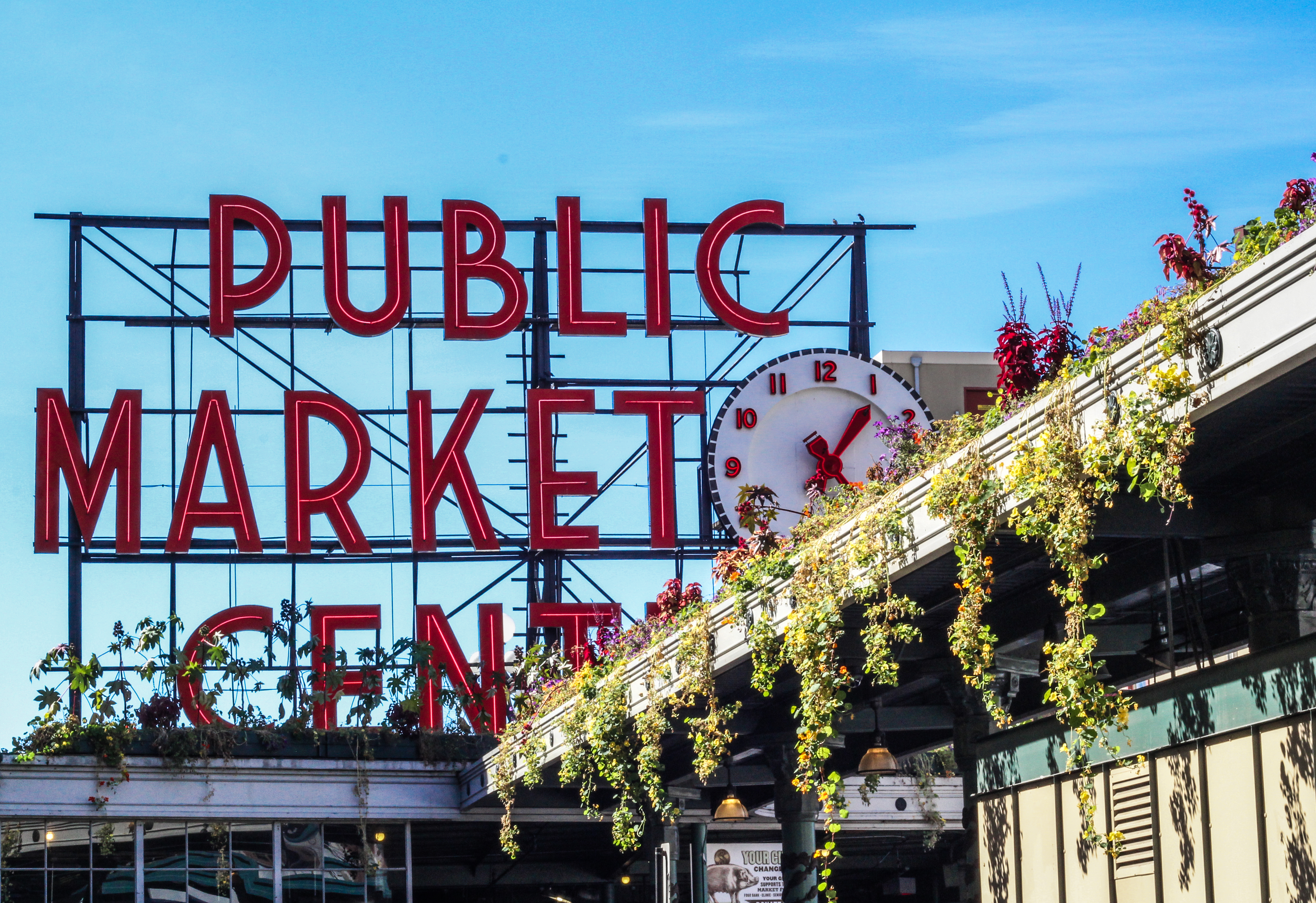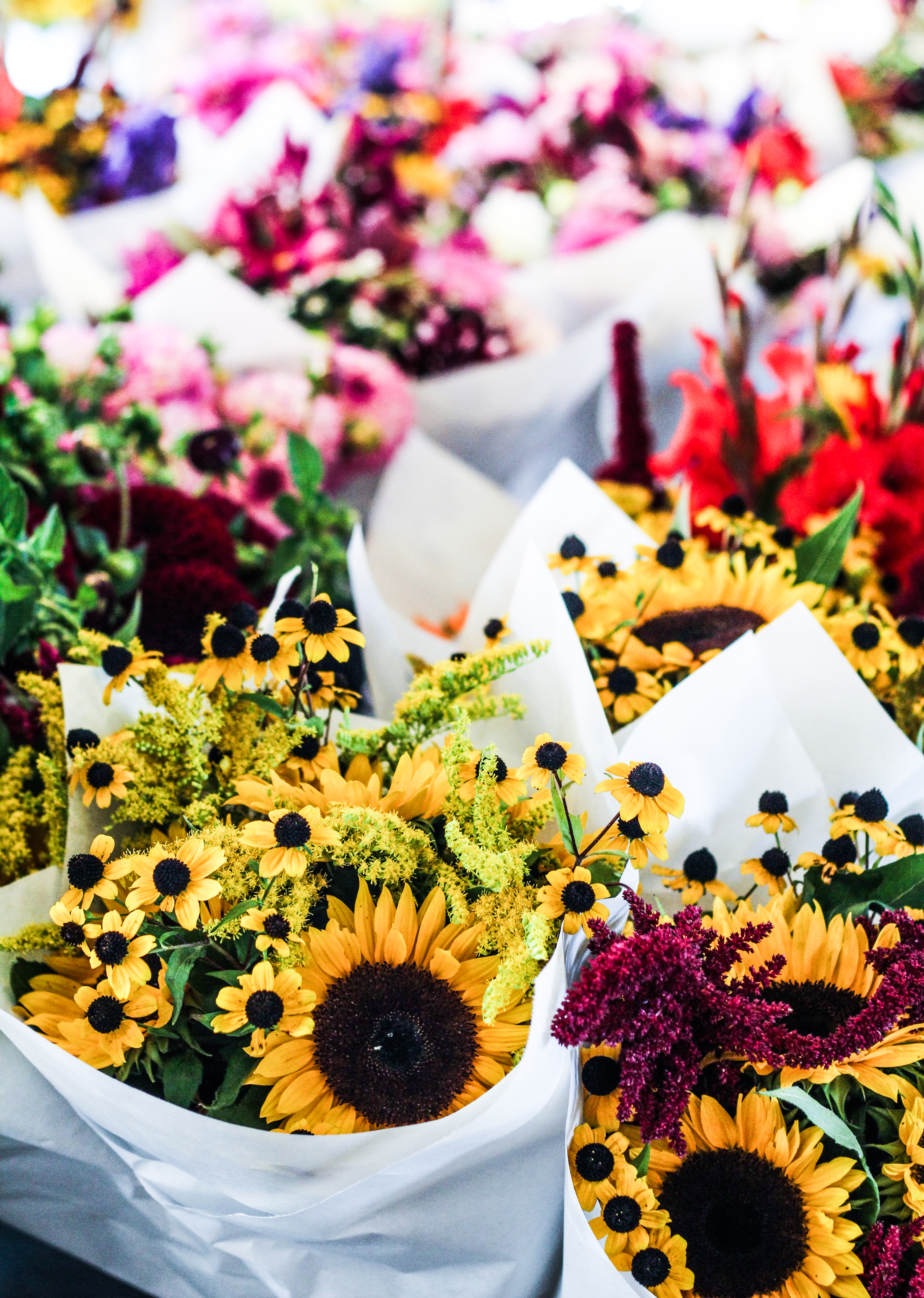 Pike Place Market – Although probably the most famous activity in Seattle (or at least tied with the Space Needle), wandering through Pike Place Market is a must. It's full of vibrant colors, sounds and smells – fresh produce, beautiful flowers (and so cheap, if I lived in Seattle I'd have flowers all the time), buskers and barbershop quartets, and dozens of restaurants, selling everything from coffee to mac'n'cheese to Russian meat pies. And if you wander all the way down to the end, there's a lovely little park with great views of the sound where you can sit and enjoy all your market goodies.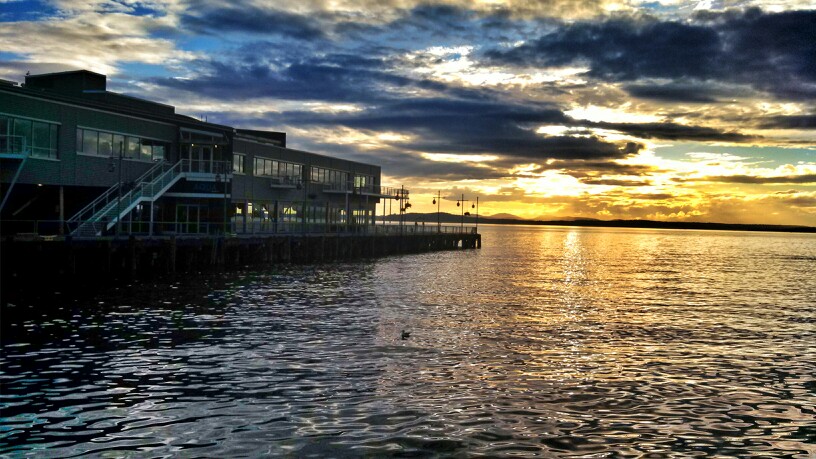 Running on the Elliott Bay Trail – One of my favorite ways to explore a new city is by going for a jog, and Seattle is a great place for this. If you're staying downtown, head down to the waterfront and run North along the docks (Alaskan Way on the map) until you get to Myrtle Edwardrs Park, where the Elliott Bay Bike Trail winds through grassy lawns along the beach. It's a great, mostly flat run – I managed to fit in 5 miles both Friday and Saturday (taking a lot of photo breaks as I ran).
Cougar Mountain Regional Park – Fitting in a hike with my brother was a must-do on my list, rain or shine. Although it had been sunny all weekend so far, when my brother arrived to pick me up, there was a heavy, blowy rain falling. Still, I suited up in a poncho and we started our walk through the Cougar Mountain park, starting at a trailhead only a few miles from his house (in Bellevue). After about 30 minutes, the rain stopped and the sun started to break through the clouds, leading to gorgeous, sun-streaked mist filling the rainforest. The hike we chose was an easy 4 mile loop with little elevation gain – more of a walk in the woods than a true hike – but it was great to be outside and exploring new terrain.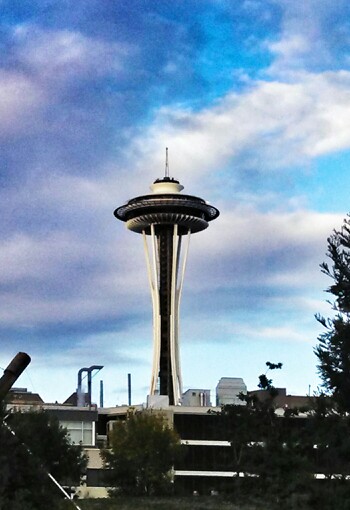 Since I'm sure I'll be back to Seattle somewhat frequently to visit my brother, I've already started keeping a list of other things I'd like to do there – like ride up in the Space Needle, go on a whale watch, do some more serious hiking, and take a ferry to Victoria. Plus, there's a lot more great restaurants to try. With the promise of all that, I'm sure I'll be back soon!
Note: In order to received the discounted active blogger rate at IFBC, all participating bloggers were required to write three posts about their experience at the conference.
0