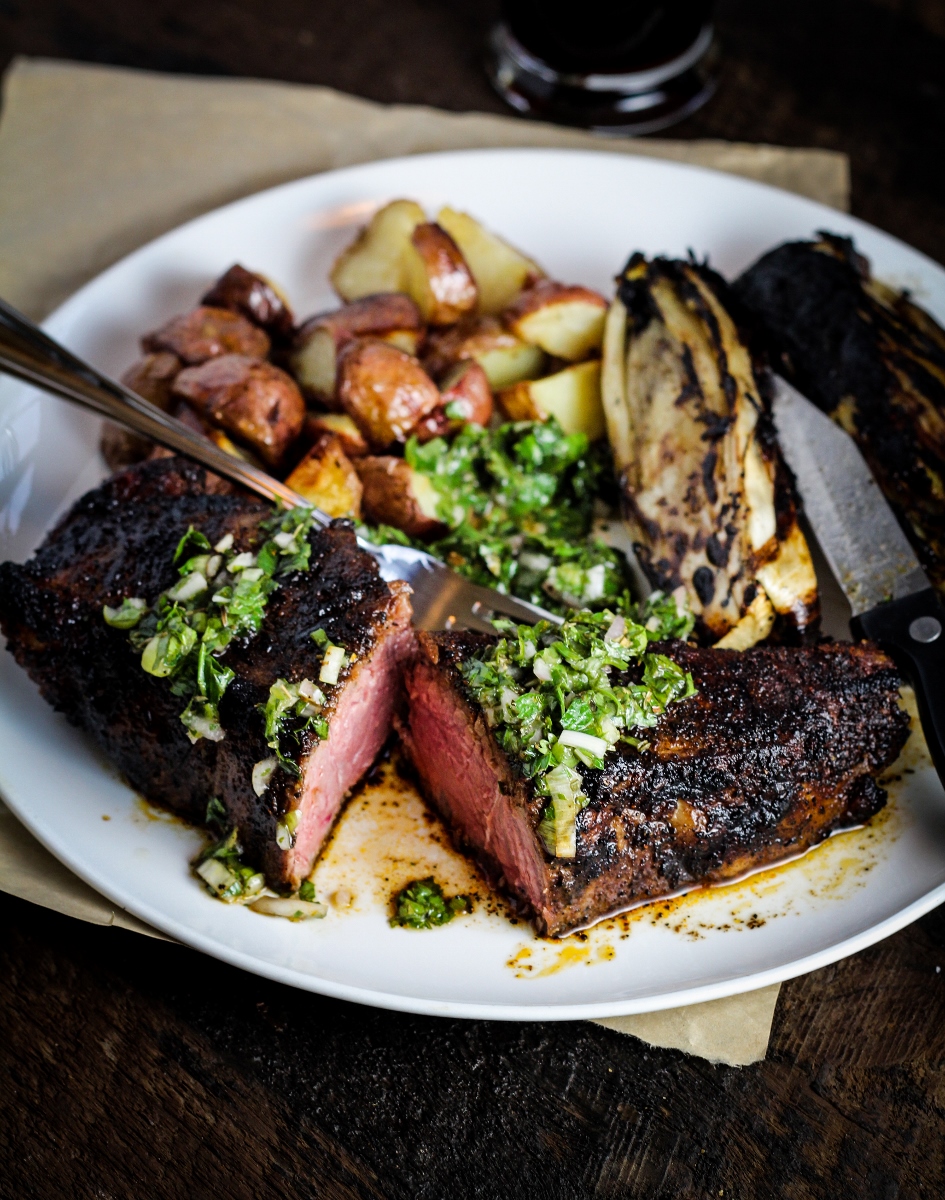 As you might imagine, I cook a lot. Like, a lot. Some weekends, I spend 4 or 5 hours each day in the kitchen, mixing batters, chopping veggies, frosting cupcakes, and styling photos. The output of my weekend cooking sprees becomes a hodgepodge of things – meals for the week, posts for the blog, and leftovers destined for the freezer. But this means that dinner is usually just that – a hodgepodge. I'll defrost a container of soup and slice up some bread, or throw pasta on to boil to use up a batch of ratatouille, or I toss all the leftover cooked veggies and grains into a bowl, drizzle it with whatever sauce is currently in the fridge, and call it a night. And for the purpose of full disclosure, I have to admit that at least once a week, to the horror of my nurse roommate, dinner is a glass of red wine in front of the TV because even defrosting something seems like too much effort. It's pretty rare that I actually sit down to a composed meal of the kind that I ate growing up – one with 3 or 4 different parts, a salad, a protein, a few sides, and dessert. On the one hand, I don't really need to eat that way – I'm not trying to feed a family, and it's usually just me eating, or Trevor will join me and we'll cobble together our leftovers. On the other hand, it's kind of nice to sit down to a real meal, one with parts that go together and that feels like dinner, not just eating. So I'm going to give Sunday dinners a try. Not every week. But once in a while.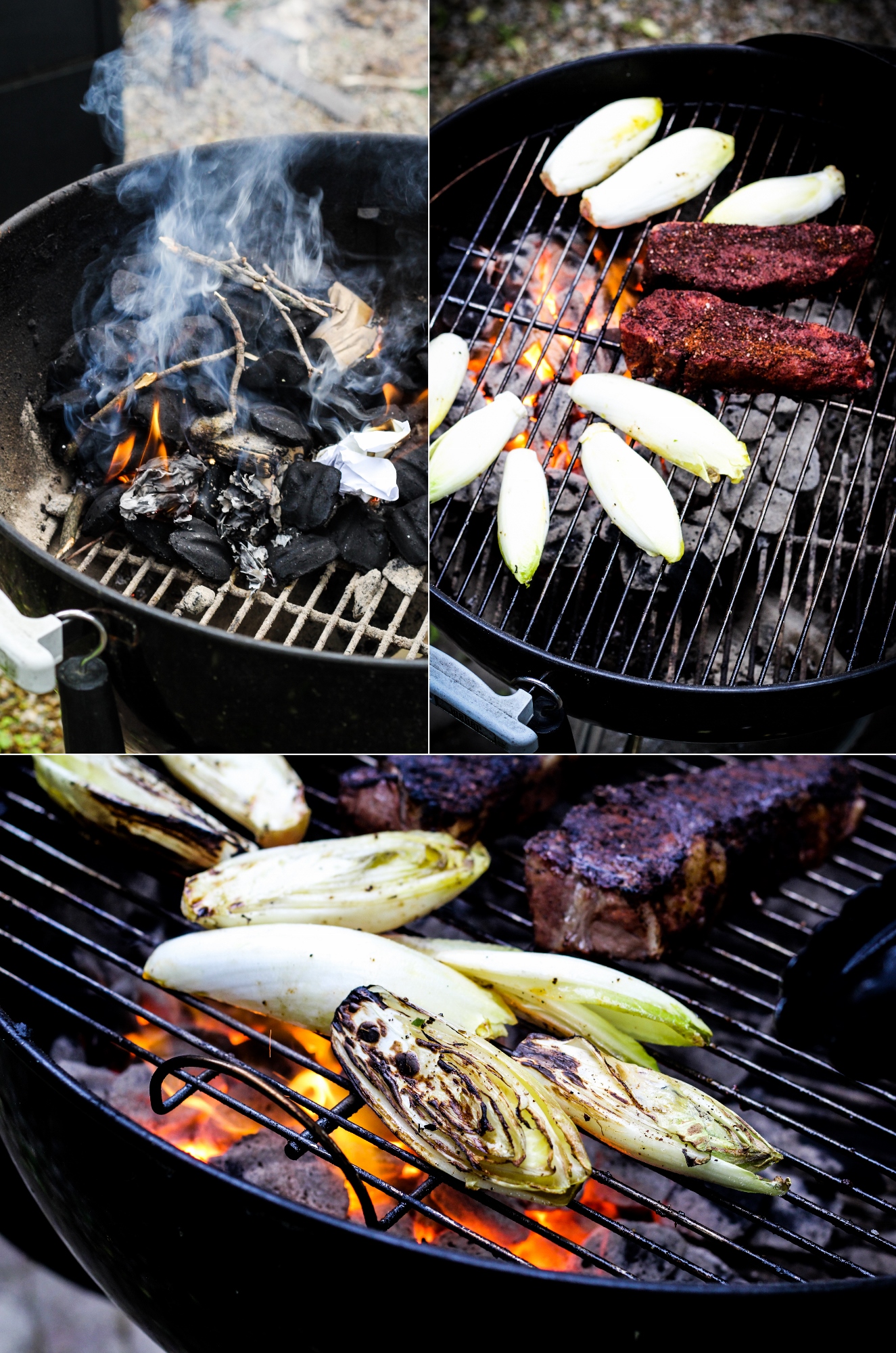 Last Sunday, we broke out the grill. Grilling is one of those things that I really want to learn how to do, but I'm kind of afraid of doing it wrong and burning myself or ruining a pair of $20 steaks or, worst-case-scenario, exploding the grill by doing the gas wrong. I put learning how to grill on my summer bucket list last year, but definitely failed at achieving it. Last week, I made a little progress – I cleaned out the ashes and lit the coals, all under Trevor's careful supervision. Then he took over. But I'm committed to it this year – I even have two grilling books sitting on my window bench, waiting to be reviewed.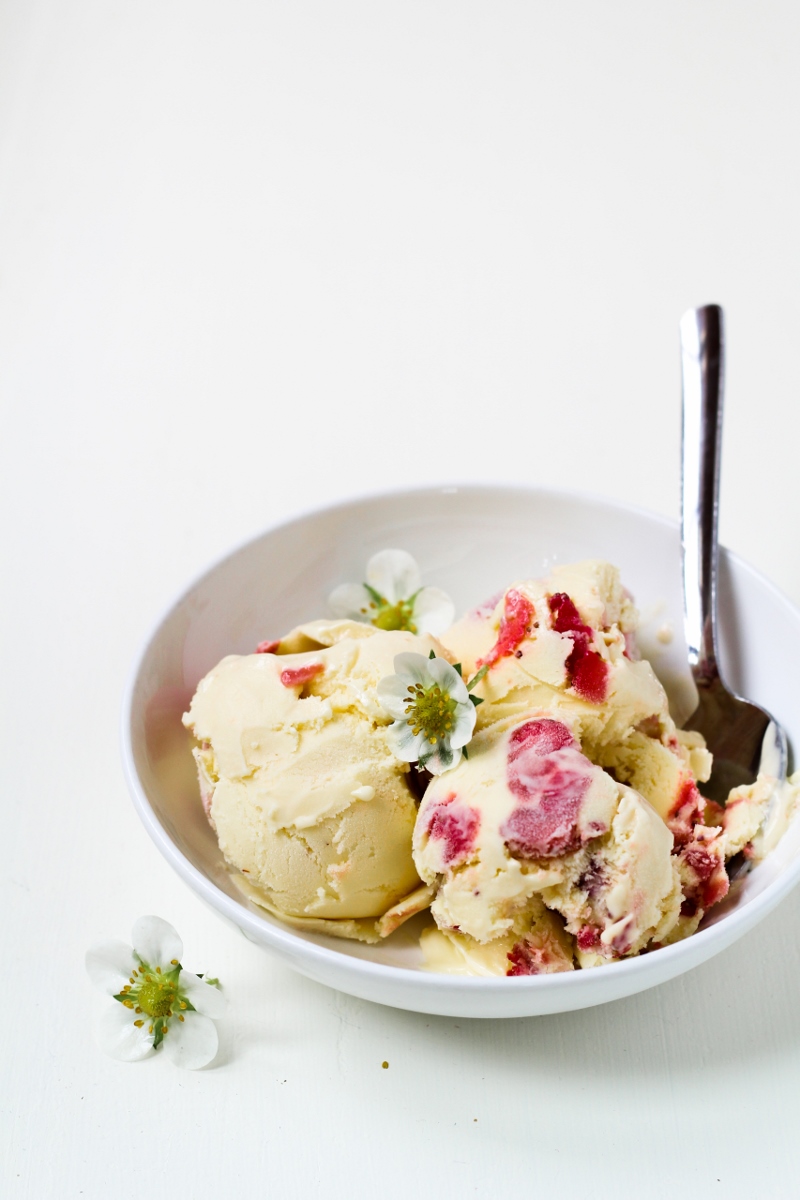 What we put on the grill last week was a little bit indulgent for us – two beautiful grass-fed strip steaks, rubbed with a coffee-chile-brown sugar mixture and Belgian endives, dressed simply with olive oil and salt and grilled until charred and smoky. To go with it we had chimichurri sauce, crispy oven-roasted potatoes, and the most delicious, decadent ice cream I've ever had – sour cream ice cream with a strawberry-brown sugar swirl. It tastes like cheesecake with strawberry sauce but even smoother and creamier. It's insane. And over-the-top rich, but I'll absolutely be making it over and over again. We threw in a few beers and a cranberry margarita and it definitely felt like a real meal – a really nice start to the week. Given that we had several different dishes on our plate, it was surprisingly easy to put it all together. The steak, potatoes, and endives were all very simple and quick, the chimichurri only took a bit of chopping and stirring, and the ice cream was already made. Plus, everything was good. Really good. Sometimes simple is the best! Most of you probably already have plans for grilling tomorrow, but if you don't, I definitely recommend all of these recipes.
The Menu
Coffee-and-Chile-Rubbed Strip Steaks – see below (from Food and Wine)
Chimichurri Sauce – see below (adapted from Food and Wine)
Charred and Smoky Belgian Endives – see below (adapted from Food and Wine)
Oven-Roasted Potatoes – see below
Strawberry-Sour Cream Ice Cream – see below (adapted from The NY Times)
Coffee-and-Chile-Rubbed Strip Steaks
Recipe from Food and Wine. Serves 4.
2 TBS finely ground dark roast coffee

2 TBS chile powder
2 TBS dark brown sugar
1 TBS smoked paprika
1 1/2 tsp cumin
1 TBS kosher salt
Four 10-oz strip steaks
In a small bowl, stir together the coffee, chile powder, brown sugar, paprika, cumin, and salt until evenly mixed. Rub the mixture on all sides of the steaks. Let steaks sit at room temperature for 30 minutes.

Grill the steaks over moderate heat, turning once, until they are charred outside and medium-rare within, about 11-13 minutes. Transfer to a clean plate and let rest for 10 minutes before serving. Serve with chimichurri sauce.
Chimichurri Sauce
Adapted from Food and Wine. Makes about 1 1/2 cups.
1/4 c. red wine vinegar

1/4 c. white balsamic vinegar
2 TBS olive oil
1/2 tsp sugar
1 small shallot, peeled and finely minced
1/2 c. finely chopped parsley
1/4 c. finely chopped cilantro
4 scallions, thinly sliced
1 tsp dried oregano
salt and pepper to taste
Whisk the vinegars, olive oil, and sugar together in a medium bowl. Stir in the shallot, parsley, cilantro, scallions, and oregano. Season with salt and pepper to taste. Let chimichurri rest at least 20 minutes before serving. Keep chilled.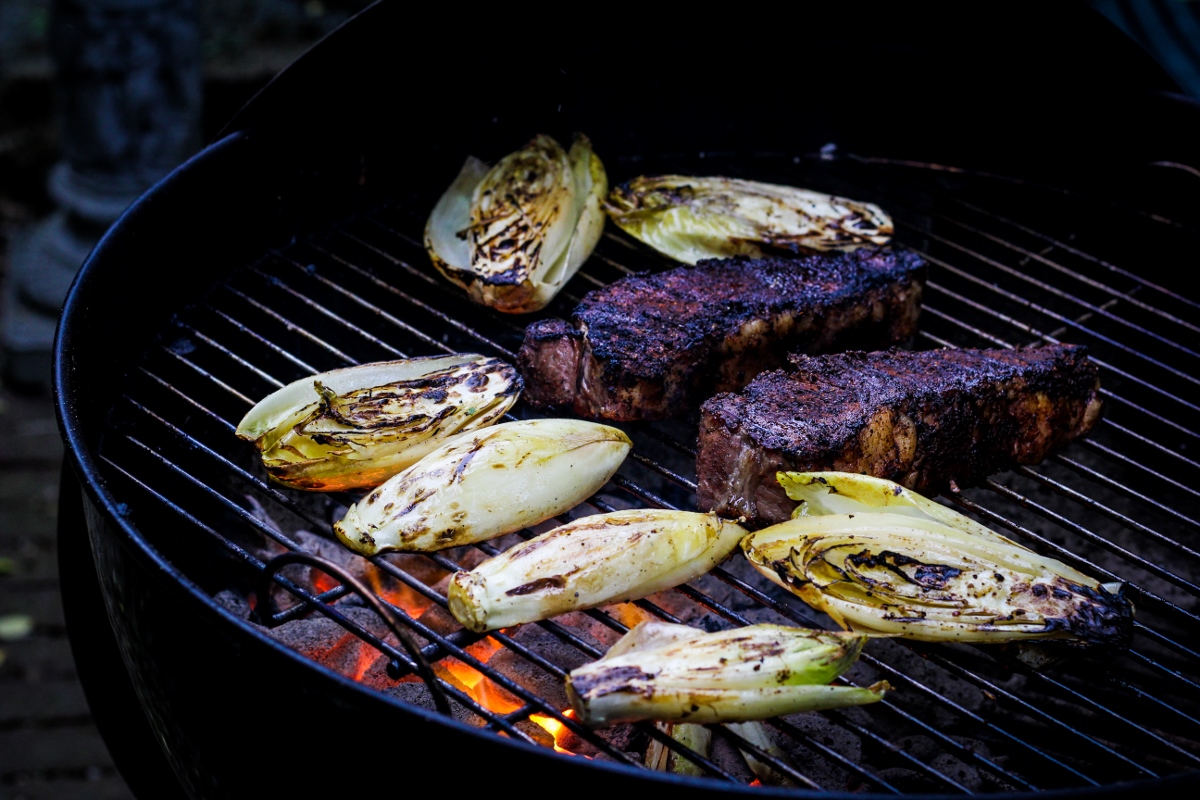 Charred and Smoky Belgian Endives
Recipe from Food and Wine. Serves 4.
4 Belgian endives, sliced in half lengthwise

olive oil
kosher salt
freshly ground pepper
Brush the endive halves with olive oil on both sides, then season with salt and pepper. Grill over moderate heat on a charcoal fire, turning occasionally, until charred and tender, about 12-15 minutes. Transfer endives to a platter and tent with foil. Let steam for 5 minutes, serve warm.
Oven-Roasted Potatoes
Serves 4.
1 1/2 to 2 lbs. small red new potatoes

8 cloves garlic, peeled
olive oil
sea salt
Preheat oven to 425°F. Wash potatoes and cut into quarters, or halves if they are very small. Toss potatoes and garlic with olive oil and salt in a large roasting pan. Spread potatoes on the bottom of the pan – they should have enough room so that they are not touching one another. Roast for 40-50 minutes or until golden brown with crunchy edges, flipping with a spatula halfway through.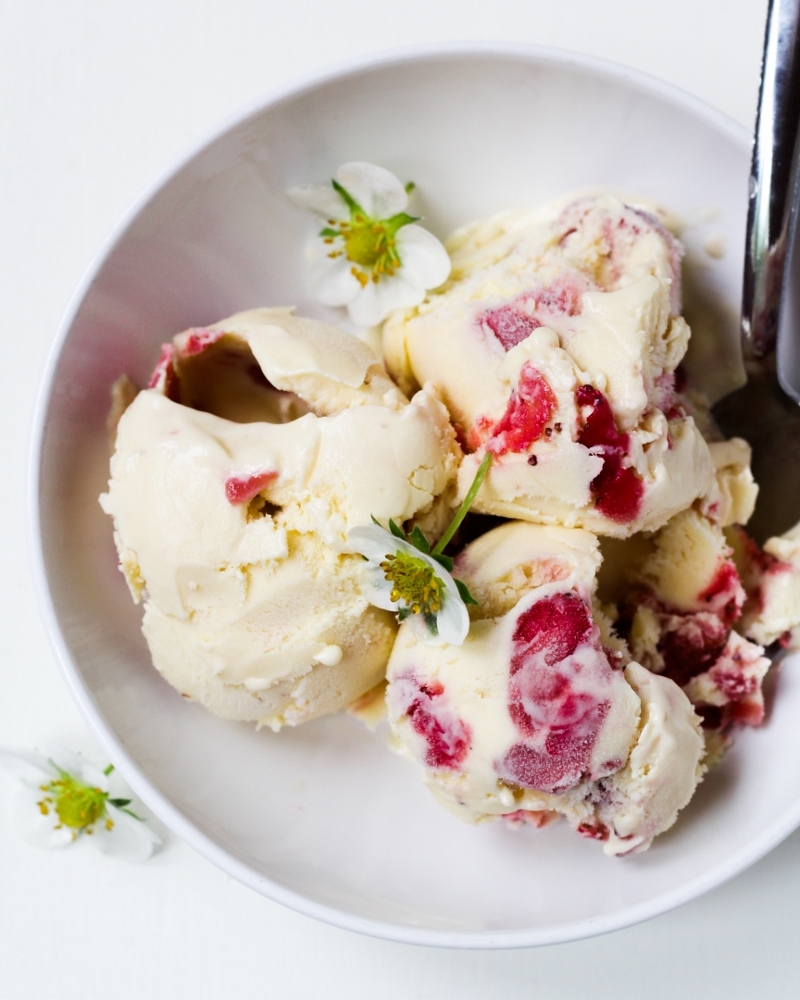 Strawberry-Sour Cream Ice Cream
Adapted from The NY Times. Makes about 5 cups.
1 c. sugar

9 egg yolks
1 c. heavy cream
1/2 c. milk
1 1/2 c. sour cream
2 tsp vanilla extract
pinch salt
1 lb fresh strawberries, hulled and diced into 1/4 inch pieces
3 TBS brown sugar
1 TBS brandy
In a large heat-proof bowl, whisk together egg yolks and 1/2 c. of sugar until smooth. Set aside.

In a medium sized saucepan, whisk together remaining 1/2 c. sugar, the heavy cream, and the milk. Heat over medium low heat, whisking all the while, until the mixture just reaches a simmer. Remove from the heat.

Slowly pour about 1 cup of the hot cream into the eggs in a thin stream, whisking the eggs vigorously as you do so to keep them from scrambling. Pour yolk mixture back into saucepan with rest of cream, still whisking. Heat the custard over low heat, whisking constantly, until the mixture thickens enough to coat the back of a spoon. This will take 7-10 minutes. After it begins to thicken, it will continue to thicken fairly quickly, so remove from heat about 30 seconds to 1 minute after it starts to thicken.

Strain custard through a sieve into a large, clean bowl, pushing through sieve with a spatula. Allow to cool for about 5 minutes, then whisk in sour cream, vanilla extract, and salt, whisking until smooth. Cover custard tightly with plastic wrap and refrigerate for at least 3 hours, or overnight.
About 1 hour prior to churning the ice cream, prepare the strawberries: Place the chopped strawberries and the brown sugar in a large frying pan and stir. Let sit for 15 minutes to allow the strawberry juices to release. Heat over medium-low heat, stirring, and cook for 10-15 minutes, until berries are soft, and juices have evaporated enough to become syrupy. Remove from heat and stir in brandy. Transfer berries and syrup to a bowl and freeze for 20-30 minutes, until chilled but not frozen.
Churn the ice cream in an ice cream maker according to directions. When the ice cream has reached a soft serve consistency, turn off the machine and fold in the chilled strawberry mixture so that there are streaks of berries. Freeze to further solidify.
0