As you know, I'm currently off gallivanting in Italy (in Florence, in fact!), so instead of my ramblings, you get something even better – a guest post from Michelle and Steve, the brilliant duo behind Gourmandistan. In a time when words are thrown about the internet willy-nilly, and blogs compete to churn out content, no matter the quality of the writing (believe me, I know I'm not an innocent party in this matter), reading Gourmandistan's carefully crafted and cleverly written posts is always a breath of fresh air. It doesn't hurt that they're wildly creative in the kitchen – I can honestly say that I don't know anyone else who has made their own head cheese, and I certainly never thought taro could look as delicious as it does in their fried taro dumplings. So if witty writing, creative food, and enticing photography appeals to you, head over to their blog, like them on facebook, add them to your reader… do whatever you need to do to make sure you don't miss any of their stories or recipes. But, before you go, make sure you read this story of their misfortunes in  Florence, a trip salvaged only by an unforgettable sandwich, which they've recreated here:
Florentine failure begets brilliant bollito baguette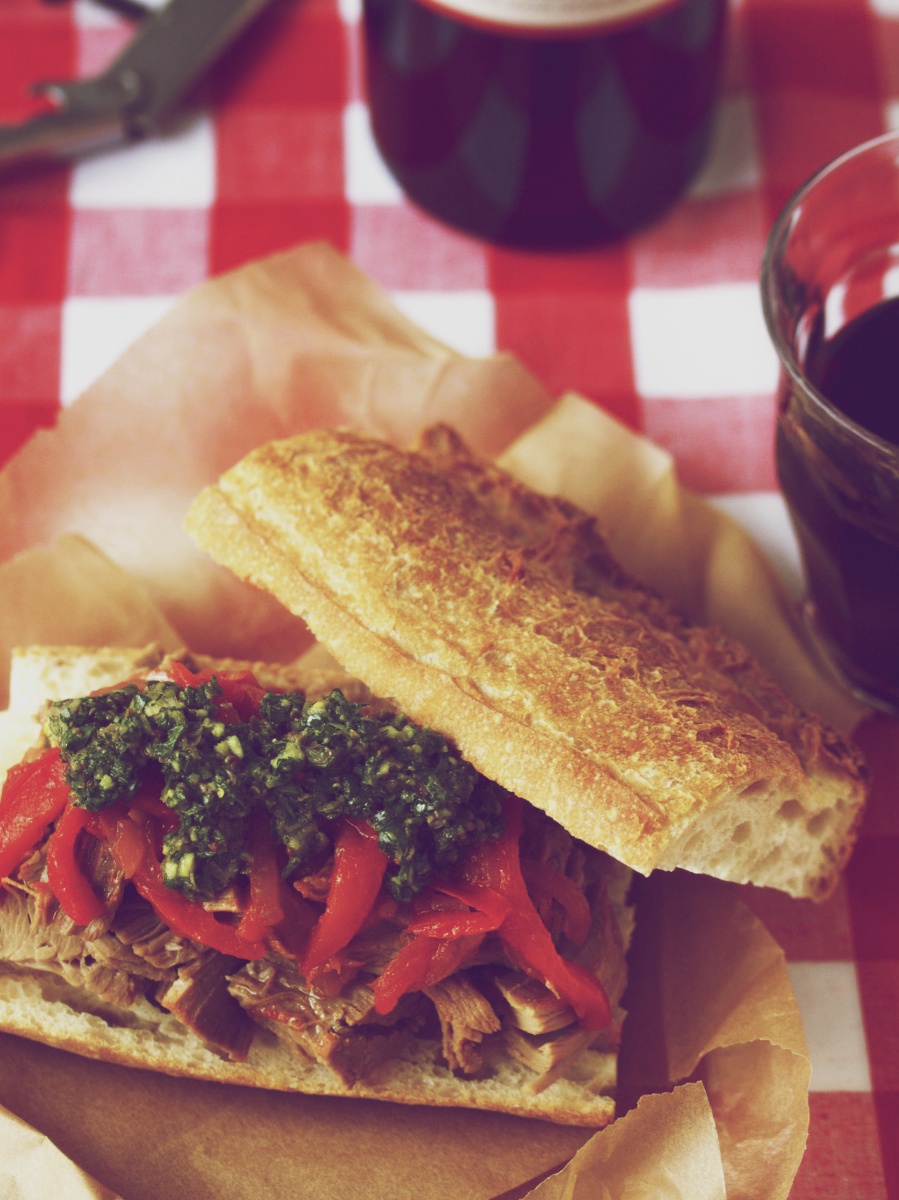 Overall, Gourmandistan did not have very good luck with Florence. Our misfortune may have started with breaking Rule #1 of the Gourmandistani Guide for Going Places: "Food comes first." (Rule #2: "Always pack a spare corkscrew.") Seeking a side trip from our month-long stay a few years ago in the Colli Euganei outside Padua, Michelle booked a spur-of-the-moment overnight visit to Florence. For reasons that remain unclear to this day, she skipped her usual intensive research and ignored the conspicuous lack of Michelin-starred restaurants, thinking for once in our lives we'd just wing it. After all, how bad could the birthplace of the Renaissance be?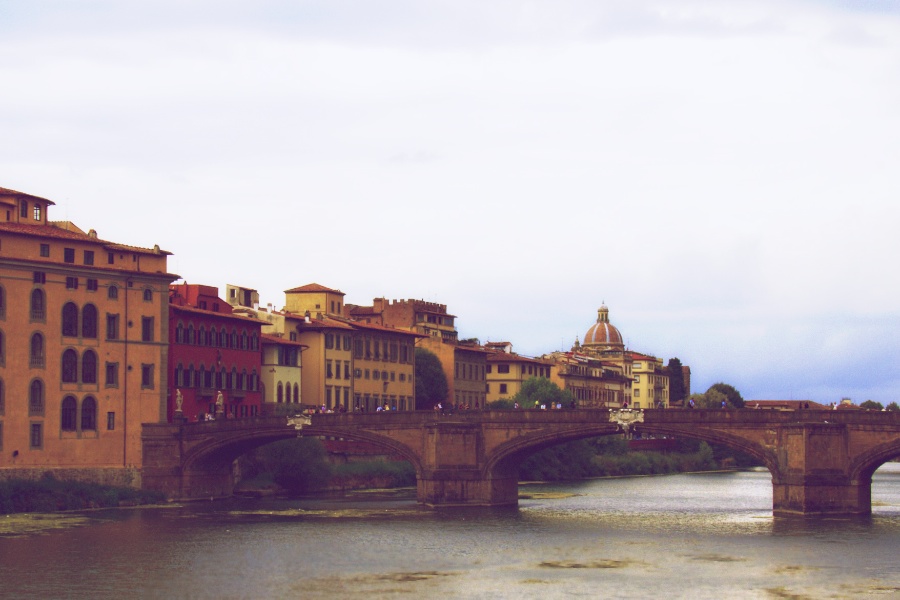 A lovely drive from the Veneto, through Tuscan hillsides thick with cedar trees and sienna rooftops, had us looking forward the city of the Duomo, the Ponte Vecchio and more. And throughout our stay, we did find ourselves in the midst of mounds of art and architecture. Unfortunately, most of it seemed covered in touts, tat and street-wide phalanxes of Chinese and American tourist groups battling for prime spots under the frenzied direction of flag-bearing guides. Our dreams of dashing through the Uffizi late in the afternoon? Trampled under a long, long line of people with reservations (!) who were still praying to get in before closing time. We settled for the simulated version of Michelangelo's David stuck outside the museum, while we struggled to capture views that did not contain squinting/squatting photographers and/or garish souvenirs more tacky than the stuff found across the street from Elvis Presley's Graceland.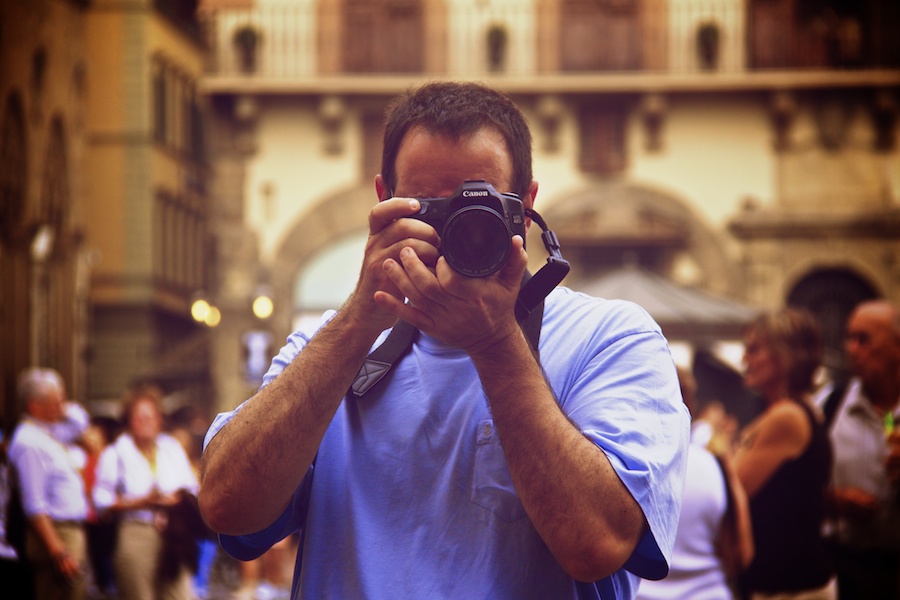 The food choices Florence presented on our first day were so frustratingly bad we seriously considered eating sketchy Italian sushi, since we had failed to realize many Florentine restaurants take Sunday off. Our concierge recommended a place promising "authentic food to real Tuscans" in a residential area that was a fair walk from our hotel. We arrived to find its garage-type door bafflingly half open, the tables set but no one in sight. After hanging around for 30 minutes or so, we turned about and walked back to the city center, grabbing some so-so pizza and passable osso buco from a touristy trattoria for lunch. That night, thinking we'd misread the restaurant's website, we decided to hike back to the "real Tuscan" place. Once again, the restaurant gate was half open, and there seemed to be someone lurking in the back. However, no dinner was served. As a cold rain fell, we retreated to our hotel room in defeat, dining on convenience store snacks and cheap wine while watching the "Miss Italia" pageant on TV.
We awoke the next morning irritable, hungry and increasingly convinced we were "Patient Zero" of anti-Stendhal syndrome. Grimly facing our final hours in Florence, we decided to bag the beautiful buildings and do what we like best—go to a market. Dodging more tourists and tat, we walked to the Mercato Centrale. There, we found Nerbone and its wonderful boiled beef (bollito) and tripe (lampredotto) sandwiches, and Florence redeemed itself. (Drinking red wine with breakfast didn't hurt, either.)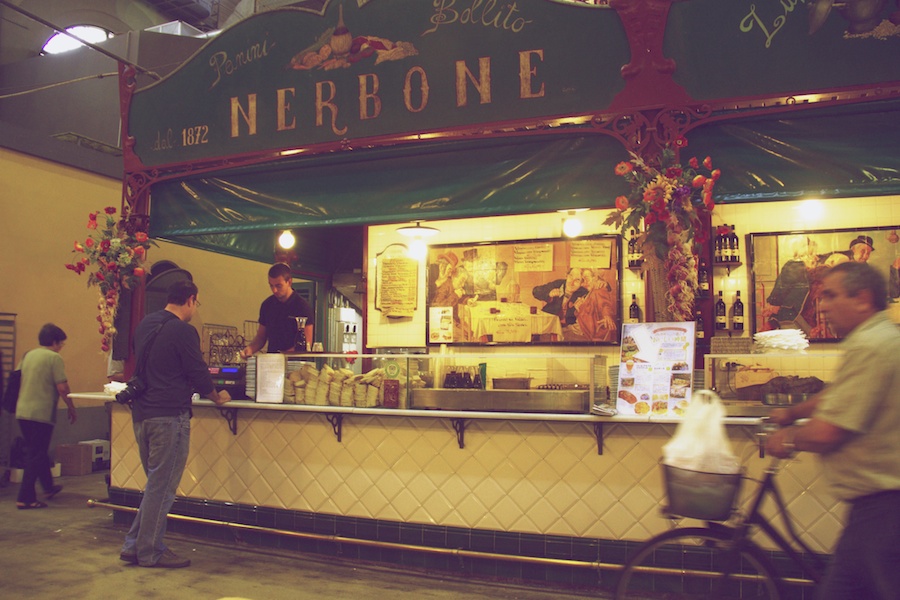 Because our hotel had a ludicrously early checkout time and the staff seemed disinclined to store our bags and car beyond it, we had to eat quickly and hurry back.  Sadly, our favorite part of Florence was also one of our fastest.
On the way back to our Veneto home, cheered by the comfort of boiled beef and tripe, we stopped in Fiesole hoping for one last view of the city. We found ourselves in a freak hilltop hailstorm. Obviously, Tuscany was not very "us-cany"—but we did, at least, have those sandwiches. (The next year, though, we returned to our beloved France for our annual fall vacation.)
In honor of Katie's vacation, we decided to recreate one of our favorite Florentine dishes.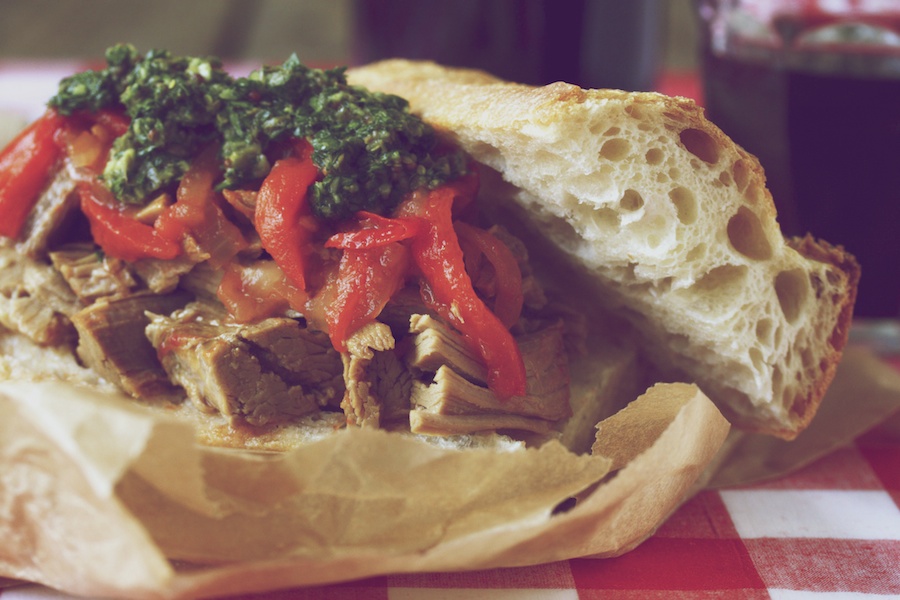 Finding a non-industrial source of tripe in our current locale proved impossible. (Thanks for the advice, friends, but we're not shopping at Walmart.) We did, though, find a recipe for bollito misto in Marcella Hazan's Essentials of Classic Italian Cooking. While we didn't have the called-for tongue, veal breast, cochino sausage or a chicken (neither, we should point out, did Nerbone), using a local veal brisket by itself still produced a rich beefy broth along with soft, sweetly-flavored meat. Hazan also came through with recipes for accompanying green and red sauces, which Michelle zested up with chili and garlic. We couldn't find a suitable recipe for the Kaiser-like rolls, but a split baguette from a wonderful local bakery worked just as well, especially when drenched with extra broth. Bollito is the way Gourmandistan prefers to remember Florence—but we certainly hope Katie returns with even better experiences. (She'll undoubtedly have better pictures.)
Have fun in Firenze, Katie!
PANINO CON BOLLITO
(adapted from Marcella Hazan's Essentials of Classic Italian Cooking)
BOLLITO
1 veal (or beef) brisket
1 carrot, peeled
1 stalk celery
1 onion, peeled
1 bay leaf
2 sprigs parsley
3 cloves garlic
1 c. canned crushed tomatoes
Red pepper flakes
Salt & pepper
Put all ingredients together in a Dutch oven or large pot.  Bring to a simmer. Skim, if needed.  Cook for several hours over low heat, until meat is very soft. Remove meat to a cutting board to cool.  Strain broth and set aside. Slice meat across grain. Chop slices into small pieces.
SALSA VERDE (Green Sauce):
1 c. parsley leaves
3 TB capers (rinsed, if using salted capers)
6 anchovy filets
2 cloves garlic, chopped
1 t. grainy mustard
1 t. red wine vinegar
1/2 c. olive oil
Salt & pepper
Place all ingredients in a food processor and process, stopping and using a spatula to push down sides as necessary.  Taste for seasoning.
SALSA ROSSA (Red Sauce):
2 red bell peppers
2 onions, peeled and thinly sliced
3 TB olive oil
Red pepper flakes
1/2 – 3/4 c. canned chopped or crushed tomatoes
Salt & pepper
Skin peppers with a vegetable peeler. Then split them lengthwise and remove core and seeds. Cut pepper flesh into thin slices.
Cook onions in olive oil, stirring occasionally, until soft. Add peppers and continue cooking, stirring occasionally, until reduced by about half.
Add pepper flakes, tomato, salt and pepper. Continue cooking at a simmer for about 20 minutes. Taste for seasoning.
SANDWICH ASSEMBLY:
Toast a baguette or (more authentically) a Kaiser roll, sliced in half horizontally.  Mound some meat on top of bottom half of bread. Pour some of the reserved broth over. Top, first with red sauce, then with green sauce.
0