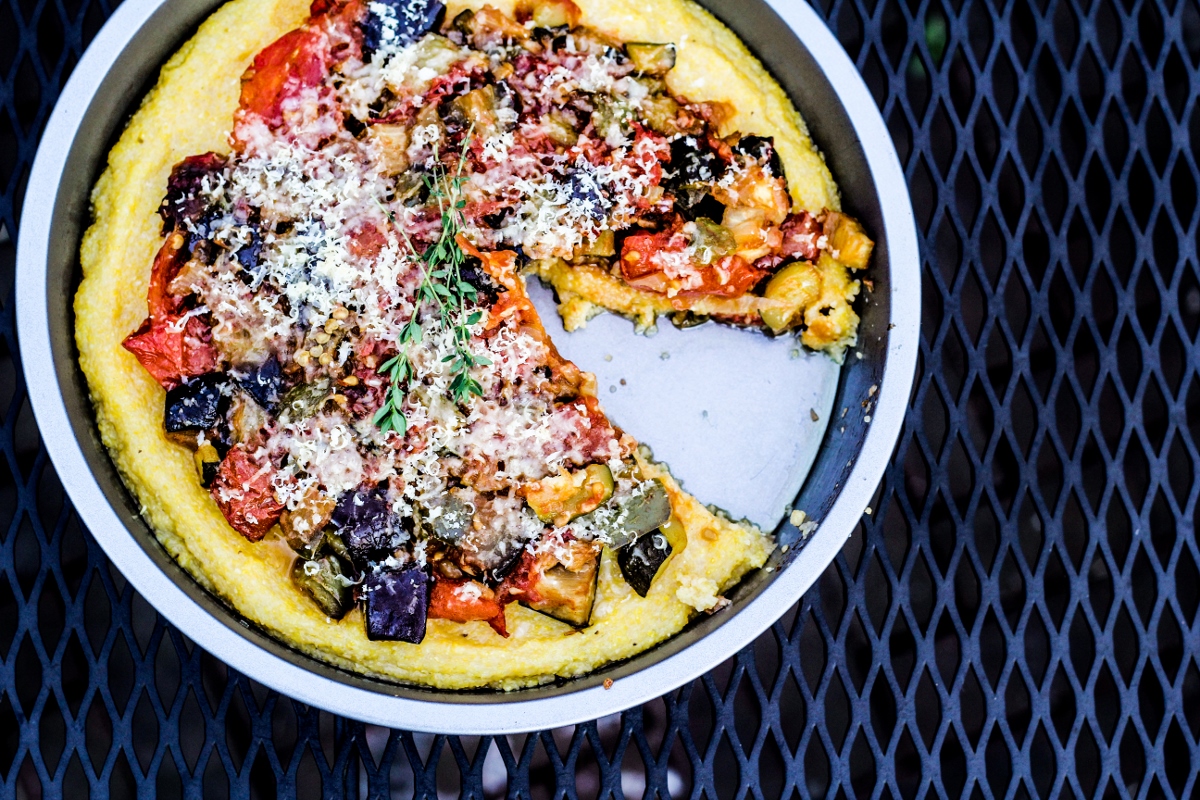 Remember the lovely books from Yvette Van Boven, Home Made and Home Made Winter? Well, lucky for us, Yvette has just released a third book, Home Made Summer, which is just as inspiring as the first two books. And, to celebrate the book's release and the beginning of summer eating, I've teamed up with Abrams Books to giveaway a set of all three books to one lucky reader! Giveaway details are at the end of the post, but first, some thoughts on the latest in the series. Giveaway now closed, congrats to Jen (comment #5) on winning!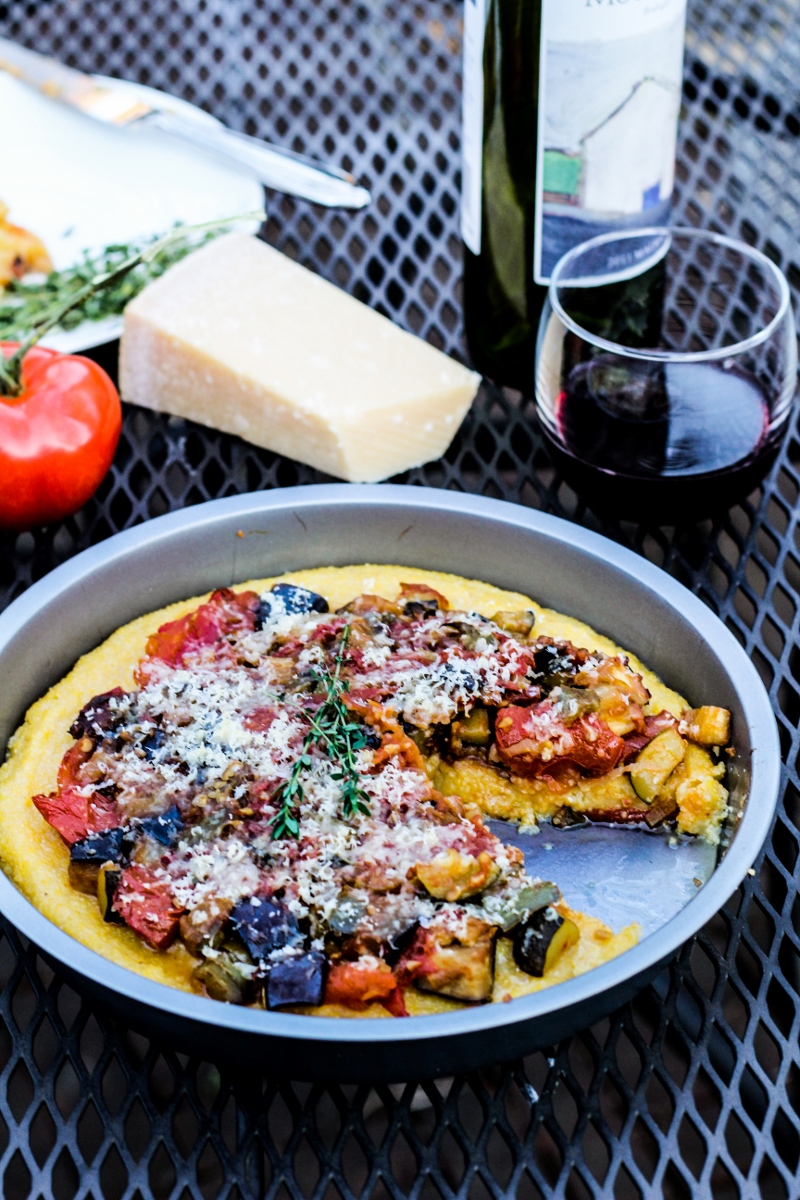 When I reviewed Home Made Winter last fall, the post, and Yvette's recipe for French Beef Stew, quickly became one of my most popular posts, with many of you trying out the recipe and coming back to let me know how you liked it and what you changed. I think the popularity of that post is really a testament to the quality and appeal of Yvette's recipes, which is ultimately what keeps me coming back to her books. From her Winter cookbook, I made the beef stew, a delicious apple quinoa cake, and white chocolate lattes, and was pleased with all three. And now, from Summer, I've made the Polenta Pizza with Spicy Ratatouille (recipe at the bottom of the post!), and the most delicious Sparkling Cava Sangria (recipe soon!) and was amazed by both recipes. The polenta pizza was the most summery comfort food I've ever tasted, flavorful and rich without being too heavy. I devoured it. And the sangria, which uses fresh grapefruit juice and sparkling white wine, was a huge hit at my birthday party – the two pitchers of it were the first thing to go, even before the blackberry margaritas. Since we've only just fully entered spring, I'm sure many more recipes will grace my summer table before I switch back to winter food – at the top of  my list are the Quinoa Patties with Feta, Zucchini, and Corn, the super refreshing sounding Avocado, Cucumber, and Lime Shake, the Italian Chicken Stew with Grilled Goat Cheese Polenta, and the White Wine Sorbet. Summer is such a delicious time.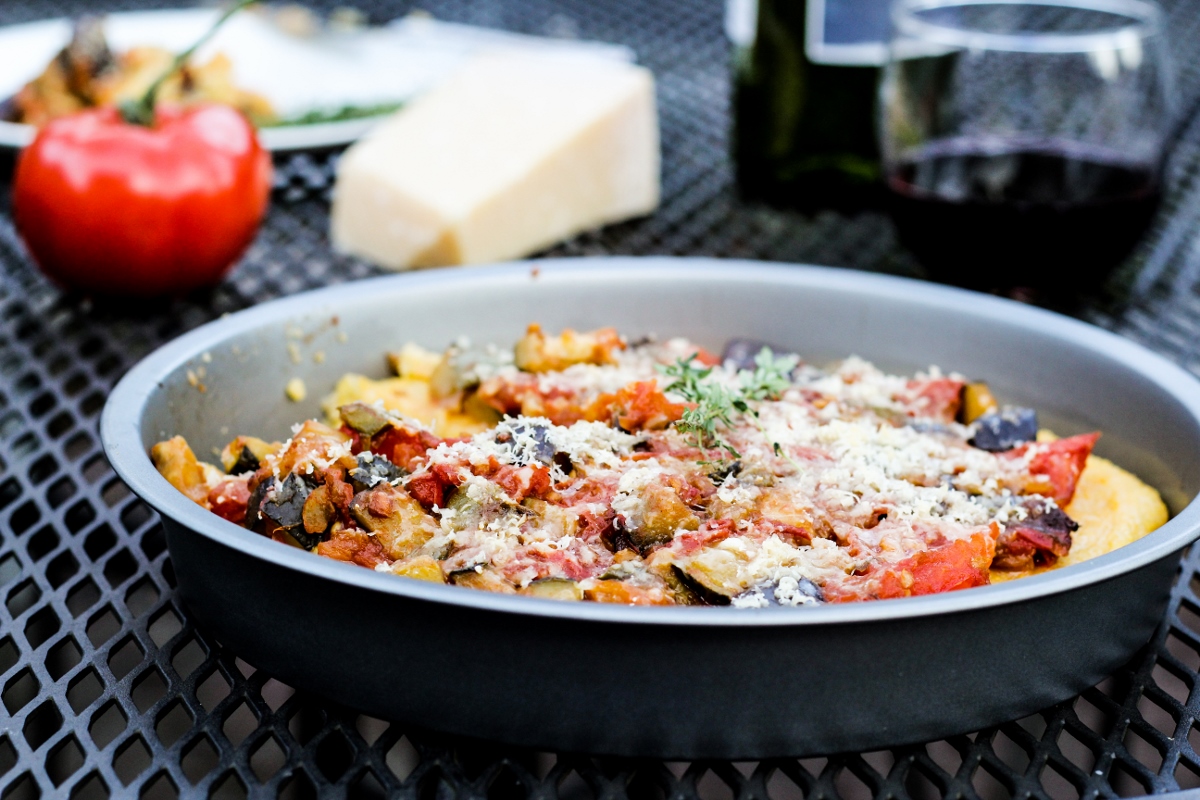 Style-wise, Home Made Summer stays true to the other books in the series. These books don't stick to the serious, elegant, bucolic ideal that many cookbooks aspire to represent these days. Instead they are whimsical and lighthearted, full of little sketches, snapshots of Yvette's many home countries, and cheerful type. Flipping through them is a bit like getting to take a peak inside someone's kitchen notebook, except all the recipes have already been thoroughly tested and come out flawlessly.

If you're interested in meeting Yvette, she's currently on book tour! She's already departed from the East Coast, but if you live in California, she'll be holding several events in and around San Francisco over the next few days:
The bottom line: The three books in the Home Made series are whimsical, fun, and packed with delicious recipes, and Home Made Summer is no exception. The recipes in this book are the essence of summer, with heavy use of all the season's best vegetables, fruits, and flowers, and flipping through the book makes me dream of picnics and barbecues. The recipes strike a great balance between being simple enough not to need hours of your time and tons of advance planning, but creative enough to remain interesting to experienced cooks, so I can heartily recommend it to both groups.
Giveaway details: To enter to win a copy of Home Made, Home Made Winter, and Home Made Summer, all you have to do is leave a comment below letting me know what summer food you are most looking forward to eating this year. By entering, you are agreeing to the official rules as listed here:
No purchase necessary

Void where prohibited
One entry per household, and only entries answering the question above will be considered!
The sponsor of this giveaway is Abrams Books
The estimated retail value of the three books is $110
The odds of winning will depend on the number of entries received
This contest is only open to U.S. Citizens over the age of 18
The contest will open today, April 18th at posting time, and will close at 11PM EST on Wednesday, April 24th
The winner will be selected randomly and contacted via email (so please leave an accurate email address!). If I do not hear from the winner within 48 hours, the winner forfeits their prize and an alternate winner will be chosen.
I will post the winner here by Friday, April 26th
Giveaway now closed! Congrats to Jen on winning.
Disclaimer: Abrams Books sent me a review copy of Home Made Summer free of charge, but I was not otherwise compensated for this review and all opinions, as usual, are my own.
Now, after all that legal mumbo jumbo, how about that polenta pizza with ratatouille recipe?!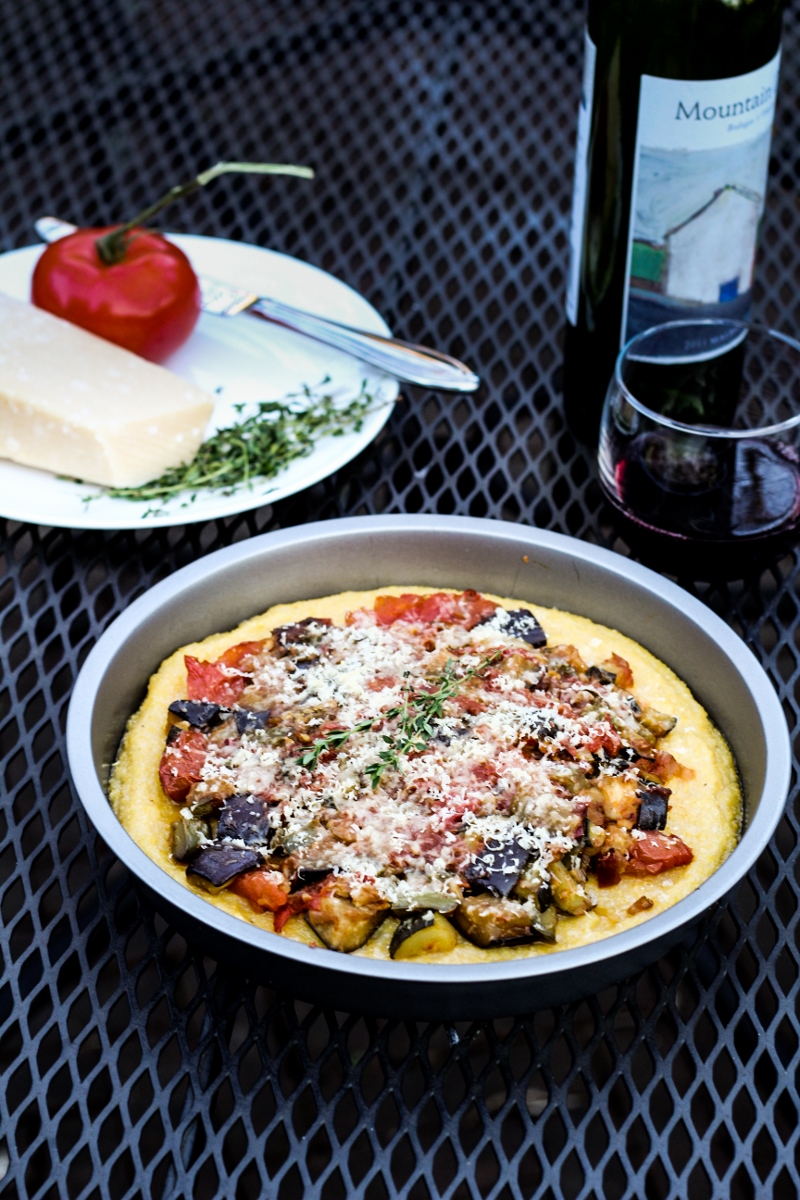 Polenta Pizza with Spicy Ratatouille
Recipe from Home Made Summer. Serves 4-6.
olive oil for the pan

1 TBS salt
1 1/4 c. polenta
4 c. water [Katie's note: or chicken stock for extra flavor, but omit the salt if using]
3 TBS butter
1 1/4 c. freshly grated parmesan
freshly ground black pepper
1 recipe spicy ratatouille, cooled to room temperature (recipe below)
Oil a 12-inch round cake pan or pizza pan. Add the salt to the 4 cups of water and bring to a boil over high heat. Pour in polenta in a thin stream, stirring constantly until smooth. Lower the heat to medium-low, and cook, whisking constantly, until polenta is thick with no lumps. Depending on the type of polenta you use, this could take anywhere from 5 minutes to 30 minutes (instant polenta will cook up much more quickly than regular polenta, if you're in a rush).

Remove the cooked polenta from the heat and immediately stir in the butter and 3/4 c. of the parmesan, stirring until fully melted. Season to taste with salt and pepper, then pour into the oiled cake pan and smooth the top with the back of a spoon or spatula (dip the spoon in water if it is sticking to the polenta). Let cool completely so that it is solid (you can stick the pan in the freezer for 10 minutes to accomplish this if you're short on time).
Preheat the oven to 350°F. Top the polenta with the ratatouille, leaving about 1/2 an inch of polenta exposed around the perimeter of the pizza. Sprinkle with the remaining 1/2 c. of parmesan, and bake for 25 minutes, until the edges are brown. Let cool slightly so that it's easier to slice.
Spicy Ratatouille
Recipe from Home Made Summer. Makes about 3 cups.
3 TBS olive oil

2 medium onions, peeled and sliced into rounds
2 cloves garlic, peeled and minced
1/2 red bell pepper, seeded and coarsely chopped
1/2 green bell pepper, seeded and coarsely chopped
1 medium zucchini, stem removed and chopped into 1/2 inch cubes
1 medium eggplant, stem removed and chopped into 1/2 inch cubes
4 big tomatoes, seeded and coarsely chopped
1 TBS chopped fresh thyme leaves
1 TBS harissa (adjust according to the spiciness of the harissa you're using)
salt and freshly ground black pepper
3 TBS chopped fresh parsley
Heat the oil in a large skillet over medium heat. Add the onions and saute for 3-5 minutes, until soft and light brown. Add the garlic and saute for 1 minute, until fragrant. Add the peppers, zucchini, eggplant, tomatoes, thyme, and harissa, and stir to combine. Season with salt and pepper. Reduce the heat to low and cook for 30 minutes, stirring occasionally, or until the vegetables are all tender. Sprinkle with the parsley prior to serving.
0