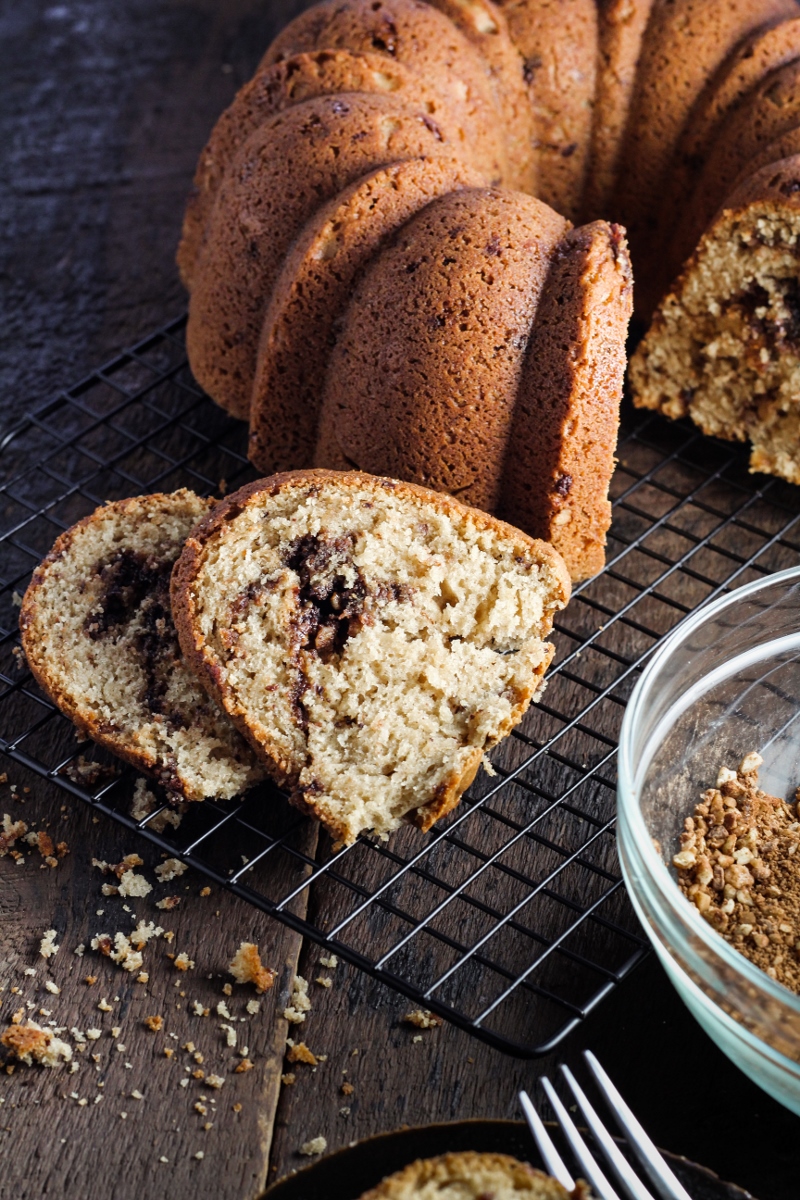 Sunday afternoon I had a sudden urge to bake. I didn't have anything planned, and didn't even have a particularly strong desire to eat baked goods, I just wanted to do the actual baking. The whole whisking, stirring, creaming, folding shebang. Maybe, more than anything, I was just craving ritual. We're starting to look for an apartment for next year and although I know that there's no reason to be stressed out about it so early in the process, it can be hard to control that sort of thing. Actually, to tell the truth, I feel stressed out about a lot of things – finding an apartment, finishing planning our upcoming trip, blogging frequently enough, planning my birthday party, getting everything done that I need to at work this week, finding time to exercise, making sure things are going in to the garden on time, and so on. All small things on their own, many of them really fun things on their own, but all together… it feels like a lot. I'm sure everyone has their own list like this and doesn't need to hear about mine, but it makes me feel better just to write it down. Basically, I need to take a giant chill pill and just relax.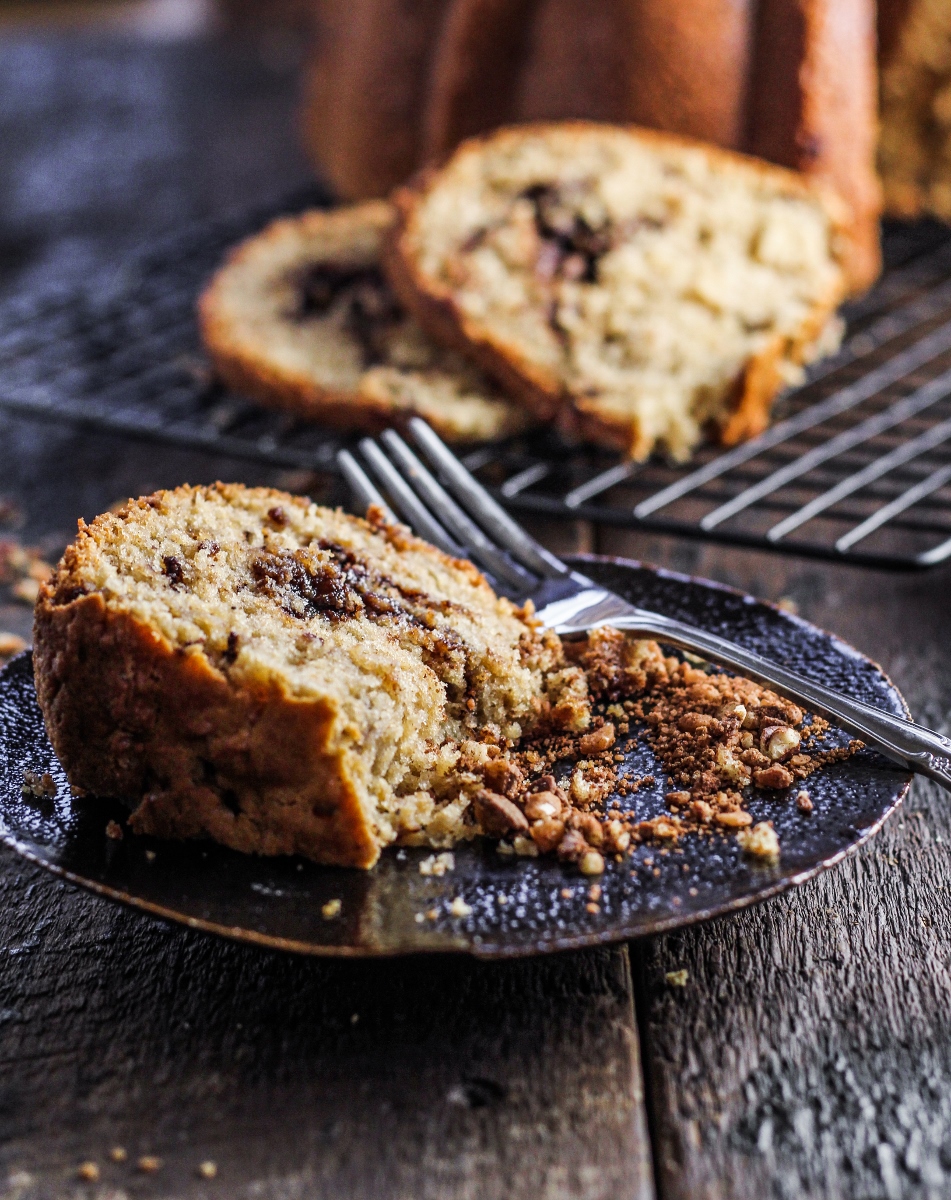 Baking is one version of a chill pill, at least for me. So I turned to my favorite baking cookbook, In The Sweet Kitchen, by Regan Daley – that woman always has something to fit the bill, and her recipes are pretty much foolproof. For whatever reason, I wanted to make something unnecessarily sweet – something with sugary, caramelly flavors in it. As I flipped through the book, I landed on the Pecan Toffee Coffee Cake, and I was sold, even though I knew it meant that I had to run to the store just for toffee bits and sour cream and more nutmeg. (Actually, I took a chance on the tiny Indian corner store down the block and was shocked to find all three things hidden in the shelves. That man's store is like Mary Poppins' handbag – I have never gone in there looking for something and left without it. Even obscure things, like power strips and sink strainers.) The flavors in the filling – espresso, cinnamon, nutmeg, pecans, and chocolate-covered toffee bits – are intense and  dark and rich. By the spoonful it would be overpowering, but folded into the center of soft, gently spiced cake, it's amazing. I'm so glad I gave this a try. Now, the only trick will be to keep myself from stress eating the entire thing.
Pecan Toffee Coffee Cake
Adapted very slightly from In The Sweet Kitchen. Serves 12 to 15.
The only two (tiny) changes I made were to double the amount of espresso powder and use salted butter but omit the salt. I also found that I could only use up about half the filling without having the layers touch each other, so I used the extra filling to sprinkle on top of the warm slices. My advice: make the filling recipe as written below, but don't fret if it seems like you'll have too much, and don't try to overfill the layers.
For the filling:
1/2 c. packed light brown sugar

2 TBS granulated sugar
2 tsp instant espresso powder
1 1/2 TBS unsweetened cocoa powder
2 tsp cinnamon
1/2 tsp nutmeg
3/4 c. chopped pecans, toasted until fragrant
3/4 c. (half of a 225 gram package) English toffee bits such as Skor or Heath (chocolate-covered toffee bits are even better!)
For the cake:
 3 c. flour

2 tsp baking powder
1 tsp baking soda
2 tsp cinnamon
1 tsp nutmeg
3/4 c. (1-1/2 sticks) salted butter, softened
1 1/4 c. packed light brown sugar
1/2 c. granulated sugar
3 large eggs, at room temperature
2 1/2 tsp vanilla extract
1 3/4 c. full-fat sour cream
3/4 c. (the other half of a 225 gram package) English toffee bits
Preheat oven to 350°F. Generously grease a 10-inch Bundt pan.

To make the filling: In a food processor, pulse together the brown sugar, granulated sugar and espresso powder until finely ground. Transfer to a medium bowl and whisk in cocoa powder, cinnamon, and nutmeg. Stir in chopped pecans and toffee bits. Set aside.

To make the cake batter: In a large bowl, whisk together the flour, baking powder, baking soda, cinnamon, and nutmeg until evenly combined. Set aside. In a separate large bowl, beat together softened butter, brown sugar, and white sugar until light and fluffy. Add the eggs one at a time, beating vigorously after each addition. Stir in vanilla.
Add the flour mixture to the batter in three additions, alternating with the sour cream in two additions. Mix just to blend in between additions – don't over-mix the batter at this stage or the cake will be tough. After the last flour addition is stirred in, gently fold in the toffee bits.
Spoon 1/3 of the cake batter into the bottom of the prepared pan and spread out with a spatula so it fills the pan evenly. Use a spoon to carve out a shallow "moat" all around the center – you want to leave 1/2 an inch between the edge of the moat and the side of the pan. Generously spoon the filling into the center of the moat, making sure that none of the filling touches the sides. Aim to use about half the filling, but don't overfill the moat. Spoon another 1/3 of the cake batter on top of the filling and spread all around to cover the filling and reach to the sides. Repeat the moat/filling process to make a second layer of filling. Spoon the last 1/3 of the batter on top of the second layer and smooth with a spatula so the top is even and fills the pan to the edge. Tap the pan once or twice on the counter to remove air bubbles.
Bake the cake in the preheated oven for 50-65 minutes, until it is golden brown and a toothpick inserted into the center of the cake part comes out clean (if you insert it into toffee, it will be hard to tell, so don't be afraid to poke around a little bit). Let cool in the pan for 10 minutes, then invert onto a cooling rack. Wait until it is completely cool before slicing. Serve with any leftover filling sprinkled on top.
1