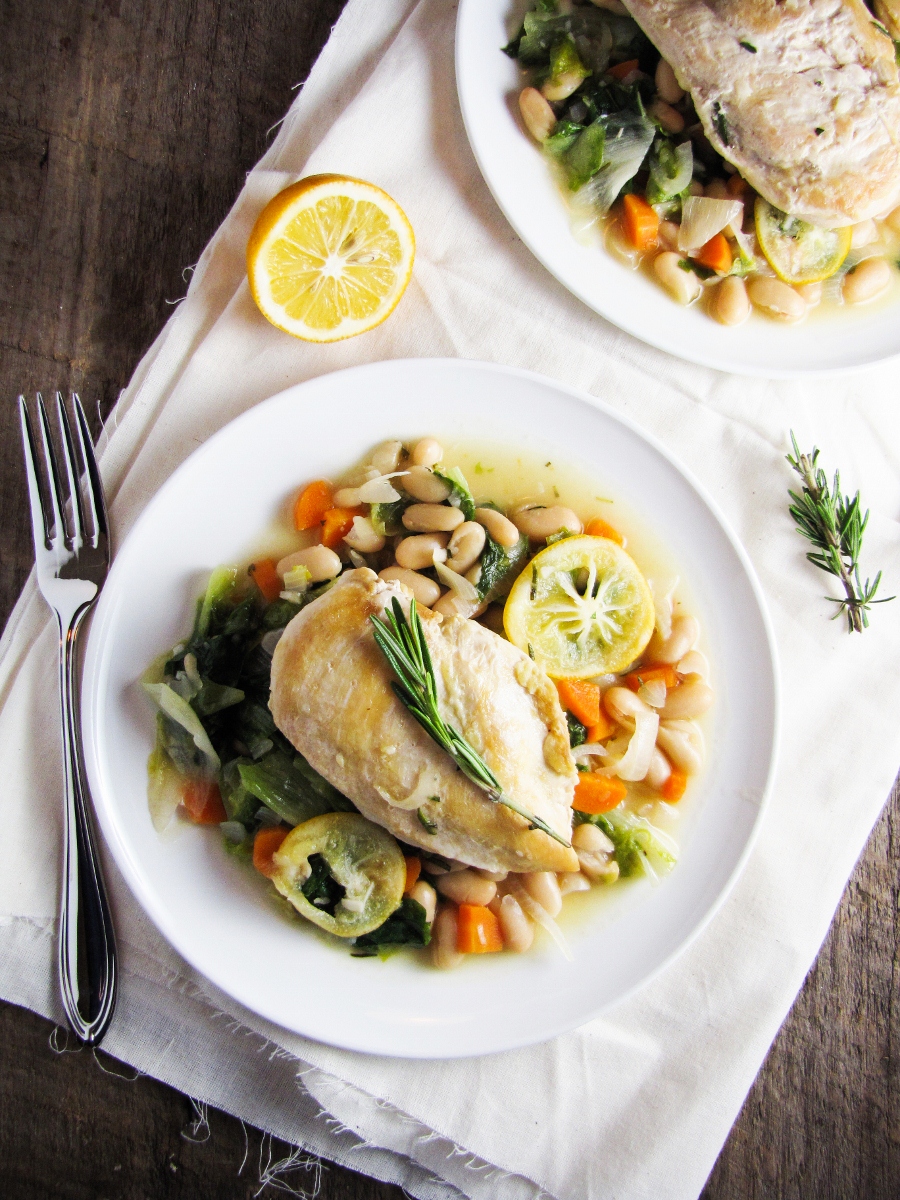 I have something really exciting to introduce to you today – and an equally exciting giveaway to go along with it. A few months ago, Kelli from Blue Apron Meals reached out to ask if I'd be interested in reviewing their weekly meal service. I was hesitant at first – I mean, I write a food blog after all, half the fun is in coming up with my own recipes to share with you! But as I thought more about it, I realized that Blue Apron might be just what some of you are looking for. In particular, I was thinking about all my 20-something friends just setting out on their own – the ones who tell me they want to learn how to cook but don't know where to start, the ones who ask me what they can make that's both healthy and easy, and the ones who just don't have the time to think about what to make and when they're going to get groceries and how to carry them back to their apartments. So I decided to give it a try – and to give one of you the chance to try it out for yourself, as well.
So how does Blue Apron work? It's easy. They send you a box full of pre-measured, clearly labeled ingredients, along with three recipe cards. Each box has enough to make three meals with two servings each, and the cost is $10 per person per meal (so, a $60 weekly minimum). The only ingredients you need to supply are olive oil, salt, and pepper – everything else comes with the box, including tiny bottles of maple syrup, little containers with pats of butter, and pre-measured spices. You can choose either the vegetarian or meat and fish box, and all that's left for you to do is cook! You will need to know some basic techniques (peeling, chopping, searing), and to have a basic set of kitchen implements (I needed a cutting board, knife, pot with lid, saute pan, roasting pan, and zester/grater for this week's meals), but the instructions are clear and each step is illustrated with photographs.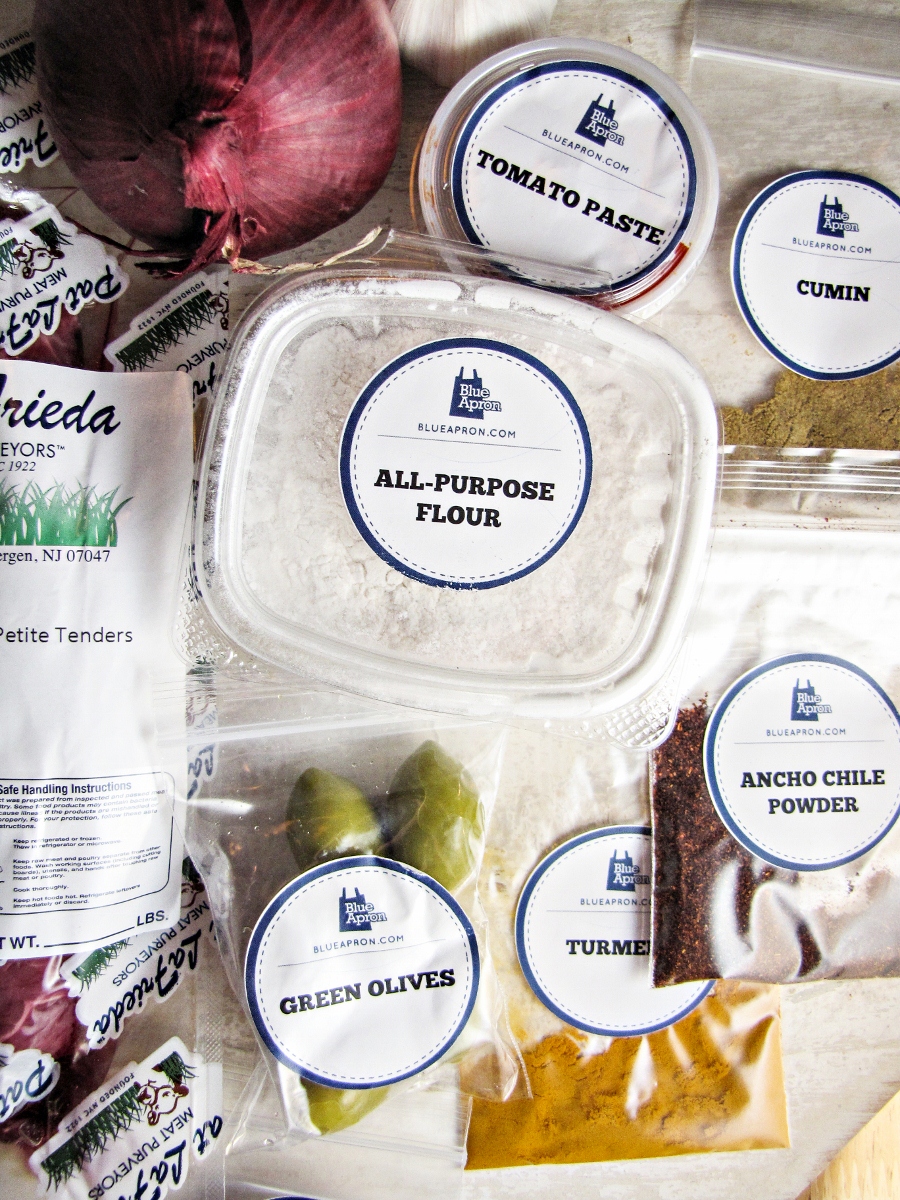 My experience using Blue Apron Meals was very positive. I got to try three tasty, healthy meals – Minute Steaks with Picadillo Sauce and Yellow Rice, Chicken with White Beans, Escarole, and Meyer Lemon, and Maple and Ginger Glazed Salmon with Watercress Parsnip Salad (you can find the full recipes for any dish, which would be easy to recreate even without the service, on Blue Apron's site). Each dish took between 30 and 50 minutes from start to finish, and all were generously portioned (I got 3 full meals out of the steaks). The best parts of the service for me? Not having to go to the grocery store, not having to decide what to cook and find a recipe, being able to turn your order on or off based on that week's meals (which are announced ahead of time), and knowing that the meals are healthy and balanced. And although I received this week's box for free, I think the service is affordable. If I were to have made three meals with different proteins – steak, chicken, and salmon – I would have spent close to $30 on the meat alone, especially since it's hard to buy proteins in a size appropriate for a single meal.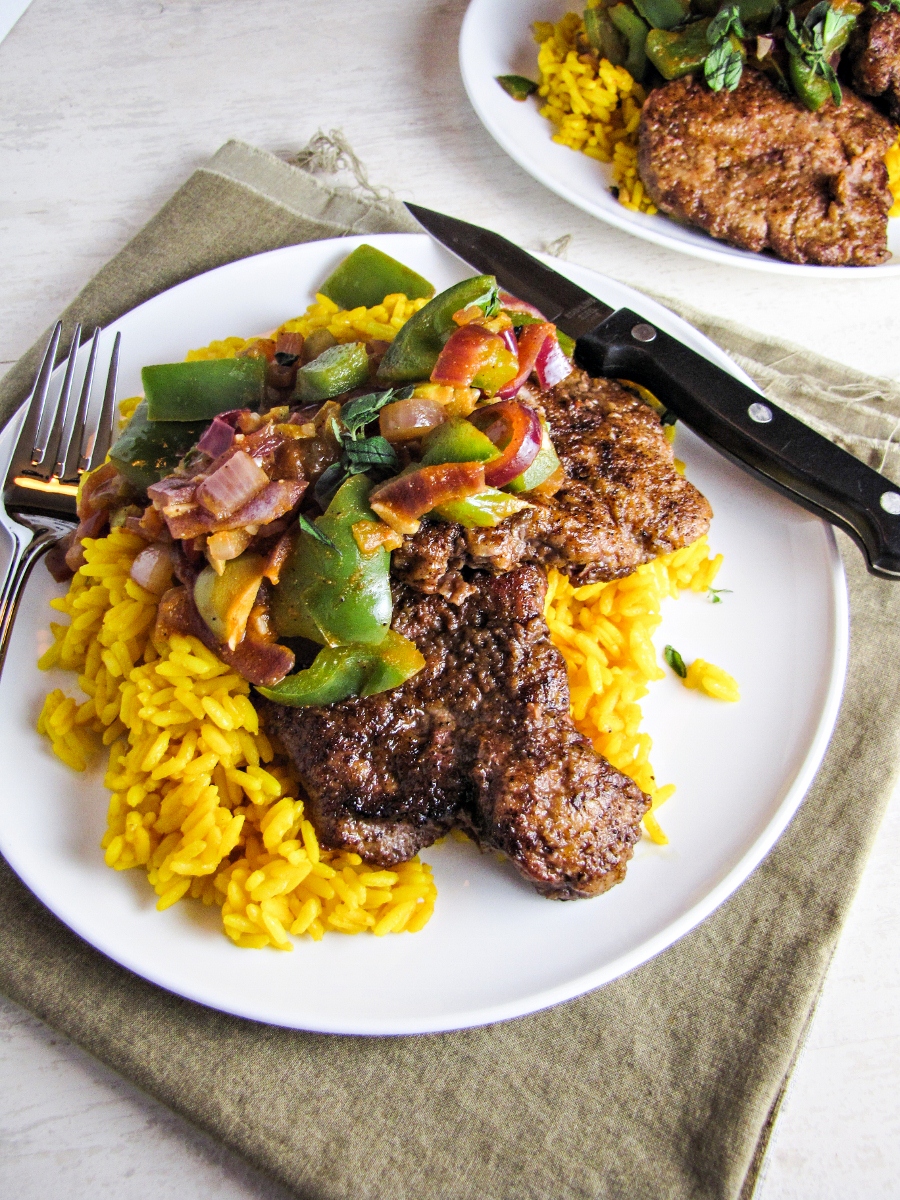 That being said, there is always room for improvement. While the meals are tasty and home-cooked, they are not as exciting as the typical dinner I make at home – in each dish, I was left wanting a little bit more contrast of flavors – more olives and raisins in the Spanish rice, more seasoning on the chicken, more oranges for the watercress salad. (My friends and family will be shocked to hear that I thought the salmon was actually the best dish, since I've long been a self-proclaimed seafood hater! So here's to expanding horizons.) Also, the ingredients were high quality, but I was a teeny bit put off to find a few small snails in the watercress. Harmless, I know, and they do tell you to wash all your veggies, but it still made me a touch squeamish.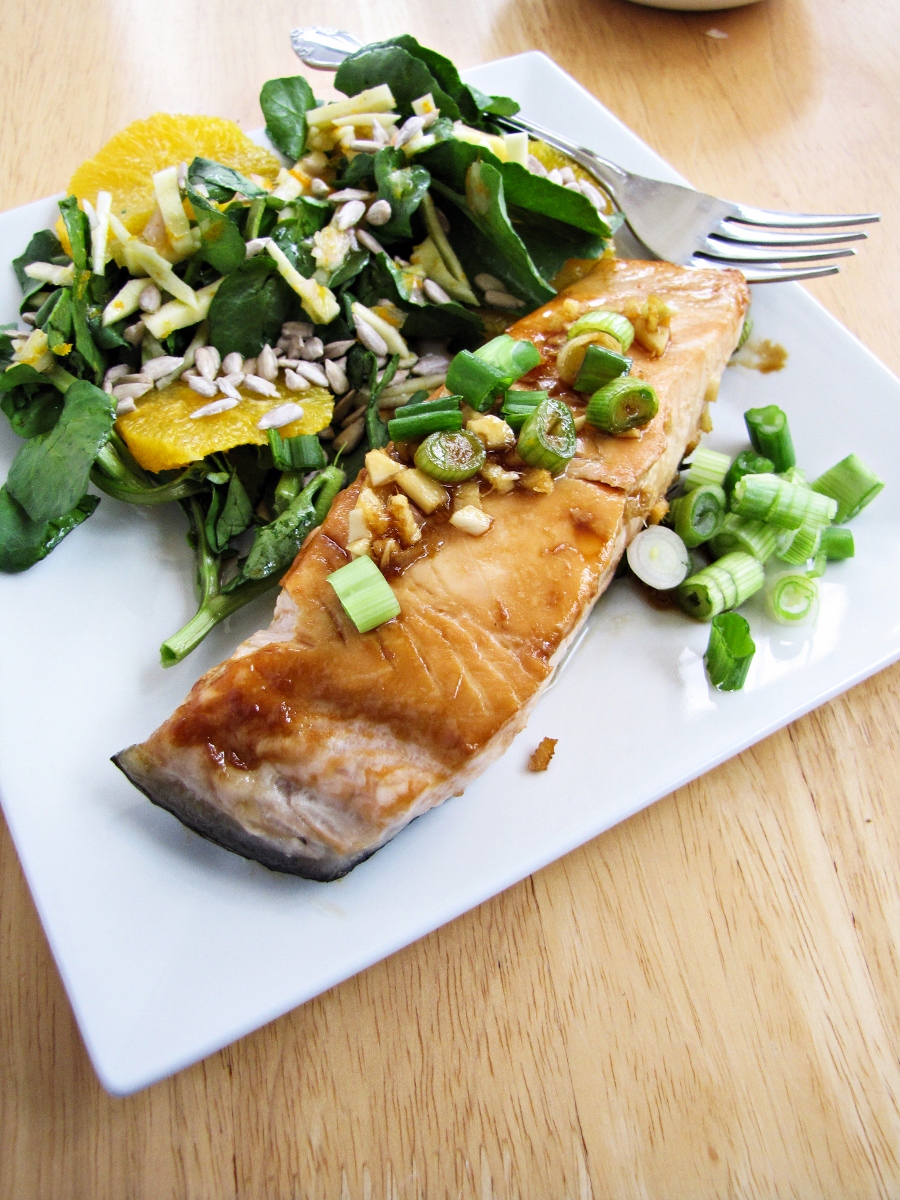 The bottom line: Overall, I would heartily recommend Blue Apron Meals, especially for those of you who want to cook more at home but either don't have time or don't know where to start. I'm considering signing up so that for weeks when I know ahead of time that I'll be crazy busy, I can turn this on and know that healthy, tasty meals for the week will be taken care of.
Giveaway details: Blue Apron has generously offered to send one reader a week's worth of meals (that's 3 meals at 2 servings each)! Unfortunately, this giveaway is only open to readers within their current delivery range (CT, DE, IL, IN, KY, MA, ME, MD, NH, NJ, NY, OH, PA, RI, TN, VA, VT, WV and some parts of AL, AR, GA, IA, MI, MO, MS, NC, SC, WI… for a more precise definition of whether or not you're eligible, see their delivery map). Directions for how to enter the giveaway are:
Mandatory Entry: visit Blue Apron's recipe book then come back here and leave me a comment letting me know which recent recipe you think sounds the best.
Additional Entry #1: Like both Blue Apron Meals and Katie at the Kitchen Door on facebook, then return here and leave a comment letting me know you did so.
Additional Entry #2: Follow @BlueApronMeals and @Kitchen_Door on twitter, tweet "Win a week's worth of healthy and tasty meals from @BlueApronMeals and @Kitchen_Door via http://wp.me/pMUN2-Yj", then come back here and leave a comment letting me know you did so.
That's all! The giveaway will be open until Tuesday, March 5th, 2013 at midnight, at which point I will randomly select a winner. Good luck to everyone.
Disclaimer: I received a week's worth of meals from Blue Apron free of charge, and they are hosting this giveaway. All opinions are my own, and I was not otherwise compensated to write this post.
0