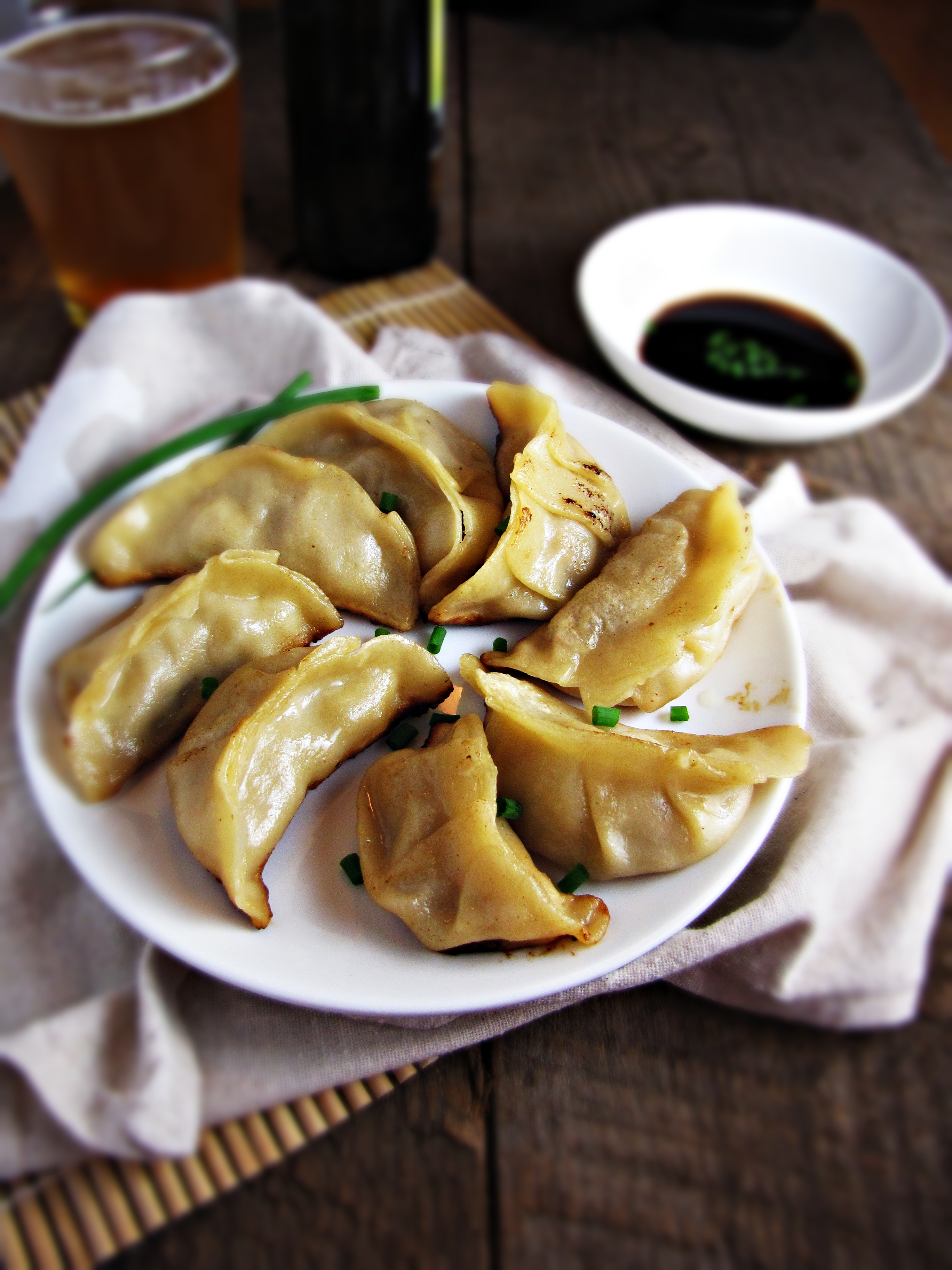 Dumplings.  They seem to be one of the few foods that appear in almost every global cuisine in some form: pierogi in Poland, vareniki/piroshki in Russia, gyoza in Japan, samosas in India, ravioli in Italy, etc.  There's even a cookbook on it, called  World of Dumplings (which I haven't read, but showed up when I googled "dumplings worldwide" and it looks interesting!).  And why wouldn't they be ubiquitous?   They're delicious, addictive, bite-sized, finger food, filled with pretty much anything you want.
When I got back from my weekly long run yesterday, Trevor was just finishing making a batch of these dumplings.  He made the wrappers from scratch, rolled them out, filled them, steamed them, fried them, and even took some of these pictures.  He's pretty good, right?  I walked in the door, thirsty and starving and cold and absolutely did work on a plate of dumplings.  As in, I ate 15.  In one go, barely taking a breath.  (And this is why you should never skip breakfast…).  It reminded me of potsticker night at Andover, when we used to have competitions over who could eat the most potstickers.  I think the record was 52 – hey, we were young and athletic then.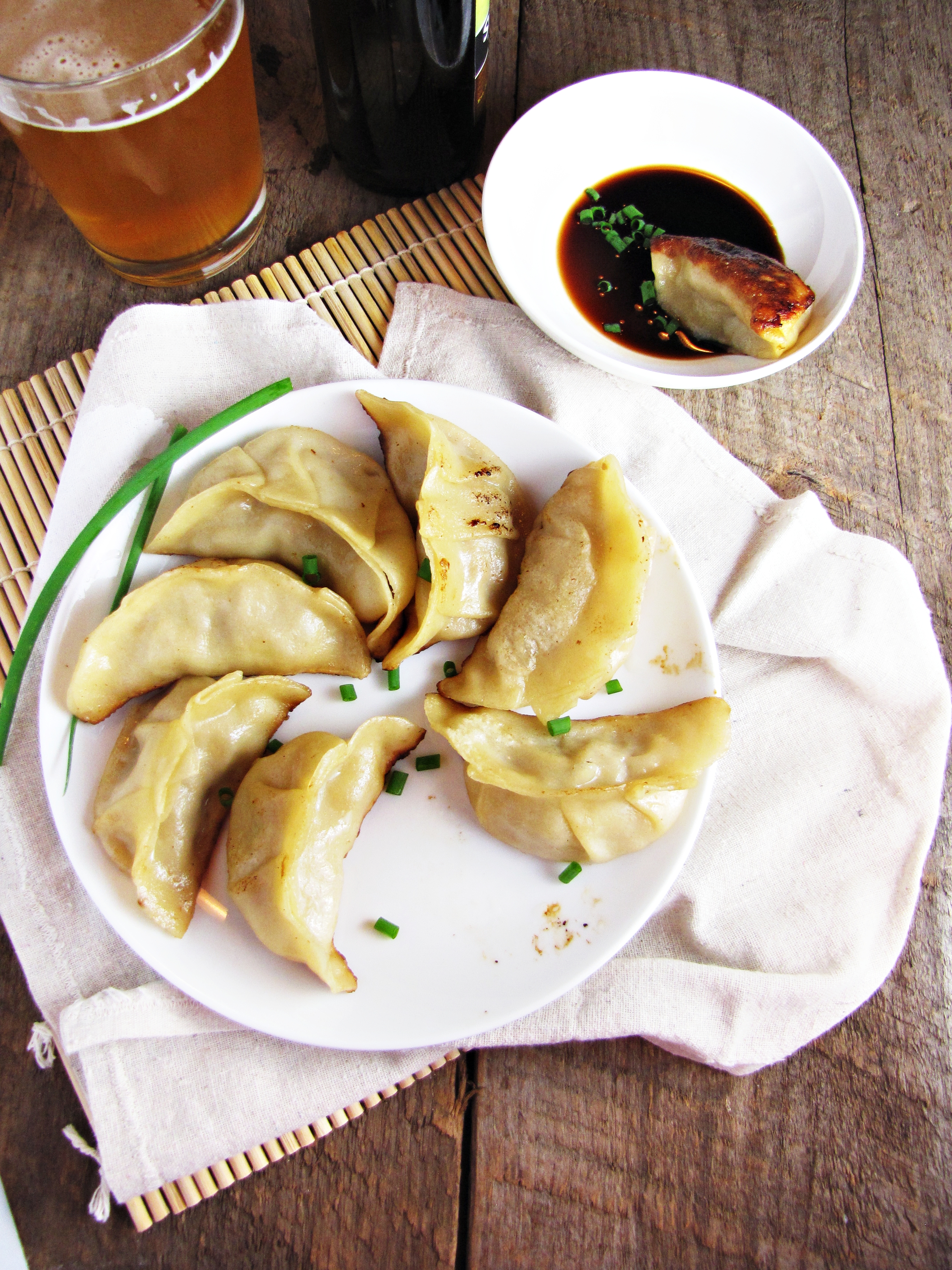 The filling in these, another Ming Tsai combination, is a mix of ground pork and the ginger-apple chutney I made last week.  Ming wins again.  If you aren't as ambitious/awesome as Trevor, you can buy the wrappers pre-made and these will be pretty quick to make.  But the homemade wrappers were delicious – tender and soft and not at all rubbery – so if you have the time I'd recommend giving them a try with this great tutorial from La Fuji Mama.  We also watched this video for tips on folding them.
Hope everyone had a great weekend!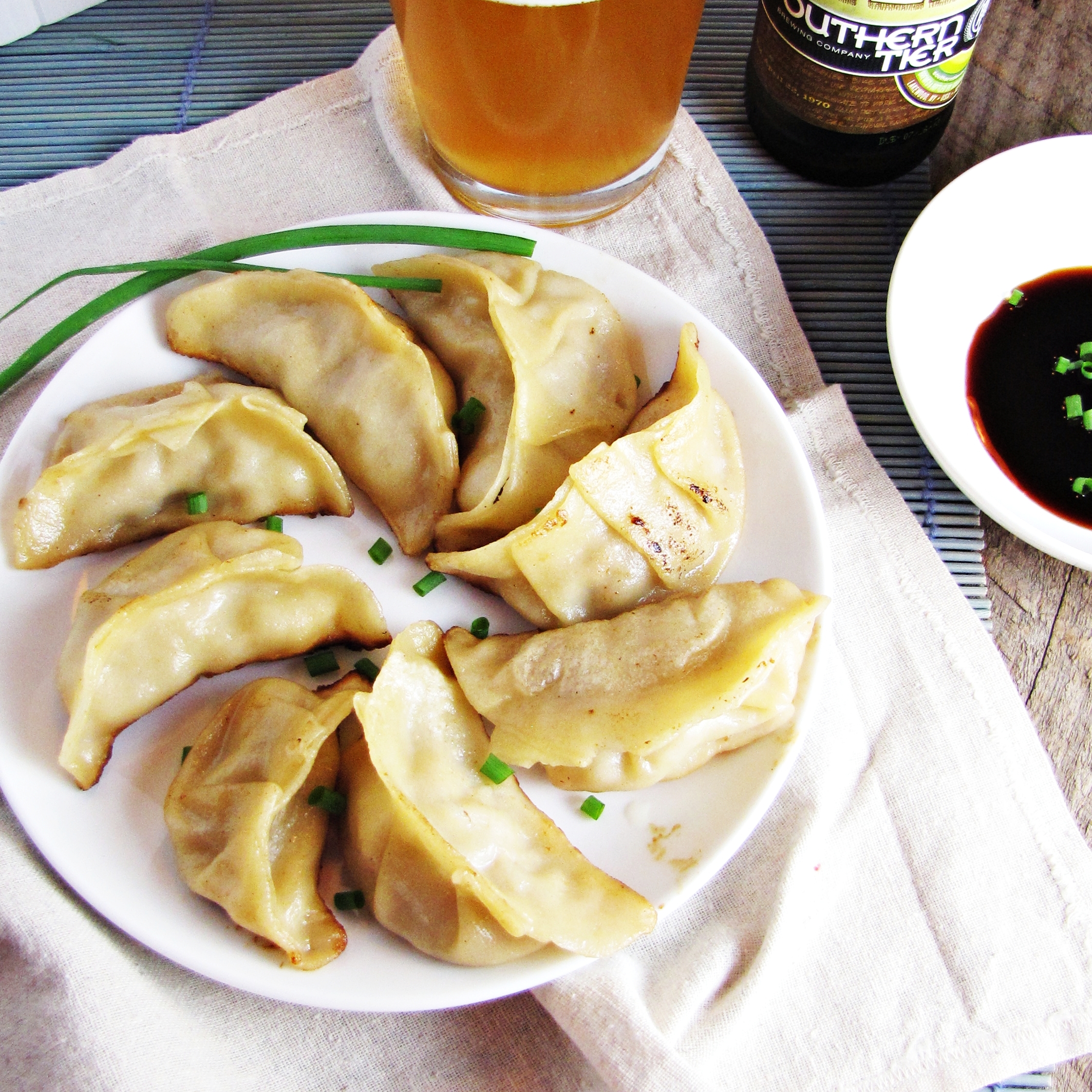 Pork and Ginger-Apple Chutney Potstickers
Recipe from Ming Tsai.  Makes about 40 potstickers.
40-50 potsticker wrappers (store-bought or use this recipe – I think we got 30 wrappers out of it)
1 lb. ground pork
2 TBS soy sauce
1/2 c. sliced scallions
1 c. ginger apple chutney
salt and pepper
1 egg
2 TBS canola oil
In a medium bowl, mix together pork, soy sauce, scallions, and chutney with a spoon.  Season with salt and pepper.  Refrigerate until ready to use.
Mix together egg and 2 TBS of water to make an egg wash.
Lay out 6 of your potsticker wrappers on a cutting board.  Place 1 tsp of filling in the center of each wrapper.  Use your finger to rub egg wash around the edge of the wrapper, then fold over into a half-moon shape and tightly pinch all along the edges to seal the potsticker.  Press the straight side of the wrapper down gently on the board to allow the dumpling to stand up.  Repeat until all wrappers have been filled.
Heat the oil in a large pan with a lid over medium heat.  Stand the potstickers sealed side-up in the pan and cook without disturbing for 3-4 minutes.  Then, CAREFULLY add 1/2 c. water to the pan and quickly cover the pan to avoid splattering.  Once splattering has subsided, uncover pan to check that there is about a 1/4 inch of water in the pan – if not, add a little more.  Cover pan and steam for 8-10 minutes.  If the water evaporates before the potstickers are cooked (they should be puffy yet firm), add a little more.  If they seem done but there is still water in the pan, drain water from pan.  Once potstickers are cooked, recrisp in the pan without any water for 2 minutes, being careful not to let them burn.  Remove them to a platter and serve with your favorite dipping sauce.
0