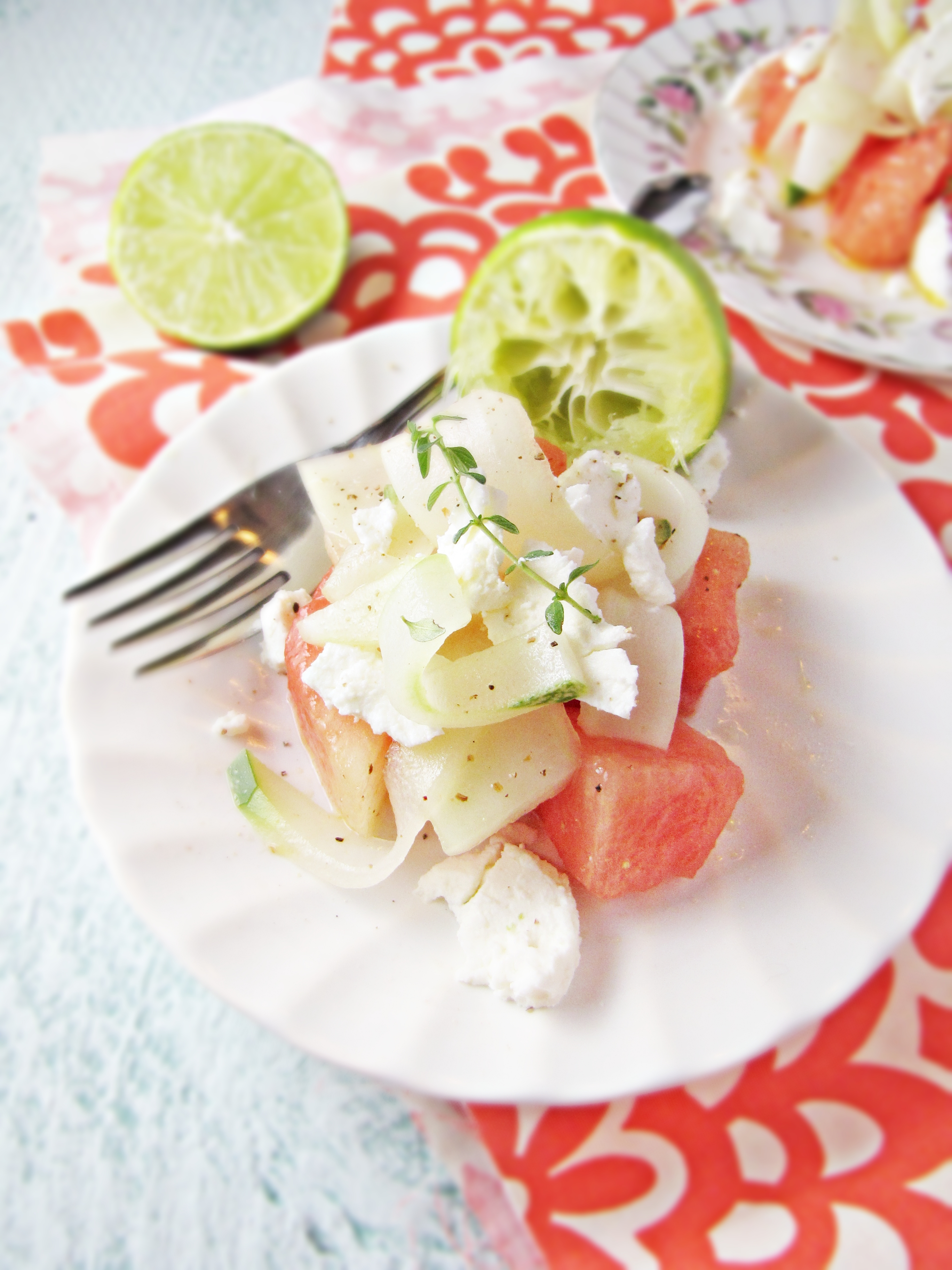 A few weeks ago, my 9 mile training run was rewarded with a special treat – a tasting brunch at M3 Davis with the Boston Brunchers.  It had been a while since I last got together with the Brunchers for an event – the last one I joined was for the Farm School, back in March.  When I saw that they were headed to the new Southern place in Davis, I signed up right away – I'd really been wanting to try this place, and it's only a 10 minute walk from my house.  Which was about all I could manage after my run, anyway.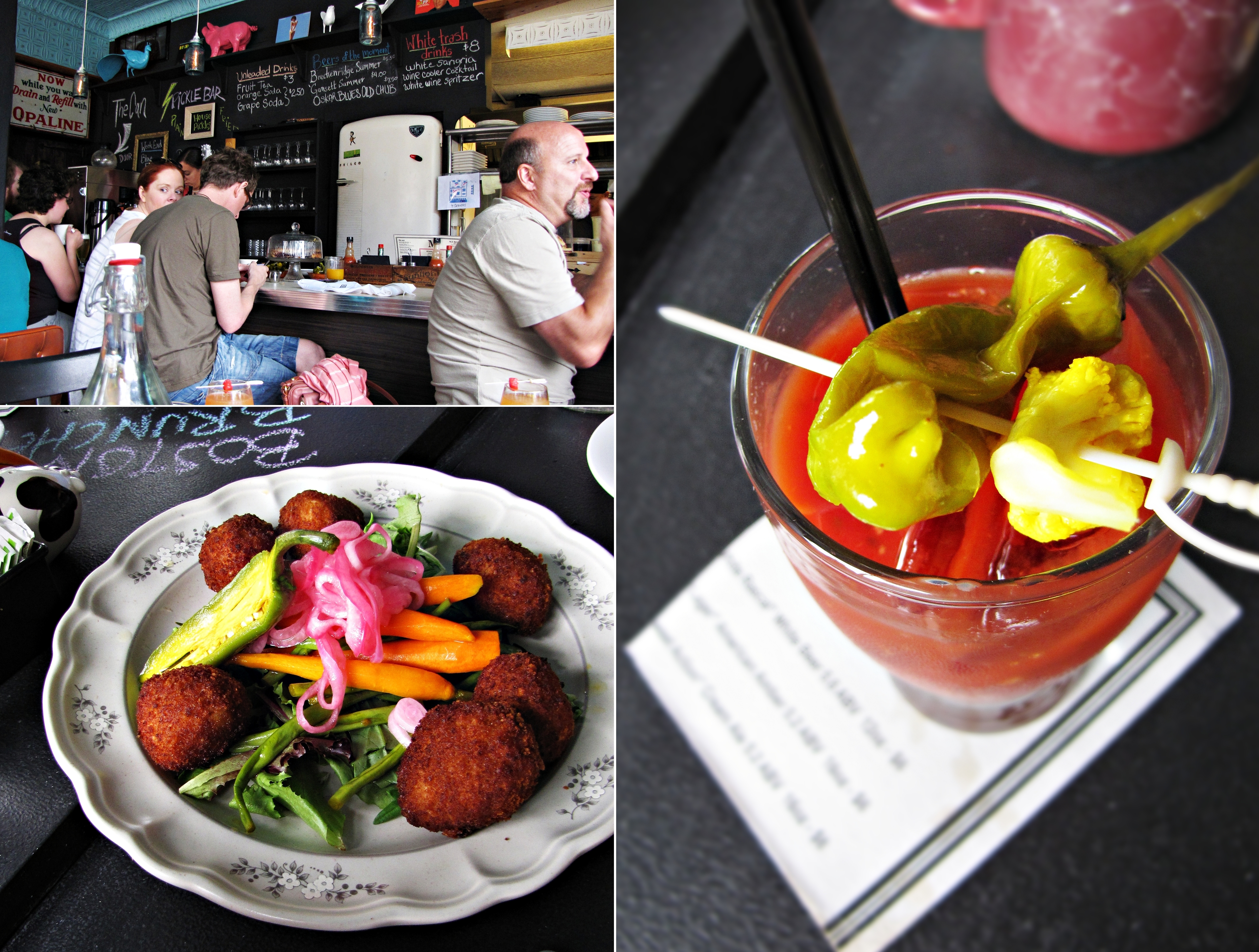 Somerville has had a spat of awesome new restaurants opening in the past 6 months or so: the new falafel bar, the tequila bar and Mexican restaurant Painted Burro, the speakeasy style Saloon, and the surprisingly classy i-Yo cafe and fro-yo shop, to name a few.  Actually, Davis in general feels much hipper, cleaner, and more bustling than it did even a year ago – it's definitely a good place to be.  M3 joins the ranks of classy Davis eateries as a representative of the classic "Meat and Three" concept that grounds Southern dining.  Although it has a small interior, it's bright and trendy, with most of the surfaces covered in chalkboard paint – bring your creative side with you as there's plenty of chalk provided (I could only imagine this gets really fun when settling in for a night of drinking).  The atmosphere is super relaxed – fun, young, and casual.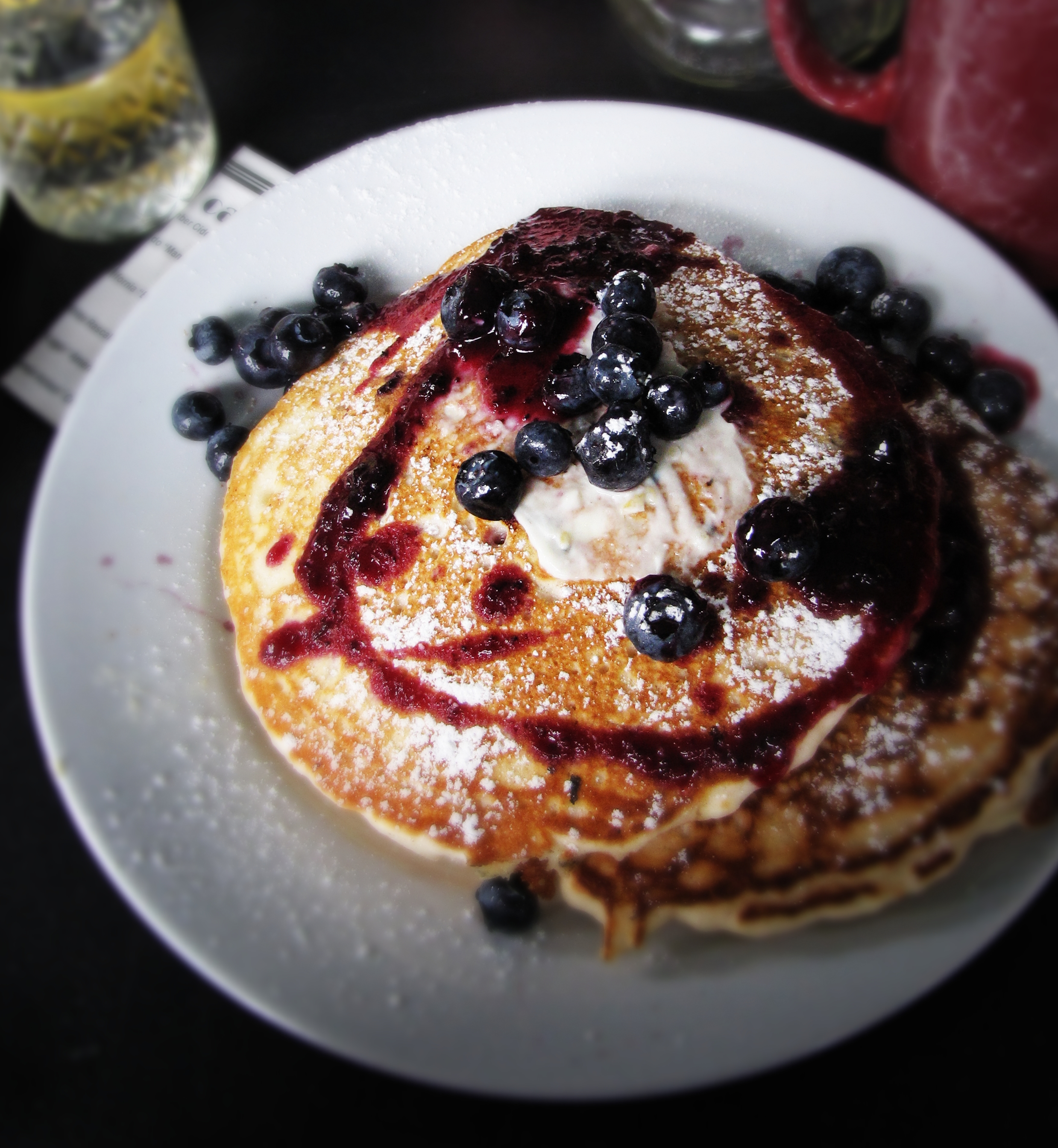 The folks at M3 served us a little bit of what seemed like practically everything on their brunch menu.  Pickled watermelon and goat cheese salad, scotch quail eggs, pomegranate mimosas, chicken and biscuits, fried chicken and cherry-pecan waffles, blueberry-ricotta pancakes, bloody mary's, texas french toast with chocolate-covered bacon… by the time we left M3, I could barely move.  In a good way, if that's possible.  I didn't love all of the dishes – the pancakes, for instance, were a little dry (but then again, my pancake standards are pretty high), and the scotch egg was nothing to write home about, but the bloody mary, french toast, and chicken and waffles were all delicious.  Not delicious in an innovative high-end way, but delicious like your mom just made you a bunch of your favorite breakfast foods, and it's a cool fall Saturday, and you've got all day in front of you to play, and you just can't help taking seconds of everything.  If that makes any sense at all.  I guess what I mean is it's good homey food, with just a little bit of twist to make it interesting.  This time around we received brunch gratis, but the price point is about what I'm looking for, with most of the brunch items in the $8-12 range.  I'll likely be heading back soon – I think it's going to make a great neighborhood spot.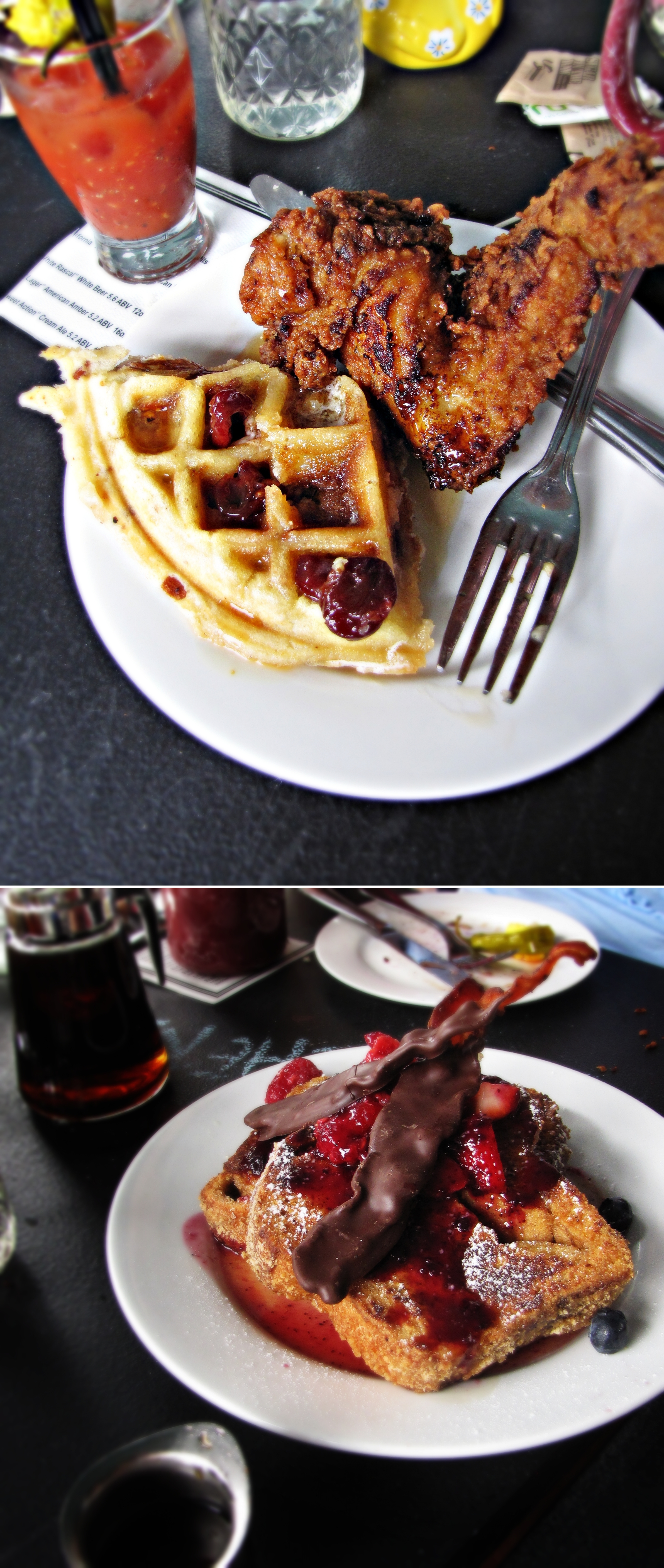 Since I know most of you aren't from around here, and because restaurant reviews aren't really my niche anyway, I decided to recreate one of our brunch treats to share with you.  This pickled watermelon salad wasn't my favorite dish (although I did like it quite a bit), but it was the one I felt I could recreate most reliably (the perfect bloody mary mix was going to be a lot more challenging).  This is a light and refreshing summer starter, with a bit of tang and lots of juice.  My version isn't quite as good as the one at M3 – but it's a starting point!
Disclaimer: M3 provided us with a tasting brunch free of charge, but all opinions included here are my own.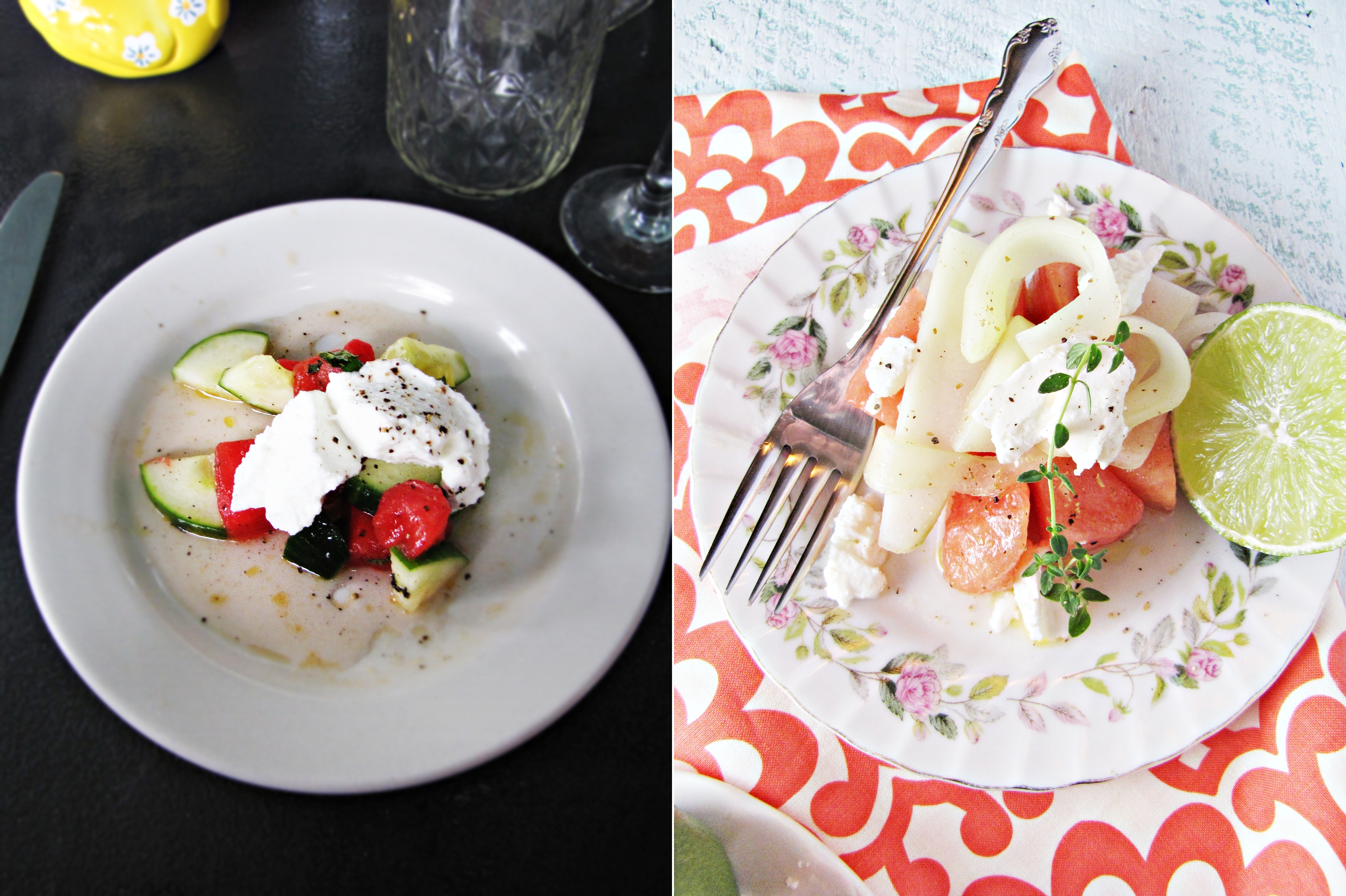 Pickled Watermelon and Goat Cheese Salad
Pickled watermelon recipe adapted from Bon Appetit.  Serves 4.
1/4 of a large seedless watermelon, cut into 1 inch cubes (about 3 c. cubes)
1 small shallot, minced
1/4 tsp ground coriander
juice from 2 medium limes
1 tsp honey
1/4 c. white wine vinegar
1/4 c. olive oil
kosher salt
black pepper
1 large cucumber, peeled and thinly sliced lengthwise
4 oz. fresh goat cheese
Make the dressing: vigorously whisk together honey, vinegar, olive oil, shallot, coriander, lime juice, and honey.  Taste, and season with salt and pepper as desired.  Pour over cubed watermelon in a large bowl, cover, and refrigerate for 1 hour.
Lightly salt cucumber slices and place in a strainer over a large bowl.  Let sit for 20 minutes, then wipe dry.
To assemble salad, place watermelon cubes on each of 4 plates, then top with slightly curled slices of cucumber.  Dot each plate with 1 oz. goat cheese, then sprinkle with fresh black pepper.
0