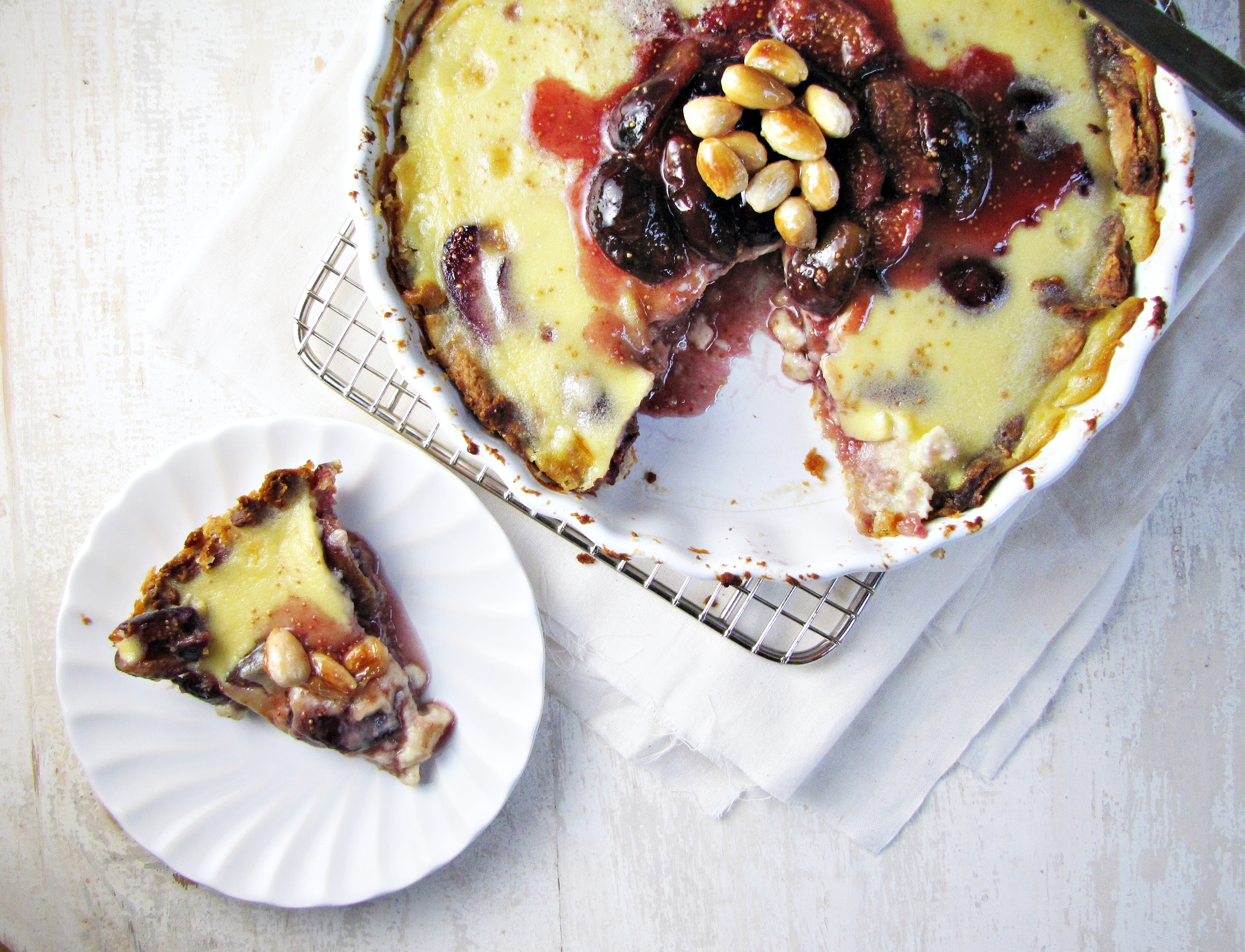 As the official end of summer is upon us, it's high time I post an update on my summer bucket list from June.  While in my mind summer's not over until tomatoes leave the farmer's market and the water's too cold to go swimming, it is true that the number of nice days left in the season is quickly shortening, and I better make the most of what's left!
Go to the Cape.  While I haven't done this yet, I haven't given up on it, either.  Shoulder season on the Cape might even be nicer than the height of summer, who knows?
Pick berries.  Blueberries, raspberries, blackberries, even a few straggler strawberries on my landlord's tiny plants – berries have been picked.  Sadly, the backyard raspberry patch season was ended early by raspberry fruitworms – I will get you next year, worms.
Learn to grill.  I did light the grill one or two times… and even flip things over on it… but I still haven't done it myself, so I'm not checking it off yet.  What are some recipes that will entice me to grill?
Make Cassis.  Success!  After much searching, Trevor secured enough black currants to make a batch of homemade creme de cassis and it came out perfectly.  I'm so glad I have enough to last me through several evenings of Kirs.
Visit the Harbor Islands.  Ditto the Cape.  We actually tried to go to the Harbor Islands – as in, we went all the way to the dock, waited in line for tickets, only to find that tickets were mostly sold out for that day.  Thankfully, the ferry keeps running on weekends until October 8th, so perhaps an early fall picnic is in order.
Ride my bike.  You would think this was an easy one, right?  Wrong.  Apparently I have some sort of anxious relationship with my bike – I own a bike, but have managed to draw out the process of getting ready to ride it for over a year.  First the lock, then the helmet, then finding a pump to put air in the tires – easy things, took me forever.  Anyway, as of today it's all set to go – I haven't actually gotten on it yet, but I'm for sure doing it this week, so I'm crossing it off anyway.
Train for a half marathon.  I'm 100% surprised that this is one of the things I actually managed to accomplish this summer.  When my friend Steph suggested that Trevor and I join her and her boyfriend in Chicago for a half, I said yes and registered without too much thinking ahead, only to realize immediately after that I had only 6 weeks to whip my butt into shape.  But with Saturday's 10-mile run under my belt, I'm feeling almost ready to hit the pavement – next weekend!  If that one's a bust though, I've a bit longer to keep training for the Newburyport half with my mom – which isn't until the beginning of November.
Do a producer interview.  Still an idea I like, just haven't gotten around to it!
Plan a trip.  Fail, Katie.  We are going to Chicago, but that's not exactly the trip I had in mind.  I'll keep you posted.
Make at least 3 kinds of ice cream.  Well this one was super easy – making and consuming ice cream has never been much of a challenge for me.  I started the summer off with cherry-chocolate ice cream, proceeded to Bailey's fudge ripple ice cream, and most recently popped a batch of super-easy and surprisingly healthy plum sorbet in the freezer.  Now that pumpkin beer has started to show up in stores, I've had a custardy pumpkin ice cream on my mind – ice cream has no season!
So 5 for 10.  Not too terrible, not too great.  It's still possible I'll finish all of them before the end of September, but if not, it was fun to do the things I did.  And as for the tart you're seeing here, it's included because the arrival of figs at the market is a sure sign that summer is slowly shifting into fall.  Figs aren't my favorite fruit, but even I liked this custardy almond tart with caramelized figs and almond brittle enough to have a big slice.  After that, I handed it over to Trevor to finish off our first dinner in his new house.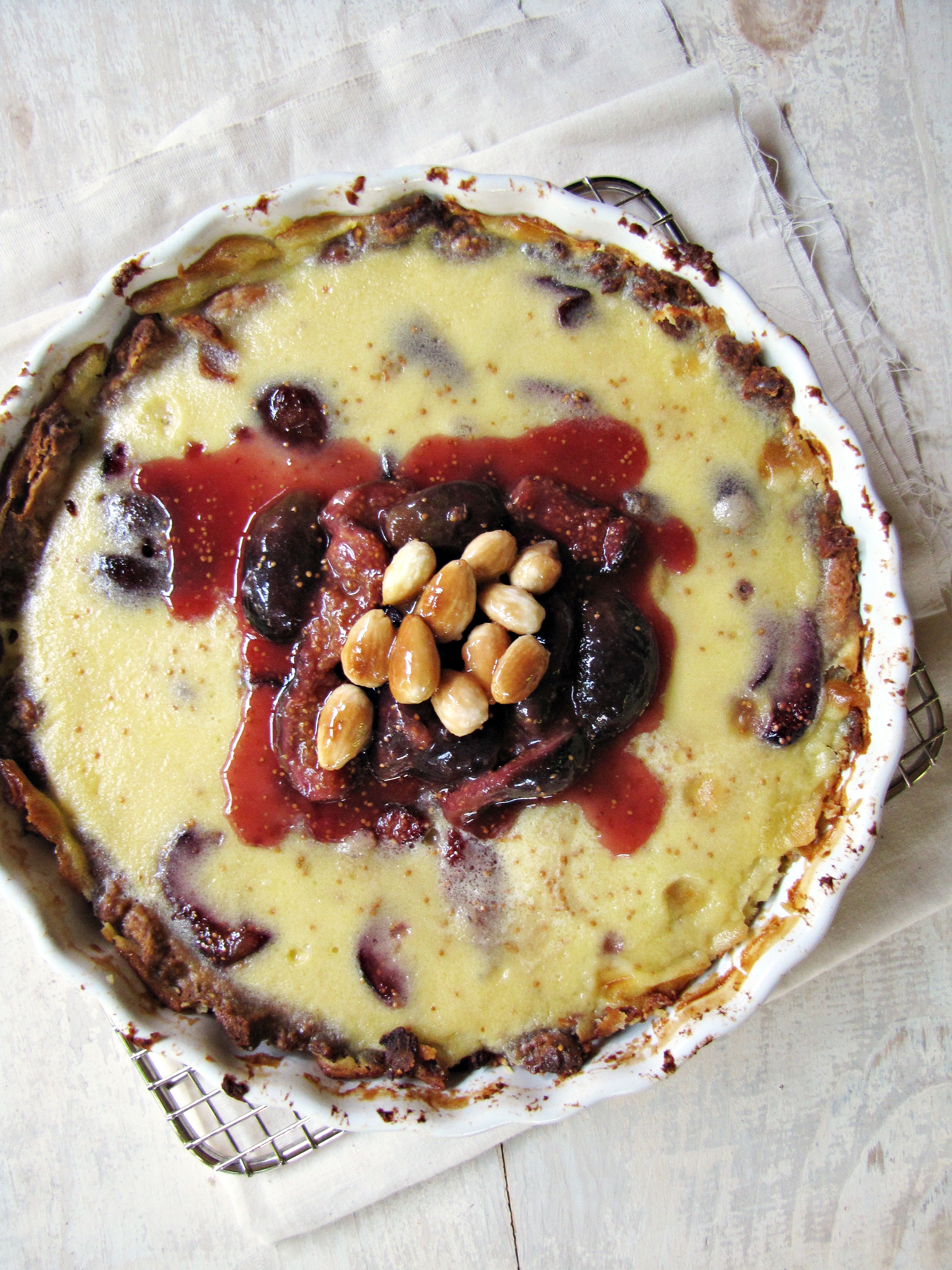 Fig and Almond Custard Tart
Adapted from Sunday Suppers at Lucques.  Serves 8.
For the pate sucree (crust):
2 TBS cold heavy cream
1 egg yolk
1 1/2 c. flour
3 TBS sugar
1/8 tsp salt
1 stick cold butter
2 TBS ice cold water
Whisk together flour, sugar, and salt in a large bowl.  Cut butter into 1/2 inch chunks and add to flour mixture.  Use a pastry cutter to cut butter into flour until dough resembles coarse meal, with even pieces about the size of a pea.  In a small bowl, beat together egg yolk and cream until even in color.  Slowly drizzle egg mixture into dough while stirring with a wooden spoon.  Then add ice water 1 TBS at a time, stirring at the same time.  At this point, dough should hold together loosely when pressed.
Wrap dough in plastic wrap and chill for 10 mintues.  Remove from fridge and turn out onto a lightly floured surface.  Roll out into a 10 inch circle about 1/4 inch thick, then carefully lift over top of tart pan.  Press crust into edges of tart pan, and chill crust in pan for 1 hour.
Preheat oven to 400°F.  Prick the bottom of the chilled crust 4-5 times with a fork.  Line chilled tart crust with parchment paper, then fill with pie weights.  Bake for 15 minutes, then remove parchment paper and pie weights, and bake for another 15 minutes, until golden brown.  Set aside to cool for at least 20 minutes.
For the filling:
18 black mission figs, de-stemmed and quartered
3 TBS butter, divided
1 tsp vanilla extract
10 TBS sugar, divided
1/2 c whole blanched almonds
2 eggs
1 c. heavy cream
1 tsp almond extract
1 TBS cognac
Caramelize the figs: add 2 TBS butter to a large frying pan and heat over medium heat.  When butter begins to foam, add 3 TBS sugar, then swirl/stir until sugar has dissolved.  Add quartered figs, and cook, stirring, until figs have released their juices and are coated in sugar.  Remove from heat and stir in vanilla extract.  Set half of the fig mixture aside.  Spread the other half over the bottom of the pre-baked tart pan.
Wipe out the pan used to caramelize the figs and add remaining 1 TBS of butter and 3 TBS of sugar and stir to dissolve.  Add almonds, and caramelize, stirring frequently, until almonds are a toasty golden brown and sugar has begun to caramelize on them.  Remove from pan onto wax paper and let cool, then break almond brittle into bite sized pieces.
In a large bowl, whisk together eggs, remaining 4 TBS of sugar, cream, almond extract, and cognac until evenly combined.  Pour custard over fig mixture in tart shell, then bake for 30 minutes (still at 400°F), until custard is set and slightly puffed.  Let cool on a rack for 10 minutes, then top with remaining fig mixture and almond brittle.  Serve warm or after chilling in the fridge.